Make a Halloween mummy decoration out of an empty cereal box with this recycled art Halloween craft for kids!
Simple Cereal Box Mummy Halloween Craft for Preschoolers
This easy Halloween craft for preschoolers is perfect for those busy days when you are looking for a simple project to do with your kiddo. The end result is a super cute Halloween decoration that you can put outside or display inside your house.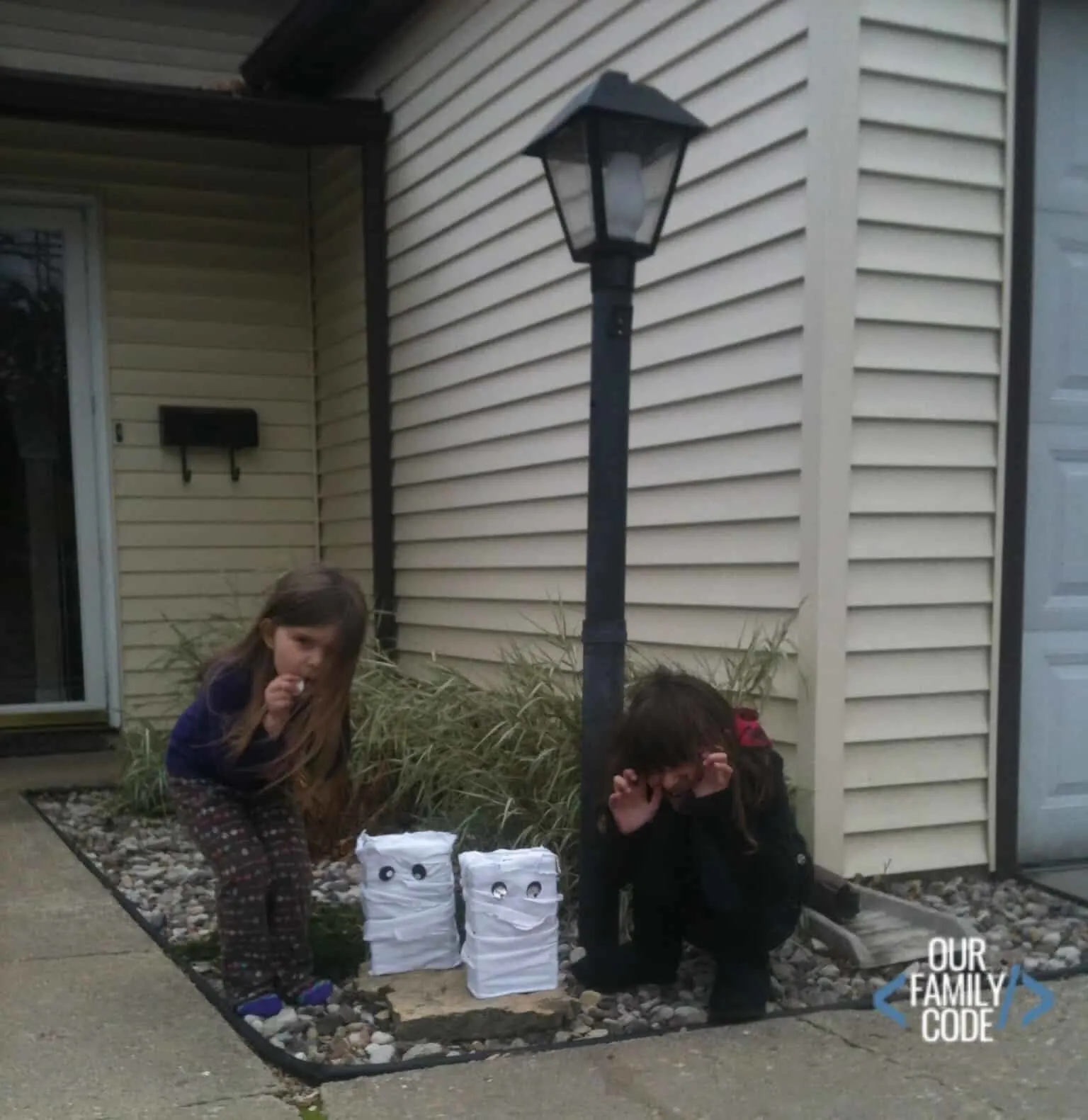 This post contains affiliate links. As an Amazon Associate, Our Family Code earns from qualifying purchases. Please see our Disclosure Policy for more details.
Cereal Box Mummy Halloween Craft Supplies
It doesn't get easier than this. The only supplies you need for this project are a white t-shirt (I seriously used an old t-shirt that I was going to throw out), an empty box of any size, tape/glue, and some construction or scrapbook paper. You could even use googly eyes if you have them handy around the house.
I made mine from random stuff I had around the house and the girls loved it! We love making recycled art and this one is even more fun with a seasonal Halloween twist!
Cereal Box Mummy Supplies
How to Make a Recycled Art Mummy
Put some rocks in an empty cereal box or snack box
Put rocks in the bottom of an empty cereal box or snack box in order to keep your mummy decoration in place. Make sure to secure the bottom with tape since it will be much heavier with the rocks in it. We recommend putting the rocks at the end that is still glued from purchase.
Use a t-shirt or white crepe paper
We used an old white t-shirt because we didn't have any crepe paper on hand. Cut your shirt into strips. If you are using crepe paper, you can skip this step.
Secure one end of your white strip to the bottom of the box
Start your mummy wrapping by securing one end of your t-shirt strip or white crepe paper to the bottom of the box. Then, wrap the mummy! Keep adding wrappings until the whole box is covered.
Secure the end of the strip to the box
Use glue, tape, or a staple to secure the end of the white wrappings (t-shirt or crepe paper) to the box. Then, add one final piece of covering across the top of the box to cover up the box.
Decorate
Finally, apply sticky googly eyes or just make your own eyes using construction paper! Place the mummy decoration outside or inside for a cute Halloween decoration!
Make sure to toss it after the season since most of the materials won't survive the elements outside very well. You can always create another mummy next year!
That's it! It's that simple to make this recycled art mummy Halloween decoration!
SHARE THIS CUTE MUMMY HALLOWEEN CRAFT!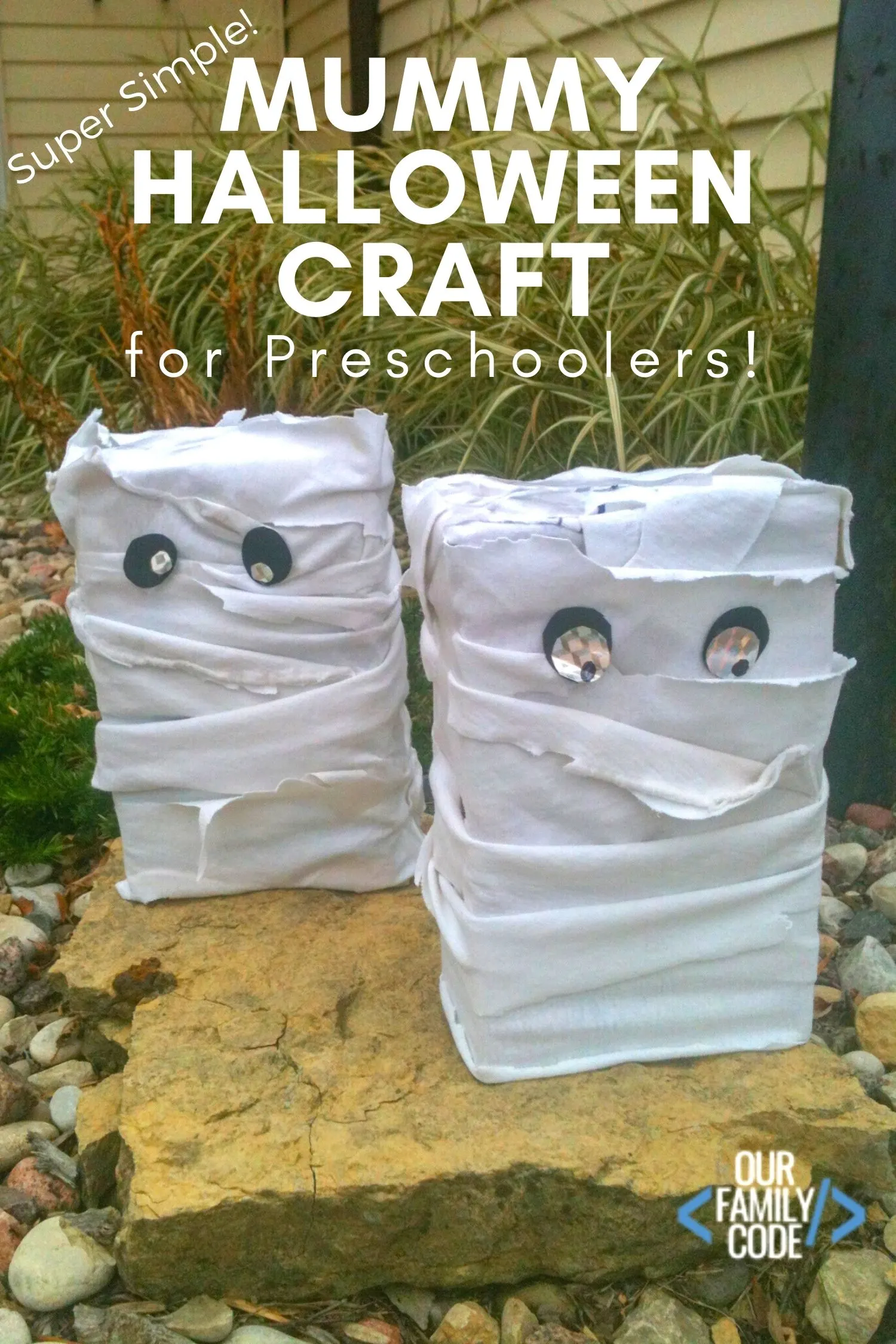 Halloween Crafts for Kids
Find more easy Halloween crafts for kids!
Meet Toni, the Maker Mom behind Our Family Code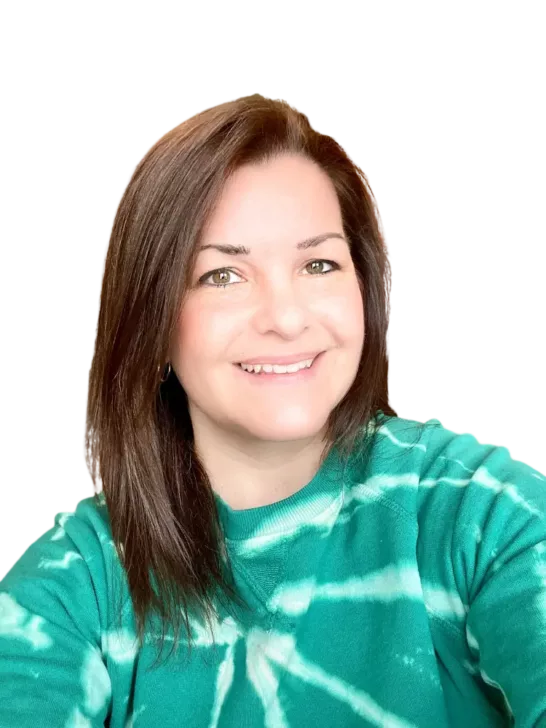 Hey there, I'm Toni! I'm a software engineer and Maker Mom that finds my joy in unleashing my children's curiosity by exploring STEAM concepts with my fantastic five!
When I'm not chasing toddlers or raising tweens, you can find me tearing things up and putting them back together over here at Our Family Code.
I am the owner and content creator of multiple educational websites designed to increase access to STEAM & STEM education with a focus on teaching computer science and coding to kids of all ages!
You can also find out more about me by visiting ToniGardner.com!