You and your kids are going to love these low-prep STEAM activities! Check out some of favorite quick and easy STEM activities below!
Why are STEAM Activities Important for Kids?
STEAM is the abbreviation for Science, Technology, Engineering, Art, and Math. Like STEM, STEAM is an integrated approach to learning that encourages learners to make connections between the concepts they are learning and how they apply them to real-world problems.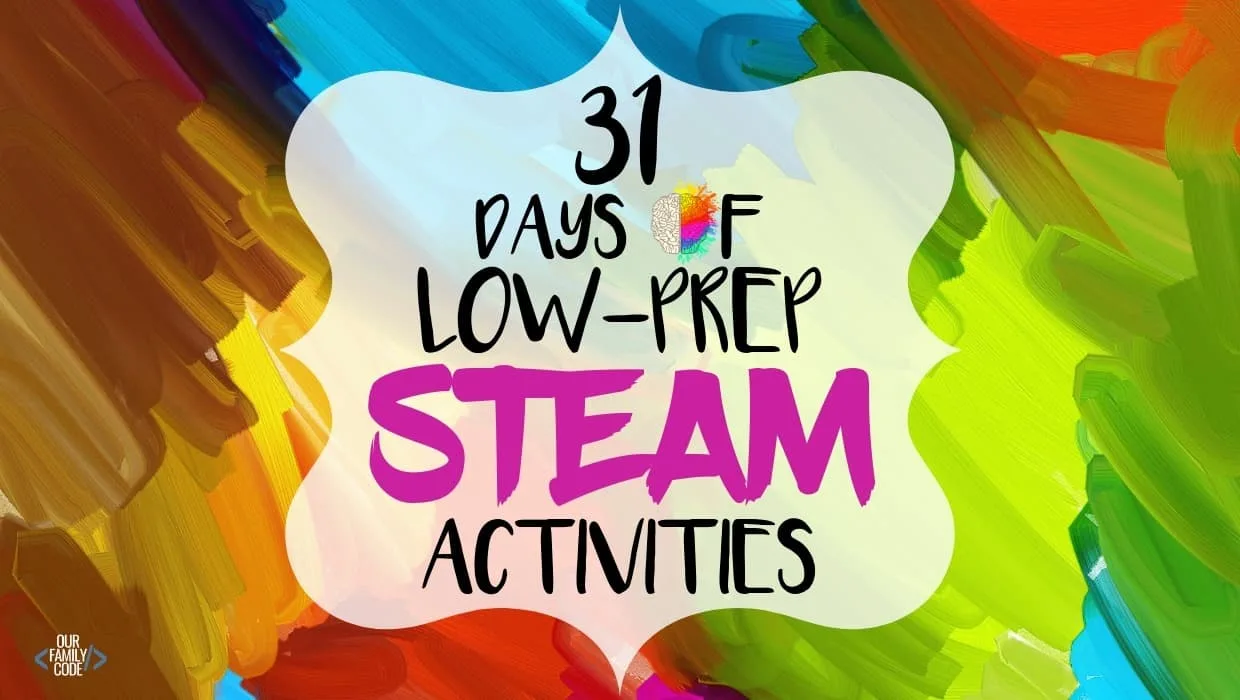 STEAM helps students ask questions, problem solve, think creatively, and produce innovative solutions. Many schools have adopted STEAM learning activities into their curriculum, but it's never too early to start building critical thinking skills.
We love no-prep STEAM activities at our house and have a blast doing activities designed for toddlers all the way to tweens!
You might also like: Hands-on Magic Tree House Activities for Kids!
You're Gonna Love 31 Days Low-Prep STEAM Activities for Kids
Every activity will primarily focus on each of the buckets of STEAM (Science, Technology, Engineering, Art, & Math) although these integrated projects fit in more than one bucket.
You and your kiddos are going to love all of the easy STEM activities and challenges that we have in store!
Follow Along with 31 Days of Low-Prep STEAM Activities
Want to stay up to date on all the cool projects? We are always adding new low-prep STEM and STEAM activities to Our Family Code. Follow us on social media or our newsletter to be the first to hear when new projects and free workbooks release!
You can pin or bookmark this page, so you don't miss a day, or subscribe to the Our Family Code weekly newsletter.
I'll be sharing them daily on the Our Family Code Facebook Page and pinning them to my Pinterest STEAM Lab board. There will be new projects and cool ideas every day! How fun!!
31 Days of Low-Prep STEAM Activities Supplies
To me, low-prep means that I should have most of these supplies already and you probably do too! That makes it even easier to get things set up quickly for some last minute stem activities!
Throughout the month, I'll also include links to worksheets and lesson plans that I've made to make it easier to have everything you need to do each activity daily!
If you want to make sure that you have all the supplies that I'll be using check out the list below!
This post contains affiliate links. As an Amazon Associate, Our Family Code earns from qualifying purchases. Please see our Disclosure Policy for more details.
What types of supplies do you need for low-prep STEAM activities?
At first glance, this list looks long. However, I'm willing to bet that you already have a ton of these supplies around your house.
Nearly all of our low-prep and no-prep STEAM challenges and activities also come with free printable worksheets for easy activity setup!
Here are some of the low-prep STEAM supplies that we will be working with for the month, so you can make sure to have these on hand.
Can of Soda
Ruler
CD
Tape
Paper Plates
Popcorn Kernels
Pumpkin
Salt
Flour
Empty Plastic Water Bottle
Water
Pennies
Quarter
Nickel
Dime
Leaf
Going to the store? Print your copy of the 31 Days of Low-Prep STEAM Activities Supply List!
What are some fun STEM activities?
Throughout this month, we will be exploring concepts such as coding and textures. We will also dive into matter, chromatography, and lift.
Preschoolers will love exploring textures and the five senses. Our activities will also teach velocity, estimation, density, and buoyancy.
You'll also find fun Halloween and Thanksgiving themed static cling, surface tension, absorption, and chemistry projects!
31 Days of Low-Prep STEAM Activities for Kids
You can also pin this page or subscribe to our newsletter to receive your activities via email. Check out these easy low-prep STEAM activities below!
Here's a super cool exploding baggie experiment for kids that requires only a few common household materials. In this activity, you'll create a chemical reaction using baking soda and vinegar that will make a ghost baggie explode!
We used our knowledge of velocity to observe & compare the impact of different velocities in a visual demonstration and created velocity straw art!
This Coding the Way Unplugged Coding no-prep STEAM Activity is a great introduction to the basics of programming and is ideal for Kindergarten through 3rd graders. Kids can work together to create their maze and communicate their written program with this free unplugged coding printable.
Grab a free leaf BINGO activity sheet and go on a nature walk! Learn about and capture the nature of leaves as well as explore how our chosen art medium interacted with different types of paper with this chalk pastel leaf Rubbings STEAM activity.
This preschool balance scale STEAM activity is so simple to set up! It's also a great low-prep activity to inspire scientific learning and introduce scientific, mathematical, and engineering concepts.
Explore more about oxidation and why some pennies are so dull and figure out how to clean them with this penny chemistry STEAM activity for kids!
In today's digital world, binary code is perhaps one of the most important number systems. Teach your kids to code with one of the easiest ways to learn binary code and grab these free Halloween joke cards with this Crack the Code Binary Code Challenge!!
My kids really wanted to make a pumpkin explode. We've been talking about it since this Summer and we were super excited to try out some chemical and physical reactions to create some exploding and erupting pumpkins!
Investigate & observe the density of a carrot, salt water, and regular water. Watch the magic carrot in action in this easy science salt water density experiment for kids!
We like to use our leftover holiday candies for easy STEM experiments! In this yummy candy chemistry experiment, we are testing to see if sour candy is acidic with a simple acid-base reaction.
This Preschool Pumpkin 5 Senses Investigation introduces scientific inquiry to young learners and helps get everyone excited about Fall! Grab a free 5 Senses Exploration worksheet and an O.W.L worksheet to reinforce learning!
Whodunnit? Crack the Case with Chromatography and learn how chromatography is used by forensic scientists to break down substances. This STEAM activity is super easy to set up and involves nearly every STEAM bucket!
Step into the shoes of a Forensic Scientist with this Family Fingerprint Investigation STEAM Activity. Forensic Scientists analyze fingerprints to identify people and understand what happened at crime scenes.
Can You Power a Raft with Soap? We've worked with density and surface tension with simple pepper and soap in water demonstrations, so we decided to up the ante and see how we can control the surface tension of the water by adding just enough surfactant to make our raft move.
Under Pressure! The Balloon in a Bottle Activity! The egg or balloon in a bottle experiment is a total classic and one we could definitely not exclude from our low-prep STEAM activities!
Can you complete the tallest tower STEM challenge using only two materials? This low prep STEM challenge is great for kids of all ages!
Can you crack The Case of the Red Lipstick? Learn about Cheiloscopy and lip prints in this STEAM forensic science investigation for kids!
Persevere like Rosie Revere and build a machine that floats. This easy CD balloon hovercraft storybook STEAM challenge is great for kids of all ages!
Learn how to make an aluminum foil boat that floats with this Whatever Floats Your Boat Aluminum Foil Boat STEM Challenge that explores gravity and buoyancy!
Learn about the center of gravity with this Stellaluna balance bat storybook STEAM activity for elementary kids!
Create oil resist tessellation masterpieces! This oil resist tessellation art is a great way to combine science, art, and math into one masterful activity for kids!
This popcorn STEAM activity makes learning about heat transfer and physical change super fun! Explore physical change with this easy STEM activity!
Introduce algorithms with this hands-on unplugged coding activity for kids! You can teach your kids to code with this Coding Your Artwork low-prep coding STEAM activity!
This tech + art low-prep STEAM challenge introduces maps and basic directions to kids K-3 and helps them become more aware of their surroundings while also creating awesome hometown map art from a local geography! You can also grab a free directional drawing workbook for another no-prep learning activity for kids!
Learn how to draw 3D images, make anaglyph artwork, and grab some free 3D art worksheets with this no-prep 3D Writing STEAM Activity!
What is Op Art? Find out how to make awesome optical illusion art and download a free optical illusion coloring book for kids with this Optical Illusions Exploration no-prep STEAM activity for kids!
Chemistry and art collide with this sharpie art STEAM Activity! We love turning science into art and this Sharpie art activity is a great way to learn about solubility while making pretty artwork!
This gravity paint pour activity is a pretty neat hands-on activity that helps solidify a concept for young kids. Learn about gravity with easy paint pours and make awesome marbleized patterns with kids today!
This math + art STEAM activity presents this would-be complex mathematical concept in an easy to understand, tangible way. This hands-on Fibonacci art STEAM activity is ideal for elementary-age kids through tweens!
See Absorption in Action with this Salt Painting STEAM Activity for Kids. Salt painting is such a fun activity to do with kids! This easy low-prep STEAM activity pairs Science + Art for a magical experience watching color appear with the simple touch of a brush.
Learn the science behind sensory bottles with this low-prep STEAM activity and conduct a water science experiment to learn about the weight and volume of different liquids and compare them to each other.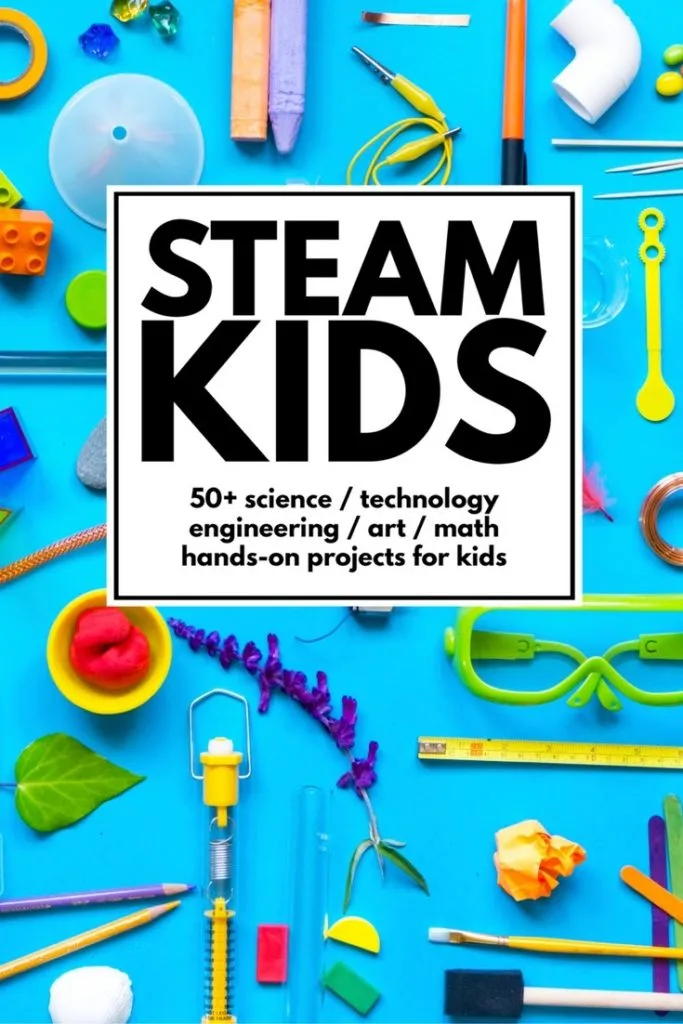 31 Days of Low-Prep STEAM Activities for Kids
A whole month of daily low-prep STEAM activities for kids. You are going to love all of the low-prep STEAM activities that we have in store!
PIN THIS IMAGE TO SHARE OUR 31 DAYS OF LOW-PREP STEAM ACTIVITIES FOR KIDS!
Meet Toni, the Maker Mom behind Our Family Code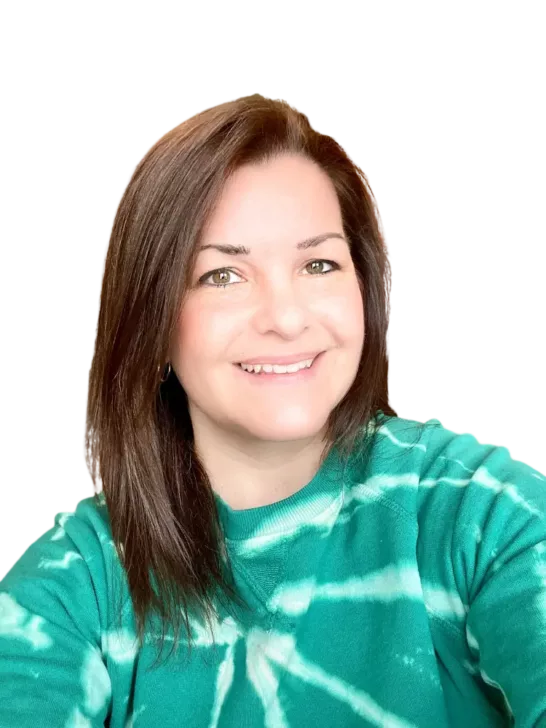 Hey there, I'm Toni! I'm a software engineer and Maker Mom that finds my joy in unleashing my children's curiosity by exploring STEAM concepts with my fantastic five!
When I'm not chasing toddlers or raising tweens, you can find me tearing things up and putting them back together over here at Our Family Code.
I am the owner and content creator of multiple educational websites designed to increase access to STEAM & STEM education with a focus on teaching computer science and coding to kids of all ages!
You can also find out more about me by visiting ToniGardner.com!