Learn how to make a plastic pumpkin tower with this Halloween decoration DIY that costs less than $10!
I'm not kidding. You can really make this pumpkin tower Halloween decoration for less than $10. The best part is that it's really cool. I made this last year and it was such a huge hit! It's like a beacon of light in front of my house!
Four of the seven people in my house have a birthday in September and October. Every year, Charlotte and I celebrate our birthdays by making a fun new decoration and then putting all the decorations up.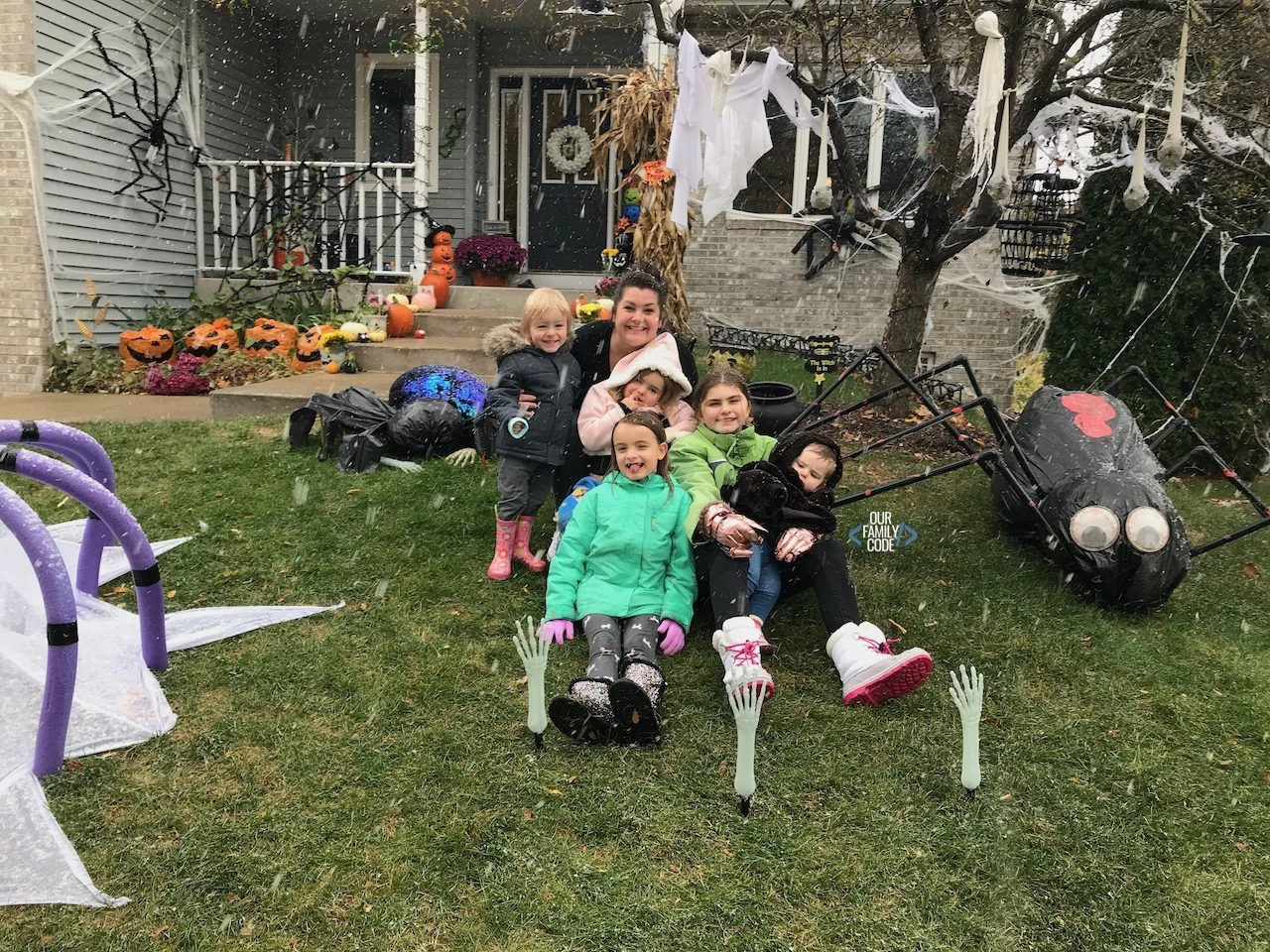 This post contains affiliate links. As an Amazon Associate, Our Family Code earns from qualifying purchases. Please see our Disclosure Policy for more details.
Plastic Pumpkin Tower Supplies
Please note: We are including Amazon links to supplies below, but purchasing supplies this way will not be less than $10. We suggest purchasing the pumpkins from Walmart and the remaining supplies from the Dollar Tree if you can!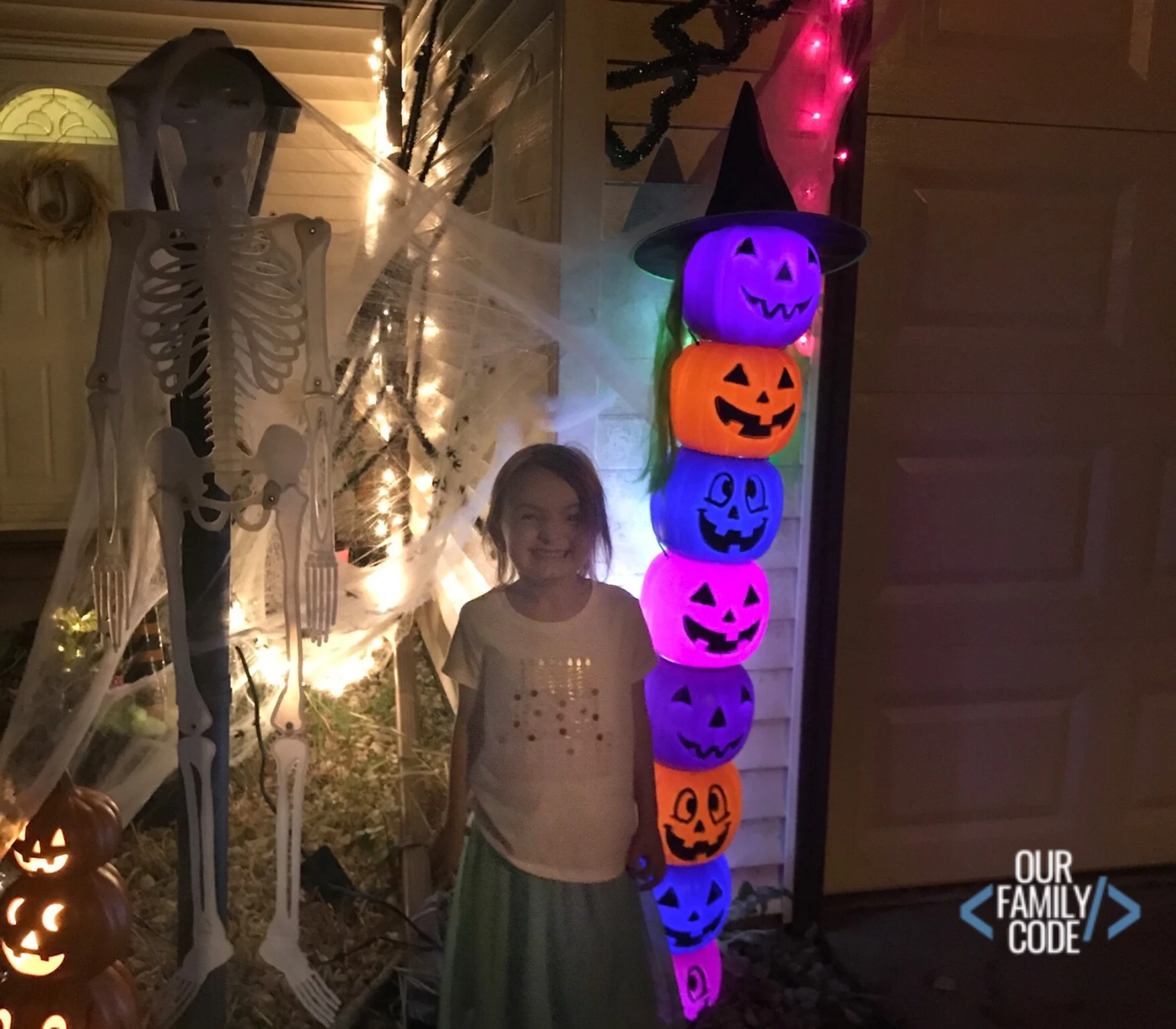 How to Make a Pumpkin Tower Halloween Decoration
Drill a hole in the back of your base pumpkin.
Pick the pumpkin that will go on the bottom of the tower and drill a hole in the back of that pumpkin.
Drill holes in the bottom of all remaining pumpkins.
In order to run the lights through the plastic pumpkins, we drilled holes through the bottoms of each pumpkin (except for the one that goes on the bottom – see first step).
Build Tower
Place the light string in the base pumpkin and carefully pull the string through the second pumpkin in the stack. I used 8 plastic pumpkins and 100 light string, so I made sure to dedicate around 10 lights per pumpkin in order to balance the light for the tower.
Use hot glue or E6000 to glue the pumpkin to the previous pumpkin by stacking on top of each other. Repeat this step for the remaining pumpkins.
Let glue dry and check for any spots that may need more glue applied.
Secure the base of the pumpkin
Use rocks in the bottom pumpkin or hammer stakes through the bottom to make sure that the pumpkin tower stands on its own.
Decorate
Glue a witch hat to the top of the pumpkin tower and plug your new DIY Halloween decoration in!
I just adore our new massive pumpkin Halloween decoration. Charlotte was thrilled to make such a giant Halloween decoration.
I was thrilled to not spend an arm and a leg on it too! It's so rare when things bring both my pocket book and my child joy these days. Mom win! Heck to the yeah!
Store or Recreate Next Year
Since we originally made this pumpkin tower decoration back in 2016, we've moved! We decided to build a new tower at our new house and followed the instructions above!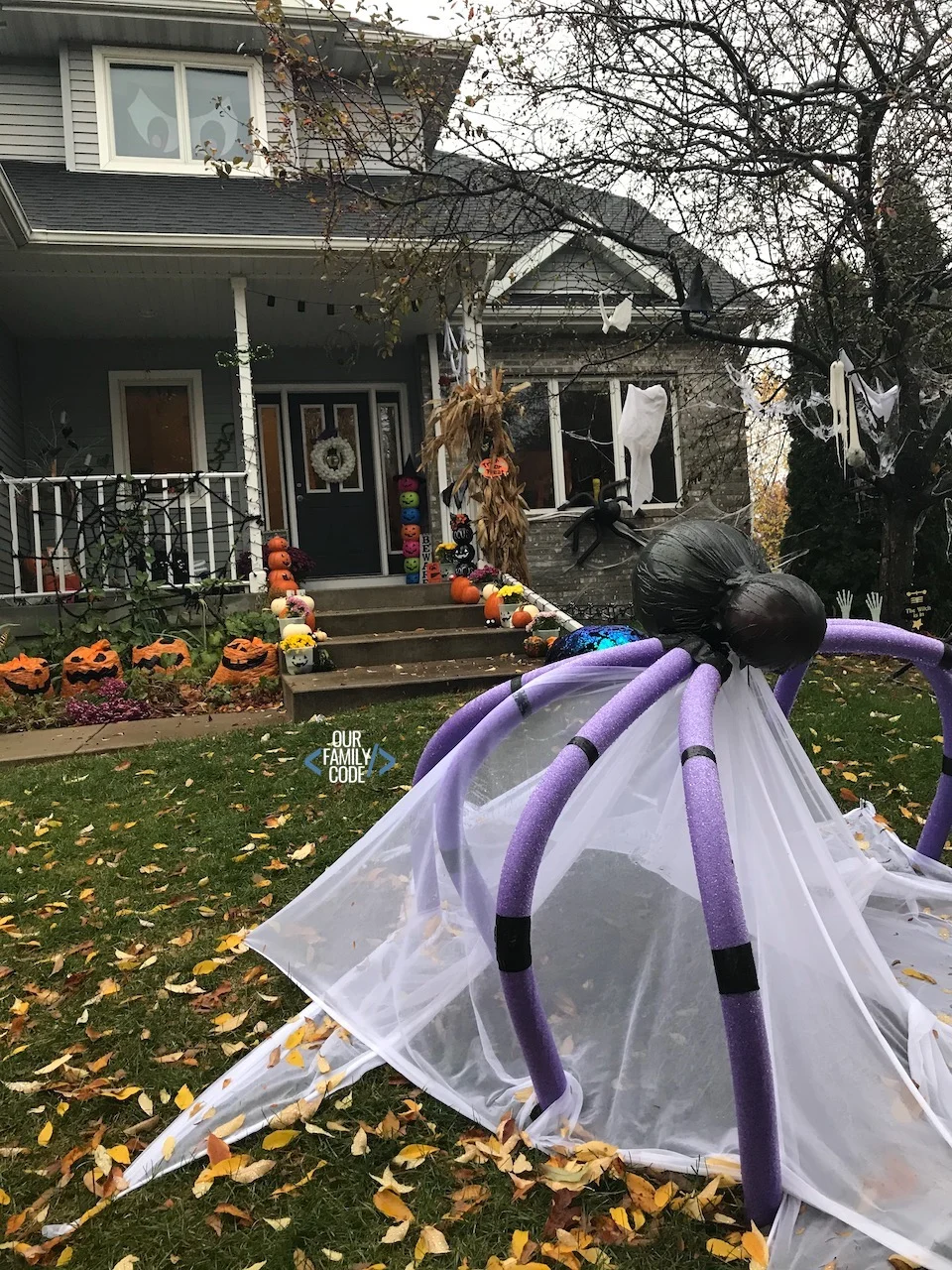 Looking for More Easy Halloween Crafts and DIYs?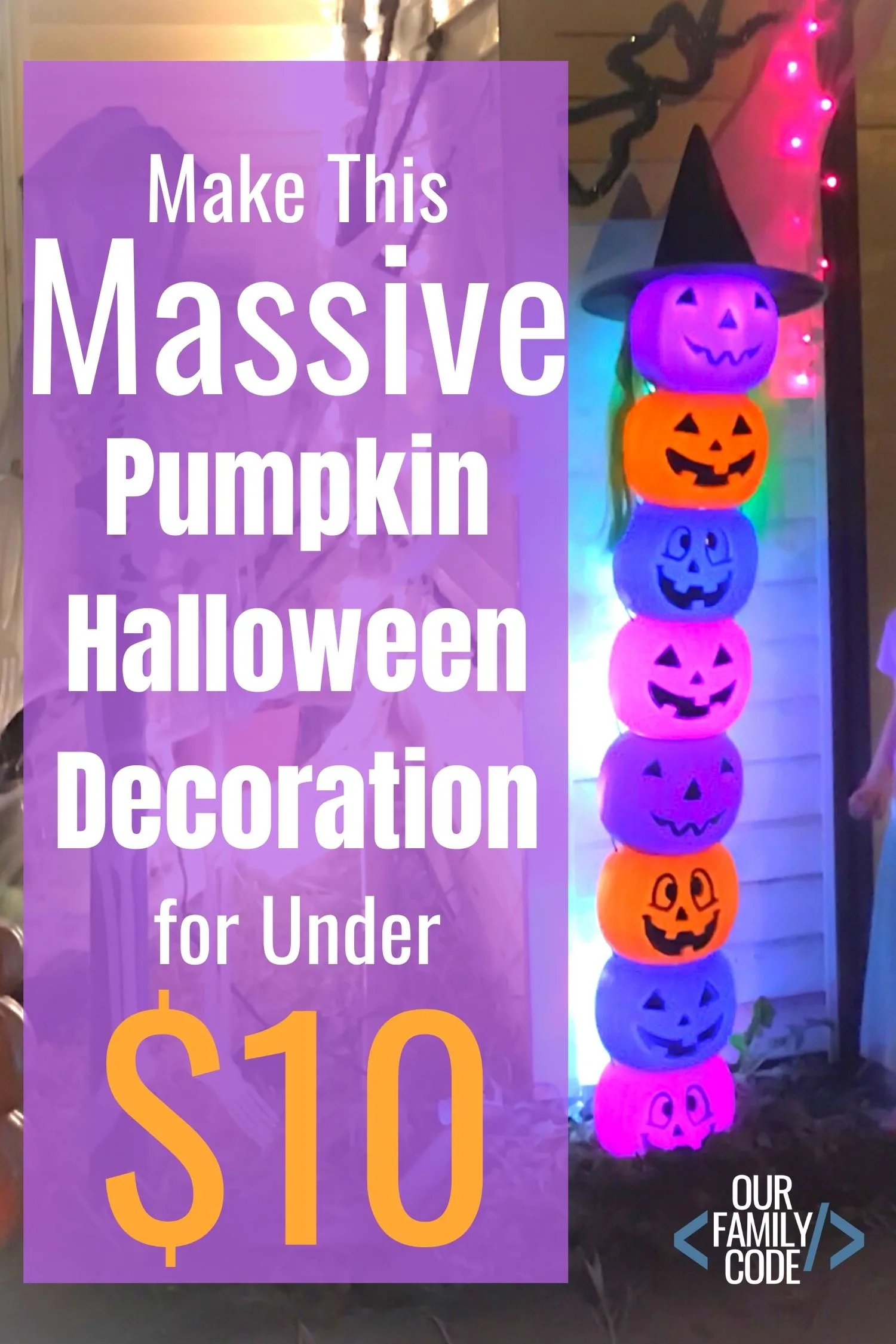 Halloween Crafts for Kids
Find more easy Halloween crafts for kids!
Meet Toni, the Maker Mom behind Our Family Code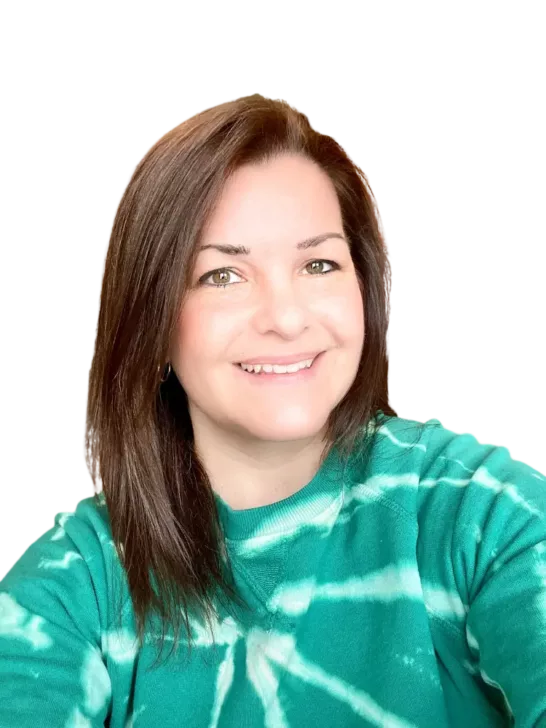 Hey there, I'm Toni! I'm a software engineer and Maker Mom that finds my joy in unleashing my children's curiosity by exploring STEAM concepts with my fantastic five!
When I'm not chasing toddlers or raising tweens, you can find me tearing things up and putting them back together over here at Our Family Code.
I am the owner and content creator of multiple educational websites designed to increase access to STEAM & STEM education with a focus on teaching computer science and coding to kids of all ages!
You can also find out more about me by visiting ToniGardner.com!