Check out these two Preschool Valentine's Day heart letter matching activities to work on uppercase and lowercase letter recognition and letter sounds.
This activity is super simple to set up. Print, laminate (optional, but recommended), cut, and mix up the heart halves to get started!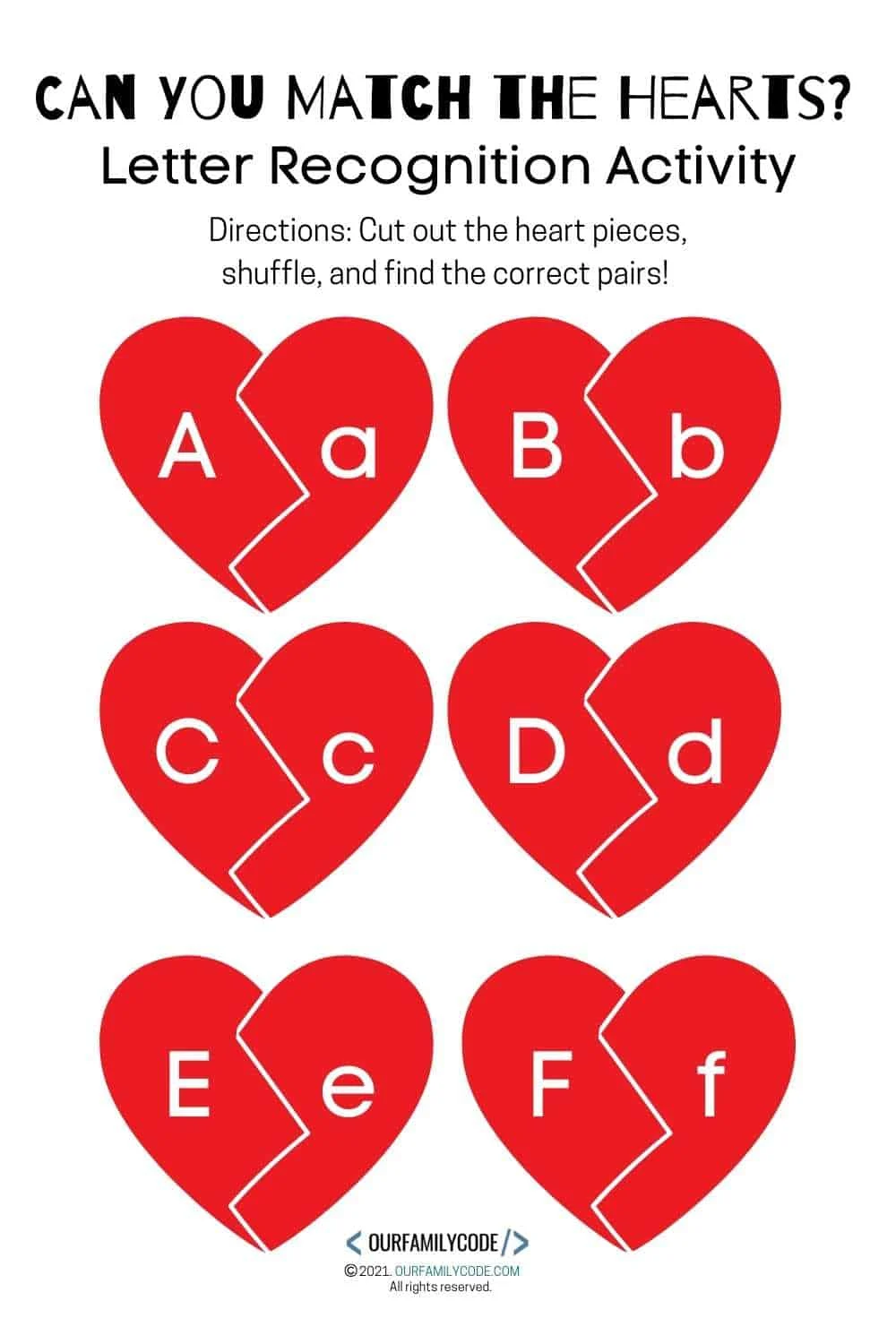 There really is no better way to learn than through play!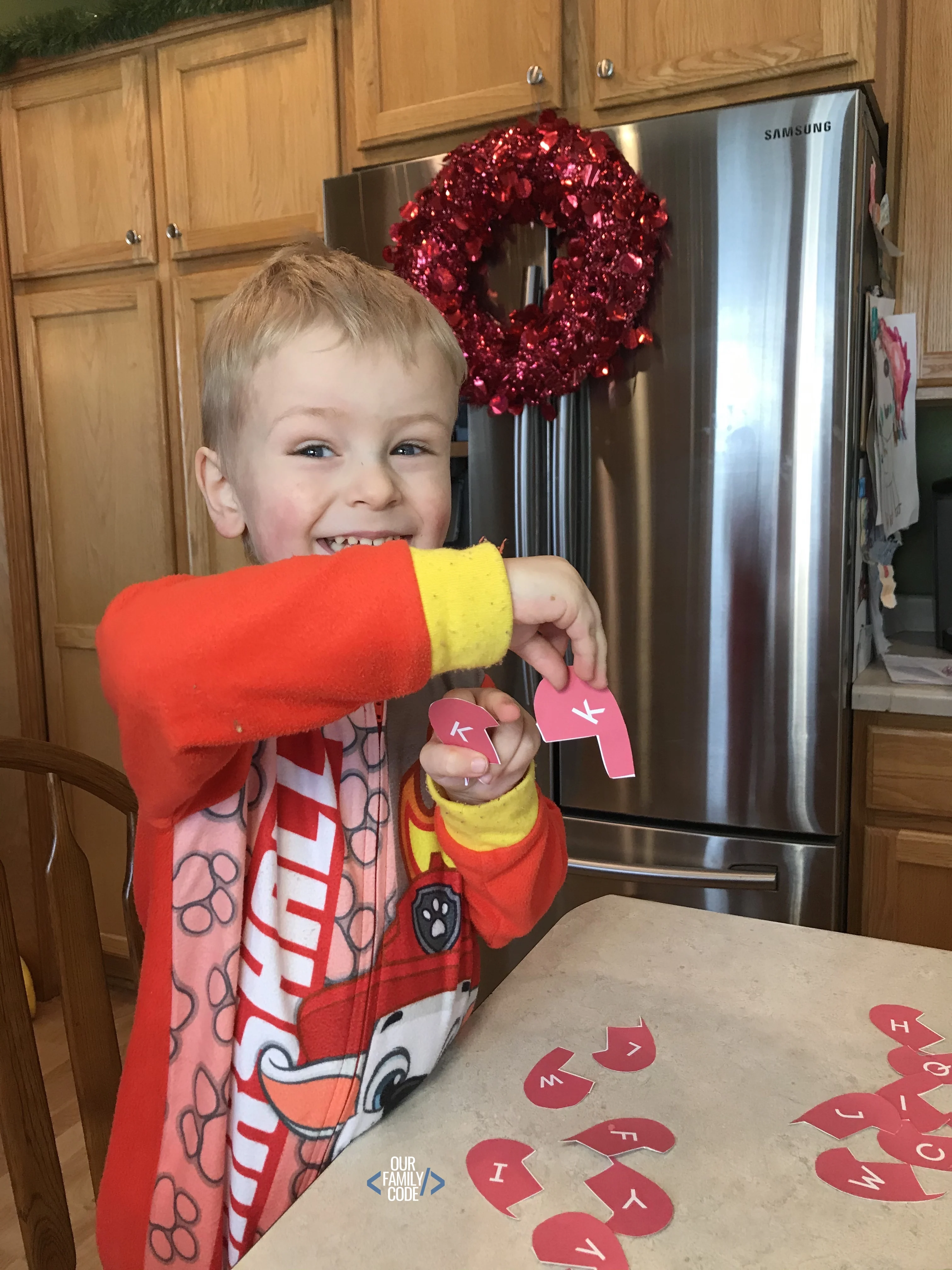 How to Play Valentine's Day Letter Matching Hearts
Uppercase & Lowercase Preschool Letter Recognition
Spread out the hearts on a table. Match the uppercase and lowercase letters to put together the hearts!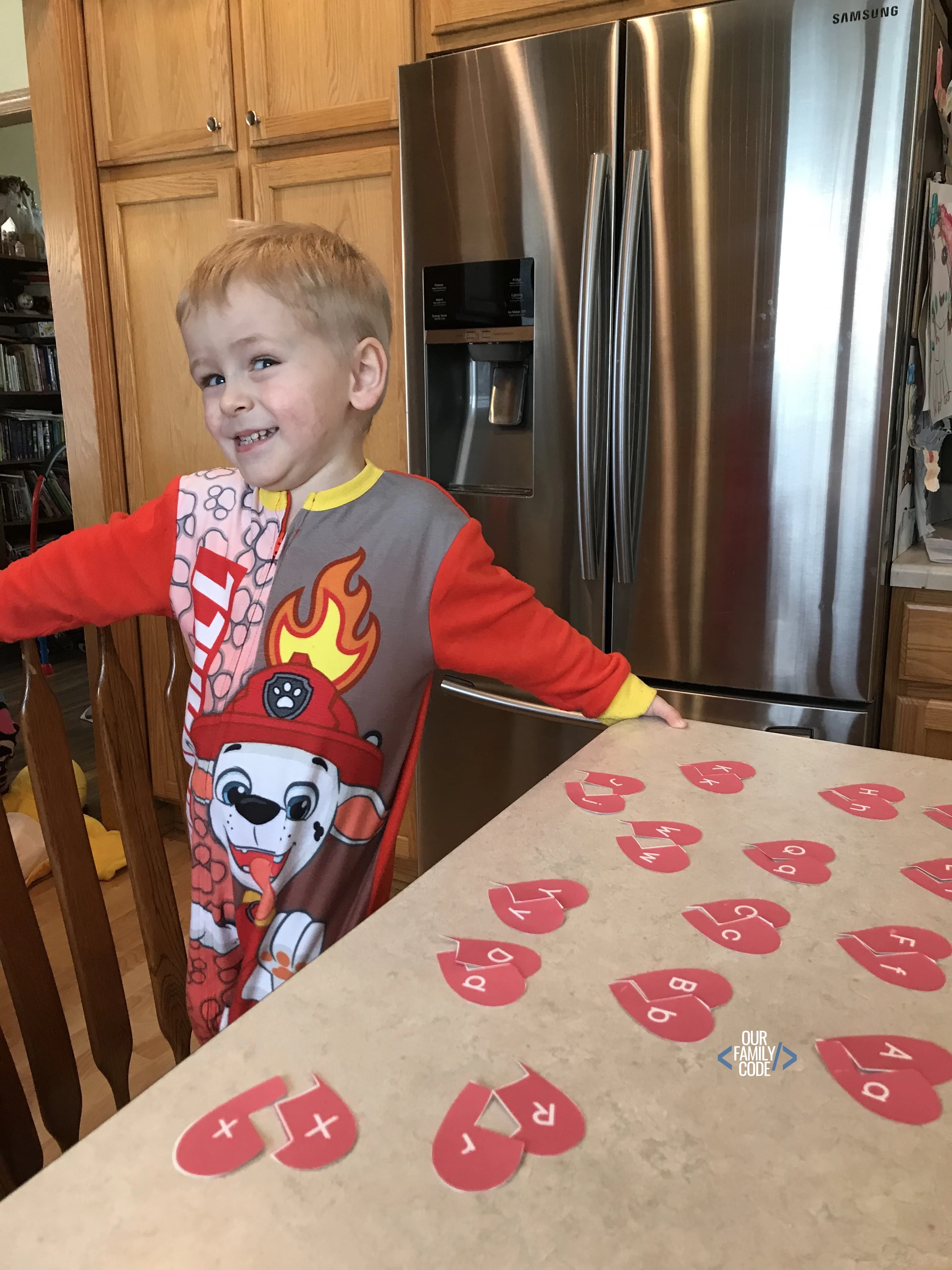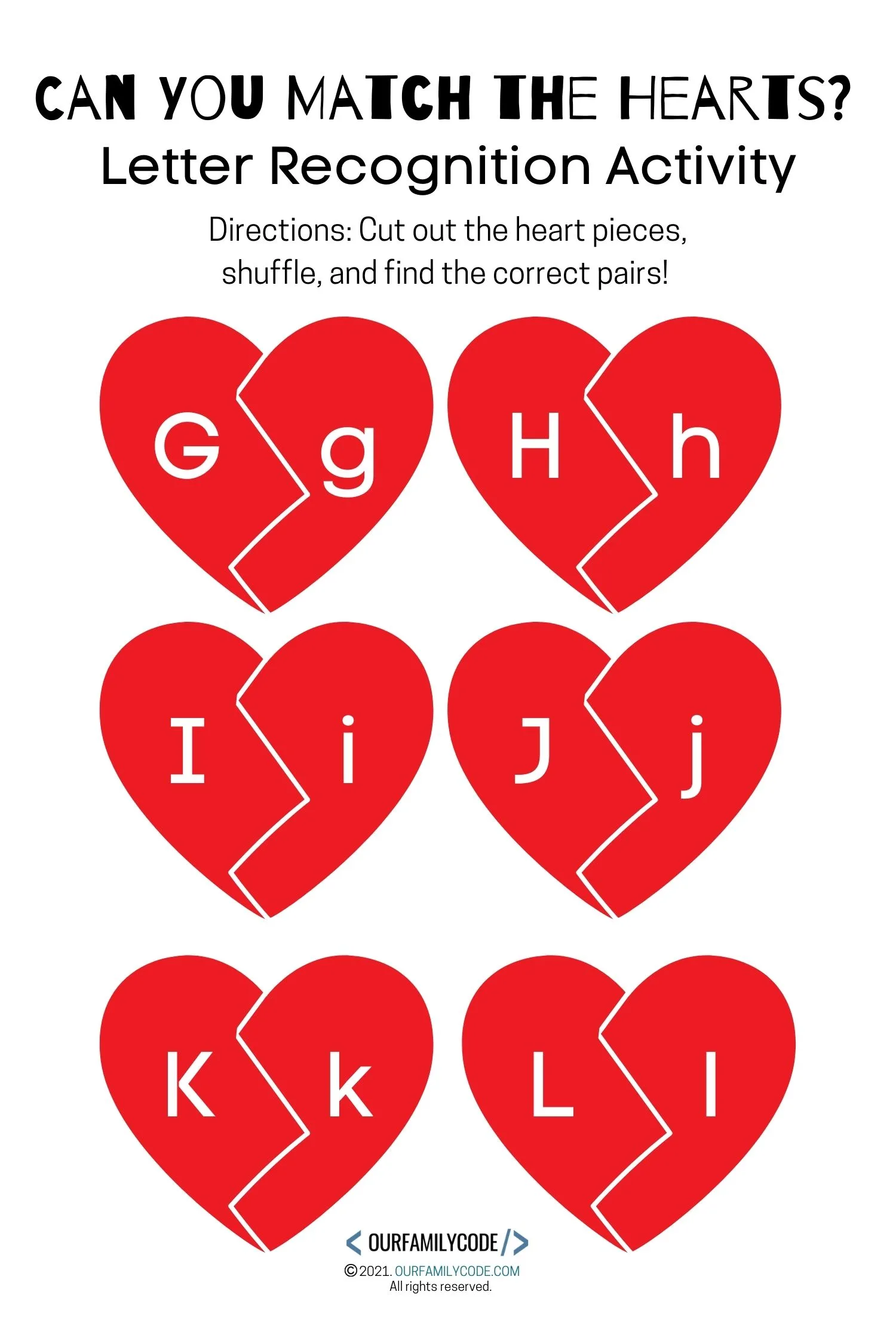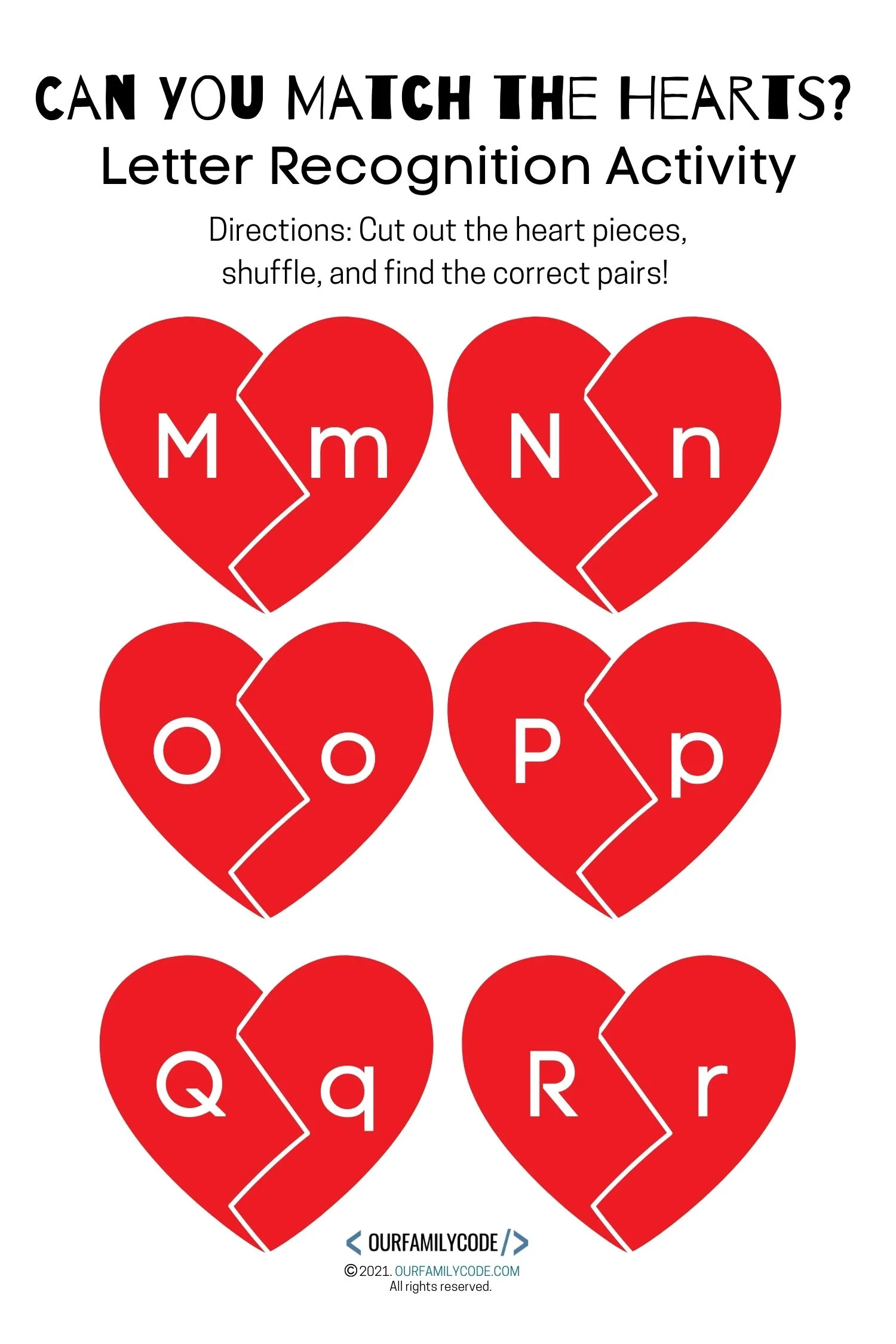 As we went through the letters, we talked about letter sounds and identified uppercase and lowercase.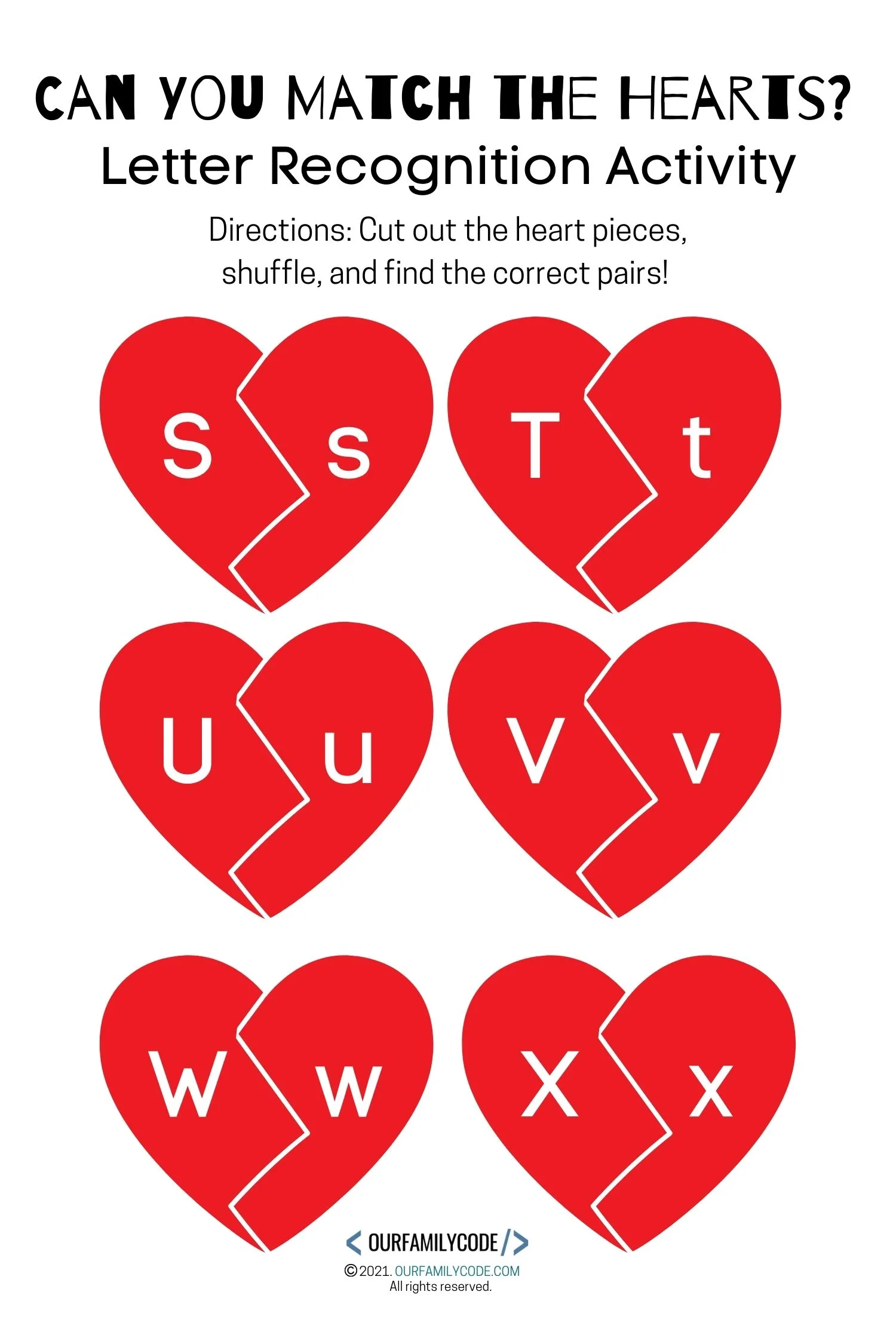 We played with our broken hearts in so many different ways! Some suggestions we have are to work on vowels, beginning letters (start with just a few letters at a time), spelling names, sensory bin heart scavenger hunt, or even spelling preschool sight words!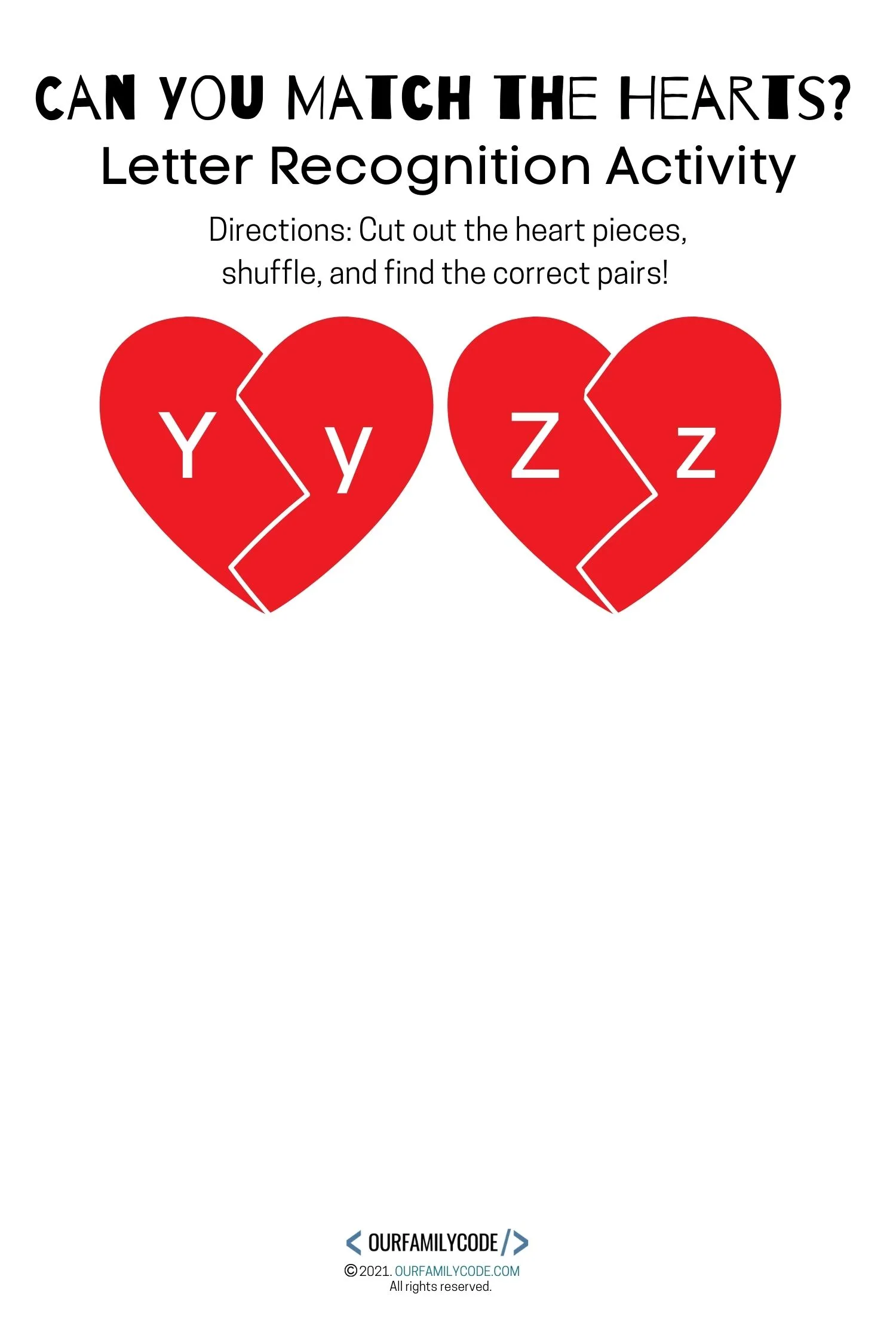 <<CLICK HERE TO DOWNLOAD UPPERCASE & LOWERCASE HEART MATCHING>>
Preschool Letter Recognition
My son (3yrs) thought this was a super fun activity! He is a very curious student and incredibly advanced in his letter recognition. We have been working on letter recognition paired with letter sounds, so we mixed a bunch up and made a game of finding letters by the sound they make!
This made it more difficult for him, but also opened up the opportunity to dive in and identify which letter sounds he really knows and which ones he is still learning.
This helps me to tailor activities to keep him engaged and learning!
You might also enjoy: Candy Heart Coding Unplugged Coding Activity for Preschoolers
Matching Letters & Animals Valentine's Day Preschool Activity
For a twist, we made some letter and animal matching hearts! The goal is to match the letter to the sound that the animal begins with!
For this activity, we printed and cut our hearts out. Then, I mixed a few of them up in order to introduce the activity without overwhelming my kids.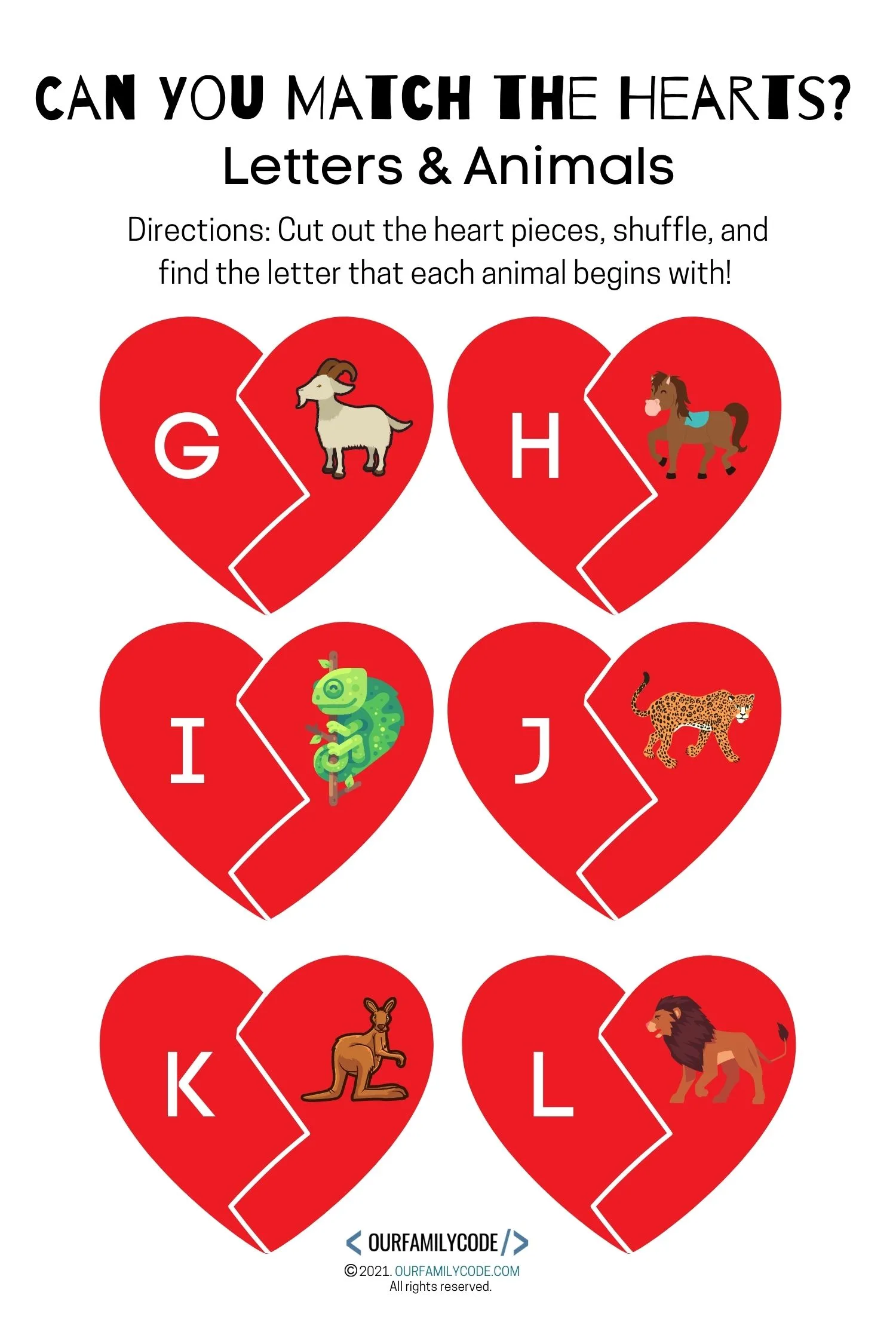 We grabbed an animal and talked about the sound that animal begins with. We started with "Bird". Then, we went on a letter hunt and talked about the sounds the letters in our pile made.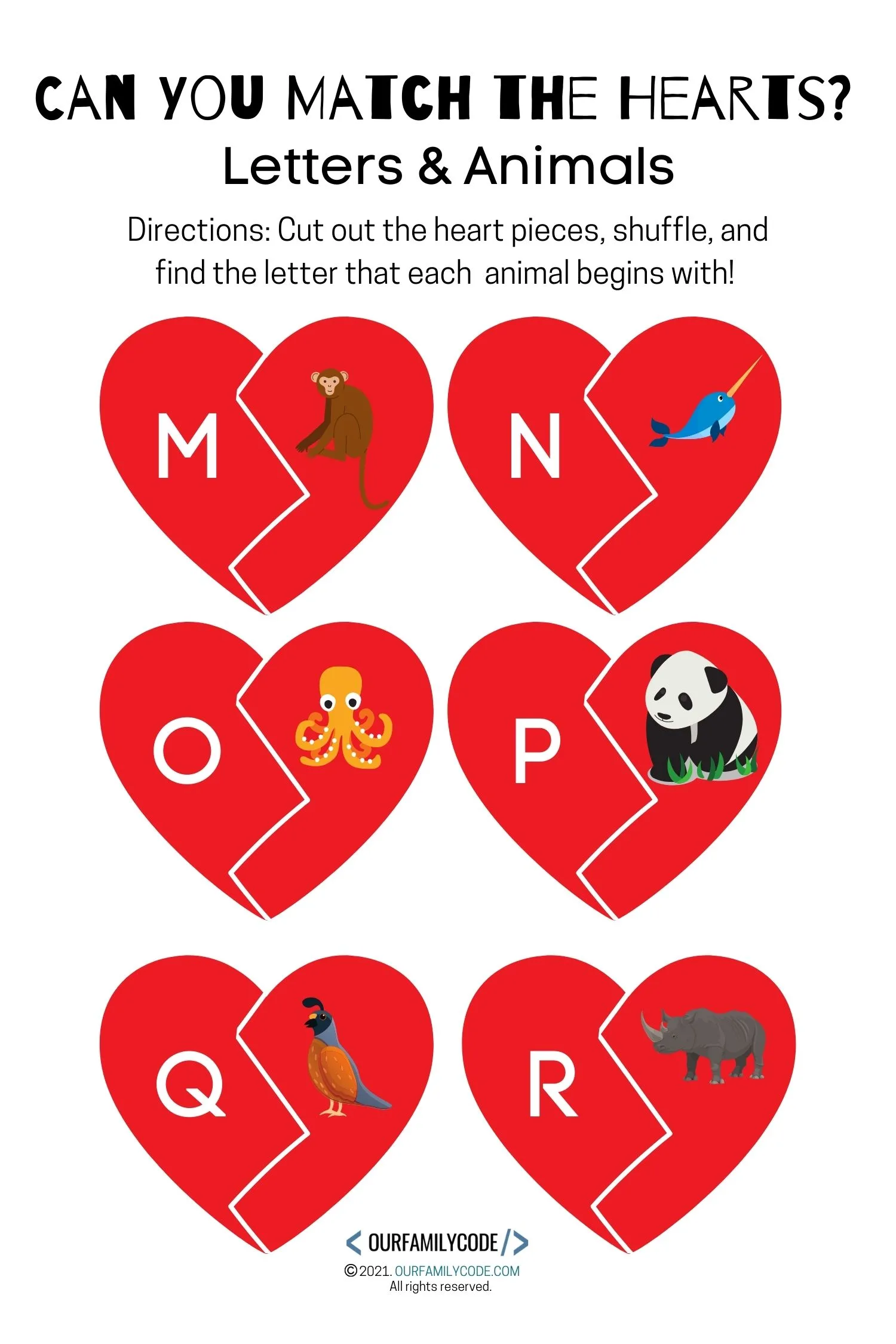 After discussing our letter sounds, my son was very eager to build his hearts. My daughter enjoyed going through every letter before determining what animal it matched with.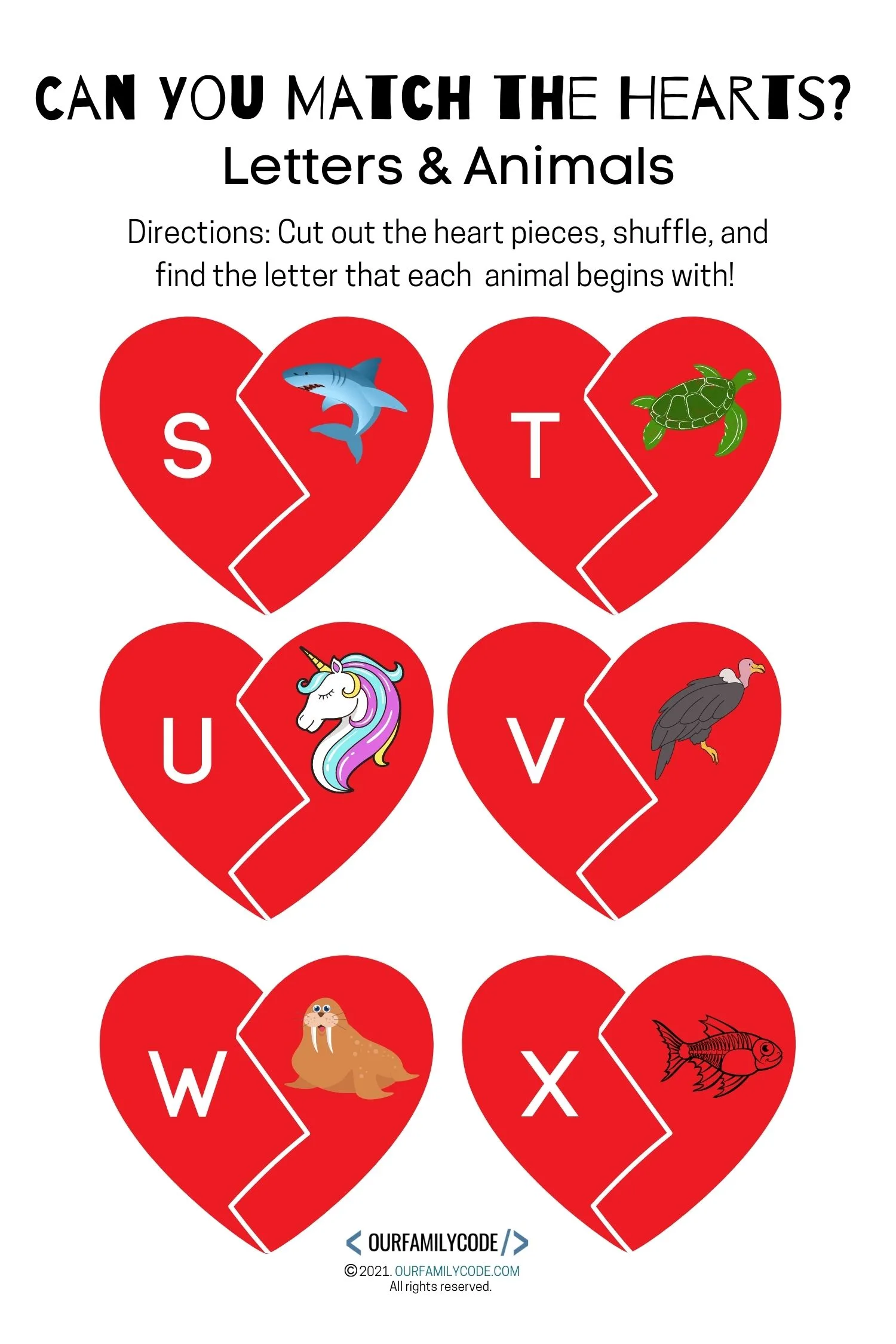 There are so many ways to play! One way to get started is to cut the hearts out without cutting down the middle and working on arranging the hearts in letter order before getting started with the rest of the activity!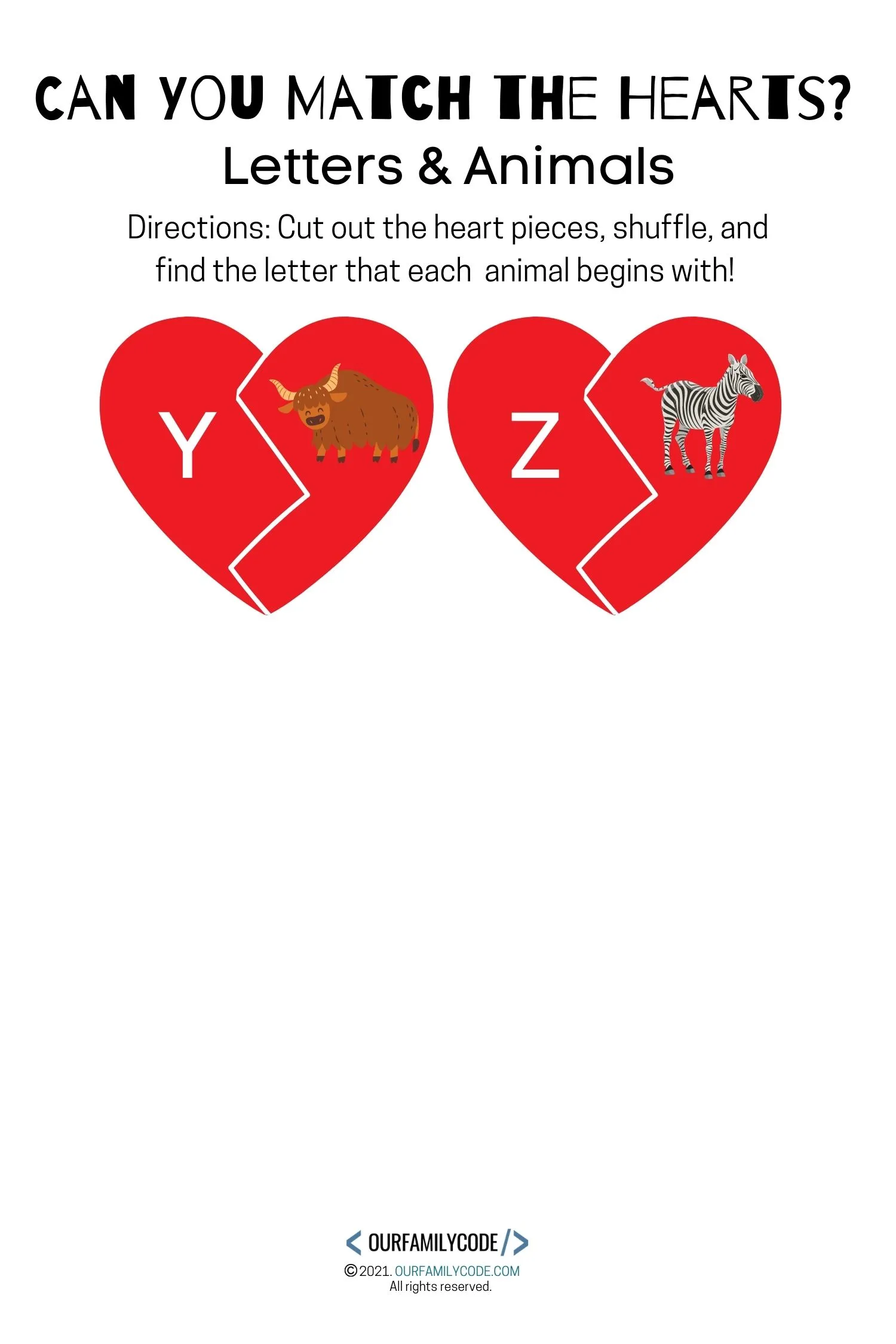 <<CLICK HERE TO DOWNLOAD LETTERS & ANIMALS HEART MATCHING ACTIVITY>>
Valentine's Day Activities
Valentine's Day
Find more Valentine's Day activities and Valentine's Day printables for kids!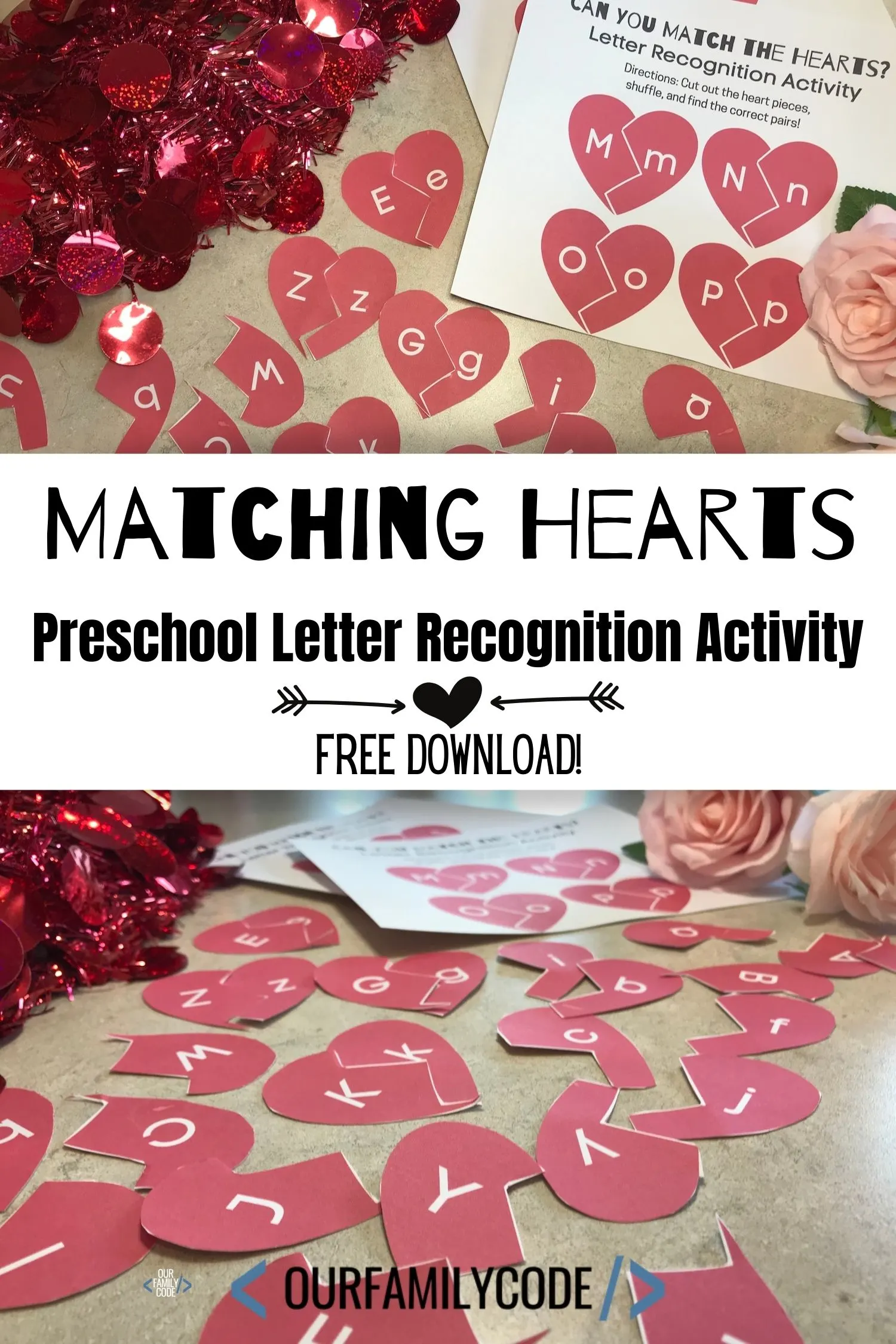 Meet Toni, the Maker Mom behind Our Family Code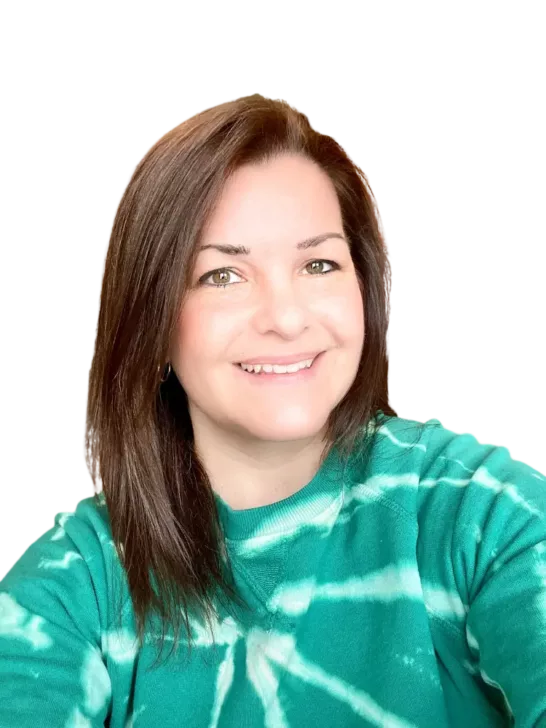 Hey there, I'm Toni! I'm a software engineer and Maker Mom that finds my joy in unleashing my children's curiosity by exploring STEAM concepts with my fantastic five!
When I'm not chasing toddlers or raising tweens, you can find me tearing things up and putting them back together over here at Our Family Code.
I am the owner and content creator of multiple educational websites designed to increase access to STEAM & STEM education with a focus on teaching computer science and coding to kids of all ages!
You can also find out more about me by visiting ToniGardner.com!