This ice lantern winter STEAM activity is a great way to teach young scientists about different states of water. If it's already freezing outside, you can use your ice lanterns to decorate too!
Lately, my little two-year-old and I have been busy working on fun winter STEAM activities designed for preschool and toddlers while my older girls are at school during the day.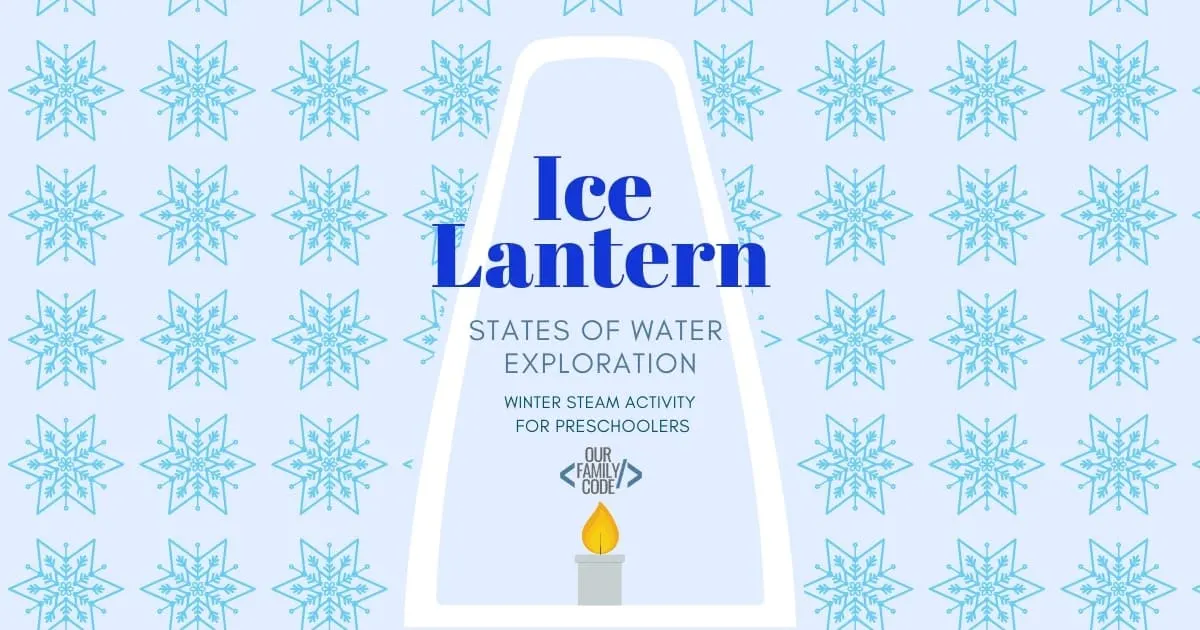 This post contains affiliate links. As an Amazon Associate, Our Family Code earns from qualifying purchases. Please see our Disclosure Policy for more details.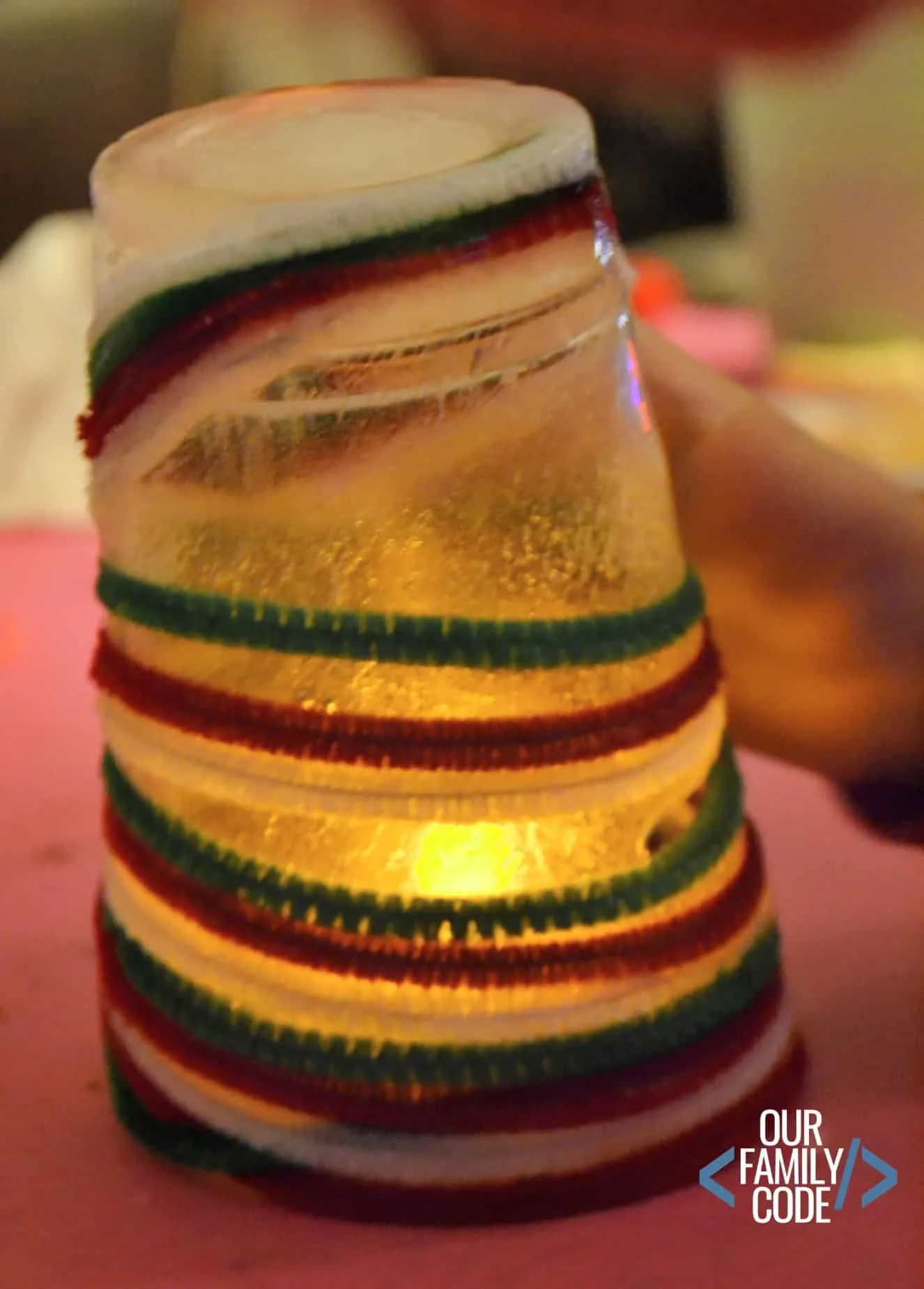 Ice Lantern Materials
Small plastic cup
Large plastic cup
Water
4 clothespins or tape
Freezer (you can also freeze them outside if the weather permits!)
Decorations: small pom poms, pipe cleaners, beads, glitter, food coloring, etc
How to Make an Ice Lantern
I did this activity with my two-year-old, Thea, who was very interested in the whole process and my 1st grader!
If you are making an ice lantern with older kids, they can take on more of the decorating portion of the project. Since Thea is pretty young, we worked on making an ice lantern with a pattern of pipe cleaners.
Twist pipe cleaners around your small plastic cup. We made a pattern with our pipe cleaners and did not add any other decorations.
If you are adding additional decorations, make sure to leave space between your pipe cleaners. We twisted our pipe cleaners in a pseudo braid to keep the ends from poking us.
Once you are finished with the pipe cleaners, place the small plastic cup inside the large plastic cup with the open end facing out.
At this point, you can carefully squeeze the small plastic cup just enough to place your pom poms, glitter, or beads between the different pipe cleaners.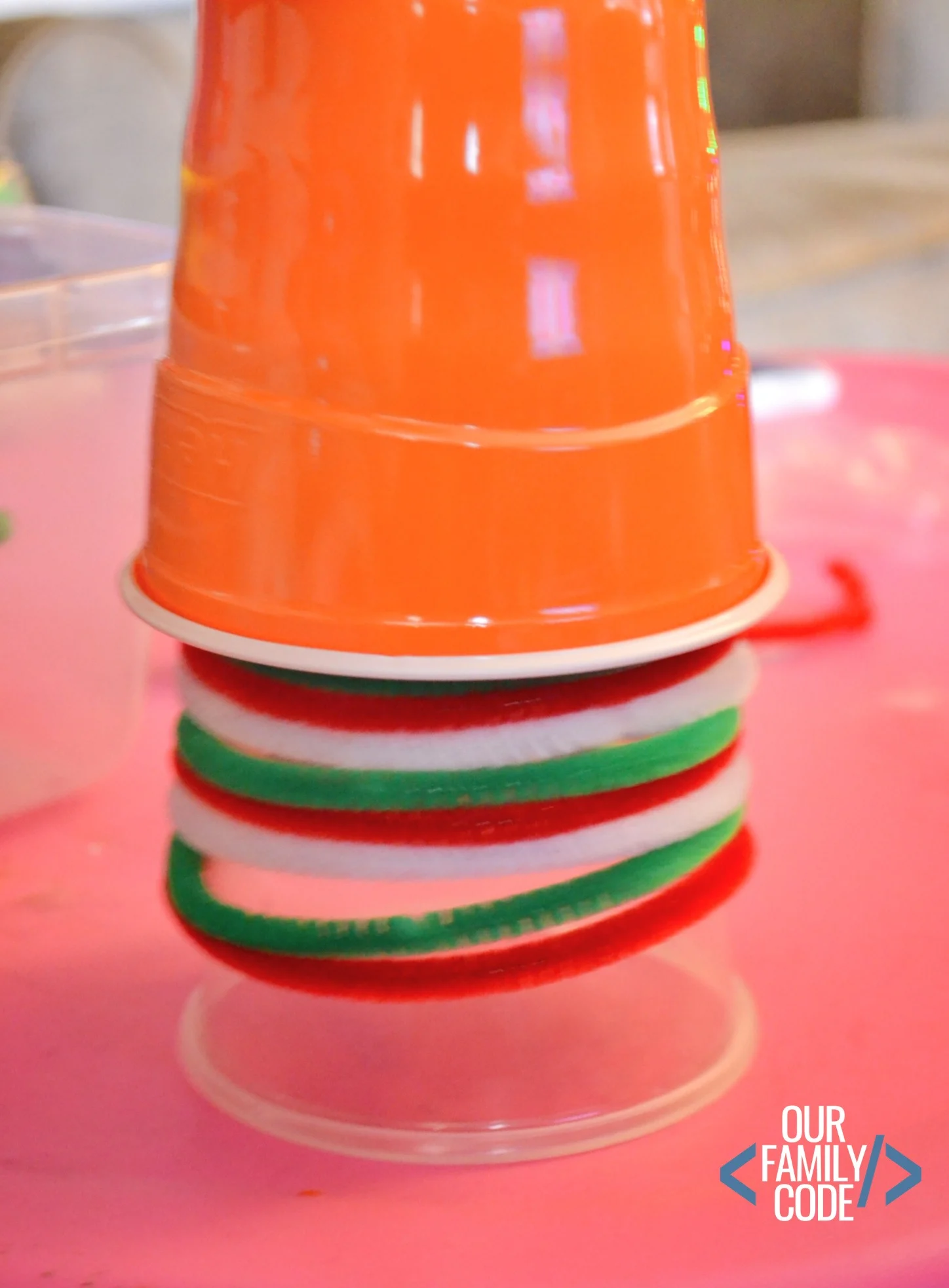 After you are finished, use four clothespins (or tape) to secure the small cup inside the larger cup.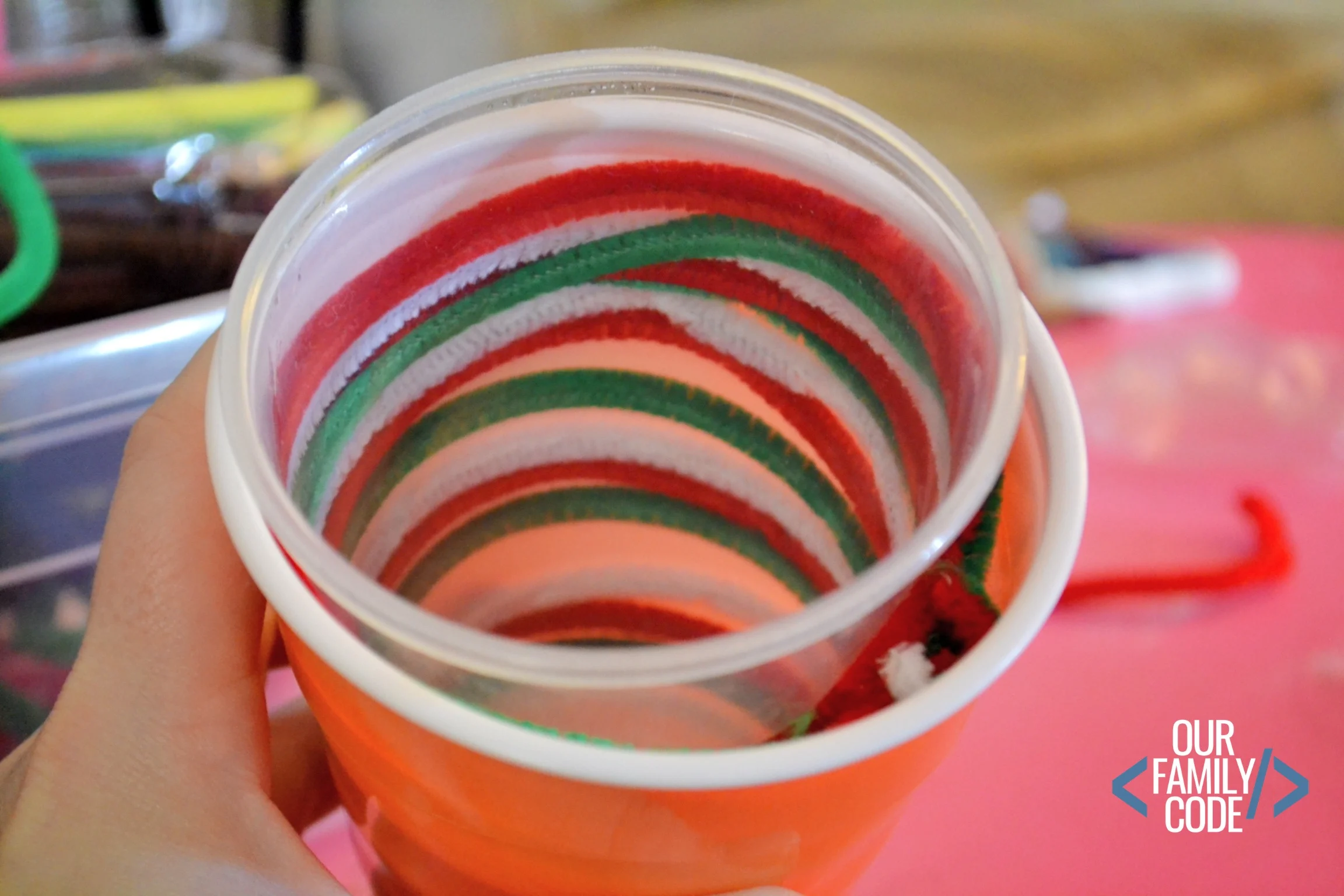 Add water to the area between the small cup and large cup that holds your ice lantern decorations. If your small cup starts to pop up, you can place something heavy (that can be frozen) inside the small cup to weigh it down.
We found that using clothespins was a great way to keep the cups together during this step and did not have to add anything inside the small cup.
Note: Our small cup was still a little large and stuck out a bit. Try to use a cup that fits with its brim level to the larger cup.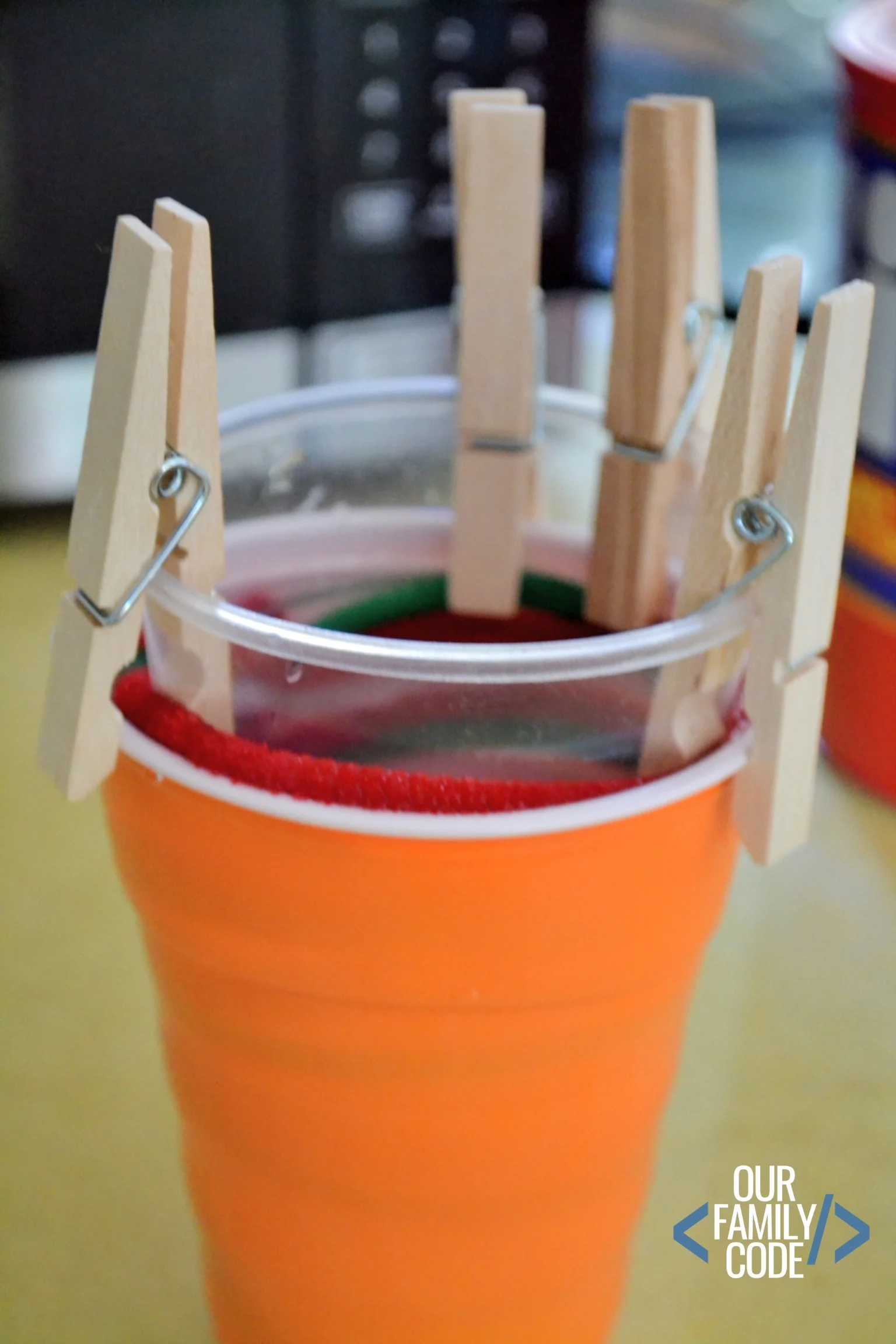 Don't overfill the water and make sure to leave 1-2 cm of space from the top. At this point, you can add food coloring if you'd like to add some more color to your ice lantern.
Place your cups in the freezer for a few hours until your ice lantern is completely frozen. Once frozen, explore how water expands in its solid state, which pushed the smaller cup above the brim of the large cup.
We ran our cups under warm water for 5-10 seconds to remove the larger cup and then used scissors to snip the smaller cup just enough to fold it and remove it from the ice lantern.
Place a battery operated tea light candle on a dish and top it with your ice lantern. As the ice melts, explore the changes that occur.
We even tasted our water to explore how the rising temperature of the water related to the amount of liquid that was present on the plate.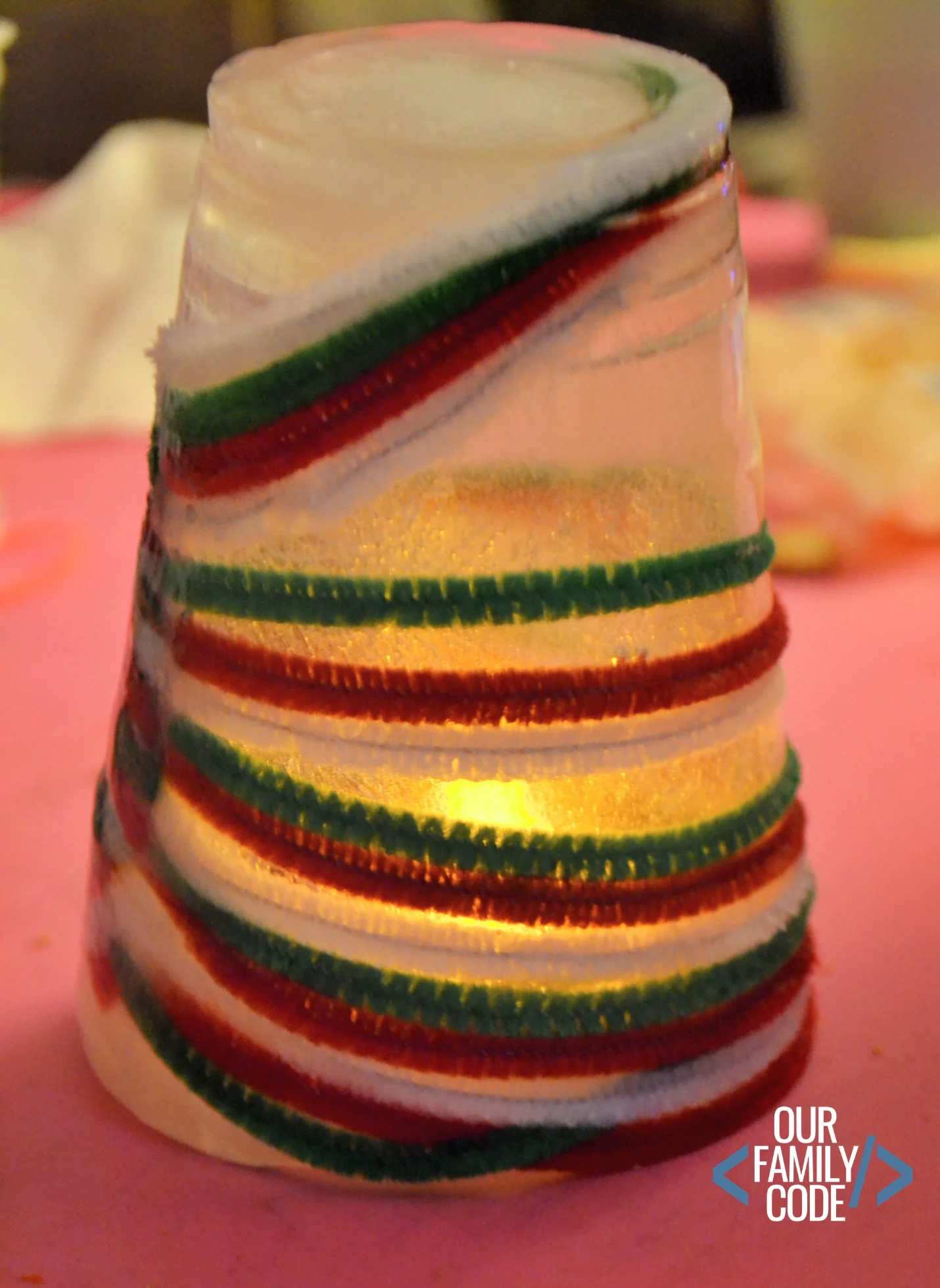 The Science of Ice Lanterns
Water exists at three different physical states: a solid, a liquid, and a gas. This ice lantern winter STEAM activity is great for exploring water as a liquid and solid.
At freezing temperatures, liquid water freezes and becomes ice. During this ice lantern activity, you can observe this change after your water sits in the freezer for several hours.
You'll notice that the water expands and pushes the smaller cup higher as the ice froze to the brim of the larger cup.
PIN THIS ACTIVITY TO SAVE IT FOR LATER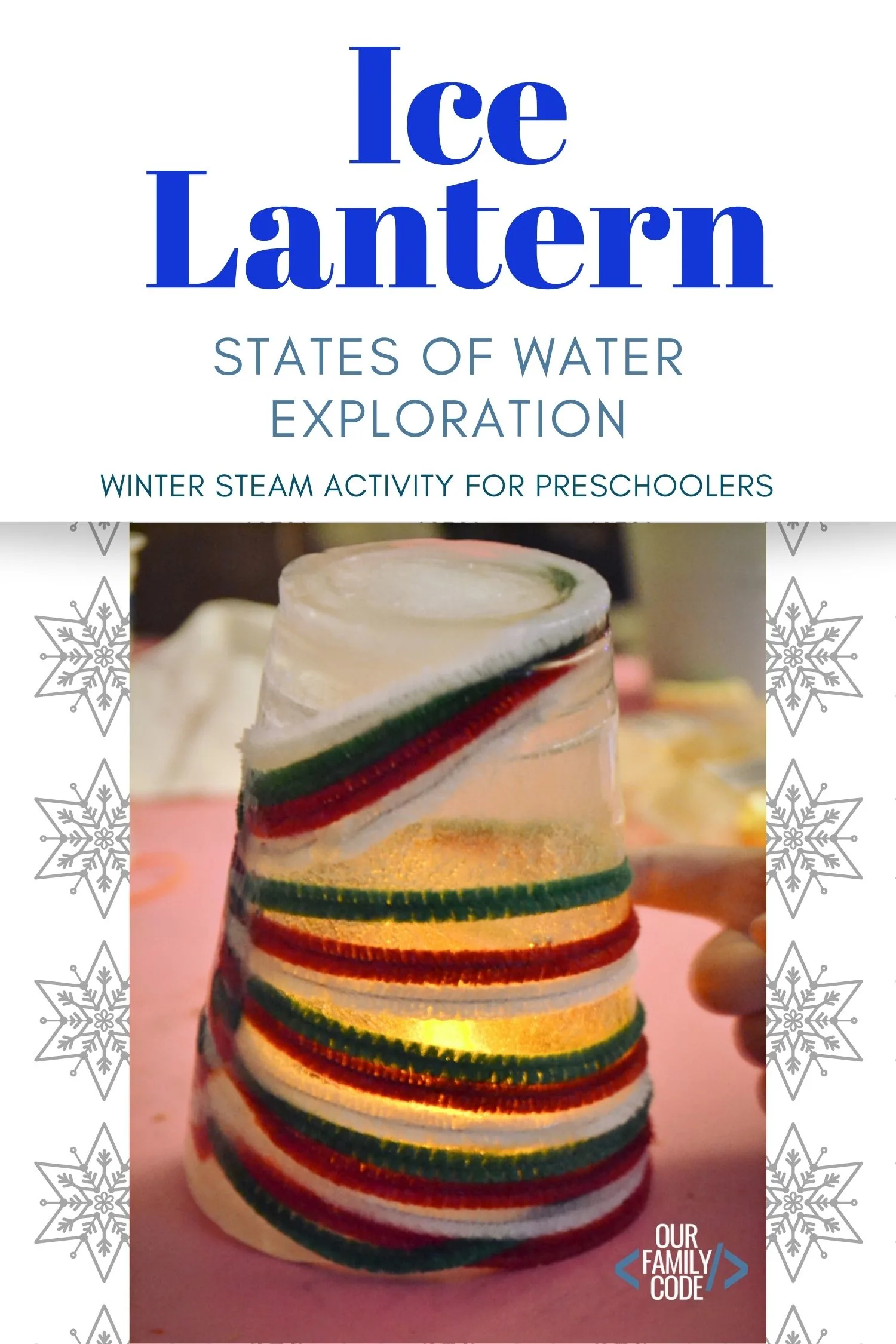 Winter STEAM
Find more winter STEAM activities for kids!
Meet Toni, the Maker Mom behind Our Family Code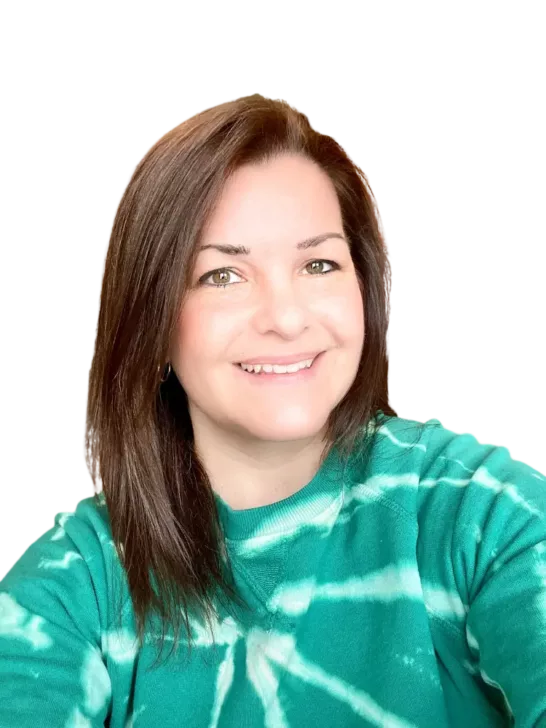 Hey there, I'm Toni! I'm a software engineer and Maker Mom that finds my joy in unleashing my children's curiosity by exploring STEAM concepts with my fantastic five!
When I'm not chasing toddlers or raising tweens, you can find me tearing things up and putting them back together over here at Our Family Code.
I am the owner and content creator of multiple educational websites designed to increase access to STEAM & STEM education with a focus on teaching computer science and coding to kids of all ages!
You can also find out more about me by visiting ToniGardner.com!