We love broccoli and cheese soup at our house! I've been making my own copycat Panera Broccoli & Cheese soup recipe for many years. Normally, my soup takes about 30 minutes to prep and cook. I needed a faster solution that generated the same taste! Enter the Instant Pot Broccoli and Cheese soup recipe!
Do you have an Instant Pot? If you don't, you are totally missing out! I feel like I've gained so much more time back with my family since our Instant Pot arrived at our house!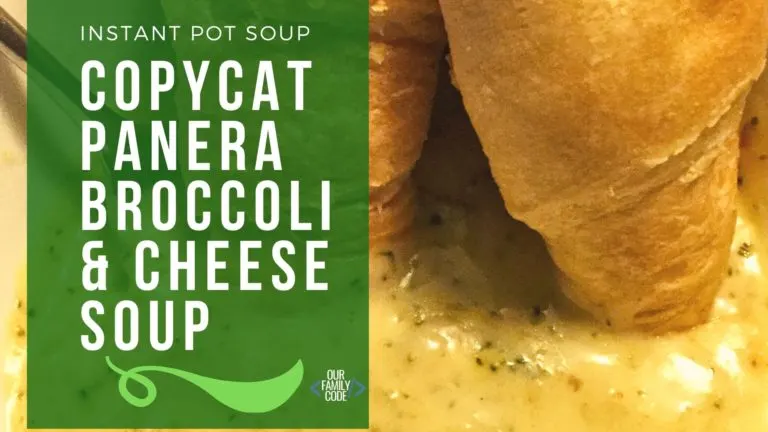 It's truly an awesome piece of kitchen equipment and it replaces so many of my normal pots and pans as well as my slow cooker. I've made so many easy family meals and my kids are slowly becoming Instant Pot masters!
This post contains affiliate links. As an Amazon Associate, Our Family Code earns from qualifying purchases. Please see our Disclosure Policy for more details.
Don't have an Instant Pot! Why not?! The Instant Pot has been a game changer for my family. I've never been so happy with a kitchen appliance before.
Some meals take less than 5-minutes to make like my family's favorite Chicken Tacos and our version of Cowboy Lasagna.
How to Make This Broccoli and Cheese Soup Recipe on a Stovetop
If you don't have an Instant Pot, this recipe can be made in a large pot on your stovetop. You will need to stop and cook your vegetables for about 5 minutes or until tender when you add them in during Step 1. Once you hit Step 4, you will just proceed to cook your stove in your pot for another 15 minutes or until thick. The rest of the steps are the exact same and you'll still end up with a tasty broccoli and cheese soup in the end!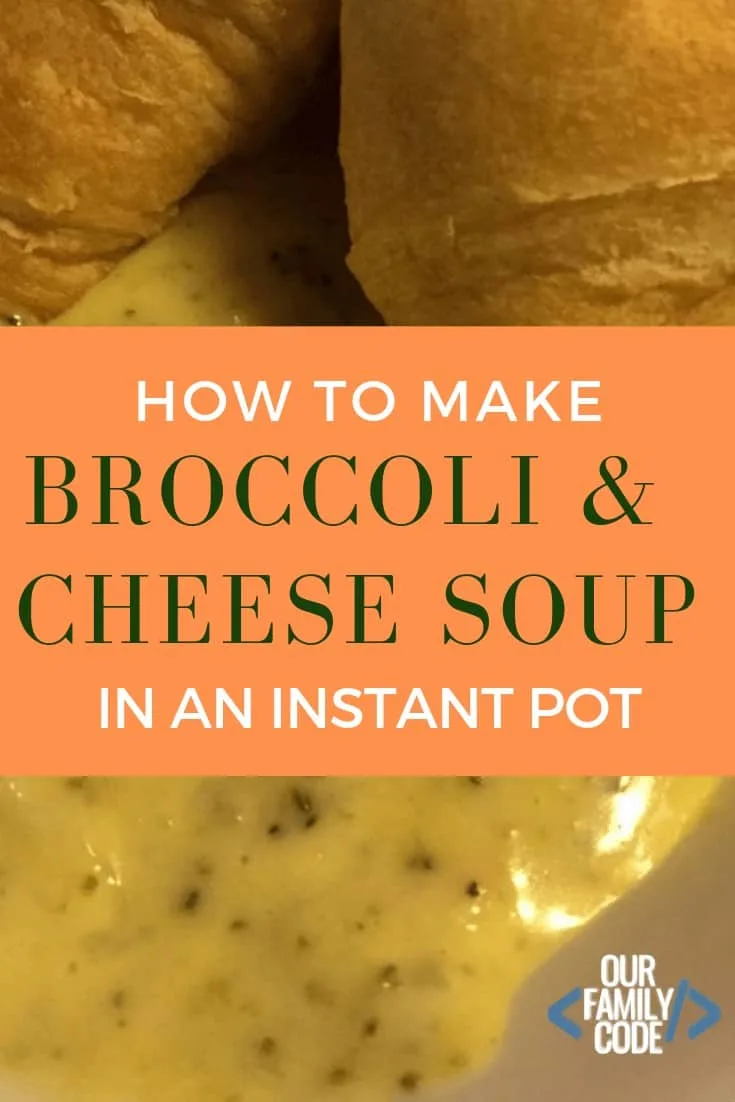 How to Make Broccoli and Cheese Soup in an Instant Pot
I was hesitant to attempt this recipe in an Instant Pot because I feared soggy vegetables and thin soup. I was shocked when my vegetables were appropriately cooked and my broccoli cheese soup was incredibly thick.
Make sure to use fresh vegetables for this recipe. I used matchstick sized carrots and they turned out great, but I suggest thicker carrot slices to balance the broccoli in the soup.
If you aren't a Velveeta fan, that's okay! You can substitute the Velveeta with another 1/2 cup of shredded cheddar cheese.
Yield: 6-10 servings
Instant Pot Copycat Panera Broccoli and Cheese Soup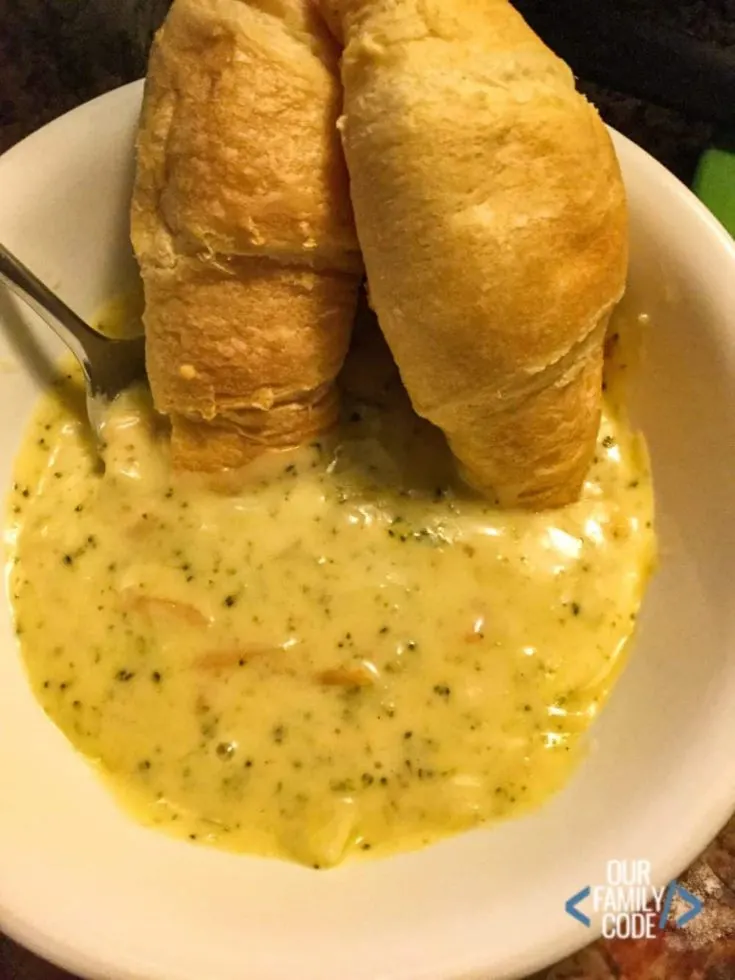 Learn how to make copycat Panera broccoli and cheese soup in an Instant Pot with this fast family soup recipe!
Ingredients
1/4 cup unsalted butter
1 diced white onion
1 cup cut carrots
2 1/2 cups broccoli florets
1 1/2 cups chicken broth
1 cup milk
1 cup heavy whipping cream
1/4 cup all-purpose flour
1 1/2 tsp salt
1/2 tsp black pepper
1/2 tsp nutmeg
pinch of crushed red pepper flakes
2 cups shredded cheddar cheese
4 oz Velveeta cheese
Instructions
Using the sauté setting on your Instant Pot, melt butter.
Add in onions, carrots and broccoli.
Slowly add in broth, milk, and cream. Stir as you add ingredients.
Sprinkle with flour and add salt, pepper, nutmeg, and red pepper flakes. Stir soup.
Secure the top of your Instant Pot and set the Pressure Cook setting on Low Pressure for 10 minutes.
When your timer has ended, release pressure and stir soup.
Add in cheese and stir until melted.
Serve soup with breadsticks and enjoy!
Don't lose this recipe! Pin this Image to Save it on Pinterest!
Meet Toni, the Maker Mom behind Our Family Code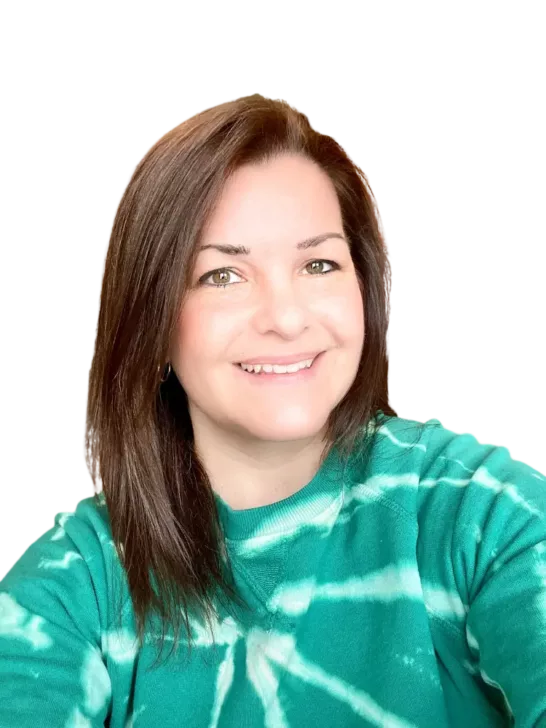 Hey there, I'm Toni! I'm a software engineer and Maker Mom that finds my joy in unleashing my children's curiosity by exploring STEAM concepts with my fantastic five!
When I'm not chasing toddlers or raising tweens, you can find me tearing things up and putting them back together over here at Our Family Code.
I am the owner and content creator of multiple educational websites designed to increase access to STEAM & STEM education with a focus on teaching computer science and coding to kids of all ages!
You can also find out more about me by visiting ToniGardner.com!