Learn how forensic scientists use chromatography to solve cases with this fun low-prep STEAM detective chromatography experiment for kids!
My girls love to wet markers and touch them to paper towels. It was about time that we did a project with chromatography! I decided to set up a whodunnit chromatography experiment to show them how chromatography is used by forensic scientists to break down substances.
This STEAM activity is super easy to set up and involves nearly every STEAM discipline! The best part of this activity is that once you understand the basic process, you can use chromatography to test so many different things and even make some pretty sweet chromatography art!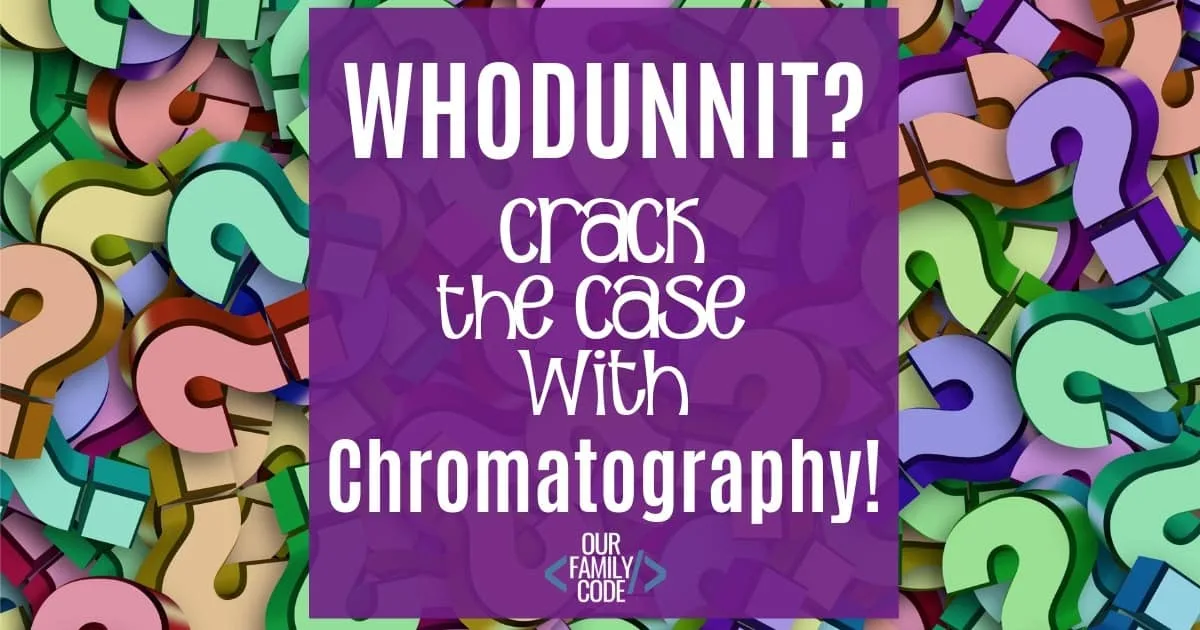 This post contains affiliate links. As an Amazon Associate, Our Family Code earns from qualifying purchases. Please see our Disclosure Policy for more details.
Why STEAM Activities?
STEAM is the abbreviation for Science, Technology, Engineering, Art, and Math.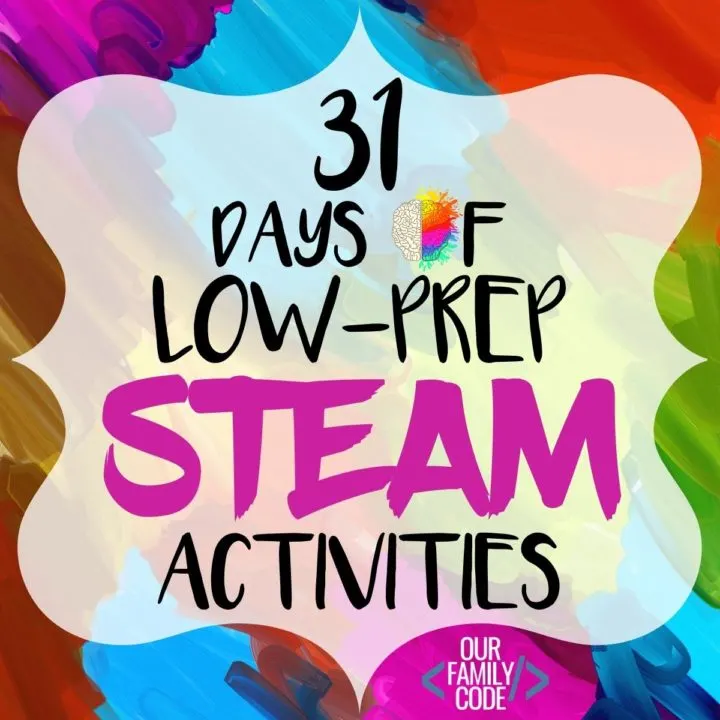 STEAM, like STEM, is an integrated approach to learning that encourages learners to make connections between the concepts they are learning and how they apply them to real-world problems.
STEAM helps students ask questions, problem solve, think creatively, and produce innovative solutions. Many schools have adopted STEAM learning activities into their curriculum, but it's never too early to start building critical thinking skills.
We love to learn through play at our house and have a blast doing activities for toddlers all the way to tweens!
Whodunnit? Key Chromatography Activity Terms
Capillary action
Capillary action is the tendency of small tubes to draw liquid up into them against the force of gravity due to the attraction of water to molecules in the sides of the tubes.
Dissolve
Molecules of a solid dissolve when they separate and become surrounded completely by the molecules of a liquid.
Forensic Scientist
A Forensic Scientist is a scientist who studies evidence left at a crime scene.
Mixture
A mixture occurs when two or more substances that are mixed together, but are not chemically bonded.
Paper chromatography
Paper chromatography is the process of using paper and liquid to separate a mixture into its component parts.
Retention factor
The retention factor is the ratio of how far a chemical travels compared to how far the liquid traveled used to compare results from different tests.
Chromatography
Chromatography is a process that scientists use to separate, analyze, or purify mixtures.
Whodunnit? Detective STEAM Challenge Supplies
Want to use Sharpie Permanent Markers?
A Sharpie is not water soluble and will not work in this experiment. In order to use a permanent marker, you can substitute isopropyl alcohol as the solvent. Remember to wear the appropriate safety gear when working with alcohol and work in a well ventilated area.
Chromatography Experiment Detective STEAM Activity
Before the activity, use one of your markers to write a note confessing to your crime (spoiler: I used the Mr. Sketch!)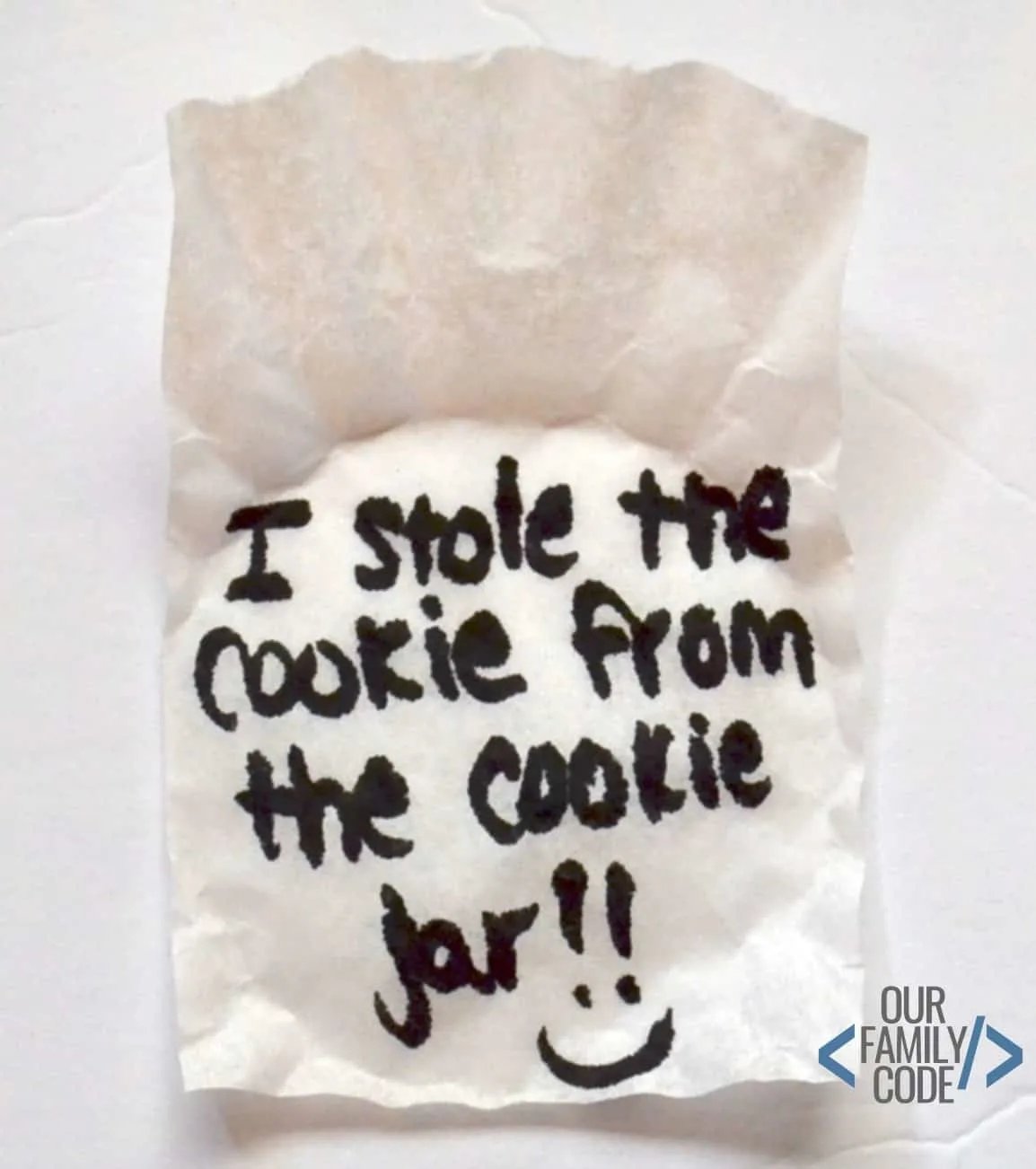 Label your markers 1-3. Starting with marker 1, draw a horizontal, thick line about 3cm from the bottom of your paper.
Write the number 1 at the top of your paper strip. Repeat this procedure on two more strips for markers 2 and 3.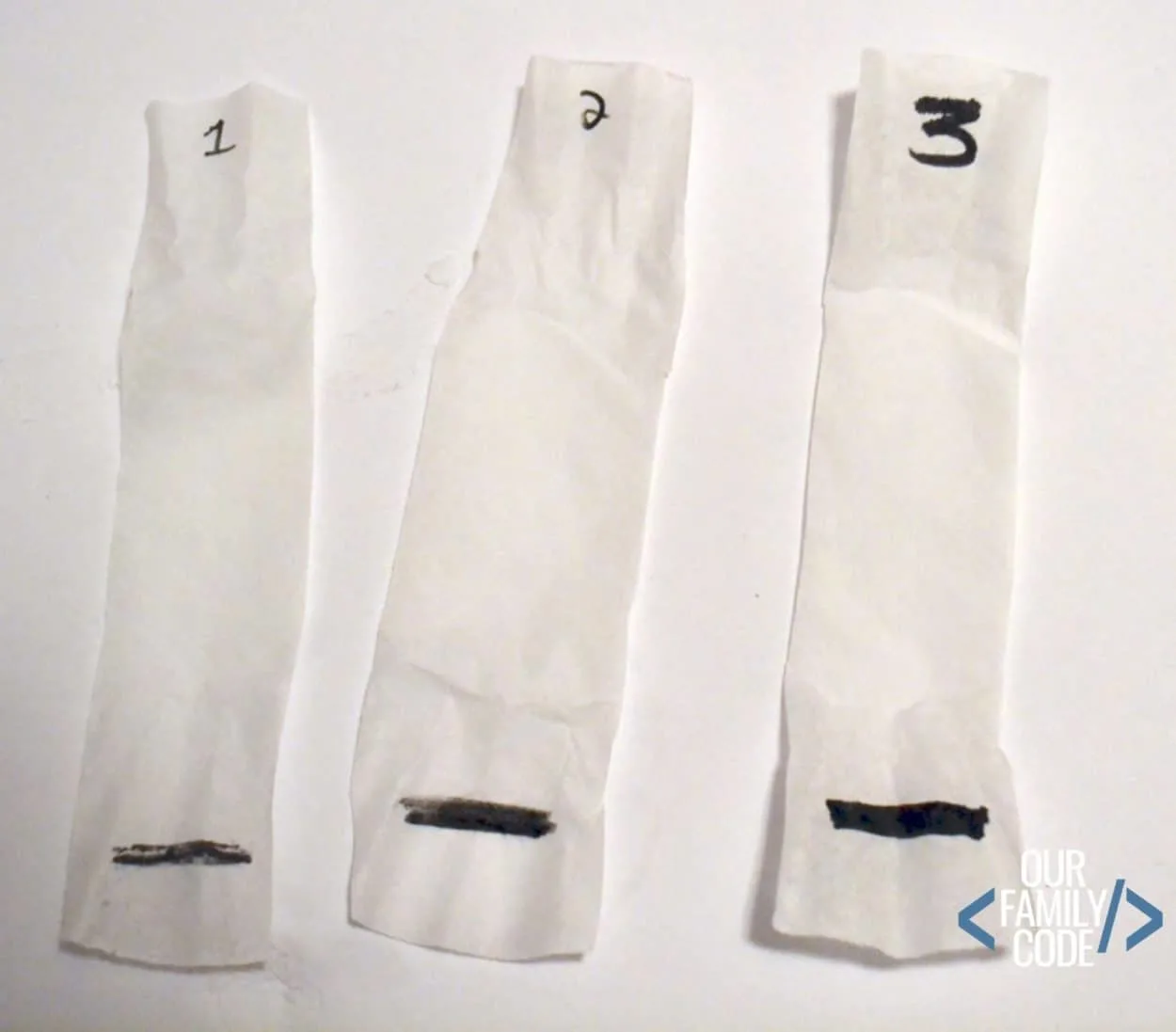 Place 1cm of water in your cups and hang each strip over the side of your cup using tape, a binder clip, or clothespin to hold it in place.
Make sure that the water just barely touches the bottom of the strips and doesn't touch the ink lines.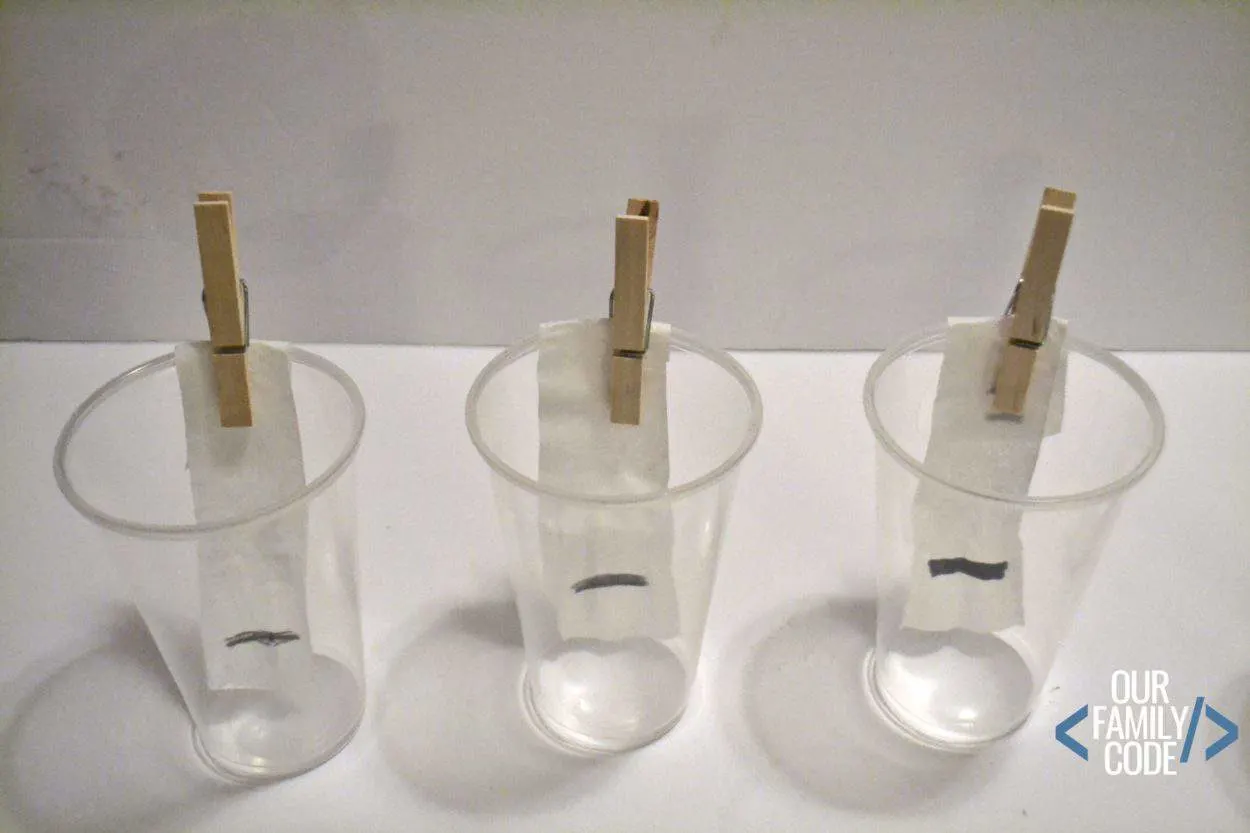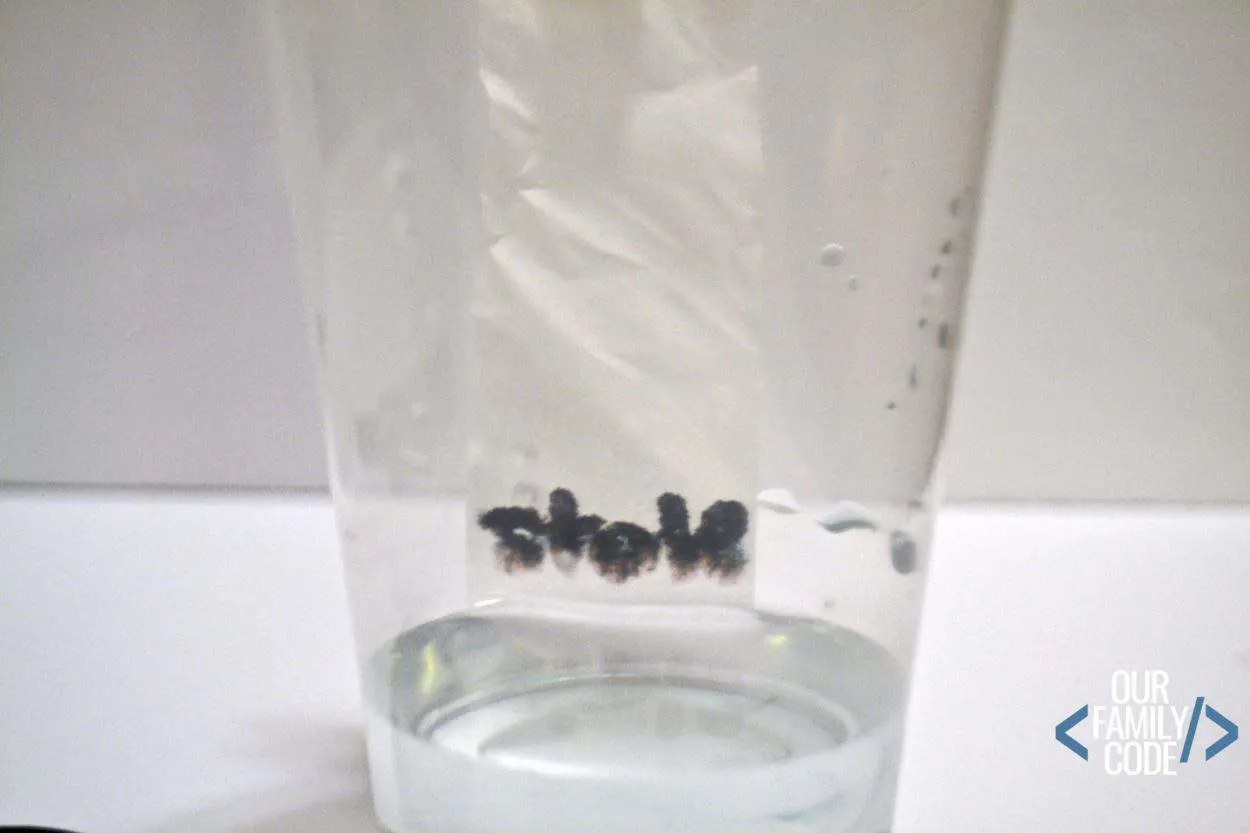 Cut a strip from your note and place it in a separate cup. The strip should be similar in size to your test strips.
Add water to the bottom of your cup following the procedure in Step 3. Leave all of your strips in place until the water has travelled at least halfway up each strip.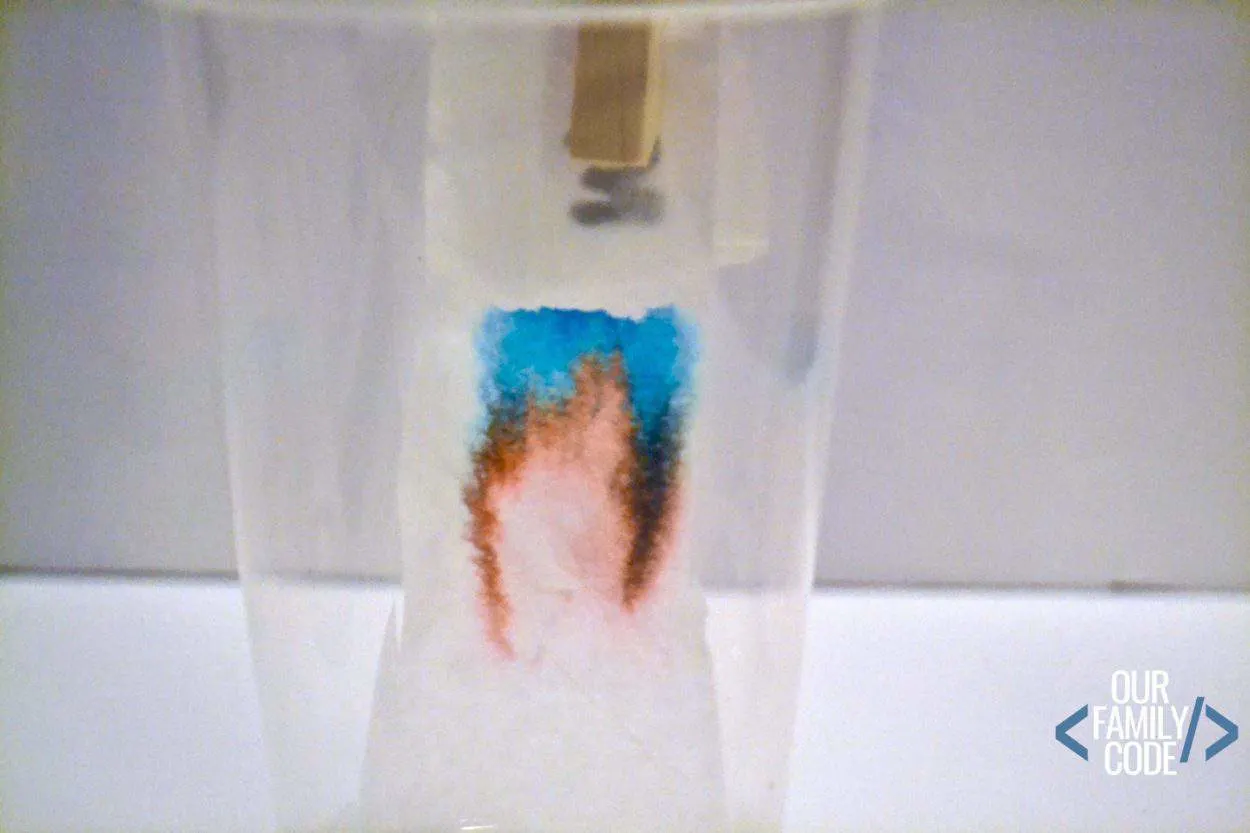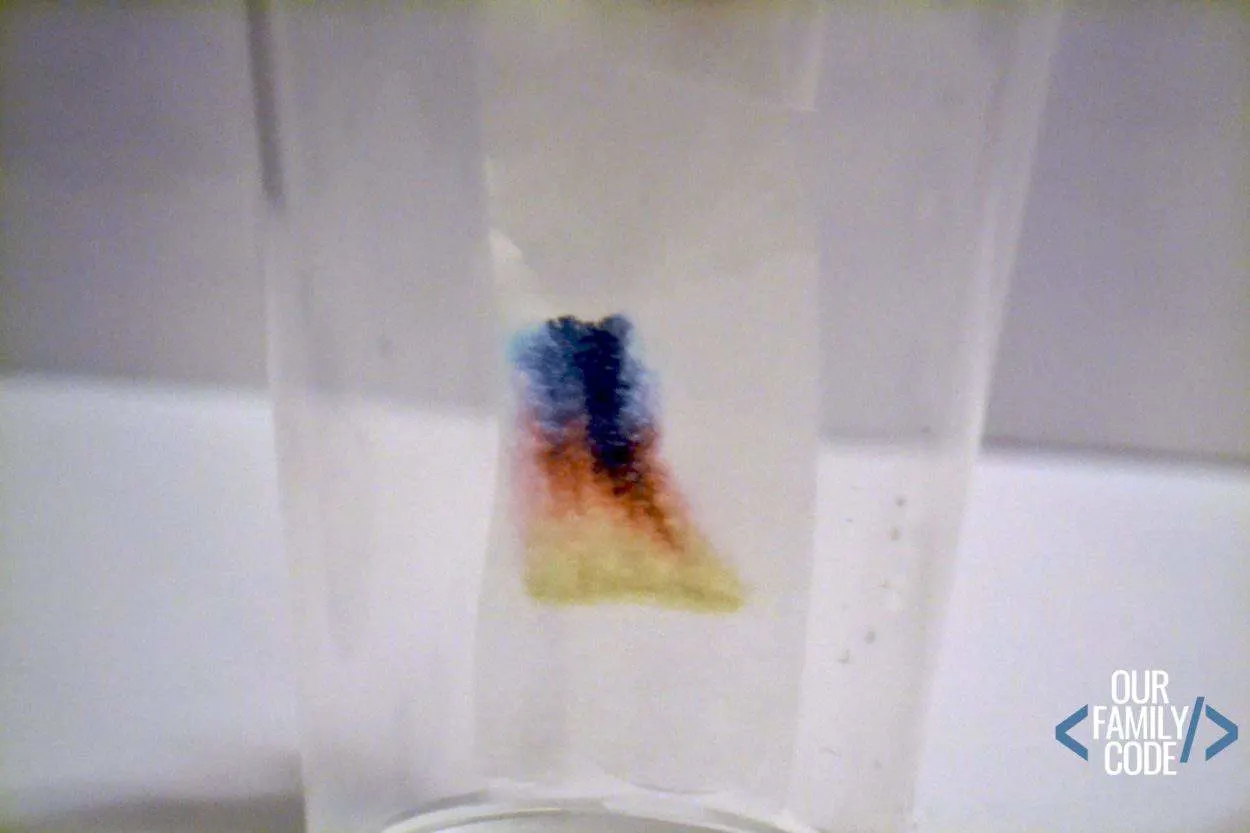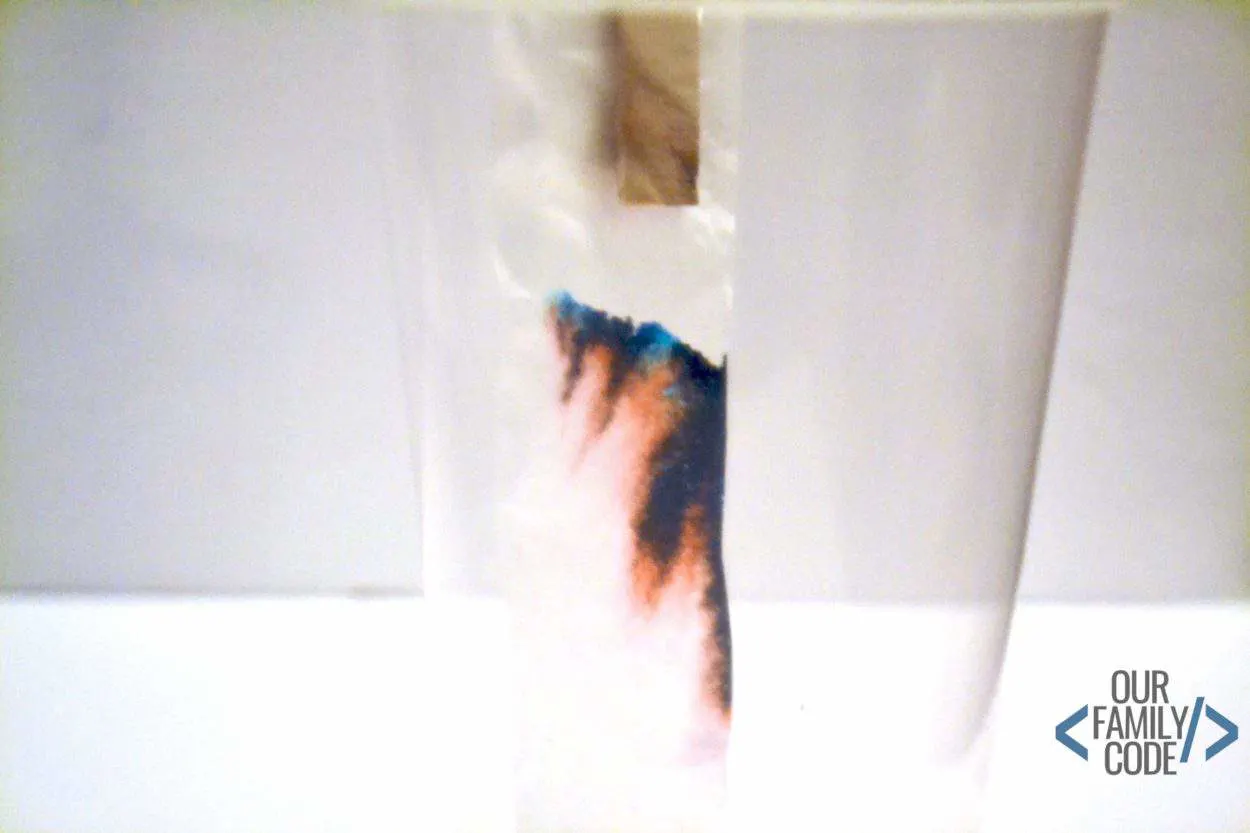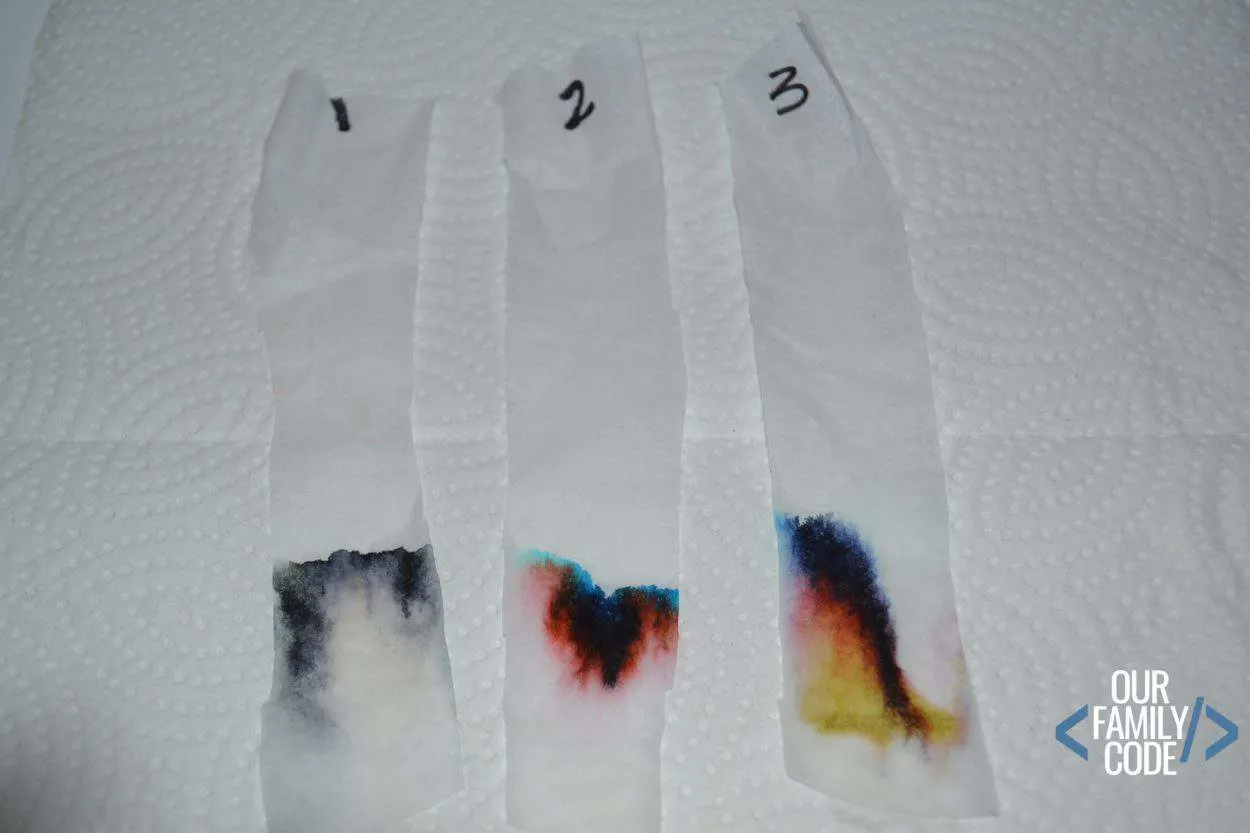 Remove your strips and place them on a paper towel to let them dry. When the strips are dry, compare the test strips to the strip from your evidence and see if you can determine which marker was used to write the confession.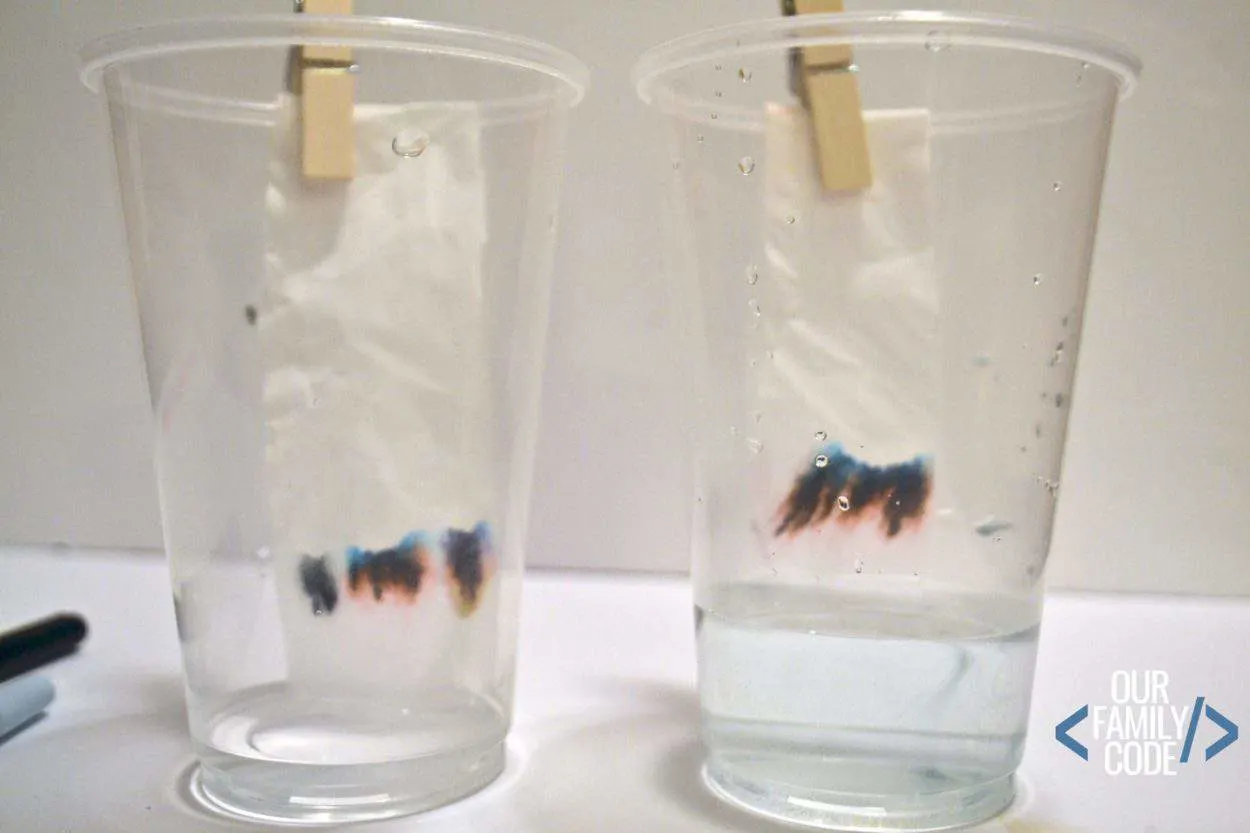 Finally, we calculated the retention factor for each of our markers and our sample note to compare them to each other.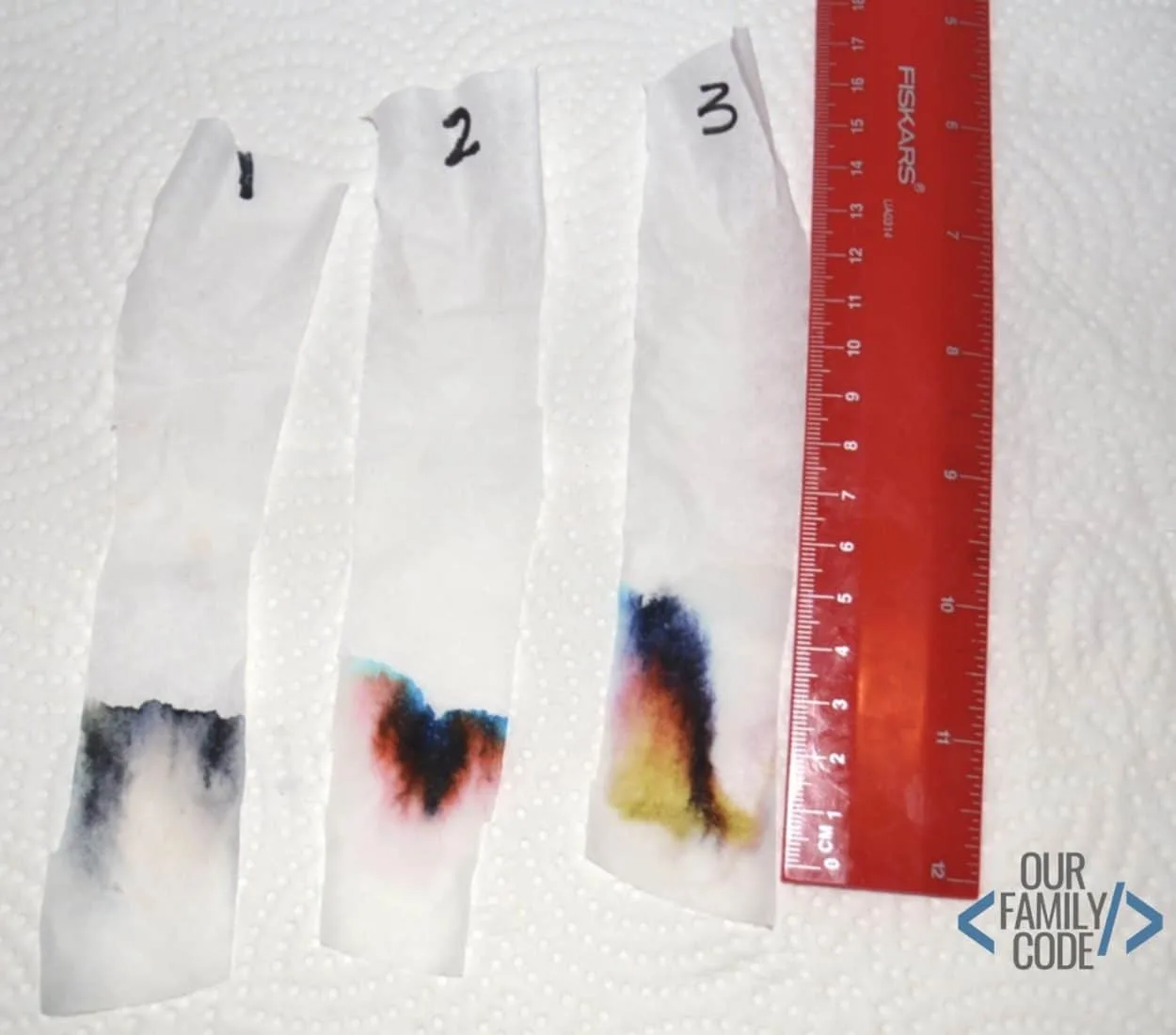 #2 was the correct answer for us!

Connect this Chromatography Experiment with other STEAM Buckets?
Check out these STEAM extension ideas for this chromatography experiment!
Science
Try this experiment again and use different liquids and mixtures of liquids like vinegar, ammonia, rubbing alcohol or combinations of them. Observe the difference in your chromatogram for each mixture.
Technology
Use the NCES Kids' Zone Bar Graph to graph the results of the retention factor for each of your markers.
Engineering
Environmental Engineers use chromatography to test groundwater and other substances and develop solutions from the results.
Art
Try the activity over again and mark the filters at the center with different colored markers or draw designs. Then fold the coffee filters out from the center to make colored flowers and attach them to popsicle sticks.
Math
The retention factor is the ratio of how far the ink traveled compared to how far the liquid traveled. Measure the distance the liquid has traveled as well as the distance each color of ink has traveled. Repeat the calculation for every marker. Graph your results.
Some Books to Read with Your Activity
We love incorporating books into our activities. Here are some great books about detectives and solving crimes to read with your activity!

31 Days of Low-Prep STEAM Activities for Kids
This activity is part of our 31 Days of Low-Prep STEAM Activities for Kids. Every activity focuses on each of the buckets of STEAM (Science, Technology, Engineering, Art, & Math) although these integrated projects fit in more than one bucket.
You and your kiddos are going to love all of the activities that we have in store! Visit the 31 Days of Low-Prep STEAM Activity hub and pin it, so you can come back and visit it daily!
PIN THIS IMAGE TO SHARE THIS LOW-PREP STEAM ACTIVITY!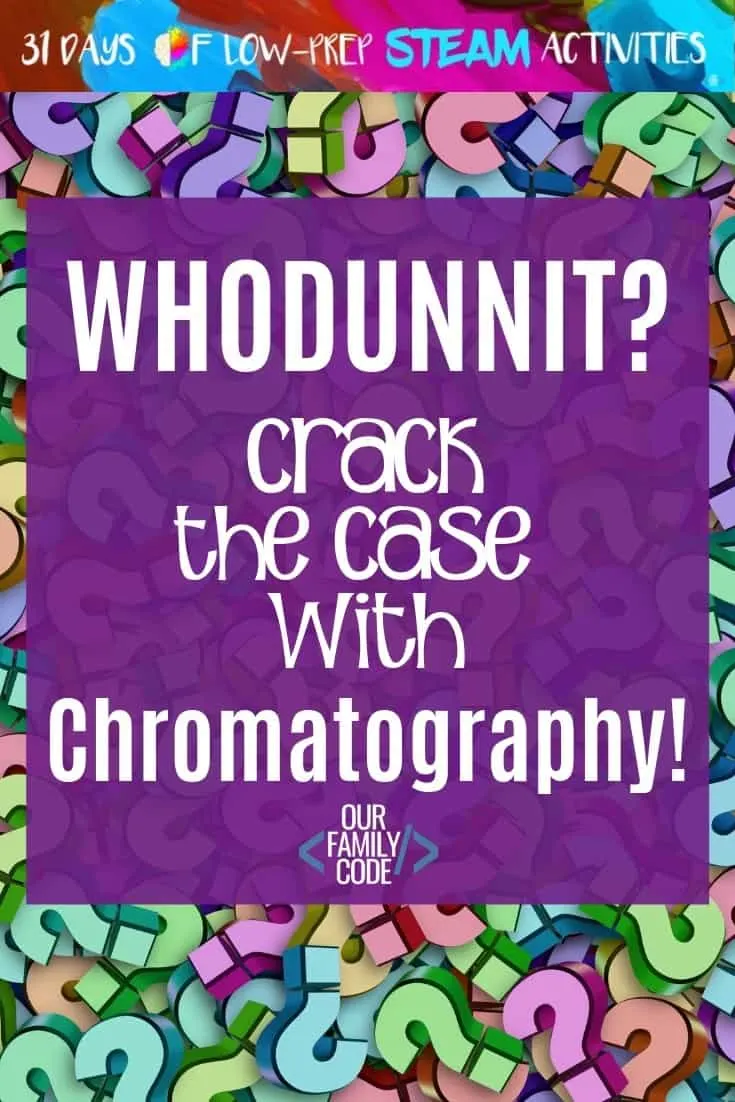 STEAM Forensic Science Activities
Find more forensic science STEAM activities for kids!
Learn about cheiloscopy and lip prints with a STEAM forensic science investigation for kids and figure out which suspect left the lip print!
Learn the science of fingerprints & how they are used to identify people in crime investigations and conduct some family fingerprint science investigations!
Meet Toni, the Maker Mom behind Our Family Code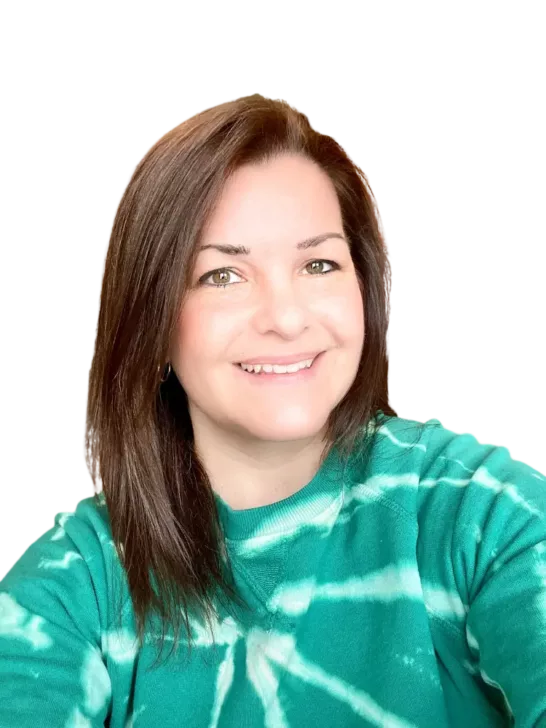 Hey there, I'm Toni! I'm a software engineer and Maker Mom that finds my joy in unleashing my children's curiosity by exploring STEAM concepts with my fantastic five!
When I'm not chasing toddlers or raising tweens, you can find me tearing things up and putting them back together over here at Our Family Code.
I am the owner and content creator of multiple educational websites designed to increase access to STEAM & STEM education with a focus on teaching computer science and coding to kids of all ages!
You can also find out more about me by visiting ToniGardner.com!