Take on the exploding pumpkin STEAM challenge with 4 different ways to explode a pumpkin with chemical reactions and force! These activities are sure to inspire some fall STEAM fun!
Fall is such a fun time for STEAM activities from pumpkins to potions and every spooky thing in between, I love how many great projects fall into the season!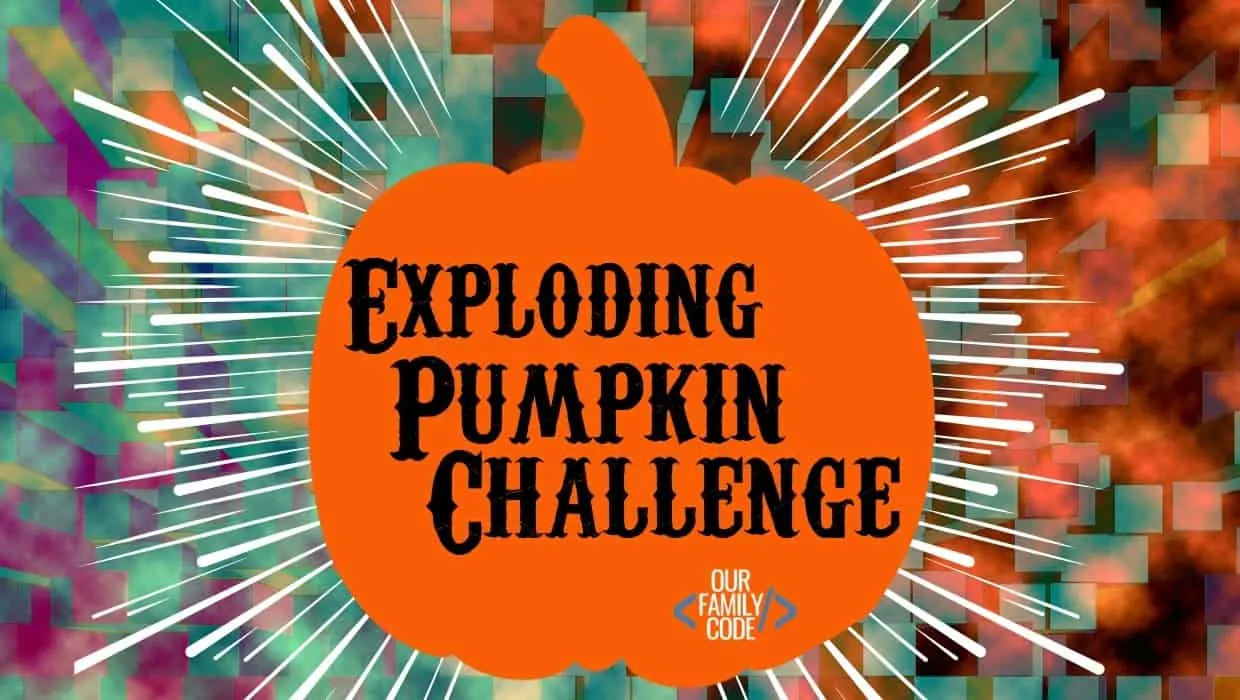 My kids really wanted to make a pumpkin explode. We've been talking about it since this Summer and we were super excited to try out some chemical and physical reactions!
Note: These activities should be done with adult supervision at all times and a few of the activities require an adult to do the entire demonstration.
The first two experiments are great hands-on fun for kiddos, but if you really want to knock their socks off with some great Science then an adult needs to demonstrate the last two exploding pumpkin demonstrations for safety purposes!
This post contains affiliate links. As an Amazon Associate, Our Family Code earns from qualifying purchases. Please see our Disclosure Policy for more details.
Why STEAM Activities?
STEAM is the abbreviation for Science, Technology, Engineering, Art, and Math.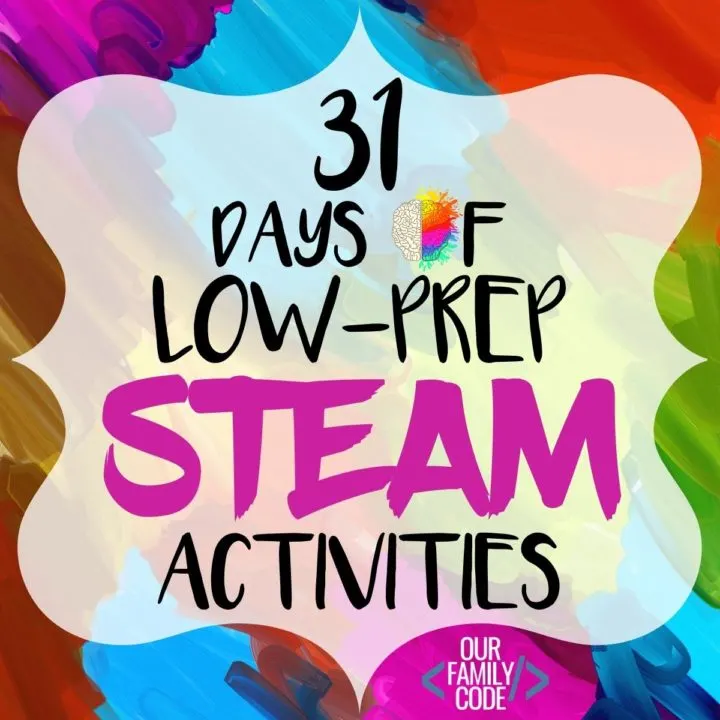 STEAM, like STEM, is an integrated approach to learning that encourages learners to make connections between the concepts they are learning and how they apply them to real-world problems.
STEAM helps students ask questions, problem solve, think creatively, and produce innovative solutions. Many schools have adopted STEAM learning activities into their curriculum, but it's never too early to start building critical thinking skills.
We love to learn through play at our house and have a blast doing activities for toddlers all the way to tweens!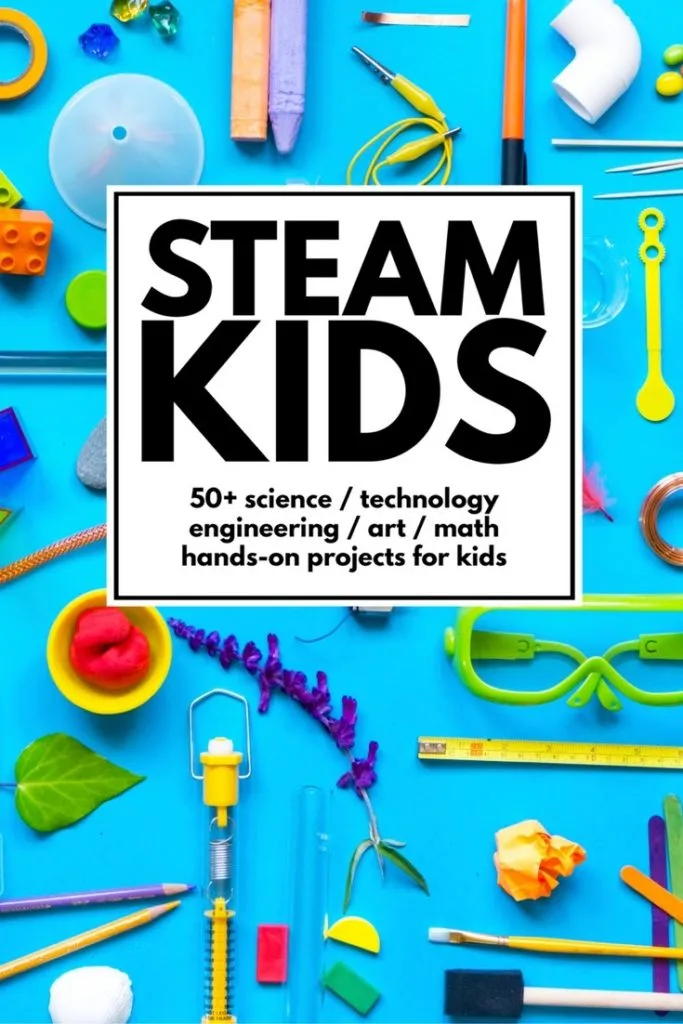 Explode a Pumpkin STEAM Challenge: 4 Pumpkin Explosion Activities
Mini Erupting Pumpkins Activity #1
Mini Erupting Pumpkins Activity Supplies
Exploding Pumpkin STEAM: How to Make Mini Erupting Pumpkins
Carve the inside out of your mini pumpkins. Be careful not to break through the bottom of the pumpkin since the pumpkins are smaller than usual.
After you have created a small hole in your pumpkin, draw a face with permanent marker.
Mix 1/4 cup vinegar with two drops of food coloring.
Pour your vinegar into the carved mini pumpkin. Then, add 1 tbsp of baking soda. Step back and watch as your pumpkin bubbles over with colored liquid.
Pumpkin Geysers Activity #2
Pumpkin Geysers Supplies
Caution: Adult supervision is required for this project. Please make sure everyone has the appropriate safety gear on.
Exploding Pumpkin STEAM: How to Make Pumpkin Geysers
Carve your pumpkins. Use pumpkins that are larger than a small 8oz coke bottle. We accidentally bought the larger coke bottles and our stuck out of the top!
Place you pumpkins on a surface outside. Engineer a tool with thick paper that you can use to drop the Mentos into your soda bottle quickly. Make sure you have your safety glasses on!
Use 3-5 Mentos per soda bottle and check out your chemical reactions. Save your soda bottles, so you can check the volume later to see how much soda came out.
Have an adult use a large pumpkin and 2-liter bottle of diet coke. Follow the same method as above, but use 7-8 Mentos in your 2-liter bottle. This reaction should create a much larger geyser of soda from your pumpkin!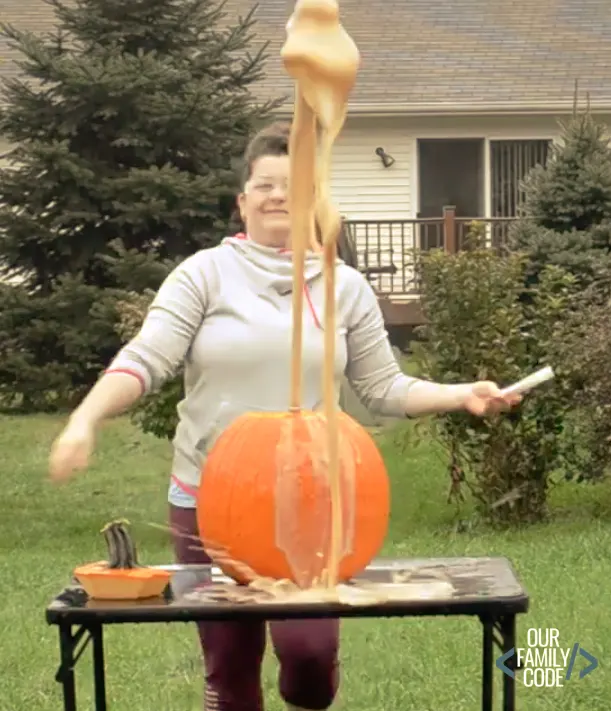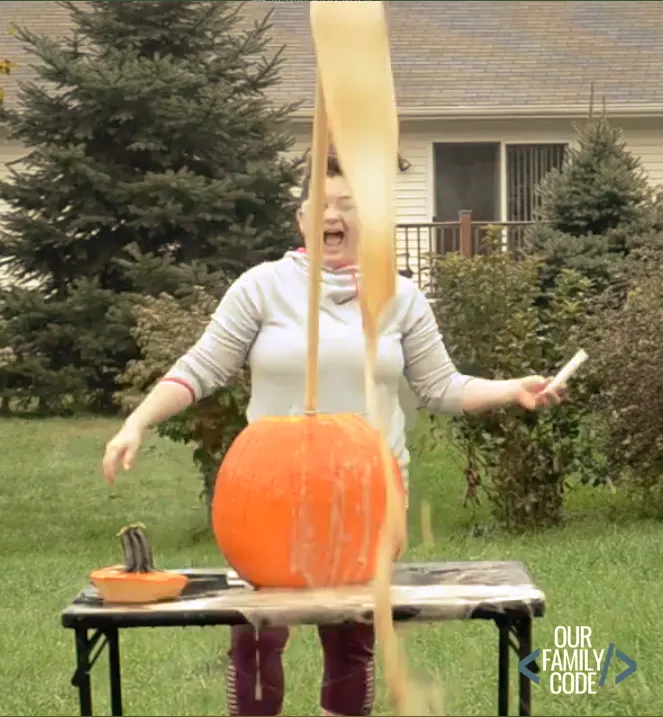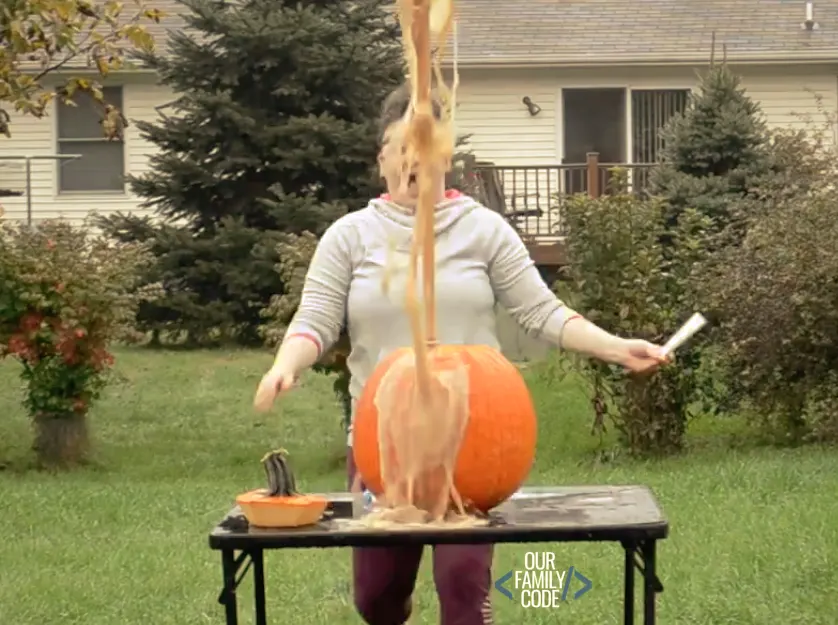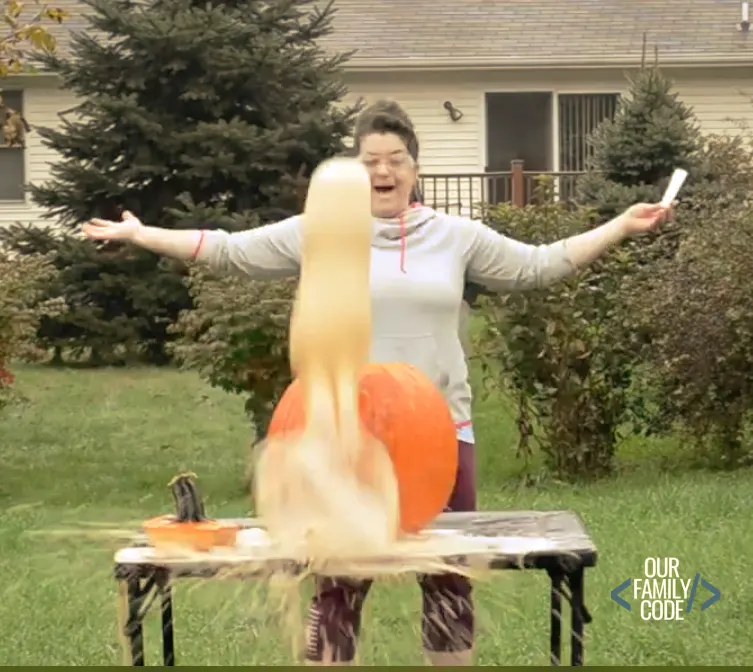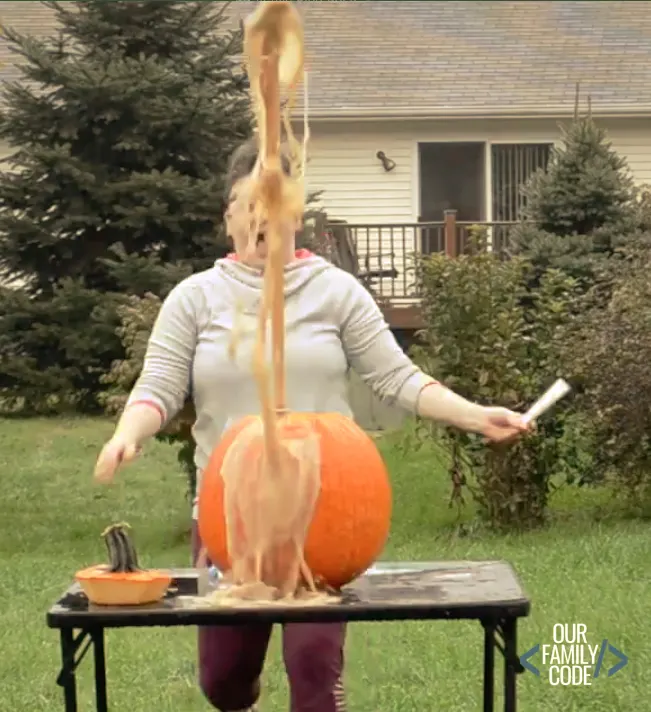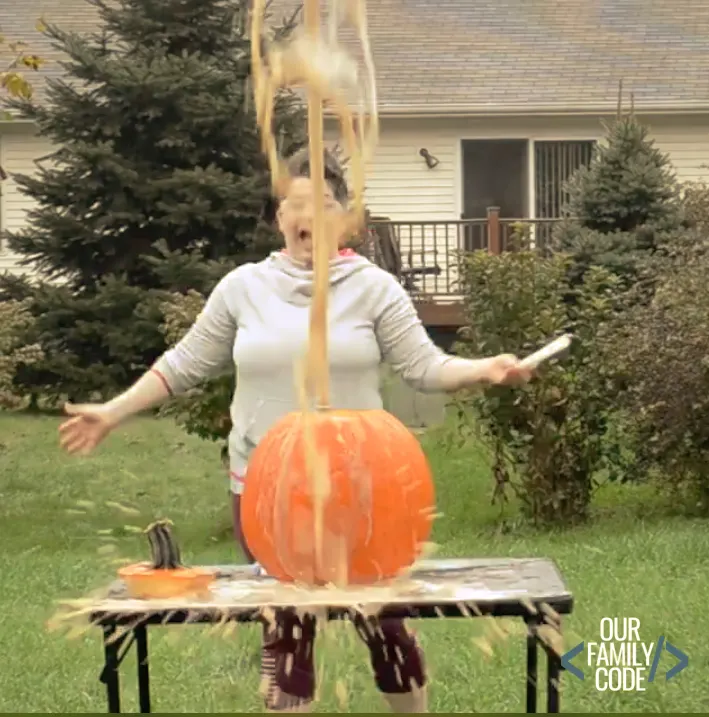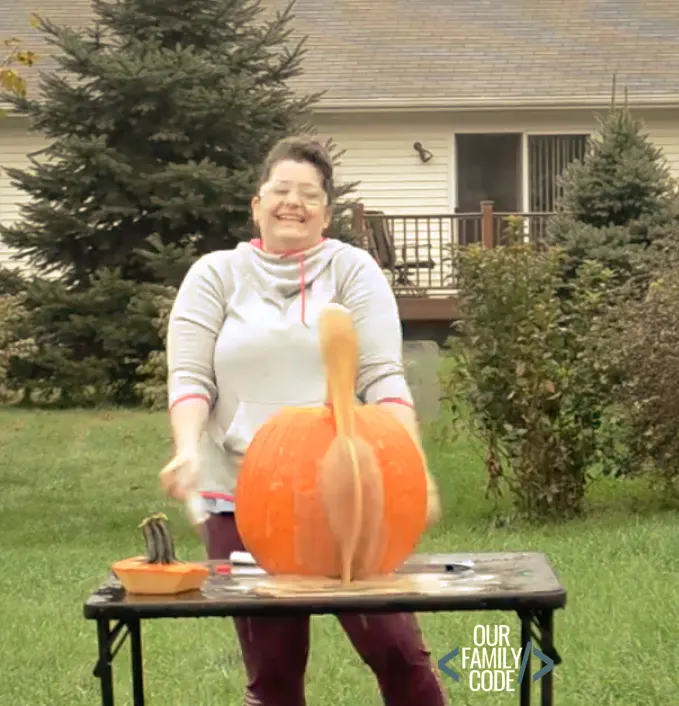 Pumpkin Geyser Science
The carbon dioxide inside of the 2-liter bottle of soda reacts with the Mentos in a physical reaction. The surface of the Mentos actually has tiny little pits on it and the carbon dioxide forms bubbles in these nucleation sites.
The weight of the Mentos pushes the candy to the bottom of the bottle while the carbon dioxide gas that is formed is racing to exit the soda bottle, which makes a soda geyser!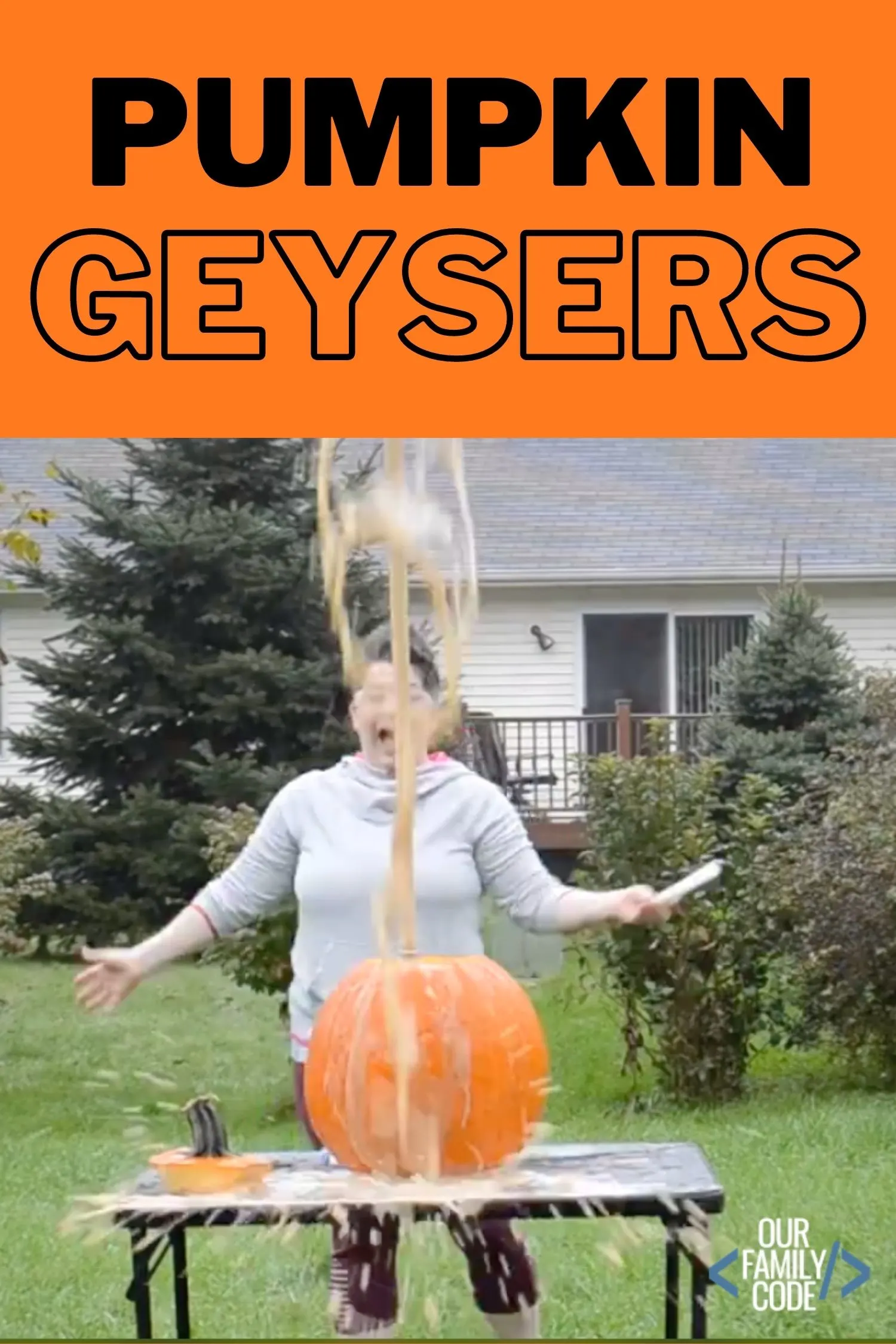 Large Foaming Pumpkin Activity #3 (Demonstrated by an Adult)
Large Foaming Pumpkin Supplies
Caution: An adult should do this project as a demonstration. Please make sure everyone has the appropriate safety gear on.
Exploding Pumpkin STEAM: How to Make an Elephant Toothpaste Foaming Pumpkin
Carve your pumpkin or use a pre-carved pumpkin.
Pour 1 cup of Hydrogen Peroxide, 1 tbsp of Dawn dish soap, and 5-8 drops of food Coloring into an empty soda bottles. Swish the ingredients around to mix them up. Place your soda bottle into your pumpkin.
In a small bowl, mix a packet of dry yeast (or 2tbsp if you have a jar) and 4 tablespoons of warm (almost hot) water. Mix well. Let the mixture sit for at least 30 seconds after mixing.
Using a funnel, pour your yeast mixture into your soda bottle and place the top of your pumpkin back on.
Step back and watch as foam explodes out of your pumpkin!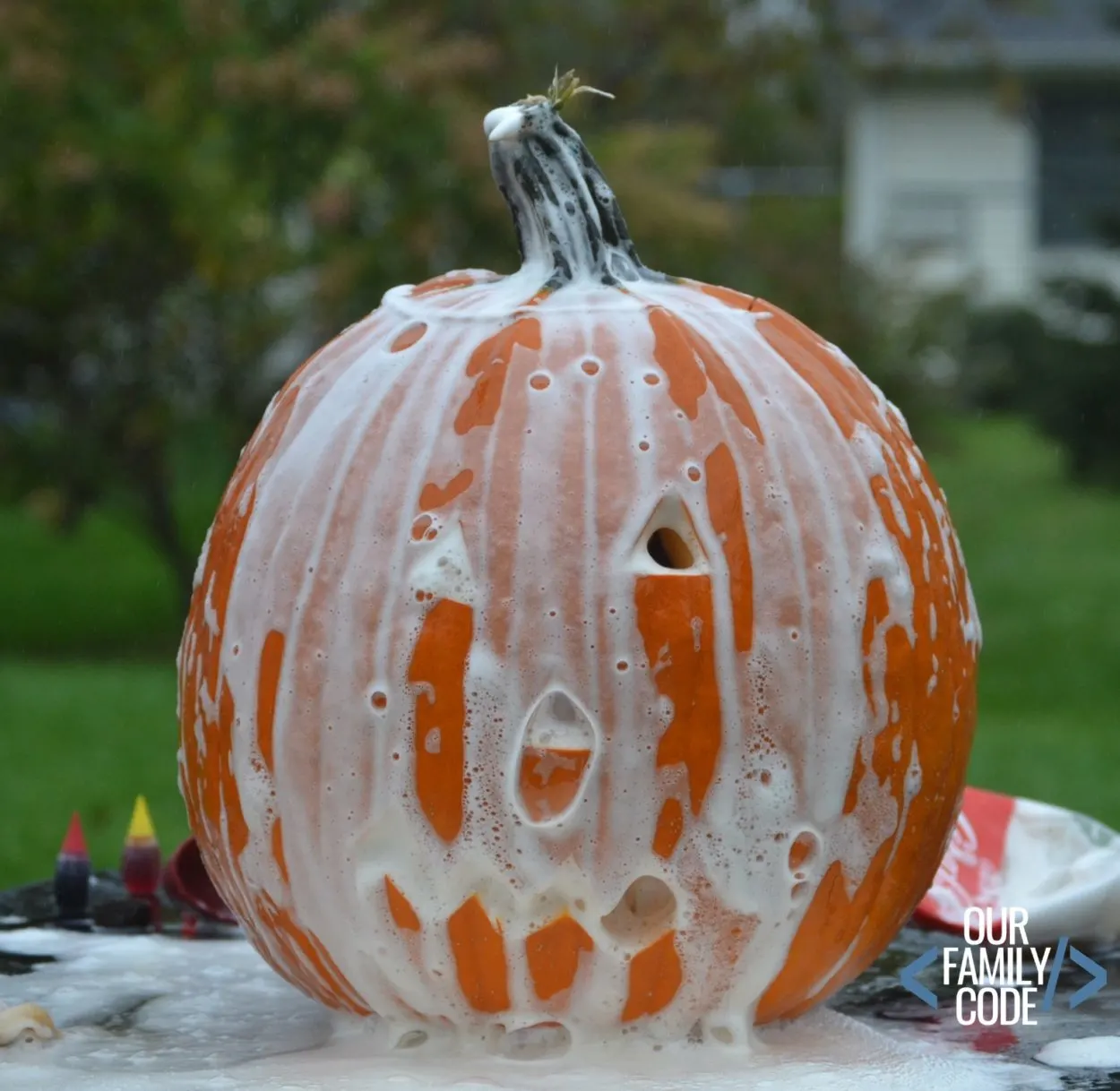 Foaming Pumpkin Science
The yeast acts as a catalyst (a substance that speeds a reaction) and removes the oxygen from hydrogen peroxide, creating a ton of bubbles filled with oxygen.
If you feel the bubbles, you will notice that they are warm. That is evidence of an exothermic reaction, a chemical reaction that releases energy in the form of light or heat.
Exploding a Pumpkin with Force Activity #4 (Demonstrated by an adult)
Exploding a Pumpkin with Force Supplies
Caution: An adult should do this project as a demonstration. Please make sure everyone has the appropriate safety gear on.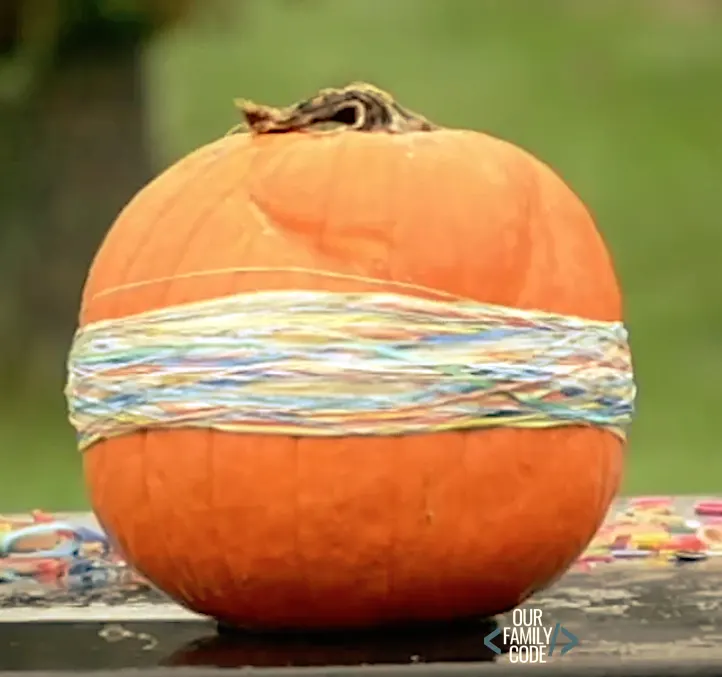 Exploding Pumpkin STEAM: How to cut a Pumpkin in Half with Force
Do not carve your medium pumpkin. Place the pumpkin on a surface outside. All kiddos should be at least 10ft away.
Place 150-200 rubber bands around the middle of your pumpkin.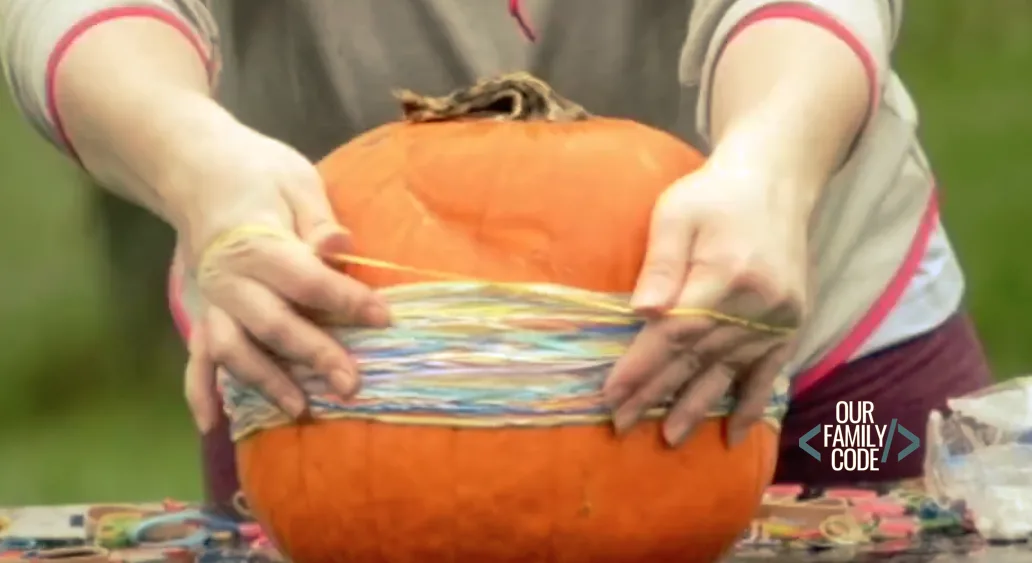 Keep adding rubber bands until the force of the rubberbands becomes too much for your pumpkin and your pumpkin splits in half!
You'll be able to hear when your pumpkin is starting to feel the force. Our pumpkin took 186 rubber bands before it exploded!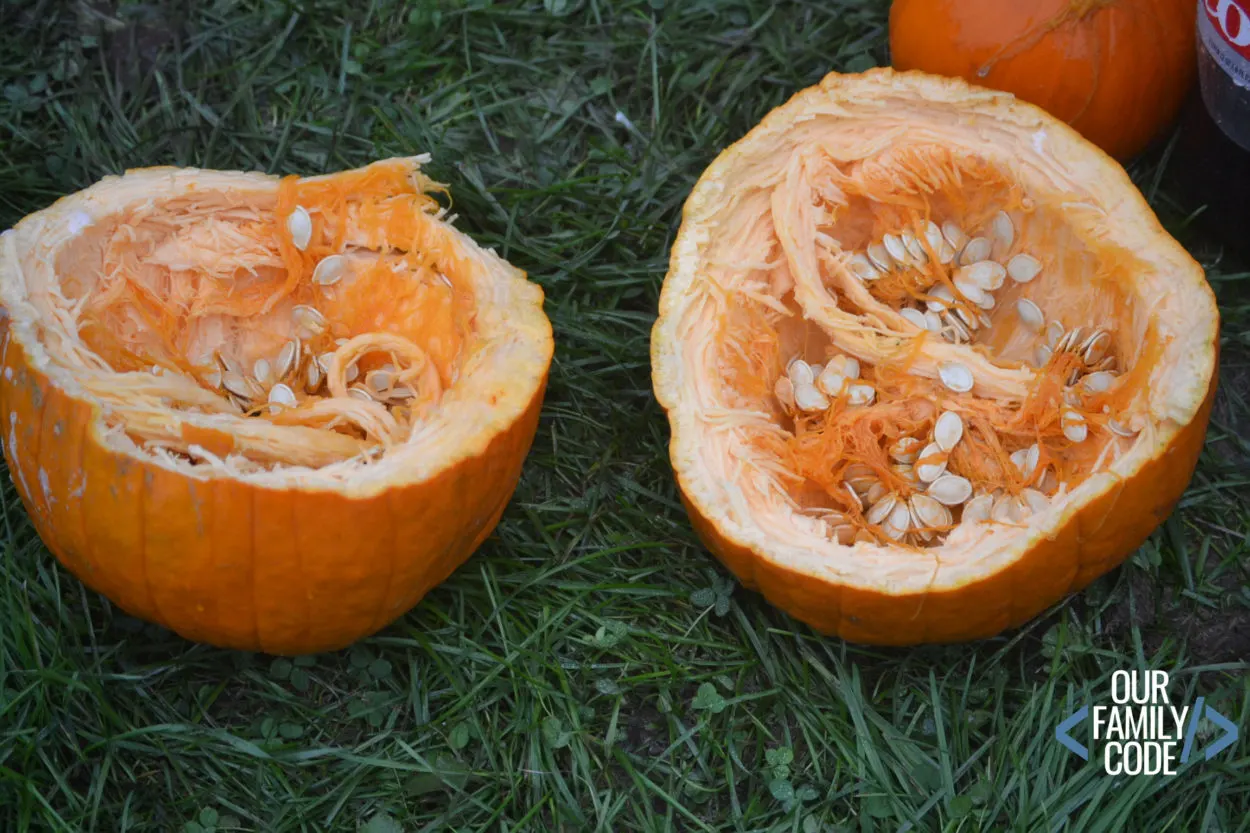 It is really cool to see our large pumpkin in two pieces, because the pumpkin broke apart very cleanly. There were no pumpkin seeds or insides to clean up and the pumpkin was in two almost equal halves, which we used to explore decay in our preschool pumpkin investigation!
The rubber bands all came off the pumpkin in one clump, which made it easy to wash them off to use for another project.
The Science Behind Exploding Pumpkins with Rubber Bands
Rubber bands store potential energy when they're stretched. All of this potential energy builds and ultimately converts the potential energy to kinetic energy, or energy in motion.
This kinetic energy snaps the rubber bands back to their smaller shape. If there's a pumpkin in the middle, the kinetic energy will cut it to pieces, no carving tools required.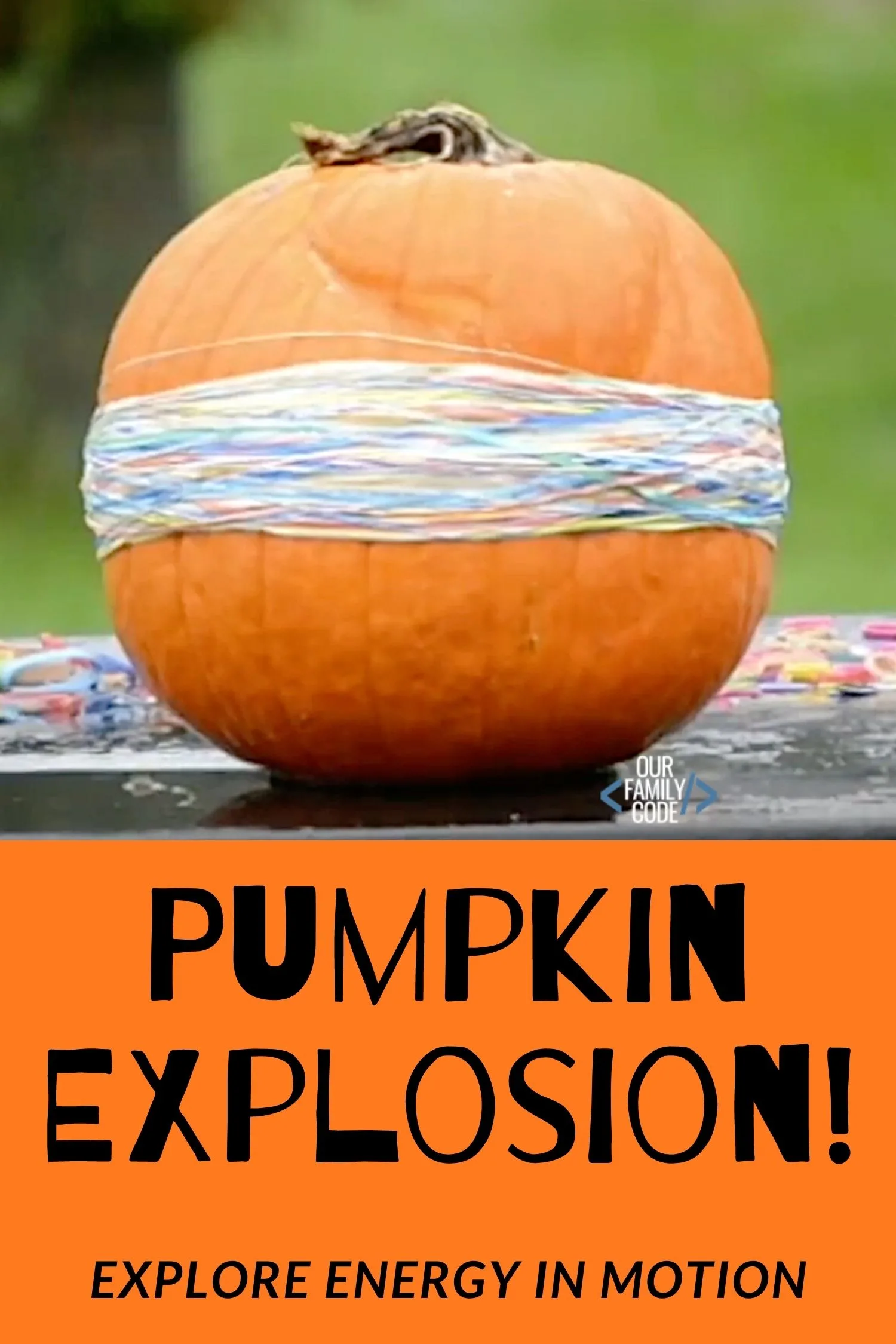 Connect this exploding pumpkin STEAM with other STEAM buckets
Check out these STEAM extension ideas!
Science
This activity is primarily science, so explore more about chemical and physical reactions. Try the activity again and change a variable like the amount of yeast in experiment #3.
Technology
Make a video of your pumpkin eruptions and work on splicing and editing video.
Engineering
Build a tube that can drop your Mentos into a 2-liter bottle faster than your hands can.
Art
Make an art project and create artwork with your pumpkin seeds.
Math
Measure the volume that remains in the 2-liter Bottles. Then graph your results based on how many Mentos caused an eruption of how much soda. Hint: 1,000 ml is a liter, so a 2-liter is 2,000 ml.
Check out some more Halloween STEAM Activities for Kids!

31 Days of Low-Prep STEAM Activities for Kids
This activity is part of our 31 Days of Low-Prep STEAM Activities for Kids. Every activity focuses on each of the buckets of STEAM (Science, Technology, Engineering, Art, & Math) although these integrated projects fit in more than one bucket.
You and your kiddos are going to love all of the activities that we have in store! Visit the 31 Days of Low-Prep STEAM Activity hub and pin it, so you can come back and visit it daily!
PIN THIS IMAGE TO SHARE THIS LOW-PREP STEAM ACTIVITY!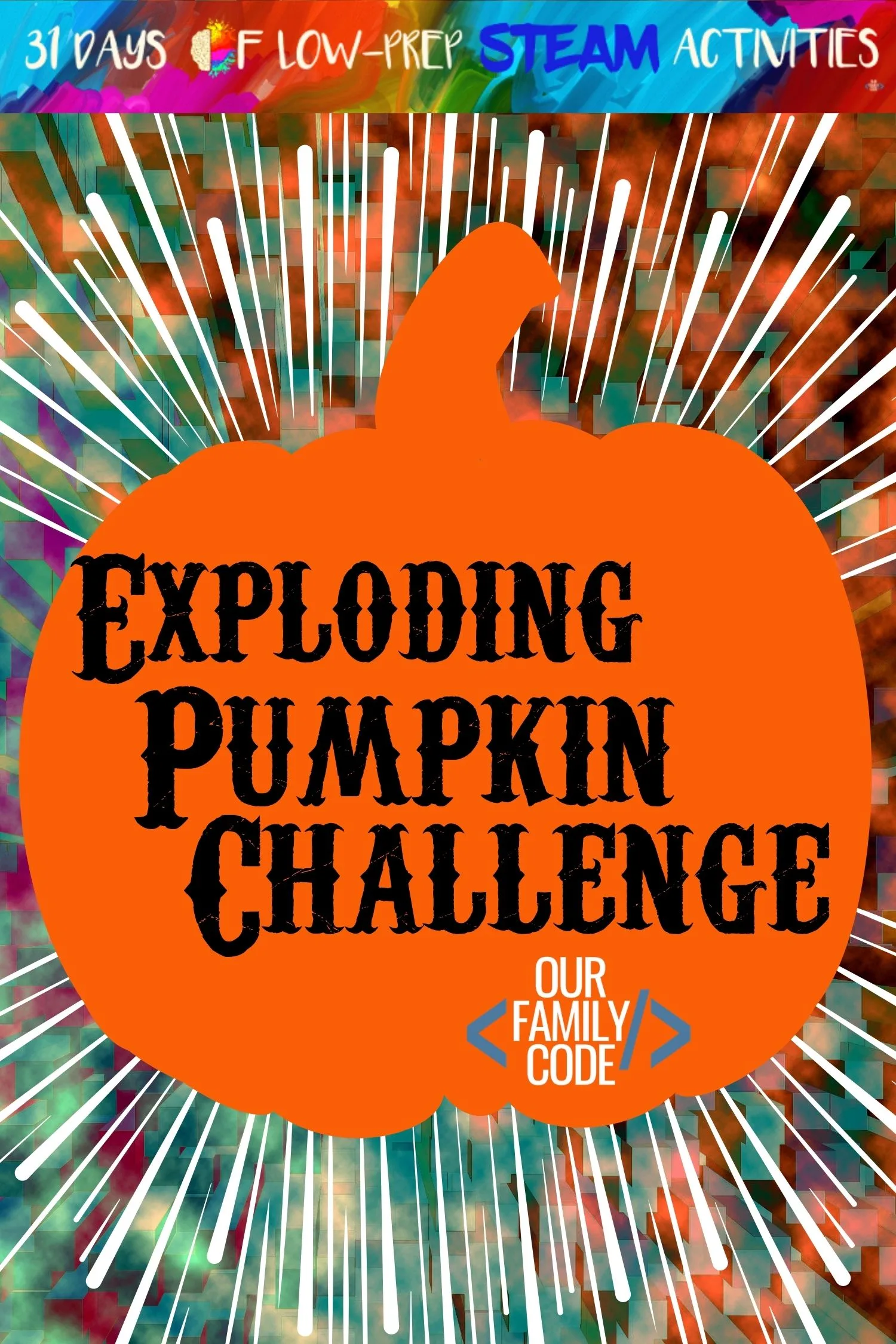 Meet Toni, the Maker Mom behind Our Family Code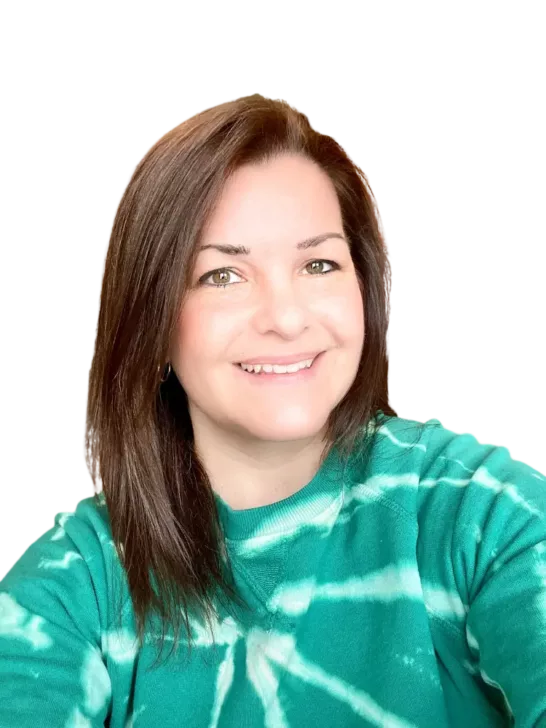 Hey there, I'm Toni! I'm a software engineer and Maker Mom that finds my joy in unleashing my children's curiosity by exploring STEAM concepts with my fantastic five!
When I'm not chasing toddlers or raising tweens, you can find me tearing things up and putting them back together over here at Our Family Code.
I am the owner and content creator of multiple educational websites designed to increase access to STEAM & STEM education with a focus on teaching computer science and coding to kids of all ages!
You can also find out more about me by visiting ToniGardner.com!