Check out some great DIY family Halloween costumes and find out how you can make them for yourself for some epic Trick-or-Treating!
In this house we do family Halloween costumes. It's like an epic battle year over year to make the most awesome family Halloween costumes this town has ever seen.
We all go proudly to the elementary school dance and rock our socks off in our family Halloween costumes and every single kid is super impressed because we like to think we are super trendy!
Both Travis and I are pretty darned skilled on a sewing machine. Travis likes to impress the pants off me and makes his own costume every year. It's why we have so many kids.
This post contains affiliate links. As an Amazon Associate, Our Family Code earns from qualifying purchases. Please see our Disclosure Policy for more details.
The countdown is on and we are trying to figure out our epic costumes for this year!! I've narrowed it down to: A Wrinkle in Time, The Wizarding World of Harry Potter, or Marvel Avengers.
We could always throw a curve ball and surprise everyone too, but I am 90% sure we are going to go with one of these!!
The Best Trendy Family Costumes for Halloween
Frozen

Family Halloween Costumes
Characters: Elsa, Anna, Kristoff, Olaf, & Sven
Our first family themed Halloween was smack dab in the middle of Frozen fever and we were a huge hit! With only two kiddos at the time, we snagged a small Sven stuffed animal to complete the Kristoff look.
The costumes were all handmade (minus the Elsa hair!) or repurposed. Travis took the month of October to make his fur lined authentic Kristoff garb and he definitely looked the part. Peyton's Elsa cape is a fur lined masterpiece designed to offset the crisp October weather in Wisconsin.
Charlotte (Olaf) was incredibly warm and I layered a long sleep thermal shirt and pants to make sure she stayed toasty. My Anna clothes were repurposed thrift store finds that I cut apart and put back together. I drew the Frozen emblem onto the front of a black shirt and used fabric markers and paint to make it stand out.
I also lined the v-neck with gold ribbon. You like my fancy belt!? I found it on an incredible thrift store dress that I transformed into a skirt! It was the perfect color to complete the look.
The Encore Frozen Family Costumes
Characters: Elsa, Anna, Kristoff, Olaf, Sven, Marshmallow, & Troll
We love Frozen, we brought back our Frozen family Halloween costumes for Halloween 2019. However, we have added a few more kids to the mix, so we reworked our old costumes and added new ones.
The giant snowman, Marshmallow, was our newest addition to the costume collection. I wore a headband and called myself a Troll because I had a baby a week before Halloween!
My oldest is now big enough to wear my old Anna costume. Where did the time go?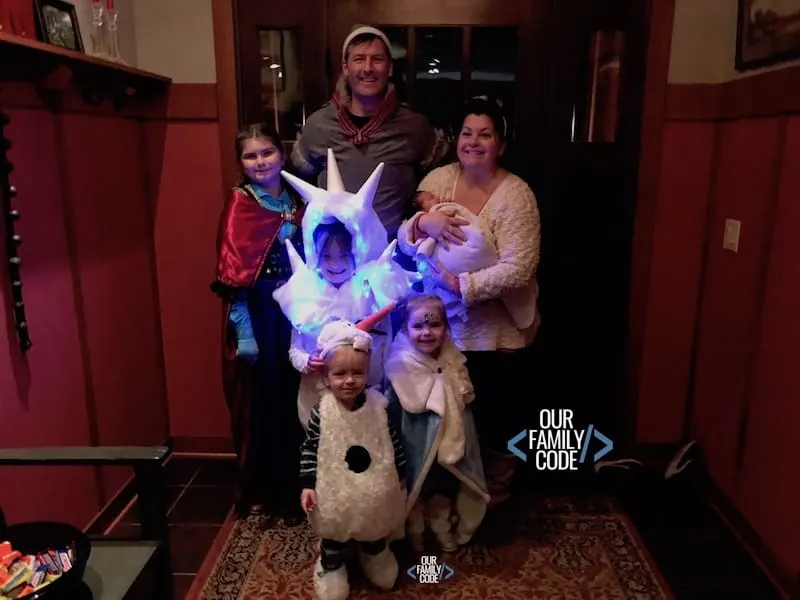 Find out how to make Frozen Family Halloween Costumes!
Star Wars Family Costumes for Halloween
Characters: Luke Skywalker, Darth Vader, Pink Kitty Cat Stormtrooper, and Princess Leia
Who doesn't love Star Wars?! We are Star Wars fanatics and were super pumped for the return of Star Wars. Travis and I got to relish in childhood memories and watch all of our favorite movies with our kids just in time for Halloween.
The costumes were a bonus because Travis could even geek out at the movies and wear his awesome Jedi costume. His buddy even had him make him one for the release of the Last Jedi in 2017 and they've worn their Jedi costumes to every Star Wars movie release since!
I was also pregnant and was barely squeezing my booty into my extra small, extra tight pleather pants for my Darth Vader costume. It was painful, but oh so worth it. When we arrived at the dance, there were others dressed in Star Wars gear, but our costumes were epic.
Travis could make a killing sewing these custom Jedi costumes for cosplay although his material cost about $150.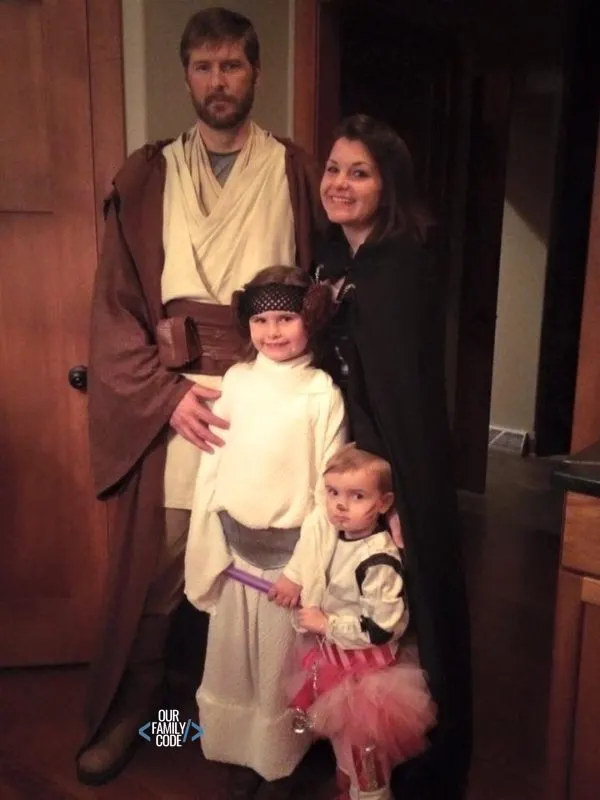 Pokemon

Halloween Costumes
Characters: Pokemon Trainers with Pikachu, NineTails, and JigglyPuff
Pokemon Go was released during Summer 2016 and we were immediately hooked! We still Pokemon hunt almost every day in the summer because it's great exercise and the kids will literally walk for miles and miles just to hatch a Pokemon egg. I love it because it helps me shed some baby weight!!
Our Pokemon costumes were pieced together from a mix of handmade and store purchased items because it was a super busy time at this Momma's work! Trainer outfits were a mix of athletic apparel for me and Travis.
Charlotte's costume was a Footed Pajamas onesie that I purchased online (Thea's too) and I spent two weeks unravelling yarn and brushing it with a flea remover brush for pets in order to create nine white & brown distressed tails for "Ninetails".
It was extreme and the very first costume I worked on. I was totally burnt out that Pikachu didn't come together as nicely as I wanted it to, but Thea (6 months old that year) didn't mind too much!
The onesies were great because they kept the kiddos super duper warm.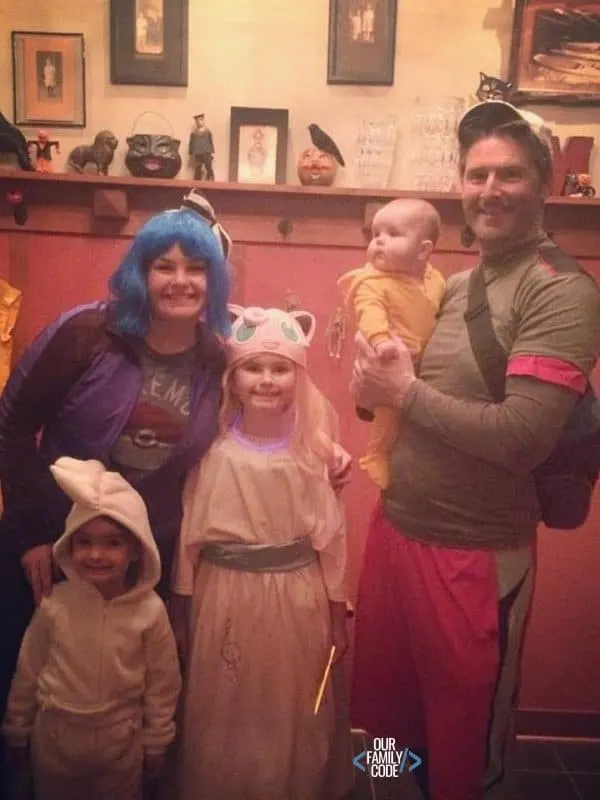 Find out how we made our Pokemon Family Costumes!
Disney Descendants

Family Halloween Costumes
Characters: Isle of the Lost Mal, Mal, Maleficent, Uma, King Ben
I don't know about your kiddos, but mine are obsessed with Disney Descendants. We decided to go with their favorite characters in 2017 and ended up with two versions of Mal because my girls just love her.
All of the costumes were mostly (minus the layers of clothes for warmth!) handmade and repurposed from different thrift store finds. I made Mal's purple dress from four different dresses and some tulle!
DIY Disney Descendants Family Costumes
For Charlotte's "Isle of the Lost" Mal jacket, I took a plain black moto jacket and turned it into an epic Mal jacket. Then I deconstructed her leggings to give it an authentic Isle of the Lost look. I even chalked both of the girls hair to make it purple. It faded fast during our Halloween Trick-or-Treating.
Travis expertly spray painted a black leather jacket to make King Ben's signature Isle of the Lost jacket. He made a stencil and everything to get the look just right and even destroyed a t-shirt to make sure it all matched.
I was miserably sick and 7 months pregnant, so I didn't attend the Halloween dance. Travis, Peyton and Charlotte were a huge hit with all of the kids and Charlotte loves to wear her jacket all of the time.
Thea's Uma costume was made with a crap ton of yarn that I sewed into a hooded vest and added a bedazzled pirate hat on top of. She (1yr old at the time) rode in her stroller singing "Uma, Uma, what's my name?" over and over again.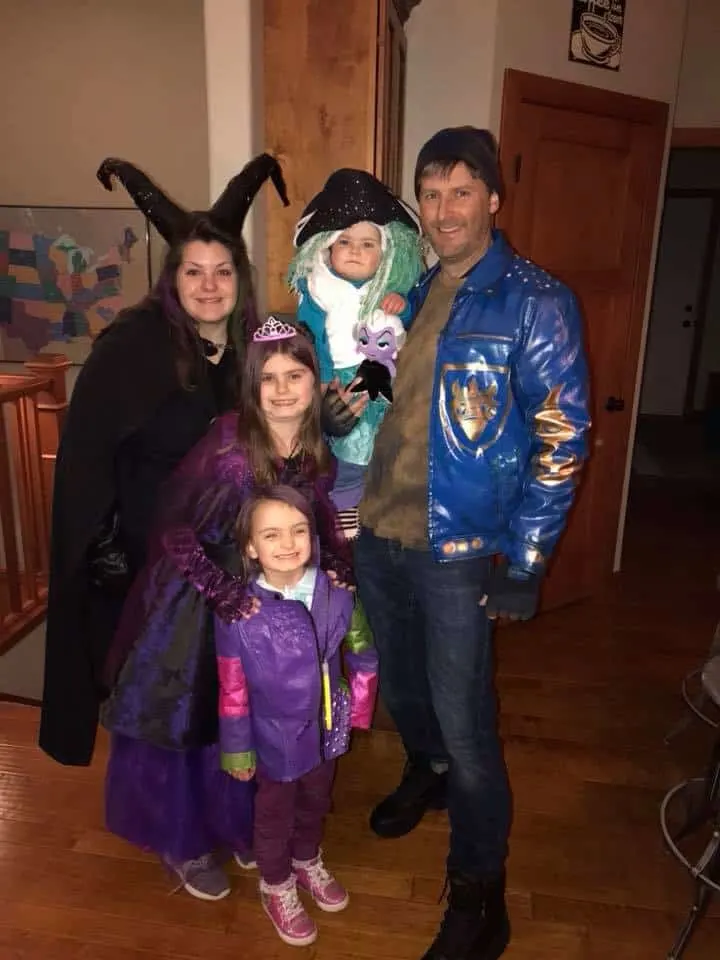 Find out how to make a Disney Descendants Mal Jacket!
Fantastic Beasts

Family Halloween Costumes
Characters: Newt Scamander, Nagini, Grindelwald, Leta Lestrange, an Occamy, & Picket
I campaigned hard for Fantastic Beasts family Halloween costumes for 2018 and I prevailed! We love the wizarding world of Harry Potter and have seen the movies dozens of time.
I also love the 1920s fashion in Fantastic Beasts and loved working on some super sparkly, elegant costumes and awesome hairstyles. I wanted to bleach Travis' hair and make him into Grindelwald, but sadly he was a little busy with work and it didn't work out!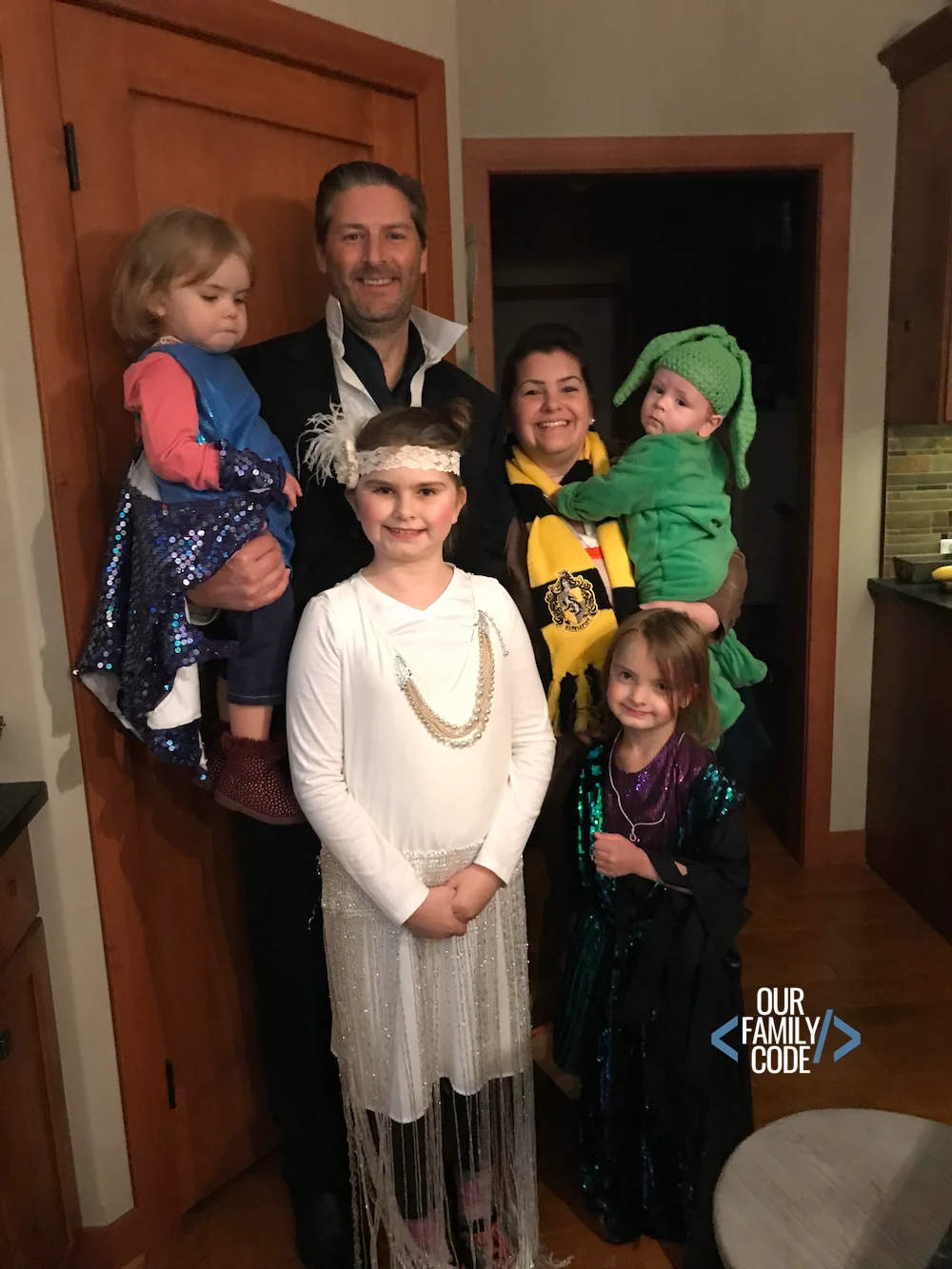 Cobra Kai Family Halloween Costume
Characters: Cobra Kai & Miyagi-Do Competing Dojos
The best thing to come out of 2020 for our family was Cobra Kai! We have watched all of the seasons almost 3 times now. My daughter even started taking karate at our local dojo and is loving it — all because of this show!
I'll get pen to paper and pull a tutorial together before summer is over for anyone interested in a family Cobra Kai costume! In the meantime, check out my awesome family!
We even won our town's Best Halloween Costume award! How cool right!?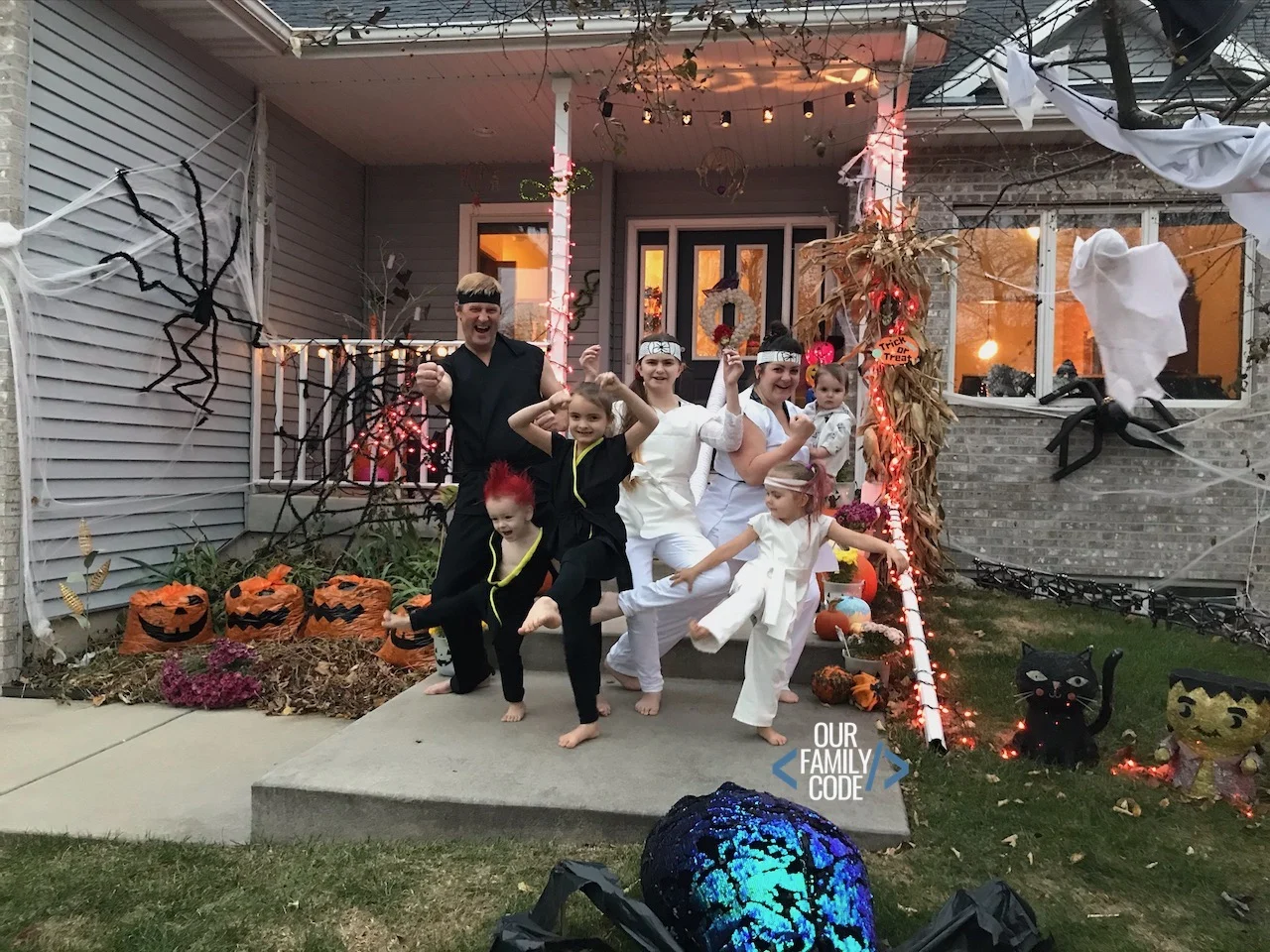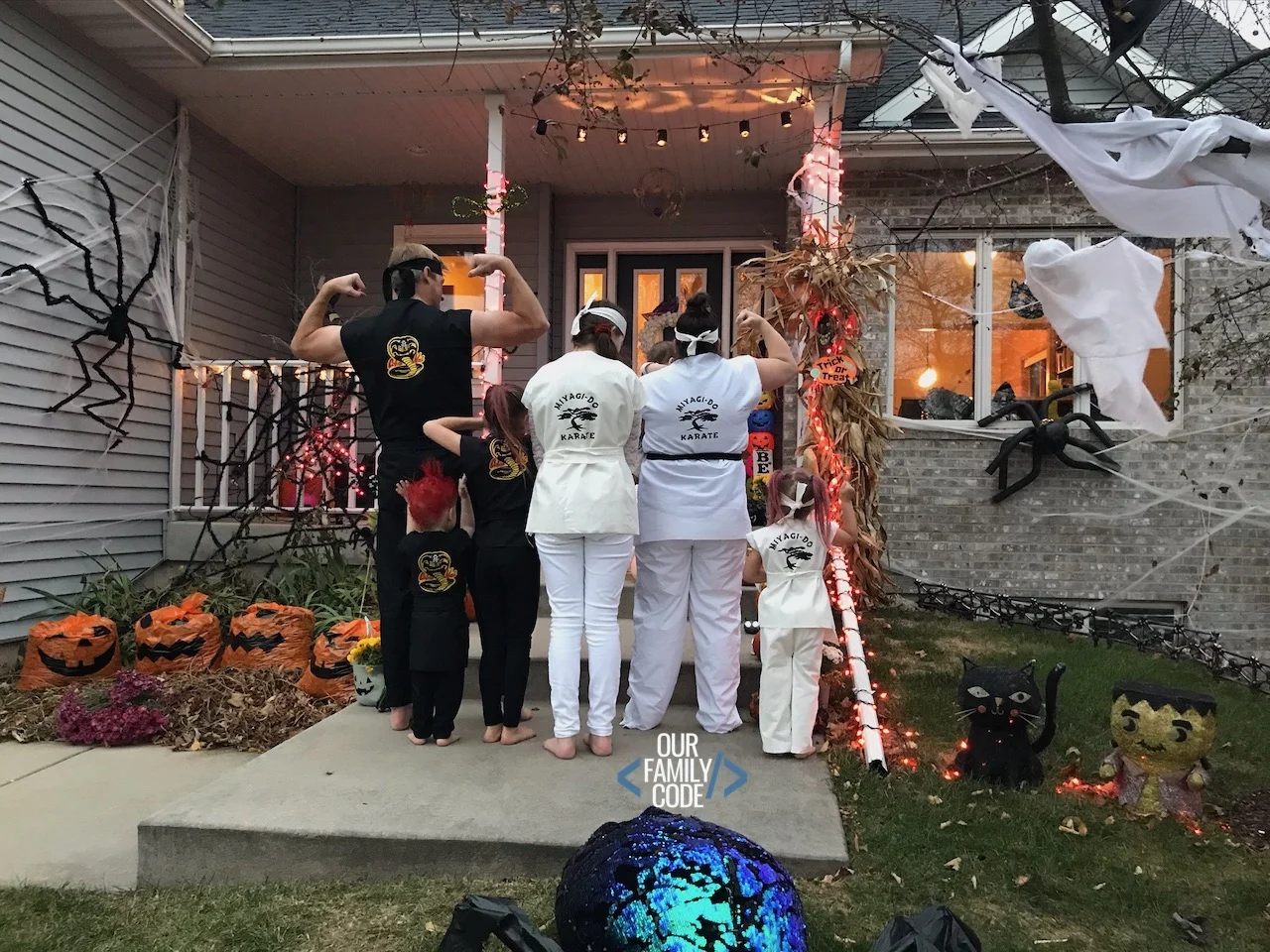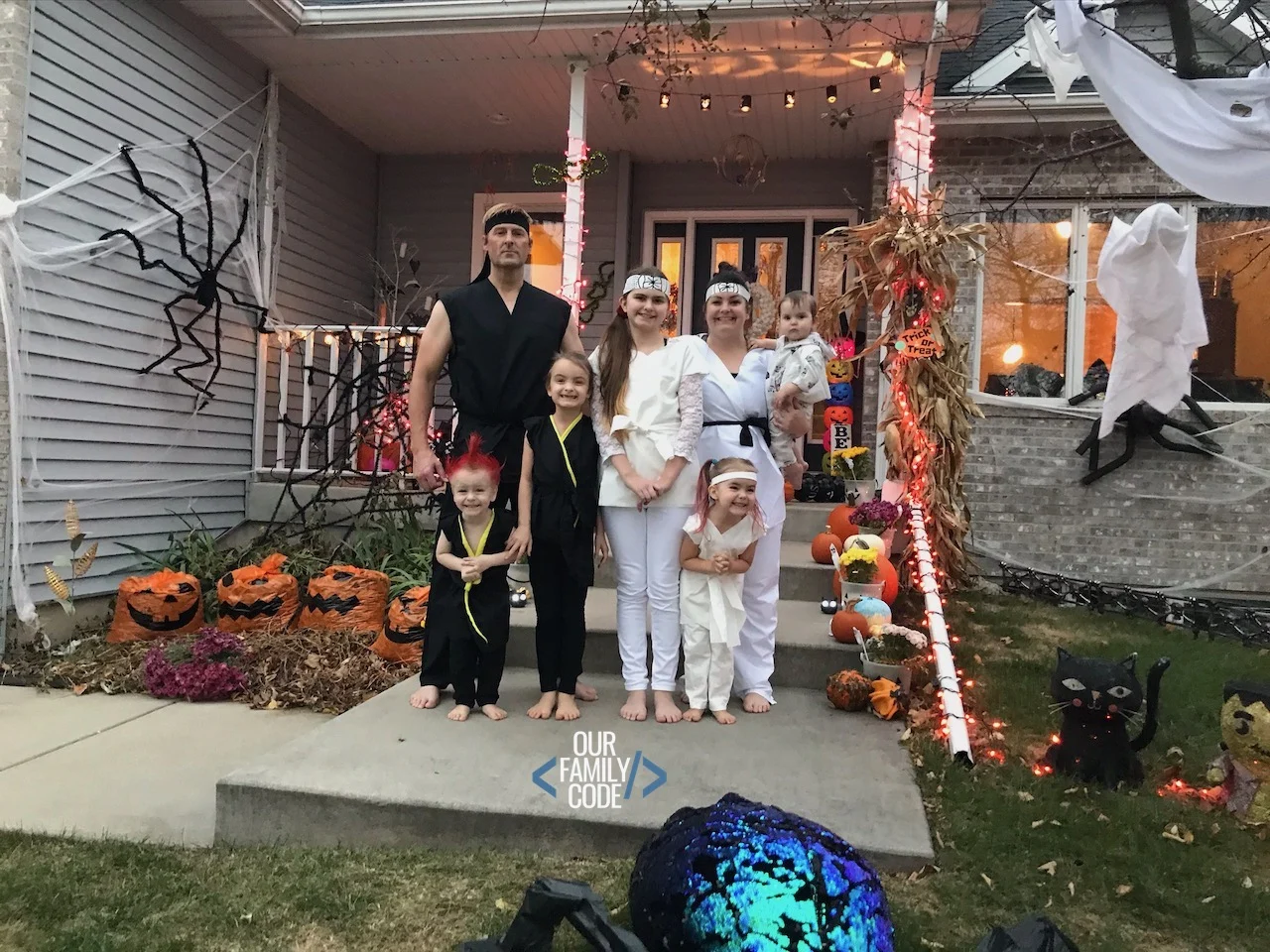 Trolls

Family Halloween Costumes
Characters: Poppy, Branch, Guy Diamond, King Gristle, Bridget
Who doesn't love Trolls?! We probably won't be Trolls this year, but a girl could wish for awesome hair and sparkles galore right!? This one tops my list this year because of the release of Trolls 2! We rented it in April when it premiered at home while we were socially distancing! Then, we bought it and watch it at least once a week.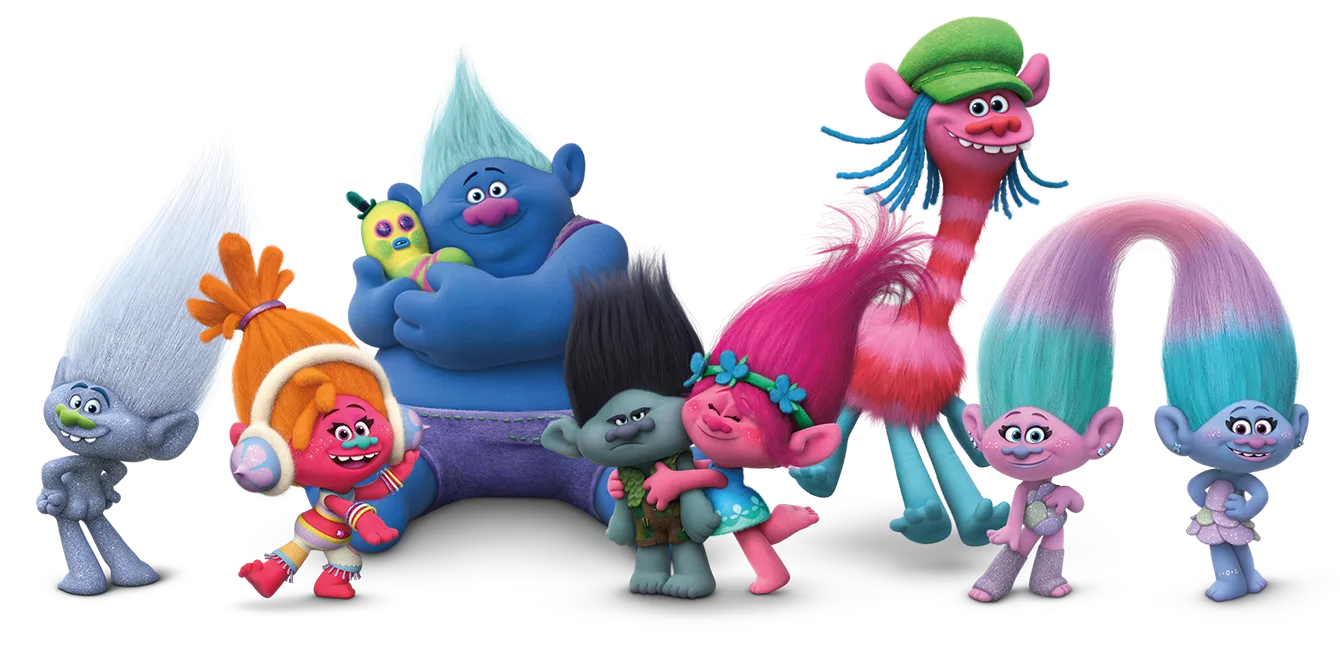 Marvel Superheroes

Family Halloween Costumes
Characters: Thor, Hulk, Captain America, Black Widow, Iron Man, Guardians of the Galaxy, Spiderman
There is a good chance that we will be Marvel Superheroes for our Family Halloween Costume this year. This is what I think Travis wants to be. I'm trying to work out the costumes for the girls in my brain.
Liam (2yrs) could definitely be the Hulk, Sawyer (9months in Oct) can totally be Groot, but I'm stuck on who the older two girls would enjoy dressing like. Any ideas, let me know!!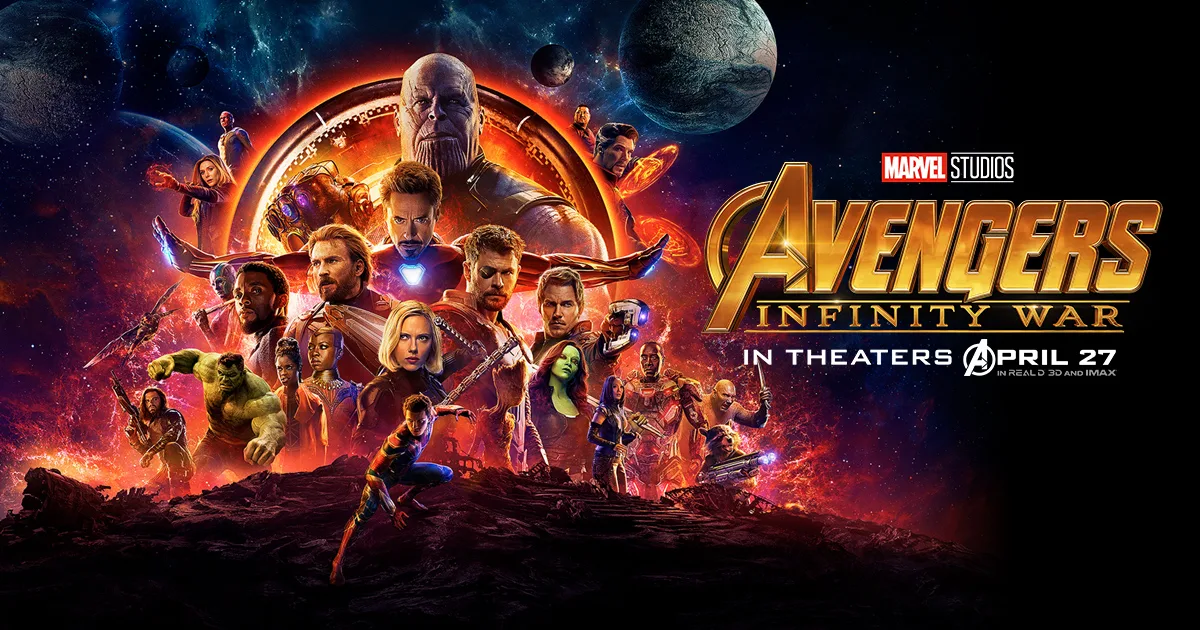 The Incredibles

Family Costumes
Characters: Mr. Incredible, Elastigirl, Violet, Dash, Jack-Jack
The Incredibles 2 released this year and I'm sure that it's going to be quite a trendy family Halloween costume! Liam would make a pretty cute Jack-Jack, but we have wayyyyy too many kiddos for this costume choice! It would be the perfect fit for a family of 5 though!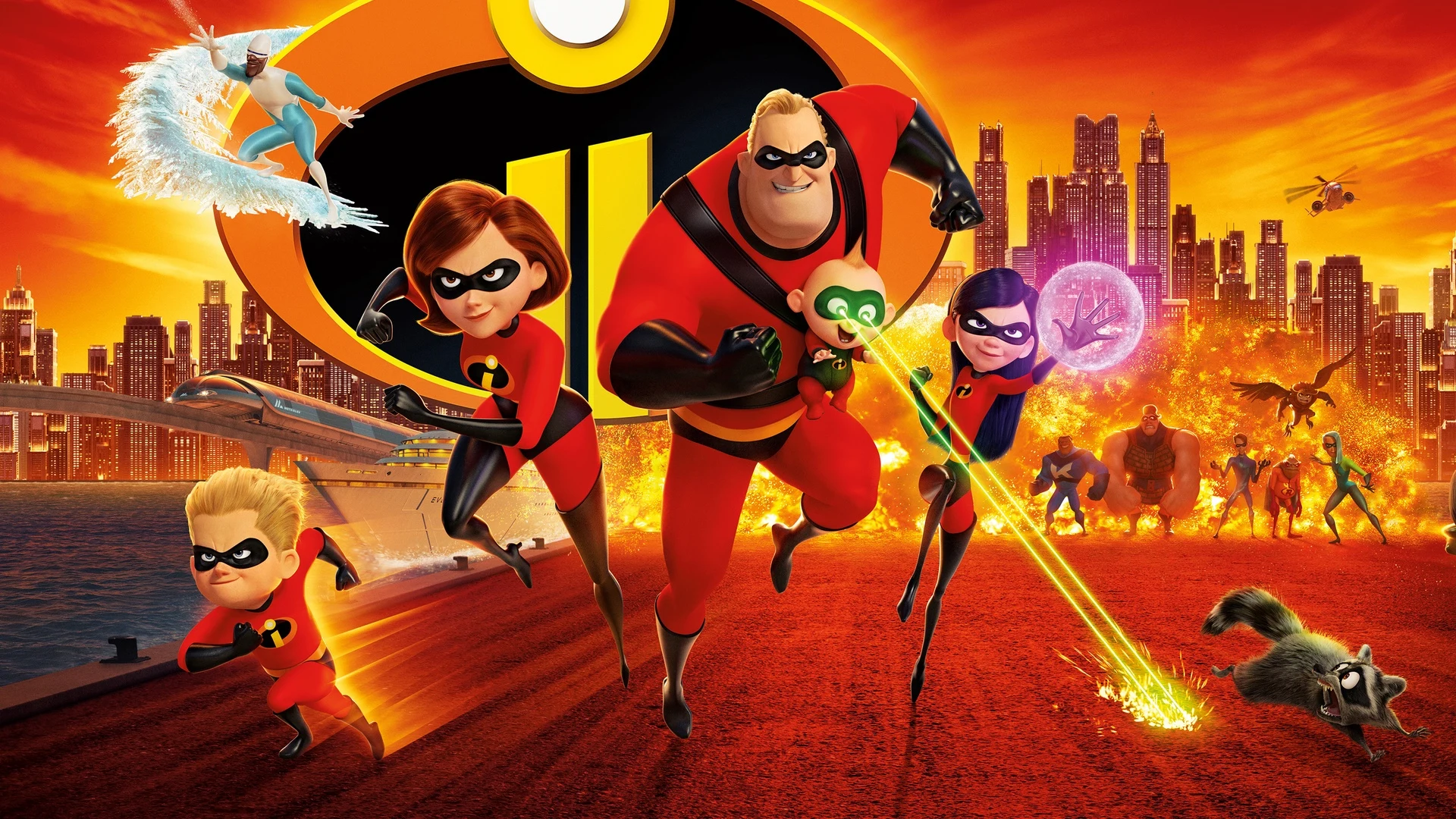 The Greatest Showman

Halloween Costumes
Characters: Anne Wheeler, Lettie Lutz – The Bearded Lady, Phillip Carlyle, P.T. Barnum, " Jenny Lind – The Swedish Nightingale", and so many more!
I love the idea of being characters from The Greatest Showman for our family Halloween costumes this year! The whole family enjoyed the movie and I will have a blast making all of the costumes for everyone.
Can you just imagine Liam as a Little Napoleon! Travis would be the ring-leader of course (haha or me!!) and Peyton has already called dibs on being Anne Wheeler if we decide to go with this theme. It's sure to be a family favorite!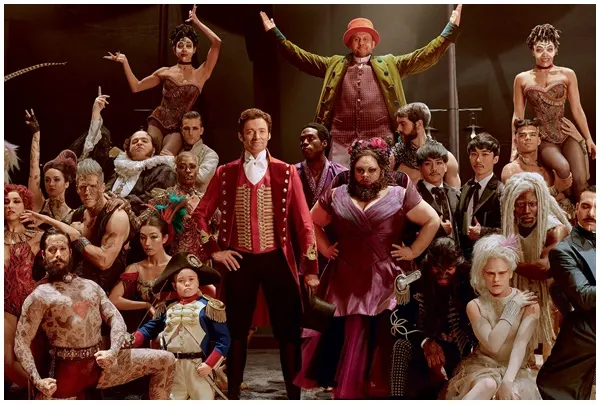 A Wrinkle in Time Halloween Costumes
Characters: Charles Wallace Murray, Meg Murray, Mrs. Whatsit, Mrs. Who, Mrs. Which
Sparkles, glitter, big goofy dresses!! My girls are campaigning for A Wrinkle in Time to be the theme of our family Halloween costume.
I can totally understand why they are fascinated after seeing all of the makeup, glittery eyebrows and elaborate costumes that all of the characters wear in the movie!
The movie has been a huge hit for my kids for the last few years, so I'm sure we will be seeing quite a few bedazzled characters from A Wrinkle in Time on Halloween! There are even dolls for the characters now too!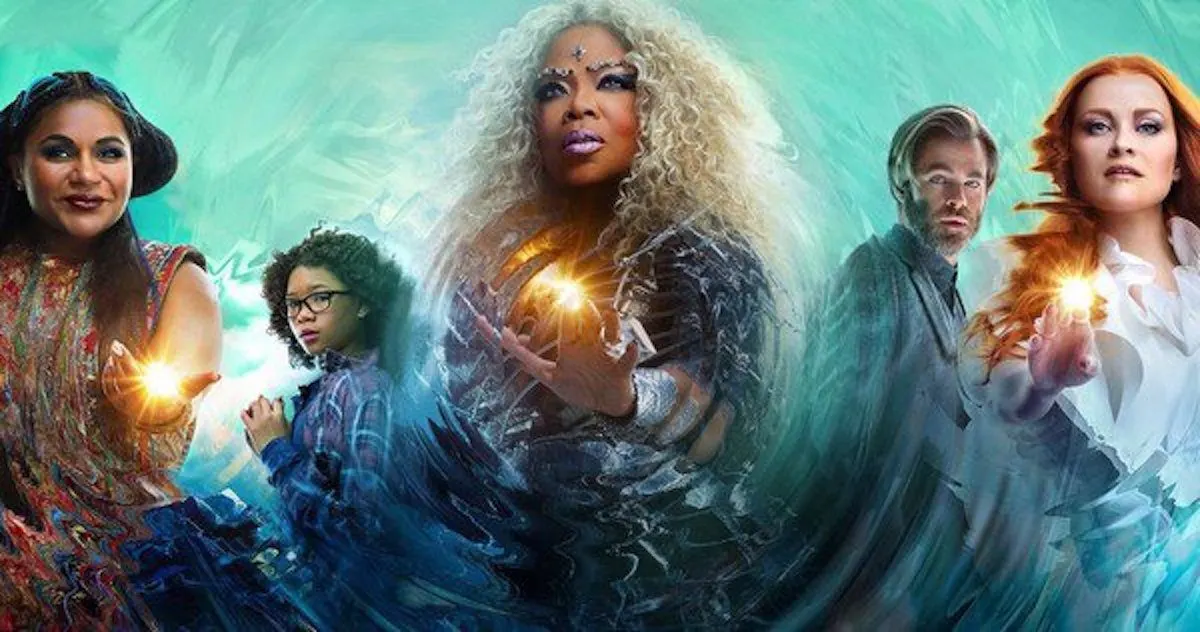 Want to see more of my ideas and inspiration for our Family Halloween Costumes? Check out my Halloween board on Pinterest and follow us!
DON'T FORGET TO PIN THIS IMAGE TO SAVE THESE AWESOME HALLOWEEN COSTUME IDEAS!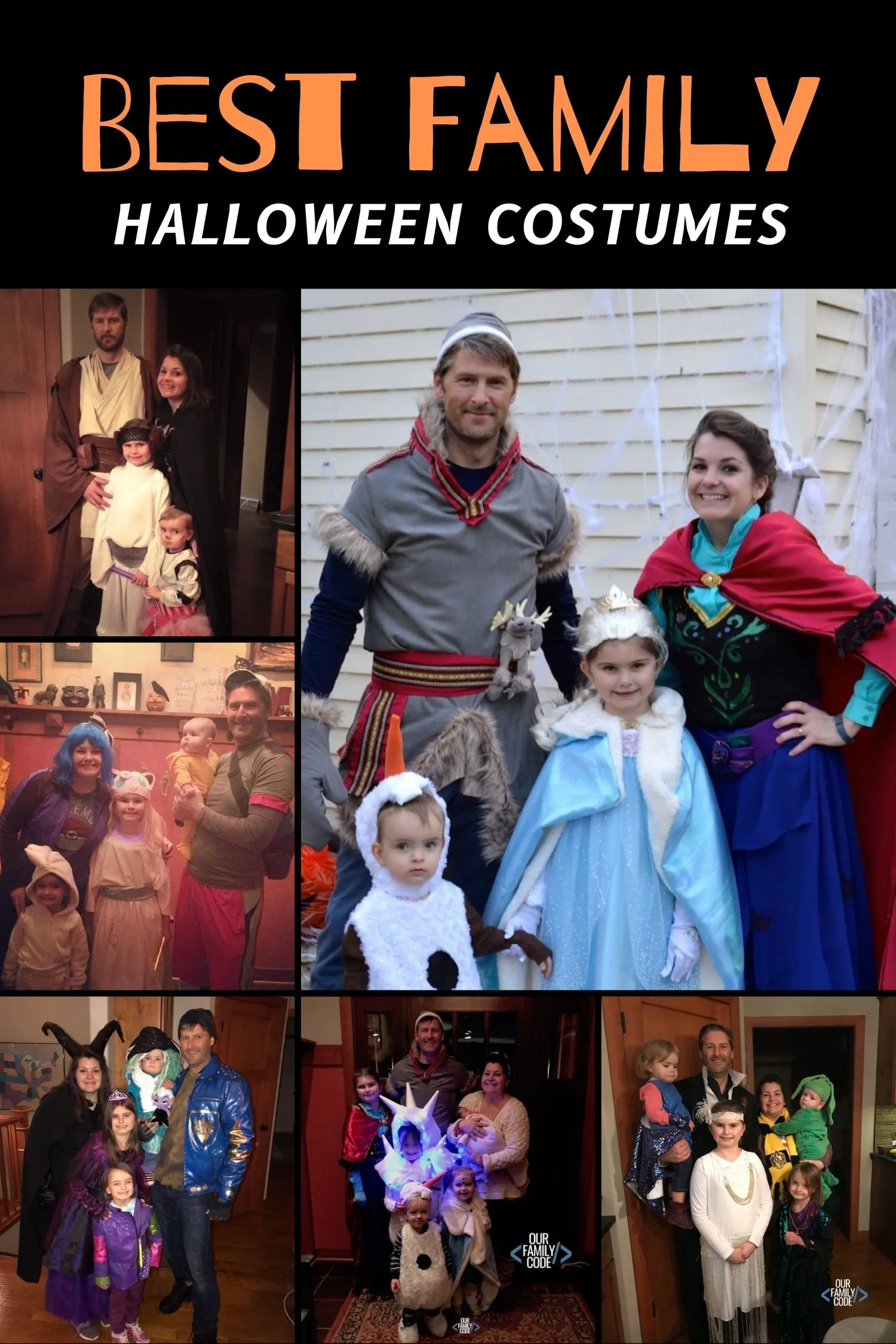 Meet Toni, the Maker Mom behind Our Family Code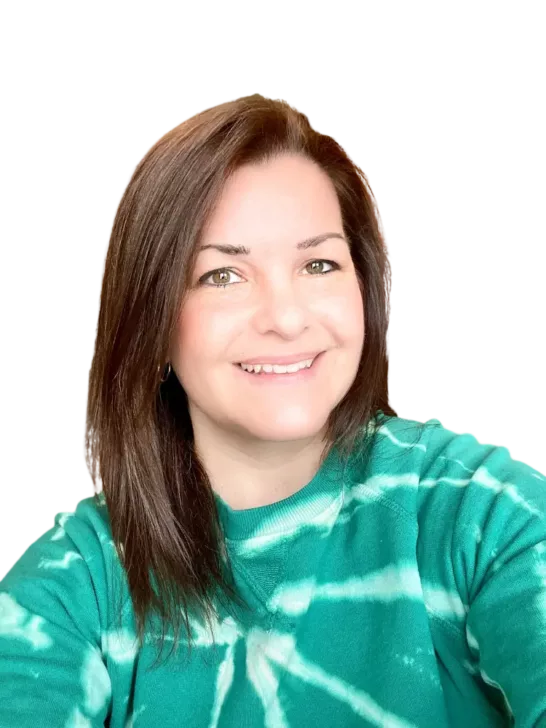 Hey there, I'm Toni! I'm a software engineer and Maker Mom that finds my joy in unleashing my children's curiosity by exploring STEAM concepts with my fantastic five!
When I'm not chasing toddlers or raising tweens, you can find me tearing things up and putting them back together over here at Our Family Code.
I am the owner and content creator of multiple educational websites designed to increase access to STEAM & STEM education with a focus on teaching computer science and coding to kids of all ages!
You can also find out more about me by visiting ToniGardner.com!