Learn about solubility, color mixing, and diffusion with Sharpie art on a canvas!
We love turning science into art and this Sharpie art activity is a great way to learn about solubility while making great artwork!
We've explored solubility before when we solved the case with chromatography and our figured out the culprit behind the Case of the Red Lipstick, but we haven't worked with rubbing alcohol just yet!
This activity is really fun and super easy to set up and complete. It takes less than 10 minutes to complete after you have drawn your beginning image on your artwork.
My girls already have plans in the works for more Sharpie art projects!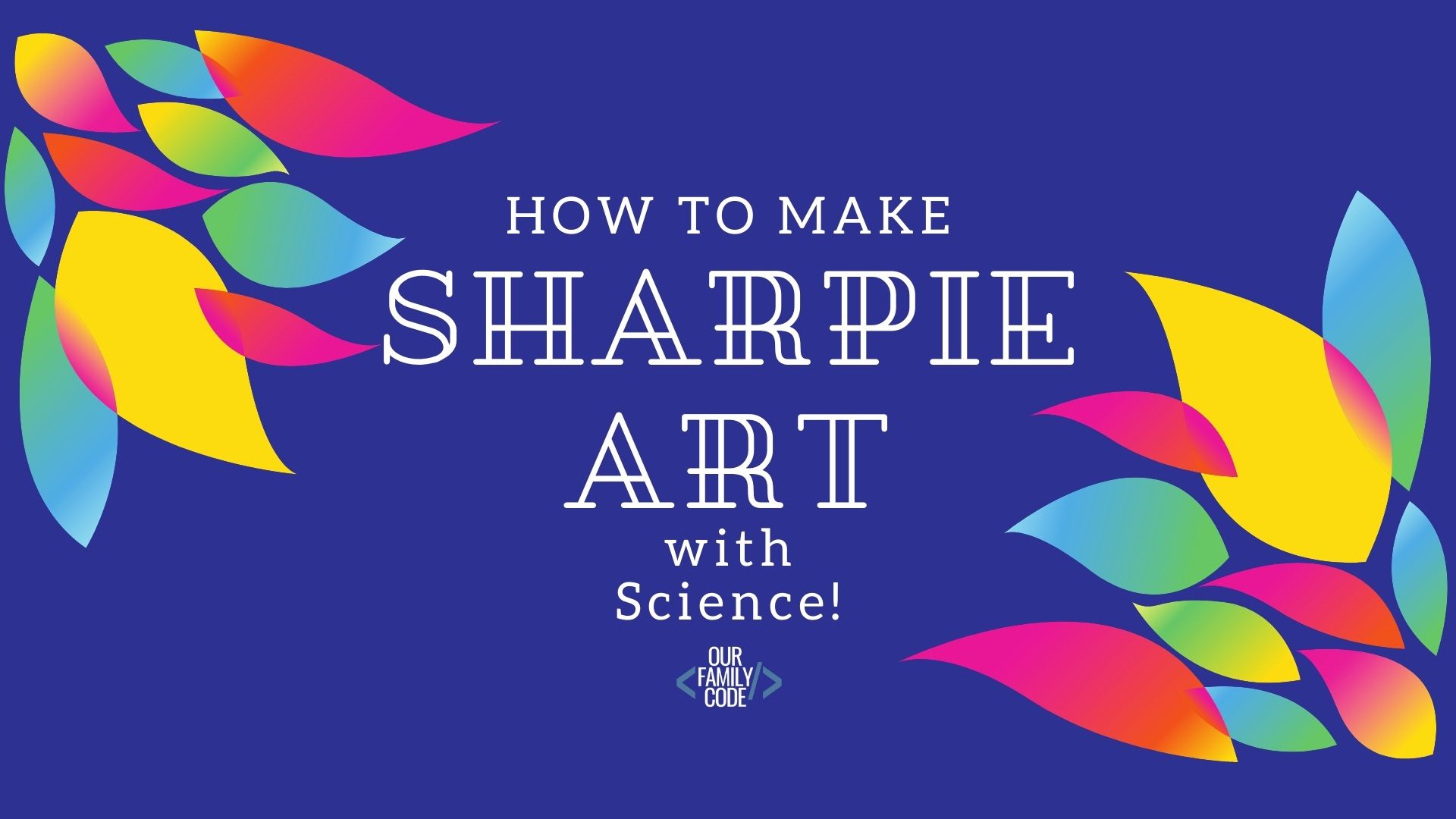 This post contains affiliate links. As an Amazon Associate, Our Family Code earns from qualifying purchases. Please see our Disclosure Policy for more details.
Why STEAM Activities?
STEAM is the abbreviation for Science, Technology, Engineering, Art, and Math.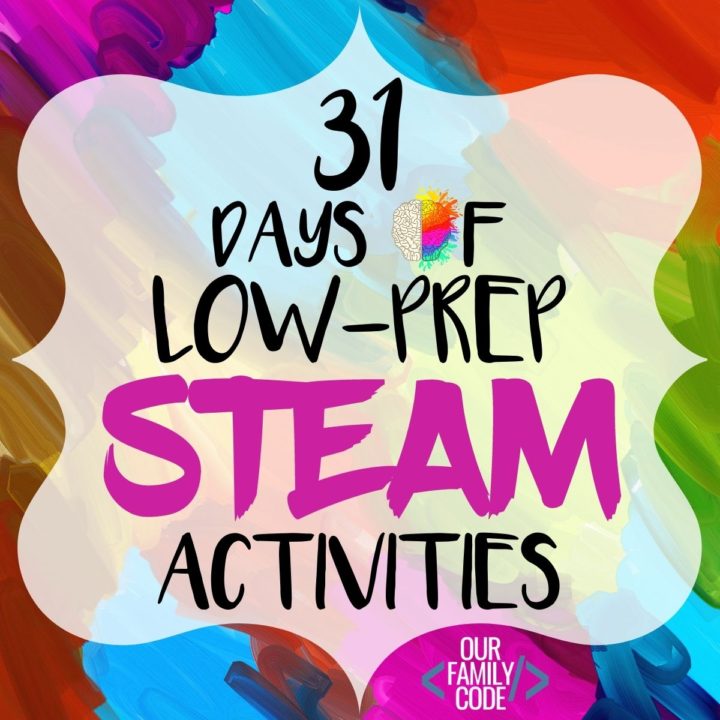 STEAM, like STEM, is an integrated approach to learning that encourages learners to make connections between the concepts they are learning and how they apply them to real-world problems.
STEAM helps students ask questions, problem solve, think creatively, and produce innovative solutions. Many schools have adopted STEAM learning activities into their curriculum, but it's never too early to start building critical thinking skills.
We love to learn through play at our house and have a blast doing activities for toddlers all the way to tweens!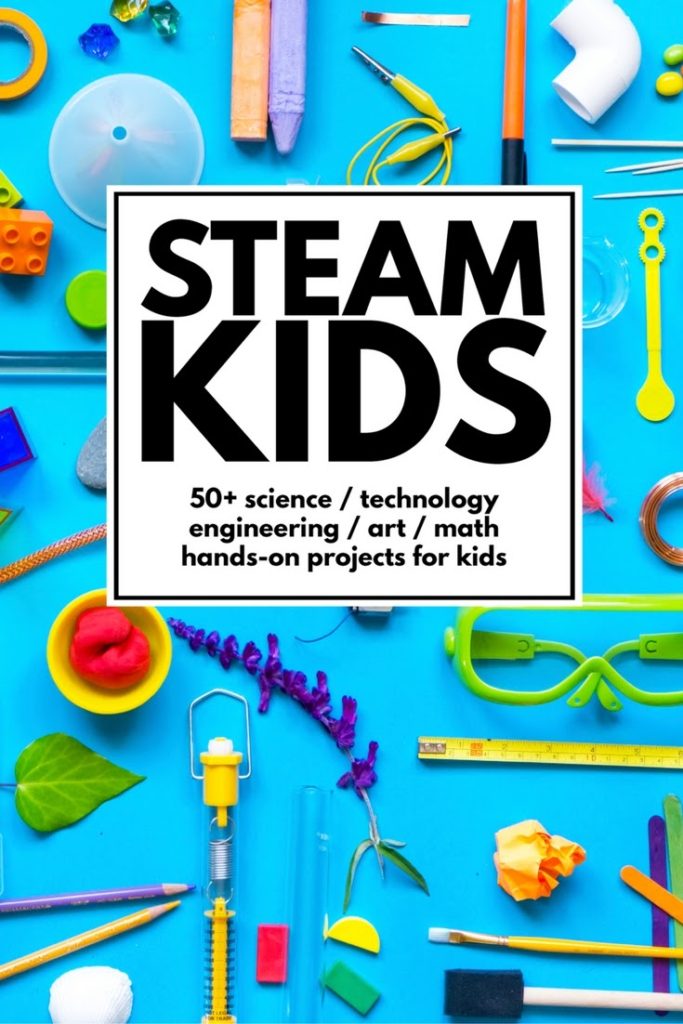 Key Activity Terms
Solubility – a physical property that describes the ability of a chemical substance to dissolve in a solvent
Solute – a substance that is dissolved in a solution
Solvent – a substance capable of dissolving another substance
Soluble – a substance that dissolves in another substance
Insoluble – a substance that does not dissolve in a specific substance (such as permanent markers in water)
Hydrophobic – a substance that is not soluble in water
Sharpie Solubility Art Materials
CAUTION: Rubbing alcohol is flammable and must be kept away from open flames. Conduct this experiment outside or in a well-ventilated area.
How to Make Awesome Sharpie Art with Science!
Draw a design on your canvas. Be sure to cover the entire canvas with different colors whether you are just coloring shapes, lines, or patterns!
Use your imagination and color away! Try different patterns, dots, color combinations even wavy lines and circles.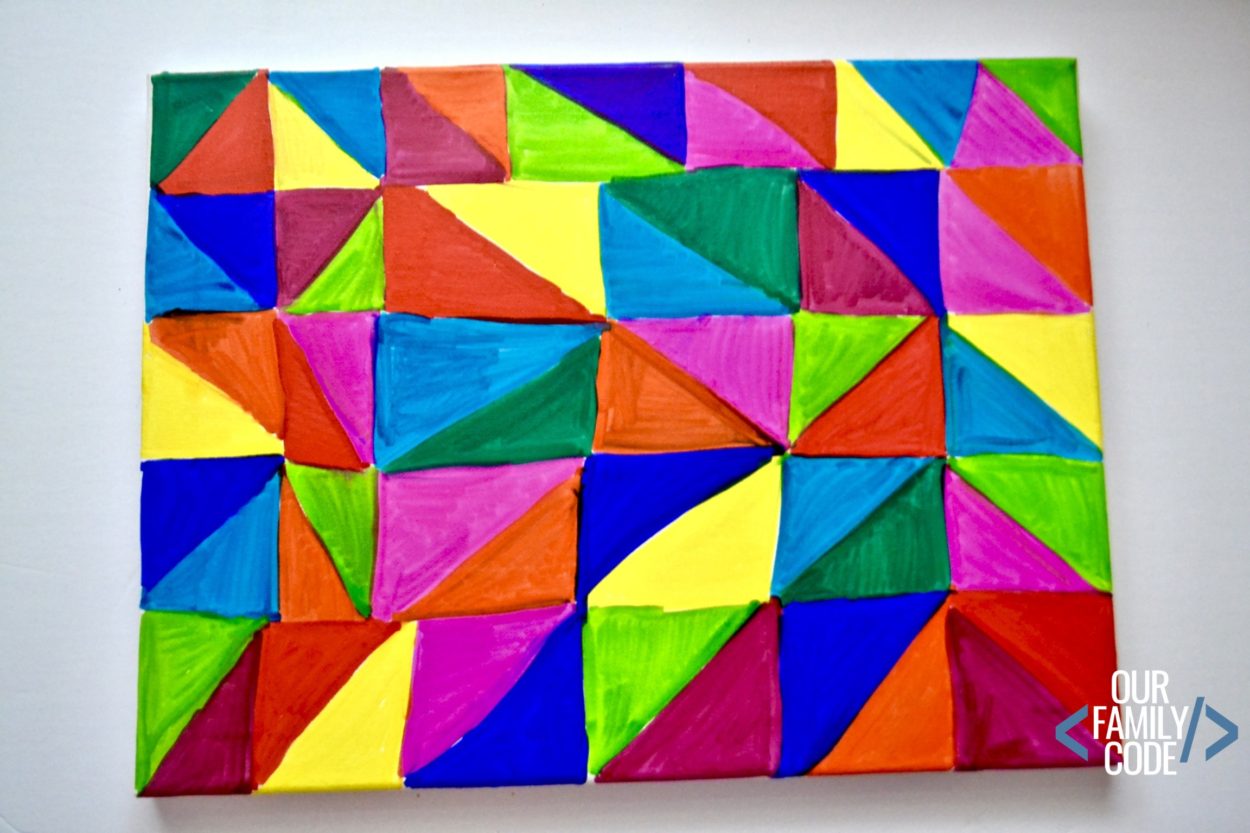 After you are satisfied with your design, put a small amount of rubbing alcohol into a spray bottle. I attached the spray bottle top to my rubbing alcohol bottle to prevent any spills!
You can also use a pipette or medicine dropper to drip drops of rubbing alcohol onto your art.
Watch what happens as the rubbing alcohol, the solvent, lands on the permanent marker (the solute). You'll notice that the areas of high marker concentration start to shift to the areas that aren't as heavily concentrated.
You'll also see your colors mix. Continue spraying and use gravity to move any excess liquid around. You'll end up with a pretty unique piece of artwork!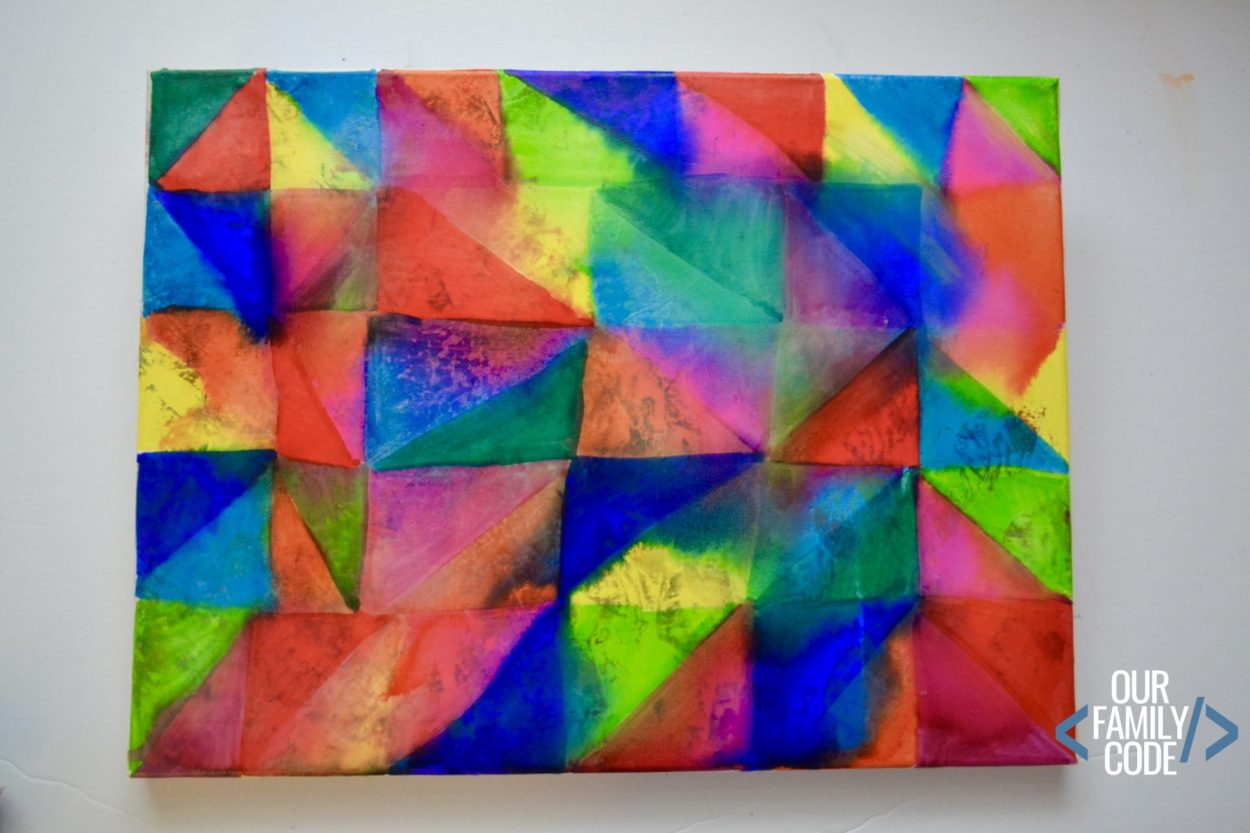 The Science Behind Your Sharpie Art!
Permanent markers contain permanent ink, which is hydrophobic or is not soluble in water. However, permanent ink is soluble in rubbing alcohol.
The rubbing alcohol is the solvent that diffuses the ink from areas of high concentration to areas of lower concentration.

Want to connect this chemistry activity with other STEAM buckets? Check out these extensions!
Science – Try this activity again with a t-shirt instead of a canvas. Draw a design on your shirt and use a pipette to drop rubbing alcohol onto the shirt and watch the colors spread through your t-shirt.
Technology – Determine the hex color codes for the colors that you used in your art!
Engineering – Engineer a solution to hang your canvas. We used a hook between books on a bookshelf to hang ours.
Art – Do this activity with coffee filters and make chromatography butterflies with your colored filters.
Math – Use different shapes in your artwork. We chose different sized triangles for our art!
Some Books to Read with Your Activity
We love incorporating books into our activities. Here are some great books about art to read with your activity!
31 Days of Low-Prep STEAM Activities for Kids
This activity is part of our 31 Days of Low-Prep STEAM Activities for Kids. Every activity focuses on each of the buckets of STEAM (Science, Technology, Engineering, Art, & Math) although these integrated projects fit in more than one bucket.
You and your kiddos are going to love all of the activities that we have in store! Visit the 31 Days of Low-Prep STEAM Activity hub and pin it, so you can come back and visit it daily! If you'd like to receive your activities weekly, you can sign up for our weekly newsletter!
PIN THIS IMAGE TO SHARE THIS LOW-PREP STEAM ACTIVITY!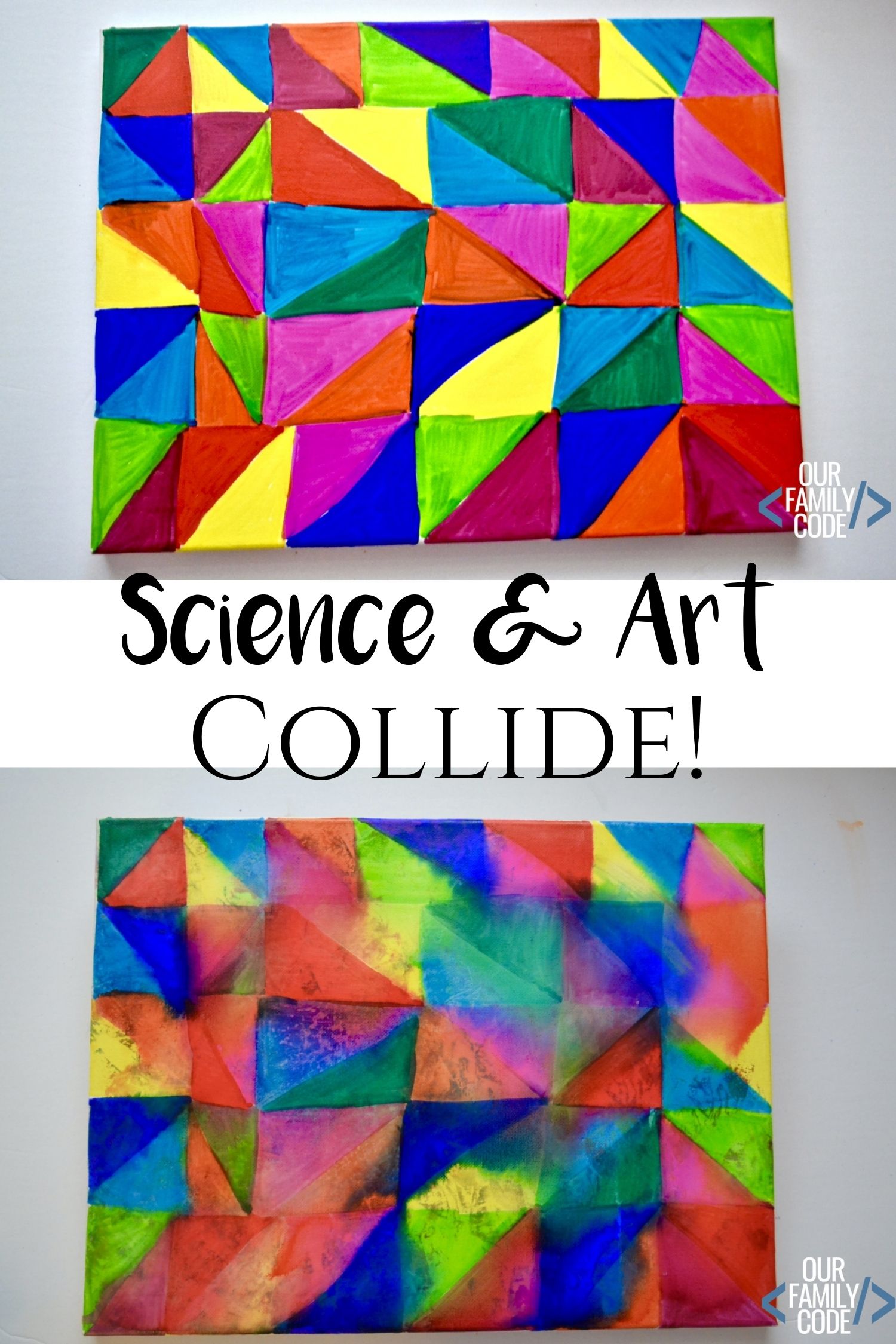 Science Art Activities
Find more awesome activities that pair science with art!
Meet Toni, the Maker Mom behind Our Family Code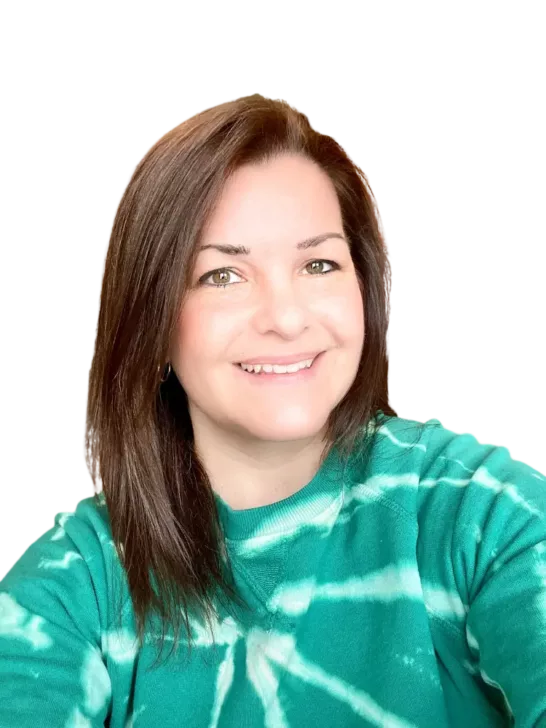 Hey there, I'm Toni! I'm a software engineer and Maker Mom that finds my joy in unleashing my children's curiosity by exploring STEAM concepts with my fantastic five!
When I'm not chasing toddlers or raising tweens, you can find me tearing things up and putting them back together over here at Our Family Code.
I am the owner and content creator of multiple educational websites designed to increase access to STEAM & STEM education with a focus on teaching computer science and coding to kids of all ages!
You can also find out more about me by visiting ToniGardner.com!