Reveal the hidden messages in this Viking runes decoding activity that challenges kids to use logical thinking skills to decipher Disney Frozen jokes with hands-on rune rocks!
This Futhark runic alphabet Frozen coding activity is a great hands-on activity to decipher some secret messages!!
We are major Frozen fans, so we can't help but incorporate Arendale and our Frozen friends into some Frozen STEAM activities.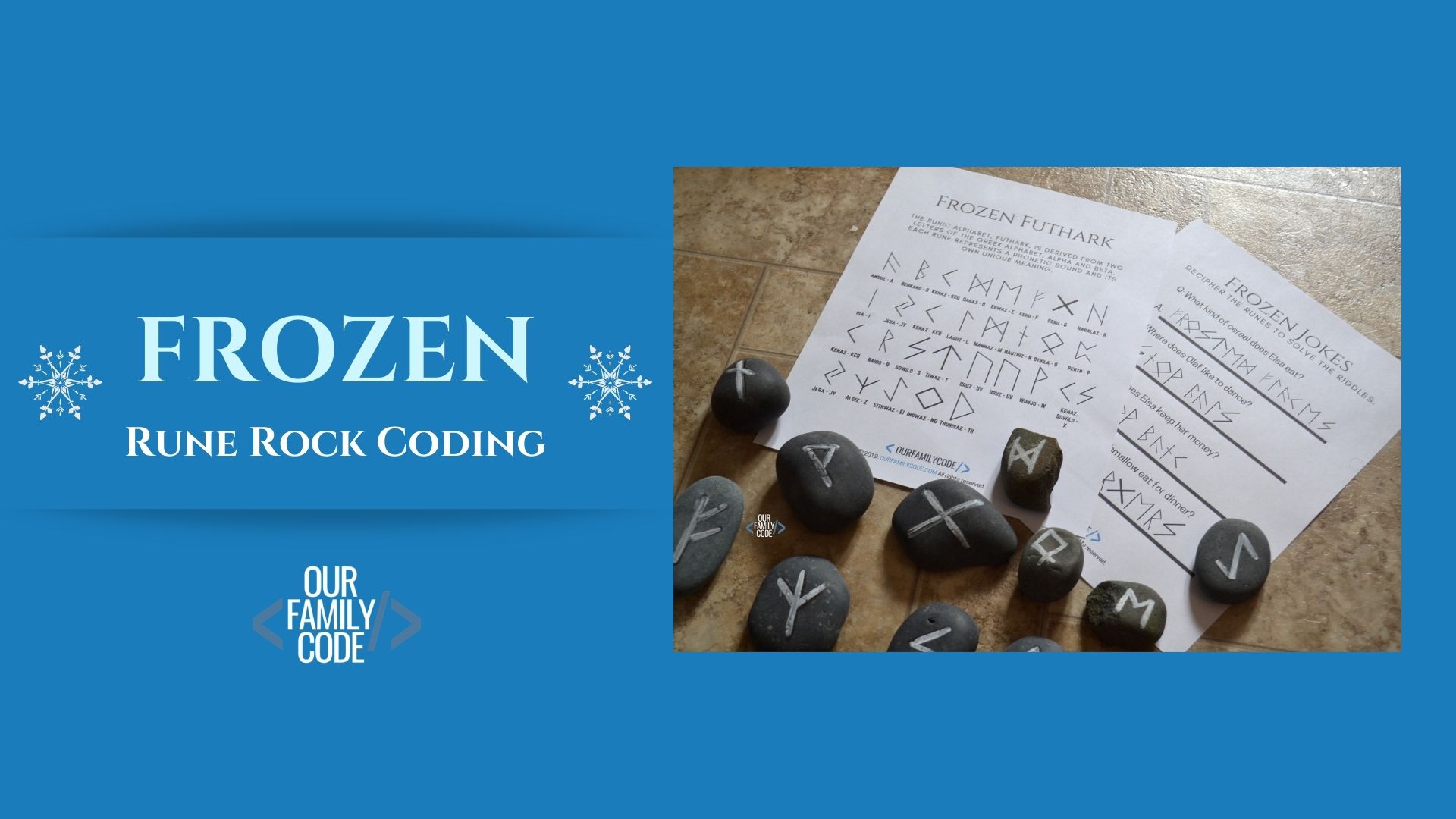 We love to dress up in family Halloween costumes every year and we've been characters from Frozen for two out of the last five years!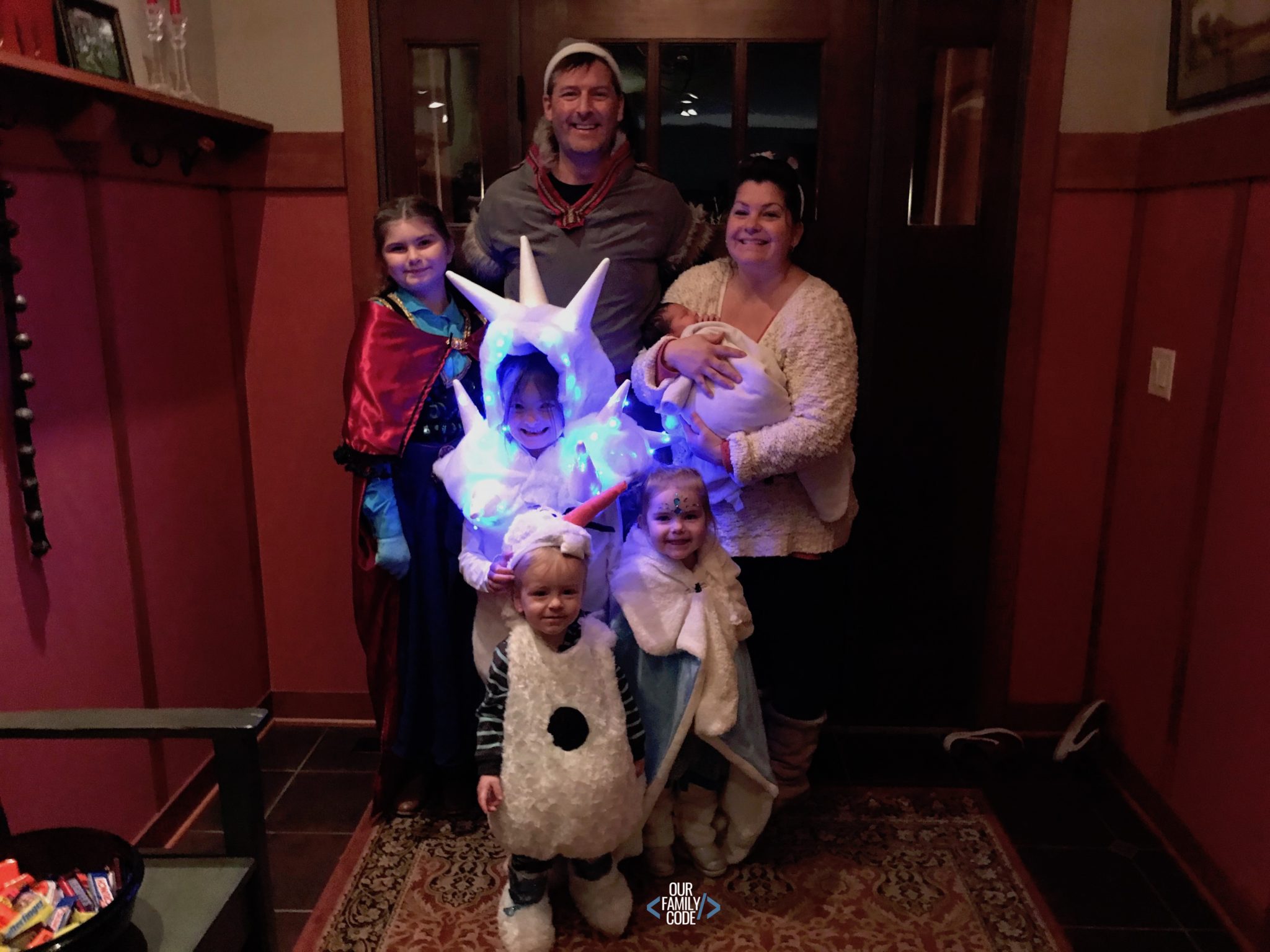 This post contains affiliate links. As an Amazon Associate, Our Family Code earns from qualifying purchases. Please see our Disclosure Policy for more details.
There are many instances of Runes in both Frozen movies. In the first Frozen movie, Anna and Elsa are playing in the ballroom when Anna is struck in the head by Elsa's powers. The King runs to the library and pulls out a book that is written in Runes.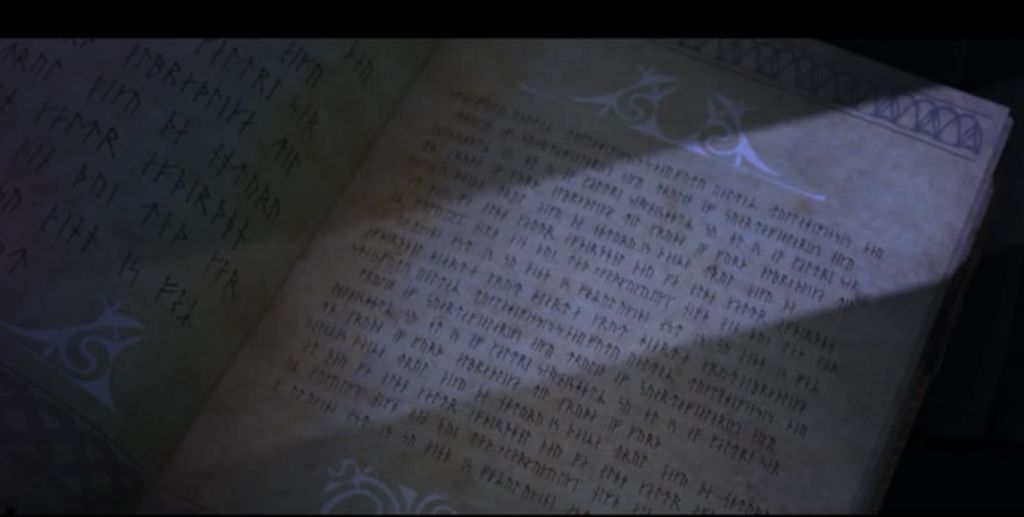 What are Viking Runes?
Runes are an ancient alphabet that was used in by Norse and Germanic speaking people.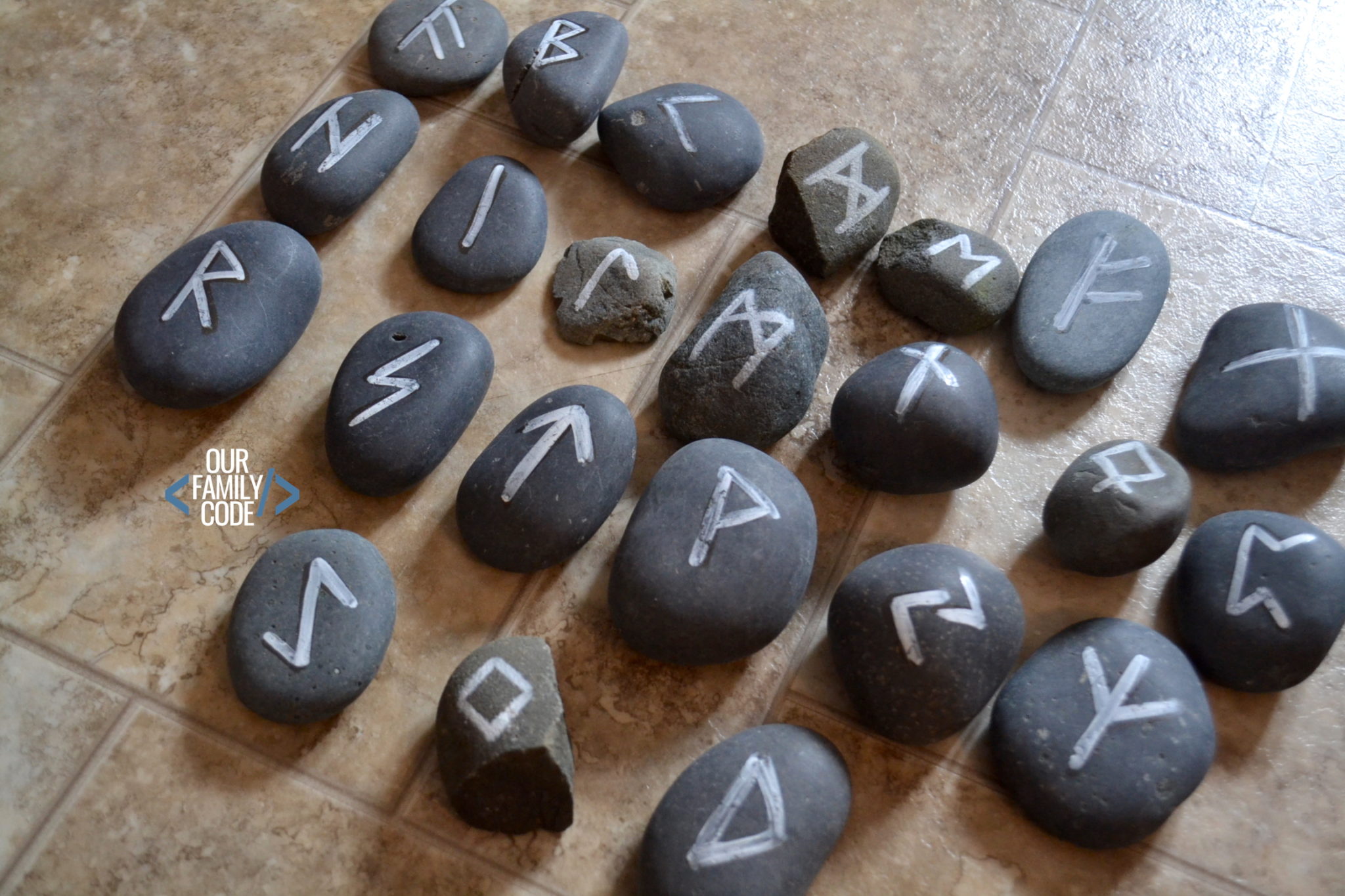 This Viking runes decoding activity focuses on the runic alphabet, Younger Futhark. Younger Futhark, was used in the Viking Age and is considered the alphabet of the Norseman.
Futhark gets its name from its first six sounds: f, u, th, a, r, k. There are 16 Younger Futhark runes. Each rune represents a phonetic sound as well as its own meaning.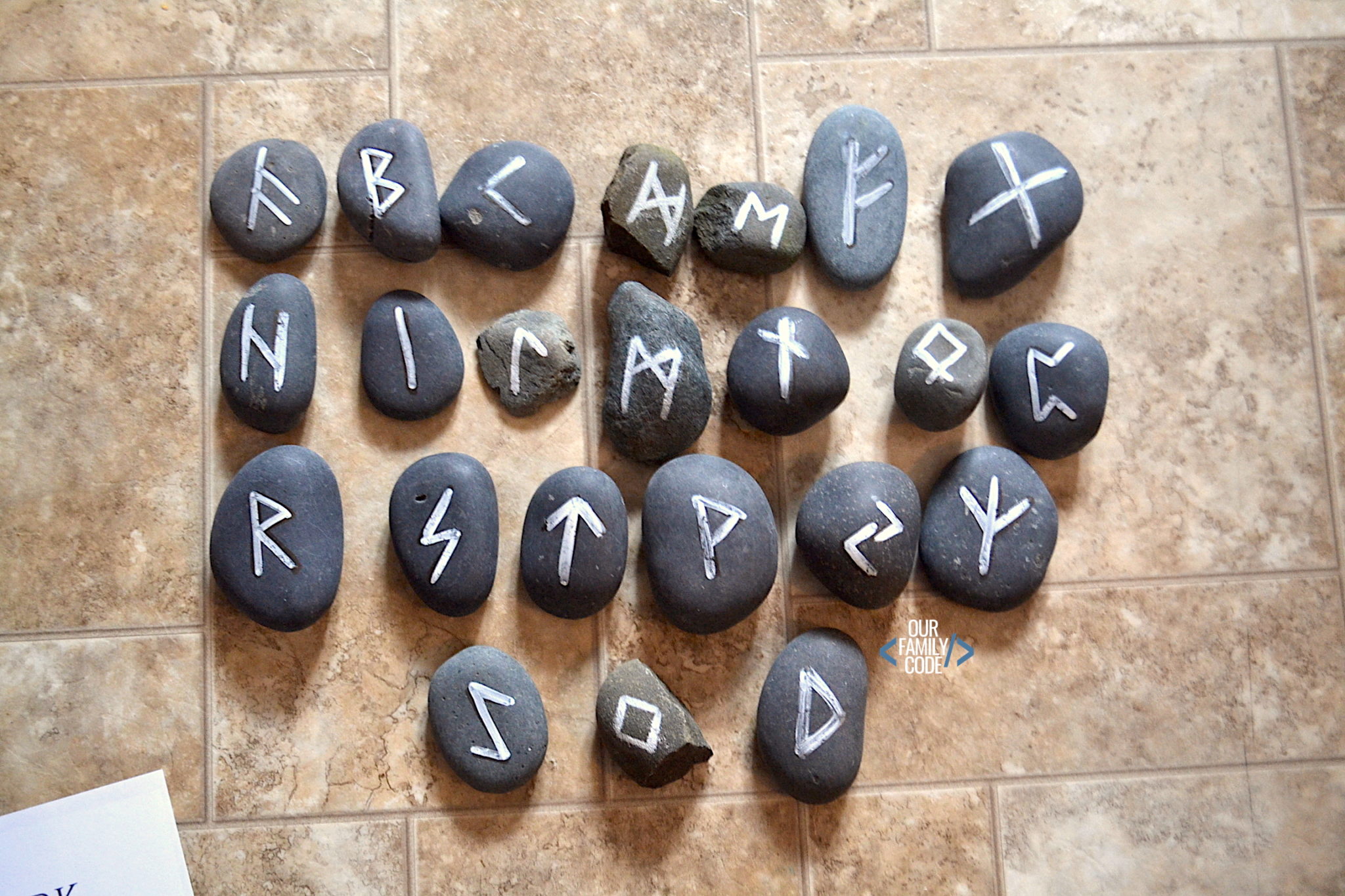 Viking Runes – Younger Futhark

DIY Rune Rocks Supplies
Frozen Viking Runes Deciphering Activity Worksheets (grab this later in the post!)
Frozen Viking Runes Coding Activity
To make your rune rocks, use the Frozen Futhark worksheet to draw one rune per rock.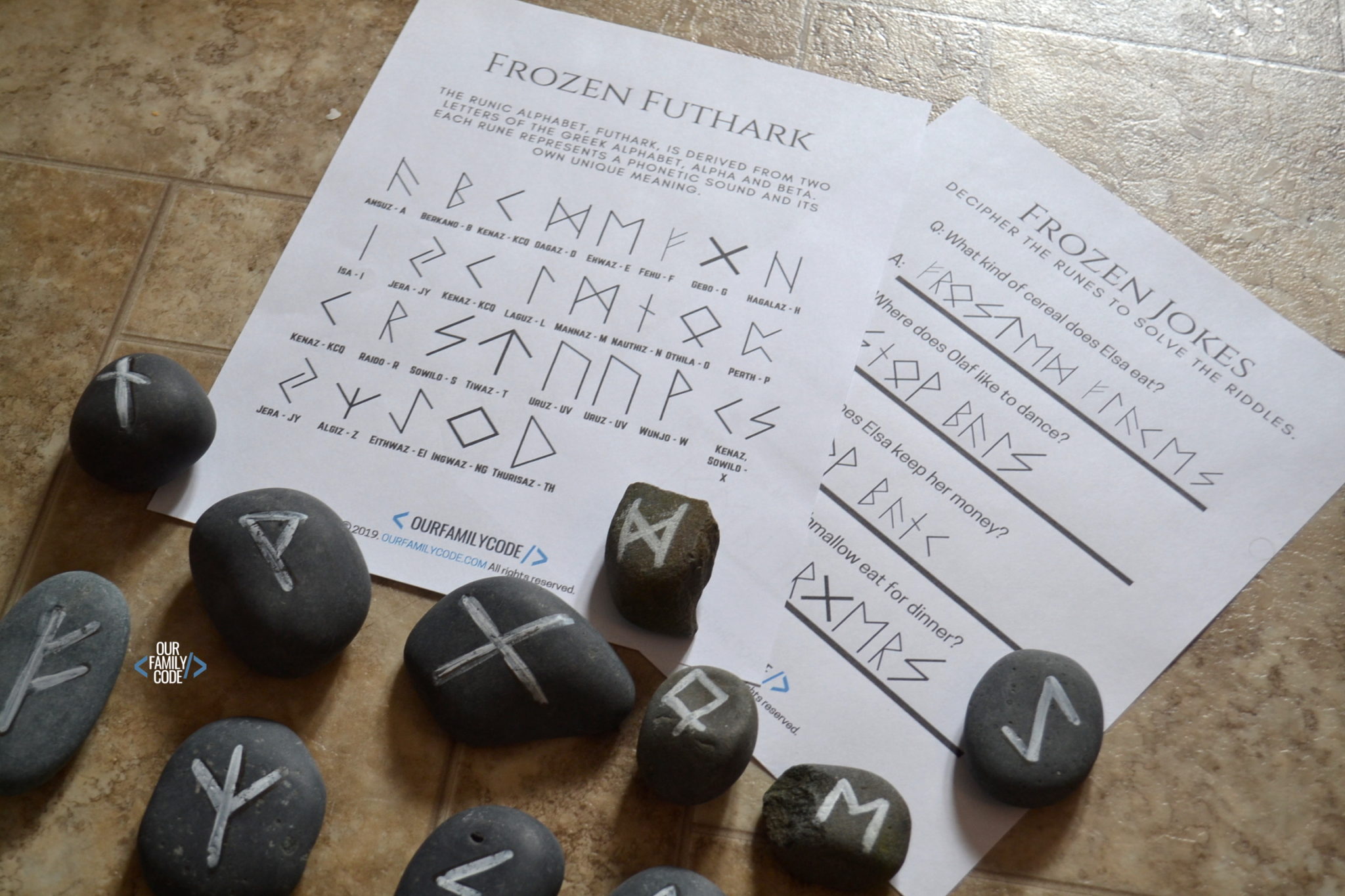 Use your rune rocks to build the Futhark riddle answers. Then, decipher the answer to the Frozen jokes by matching the run to the correct letter or phonetic sound.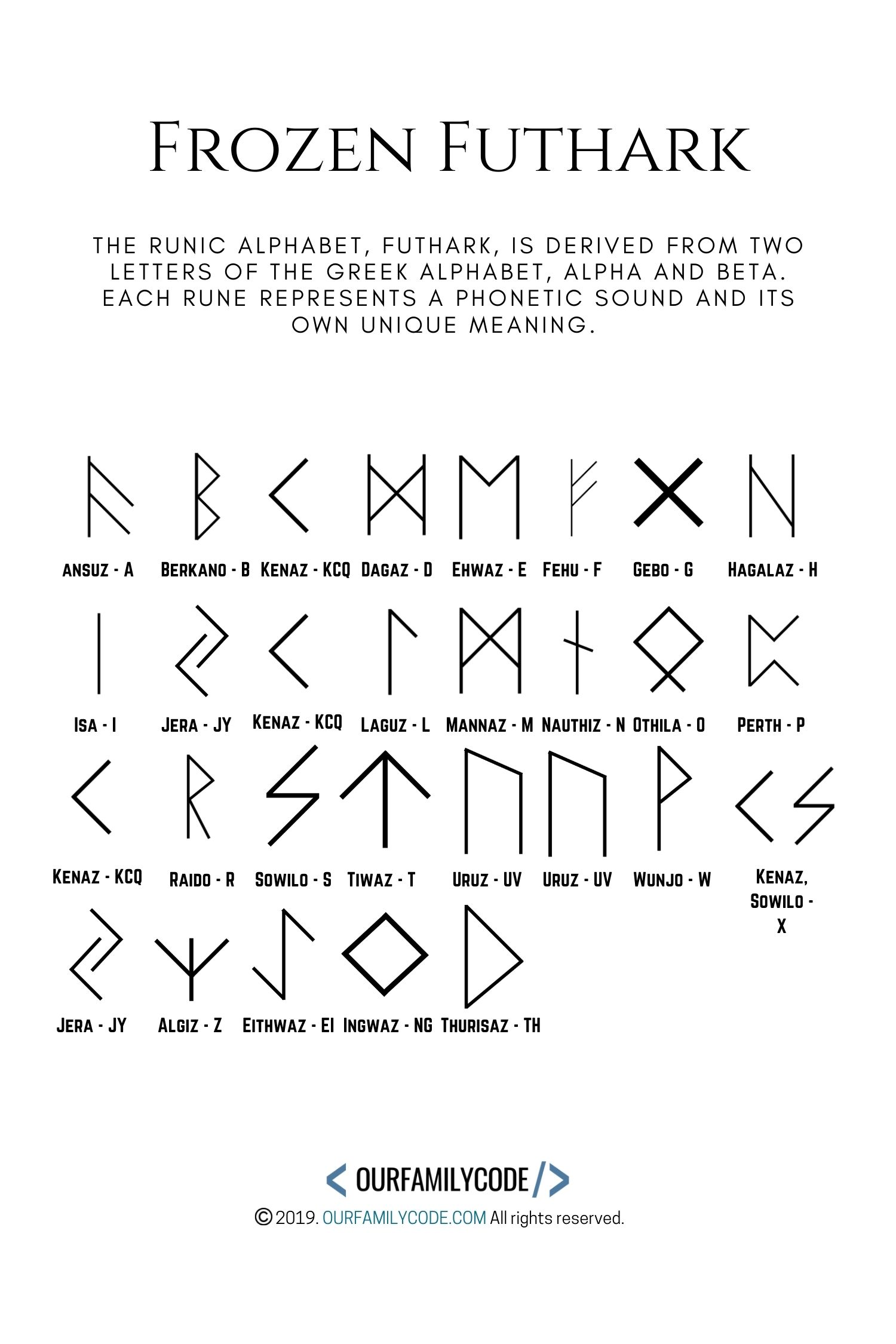 What is Computational Thinking?
Computational thinking is a new way of problem solving that involves thinking about a problem in a way that can be solved by using computing tools like logic, decomposition, abstractions, algorithms, patterns, data collection and analysis, and simulation or modeling.
Computational thinking can be used to solve problems in almost all areas of our lives and helps kids develop some pretty great life skills that can apply to a variety of situations.
Use Logical Reasoning to Decipher Frozen Jokes
Logical reasoning is the ability to analyze and make predictions about things or explaining why something is the way that it is.
This rune rock Frozen coding activity is a great puzzle to use to emphasize the concept of logical reasoning. Use logical reasoning to decipher the runes and solve the Frozen riddles!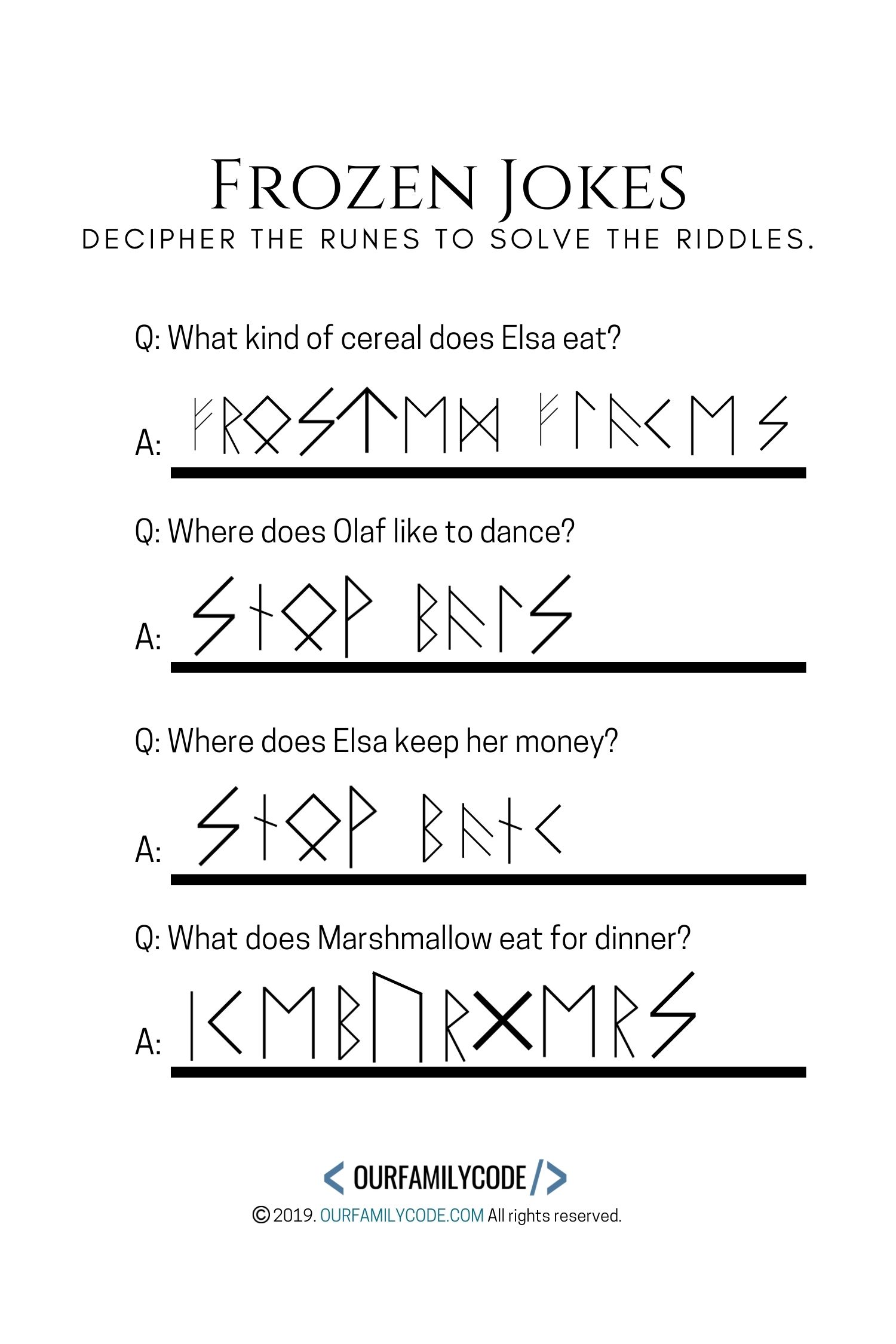 If you are stumped or just want to check your work, the answer key is included below!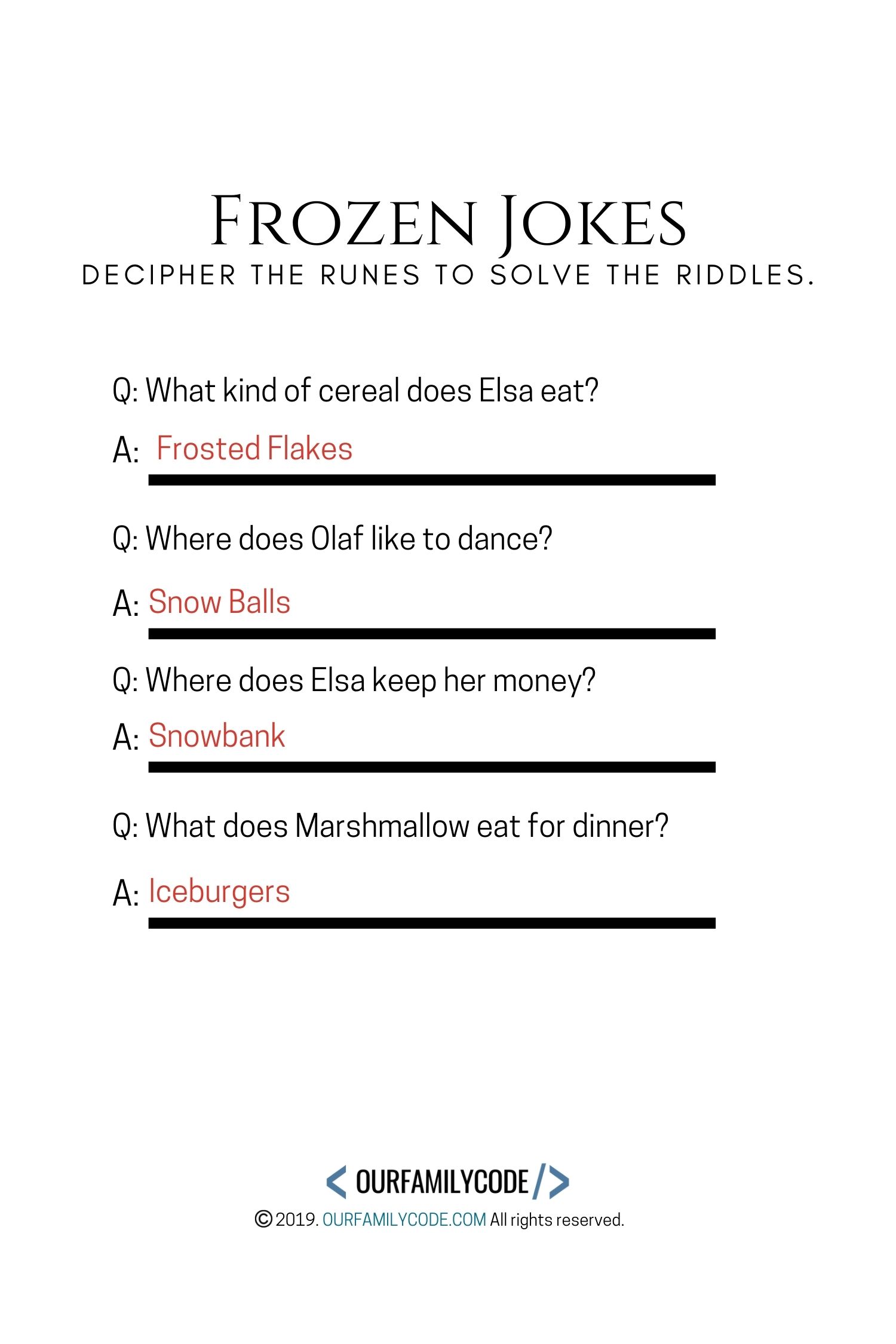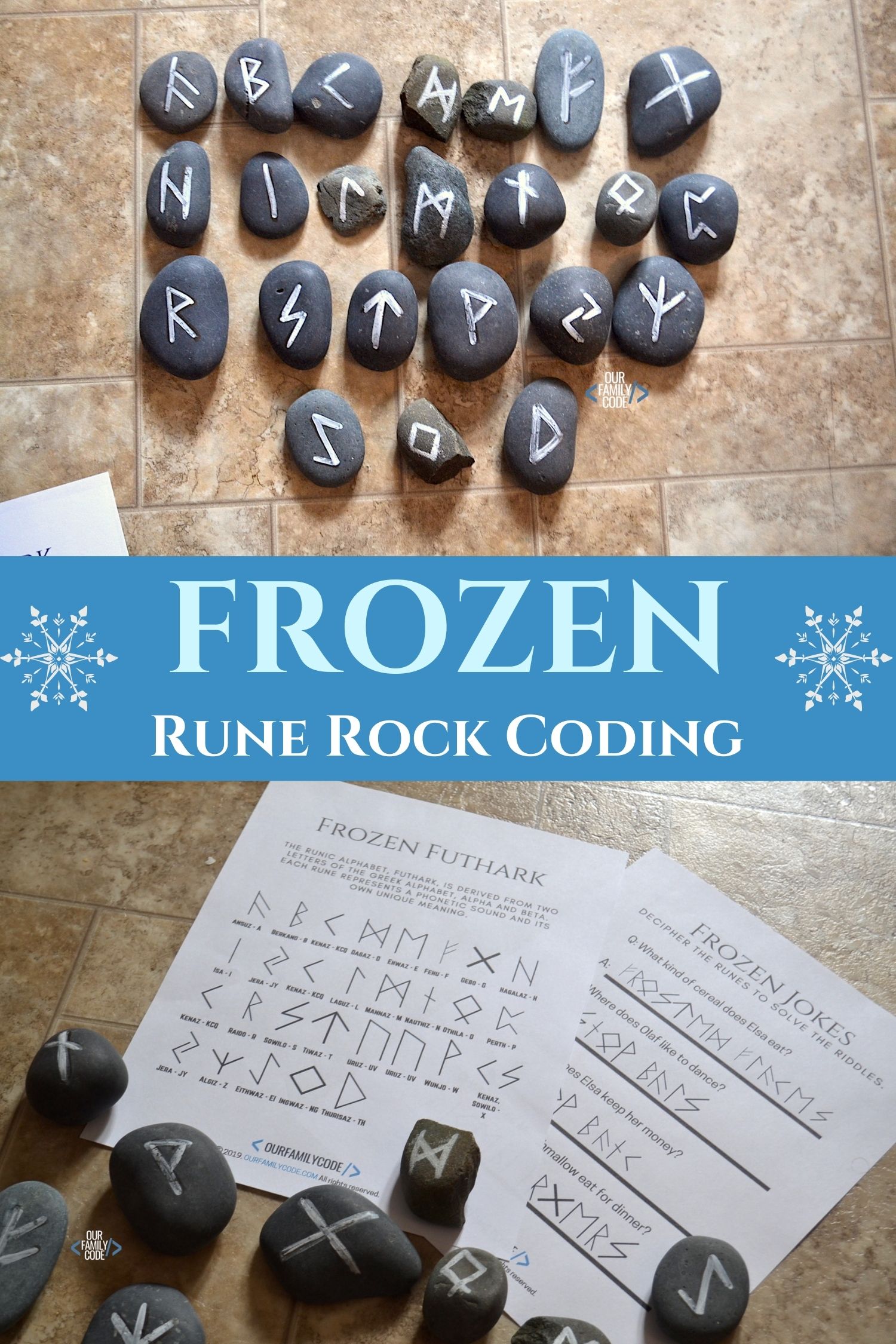 Disney Frozen STEAM Activities
Find more Disney Frozen STEAM activities for kids!
Meet Toni, the Maker Mom behind Our Family Code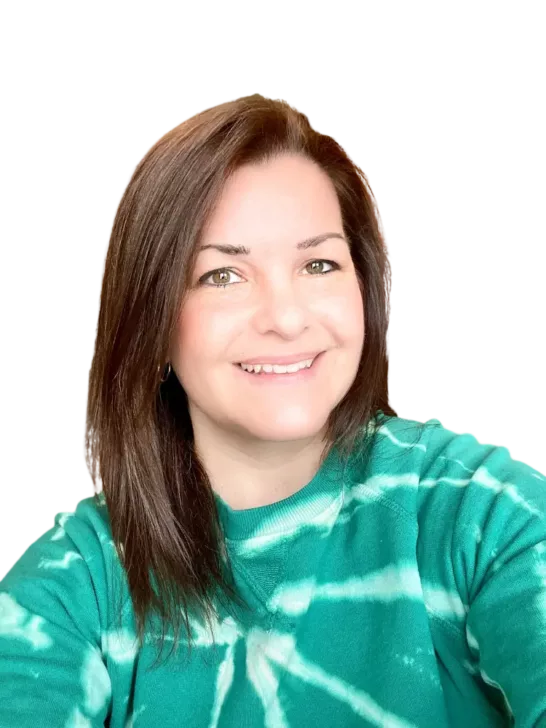 Hey there, I'm Toni! I'm a software engineer and Maker Mom that finds my joy in unleashing my children's curiosity by exploring STEAM concepts with my fantastic five!
When I'm not chasing toddlers or raising tweens, you can find me tearing things up and putting them back together over here at Our Family Code.
I am the owner and content creator of multiple educational websites designed to increase access to STEAM & STEM education with a focus on teaching computer science and coding to kids of all ages!
You can also find out more about me by visiting ToniGardner.com!