In this rubber chicken bones activity, vinegar, an acid, will slowly dissolve the calcium in the bones, making the bones weak and bendable.
This activity is a great way to demonstrate the important role that calcium plays in maintaining strong and healthy bones.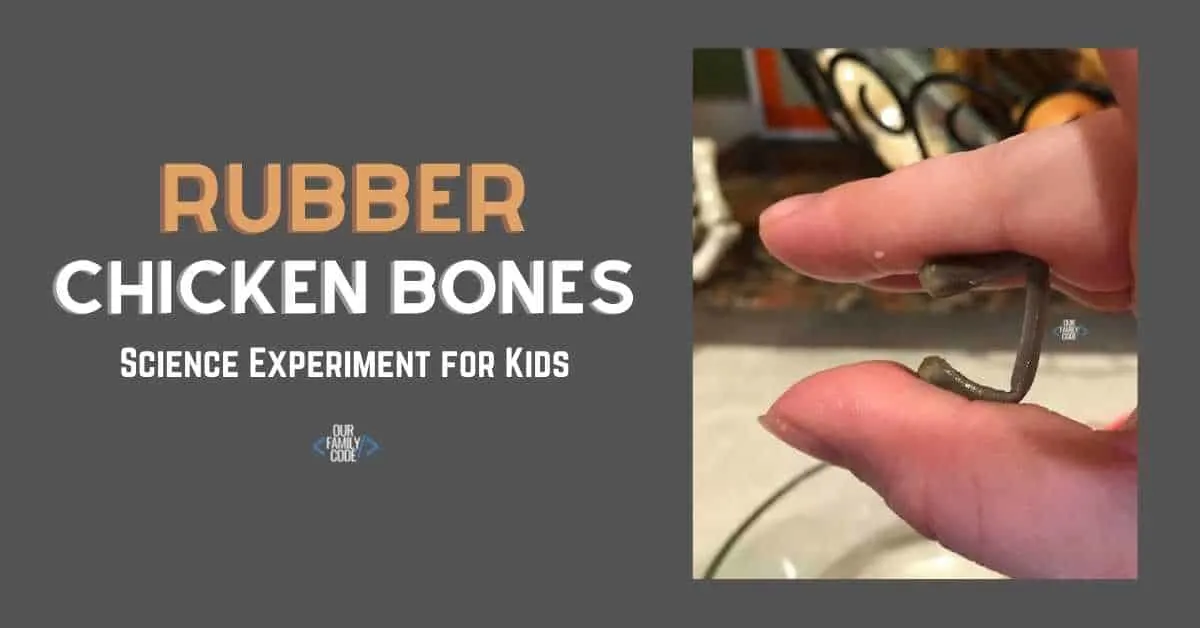 This post contains affiliate links. As an Amazon Associate, Our Family Code earns from qualifying purchases. Please see our Disclosure Policy for more details.
Rubber Chicken Bone Supplies
Chicken bones (We used bones from a rotisserie chicken from Walmart)
White Vinegar
Sealable bowl
How to Make Rubber Chicken Bones
Clean the meat, white cartilage, and many veins, skin, or other residue from the chicken bone. Make sure that the bone is completely clean before beginning.
Make sure to clean hands thoroughly with soap and water when handling uncooked chicken.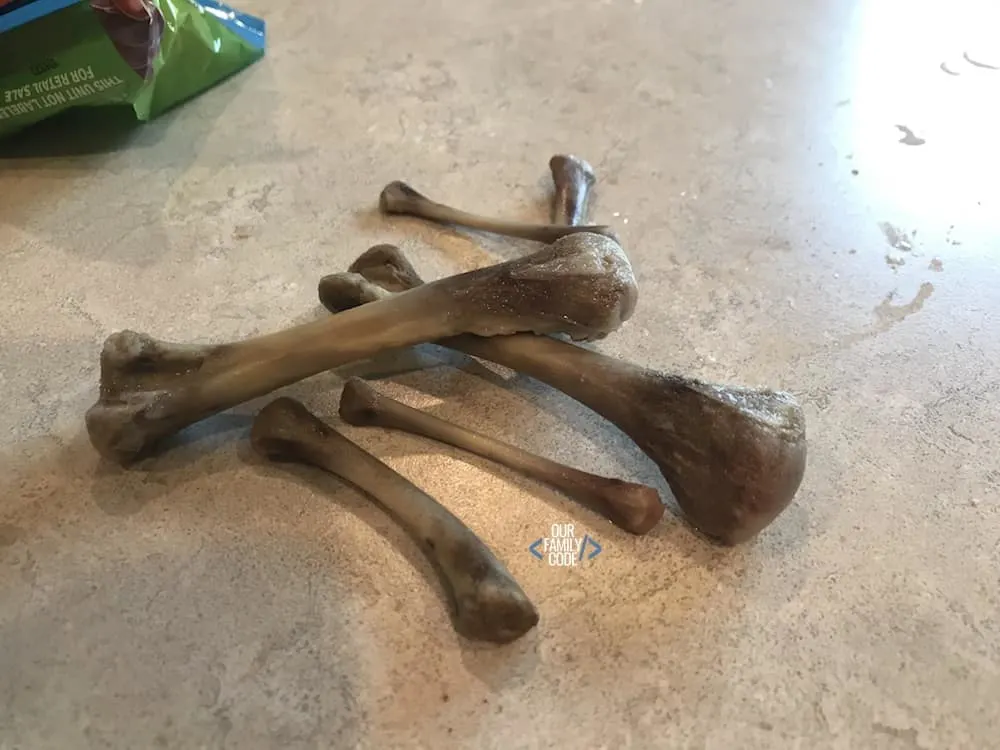 Try to bend a chicken bone without breaking it. Get a sense of how strong the bone is.
Put the bone in a jar and add enough vinegar to cover it. Soak chicken bones in vinegar.
Check on the bones after a few days to see how easy they are to bend. If you want to extract as much calcium as possible, soak the bones in vinegar for 5-7 days.
When you are done soaking the bones, you can remove them from the vinegar and rinse them in water. Hold the bone on either end and try to bend it.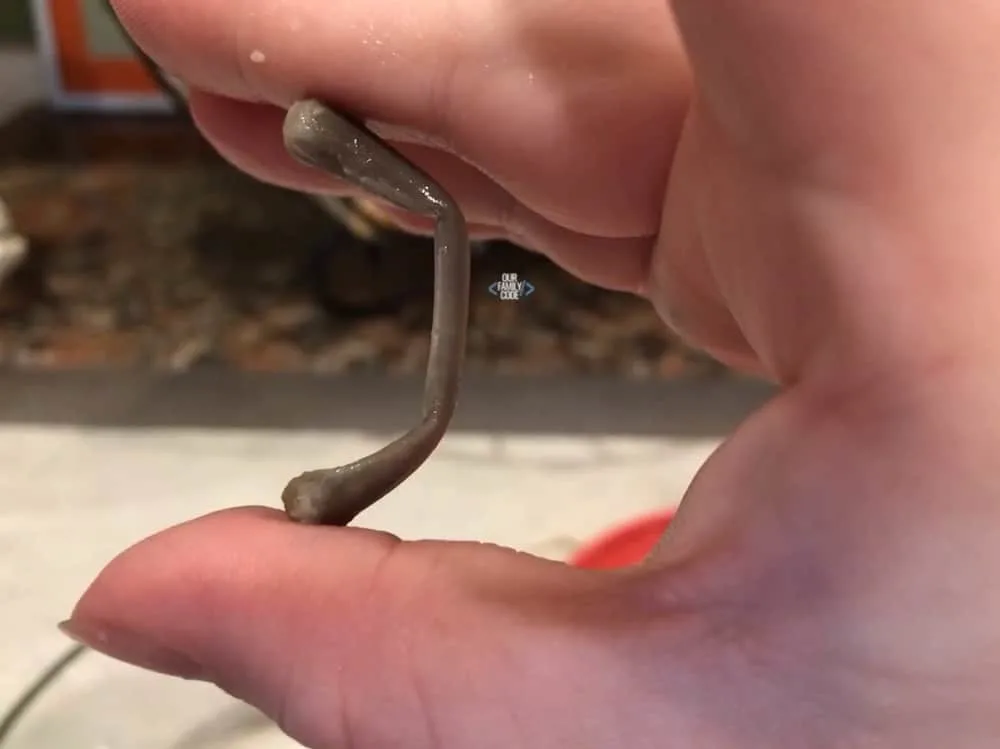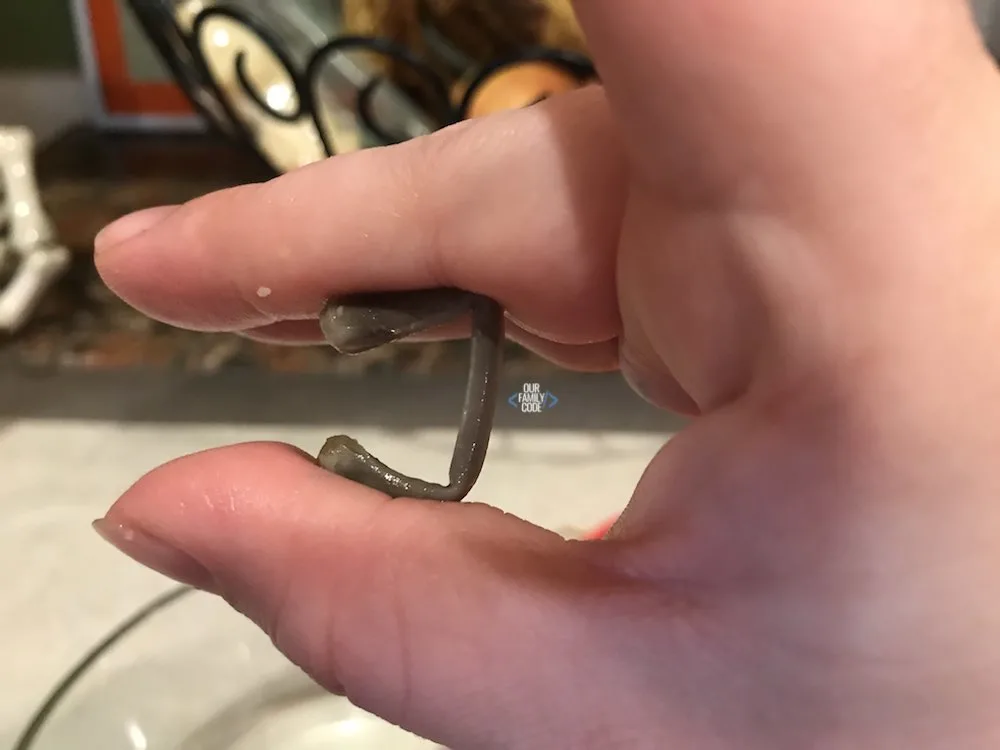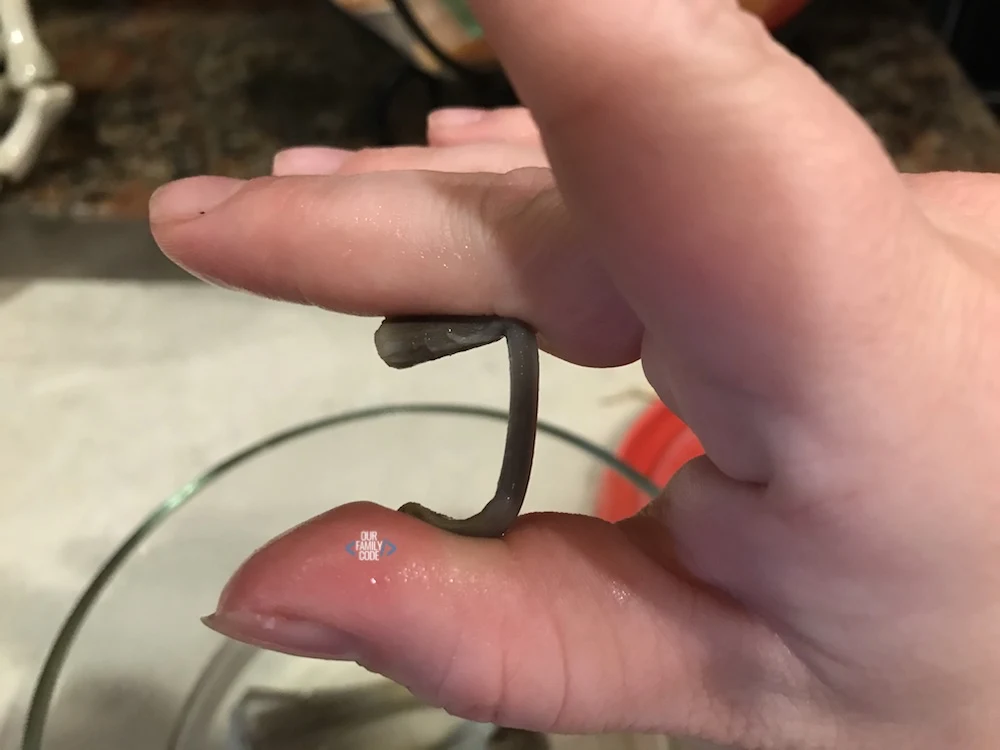 Note: If the bone doesn't bend, put it back in the jar and cover with fresh vinegar. Leave it there for a few more days and check back.
We used several different sized bones for our experiment and found that the smaller ones were pretty bendable after a week. Our larger bones, needed some extra time.
We ended up soaking our large bones for two weeks total, which definitely decreased the concentration of calcium within them. We found some super rubber like bones after 14 days in vinegar!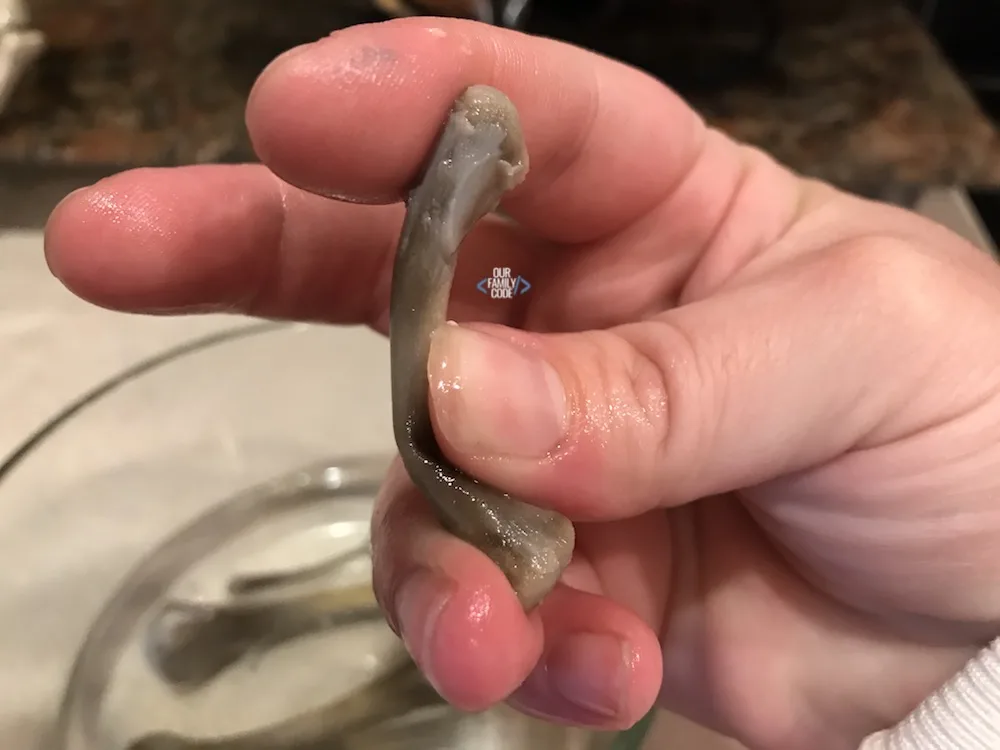 The Science Behind the Rubber Chicken Bones Experiment
The acetic acid in the vinegar reacts with the calcium in the chicken bones. This weakens the calcium without removing collagen, which causes them to become soft and rubbery as if they had come from a rubber chicken.
Eating a well balanced diet that includes calcium-rich foods is an important way to keep bones strong and healthy. In this rubber bones activity, vinegar, an acid, will slowly dissolve the calcium in the bones, making the bones weak and bendable.
How does this experiment relate to the bones in your body?
Bones are hard and strong because of calcium in the form of hydroxyapatite. As you grow older, you may start depleting calcium at a faster rate than you replace it. When you loose too much calcium in your bones, your bones may become brittle and susceptible to breaking.
In order to help prevent or delay calcium depletion, nutritionists recommend exercise and a calcium-rich diet.
Why doesn't the vinegar dissolve the bones?
Bones aren't just made of calcium. Otherwise, they would be too brittle and prone to breaking, which is why the vinegar in our rubber chicken bones experiment doesn't completely dissolve the chicken bones.
In the experiment, the calcium is removed, but a protein called collagen remains. Collagen gives bones flexibility and is one of the most abundant proteins in the human body in skin, muscles, blood vessels, ligaments, tendons, and bones.
Find more Science Experiments!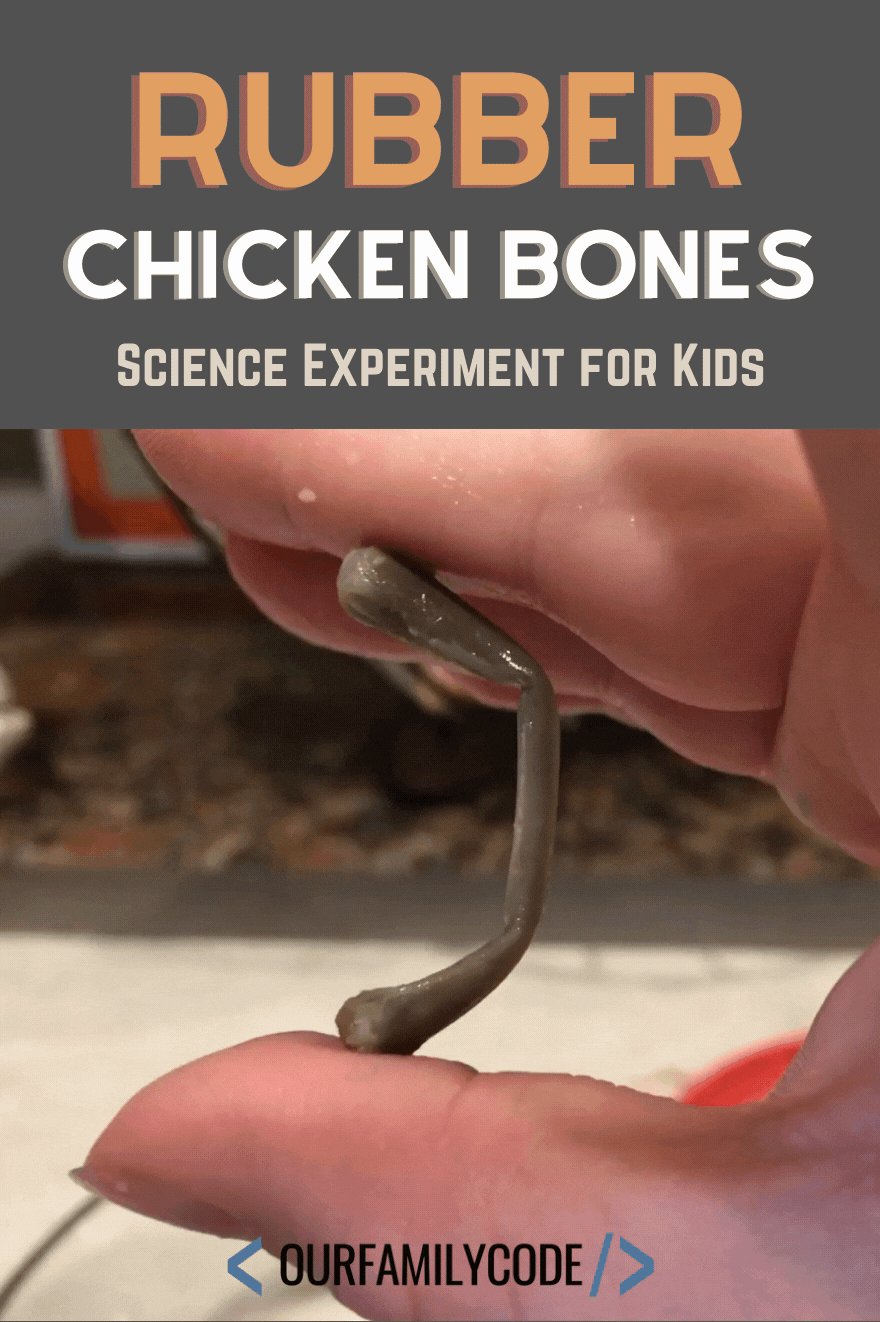 Find More Halloween STEAM Activities
Find some more Halloween STEAM activities for kids!
Meet Toni, the Maker Mom behind Our Family Code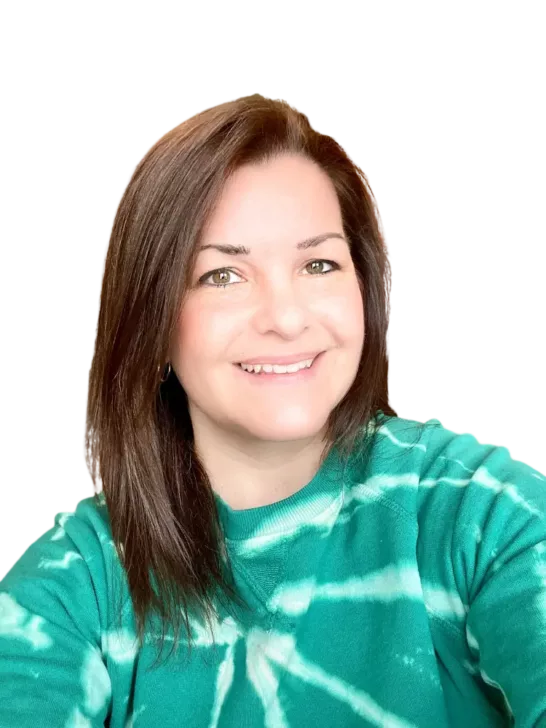 Hey there, I'm Toni! I'm a software engineer and Maker Mom that finds my joy in unleashing my children's curiosity by exploring STEAM concepts with my fantastic five!
When I'm not chasing toddlers or raising tweens, you can find me tearing things up and putting them back together over here at Our Family Code.
I am the owner and content creator of multiple educational websites designed to increase access to STEAM & STEM education with a focus on teaching computer science and coding to kids of all ages!
You can also find out more about me by visiting ToniGardner.com!