Are you ready to play the Fitness Code! This Fitness coding card game teaches kids coding concepts, including conditionals and variables.
This activity focuses on remaking the way we traditionally teach these concepts and uses large motor movements to reinforce the activity and make it a tangible, fun learning experience!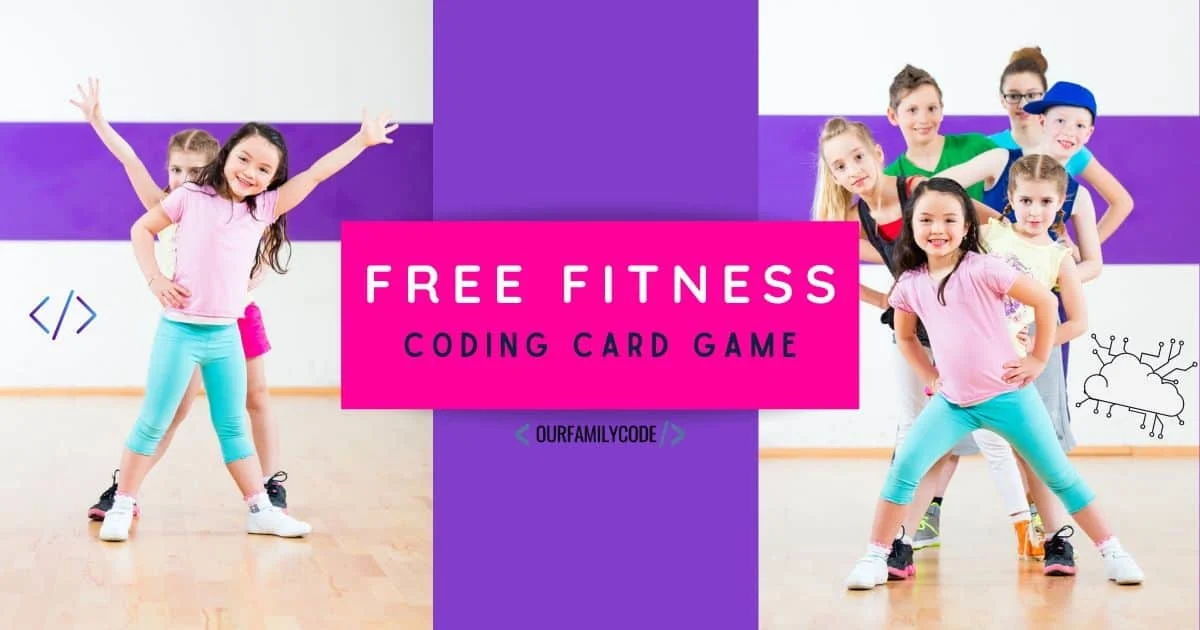 This post was sponsored by the Tomorrow campaign, powered by Remake Learning.
Happy 143 Day! 143 Day is a national day of kindness in honor of Fred Rogers.
On 143 Day, we are celebrating the launch of the new Tomorrow campaign powered by Remake Learning. Tomorrow is inspired in many ways by Fred Rogers and his empathetic, child-centered, wholly unique approach to learning.
Fred Rogers once said, "Often, when you think you're at the end of something, you're at the beginning of something else." That's where we find ourselves now.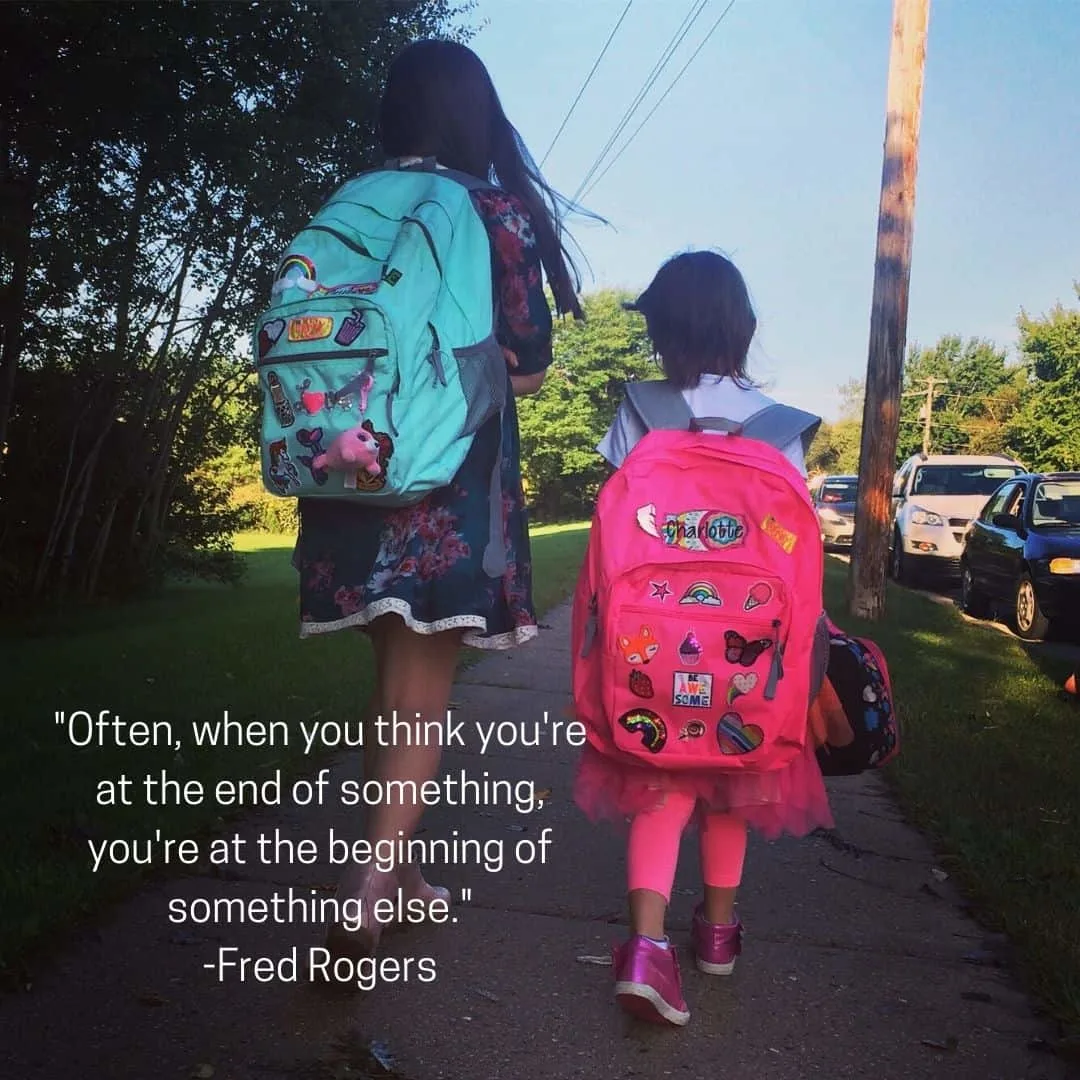 Today, we find ourselves in a world where school has changed and the ways our children learn tested. There is a disparity in the educational resources from region to region and, as a result, many children are getting left behind.
With the increasing growth of jobs in STEM disciplines and the way that basic industries like retail and factories are more and more reliant on automation, how are we preparing our children to meet the demands of tomorrow?
What our "something else" will look like depends largely on us. Tomorrow is investing in efforts to make learning possible for every young person, everywhere, every day.
Find Out More About Tomorrow, powered by Remake Learning!
From May through October 2020, Tomorrow, powered by Remake Learning will host a series of virtual meet-ups and workshops, youth documentaries and podcasts, social media chats and exchanges of life lessons.
Grants will help equip educators to forge the future of learning.
The Tomorrow campaign is focused on asking what we can do today to make tomorrow a more promising place for every learner. We aim to find this out together.
This campaign will put a spotlight on the ideas of others, elevate our community's questions and thoughts, and help all of us prepare for whatever the future may bring.
You Can Teach Kids to Code
The mission behind Our Family Code, is to make STEAM activities understandable and accessible for all parents and teachers to teach children.
My "something else" is making activities that teach complicated concepts, like coding or Fibonacci, in tangible ways that make coding fun for all children to learn!
This Fitness Coding Card Game is perfect for kids that need to move their bodies! Large motor movements help children, especially those who have trouble sitting still in a traditional classroom, to learn and retain concepts!
What can we do today to meet the needs of tomorrow? For me, that means creating activities that can teach any child, anywhere, at any time. Teaching young kids to code seems pretty impossible sometimes.
How can we teach complicated concepts like conditional statements and things like variables when most parents and educators don't know what these are? We teach them in tangible ways that make learning fun!
WHY ARE UNPLUGGED ACTIVITIES IMPORTANT?
Unplugged activities allow students to participate in kinesthetic opportunities that help them relate the concepts they are learning to their own lives.
These activities are designed to encourage collaboration among peers as students work in groups or pairs to design solutions and test them together.
Unplugged activities are great for classrooms or homes that don't have access to the internet or a computer and ideal for young students who don't have the experience working with computers.
It's never too early to start teaching the foundation of coding!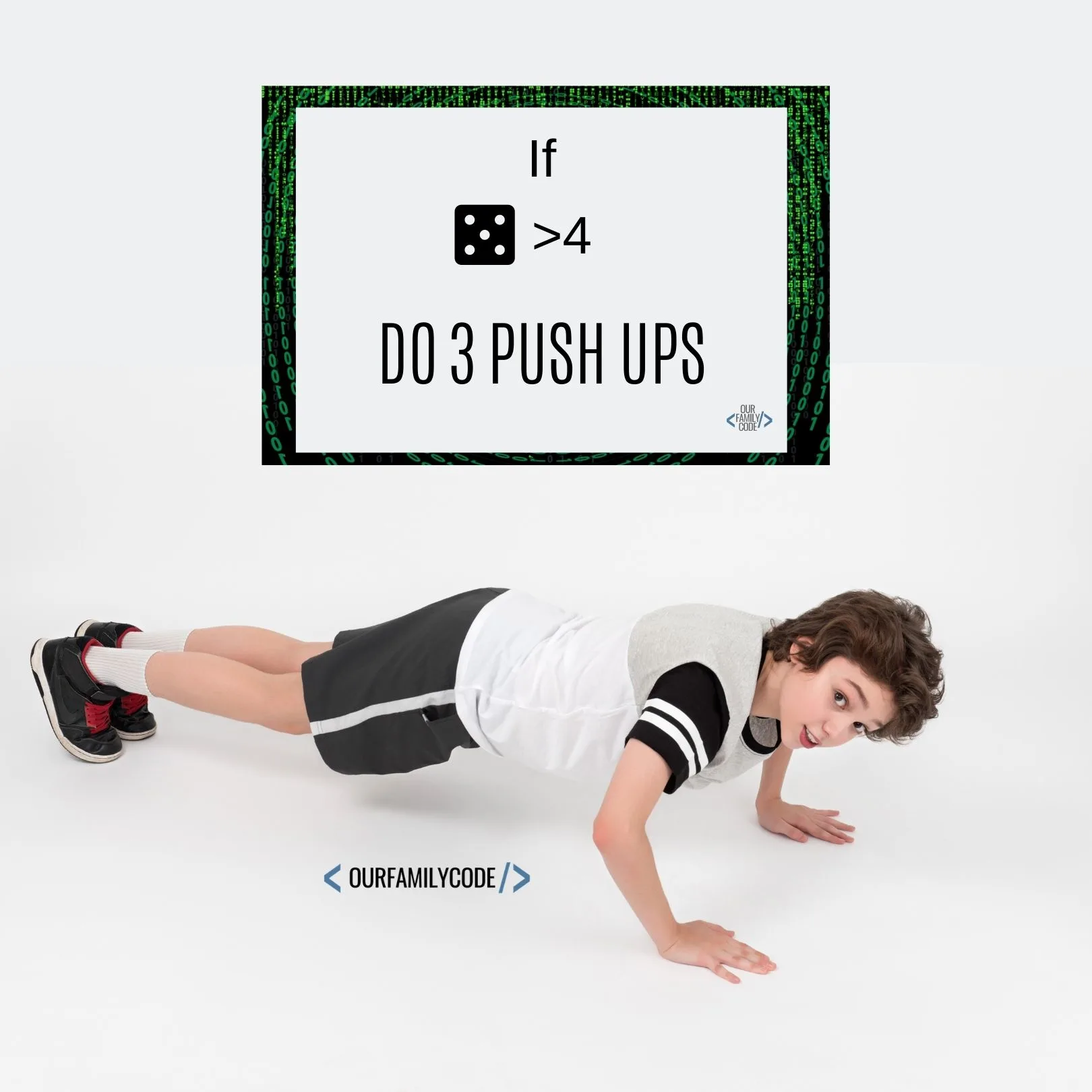 Play the Fitness Coding Game!
This Fitness Coding Game is designed to teach children about conditional statements and variables. This game requires the Fitness Coding Cards and one die. You can also play with two dice to get a wider range of results!
This activity teaches children how conditional statements and variables work. A conditional statement tells a computer to follow a set of instructions, but only under a specific condition.
When the condition is TRUE, the computer follows one set of instructions. If the condition is not met, the computer follows a different set of instructions. See the graphic below for more information!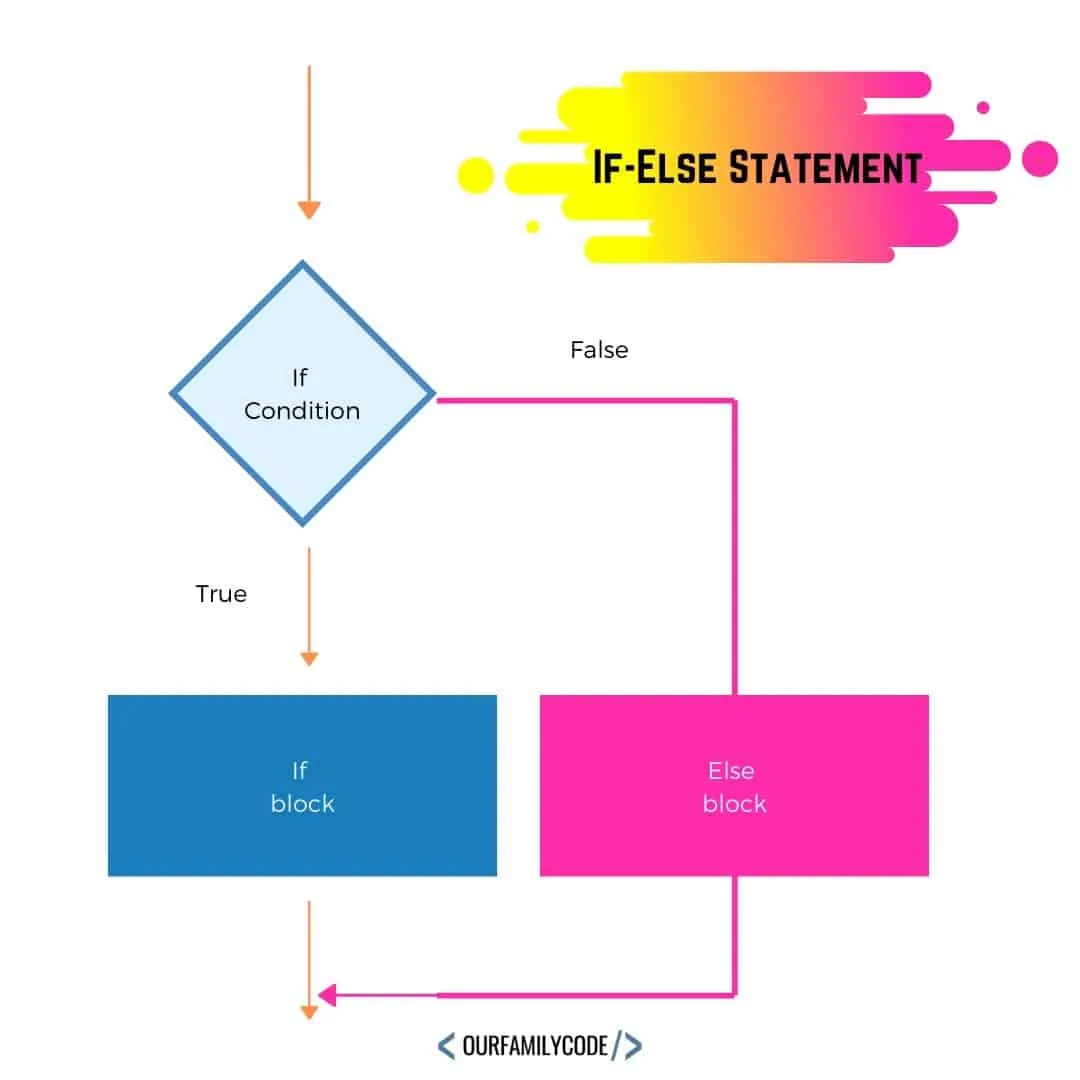 To play, throw the die and count the number of dots (this is your variable!) that land face up.
Grab a card from the Fitness Coding card pile and use your variable to follow the conditional statement!
If the conditional statement is not met, then you must do the Chicken Dance!!
There are 24 cards in the Fitness Coding Game download! Grab your download below!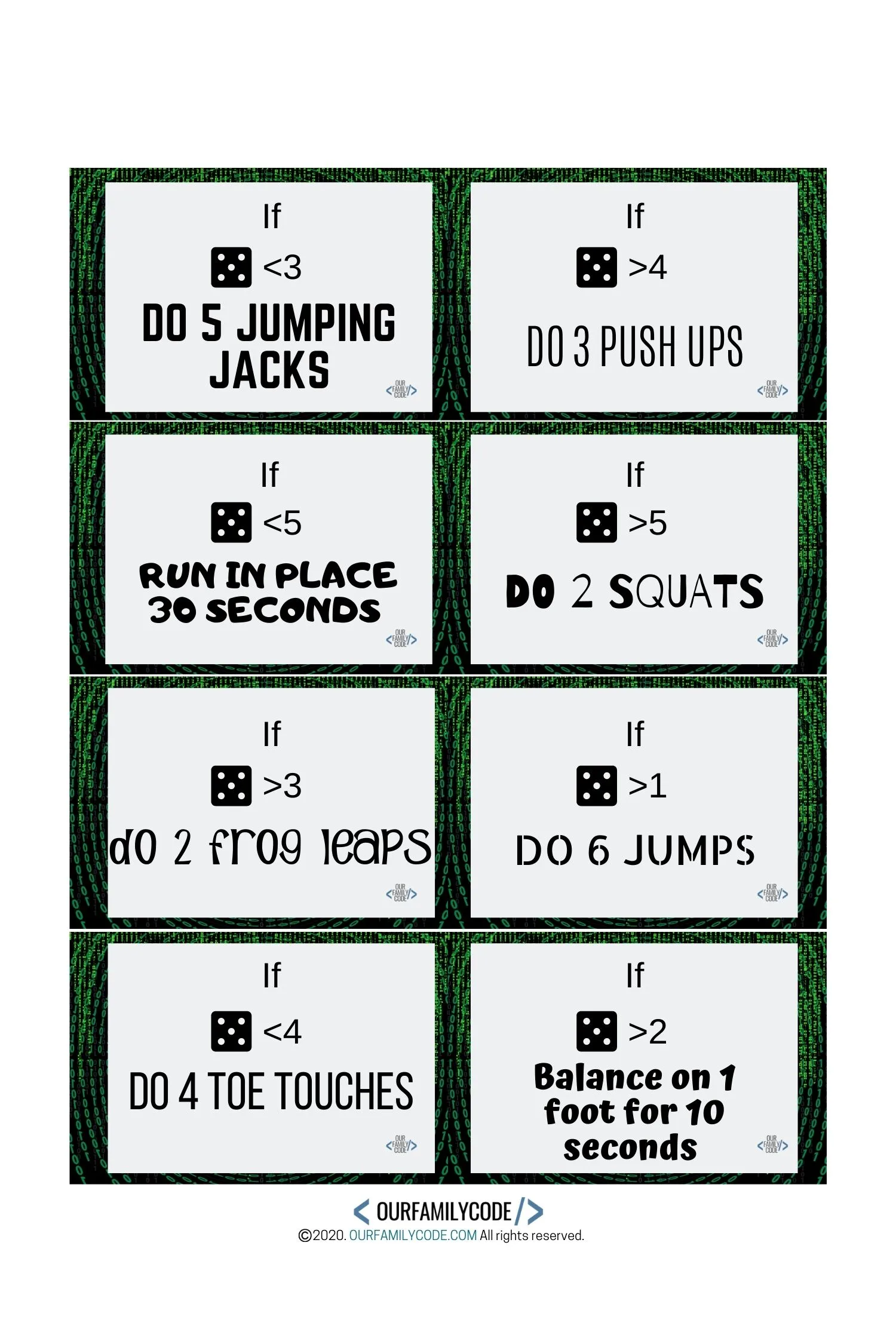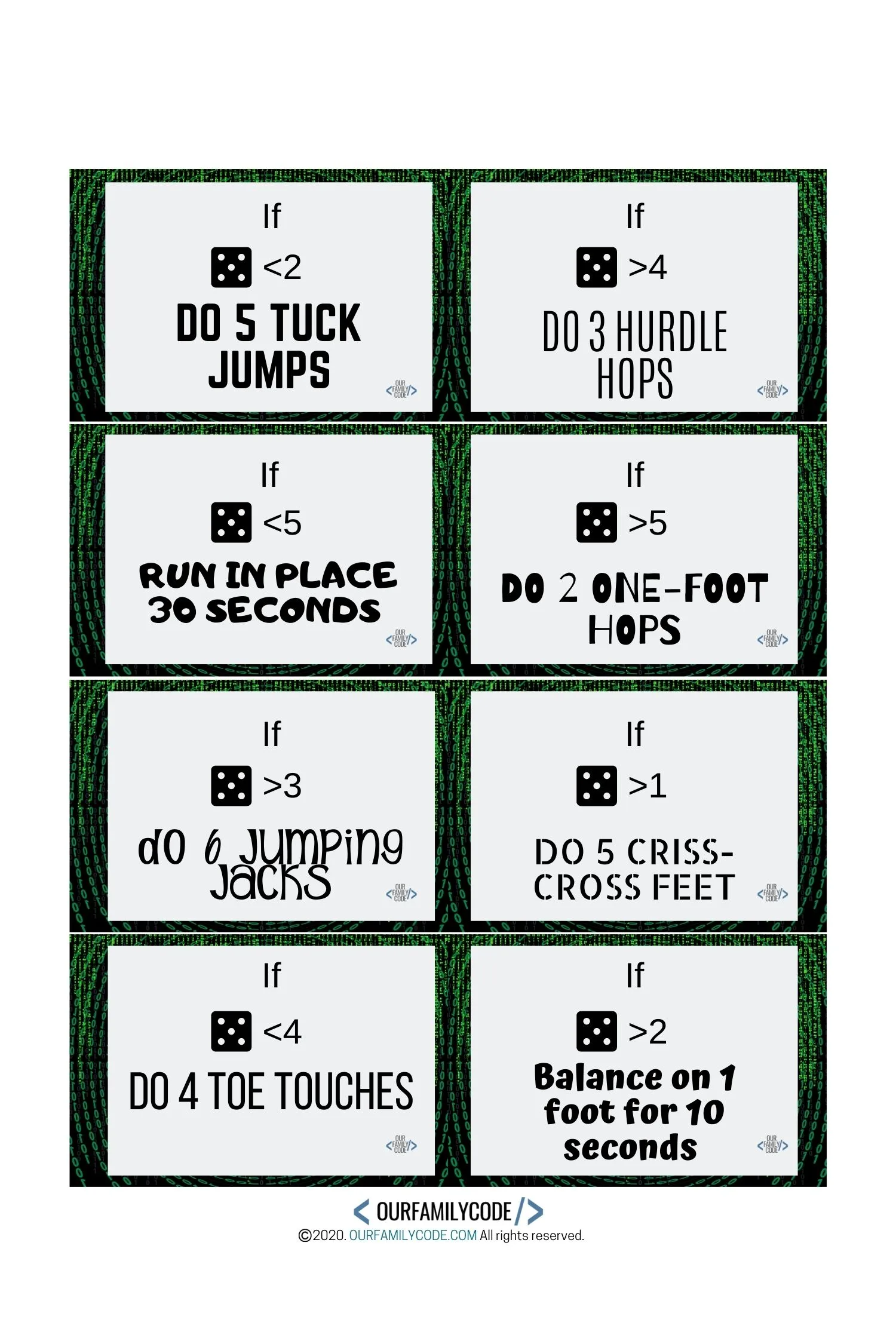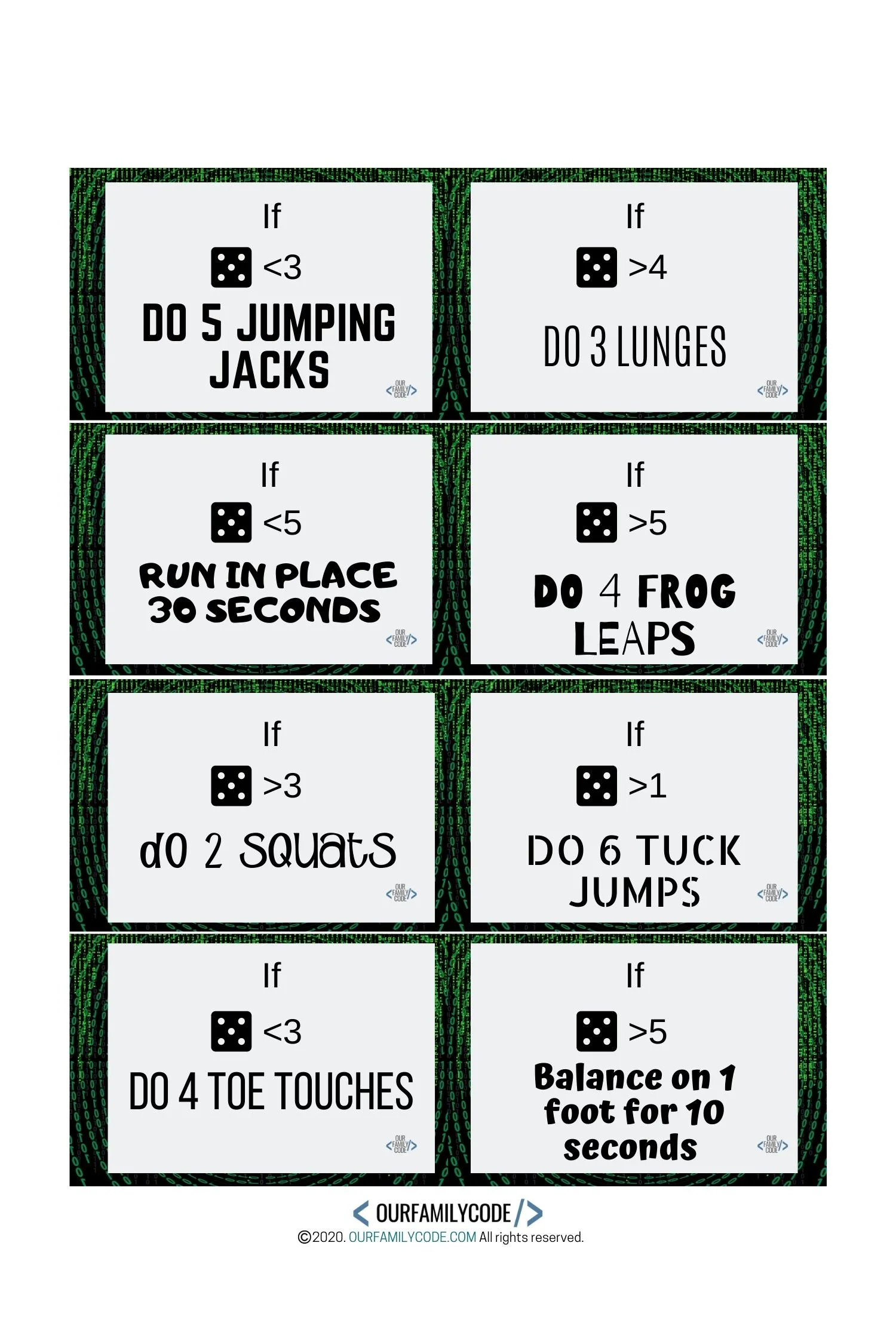 CLICK HERE TO DOWNLOAD FITNESS CODING CARD GAME
Share Your "Something Else"
Are you an educator navigating this new landscape, a parent or caregiver juggling work and homeschool or a student adapting to changes?
What is your "something else" that will help Remake Tomorrow? Throughout everything that has been happening, what have you learned today that will help to inform learning and education tomorrow?
What has been your most surprising moment? What are your hopes for today's youth? Share your ideas on Instagram, Facebook, and Twitter and tag #RemakeTomorrow and we will share your ideas worldwide.
My hope for all young readers is that they'd realize they are free to pursue any type of hobby, passion or career that interests them!
PIN THIS IMAGE TO SAVE THIS FITNESS CODING CARD GAME!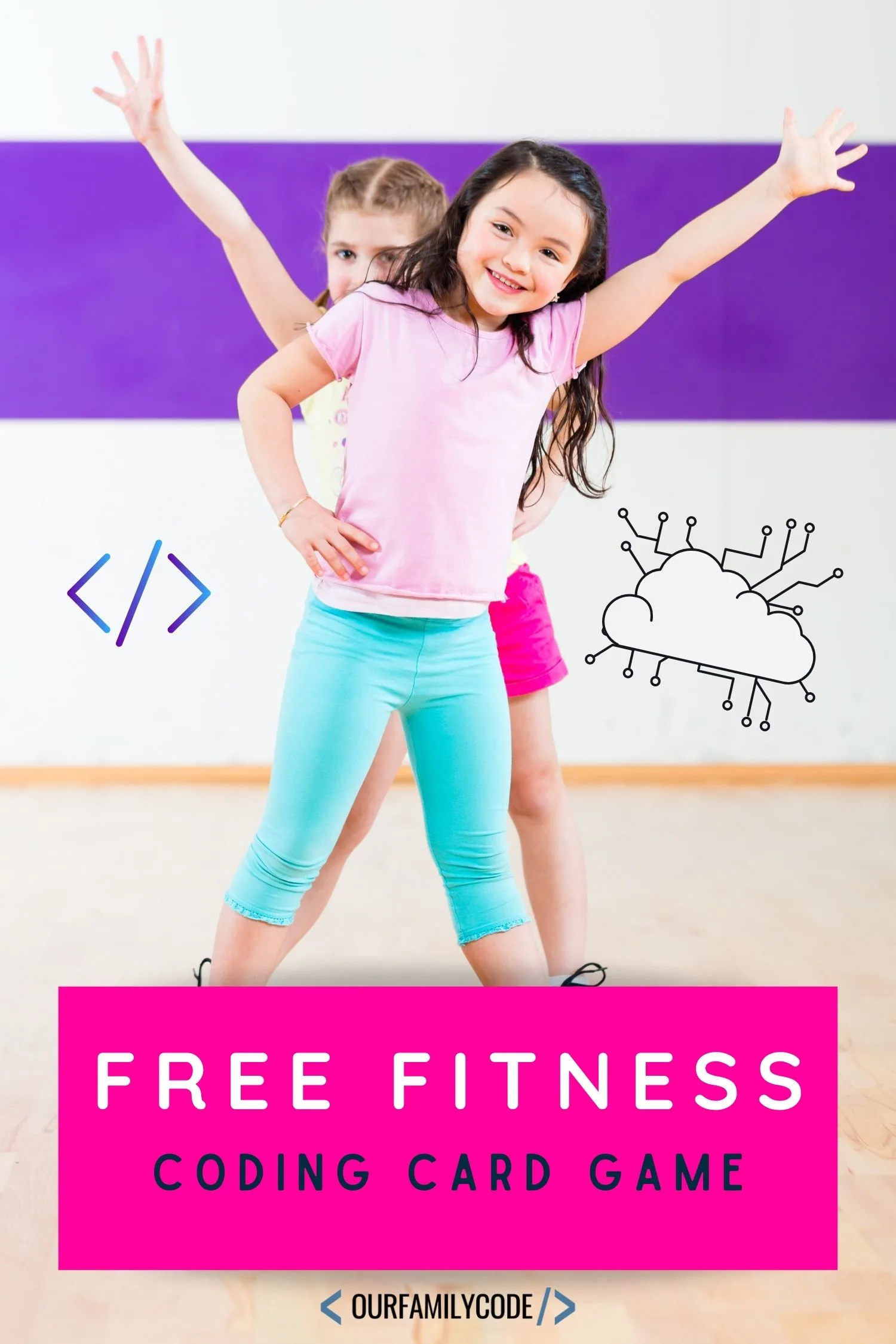 Unplugged Coding Activities
Find more Elementary unplugged coding activities to work on basic coding skills!
Meet Toni, the Maker Mom behind Our Family Code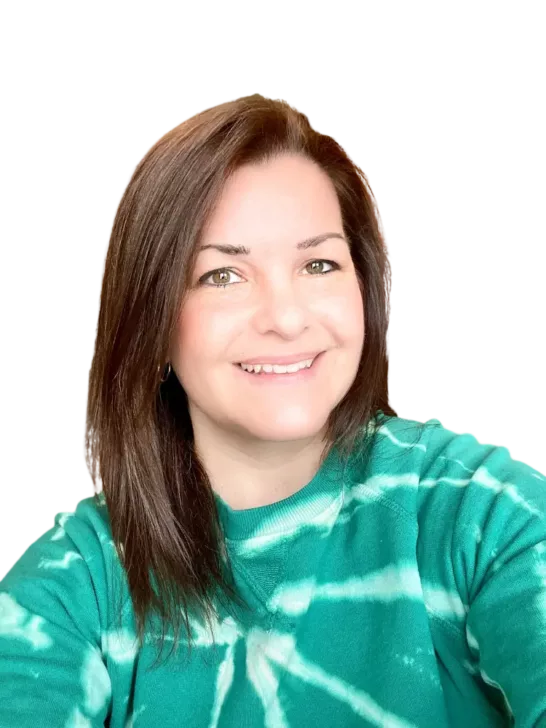 Hey there, I'm Toni! I'm a software engineer and Maker Mom that finds my joy in unleashing my children's curiosity by exploring STEAM concepts with my fantastic five!
When I'm not chasing toddlers or raising tweens, you can find me tearing things up and putting them back together over here at Our Family Code.
I am the owner and content creator of multiple educational websites designed to increase access to STEAM & STEM education with a focus on teaching computer science and coding to kids of all ages!
You can also find out more about me by visiting ToniGardner.com!