Repurpose crayons into beautiful sun catchers from crayon shavings! Use crayon shavings to make Easter Egg sun catchers with this repurposed crayon activity perfect for Easter and Earth Day!
Looking for the perfect rainy day activity! Check out how to recycle those broken crayons into sun catchers using supplies you prob have on hand!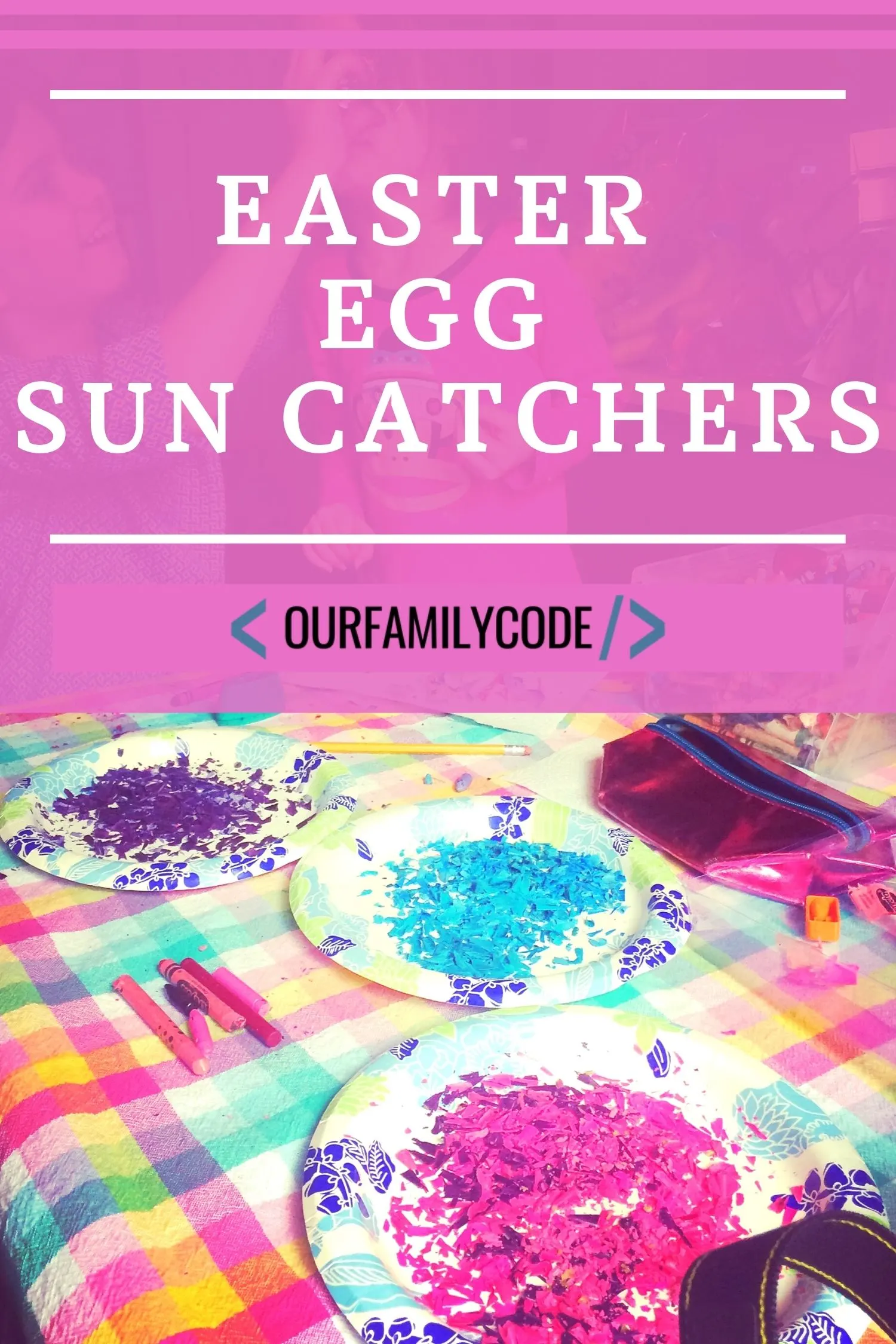 This post contains affiliate links. As an Amazon Associate, Our Family Code earns from qualifying purchases. Please see our Disclosure Policy for more details.
Repurpose Crayons into Sun Catchers
If you are anything like me, you have a giant box of broken crayons in your craft supplies.
I usually just start tossing the crayon halves when the girls decide to leave them on the floor. It's my new rule. If you leave, I throw it out.
Seriously, I have 5 kids. I don't know what else to do to make them value their things anymore. If they truly care about it, then they'll clean it up. Fortunately, my kids care about everything. Every. single. little. thing.
We found some time to craft. Yay! We decided to repurpose crayons to make some sun catchers.
The girls wanted to put an Easter spin on things, so we ended up turning them into Easter eggs just for kicks.
You can make sun catchers too. It's super easy. Check out the directions for this super easy project below!
Repurposed Crayons Sun Catcher Supplies
Scissors (click the link to grab some of my tried and true scissors! I've put these scissors through it all and somehow they are still chugging along years later!)
Paper plates (to collect your crayon shavings on)
Decorations (optional)
How to Make Sun Catchers from Crayon Shavings
Round up some crayons. We love to repurpose crayons because we always seem to have a bucket full of broken pieces.
To begin, I let the girls pick their color stories with shades of colors for each egg.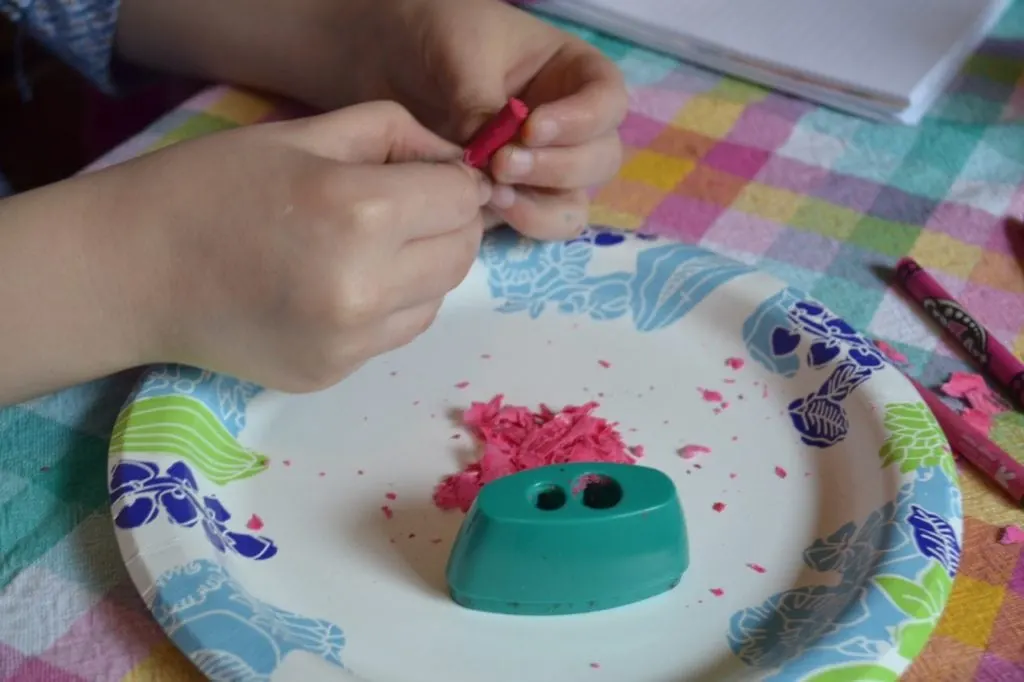 They decided to go with Blue, Yellow, Pink, and Purple. Use the pencil sharpener to shave the crayons into a pile.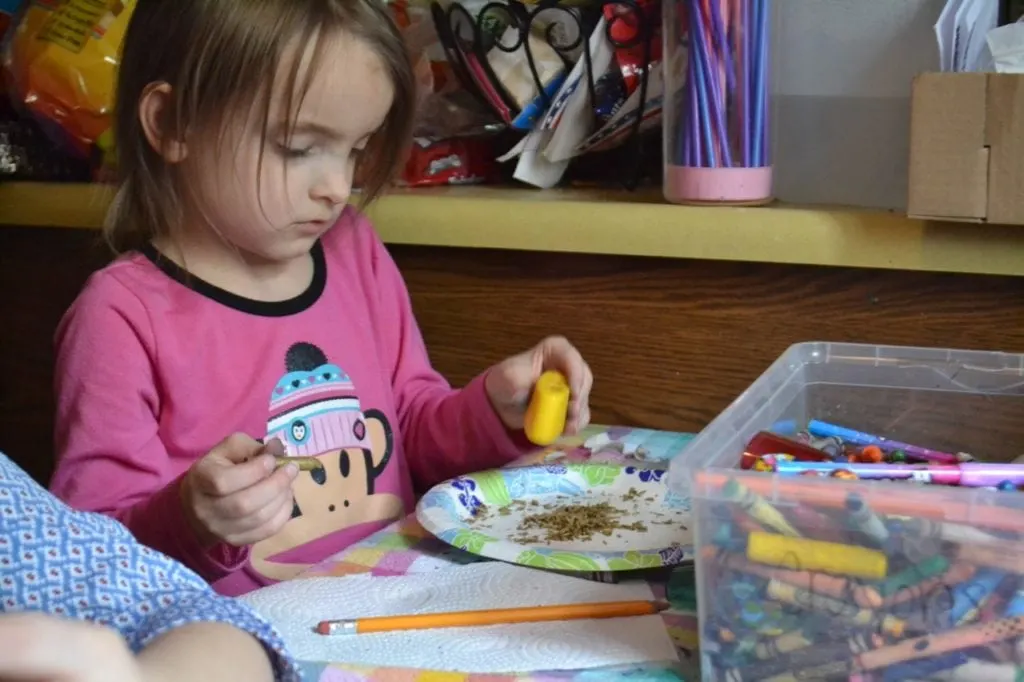 We used paper plates to limit the mess.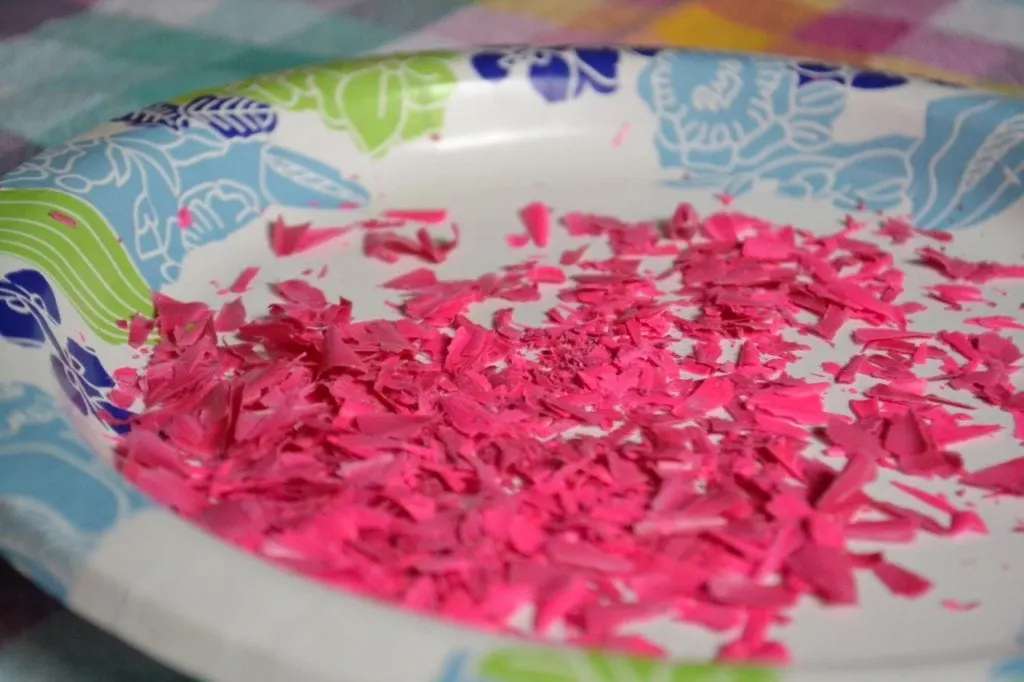 Please note: this is the longest part of the whole project. It's hard for a 5-year old to do, but they can do it. I just did some deep breathing patience practices while I waited and then we talked about prisms.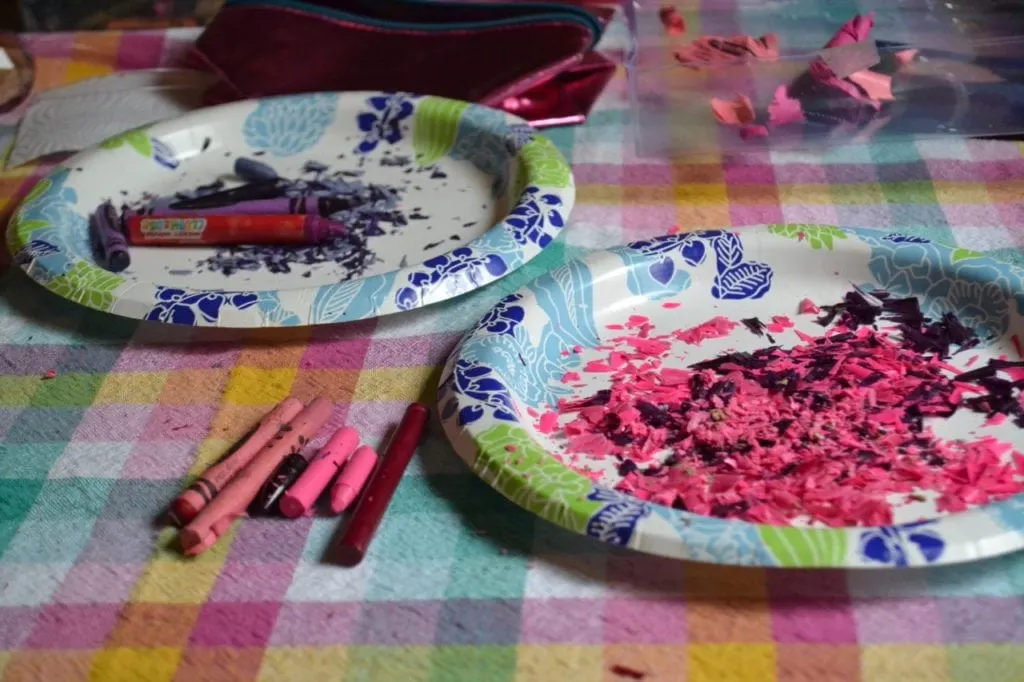 After you have shaved a substantial amount for each crayon, you'll want to heat up your iron.
While your iron is heating up, place the piles of crayon shavings onto your wax paper.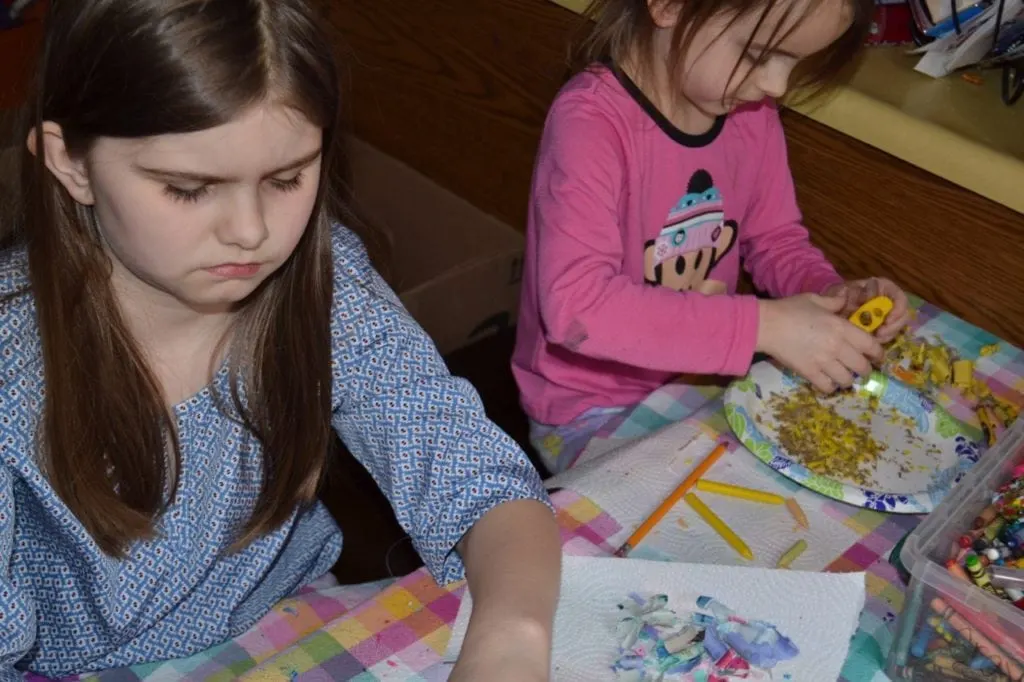 You can also just shave the crayons onto the wax paper, to begin with, but I wanted to avoid a potential mess with my 5-year old and 1-year old!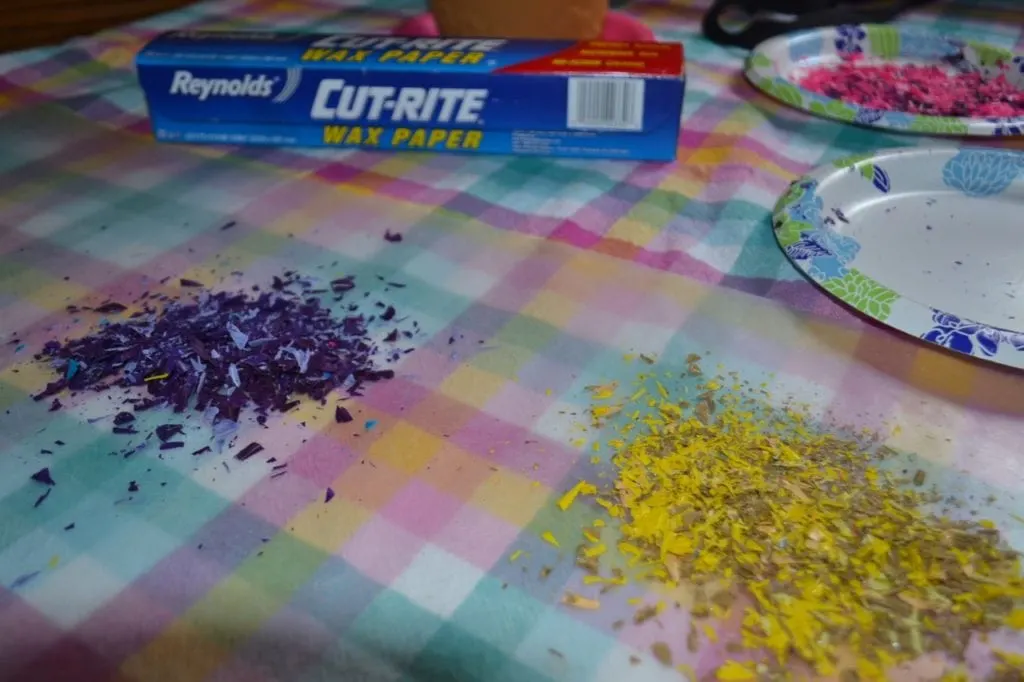 The rascally 1-year old and tiny 2-month old needed constant entertaining.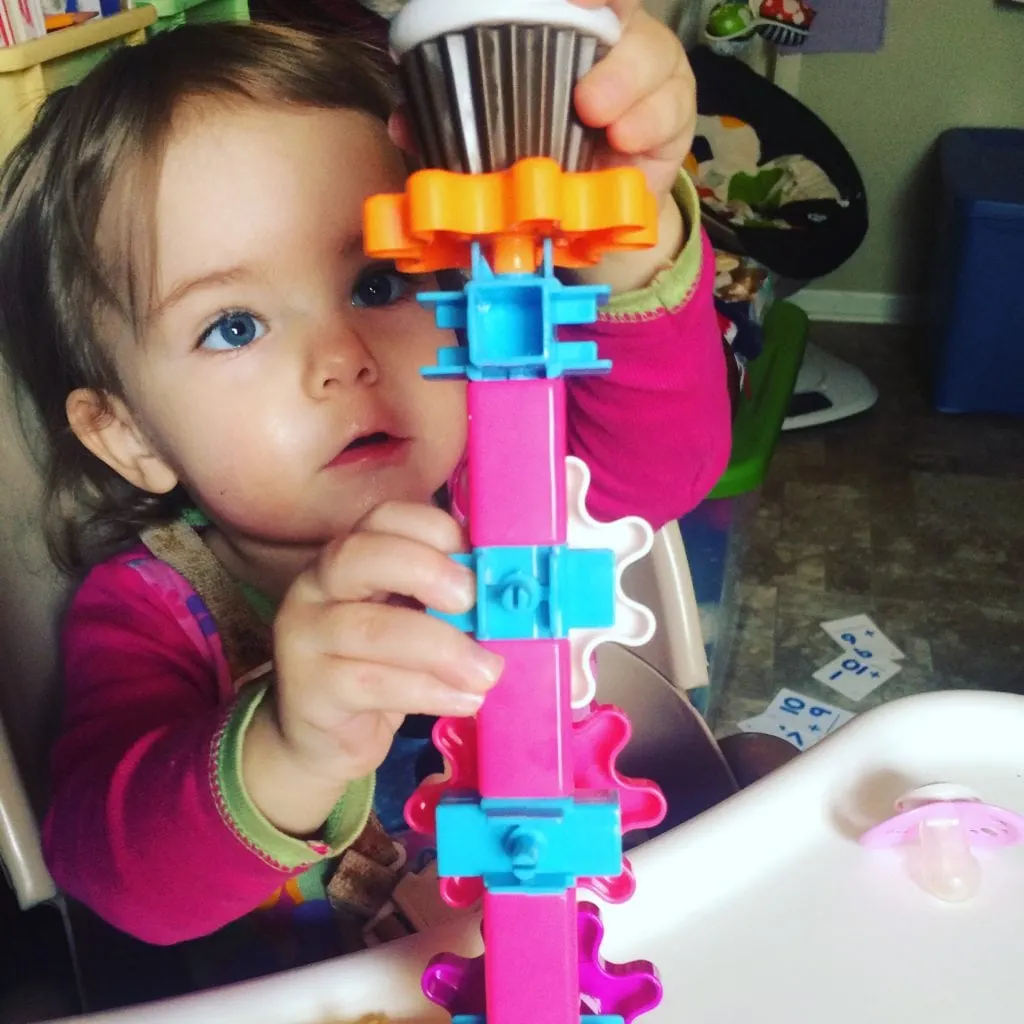 Place another sheet of wax paper over the crayon shavings. Use your iron to melt the crayon between the sheets of wax paper.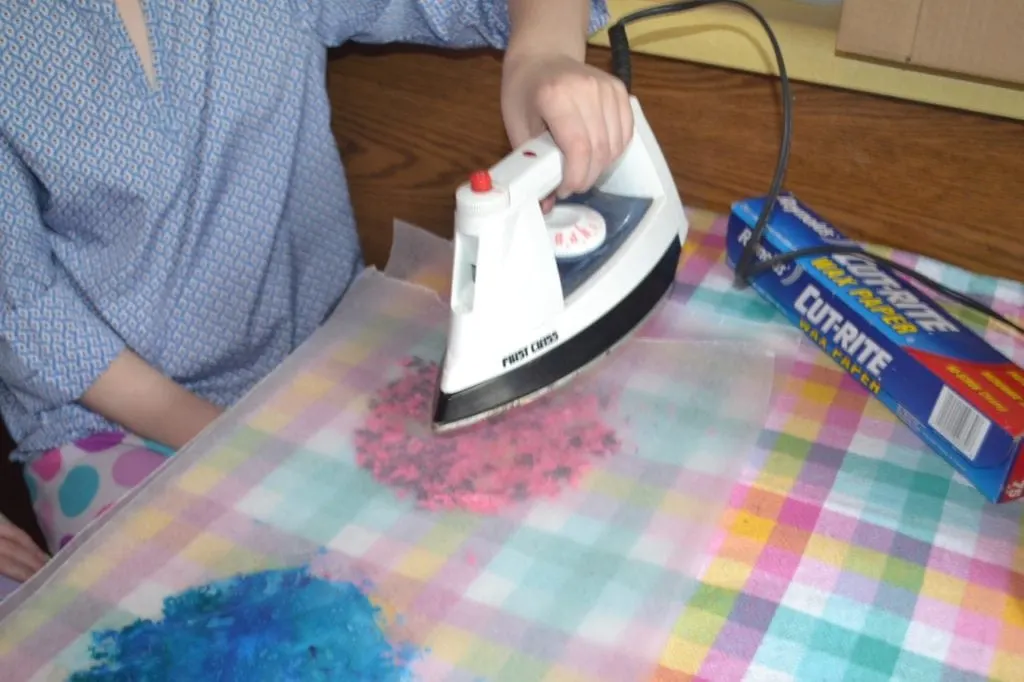 It doesn't take a long time. We placed the iron on for 10-20 seconds and then redid some spots that looked like they needed to melt more.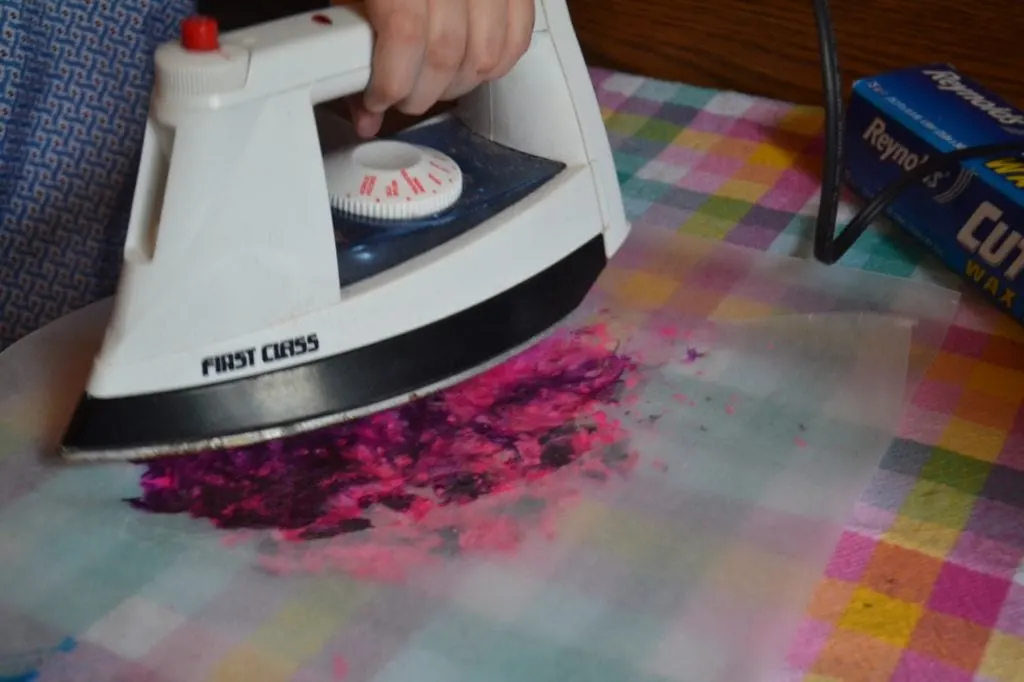 DO NOT DRAG YOUR IRON OVER THE WAX PAPER. IT WILL RIP.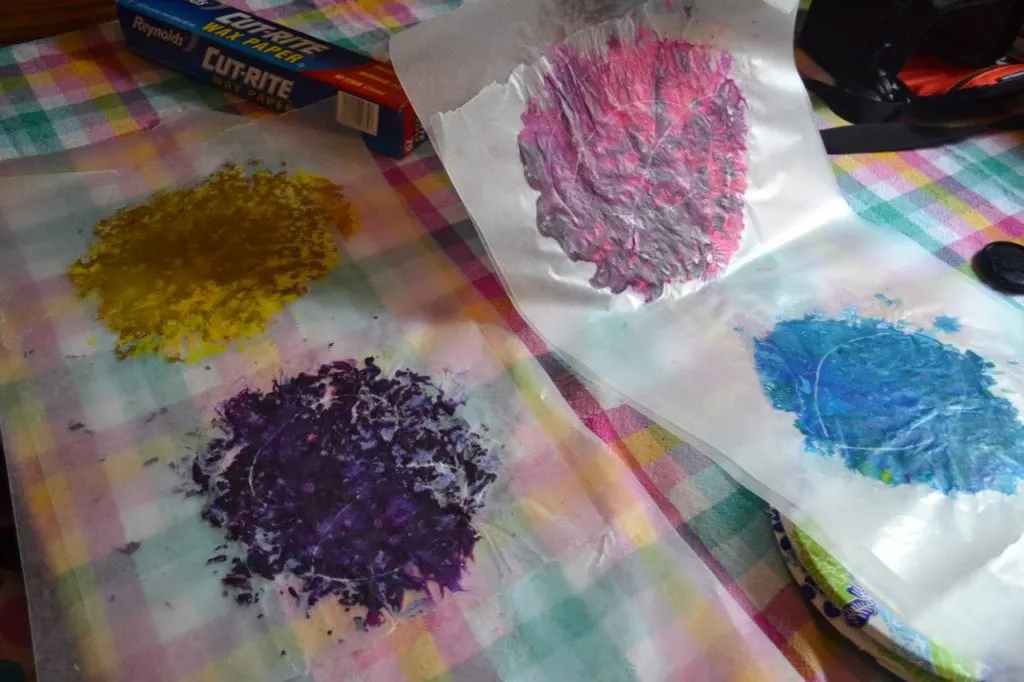 Draw your design with a pencil and cut it out. We drew some ovals for eggs and then cut them.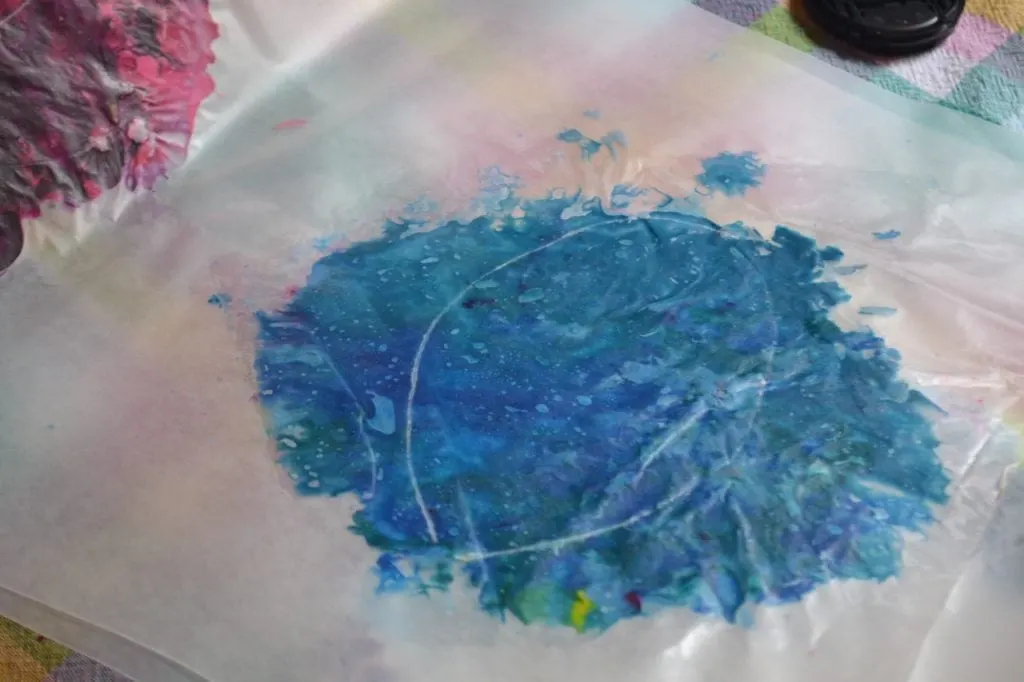 The crayon should be melted completely. If it flakes out while your cutting, place the iron on it for a few more seconds.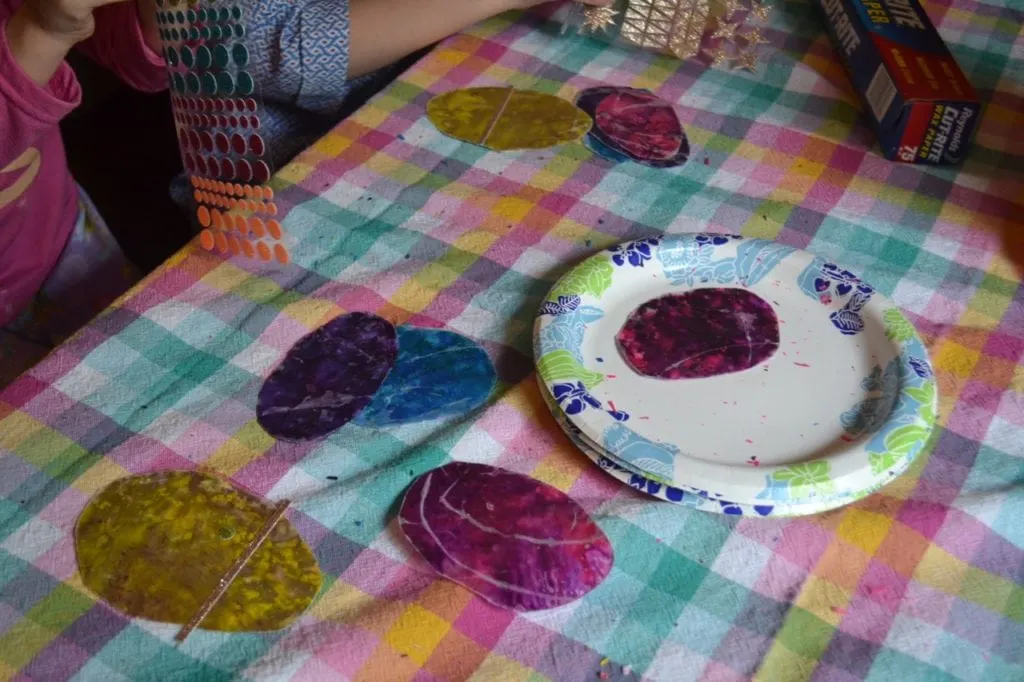 Remember to cover up any exposed crayon so it doesn't get on your iron.
Cut out your designs and decorate. You can hole punch the top and add a string if you want to. We chose to add some double-sided tape and hang it on the window.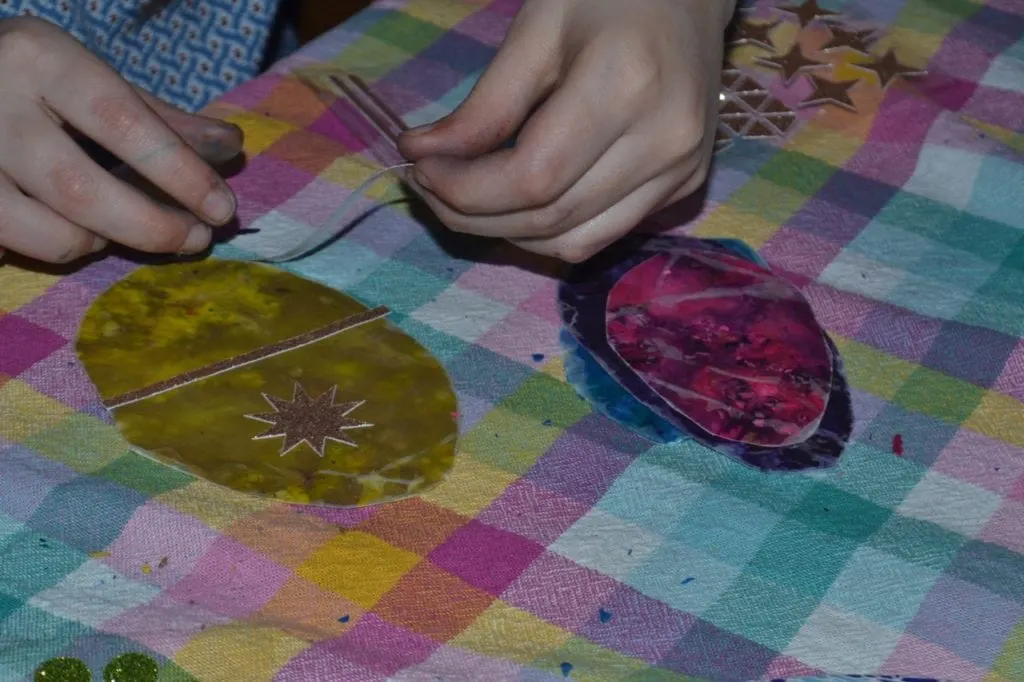 This project took an hour for us to do even with the extra two kiddos to watch. I'm super impressed that I was able to do craft time with all four kids!!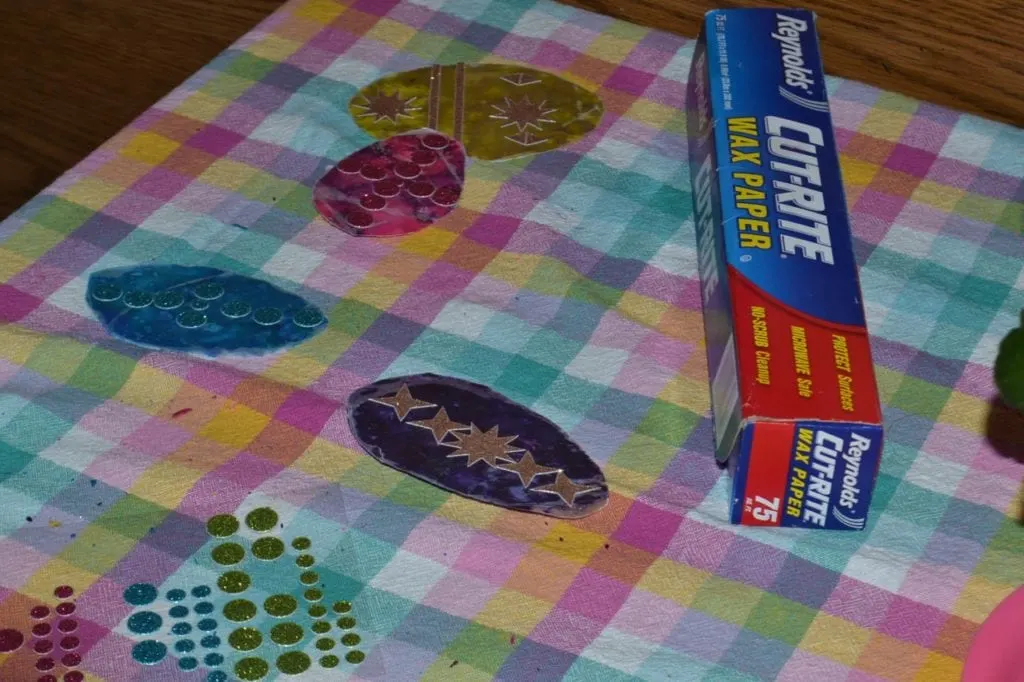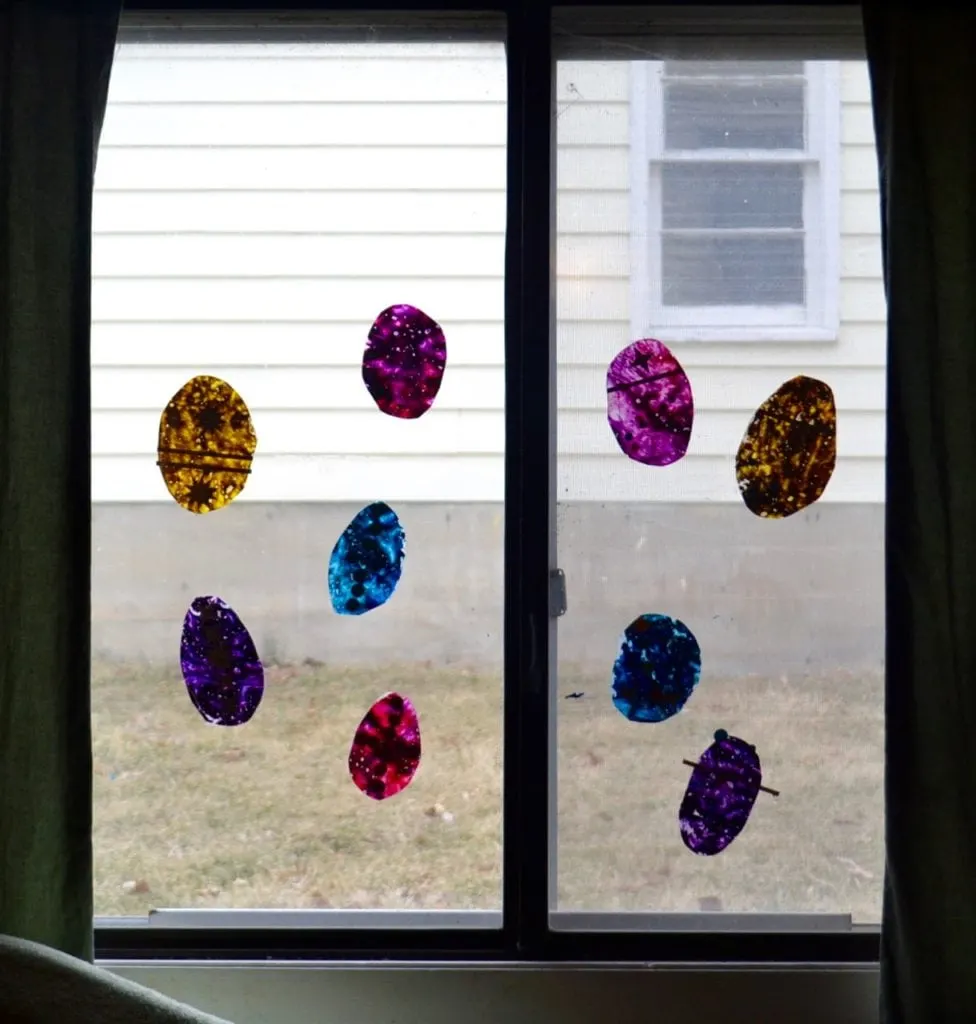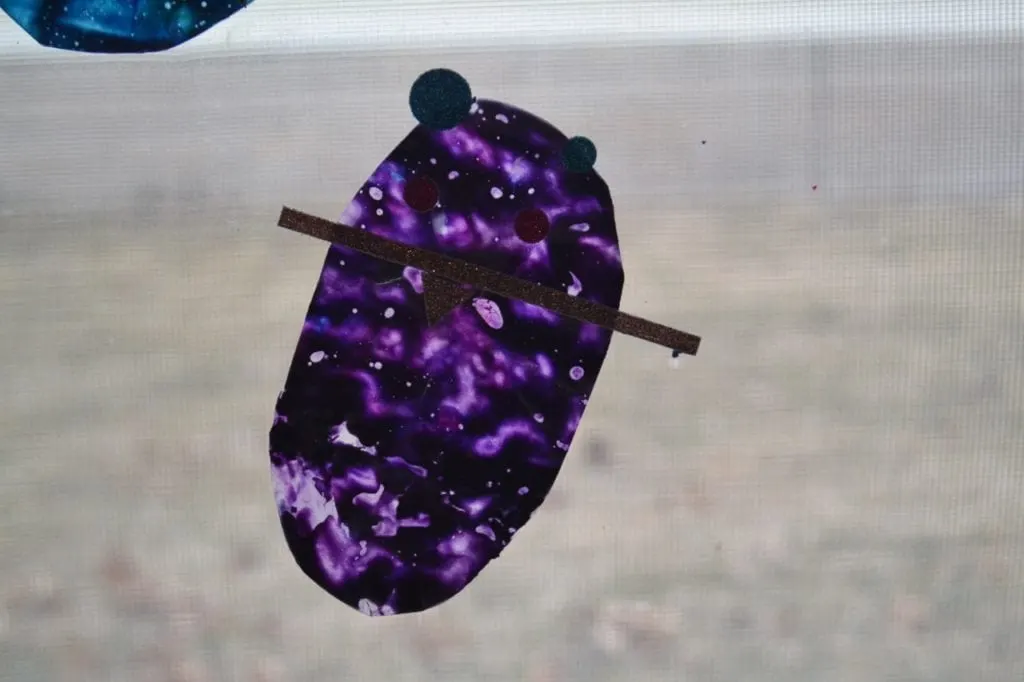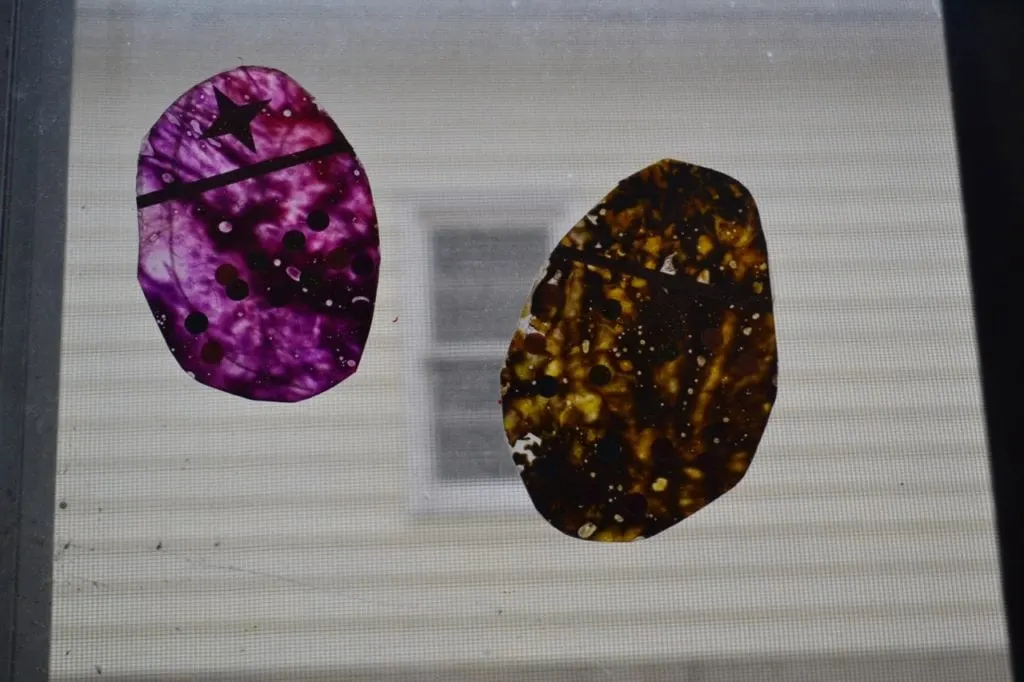 Throughout the project, we took time to talk about prisms. We learned about how light bends when it goes through a prism and that each color has its own wavelength that bends at its own angle. The girls thought this was super cool!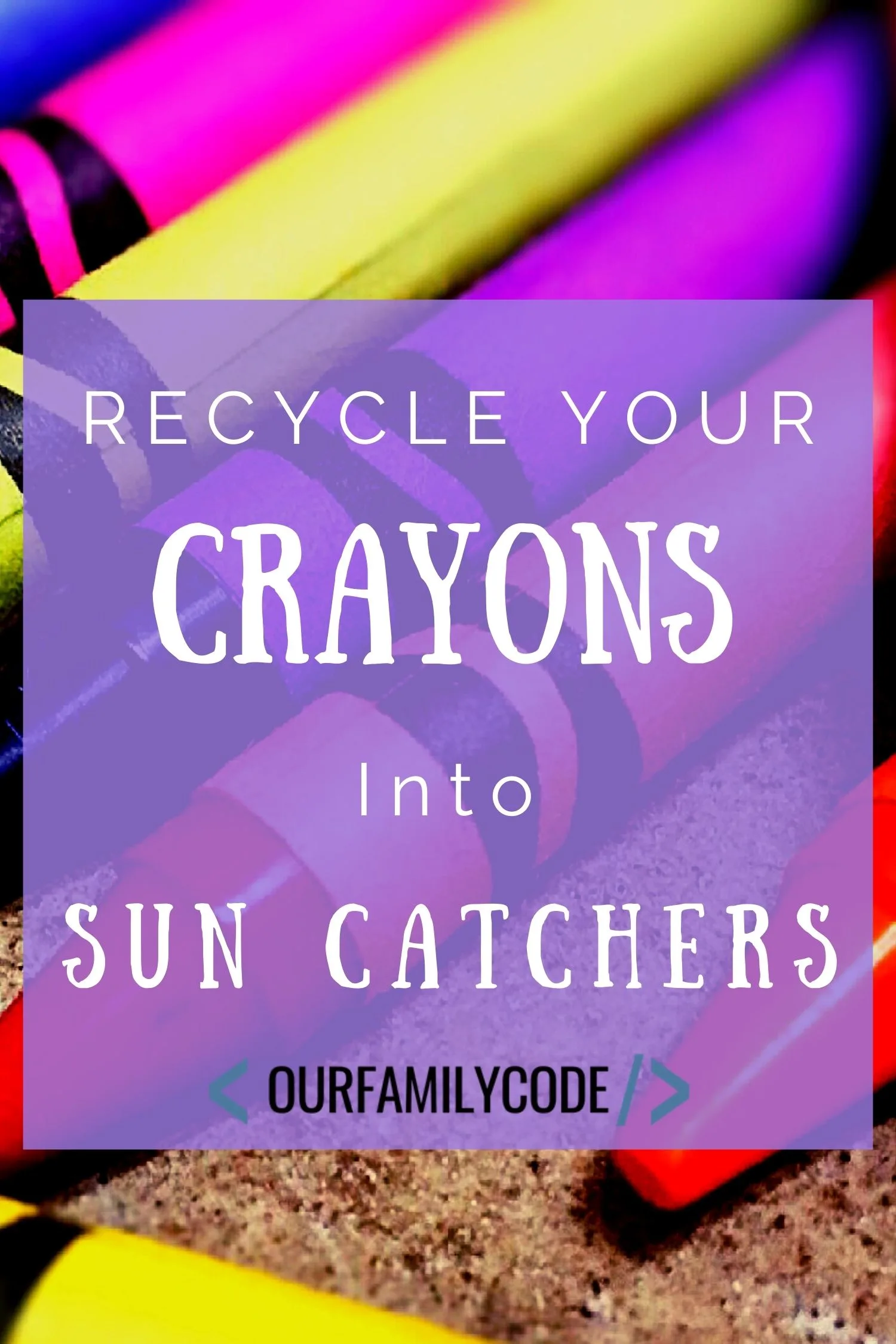 Easter STEAM Activities
Check out these awesome Spring and Easter STEAM activities that are the perfect way to incorporate Science, Tech, Engineering, Art, and Math into the season!
Meet Toni, the Maker Mom behind Our Family Code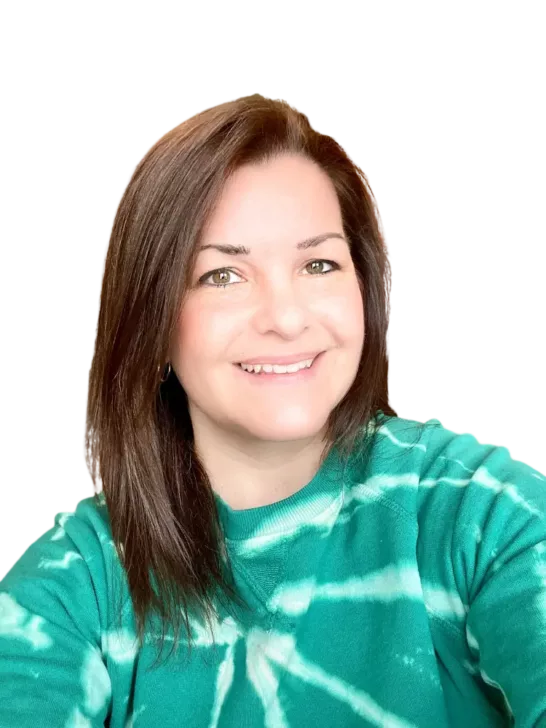 Hey there, I'm Toni! I'm a software engineer and Maker Mom that finds my joy in unleashing my children's curiosity by exploring STEAM concepts with my fantastic five!
When I'm not chasing toddlers or raising tweens, you can find me tearing things up and putting them back together over here at Our Family Code.
I am the owner and content creator of multiple educational websites designed to increase access to STEAM & STEM education with a focus on teaching computer science and coding to kids of all ages!
You can also find out more about me by visiting ToniGardner.com!