My Walmart grocery pickup experience absolutely changed my opinion about Walmart. I've never had a great experience with Walmart in the past, so I tend to avoid this retailer as much as possible. However, they just built a Walmart in my tiny town and I haven't had a chance to make it to another retailer outside of town. Walmart is one of the few "in town" options unless I order things online from Target or AmazonFresh
, which I have also been doing a lot of!
I didn't know much about Walmart's Grocery pickup service, but I did come across a $10 promotion code and figured I'd give it a shot. I needed groceries and walking my super pregnant booty around a store that I don't like to shop in to begin with sounded horrible to me. It was 3am and I couldn't sleep, so I started looking online.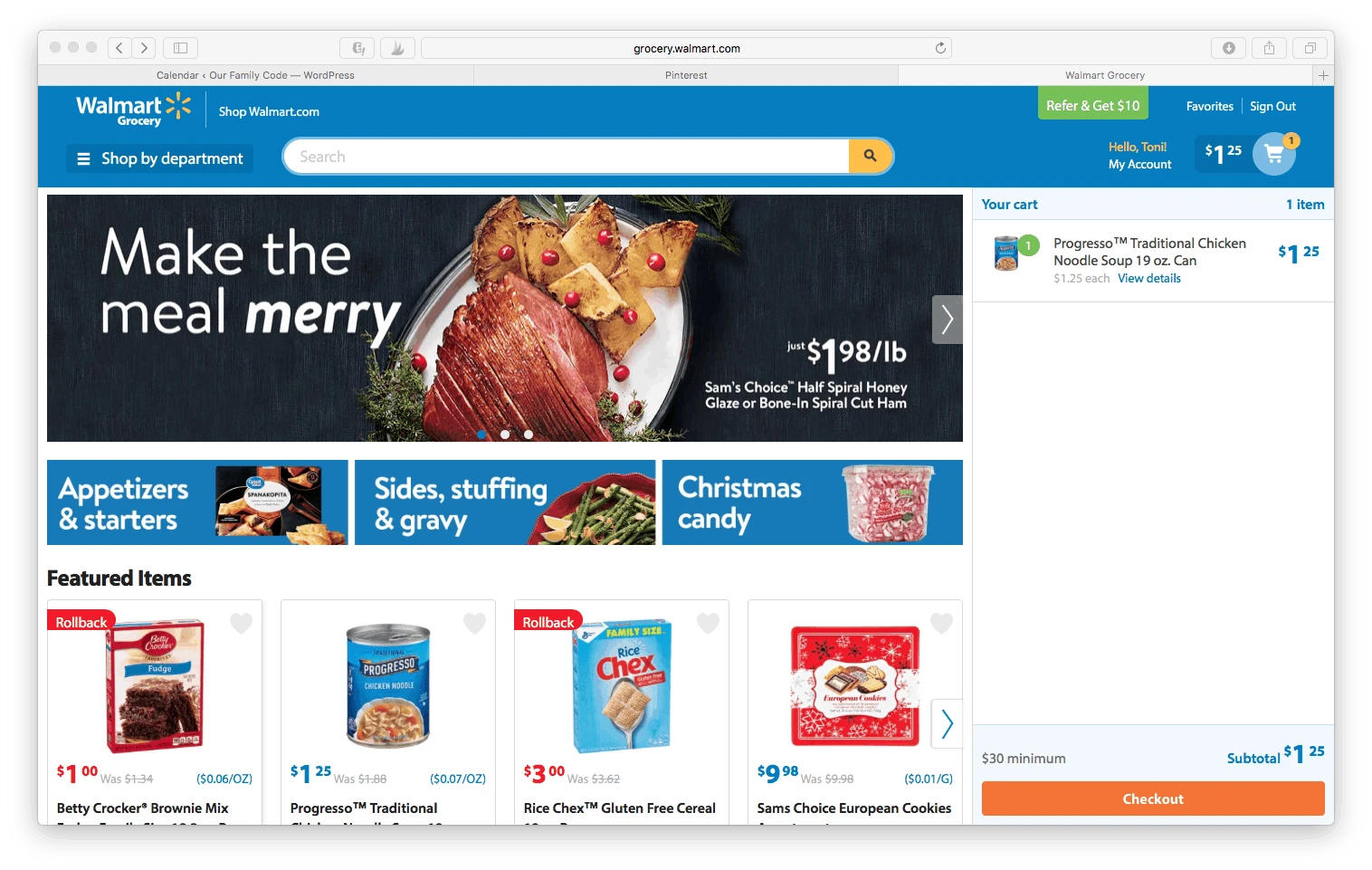 Buying Groceries Online
Walmart's Grocery webpage is super easy to use, which is shocking to me since I find their main webpage incredibly difficult to navigate! You can easily add things or remove things from your digital cart on the right hand side of the page. Because I didn't know what to expect, I decided to only order dry groceries that morning. However, you can order basically anything that you could buy if you were walking around the store.
I ended up spending around $100 for a ton of meal essentials and baking necessities (because it's cookie time!) and my total came to $92 after applying the $10 promo code. After you go to your cart, you have to "reserve a time" to pick up your groceries. It seems that the pickup times go very quickly in my town. I chose to pick my groceries up between 11a-12p the following afternoon.

Picking Up Groceries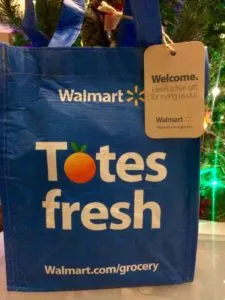 I have to tell you that this was one of the best experience that I've had picking up an online order at a retailer. Around 11a, a text message rang alerting me that my order was ready for pick up. I clicked through the text message, which brought me to the mobile application and I hit the button that told Walmart that I was on my way. If you are concerned about the application monitoring your location, you can always call the number listed on the designated parking spot signs when you arrive! I pulled into the designated parking spots (identified by the bright orange signs that direct you toward them and then are placed at the front of each parking stall) and my mobile app alerted Walmart that I had arrived to pick up my order.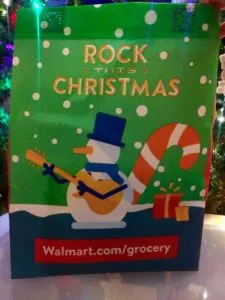 A cheery young guy came out of a door with my groceries in tow behind him. He thanked me for choosing Walmart and greeted me with a Welcome bag that was filled with goodies for my first time shopping with their grocery pickup service. I was also presented with a #RockthisChristmas bag filled with even more #WalmartGroceryTreats specific to the holiday season and a 10% coupon code to use in-store or online at Walmart.com (this code doesn't apply to Walmart Grocery online orders). He loaded all of my groceries into my trunk for me and explained that I had one substitution that had to be made on my order. The Walmart brand of crackers that I had ordered were out of stock, so they replaced them with Ritz brand crackers (a win for me since there is a $2 difference in the price there!) and he asked me if I was okay with that substitution, which I was indeed!
The Welcome Bag
When I got home, I was super excited to see what was in the goody bags. In the Welcome Bag, I received the following:
A coupon book
Full size jar of Prego Traditional sauce
Scotch Brite sponges
A Starbucks Refresher
Zing organic stevia sample
Alka-Seltzer trial size
Snack size Chewy Bites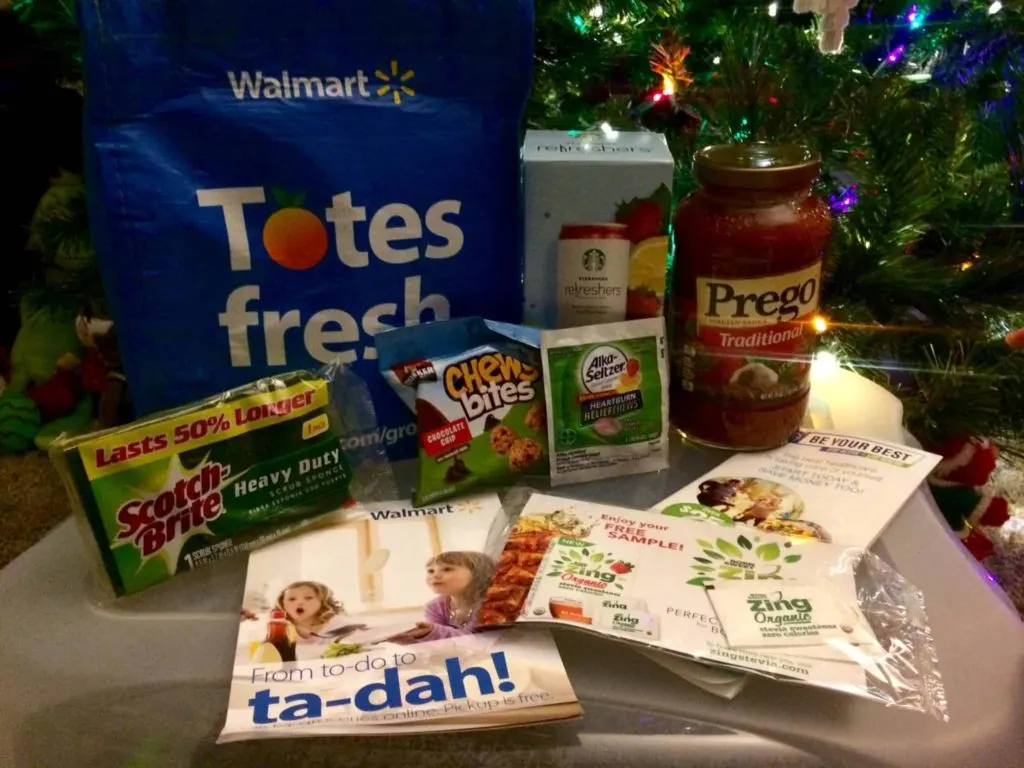 Rock This Christmas Bag
In the #RockThisChristmas Bag, there were more #WalmartGroceryTreats including:
A Coca-Cola glass bottle advertising the One Warm Coat foundation
Full size degree deodorant
Swiss Miss Hot Chocolate
Scotch Brite sponge
Godiva chocolate sample
Mini Takis Fuego snack
An empty giftcard for a last minute gift idea (I guess?!)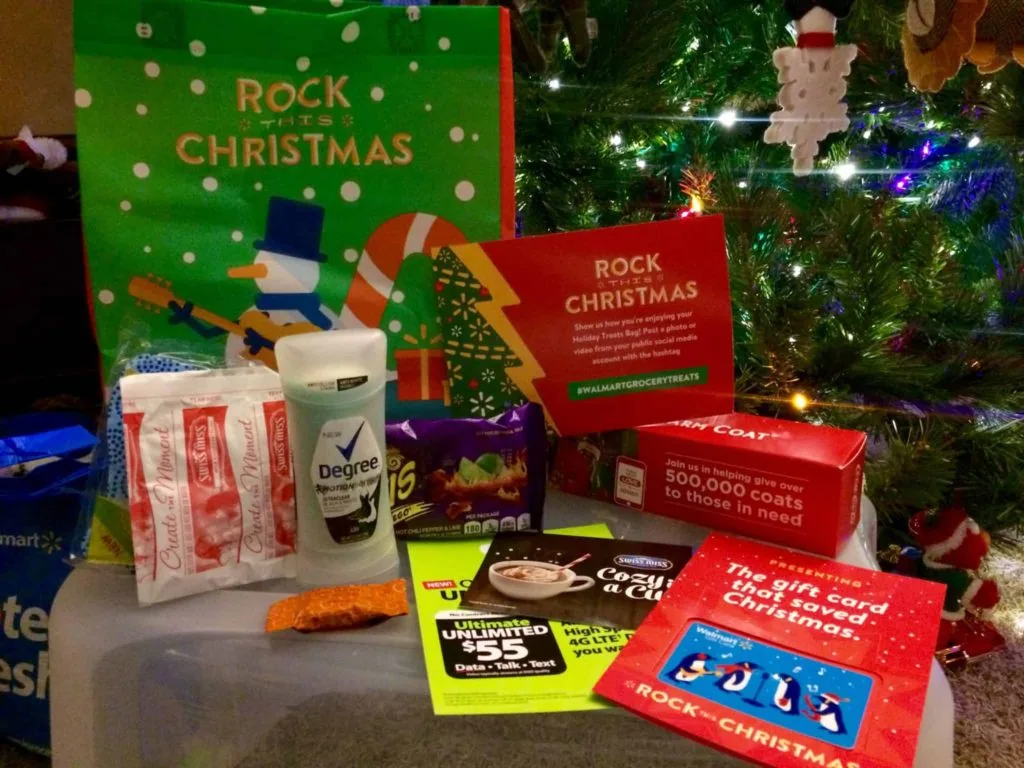 My Takeaway
We already placed and picked up another order just to make sure that our first experience wasn't a fluke. I had Travis pick up that order to get his perspective. He thought the process was really easy and he also had a great pickup experience. That order also included frozen, meat and dairy products (the whole order was actually over 150 items). The order was "shopped for" and ready very quickly. Items were packed carefully in the bags following food safety guidelines, which I appreciate as a certified National Food Safety Professional. We also approved a few substitutions throughout that order, but they were always in our favor.
#GroceryHero
Walmart did not sponsor this post. This is my honest review of my experience at my Walmart location in town. It is also my review of my experience with their online and mobile applications, which made my day with how user friendly they are. If you want to save $10 and try out Walmart Grocery, you can click the picture below and try it out for yourself too!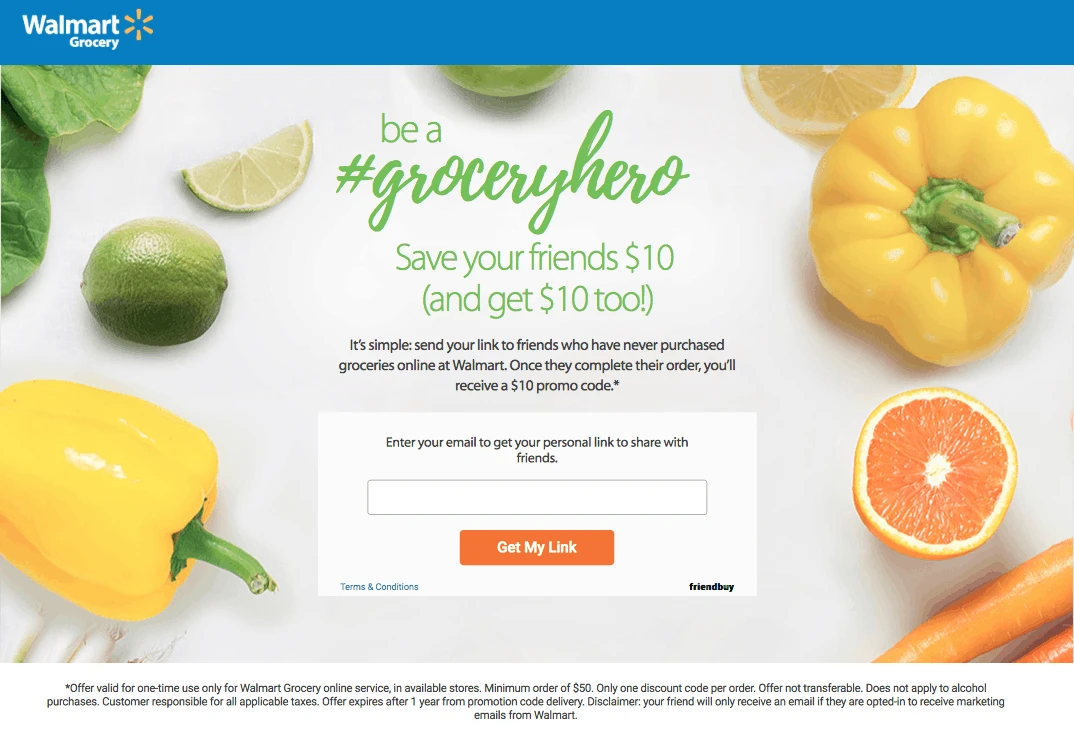 We will definitely continue to use Walmart's Grocery Pickup service going forward!! I can't believe how easy it is to do and how much time it saves me especially when I'm in my third trimester and dealing with so many high-risk pregnancy issues too!
Anyone else have a similar experience with Walmart Grocery? I'd love to hear about it below!