This DIY superhero string art collection would be totally adorable for a kid's bedroom and you can absolutely make it too in 5 easy steps!
You only need a few supplies to make Captain America, Spiderman, Iron Man, Hulk, Thor, Wonder Woman, and Batman Superhero String Art!
I use to be a manager for a big time retailer and I ran a team of eight other leaders who had a hundred or so people who reported to them. I called them "Team Awesome".
Why? Well, they had to be pretty awesome to handle the craziness of our daily working environment. To surprise them, I made them these really awesome superhero string art projects to display on their desks.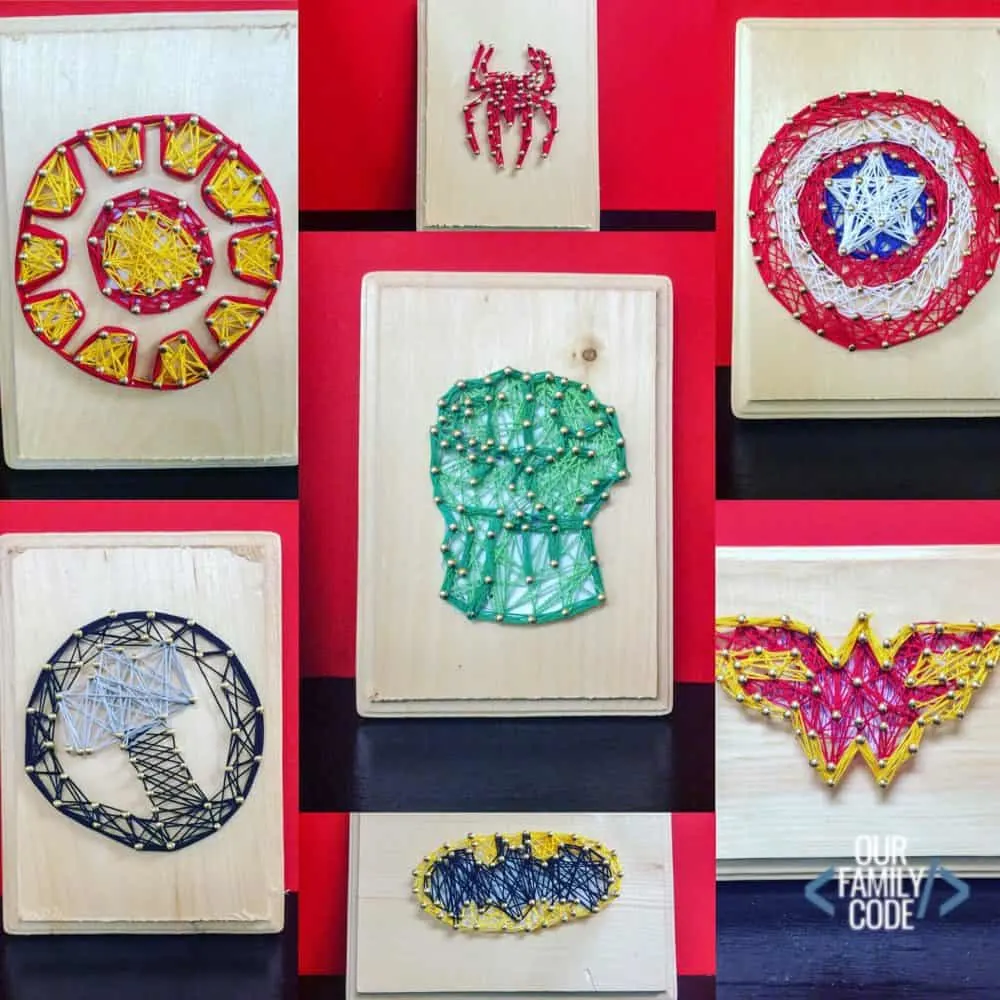 This post contains affiliate links. As an Amazon Associate, Our Family Code earns from qualifying purchases. Please see our Disclosure Policy for more details.
DIY Superhero String Art Supplies
Making DIY superhero wall art for a playroom or kid's bedroom is super easy! You'll need to gather up the supplies below.
To make the project even easier, I recommend using a hammer with a magnetic nail starter.
Finally, you are going to need to find the superhero logos for each superhero wall art you'd like to make. All I did was search for terms like:
Captain America shield coloring page
Hulk hand coloring page
Wonder Woman logo coloring page
Batman logo coloring
Avengers logos coloring
Thor circle hammer logo
You'll be able to find all of the images I used and other superhero images as well! You can make a ton more superhero wall art plaques if you want!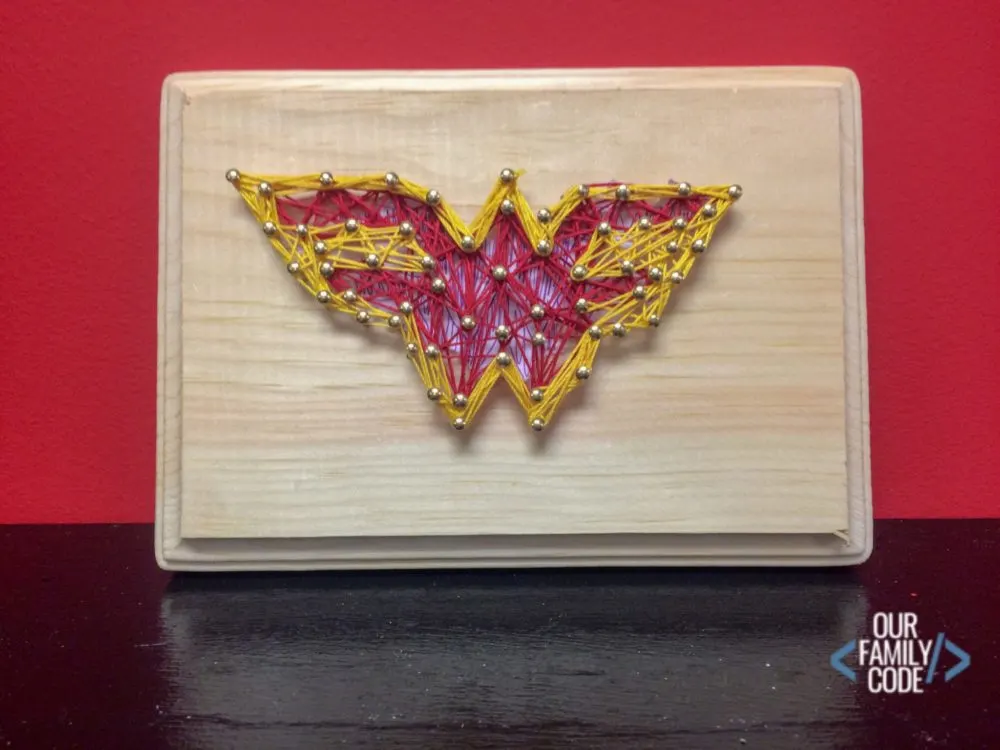 If you prefer to stain your wooden plaques before completing this project, I suggest sanding them, staining them, and letting them sit overnight before beginning the steps below.
You might also enjoy: Can You Master this Superhero Logic Word Puzzle?
How to DIY Superhero String Art
Use Google to Find a Coloring Image
Right-click on the image and save it to your desktop. Use your image preview software to adjust the dimensions that are smaller than the dimensions of your wood plaque.
For example, I used 5×7 wood plaques, so I adjusted all of my superhero wall art images to 4×6 or 4×4 in order to make sure that I had enough of a margin on all sides of the string art. Print your superhero image.
Use double-sided tape to hold your image in place
Use double-sided tape to position your superhero image onto the wood plaque.
Begin to hammer your nails along the lines of your image. Use your pinky finger as a guide to determine the amount of space between nails.
After you have finished nailing your image outline, remove the paper.
I chose to leave the paper for some of the designs because I wanted to make sure I followed the correct lines for the image (ex. the Hulk's hand was too hard for me to figure out without the image left underneath it because of all of the lines in his clenched fist).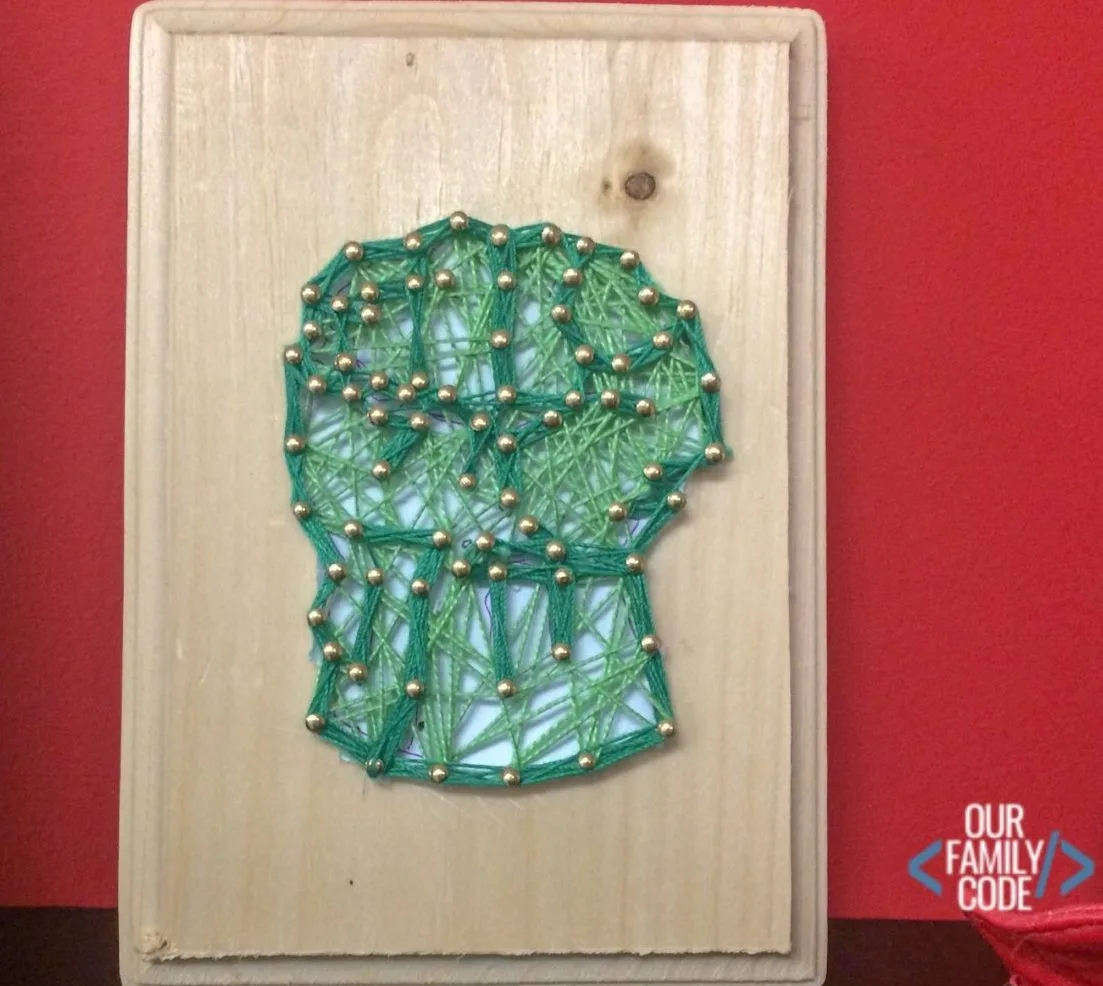 Start with the colors on the innermost parts of the image.
Chose a nail to tie your embroidery thread to and begin winding your thread around nails. Work to fill the space and try to not follow the same pattern between nails in order to cover the wood.
You can determine how much thread you'd like to use here. For example, I used less thread on the Thor wall art and more thread on the Spiderman wall art. It's totally your preference.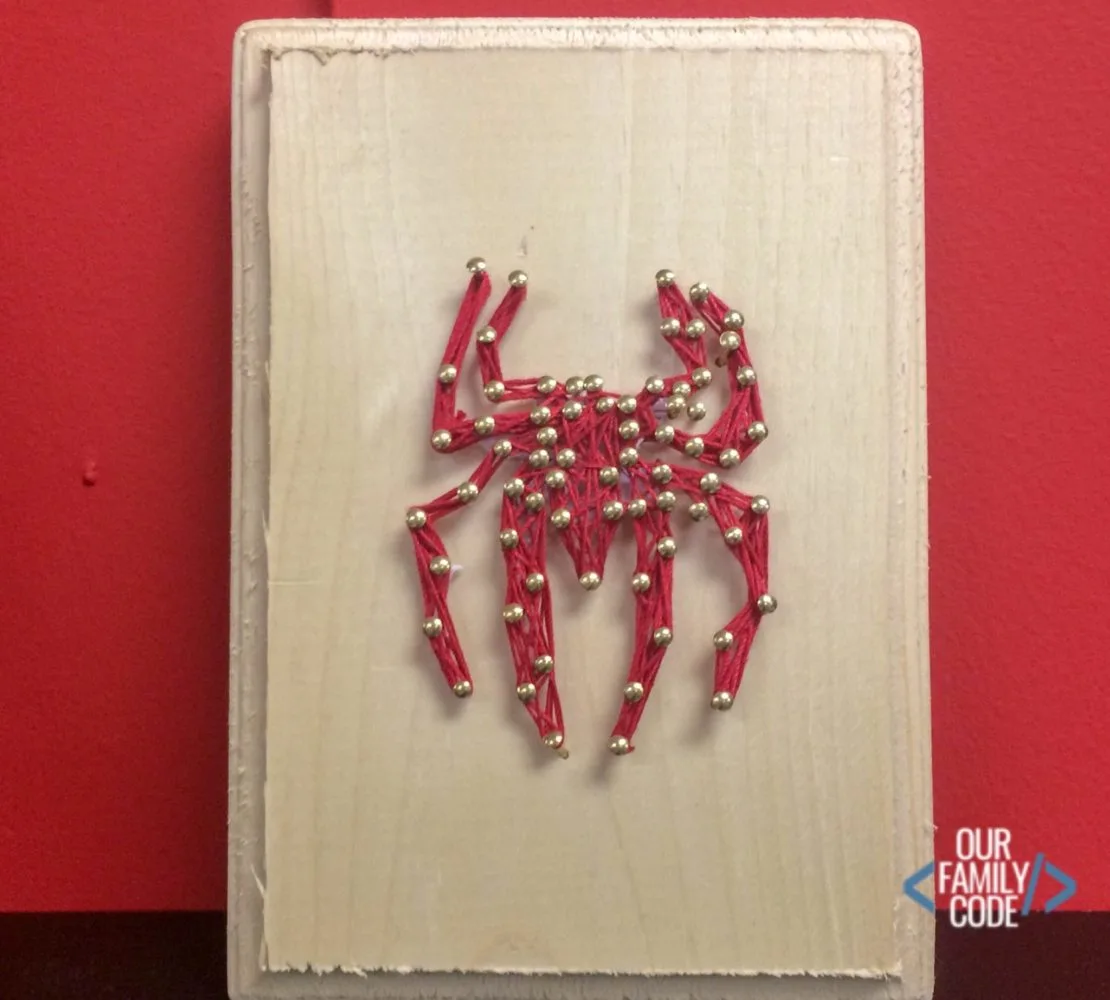 Continue working your way to the outer edges of the superhero wall art design.
Before tying off my thread, I used my thread to darken the boarder by just stringing my thread along and through the outer nails.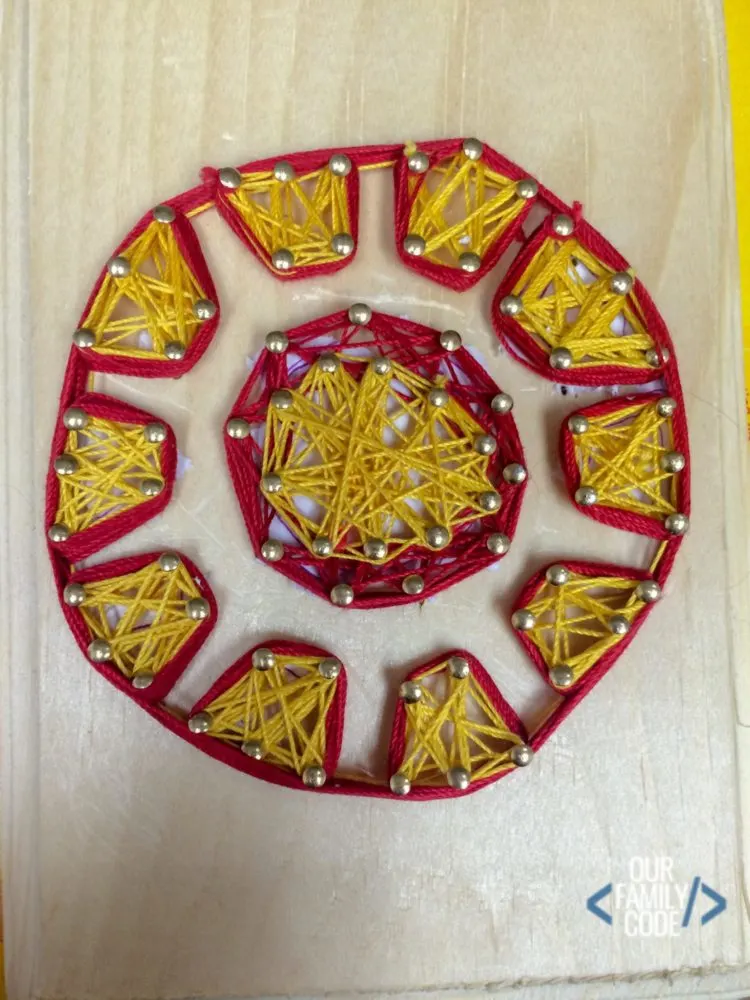 That's it! I really enjoyed making my team some superhero wall art and will most likely be making them again once my son has a room of his own.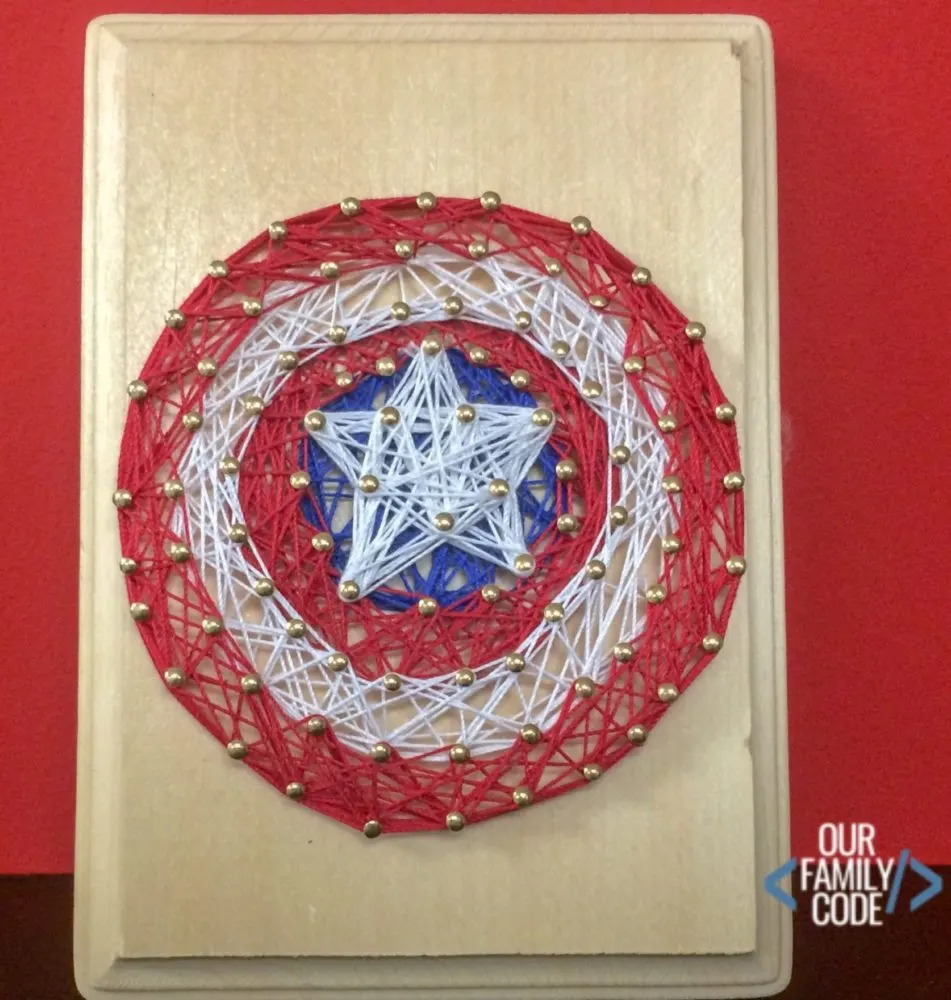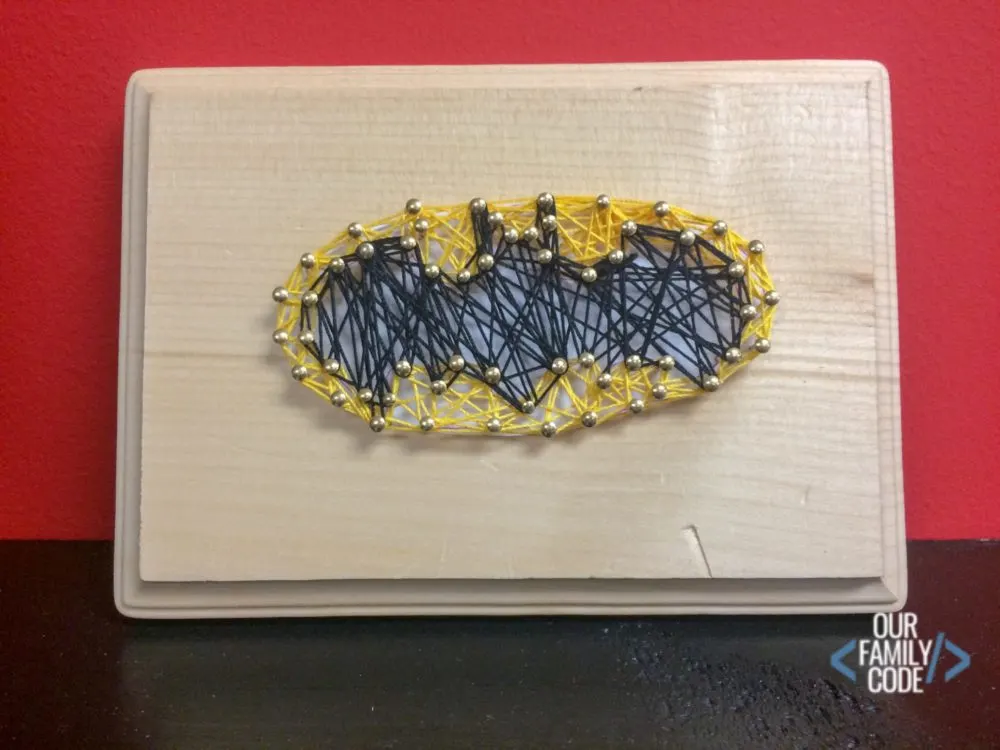 PIN THIS DIY SUPERHERO WALL ART TO SHARE WITH FRIENDS!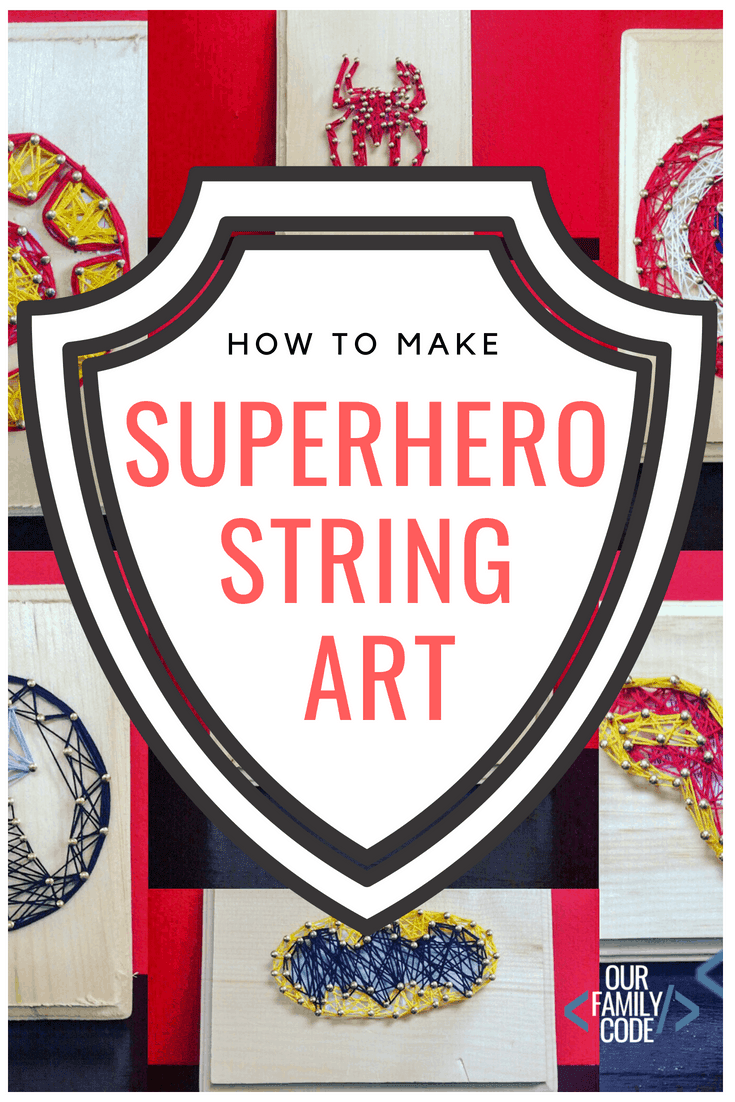 Meet Toni, the Maker Mom behind Our Family Code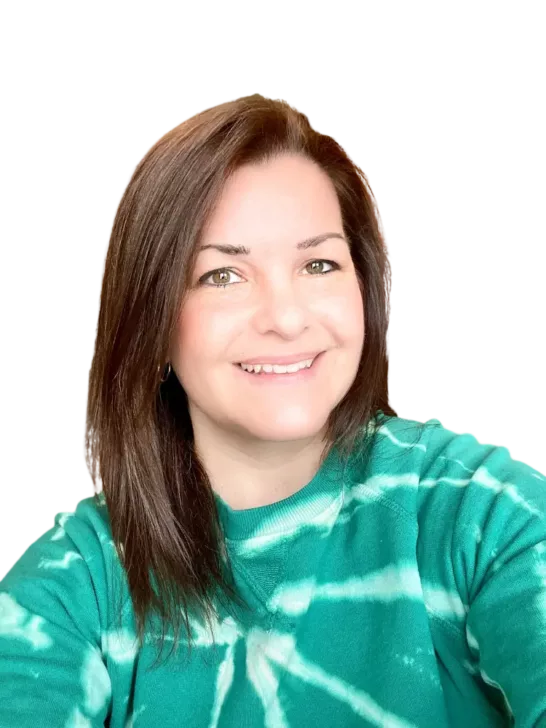 Hey there, I'm Toni! I'm a software engineer and Maker Mom that finds my joy in unleashing my children's curiosity by exploring STEAM concepts with my fantastic five!
When I'm not chasing toddlers or raising tweens, you can find me tearing things up and putting them back together over here at Our Family Code.
I am the owner and content creator of multiple educational websites designed to increase access to STEAM & STEM education with a focus on teaching computer science and coding to kids of all ages!
You can also find out more about me by visiting ToniGardner.com!