Homeschooling multiple children of different ages, stages, and learning styles can be a pretty daunting task. Check out how I manage to teach my five kids and maintain some sanity with this homeschool schedule for a large family and grab a free sample homeschool schedule and blank template!
Friends, family, and even strangers ask that age old question, "How do you do it all?" Well, it's not easy, but it is made easier by having a solid routine!
It's so important that everyone in the house knows what is supposed to happen and when. This goes for more than school. It also applies to chores, sports, and making sure I also get scheduled time to work.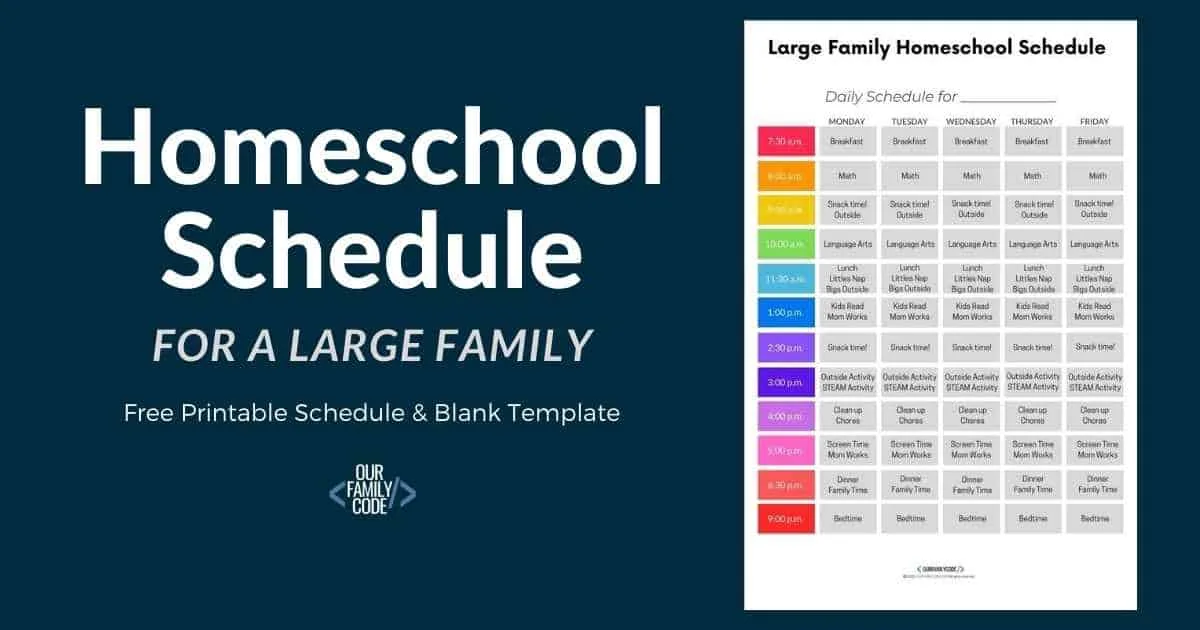 This post contains affiliate links. As an Amazon Associate, Our Family Code earns from qualifying purchases. Please see our Disclosure Policy for more details.
Tips for Homeschooling with Multiple Kids
Work in Chunks of Time
I remember going to middle school and getting that first breakdown of my classes and thinking how short the class periods were and how many different classes I had to go to every single day!
The goal is to give yourself ample time in your homeschool schedule to adapt to the unexpected. The unexpected in my case is sometimes a diaper change, but it can also be a kiddo so engrossed in a lesson about robotics that you want to continue to explore more while you have their complete attention!
Schedule the siblings too!
I have three school-aged kiddos, a toddler, and a 10-month old baby. To ensure success, I have to figure out what the baby is doing while I'm knee deep in common core math with my 2nd grader!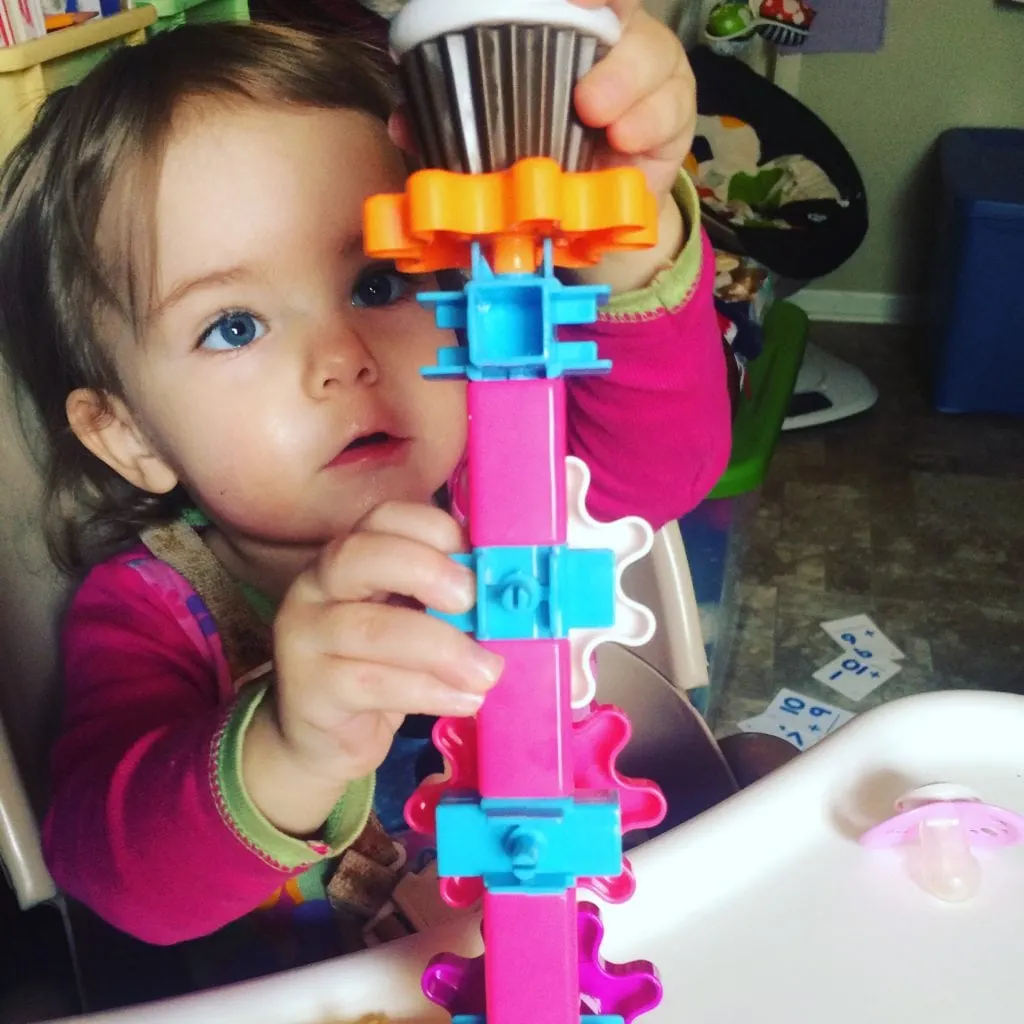 Schedule around a Household Schedule
Sometimes, it is easier to use mealtimes, chores, errands, and bedtimes as a framework for writing a homeschool schedule for your family. This is how I start writing a schedule because mealtimes are definitely routine in our house!
7:30 a.m.: Breakfast
9:30 a.m.: Snack
11:30 a.m. : Lunch
2:30 p.m.: Snack
6:30 p.m.: Dinner
9:00 p.m.: Bedtime
Don't try to do every subject every day
Be flexible! This tip works great for younger homeschoolers. My middle schooler works through every subject each day, but my second grader and preschooler need flexibility in their learning plans.
We schedule math and language arts for every day and then we add in a STEAM activity to explore science, technology, engineering, and art. I also schedule plenty of time for outside learning and play!
Create a routine, not a schedule
It's important to create a routine and not a schedule because every day is a different journey. Plan for the unexpected and continue to work through the routine. Trying to stick to the schedule will cause a ton more stress than it is worth!
Other ways that I solidify our homeschool routine is by following a master chore schedule (5 kids = lots of mess!) and a weekly meal plan (5 kids = lots of food!)
Add in Brain Breaks
Brain breaks? What are brain breaks? Brain breaks are just that, a chance to give your brain a break from learning. We typically do 15-minute brain breaks and get up and move our bodies around, dance, sing a song, go outside, or have a snack!
Brain breaks are also a great way for kids who get overwhelmed by the amount of work to be able to step away and refocus. My oldest has always struggled a little with attention span. This helps her to learn coping skills that she'll take with her into life.
I'm the same way with my attention span, so I'm a huge advocate for knowing your opportunities and learning how to turn them into strengths! Squirrel!
Weekly Plan for Older Kids
I've implemented using a weekly checklist of homeschool work that needs to be done for the week for my 7th grader to follow. It's easiest to make the weekly plan on Sundays when I do my meal plan for the week!
My oldest and I share a Google calendar as well to make sure we know the schedule for out of the house activities too!
How to Handle Unexpected Surprises!
There are always unexpected surprises! I also have to plug in nursing a baby at different points throughout the day, but at least I can do that in our Creation Station Makerspace.
I cushion every chunk of learning time to make up for little things that happen. This helps to stay close to our routine.
Sample Homeschool Schedule for Large Family
Having a routine helps me to manage all five kids who are at different learning levels and learning styles. This is our general schedule though things get pretty busy with nursing a baby, adding in nap times, and managing a strict dance company class schedule for my oldest.
I get up around 6:30 a.m. to get some coffee in my system and prepare for the day ahead. My youngest is usually awake with me at this time, but my other four kiddos get up around 7am and get dressed.
Our Homeschool Schedule
For the most part, we try to stick to an overall homeschool schedule that looks like this:
7:30 a.m.: Breakfast
8:00 a.m.: It's math lesson time! My 7th grader is a self-starter and works her way through her assignments. I get my 2nd grader started and then move on to my preschooler and toddlers. We usually add in a brain break during this chunk of time too.
9:30 a.m.: Snack time! Then, we go outside and play or do a nature-based or messy sensory activity.
10:00 a.m.: It's time for language arts. Like math, my oldest can get started with her lessons and I work my younger kids.
11:30 a.m.: Lunch time! I start prepping lunch at 11:30 a.m., but we don't eat until around 12pm sometimes. Then, it's nap time for the tots!
1:00 p.m.: The kids read and I spend some time working on my activities for my blog!
2:30 p.m.: Snack time!
3:00 p.m.: It's time to do an activity outside if it's not snowing! This is our perfect time to explore some STEAM activities!
4:00 p.m.: Our school day is over! Time to clean up the makerspace learning area and jump into some chores!
5:00 p.m.: The kids spend some time playing their devices while I spend some time wrapping up my work for the day and then getting dinner started.
6:30 p.m.: Time for dinner and then some family time!
9:00 p.m.: The kids go to sleep and Mom & Dad can relax!
You might notice that I don't specifically assign a time slot for history or social studies. My kiddos learn best when I combine social studies with STEAM disciplines for our STEAM activity or language arts time.
I incorporate a lot of geography and cultural activities into our STEAM lessons and we enjoy working with non-fiction and historical books for our language arts activities.
If our schedule doesn't work for you, the blank template is available for parents who might need to tweak their schedule to meet their kids needs.
Learning through Play
My goal with my kids is to get hands-on with as many activities as we can! This isn't always possible, but I have two hands-on learners that I work hard to adjust our activities to. We offer a ton of resources to help explore your kid's curiosity and make more complex subjects like Fibonacci and Pi a little more tangible by using manipulative and art!
What are STEAM Activities?
STEAM is an acronym for Science, Technology, Engineering, Art, and Math!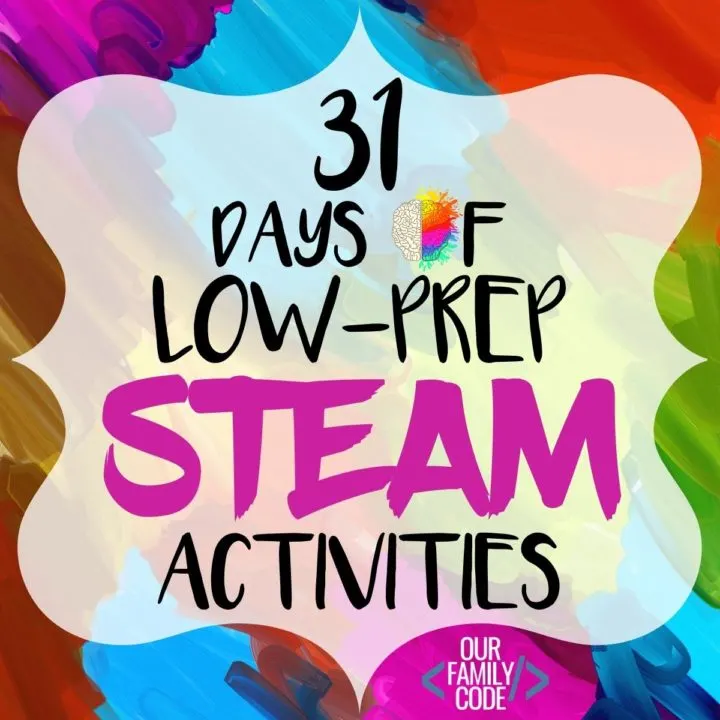 STEAM, like STEM, is an integrated approach to learning that encourages learners to make connections between the concepts they are learning and how they apply them to real-world problems.
Check out our latest STEAM activities or find seasonal STEAM activities by age level! We like to do a lot of seasonal STEAM activities! Check out our newest activities in our Fall STEAM Lesson schedule organized by age level!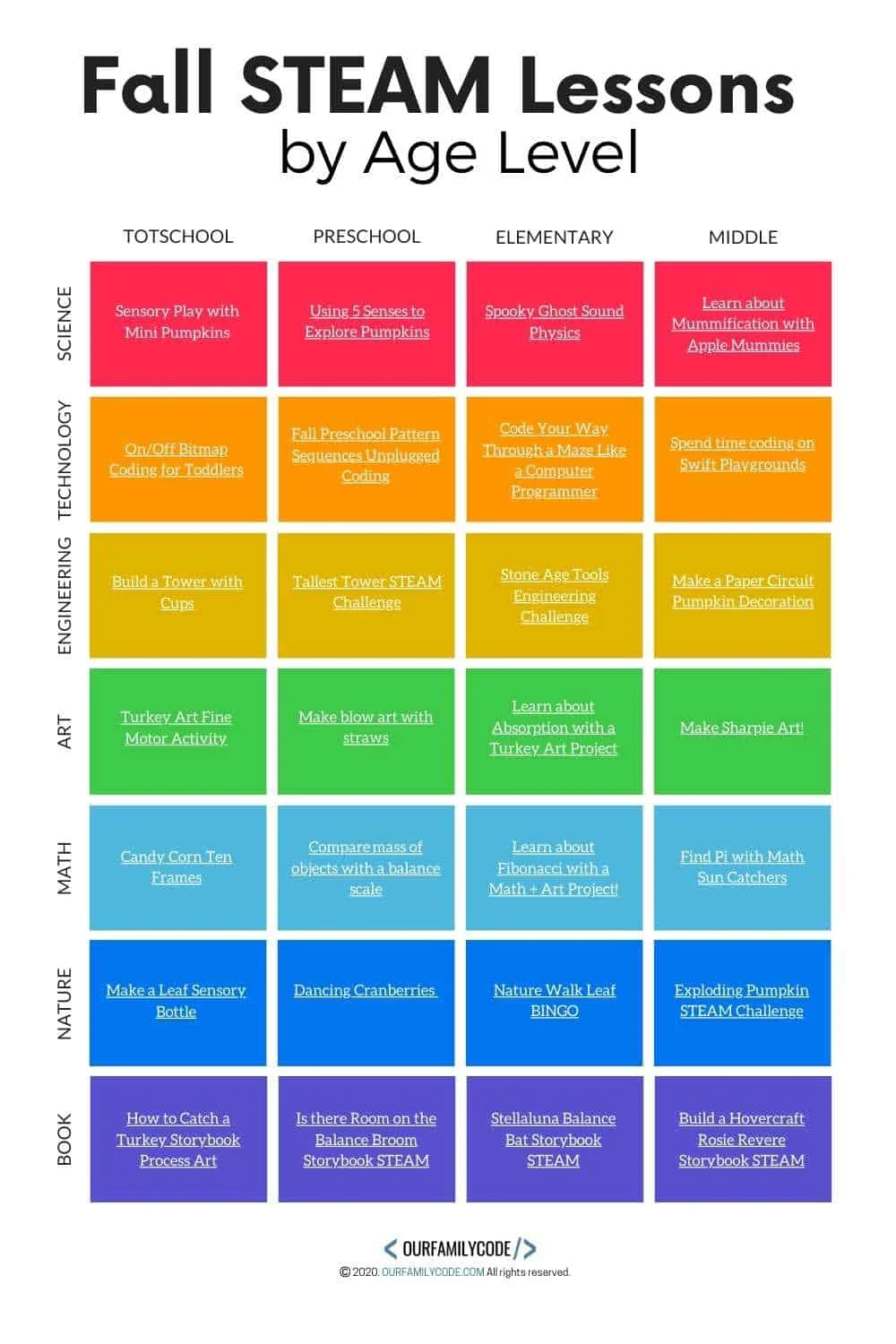 PIN THIS LARGE FAMILY HOMESCHOOL SCHEDULE!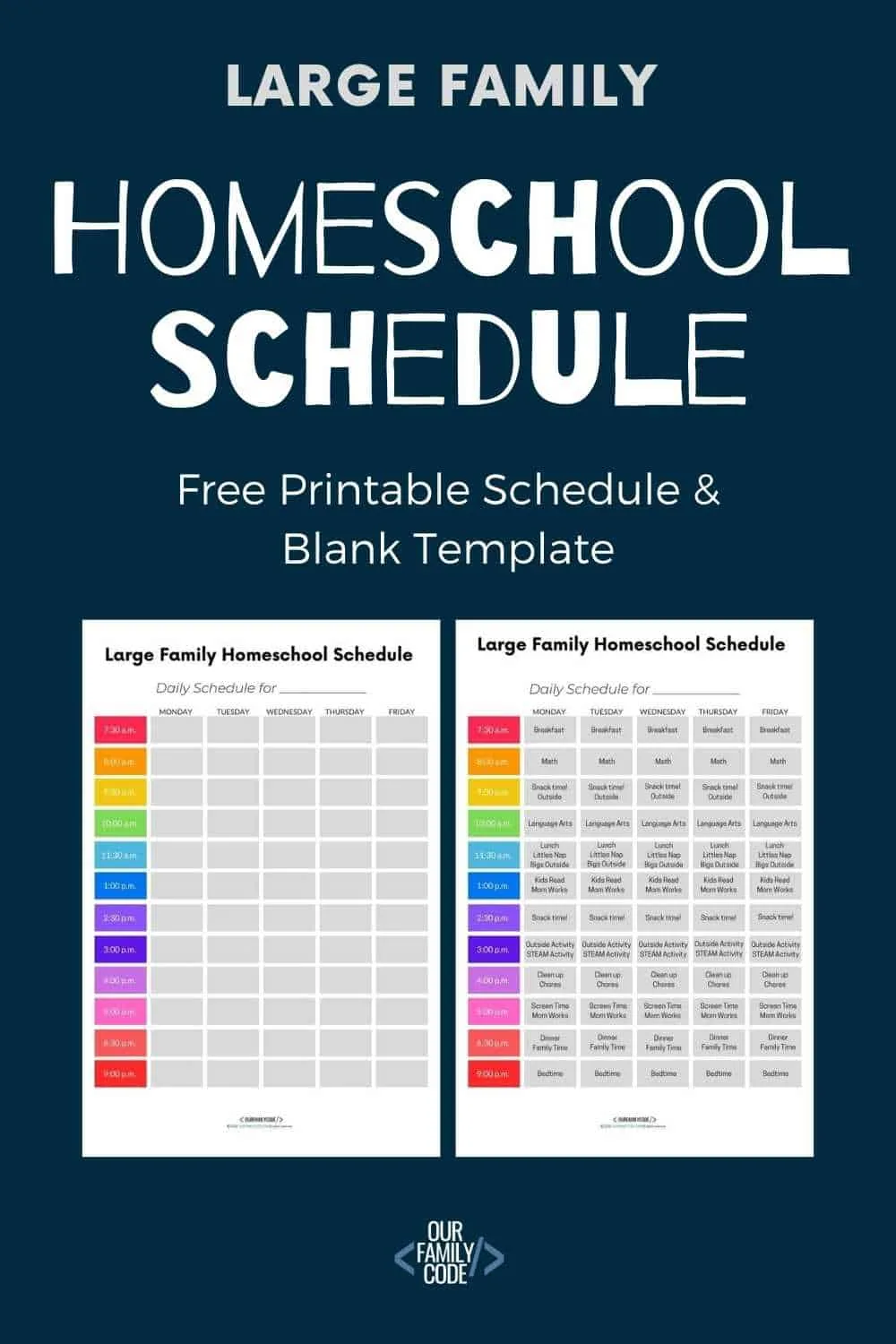 Homeschool Resources
Find more resources for virtual learning, remote learning, and homeschool!
Meet Toni, the Maker Mom behind Our Family Code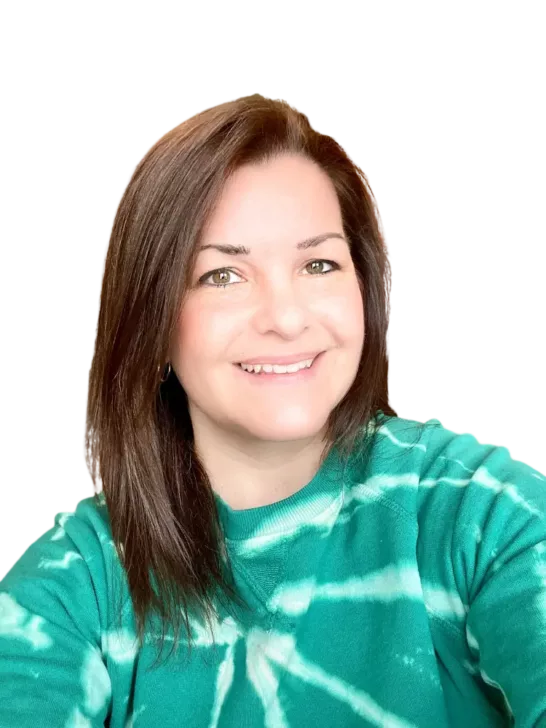 Hey there, I'm Toni! I'm a software engineer and Maker Mom that finds my joy in unleashing my children's curiosity by exploring STEAM concepts with my fantastic five!
When I'm not chasing toddlers or raising tweens, you can find me tearing things up and putting them back together over here at Our Family Code.
I am the owner and content creator of multiple educational websites designed to increase access to STEAM & STEM education with a focus on teaching computer science and coding to kids of all ages!
You can also find out more about me by visiting ToniGardner.com!