Gravity makes some of the most interesting art! Explore science with gravity paint pours and make awesome science art today!
Awesome artwork just makes me smile! This gravity paint pour activity is a pretty neat hands-on activity that helps solidify the concept of gravity for young kids.
Gravity is the downward force that keeps us on Earth. Paint pours is a great art project that showcases the downward force of gravity as paint shifts (but doesn't mix!) around a surface into a super cool marbleized pattern!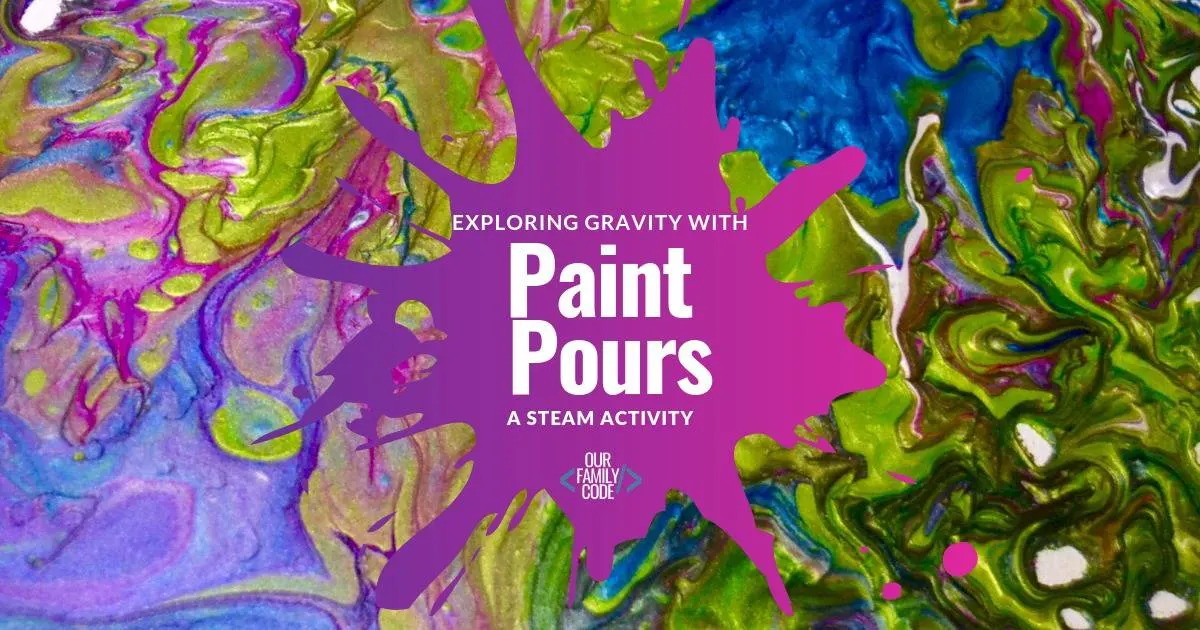 Gravity makes some of the most interesting art! Learn about gravity with paint pours and make awesome marbleized patterns with kids today!
This post contains affiliate links. As an Amazon Associate, Our Family Code earns from qualifying purchases. Please see our Disclosure Policy for more details.
Why STEAM Activities?
STEAM is the abbreviation for Science, Technology, Engineering, Art, and Math.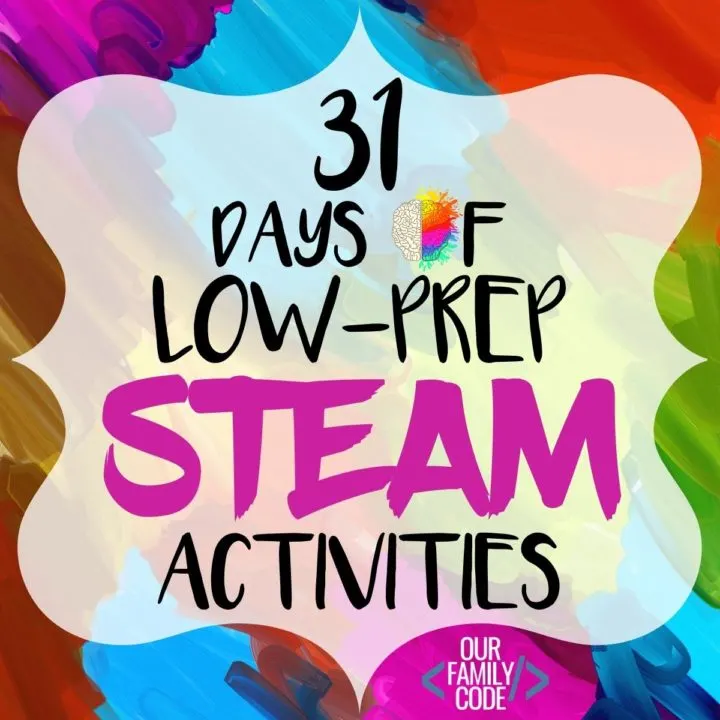 STEAM, like STEM, is an integrated approach to learning that encourages learners to make connections between the concepts they are learning and how they apply them to real-world problems.
STEAM helps students ask questions, problem solve, think creatively, and produce innovative solutions. Many schools have adopted STEAM learning activities into their curriculum, but it's never too early to start building critical thinking skills.
We love to learn through play at our house and have a blast doing activities for toddlers all the way to tweens!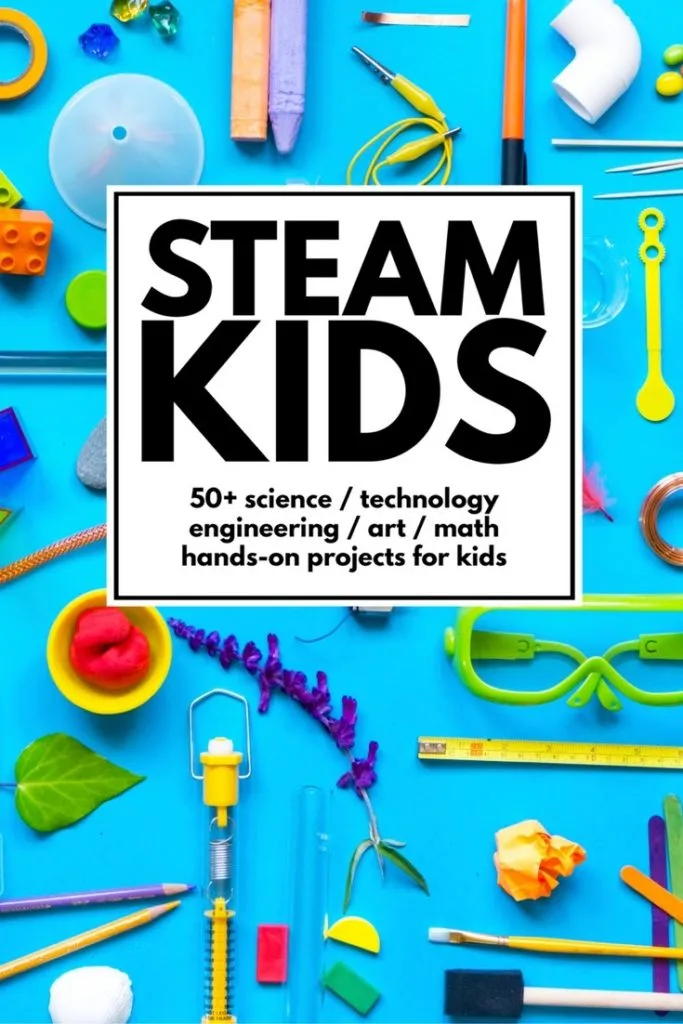 Gravity Paint Pour Materials
Plastic cups
Newspaper to cover work area
Paintbrush (optional)
Exploring Gravity with an Awesome Paint Pour Art Project
Choose Your Paint Pour Colors
Chose 3-4 complementary colors for your project. Put each color in a separate cup.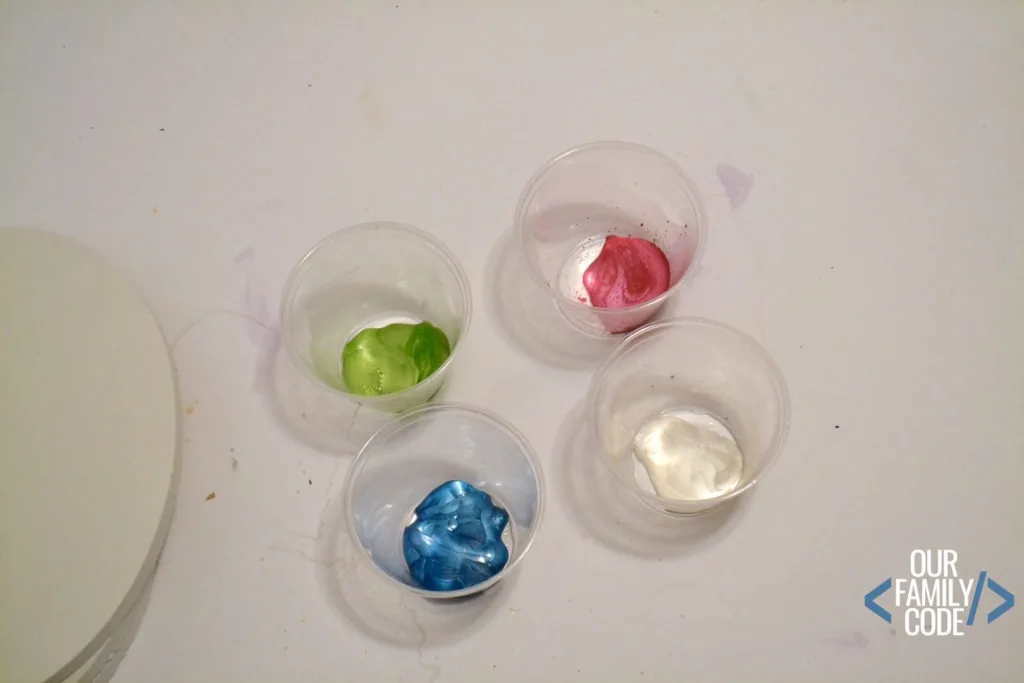 Add about a tsp of water. Mix well with a paintbrush. Make sure that your paint moves freely in the cup. If your paint still seems more globular, then add more water.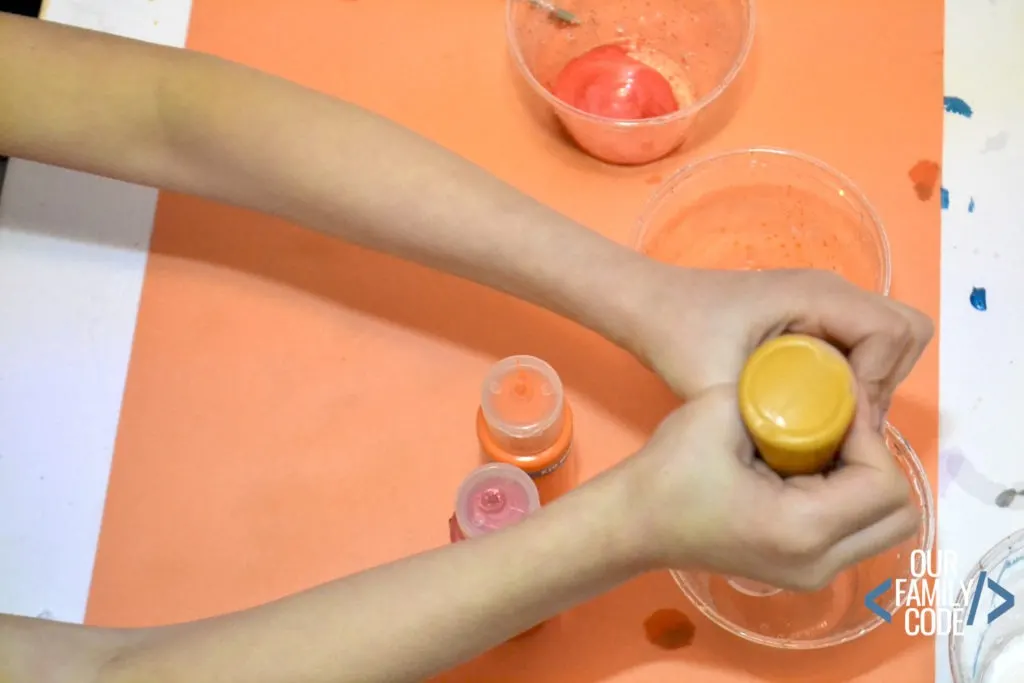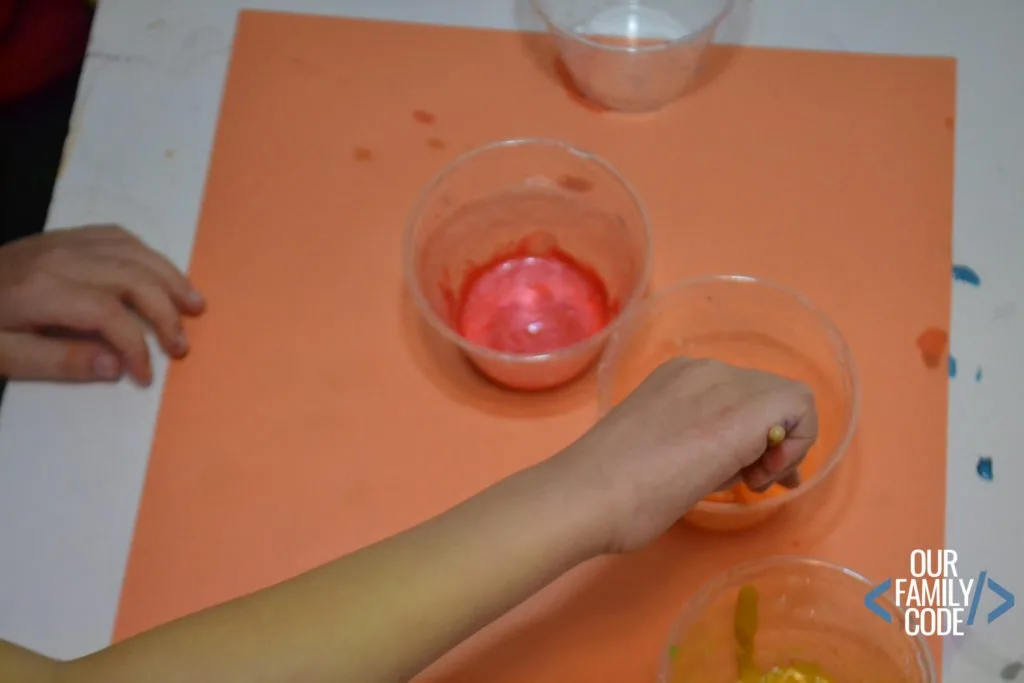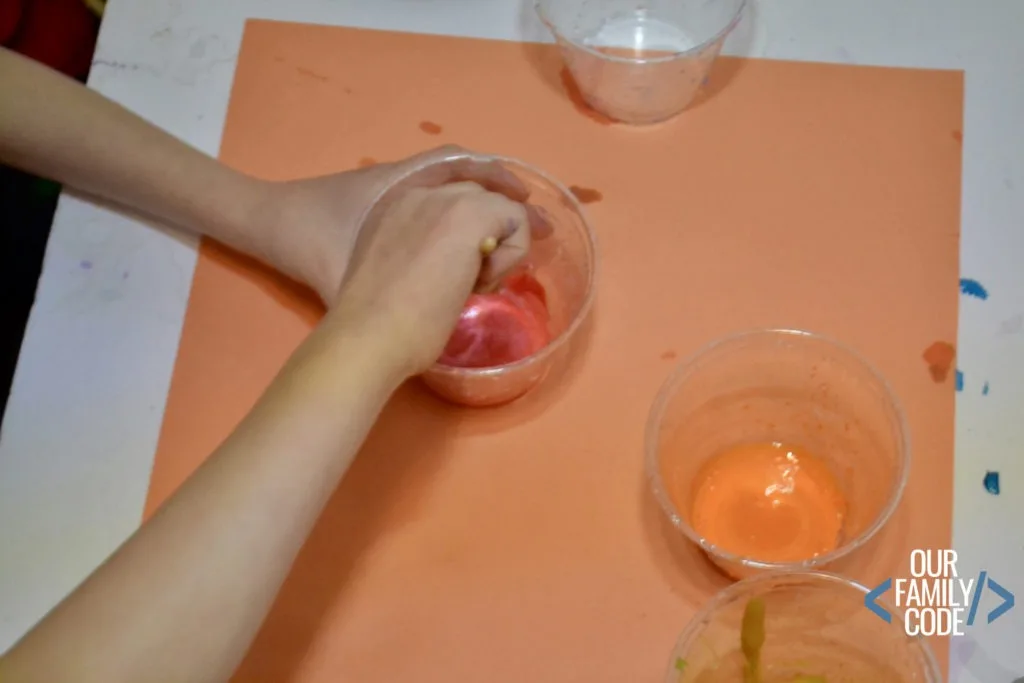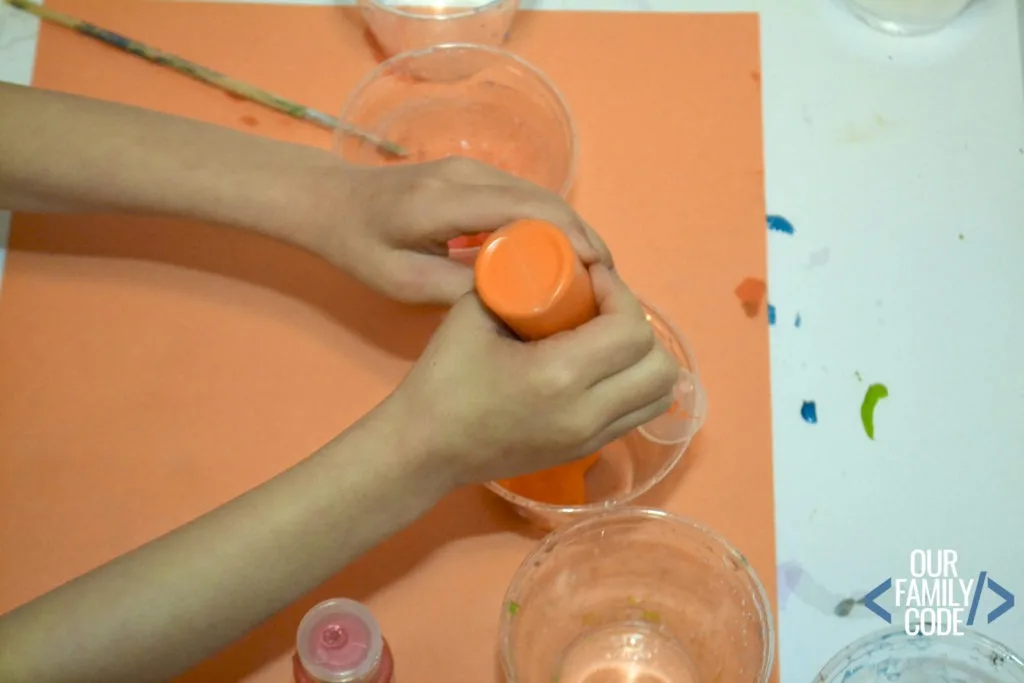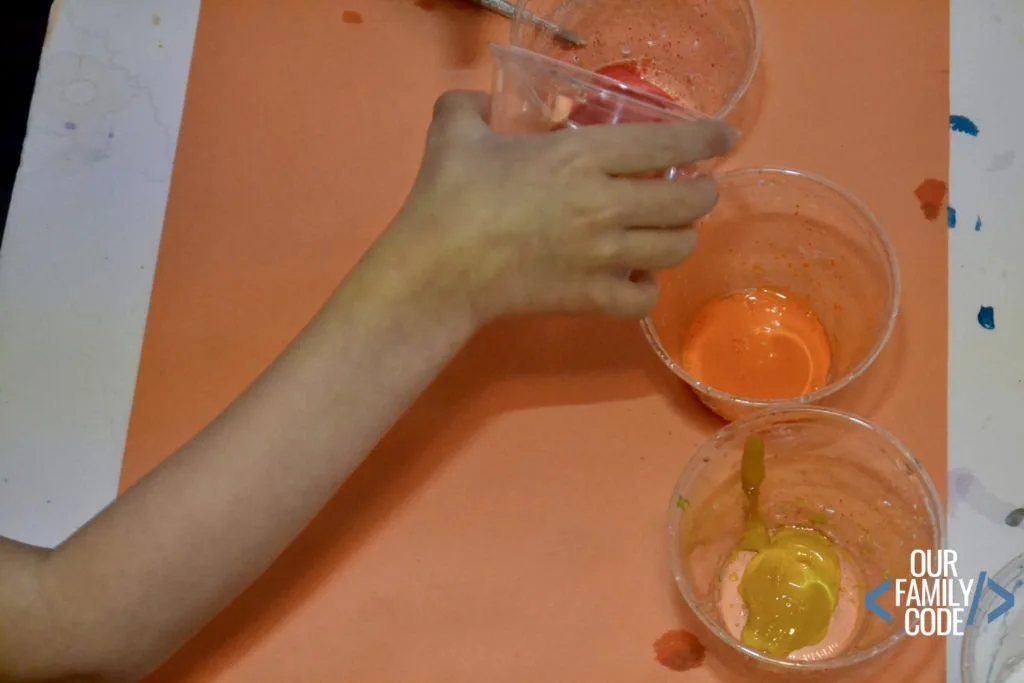 Take an empty plastic cup and begin layering your paint. Don't dump all of the paint at once. Try to add multiple layers for each color.
Paint with Gravity
Lay your canvas on top of your plastic cup with the canvas facing down on the open top of the cup. Grab the bottom of the cup and use your other hand to hold the canvas in place.
Apply pressure and flip the cup and canvas so that the cup is now upside down on the canvas. DO NOT REMOVE THE CUP.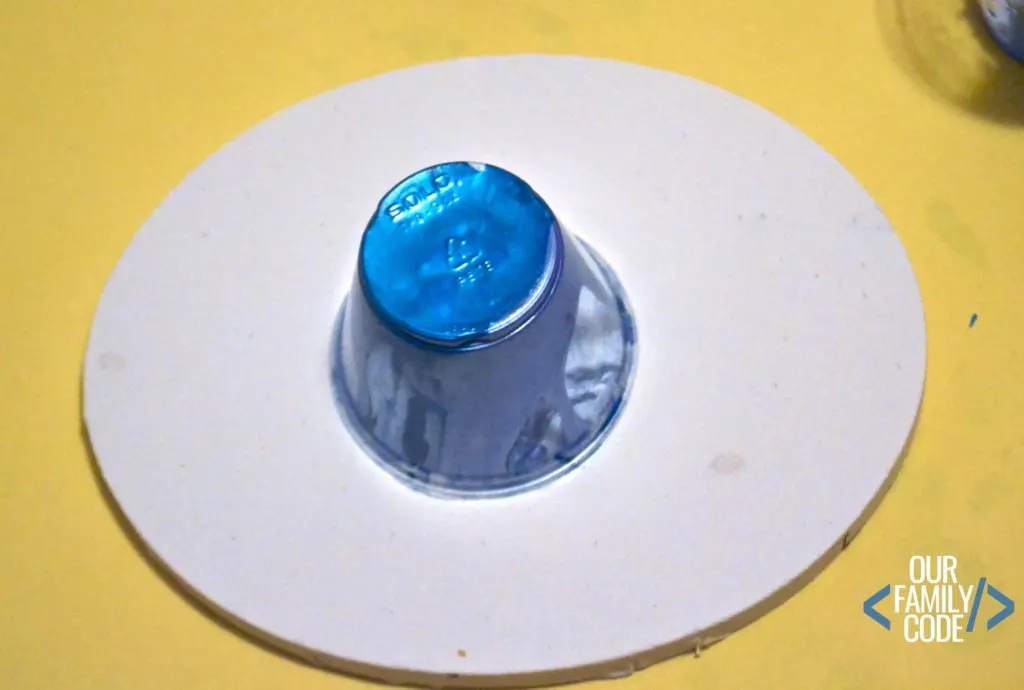 Let your cup sit for a few minutes to make sure that all of the paint in your cup has been forced down onto the canvas by gravity. Keep your hand on the cup if you notice paint is sliding out from the bottom.
After gravity has done it's job for this section, remove the cup and check out the great marbleized mixture of paint on your canvas. Use a box to place your art in to tilt (optional).
Tilt Your Canvas to Spread Paint
Slowly tilt the canvas in each direction until the paint has covered the entire surface of the canvas. This could take a while.
If your paint doesn't seem to be working on certain areas, use your paintbrush to spread the paint into those section and then begin tilting again. Do not use the paintbrush to mix the paint.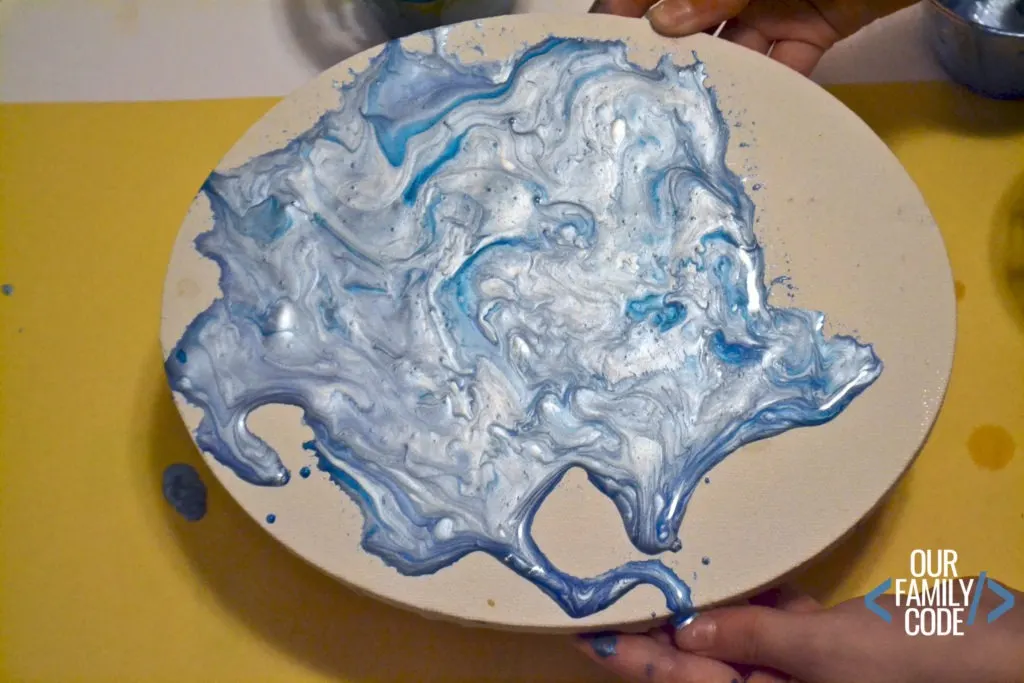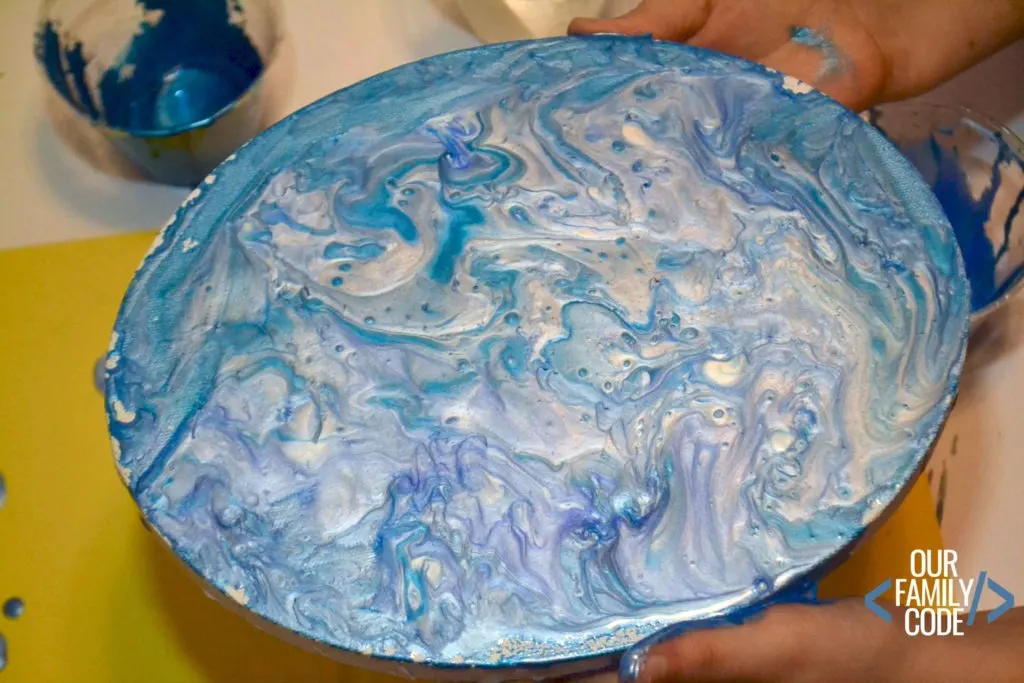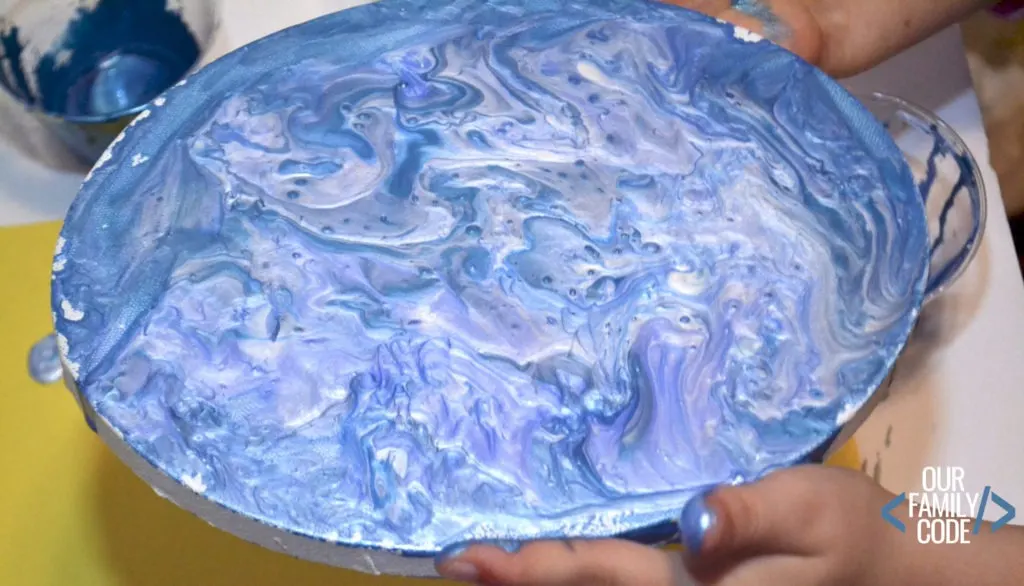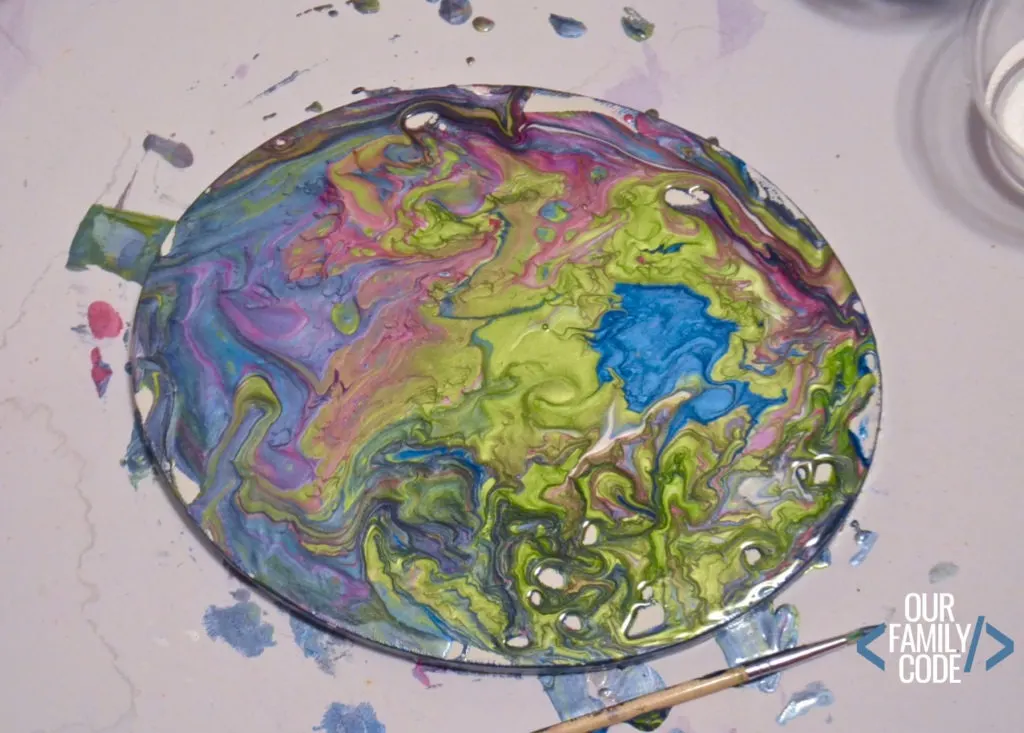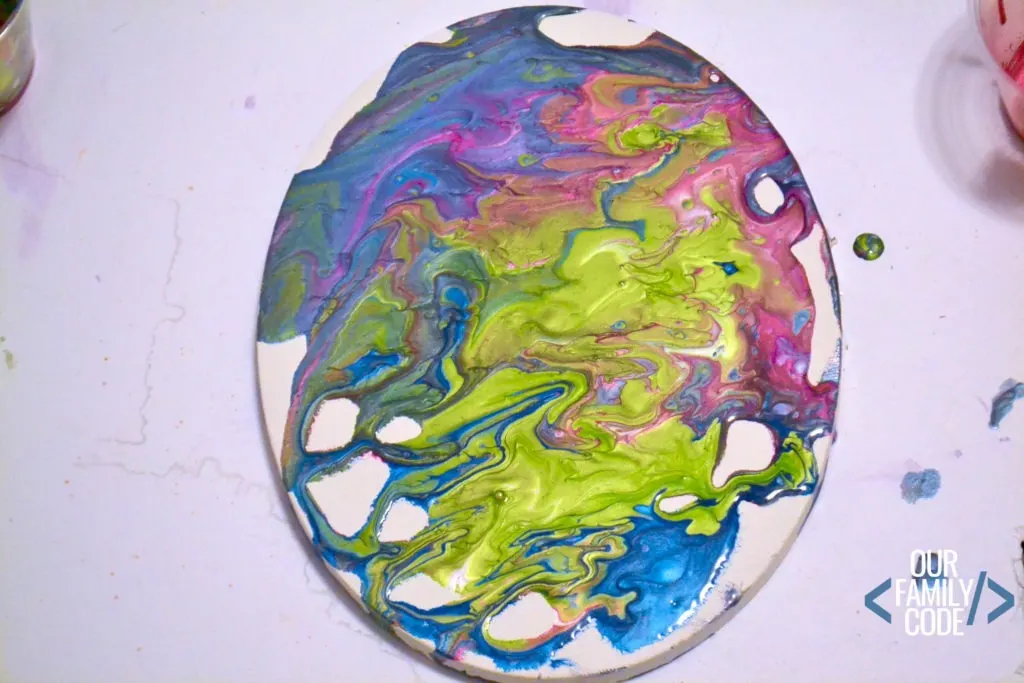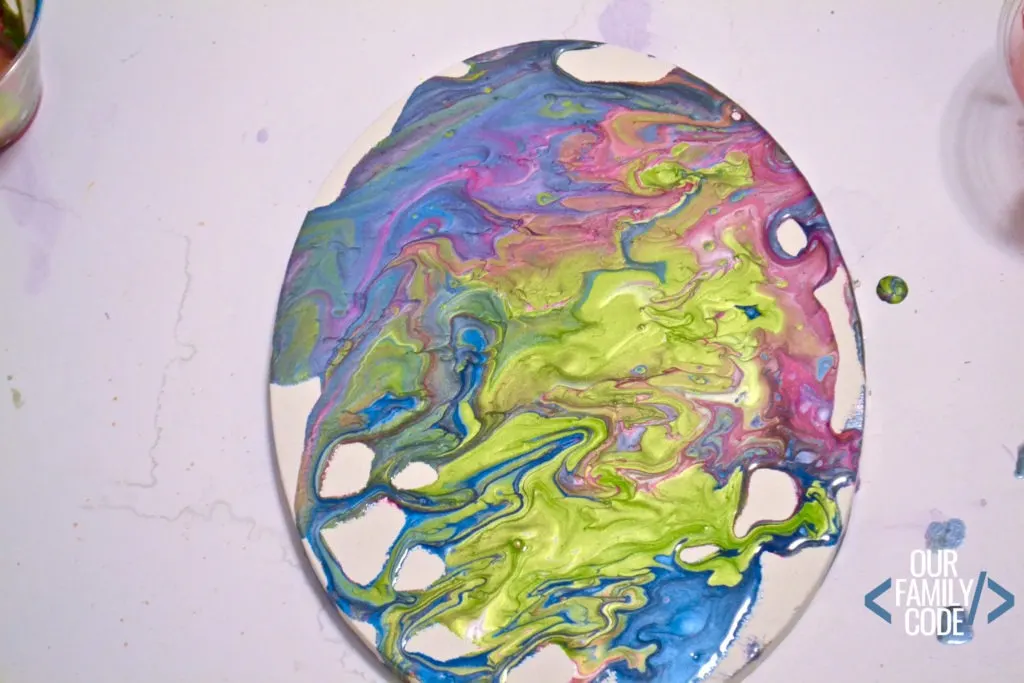 Dry Your Paint Pours Overnight
Let your art dry overnight. Explore the details in your artwork. Discuss gravity and how tilting the canvas manipulated the paint with the force of gravity to create these marbled patterns that you see.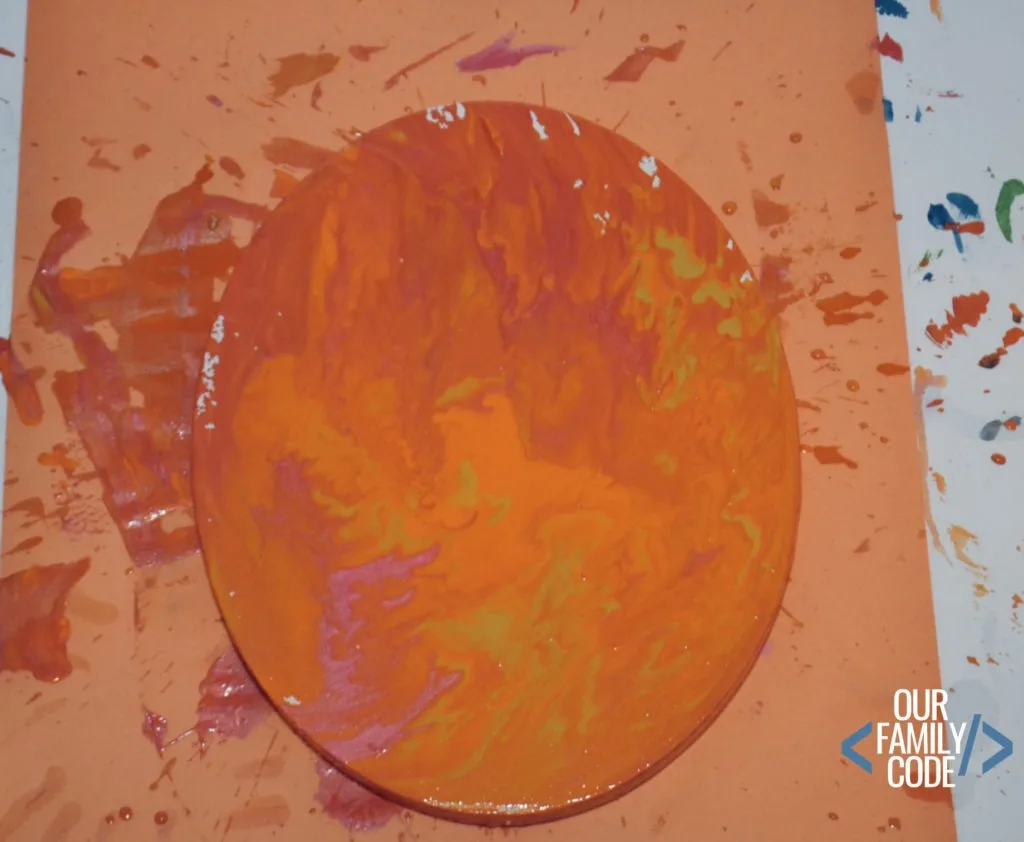 Want to connect this science and art activity with other STEAM buckets? Check out these extensions!
Science – Try to make art with a different method and explore concepts like velocity with straw art!
Technology – Code your paint pour method by writing a pattern for the order of colors in your cup.
Engineering – Put your mind to the test and come up with a solution to keep the paint on the canvas for as long as possible. What can you make to stop the paint from running off the edge? You can also use tools like a squeegee to make art? How does this method differ from gravity art?
Art – Display your artwork in your house!
Math – Measure out the same amount of each color. Try to make puddles of poured colors on your painting. Count the number of pours you can do before the paint begins to run into the other puddles.
Some Books to Read with Your Activity
We love incorporating books into our activities. Here are some great books about art and science to read with your activity!
Similar STEAM Activities

31 Days of Low-Prep STEAM Activities for Kids
This activity is part of our 31 Days of Low-Prep STEAM Activities for Kids. Every activity will primarily focus on each of the buckets of STEAM (Science, Technology, Engineering, Art, & Math) although these integrated projects fit in more than one bucket.
You and your kiddos are going to love all of the activities that we have in store! Visit the 31 Days of Low-Prep STEAM Activity hub and pin it, so you can come back and visit it daily!
PIN THIS IMAGE TO SHARE THIS LOW-PREP STEAM ACTIVITY!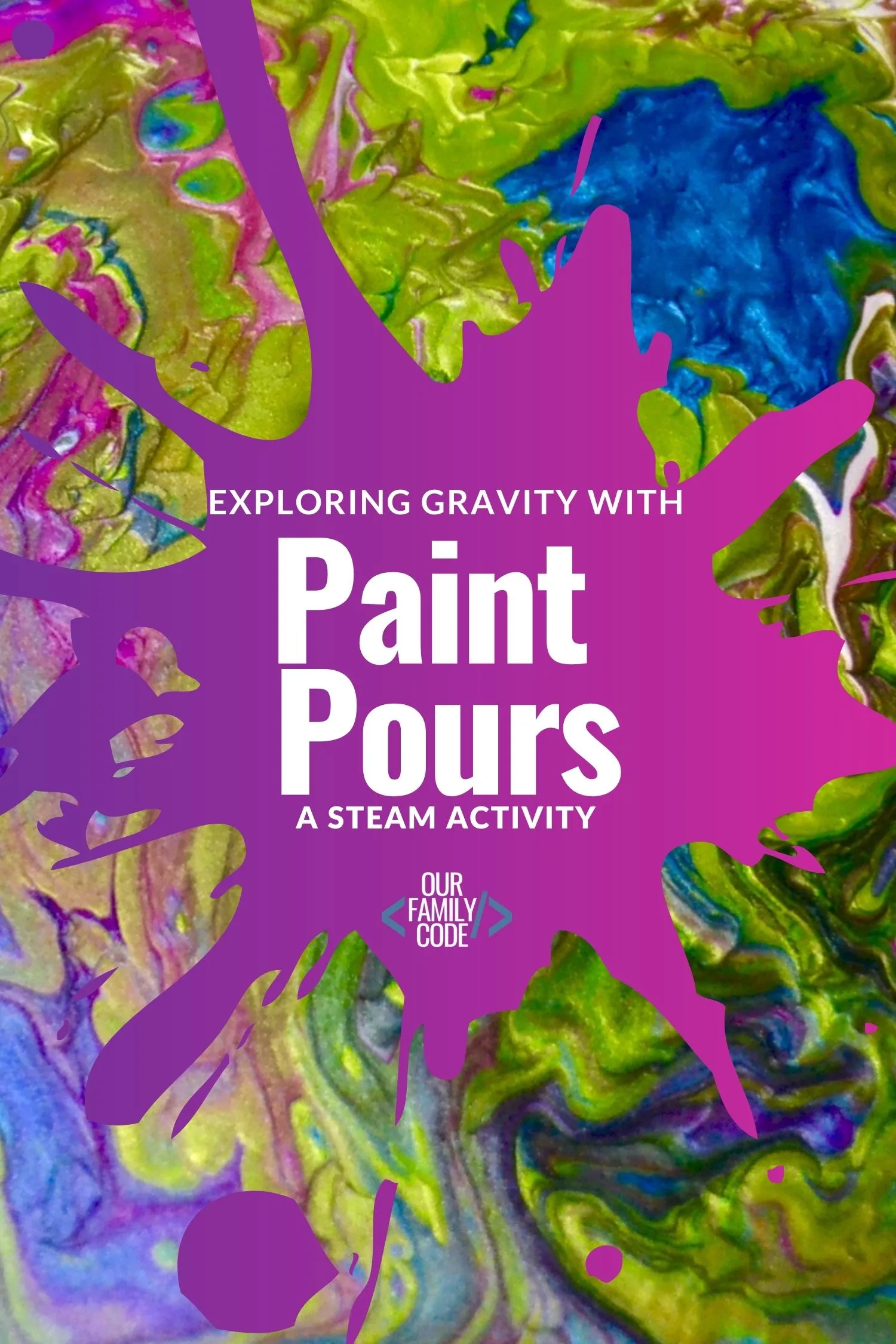 Meet Toni, the Maker Mom behind Our Family Code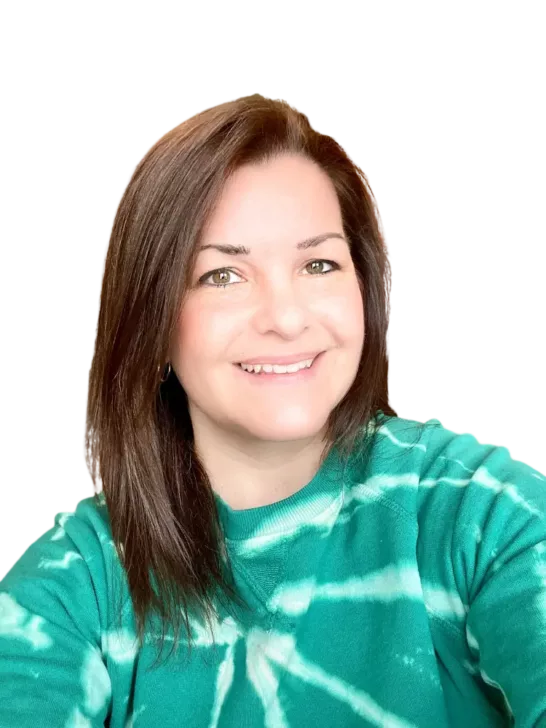 Hey there, I'm Toni! I'm a software engineer and Maker Mom that finds my joy in unleashing my children's curiosity by exploring STEAM concepts with my fantastic five!
When I'm not chasing toddlers or raising tweens, you can find me tearing things up and putting them back together over here at Our Family Code.
I am the owner and content creator of multiple educational websites designed to increase access to STEAM & STEM education with a focus on teaching computer science and coding to kids of all ages!
You can also find out more about me by visiting ToniGardner.com!