This Spring Bucket List for families is a great way to make sure you get outside together this Spring and enjoy the season!
We love bucket lists at our house because we have so many kids running around and bucket lists help us to think of something fun to do without having to take too many votes!
We live in Wisconsin, so Spring is a bit of a celebration here when we finally stop getting snow on the ground! We love to celebrate the season by getting outdoors and planting a garden to watch nature comes back alive.
Celebrating May Day
One of our favorite Spring family traditions is buying small flowers and delivering them to family members on May 1st to celebrate May Day!
May Day is a holiday with a rich history. May Day marks the halfway point to Summer and has its roots based on agriculture. In ancient times, springtime celebrations began with song and dance when the fields began to sprout.
Some fun May Day traditions include dancing around a May Pole and delivering May Day baskets to friends and family!
This post contains affiliate links. As an Amazon Associate, Our Family Code earns from qualifying purchases. Please see our Disclosure Policy for more details.
Spring Bucket List for Families
This Spring bucket list includes so many fun activities for families! Check out all of the fun activities below! We've included links to some awesome Spring ideas!
Spring Cleaning
Go Fishing
Fly a Kite
Make a Fairy Garden
Visit the Zoo
Dance in the Rain
Sing
Plant Flowers
Toast Marshmallows
Have a Picnic
Celebrate May Day and deliver flowers to family members on May 1st!
Go to the Farmer's Market
Celebrate Earth Day with fun hands-on activities!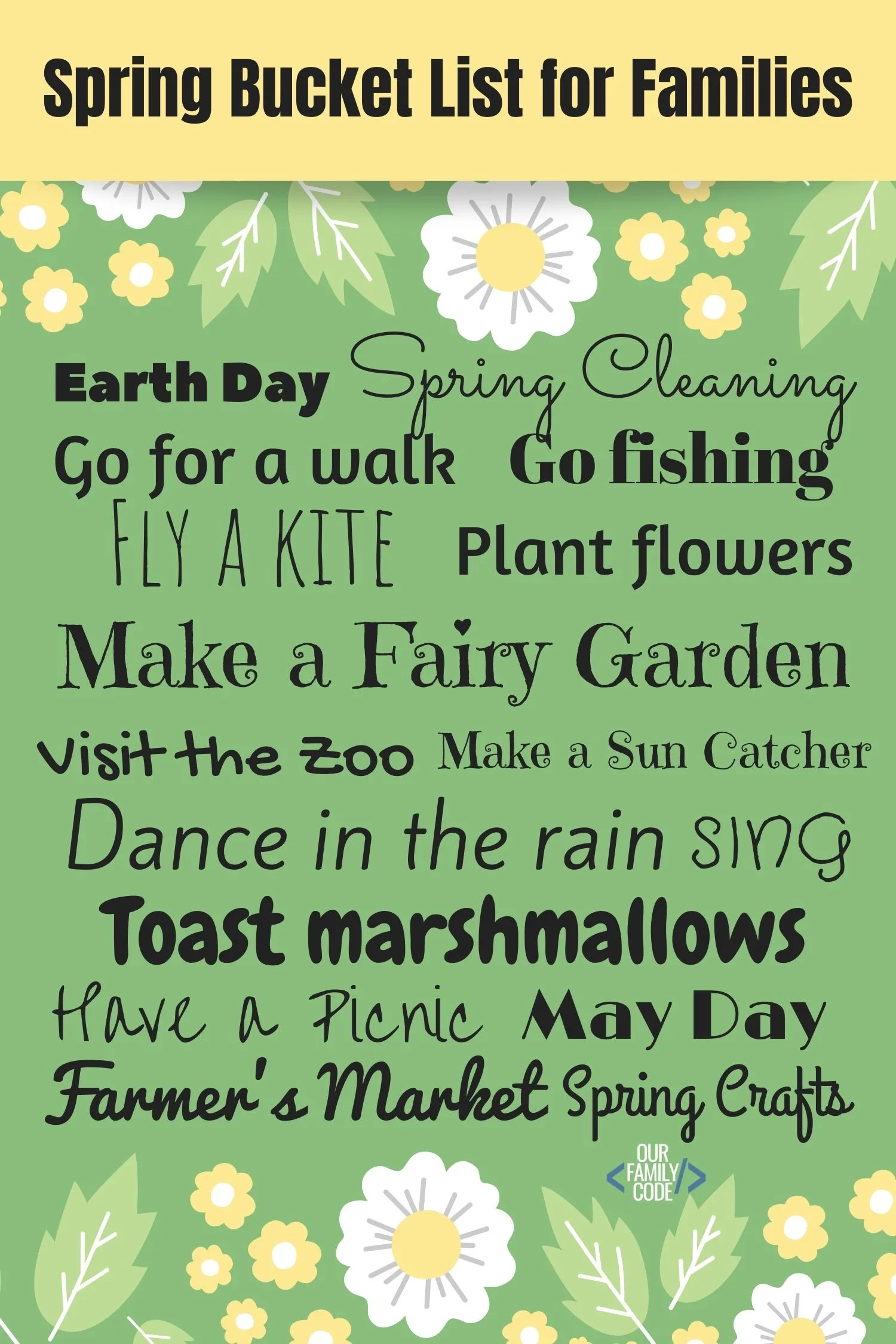 Fun Spring Holidays
There are quite a few fun holidays in Spring. Some of our favorites include: Pi Day, National Robotics Week, Earth Day and Easter.
Pi Day
March 14th is Pi Day! In honor of this international celebration of Pi, we've pulled together 14 great Pi Day activities perfect to celebrate with kids of all ages! Pi, or π, is the ratio of the circumference of a circle to the diameter.
National Robotics Week
National Robotics Week is celebrated the second week in April. Find the best coding robots for kids and get ready for this awesome tech week!
Earth Day
We love to celebrate Earth Day at our house! We've gone on virtual field trips to explore coral reefs, learned about monarch migration and made plastic bottle butterflies, and made recycled art sun catchers to celebrate!
We have even paired coding with learning how to sort our recyclables!
Easter
If you celebrate Easter, there are so many fun hands-on learning activities you can add into the holiday! Over the years, we have explored hexadecimals with Easter Eggs, Easter Bunny Egg Hunt Coding for Kids, and Easter Ten Frames Jelly Bean Math Activity!
Check back for more free printable activities! We are looking forward to a fun-filled Spring and we hope this list comes in handy for your family fun!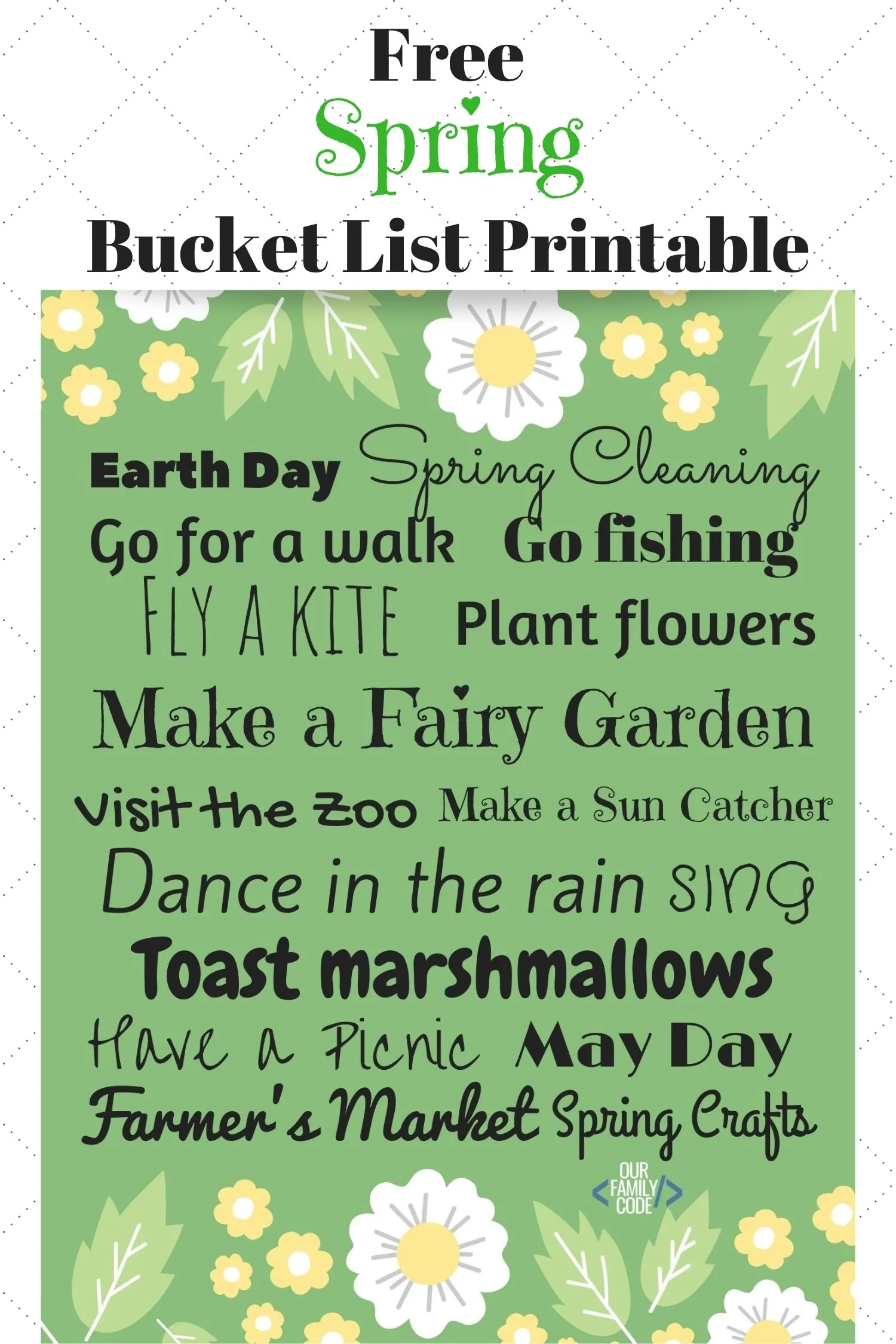 More Family Bucket Lists and Printables
Find more Family bucket lists and fun family printables to enjoy every season!
Meet Toni, the Maker Mom behind Our Family Code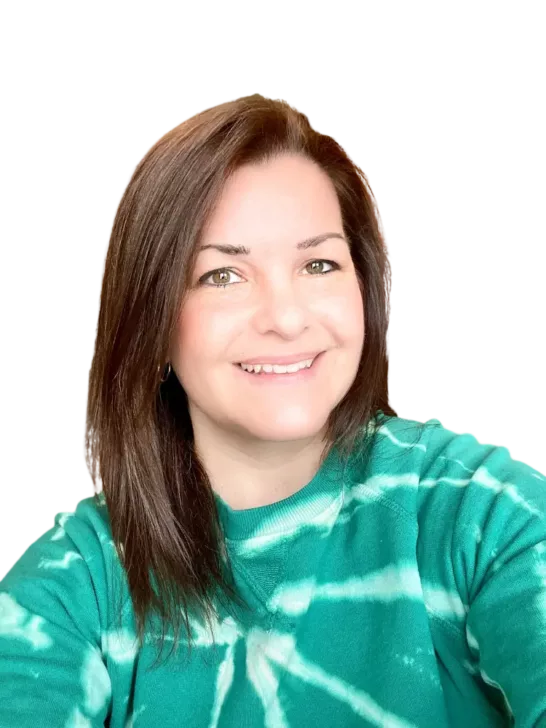 Hey there, I'm Toni! I'm a software engineer and Maker Mom that finds my joy in unleashing my children's curiosity by exploring STEAM concepts with my fantastic five!
When I'm not chasing toddlers or raising tweens, you can find me tearing things up and putting them back together over here at Our Family Code.
I am the owner and content creator of multiple educational websites designed to increase access to STEAM & STEM education with a focus on teaching computer science and coding to kids of all ages!
You can also find out more about me by visiting ToniGardner.com!