First Month Blogging Goals huh? I'm all about goal planning. How else can you achieve more if you don't make a goal?
Did you know that less than 10% of bloggers make any money at all and almost 90% of bloggers quit blogging within 6 months?? Now is the time to remember that I mentioned how doggedly determined I am to succeed at things in another post or at least that's what I had to remind myself of when I read that statistics! Yikes!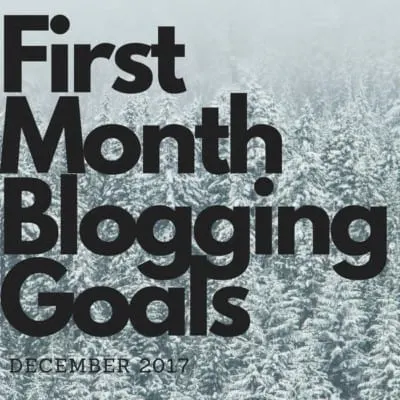 First Month Blogging Social Goals
Get this thing up and running smoothly! Website, social media, the works!
Go to some link parties and spread the word that we are here!
Respond to all comments and get to know you all!
Follow the editorial plan that includes some awesome Christmas and Holiday fun!
Join some Facebook Groups and Pinterest boards
First Month Blogging Business Goals
Track what works and what doesn't and share progress and resources I've found to help others with their blogs!
Monetize this bad boy through ad networks and affiliates!
Join Amazon's Affiliate program
Promote products that we already use by visiting the product's page and seeing if we can sign up to be an "affiliate" or "partner".
Track traffic and income!
Sign up for Mailerlite.
My ultimate reason for starting this blog is because I miss my kids because I miss so much of their lives working outside of the home every day and I desperately want to be a part of it all again.
The goal is to be able to provide for my family off of this blog one day, which means replacing as much as I can of almost $90,000 in income and benefits that I bring in annually.
The realistic goal is to be able to bring home ¾ of that income within five years.
Join me on this crazy journey eh? It'll be fun to watch me crash and burn if nothing else, but it'll be more amazing if I crash and burn a few times and then I succeed and share tips for you how can do it too!