Find fall STEAM lessons by age with this printable STEAM schedule for homeschool, remote learning, or school fun!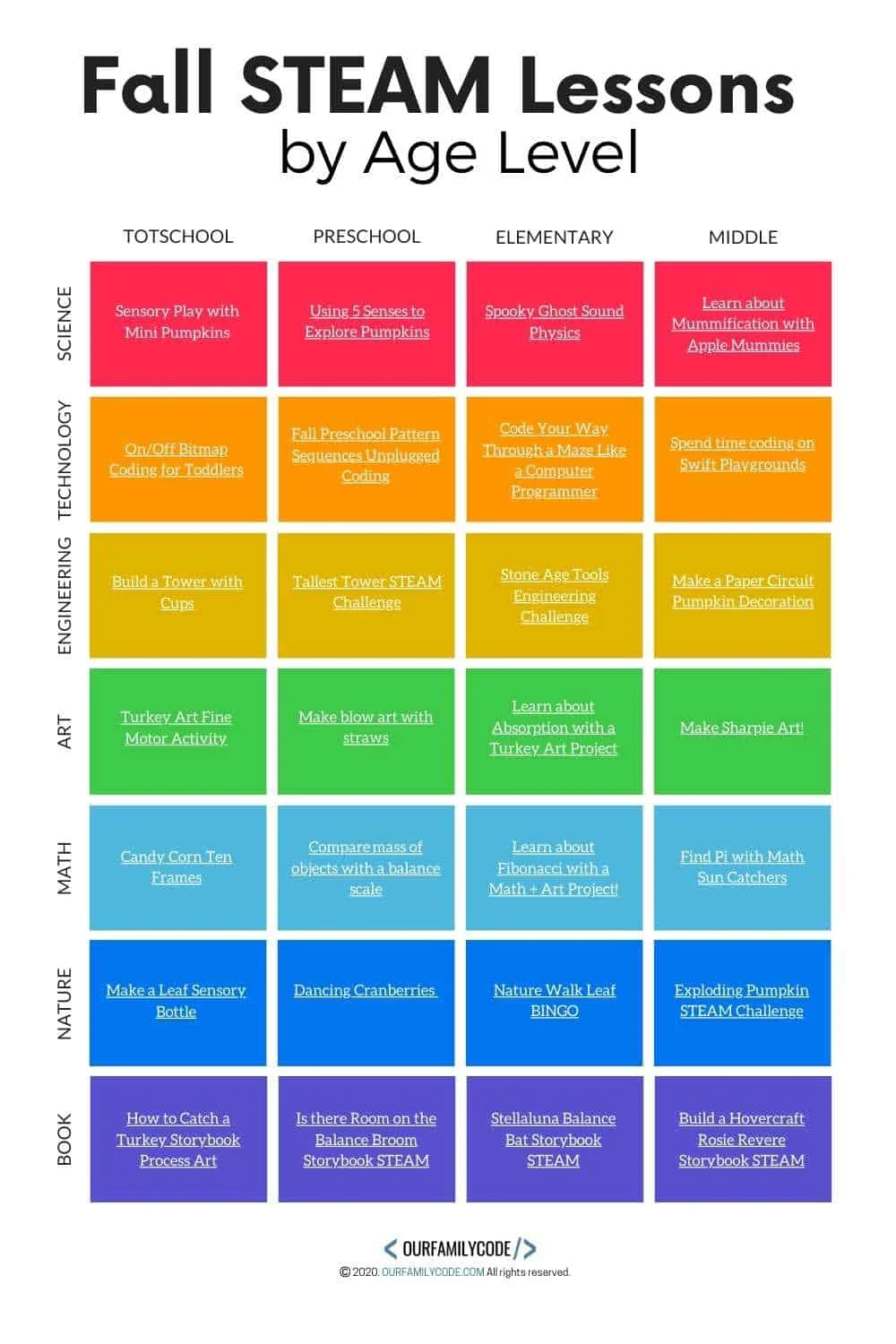 You can click on the links right in the printable to view the activities or you can find them below! Grab the free printable Fall STEAM lessons at the end of the page!
Fall STEAM Lessons for Toddlers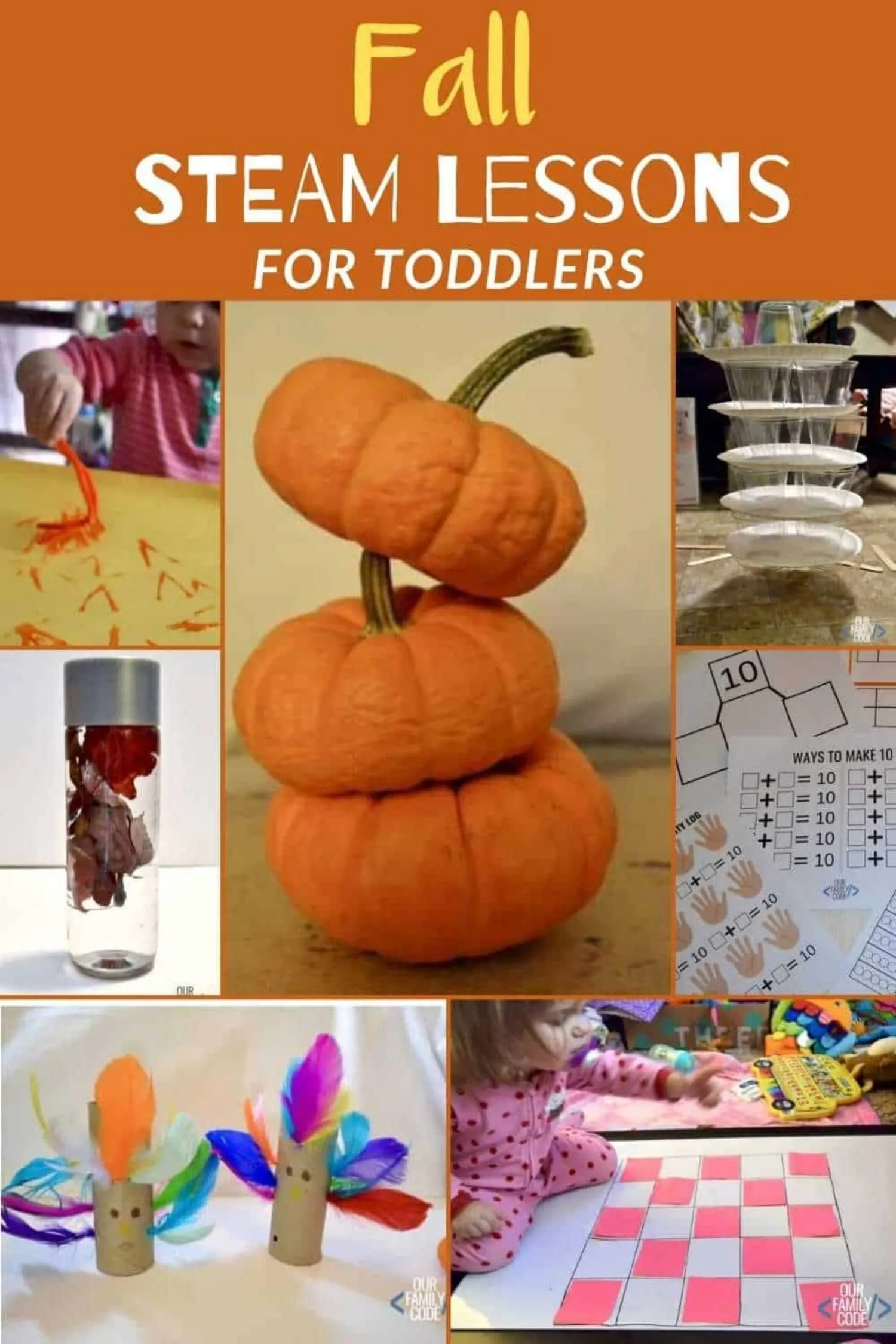 I like to buy a bunch of different mini pumpkins and gourds during the fall. We like them bumpy, smooth, oblong, and different colored. We also love to make pumpkin stacks to practice our center of mass balancing skills!
Introduce algorithms with this hands-on bitmap coding unplugged coding activity for kids!
Can you complete the tallest tower STEM challenge using only two materials? This STEM activity is great for kids of all ages!
This toddler turkey craft is not only super colorful and a unique craft for the season, it also helps strengthen fine motor skills and helps with color recognition!
With my older girls at school during the day, I've been trying to focus on a lot of activities for Thea (2yrs) during the day. She loves to tinker with everything, but she has a bit of an aversion to different textures.
Your Preschooler or Kindergartner can learn addition and subtraction concepts by composing and decomposing the number 10 with this candy corn math activity! Toddlers can get started with using ten frames.
These nature crafts and activities will have you going on nature walks all Fall season long! Check out our top 10 nature walk crafts and activities!
This storybook toddler turkey art activity is a great way to incorporate a fun book with art, work on fine motor skills, and learn about colors.
Fall STEAM Lessons for Preschoolers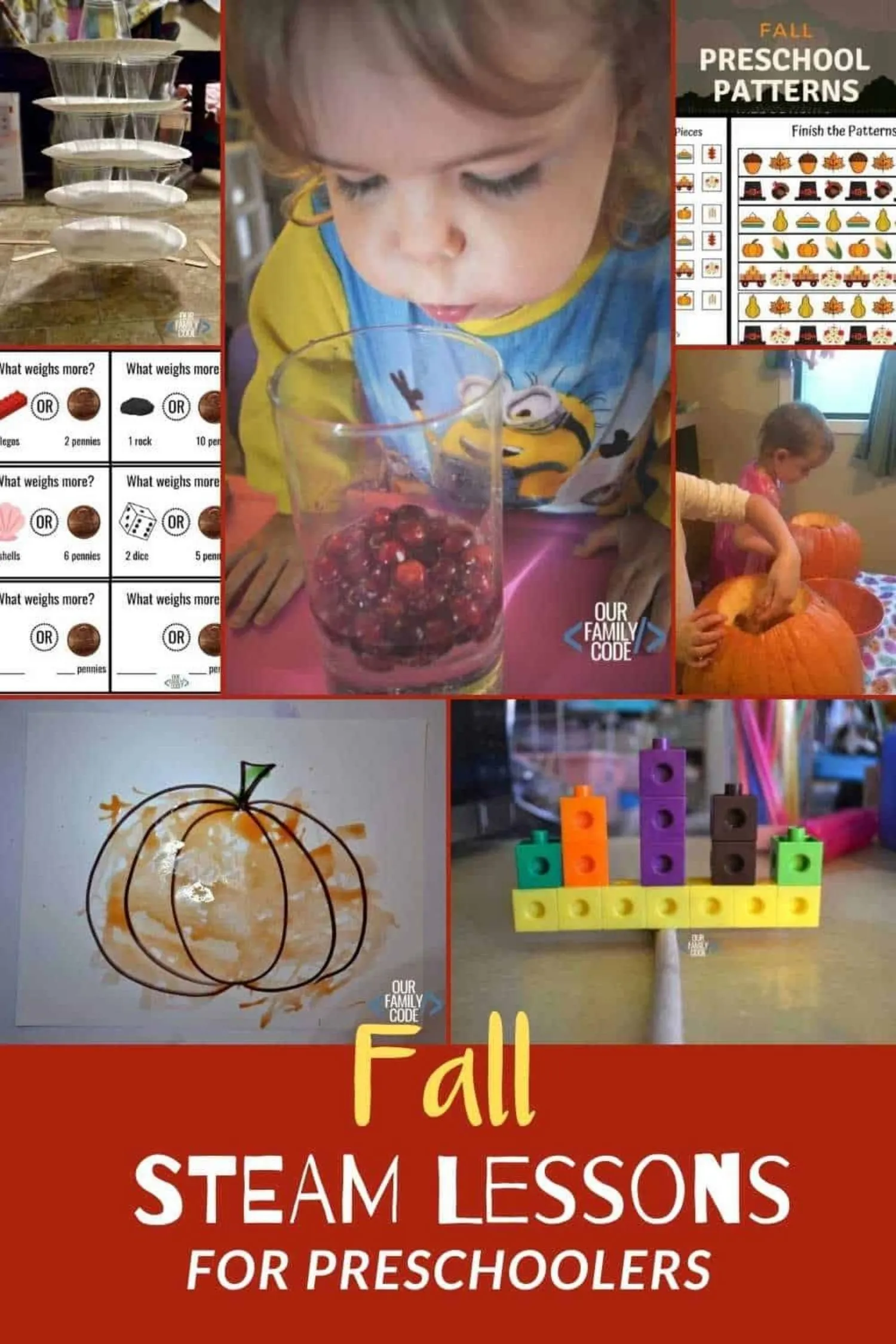 This 5 senses preschool pumpkin science activity introduces scientific inquiry to young learners and helps get everyone excited about Fall!
We are a family that codes and are all at different levels of learning and experience, which makes things fun!
With our three youngest kids, we try to do a ton of unplugged coding activities to get our kids thinking logically and having fun! We recently started teaching our toddler to code with apples and post-it notes!
Can you complete the tallest tower STEM challenge using only two materials? This STEM activity is great for kids of all ages!
Make straw art pictures to explore how velocity works by blowing paint with straws in this STEAM activity for kids!
Make your own balance scale to compare household items and measure them by mass with this preschool balance scale activity!
Experiment with dancing cranberries with this super simple preschool science activity while observing concepts like floating and sinking.
Explore the center of mass with this storybook STEAM Activity perfect for pairing with the fun Halloween book, Room on the Broom!
Fall Elementary STEAM Lessons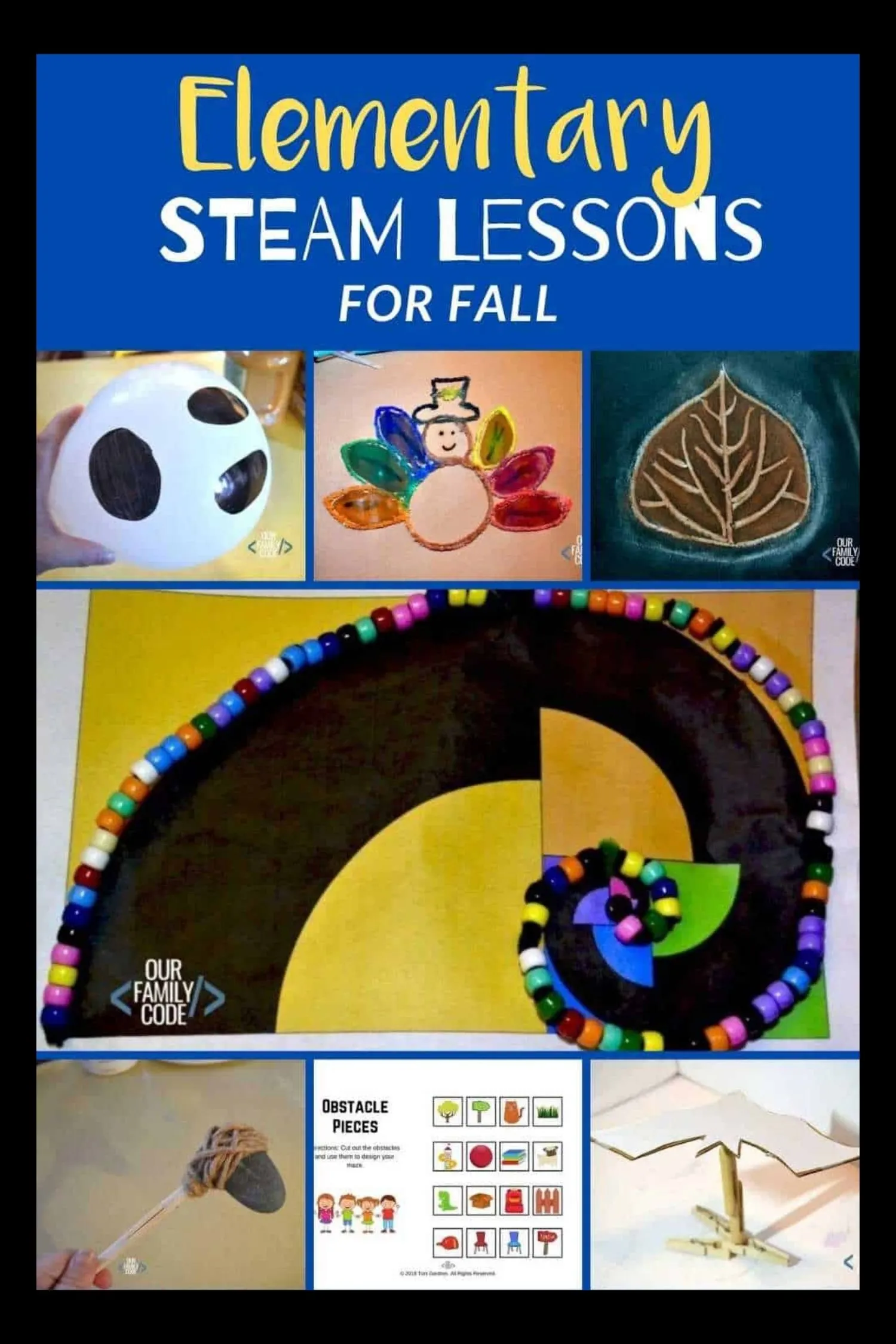 This Spooky Ghost Sounds STEM Halloween Activity is a fanastic way to incorporate a simple physics experiment with some Halloween fun!
This elementary coding activity is a great introduction to the basics of computer programming. It's great as a classroom coding resource or homeschool resource for kids in Kindergarten through 5th grade. Teach kids to code!
Learn about Stone Age tools, animals, and people by downloading this free Stone Age STEAM challenge cards activity!
Salt painting is such a fun activity to do with kids! It's a magical experience to watch color appear with the simple touch of a brush. We are getting prepped for turkey day next month, so we decided to add a little Thanksgiving art to our project with a turkey salt painting.
This activity worked great for all of my kiddos even my toddler with a little help from Mom of course!
This math and art activity presents this would-be complex mathematical concept in an easy to understand, tangible way with Fibonacci art!
It's Fall, which means it's the perfect time of year to go on some nature walks! We tend to collect too many things in our specimen bags while we are walking, so we always have a bunch of cool leaves, sticks, acorns, and more to explore!
After our walk, we decided to take our lovely leaves and make some leaf rubbings with a twist! We created leaf rubbings to learn about and capture the nature of leaves as well as explore how our chosen medium interacted with different papers.
I don't know about you, but my kids are always trying to balance things on their head, on each other, on a shelf, and everywhere else.
It was about time for them to learn the science behind balancing objects and read one of our favorite books, Stellaluna. Before this balancing bat activity, make sure to read Stellaluna by Janell Cannon.
Fall Middle School STEAM Lessons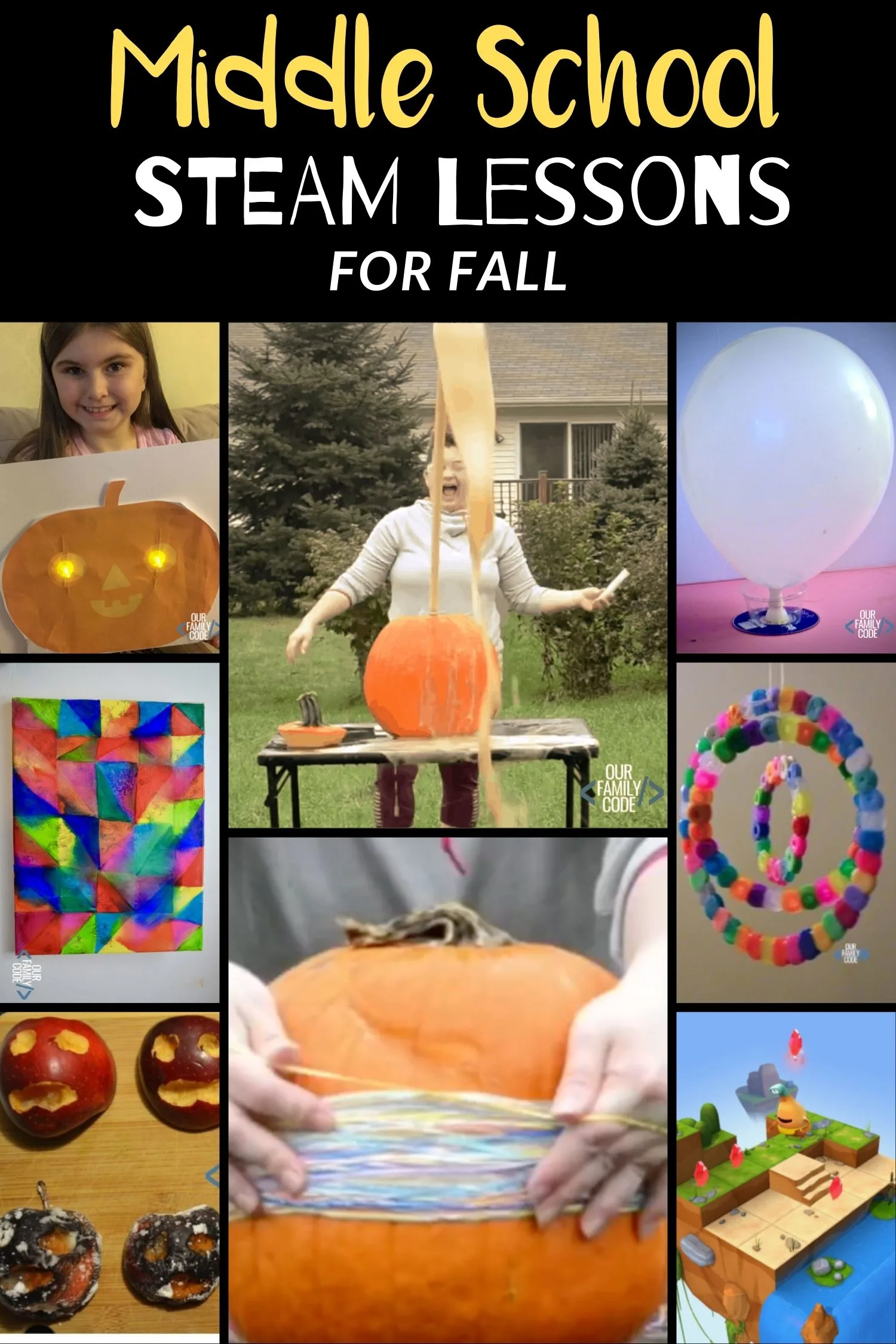 Learn about mummification by making apple mummies with the Ancient Egypt science experiment and explore the Magic Tree House Mummies in the Morning book!
Teach your kids coding with Swift Playgrounds, an educational app for iPad that makes learning to code fun and interactive.
This is a great STEAM activity to learn about simple circuits and parallel circuits and then apply that circuitry knowledge with some artistic flair to make pumpkin paper circuits!
We've explored solubility before when we solved the case with chromatography and our figured out the culprit behind the Case of the Red Lipstick, but we haven't worked with rubbing alcohol just yet!
This activity is really fun and super easy to set up and complete. It takes less than 10 minutes to complete after you have drawn your beginning image on your artwork. My girls already have plans in the works for more Sharpie art projects!
The goal of this activity is to explore the number Pi and prove that it is a mathematical constant by making math sun catchers out of perler beads for a fun math + art STEAM activity! This is a great activity for upper elementary and middle school kids.
Take on the exploding pumpkin STEAM challenge with 4 different ways to explode a pumpkin with chemical reactions and force! These activities are sure to inspire some fall STEAM fun!
Persevere like Rosie Revere and build a machine that floats. This easy CD balloon hovercraft activity is great for kids of all ages!
<<CLICK HERE TO DOWNLOAD THE FALL STEAM LESSON SCHEDULE>>>
SAVE THIS PRINTABLE FALL STEAM LESSON SCHEDULE!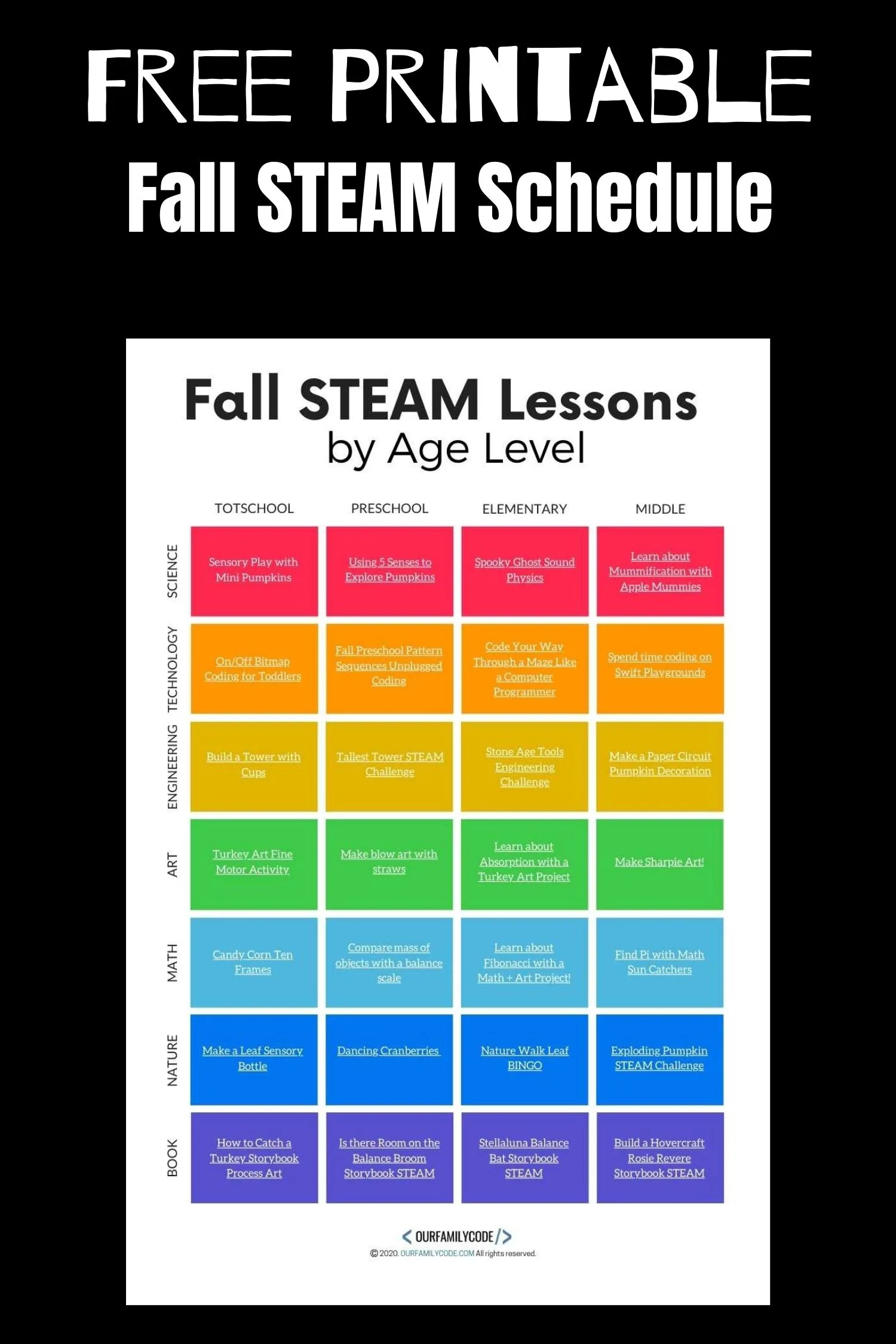 Meet Toni, the Maker Mom behind Our Family Code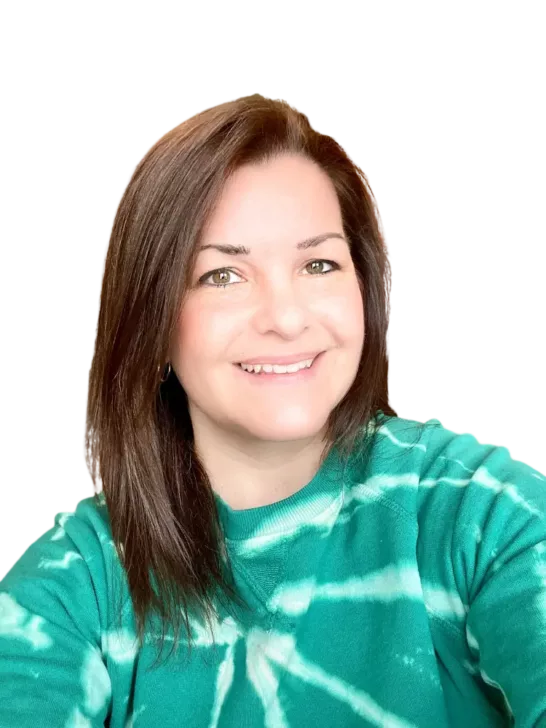 Hey there, I'm Toni! I'm a software engineer and Maker Mom that finds my joy in unleashing my children's curiosity by exploring STEAM concepts with my fantastic five!
When I'm not chasing toddlers or raising tweens, you can find me tearing things up and putting them back together over here at Our Family Code.
I am the owner and content creator of multiple educational websites designed to increase access to STEAM & STEM education with a focus on teaching computer science and coding to kids of all ages!
You can also find out more about me by visiting ToniGardner.com!