This Christmas STEAM activity adds a little science to tangrams to make Christmas tangram oil resist art this holiday season! Plus, you can grab some free Christmas tangram printable cards to use to make different Christmas images.
We love to mix math and art activities in order to make complex math concepts a little more tangible and also to explore different ways to make art, especially for preschoolers!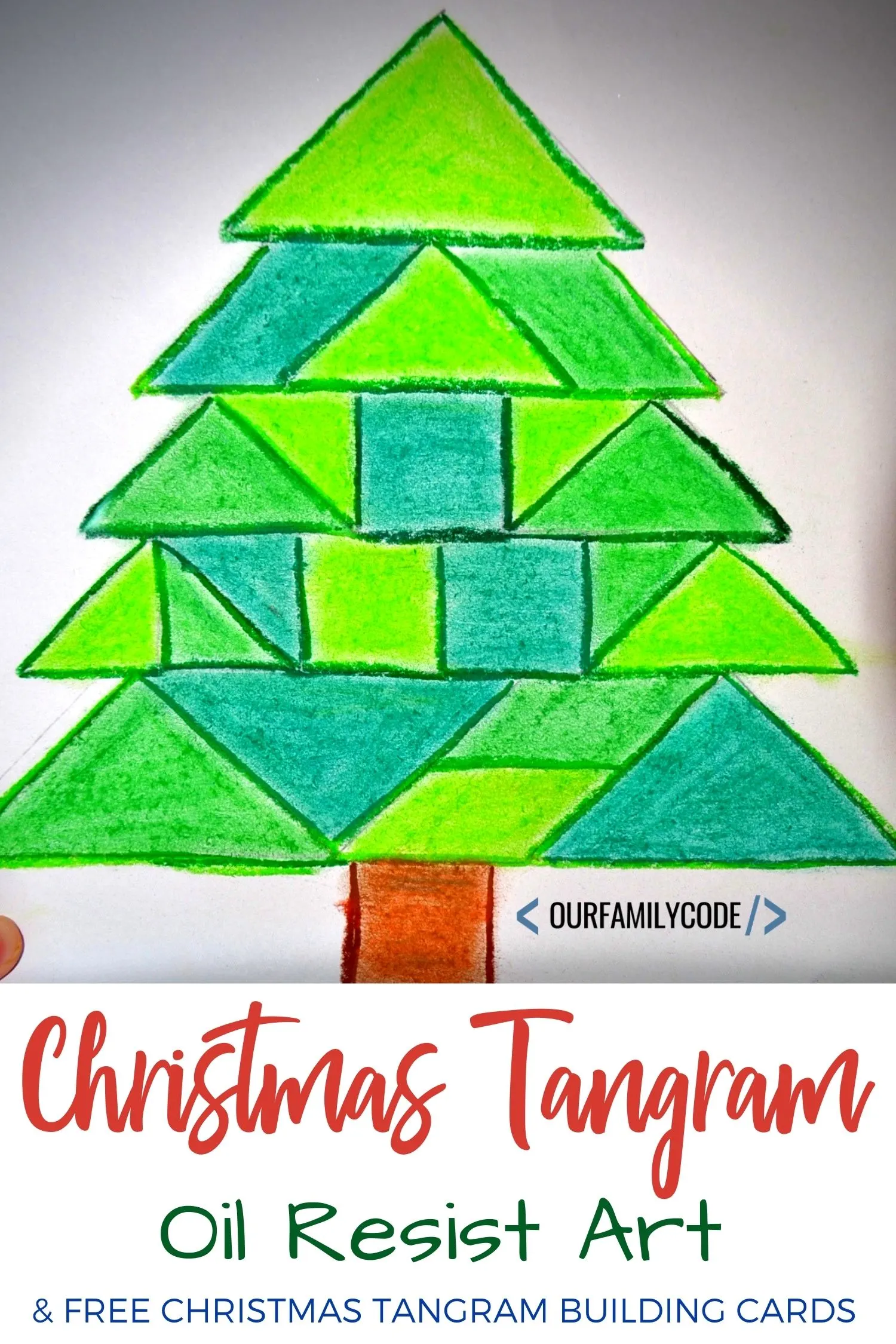 WHAT IS OIL RESIST ART?
Resist art is all the rage on Pinterest. Art that is made with two materials that repel or resist each other is called Resist Art. For our tangram oil resist art activity, we used a range of green oil and chalk pastels.
Our goal was to use tangram shapes to build a Christmas picture using oil and chalk pastels. We love making fun projects with crayons, like our recycled crayon sun catchers, for example.
MATERIALS YOU CAN USE TO MAKE RESIST ART
You can also make resist art with wax candles, tape, glue, rubber bands and more! We've also made beautiful crayon resist holiday cards using our free card templates and turned math into art with oil resist tessellation art that turned out pretty awesome!
Christmas Tangram Oil Resist Art Supplies
Pencil
Baby wipes (optional)
Christmas Tangram Printable Cards (you can grab your free printable cards at the end of this post)
RECOMMENDED: Communicate Like a Programmer with Christmas LEGO Designs
How to Make Christmas Tangram Oil Resist Art
Use one of the Christmas tangram cards to build your design. Trace each shape with a pencil as you build your picture. We chose to make Christmas tree tangram art.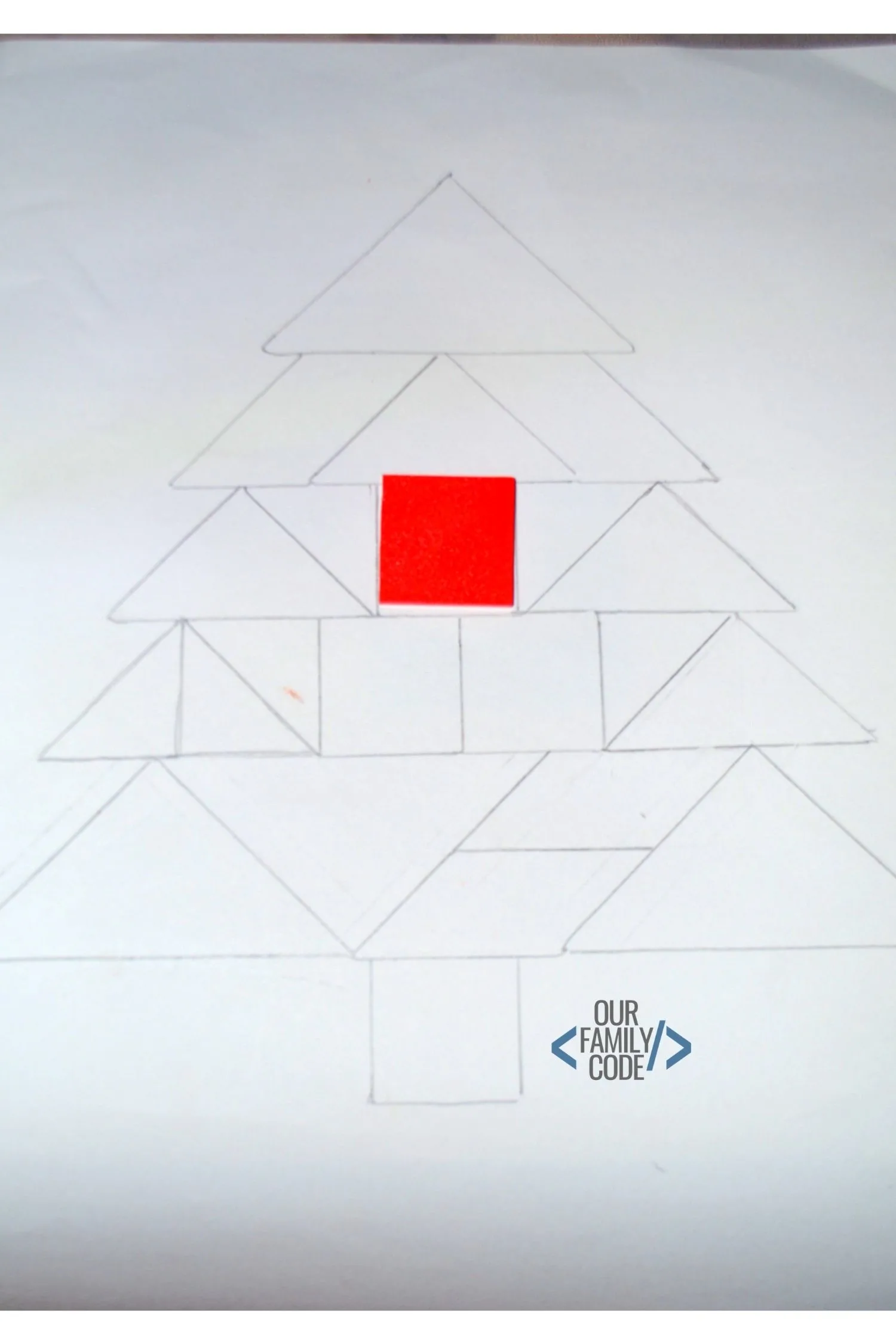 Trace over your pencil shapes with oil pastels. We chose to use different colored greens to trace each shape. Talk about the different shapes as you go!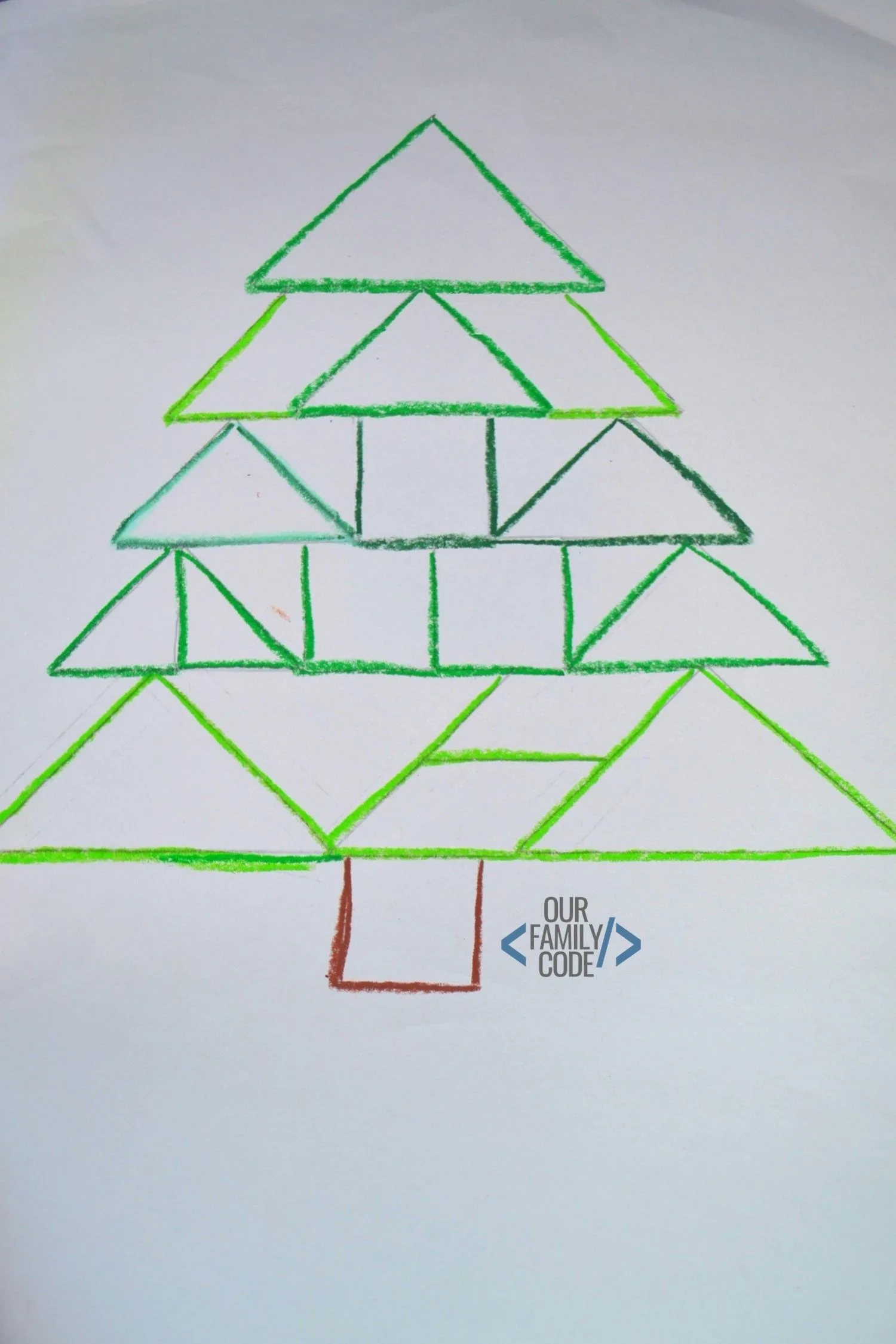 Use chalk pastels to color inside of the tangram shapes. Again, we used three different shades of green to color within our squares. Try not to hit the oil pastel as you go. It's okay to leave a little space for blending.
Blend your chalk by rubbing it with your fingers, so that it covers the entire area within the shape up to the oil pastel. We like to use a baby wipe to wipe our fingers between shades so that they don't blend together.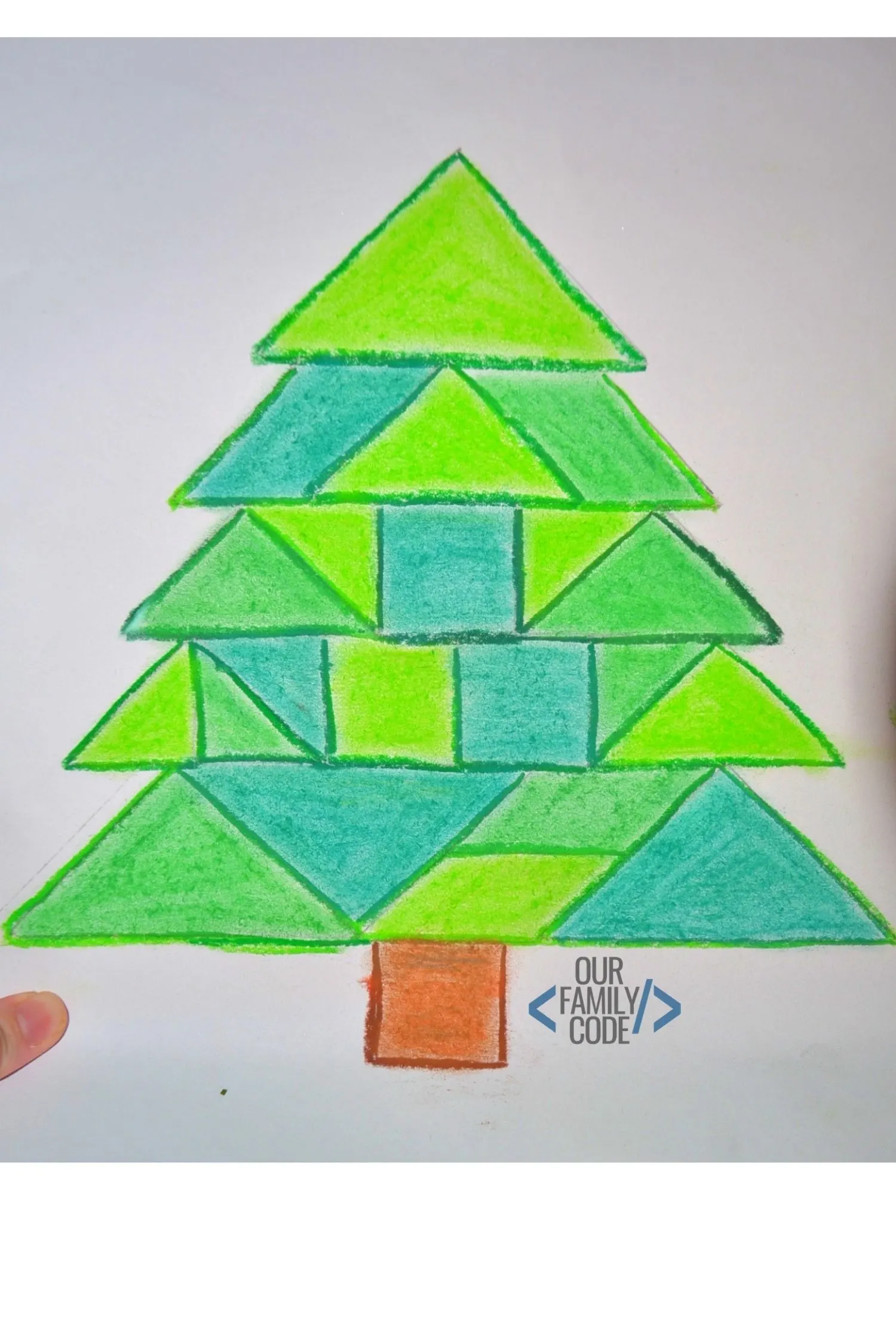 You can also color in a scene behind the tree if you'd like to! Hang up your art!
DON'T FORGET TO PIN THIS IMAGE TO SAVE THIS MATH & ART ACTIVITY FOR LATER!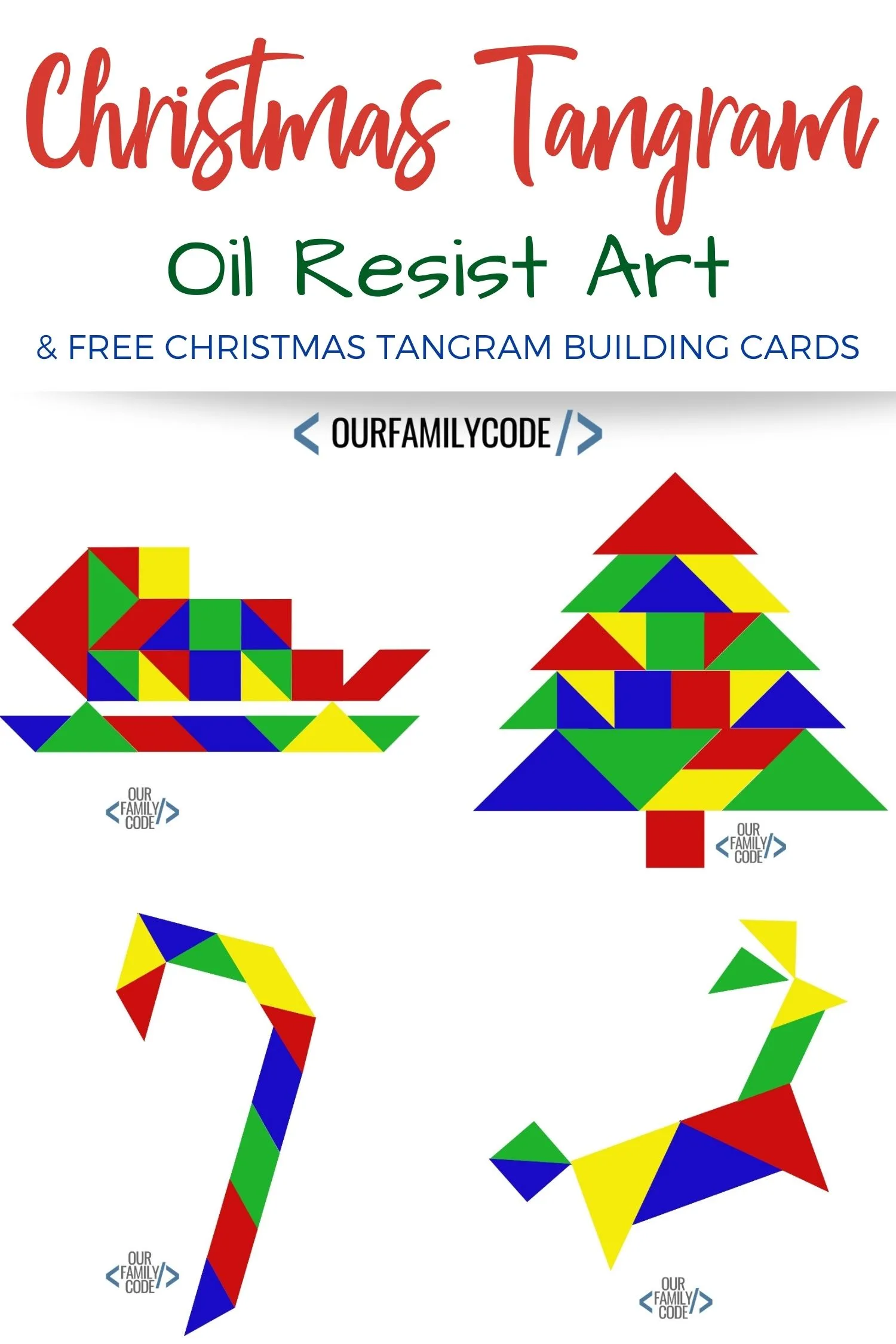 Christmas STEAM
Find some more Christmas STEAM activities for kids!
Meet Toni, the Maker Mom behind Our Family Code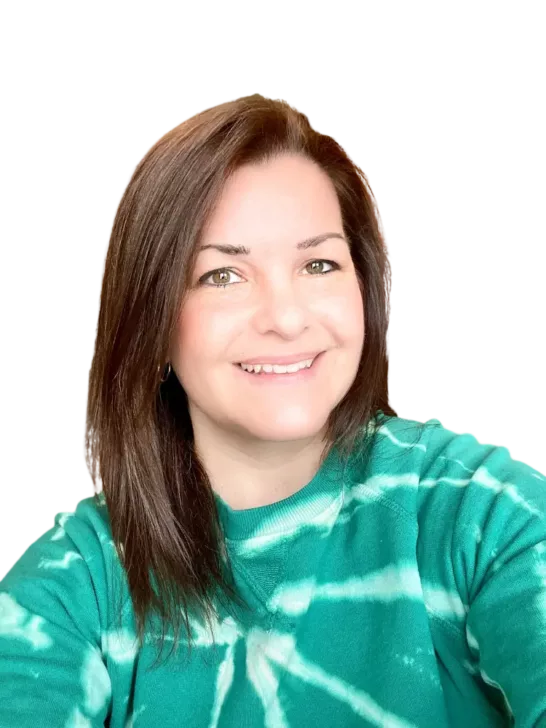 Hey there, I'm Toni! I'm a software engineer and Maker Mom that finds my joy in unleashing my children's curiosity by exploring STEAM concepts with my fantastic five!
When I'm not chasing toddlers or raising tweens, you can find me tearing things up and putting them back together over here at Our Family Code.
I am the owner and content creator of multiple educational websites designed to increase access to STEAM & STEM education with a focus on teaching computer science and coding to kids of all ages!
You can also find out more about me by visiting ToniGardner.com!