Go on a nature walk, gather some lovely leaves, and make some chalk resist leaf rubbings with this low-prep STEAM experiment!
It's Fall, which means it's the perfect time of year to go on some nature walks! We tend to collect too many things in our specimen bags while we are walking, so we always have a bunch of cool leaves, sticks, acorns, and more to explore!
Our objective was to learn about and capture the nature and beauty of our leaves while exploring how our chosen medium (chalk pastels) interacts with different papers such as construction paper, watercolor paper, wax paper, aluminum foil, and parchment paper.
This low-prep STEAM activity is great for young explorers. I did this experiment with my toddler and my Kindergartner.
Both girls did a great job, but it was a little difficult for my toddler to do the leaf rubbing. She colored with chalk pastels on each paper surface to see how well (or not so well) they worked.
This post contains affiliate links. As an Amazon Associate, Our Family Code earns from qualifying purchases. Please see our Disclosure Policy for more details.
Why STEAM Activities?
STEAM is the abbreviation for Science, Technology, Engineering, Art, and Math.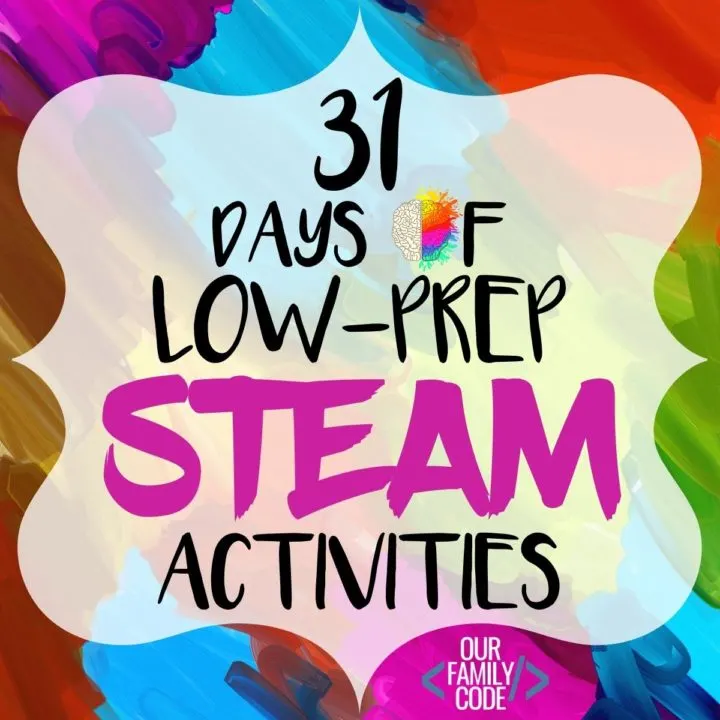 STEAM, like STEM, is an integrated approach to learning that encourages learners to make connections between the concepts they are learning and how they apply them to real-world problems.
STEAM helps students ask questions, problem solve, think creatively, and produce innovative solutions. Many schools have adopted STEAM learning activities into their curriculum, but it's never too early to start building critical thinking skills.
We love to learn through play at our house and have a blast doing activities for toddlers all the way to tweens!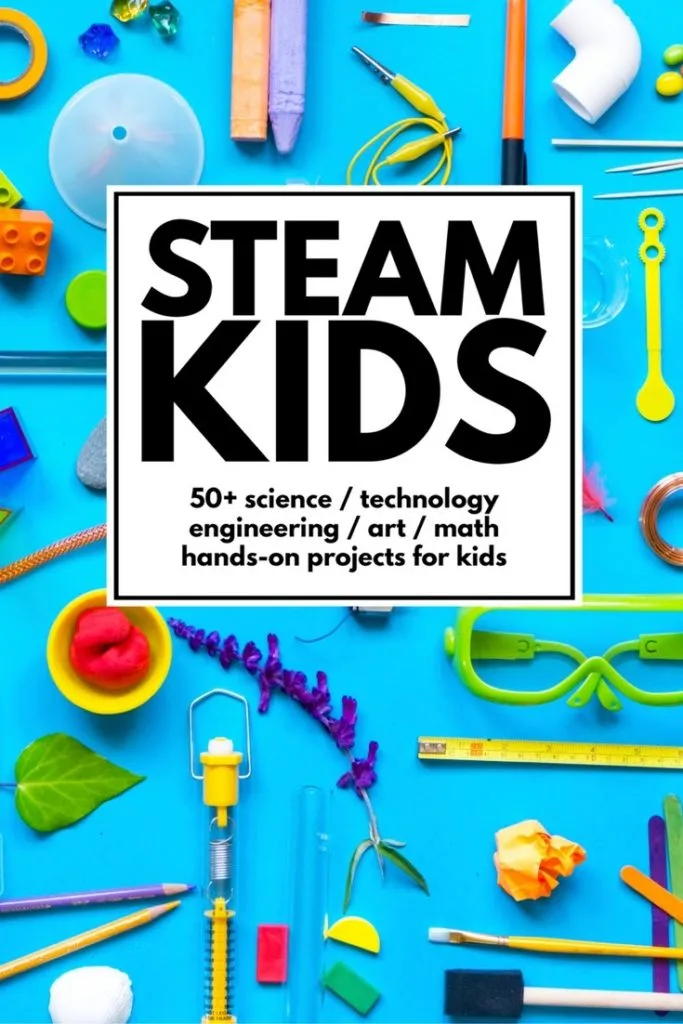 Key Leaf Rubbing Activity Terms
Veins – Veins carry food and water in a leaf.
Blade – the flat part of the leaf
Apex – the tip of the leaf
Midrib – the thick central vein of the blade that runs to the apex of the leaf
Petiole – the part of the leaf that connects the leaf to a stem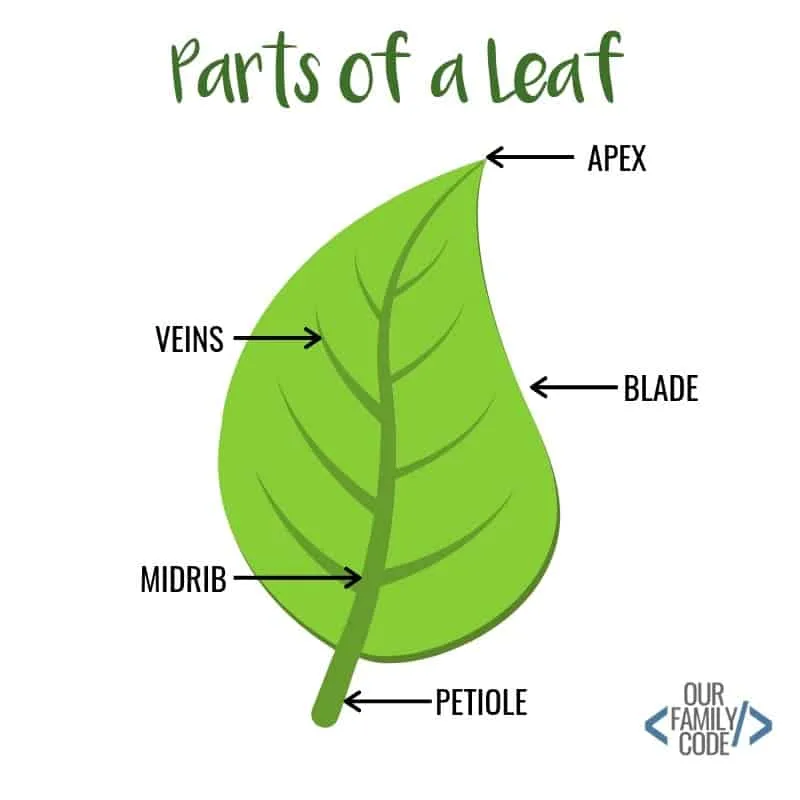 Chalk Pastel Leaf Rubbing Activity Supplies
Leaf Science + Art STEAM Experiment
Learn About Different Types of Leaves
Before you can create leaf rubbings, you need to gather some leaves. Go on a nature walk and identify some leaves to bring home for your artwork.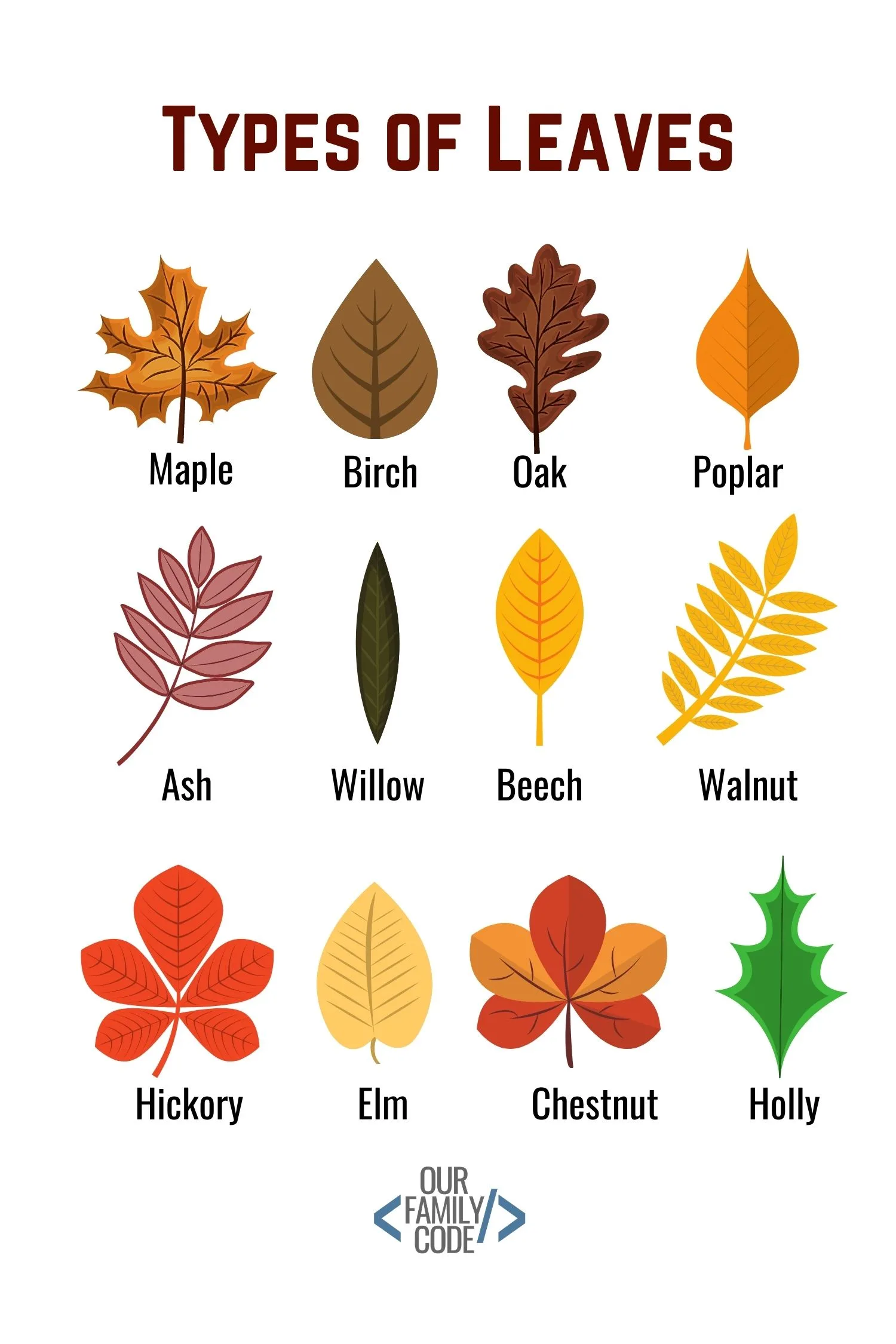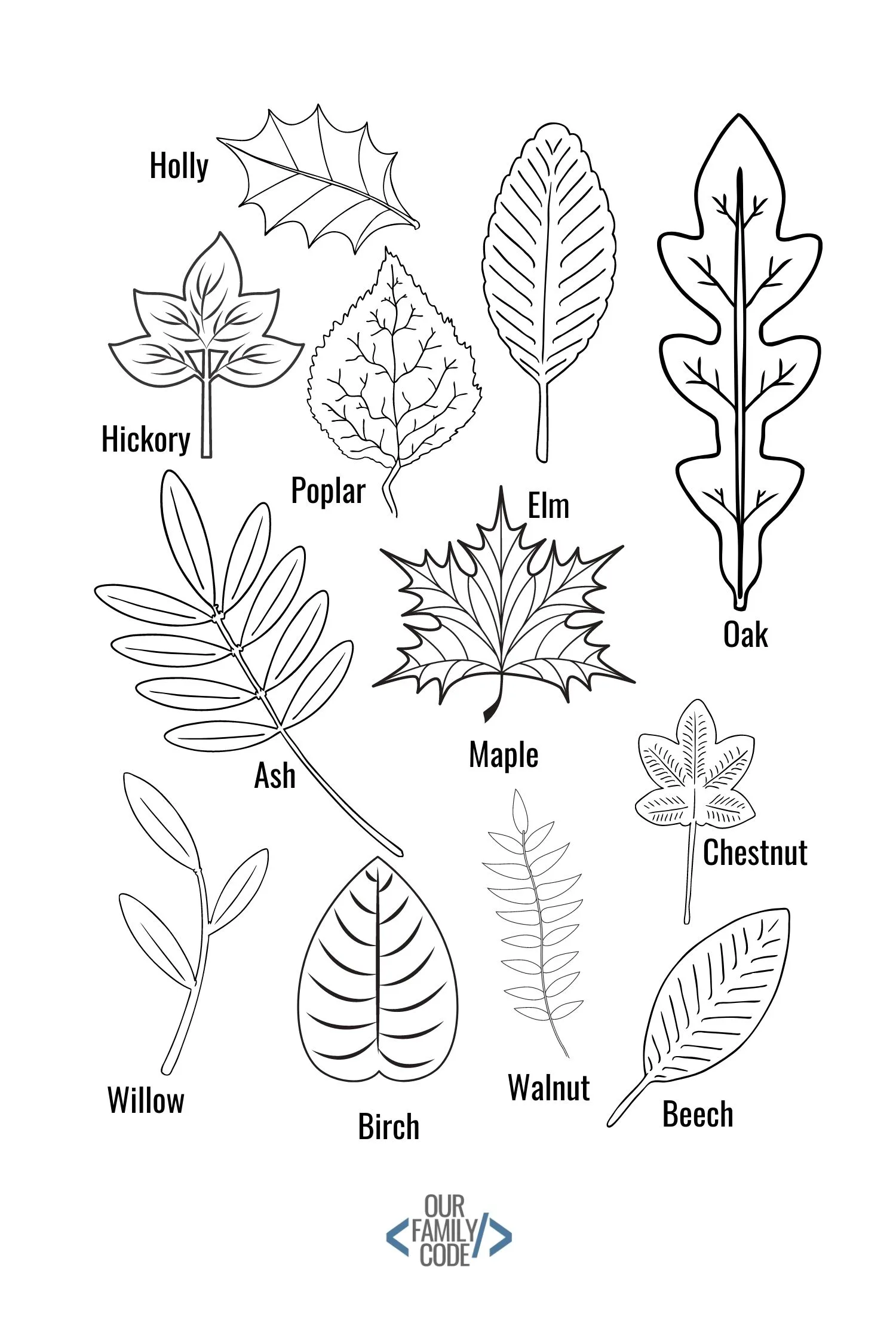 You can use this leaf reference sheet and coloring page to discuss different trees and their leaves while on your nature walk.
Explore your leaves when you get home. We gathered a ton of leaves on our walk and took time to sort them by shape, size, and color.
With my older kiddo, we discussed the names of the trees and she helped teach her younger sisters about each leaf. Grab our LEAF Sorting Workbook to help classify your leaves by color and size.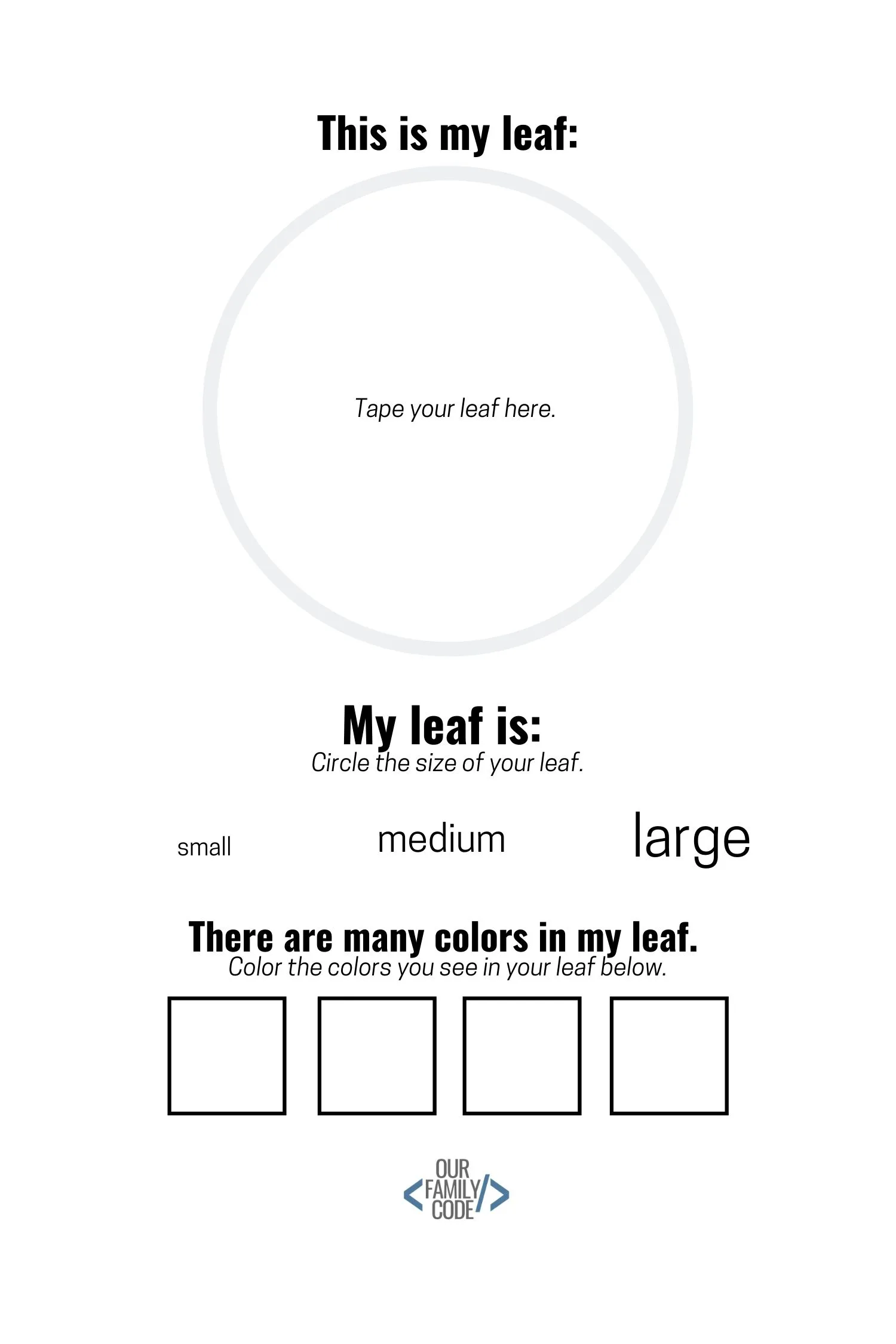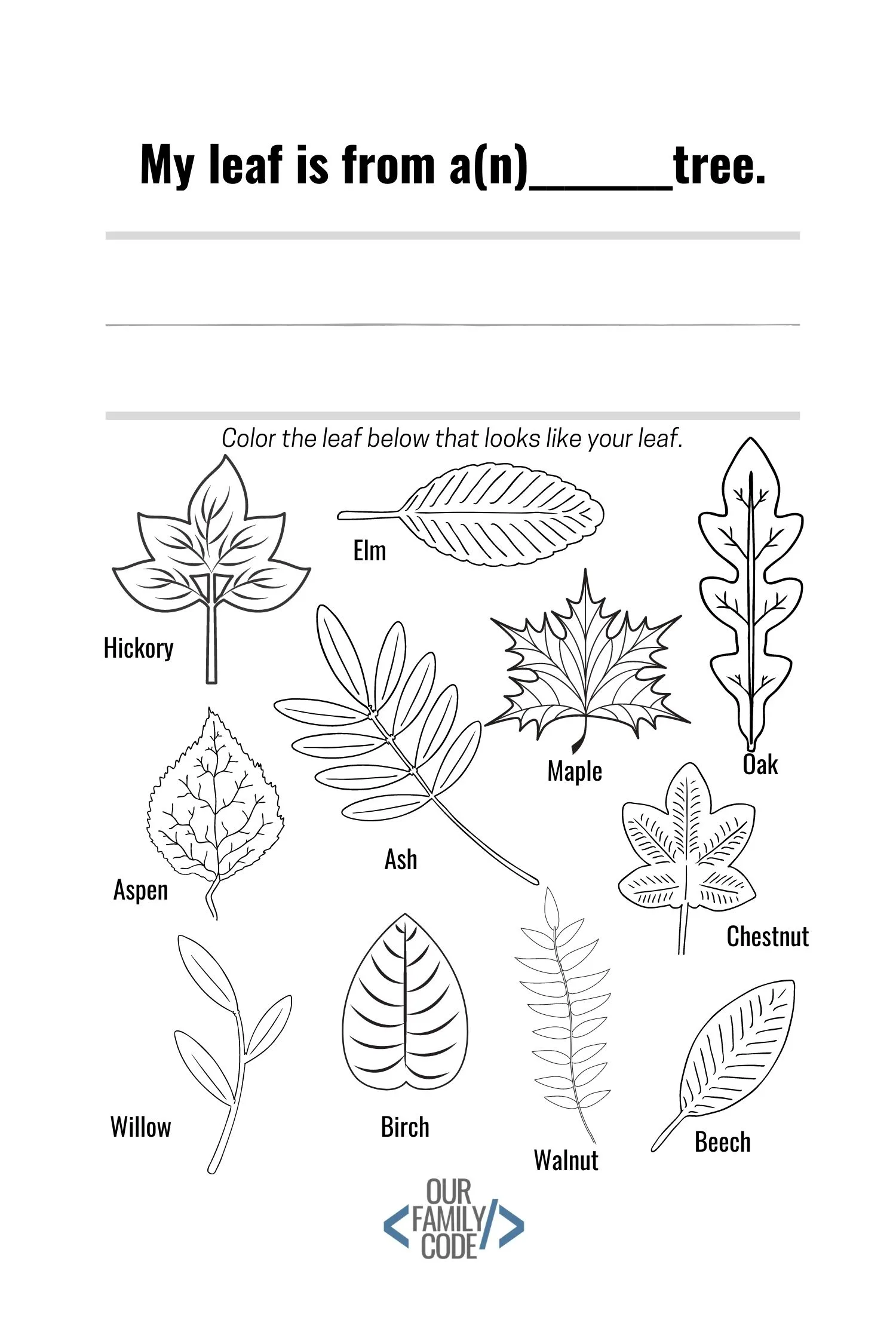 <<CLICK HERE TO DOWNLOAD THE LEAF SORTING WORKBOOK>>
Leaf Rubbings on Construction Paper
Our first leaf rubbings were made using chalk pastels and construction paper. We used both black and white construction paper and had pretty cool results!
It was harder to capture the veins of our leaves through the thickness of the construction paper. We used oil pastels to line our orange leaf on black construction paper and blended white chalk around the leaf. It turned out pretty neat!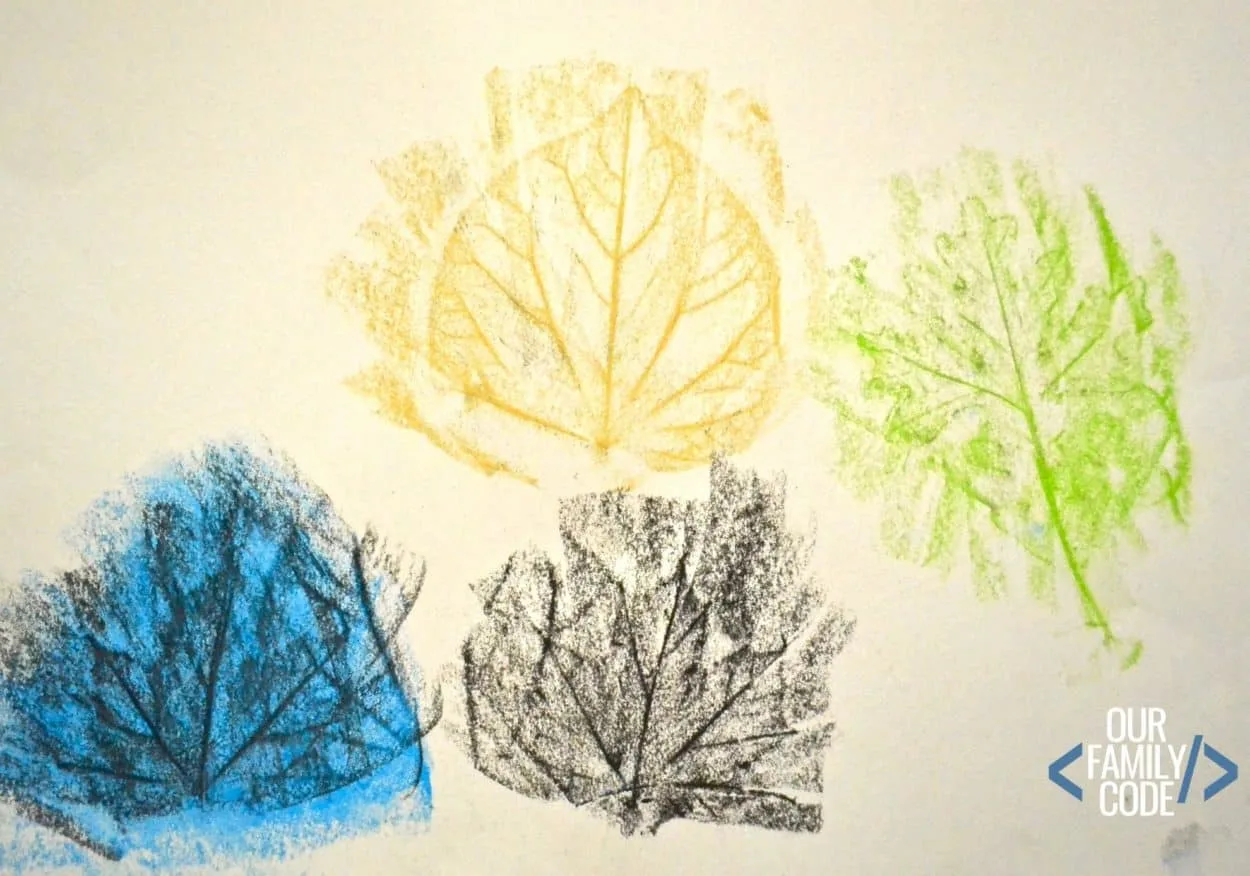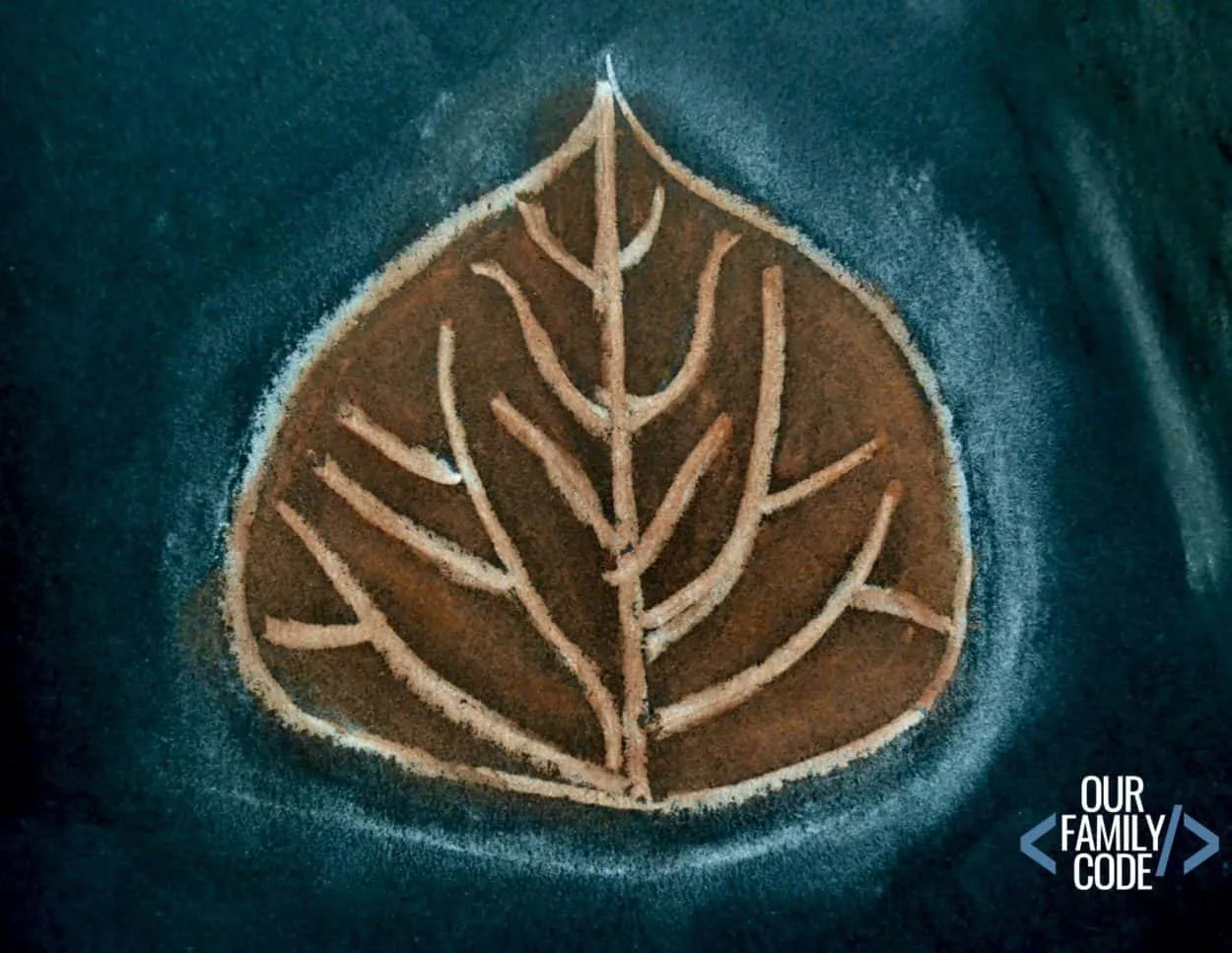 Leaf Rubbings on Watercolor Paper
We tried watercolor paper and chalk pastels and had decent results, but my Kindergartner found it difficult to rub without pushing down hard on the leaf.
We observed the detail in our leaf rubbings and were able to catch a lot of veins on our maple leaves through the watercolor paper.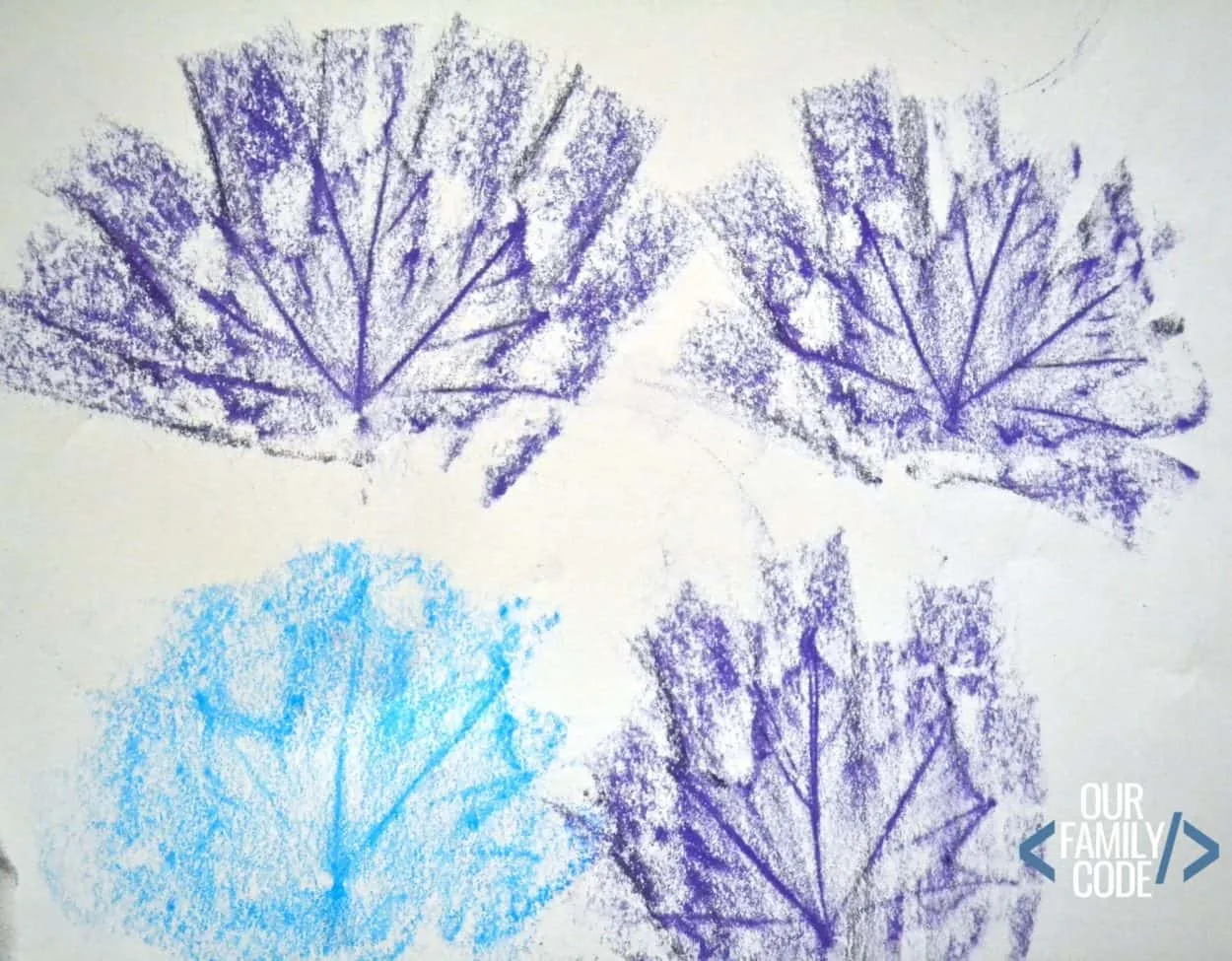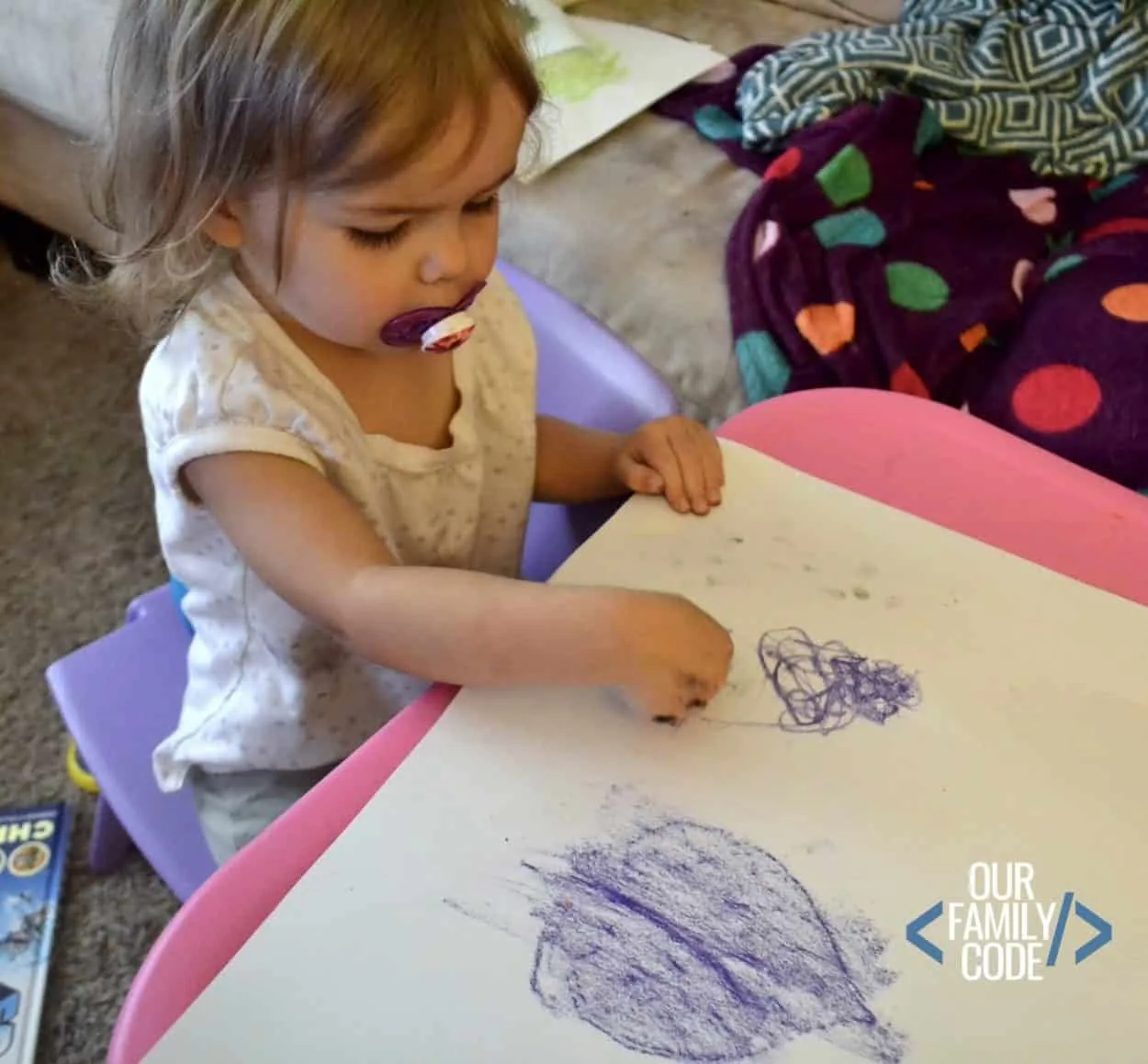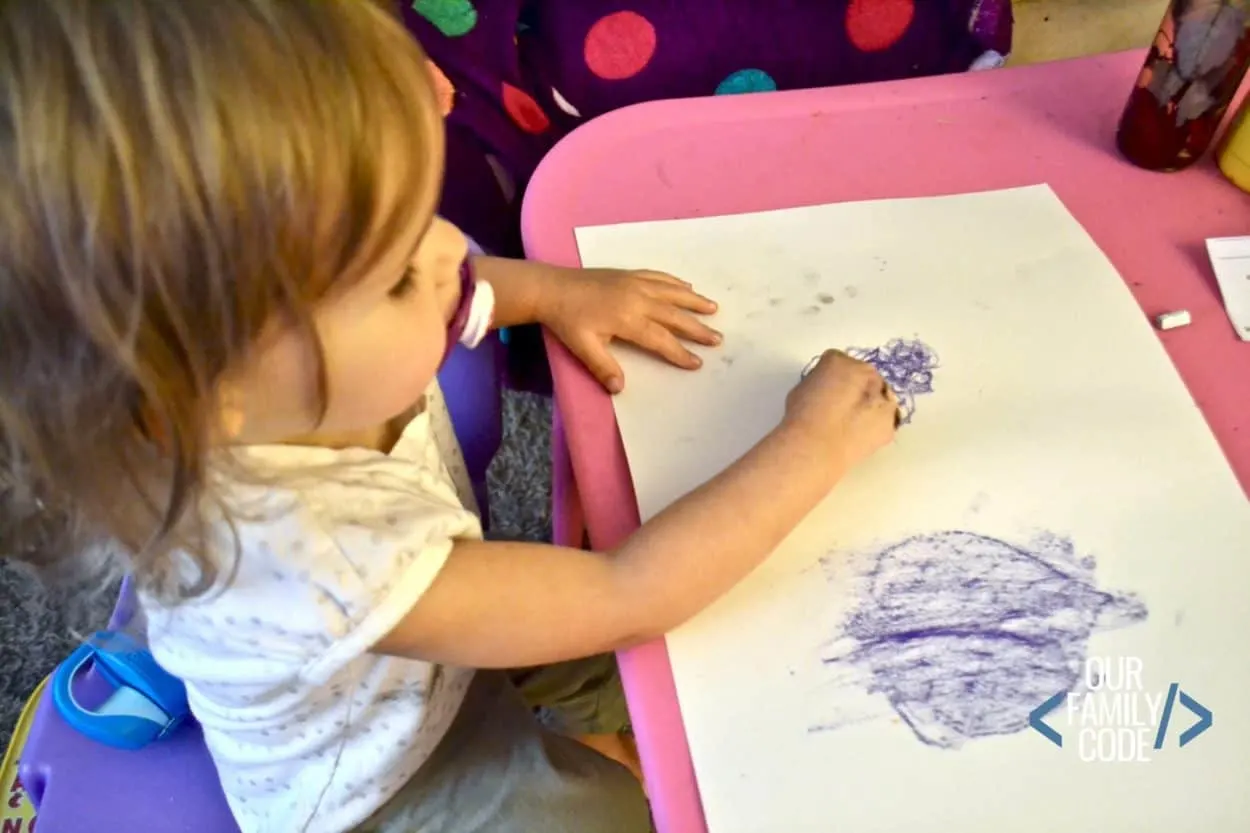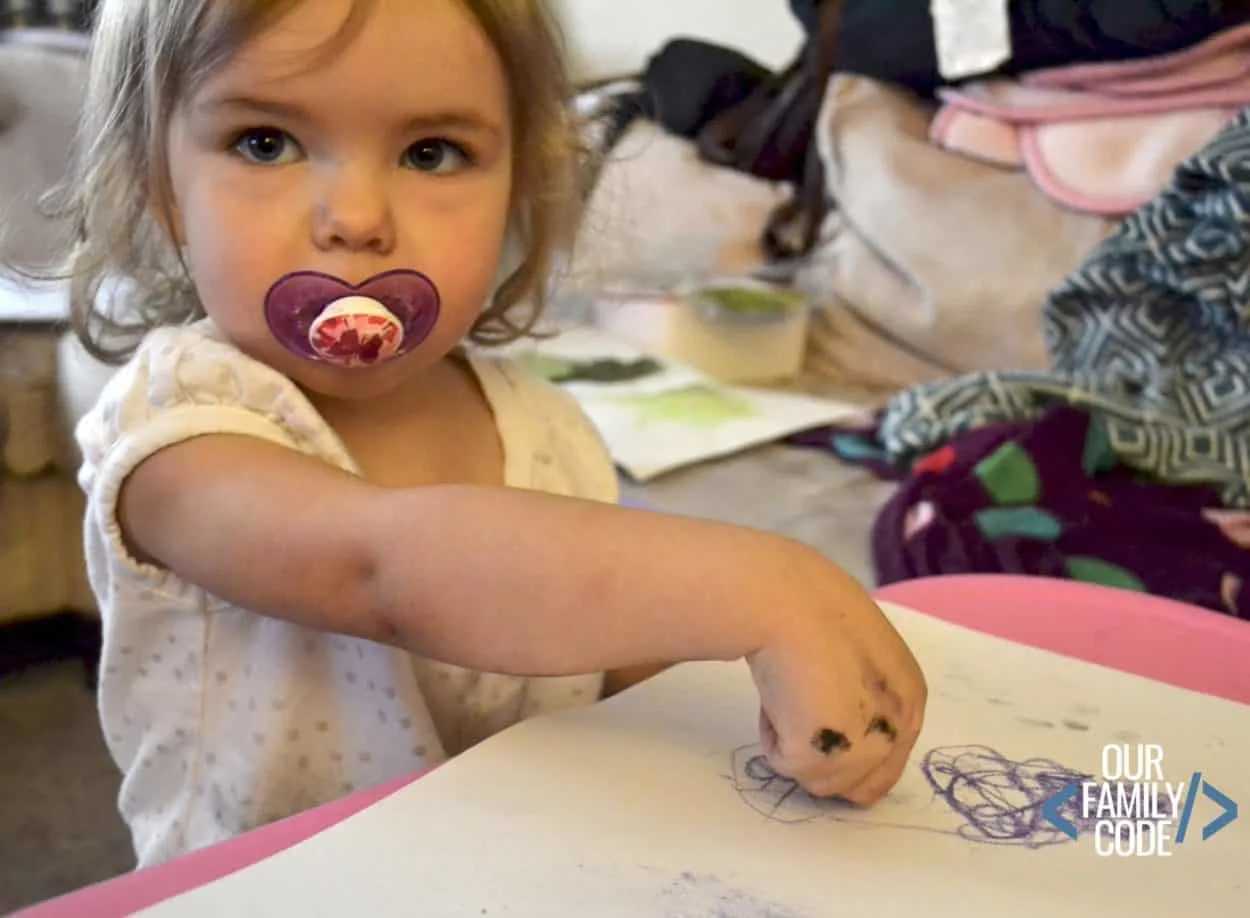 Leaf Rubbings on Aluminum Foil
Next, we tried the aluminum foil. It was really neat to draw on aluminum foil, but our chalk rubbed off our aluminum foil too easily. I'd love to try this with thicker objects or oil pastels.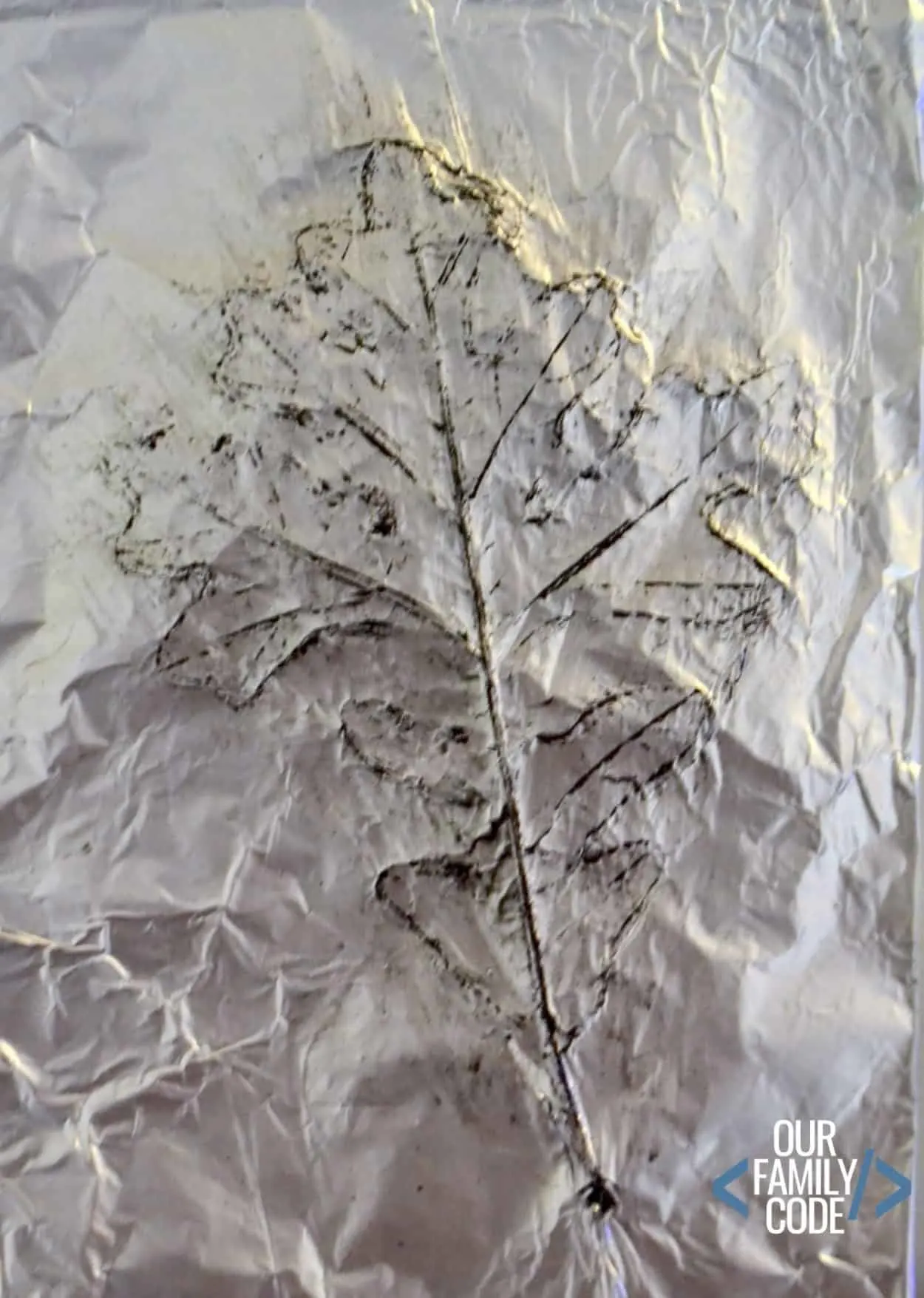 Leaf Rubbings on Wax Paper
Our chalk pastels were pretty neat on wax paper, but we had to push pretty hard to get good definition to identify the parts of our leaves. My younger kids didn't have the patience for using the wax paper, but my oldest (10yrs) enjoyed it a ton!
I love how the veins look on the wax paper. Another bonus of using wax paper was being able to see where the leaf was underneath.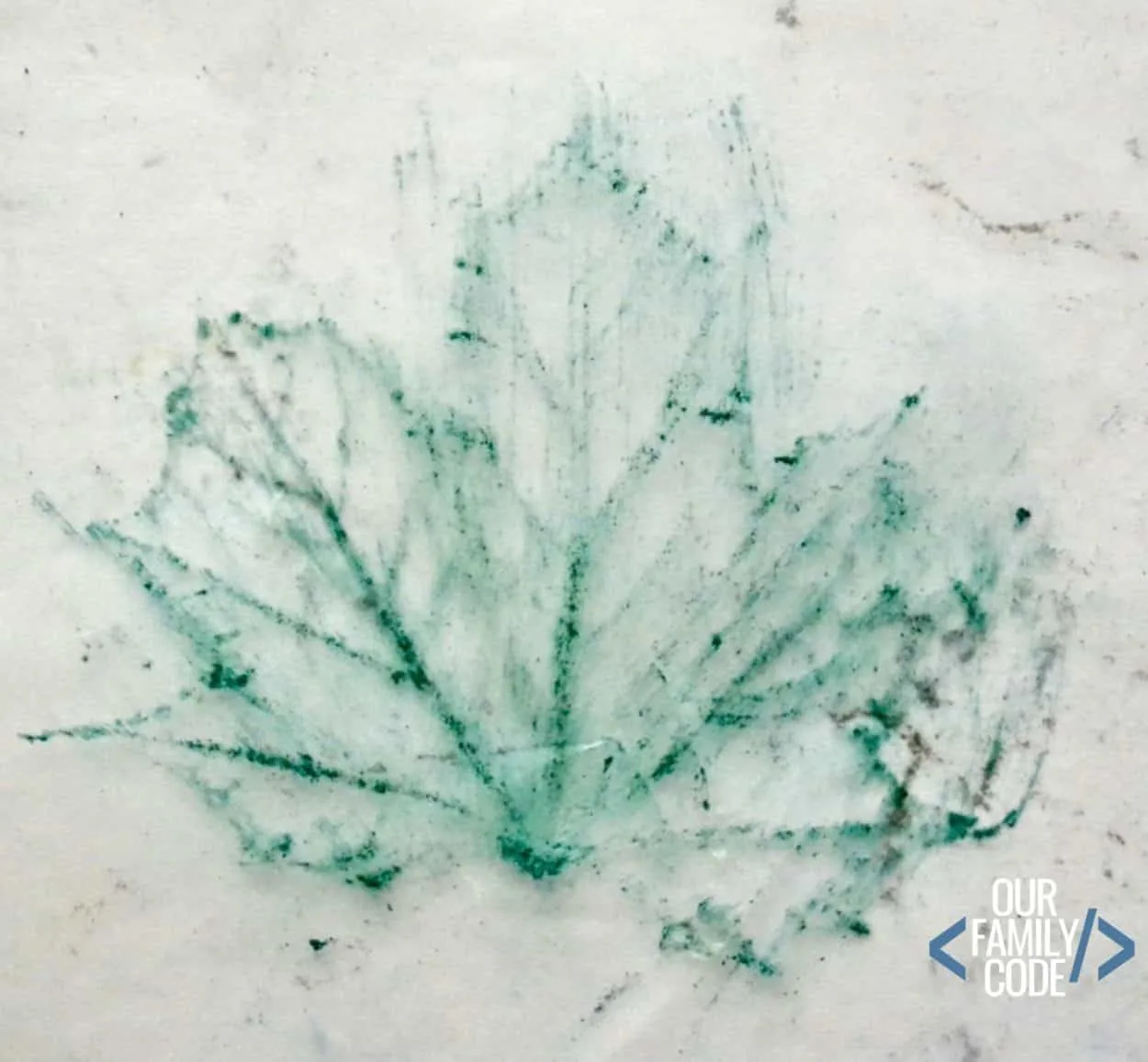 Leaf Rubbings on Parchment Paper
Finally, we used parchment paper. Parchment paper is super hard to lay flat if you are using a roll and not the sheets. I used this inconvenience to challenge my 6yr old to think outside the box and engineer a way to keep our paper flat enough to do her leaf rubbings.
She used a purple chalk pastel to rub her leaf and then chose to outline the veins of her leaf with purple oil pastel. Then, she blended her purple. Use this opportunity to talk through the parts of a leaf.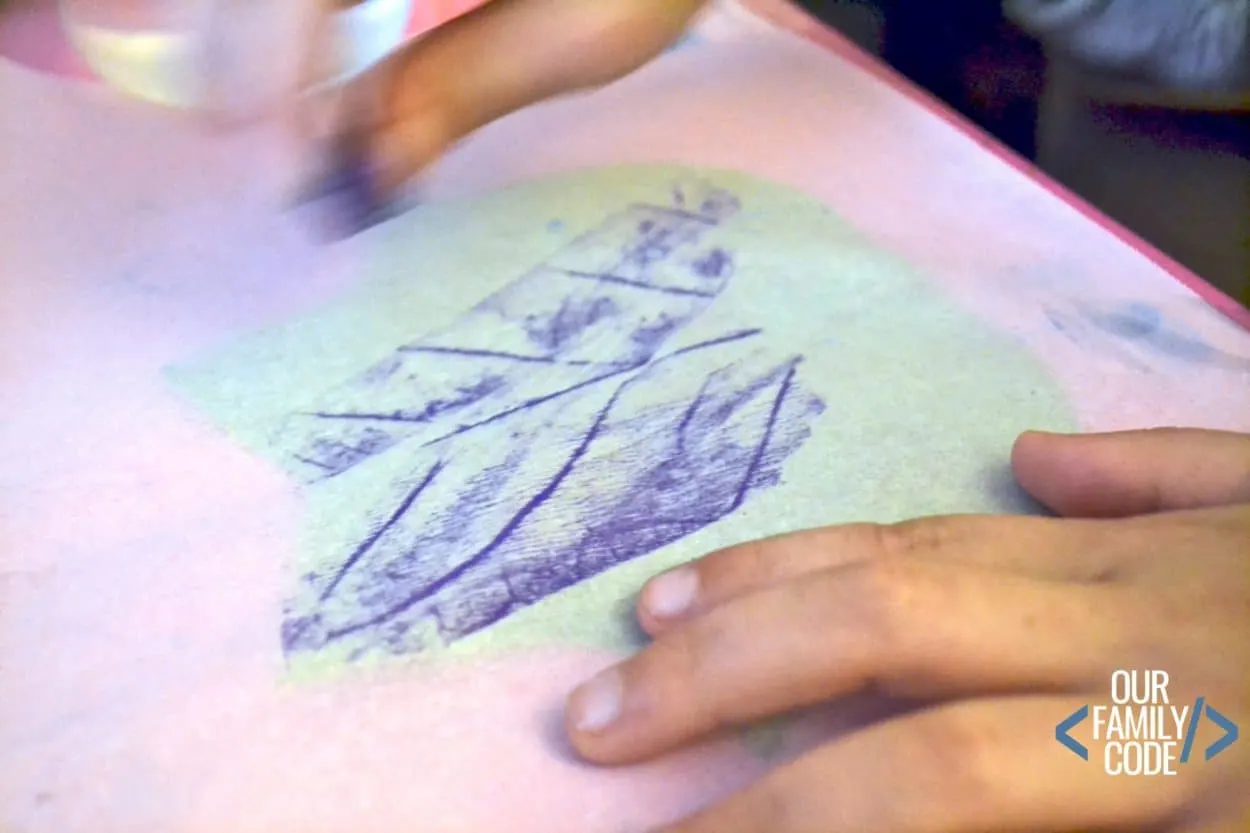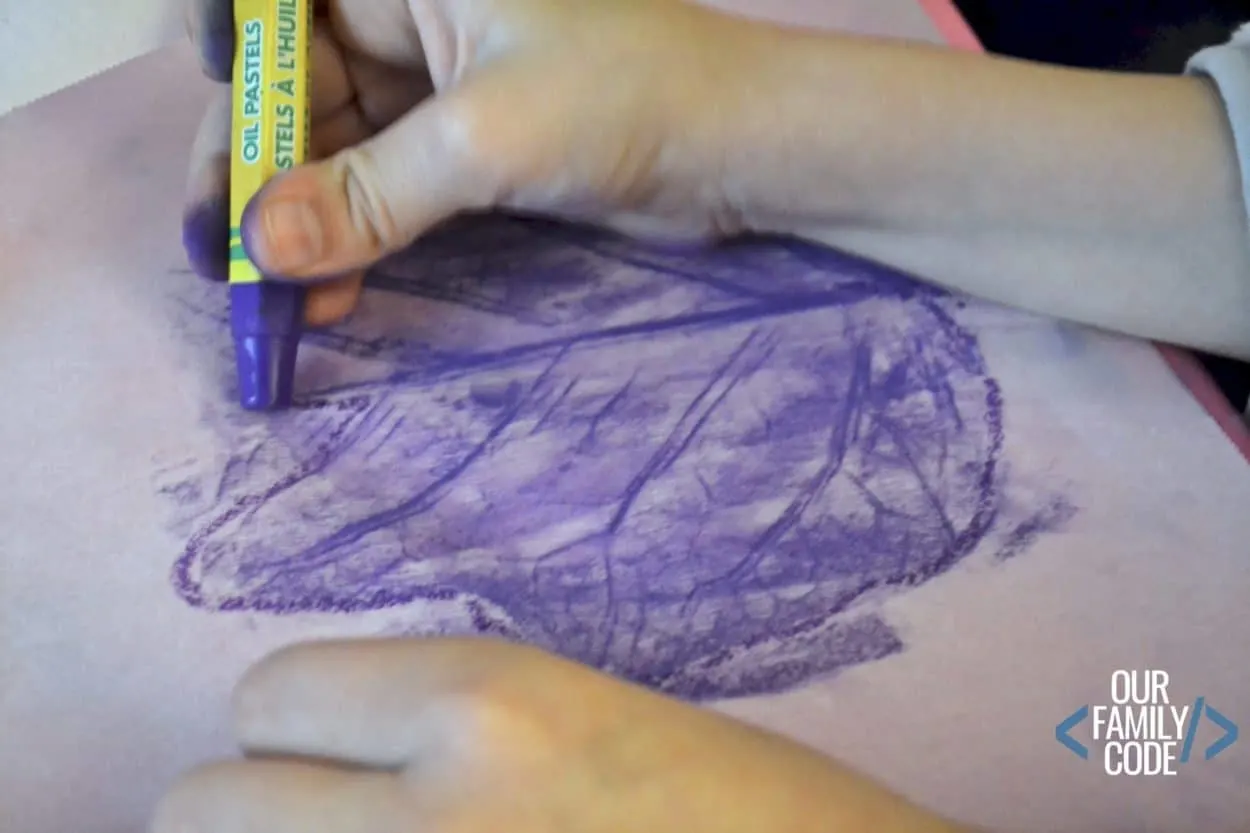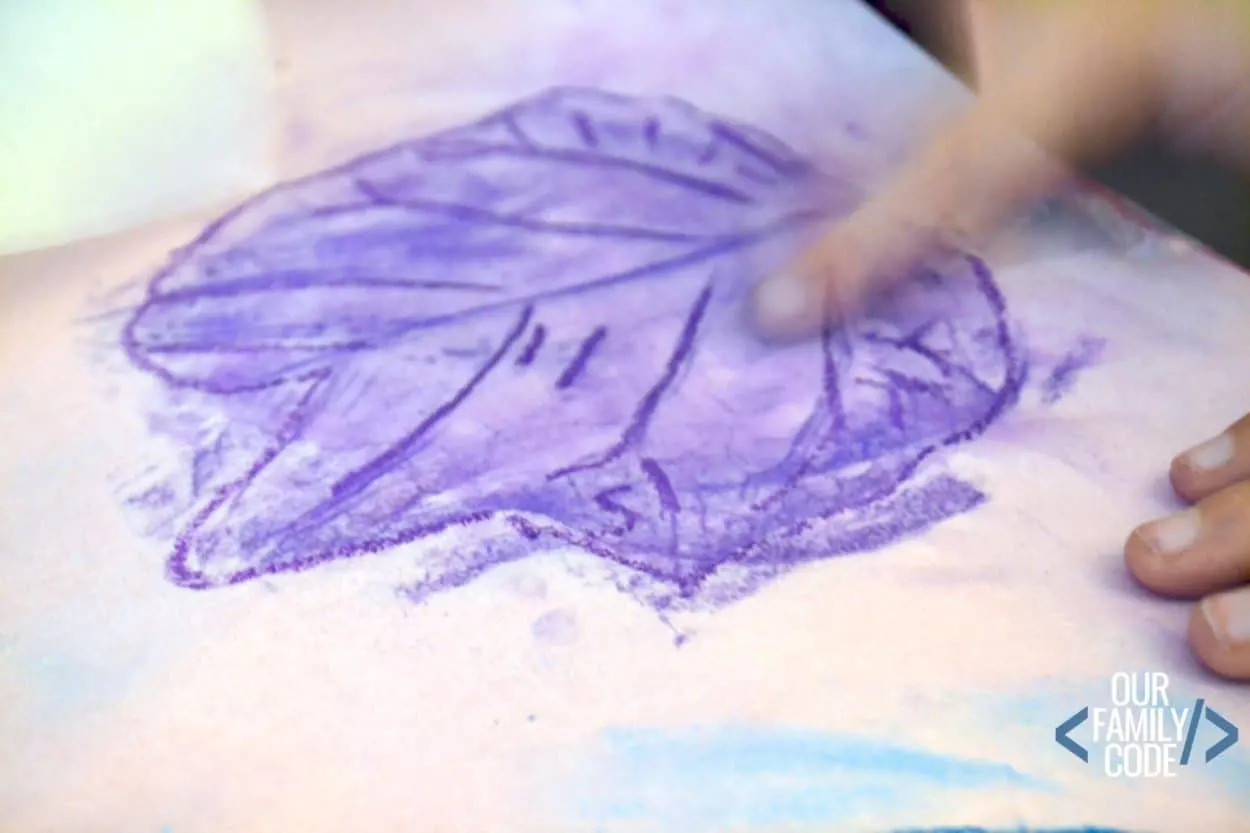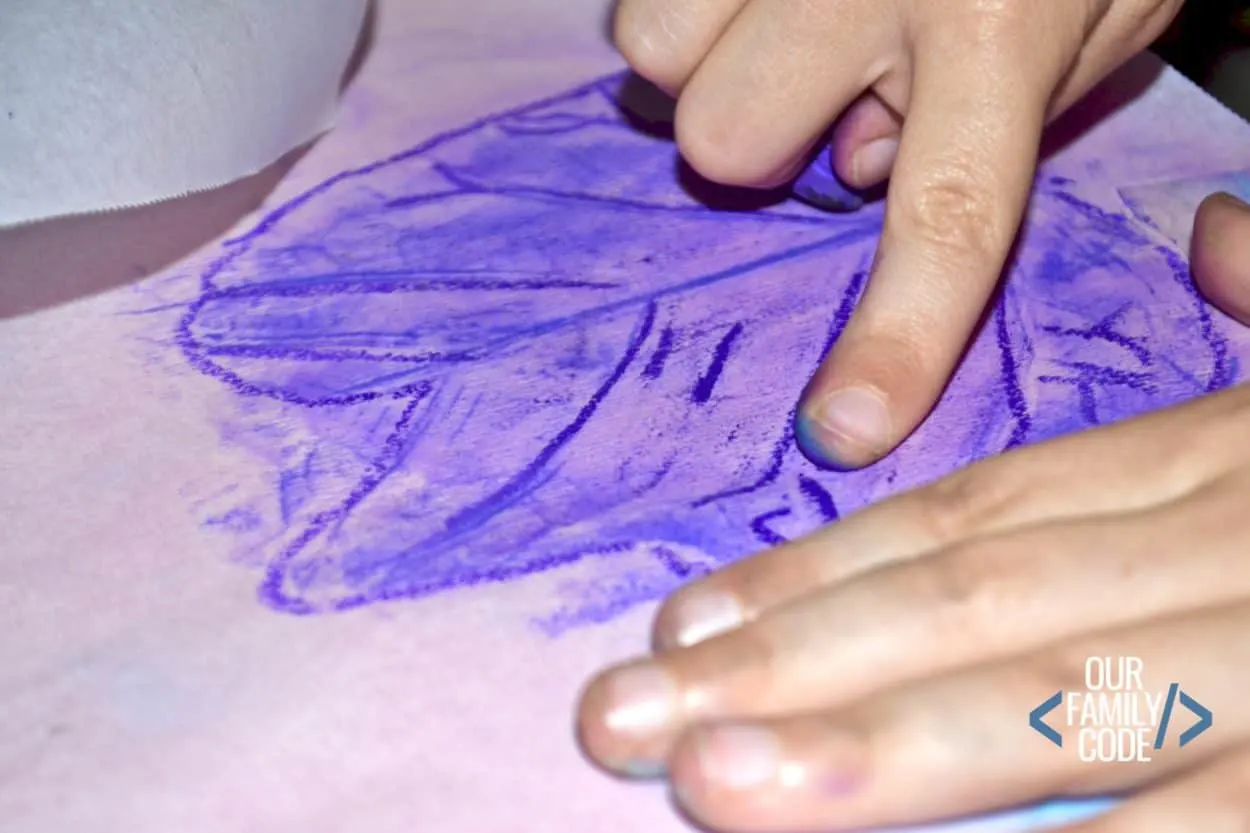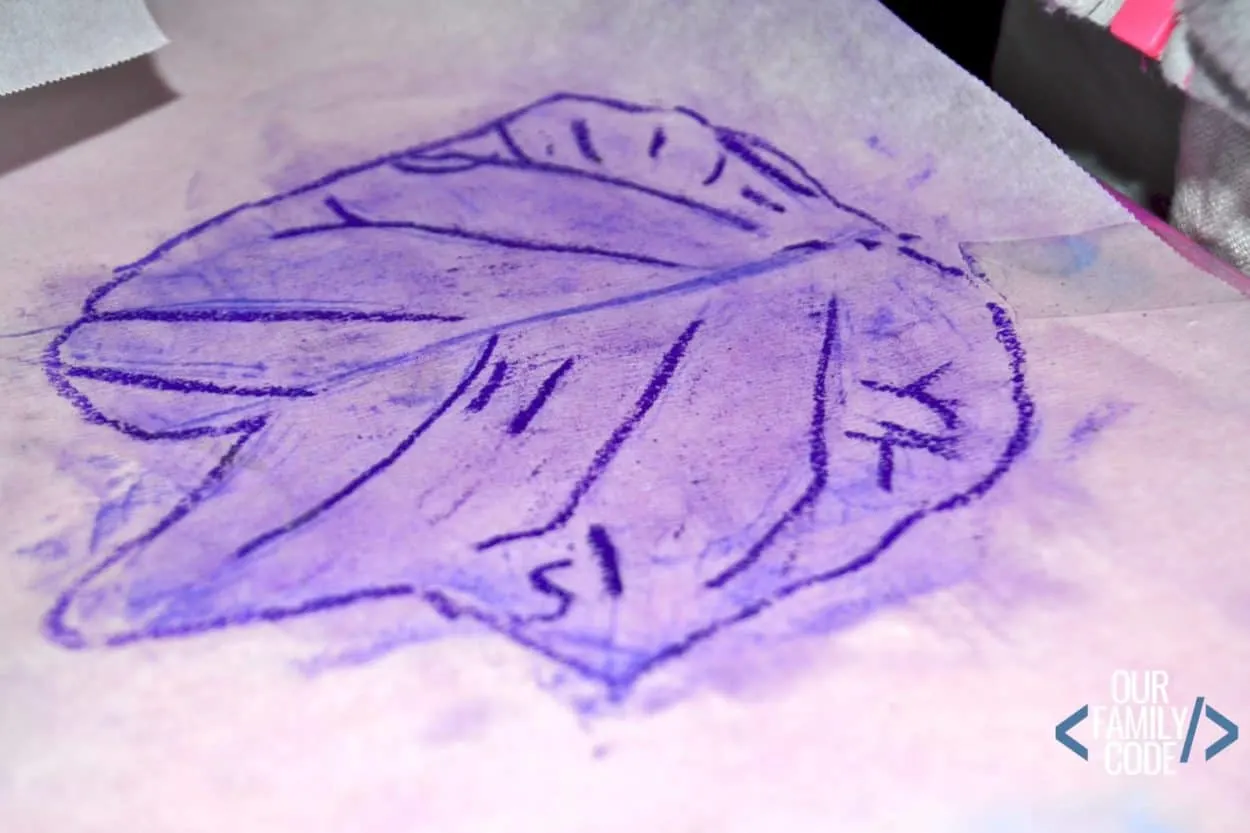 Compare your leaf rubbings. Describe the differences of each rubbing and the paper used. Which paper was the easiest to use? Which paper was the hardest?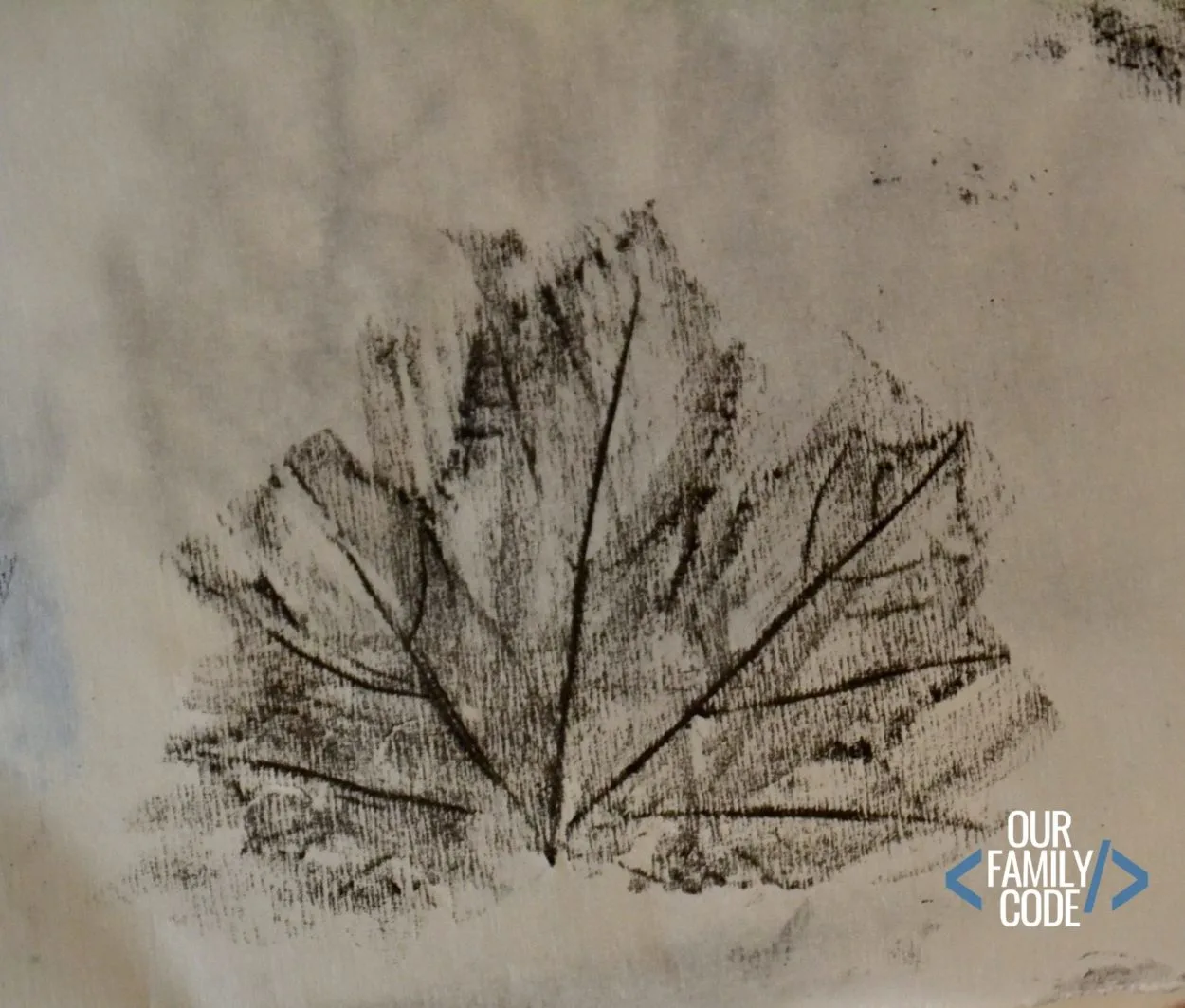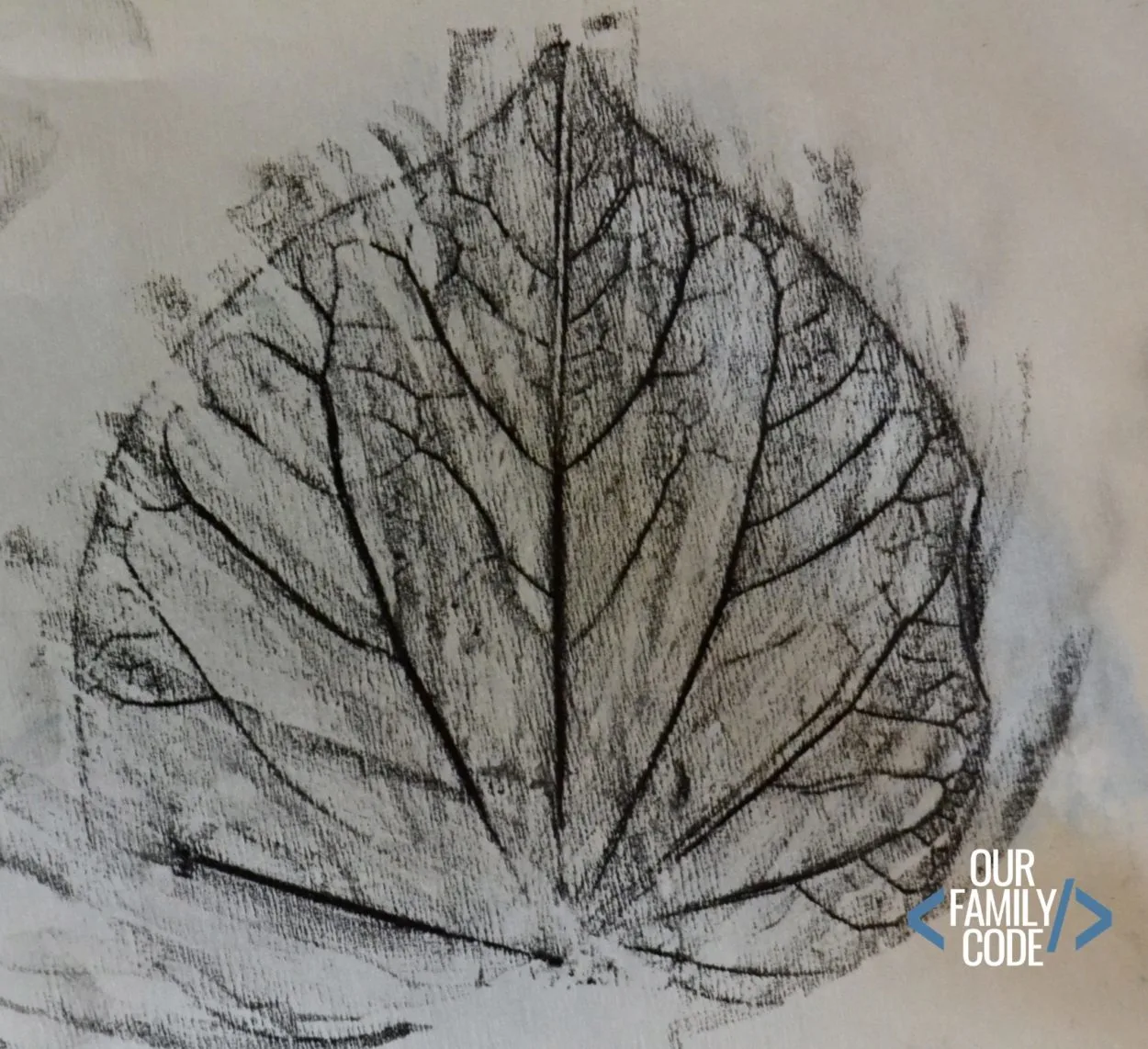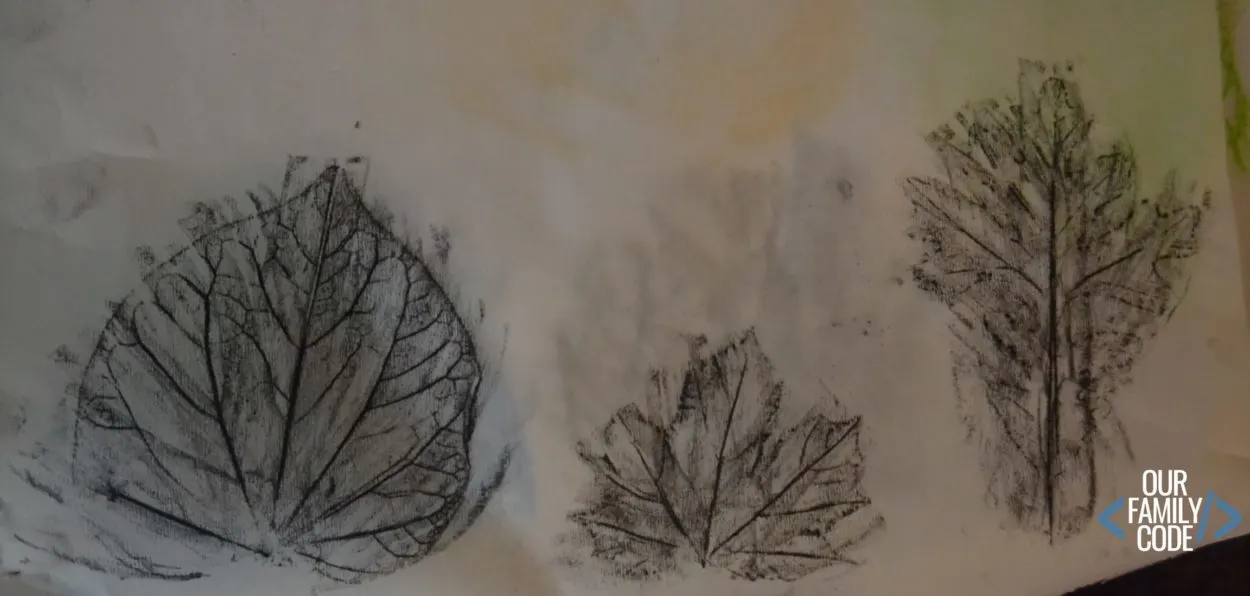 Want more leaf activity printables?
Go on a Nature Walk Leaf Bingo Hunt and try to find 5 in a row!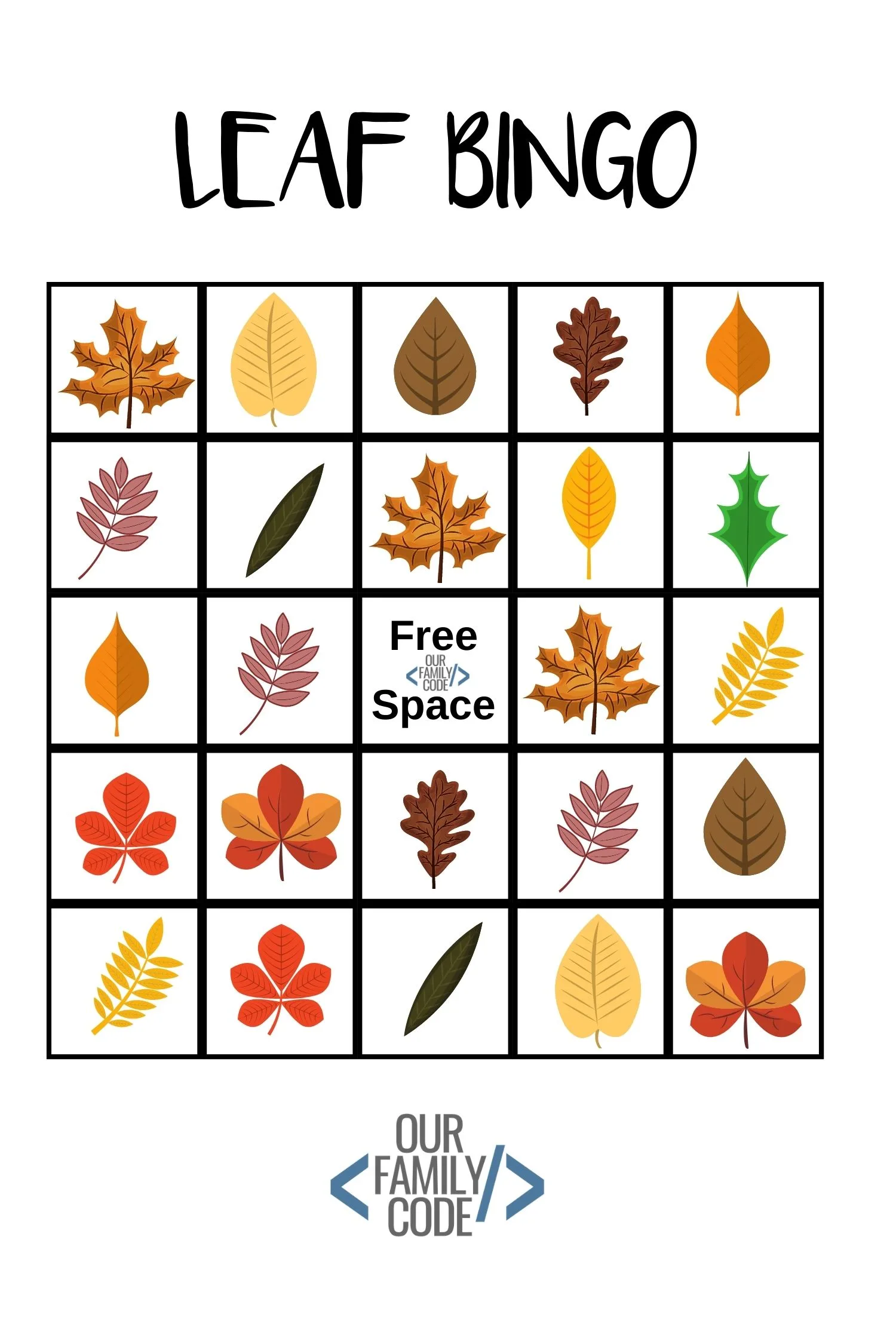 Questions to Discuss During Your Leaf Rubbing Activity
What types of leaves did you find?
How many veins can you see on your leaf?
Why do you think leaves change color?
What is the apex?
What is the midrib?
Why do leaves have veins?
Rock the STEAM Community Initiative
This activity was used to launch our Rock the STEAM community initiative. The Rock the STEAM Team is dedicated to providing free monthly STEAM activities to families in local towns. We decided to kick off our STEAM dream in our own town of Stoughton, Wisconsin.
We challenge our readers and schools that visit our site to reach out to the community and use our free activities to spread STEAM learning opportunities to kids that might not have access to these materials or lessons. To make it easy, you can print lessons from our website that we've used for our Rock the STEAM initiative.
You can also print this activity for your own use as well! We do not give permission for this activity to be sold or used for commercial purposes.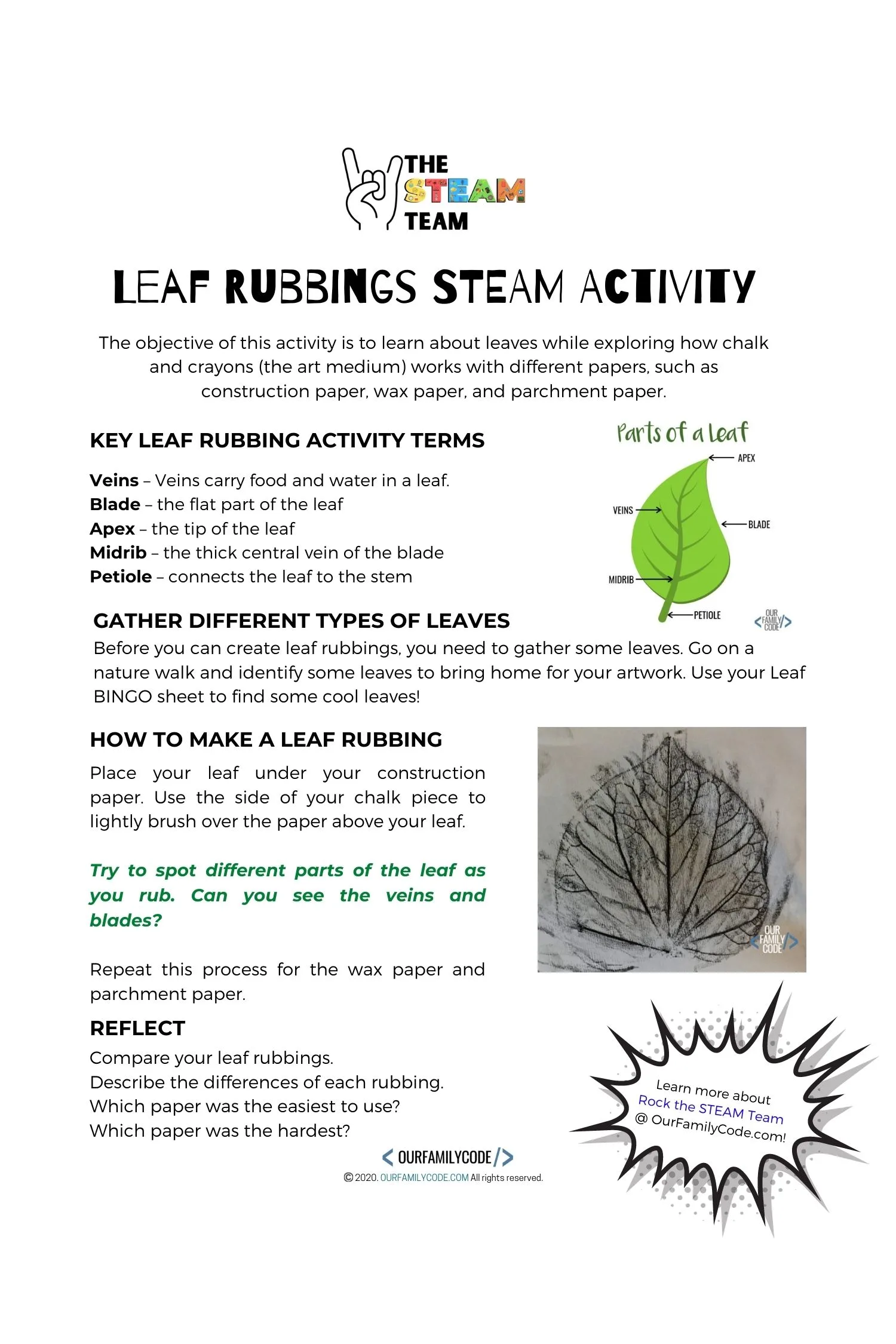 Add More STEAM to this Leaf Art Activity
Check out the STEAM extension ideas below for more ways to incorporate STEAM into this chalk pastel leaf rubbing experiment.
Science
Discuss the parts of the leaf. Use oil pastel to emphasize the veins of a leaf.
Technology
Use a computer to help identify the types of leaves you are working with. We found oak, maple, birch, ash, walnut, and poplar leaves on our nature walk.
Engineering
Use critical thinking skills to figure out a way to hold your parchment paper flat. When tape wouldn't keep our paper from rolling, I challenged my Kindergartner to think of a way to keep the paper flat.
She used sensory bottles (because we love to make them and have a bunch hanging around) to hold down each side of the paper while she completed her leaf art.
Art
Explore the differences between using the same medium on different types of paper. What was the same? What was different?
Math
Count the veins in each leaf. Which leaves have more veins? Which leaves have less veins?
Some Books to Read with Your Leaf Rubbing Activity
We love incorporating books into our activities. Here are some great leaf books to read with your activity!
Find More Nature and Resist Art Activities

31 Days of Low-Prep STEAM Activities for Kids
This activity is part of our 31 Days of Low-Prep STEAM Activities for Kids. Every activity focuses on each of the buckets of STEAM (Science, Technology, Engineering, Art, & Math) although these integrated projects fit in more than one bucket.
You and your kiddos are going to love all of the activities that we have in store! Visit the 31 Days of Low-Prep STEAM Activity hub and pin it, so you can come back and visit it daily!
PIN THIS IMAGE TO SHARE THIS LOW-PREP STEAM ACTIVITY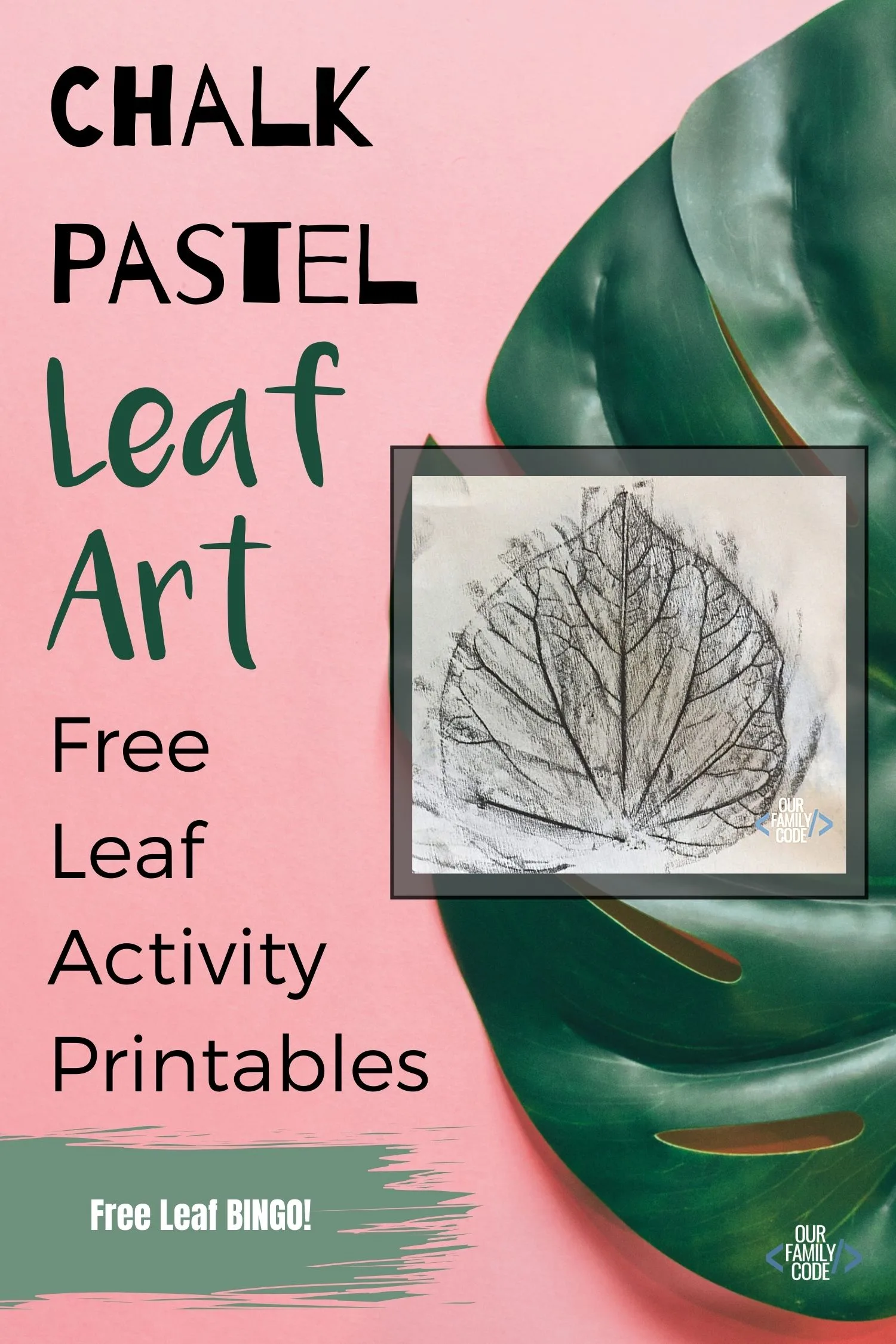 Science Art Activities
Find more awesome activities that pair science with art!
Meet Toni, the Maker Mom behind Our Family Code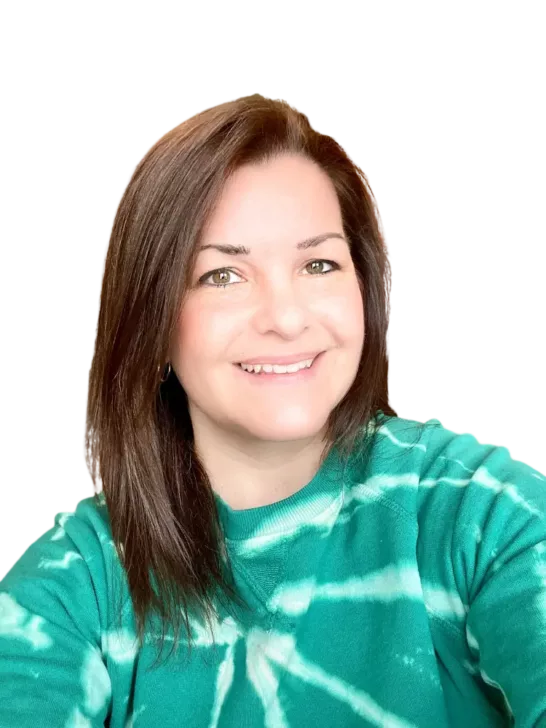 Hey there, I'm Toni! I'm a software engineer and Maker Mom that finds my joy in unleashing my children's curiosity by exploring STEAM concepts with my fantastic five!
When I'm not chasing toddlers or raising tweens, you can find me tearing things up and putting them back together over here at Our Family Code.
I am the owner and content creator of multiple educational websites designed to increase access to STEAM & STEM education with a focus on teaching computer science and coding to kids of all ages!
You can also find out more about me by visiting ToniGardner.com!