In this candy pH science experiment for kids, we are testing to see if sour candy is acidic with a simple acid-base reaction.
It's October and that means a ton of candy is coming to a household near you in the very near future! We don't let the kids eat all of their candy.
Let's be real, there are some candies that no one really likes to eat. We like to use those candies for experiments!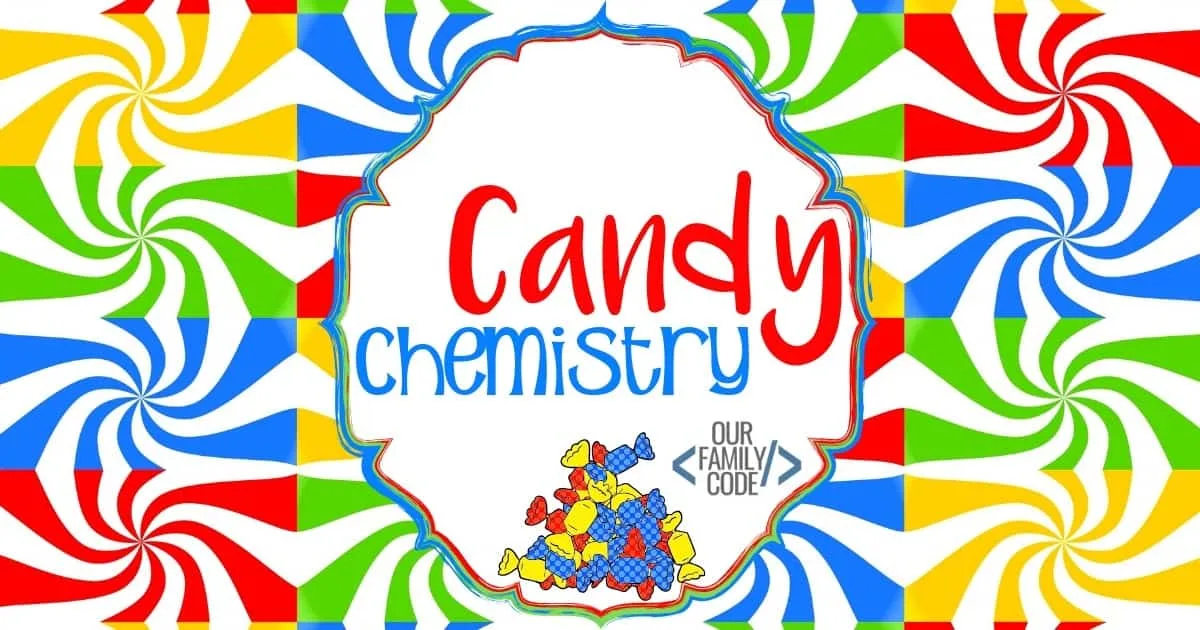 This post contains affiliate links. As an Amazon Associate, Our Family Code earns from qualifying purchases. Please see our Disclosure Policy for more details.
Why STEAM Activities?
STEAM is the abbreviation for Science, Technology, Engineering, Art, and Math.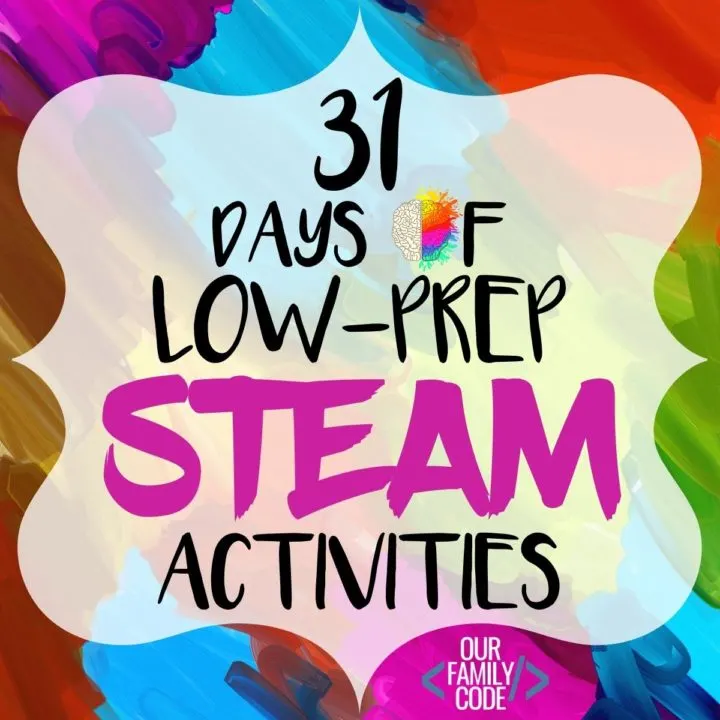 STEAM, like STEM, is an integrated approach to learning that encourages learners to make connections between the concepts they are learning and how they apply them to real-world problems.
STEAM helps students ask questions, problem solve, think creatively, and produce innovative solutions. Many schools have adopted STEAM learning activities into their curriculum, but it's never too early to start building critical thinking skills.
We love to learn through play at our house and have a blast doing activities for toddlers all the way to tweens!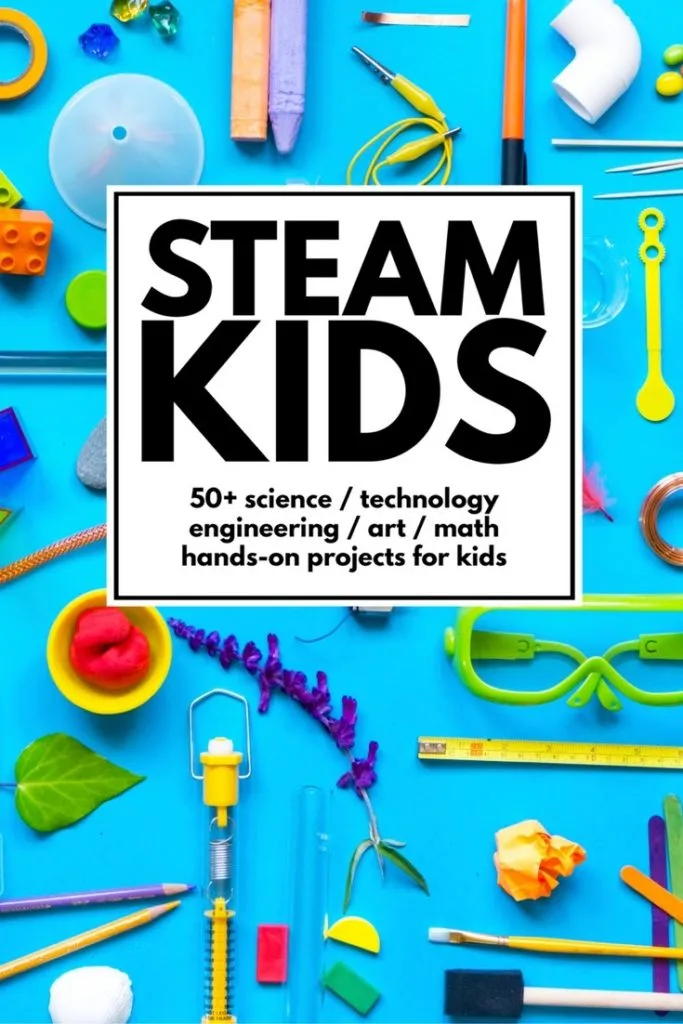 Candy Chemistry Activity Terms
Controlled Variables – variables that will remain the same in order to measure the effect of something
Independent Variable – the one variable thing that is changed in an experiment
Dependent Variables – the things you observe as a result of the independent variable
Candy pH Science Experiment for Kids
Taste Your Candy
Taste one of each candy. Which candy is the most sour? Why do you think? Order your candy by how sour each one candy is and write down your observations on your worksheet.
We hypothesized that our Lemonheads would be the most acidic because they were the most sour!
Setup Your Control Cups
Put 1/4 cup of water in 4 different cups. Place one piece of each candy in the cups.
These are your controls, which means we won't be doing anything else with these pieces of candy other than observing what the water does to the candies (controlled variable).
Write the letter "C" for "Control" on each of these cups and set them aside until the end of the experiment.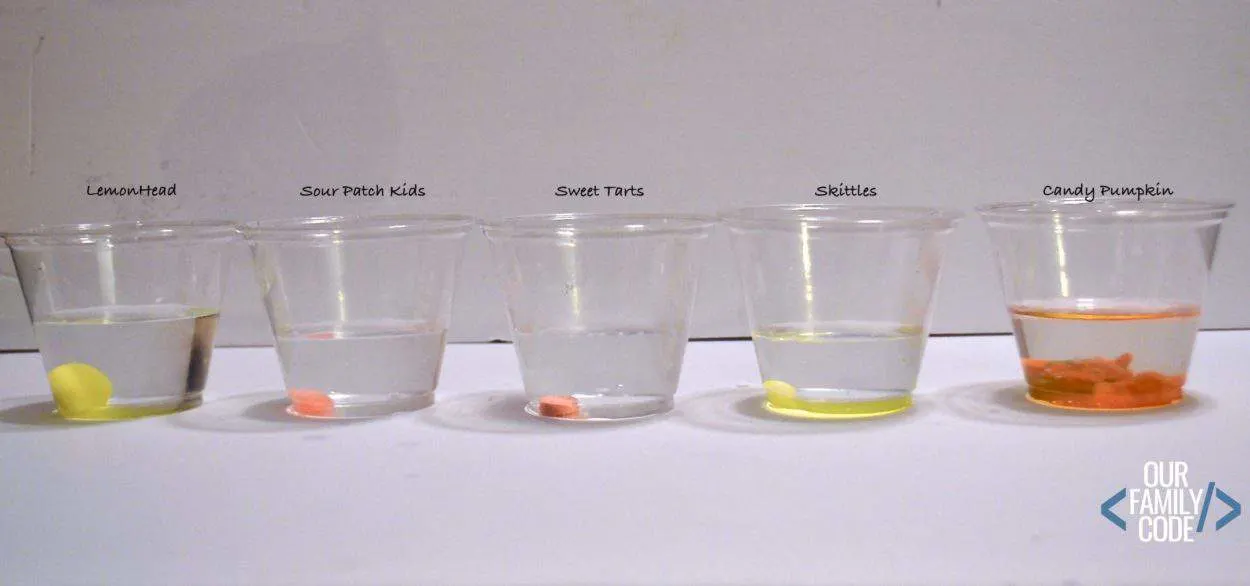 Setup Your Variable Cups
Fill 1/4 cup of water in 4 new cups. Place one piece of each candy in the cups and let it dissolve completely in the water.
You can crush the candies that are taking too long to dissolve. These are your variable cups, which means that you will be working with these cups.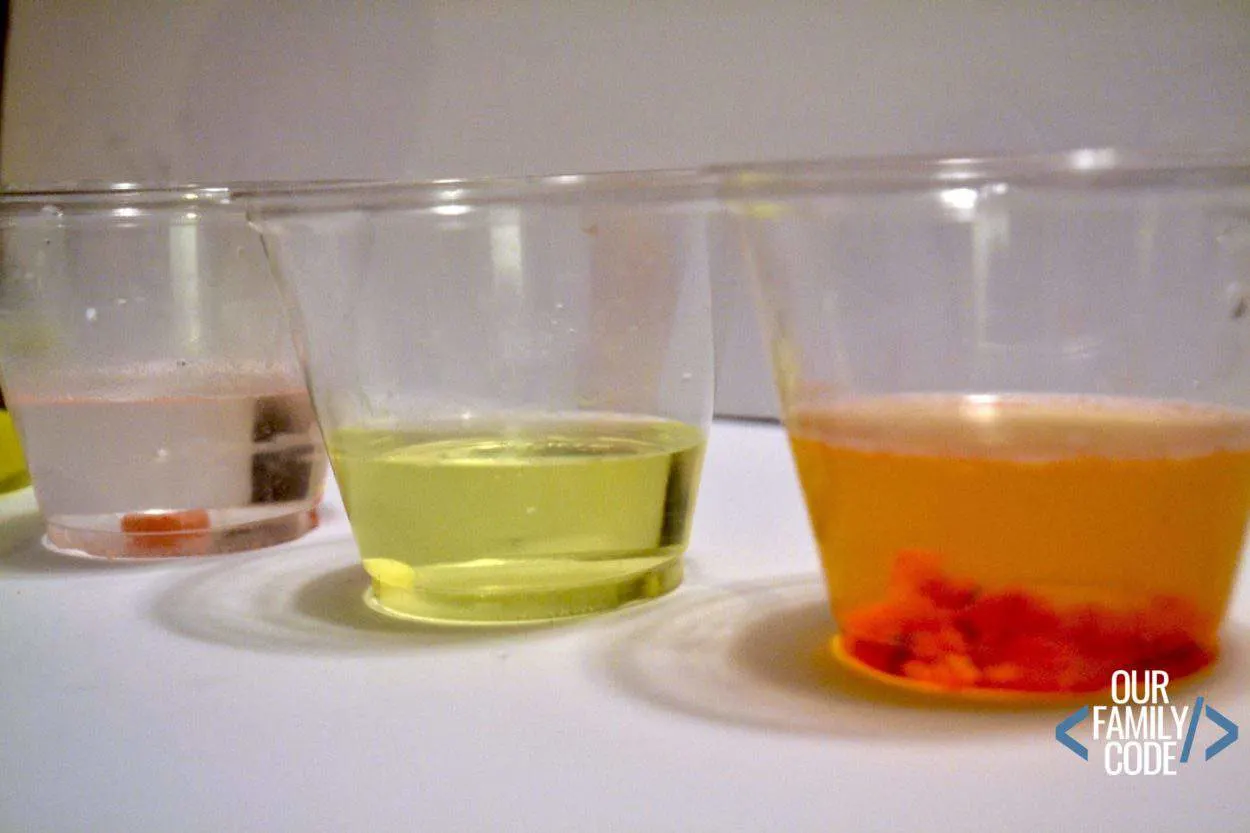 Add the Independent Variable
After your candy has dissolved completely, sprinkle 1 tbsp of baking soda into each of your variable cups.
The baking soda is your independent variable, the only thing that changes in the experiment. Watch for bubbles.
Observe What Happens and Record
The bubbles are your dependent variable, the things that happen as a result of the addition of your independent variable. Write your observations on your worksheet.
We thought it was interesting that the candy pumpkin just peeled instead of bubbled. It was our least acidic candy (measured by the bubbles visually) that we tested.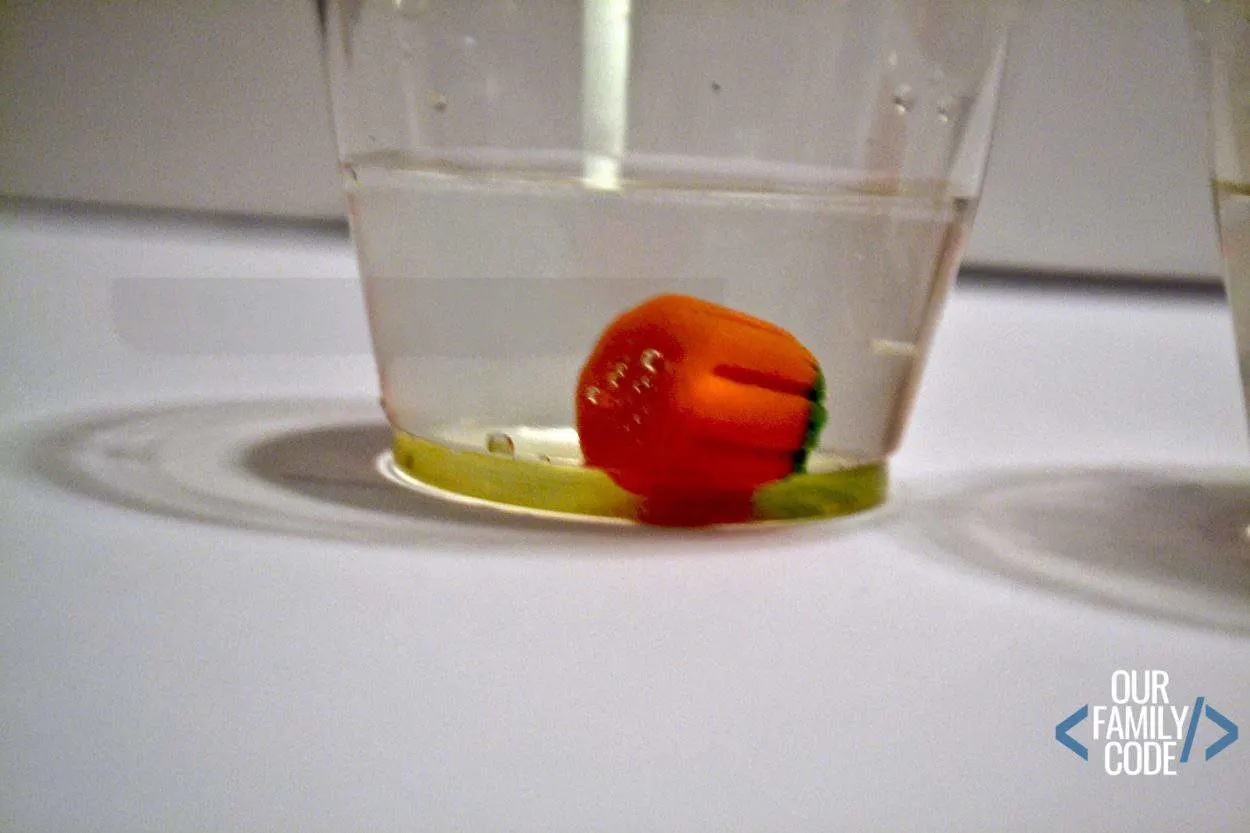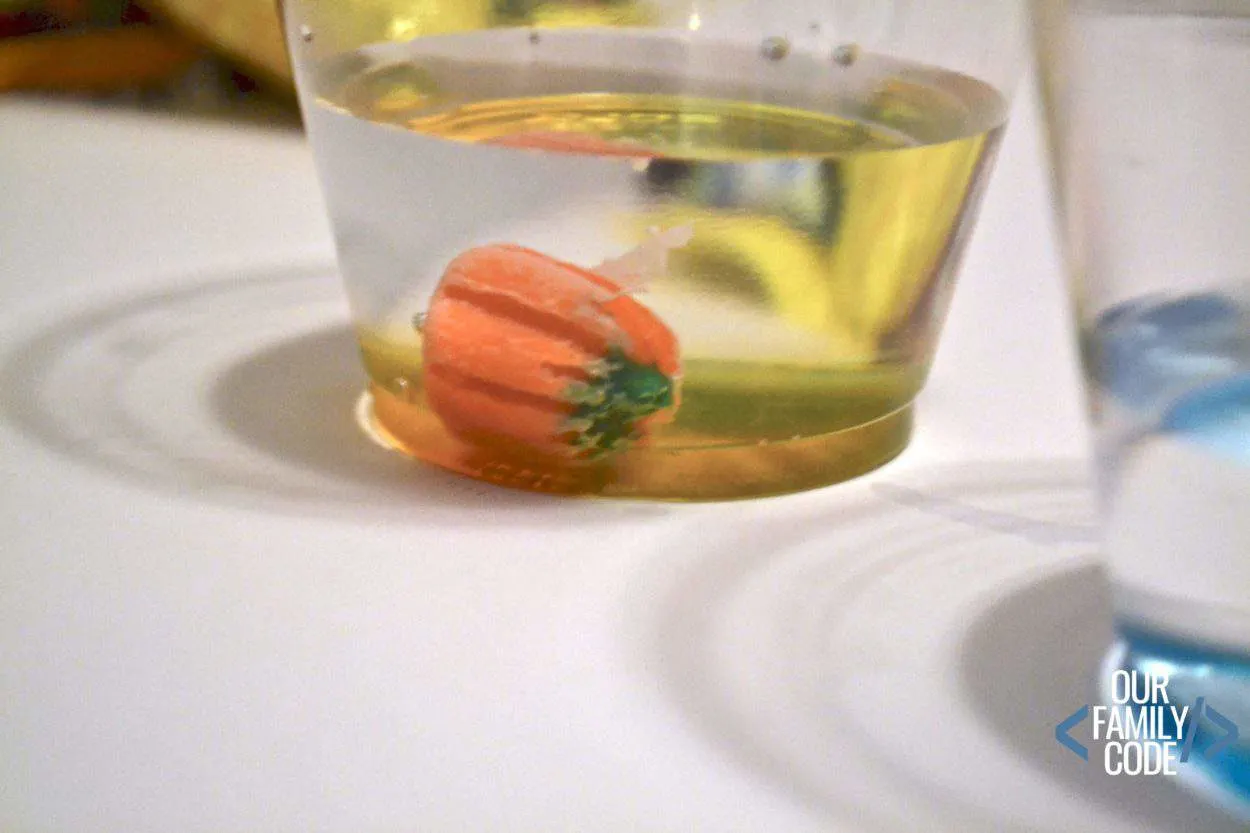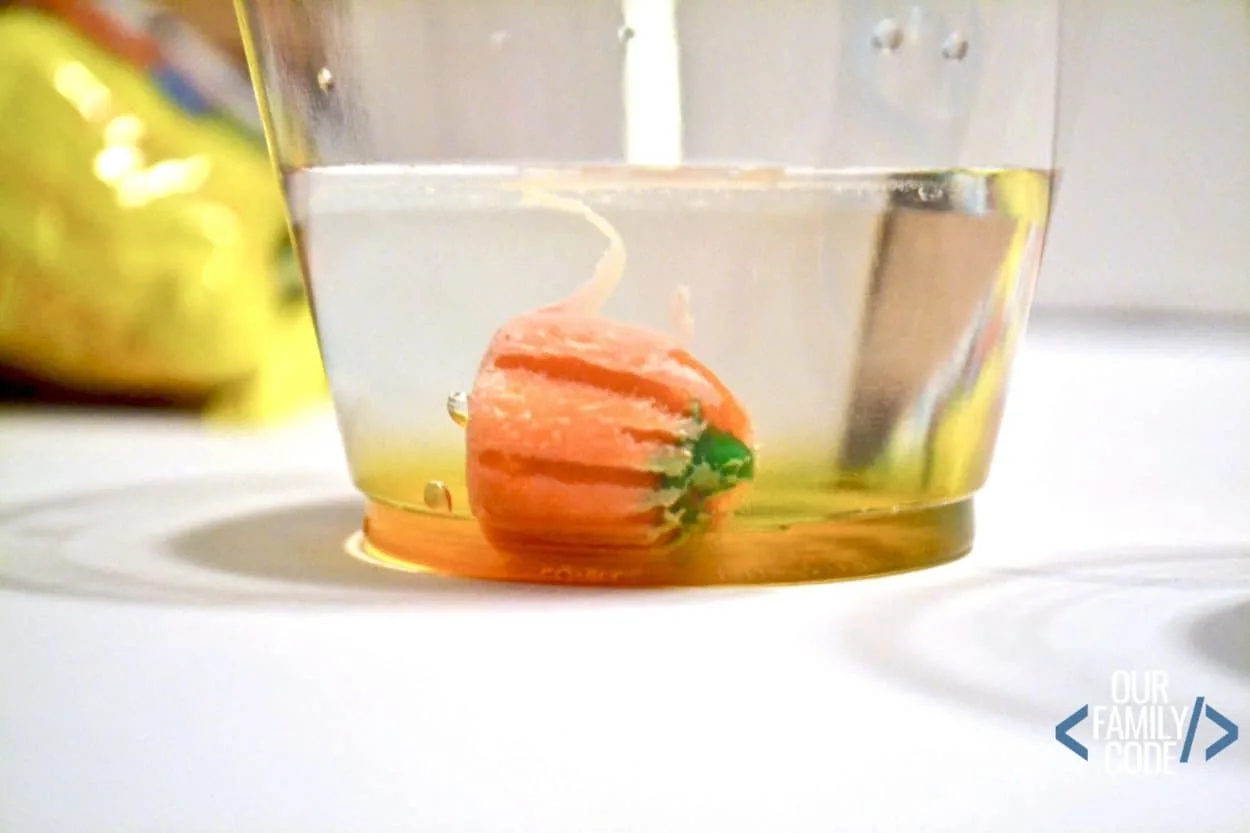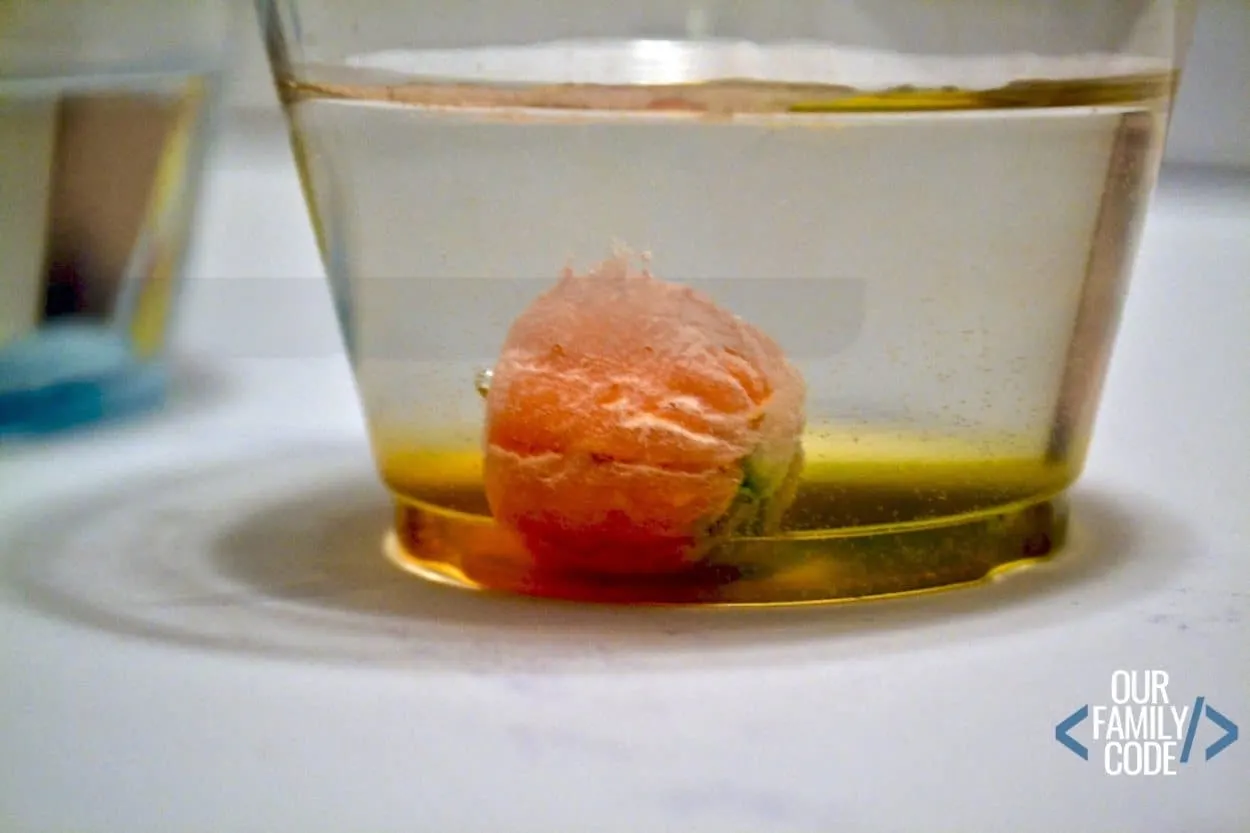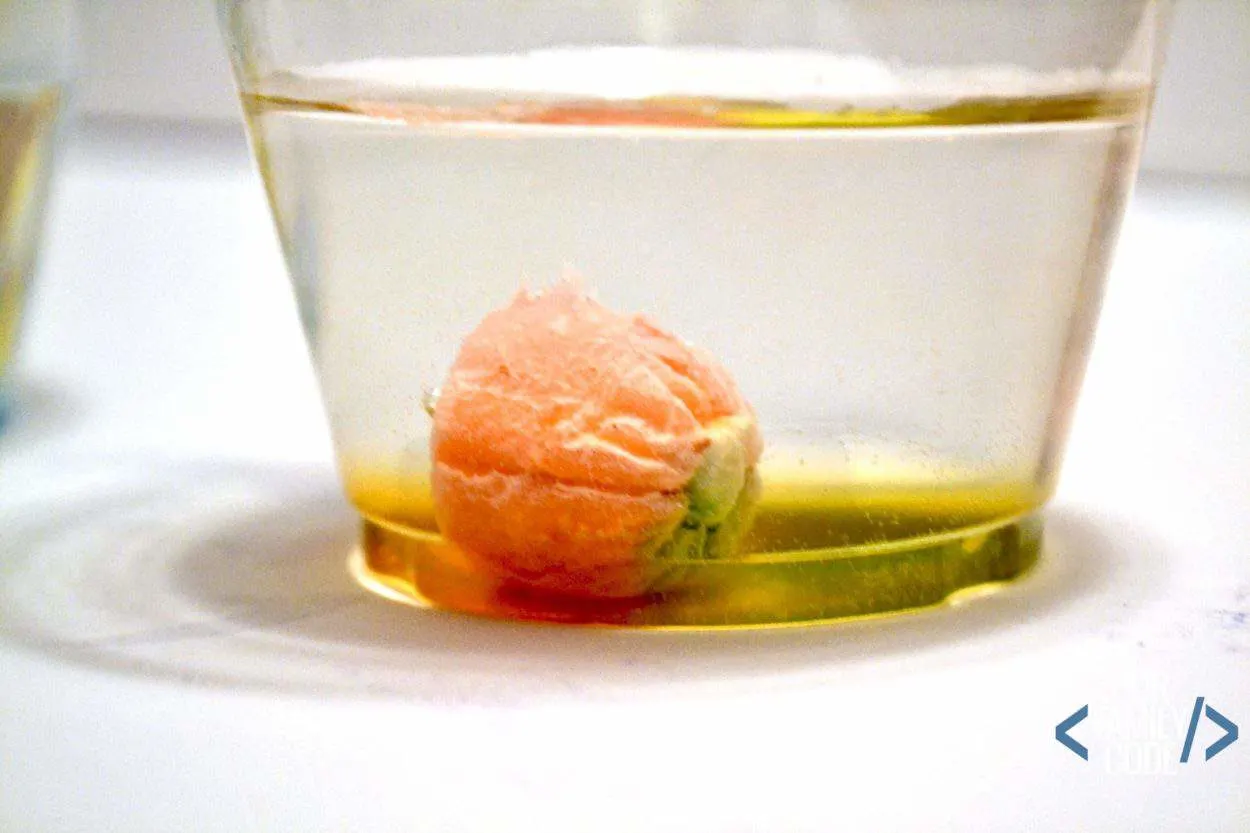 Compare the amount of bubbles you see. Which candy had the most bubbles? Which candy had the least?
Remember that the greater the amount of bubbles, the greater the acidity of the candy. Record your findings.
Our hypothesis was correct. The Lemonheads had the most bubbles followed by the Sweet Tarts.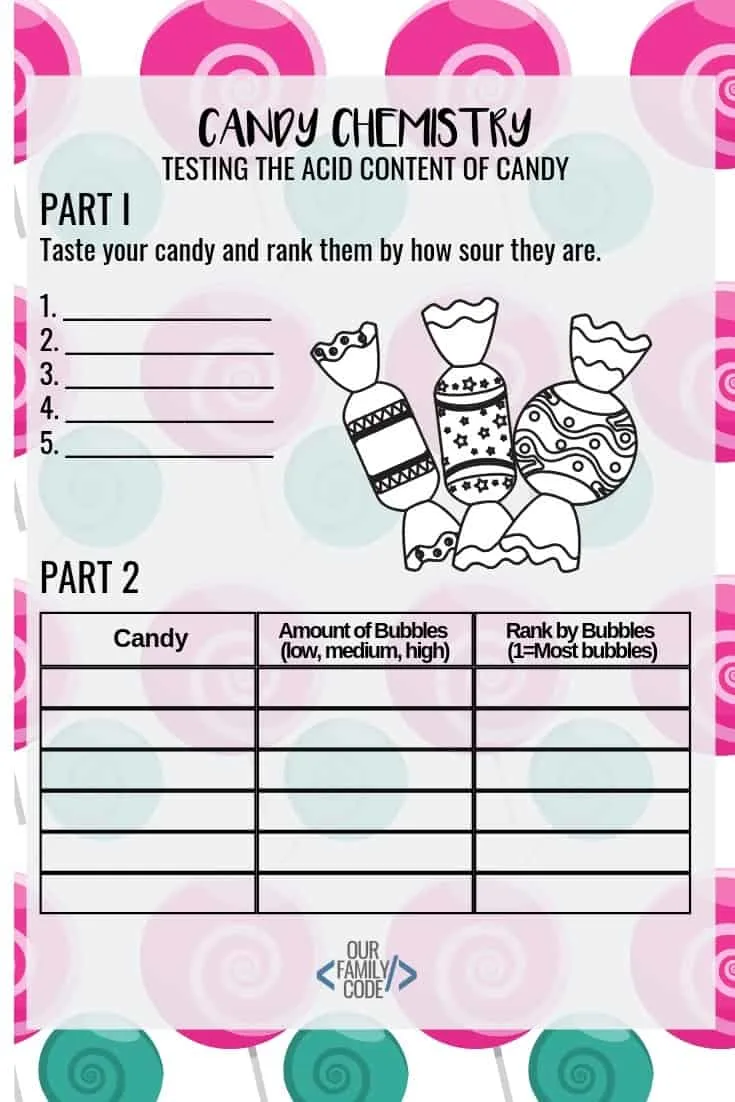 Why is the Water Bubbling?
When you dissolve acidic candy in water and add baking soda, you are creating an acid-base reaction that produces carbon dioxide gas, which makes the bubbles! This is the same chemical reaction behind our favorite acid-base reaction activity, kaBOOm bags!
<<CLICK HERE TO DOWNLOAD THE CANDY CHEMISTRY WORKSHEET>>

Connect this candy pH science experiment with other STEAM buckets?
Check out these ideas for STEAM extensions!
Science
Discuss the different aspects of a scientific experiment. Make sure to create a hypothesis, identify your variables, test your hypothesis, observe, and record your findings.
Math
Try the experiment again. What happens if you add more baking soda to your cups? Do you get more bubbles?
Books to Pair with Your Candy pH Activity
We love incorporating books into our activities. Here are some great books about science to read with your activity!

31 Days of Low-Prep STEAM Activities for Kids
This activity is part of our 31 Days of Low-Prep STEAM Activities for Kids. Every activity focuses on each of the buckets of STEAM (Science, Technology, Engineering, Art, & Math) although these integrated projects fit in more than one bucket.
You and your kiddos are going to love all of the activities that we have in store! Visit the 31 Days of Low-Prep STEAM Activity hub and pin it, so you can come back and visit it daily!
PIN THIS IMAGE TO SHARE THIS LOW-PREP STEAM ACTIVITY!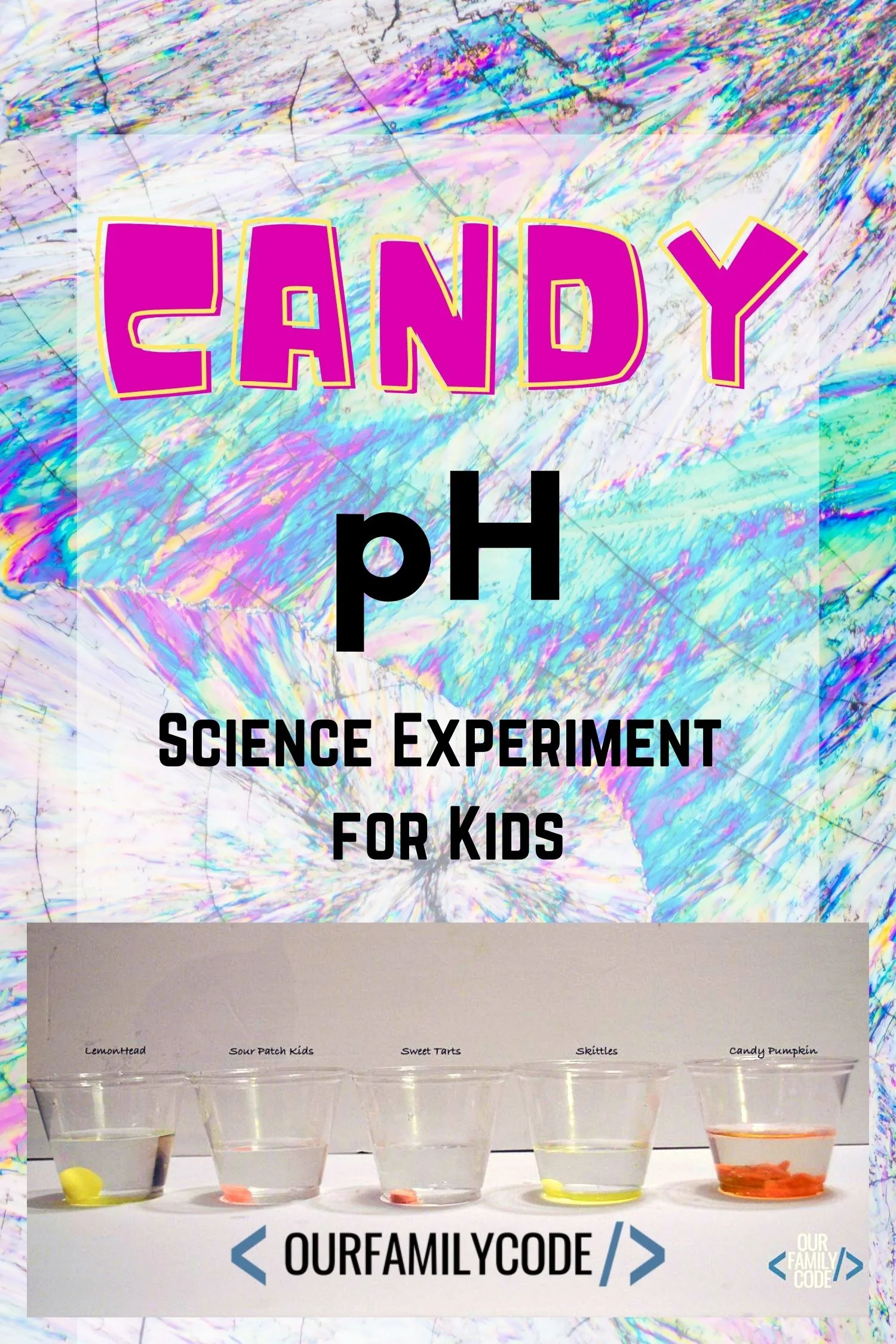 Food Science Activities
Find more activities that use food to explore Science, Technology, Engineering, Art, and Math!
Meet Toni, the Maker Mom behind Our Family Code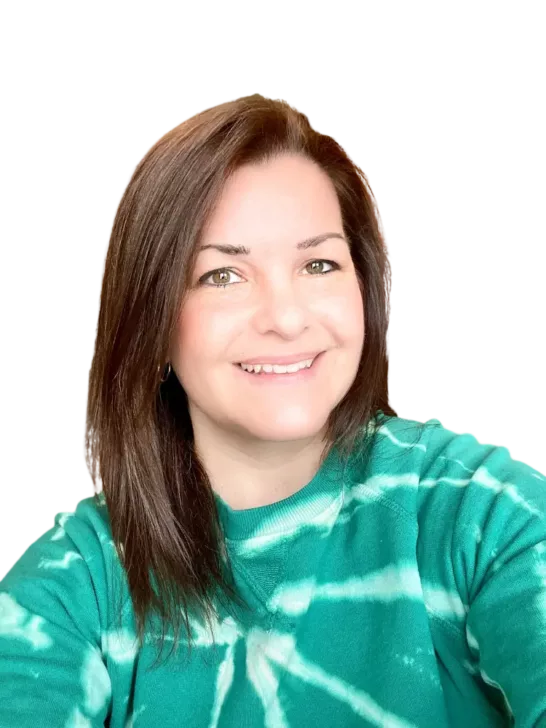 Hey there, I'm Toni! I'm a software engineer and Maker Mom that finds my joy in unleashing my children's curiosity by exploring STEAM concepts with my fantastic five!
When I'm not chasing toddlers or raising tweens, you can find me tearing things up and putting them back together over here at Our Family Code.
I am the owner and content creator of multiple educational websites designed to increase access to STEAM & STEM education with a focus on teaching computer science and coding to kids of all ages!
You can also find out more about me by visiting ToniGardner.com!