Grab these free brain break ideas to break up the day while remote learning this year! These activities are great for homeschooling too!
I have five kids with different learning styles and brain breaks help to reset our learning and keep my kids engaged in the activities we are doing! This is especially important to me because I jump from kid to kid helping them with different tasks.
Research shows that engagement declines as instructional time increases making the argument for brain breaks even greater!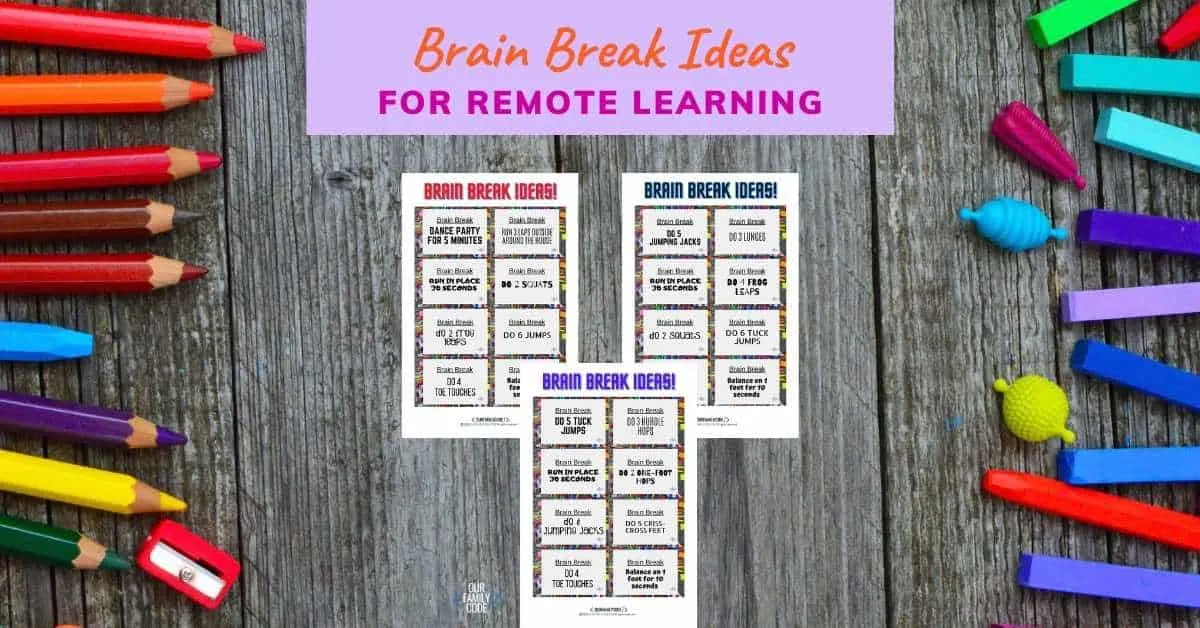 This post contains affiliate links. As an Amazon Associate, Our Family Code earns from qualifying purchases. Please see our Disclosure Policy for more details.
What are Brain Breaks?
Brain breaks are short, pre-planned breaks that are used to switch neural activity to different networks. These short breaks help to reset the parts of the brain that are used for attention and critical thinking.
Brain breaks reduce stress and improve learning when kids return to their remote learning because they are designed to stimulate other areas of the brain that aren't used as much when kids are working and learning.
These activities typically involve physical movement, sensory activities, or mindfulness exercises. It's important to schedule brain breaks into your daily learning schedule because they can be something that kids look forward to during the day (and sometimes Mom looks forward to it too!)
You might enjoy this post too: Fall STEAM Lessons by Age: Printable STEAM Schedule
Physical Brain Break Ideas
Dancing
Take a brain break by getting up and moving your body! We like to turn on the Disney station on Pandora and break it down or listen to some Blazer Fresh on GoNoodle!
Cardio
One thing we like to do at our house for brain breaks is run around the outside of our house or go for a quick bike ride! Other cardio activities include: doing jumping jacks, running in place, or crab walking!
Exercises for Kids
We like to walk like different animals and do various kid exercises to get our bodies moving during brain breaks. Some fun kid exercises include frog hops, toe touches, one foot hops, and tuck jumps.
Minute to Win It
A quick game of Simon Says is a great to get up and moving as well as playing simple Minute to Win it games!
Sensory Activities
There are many low-prep STEAM activities that you can do in a very short amount of time! We like to explore density by making sensory bottles or make slime during our brain breaks too!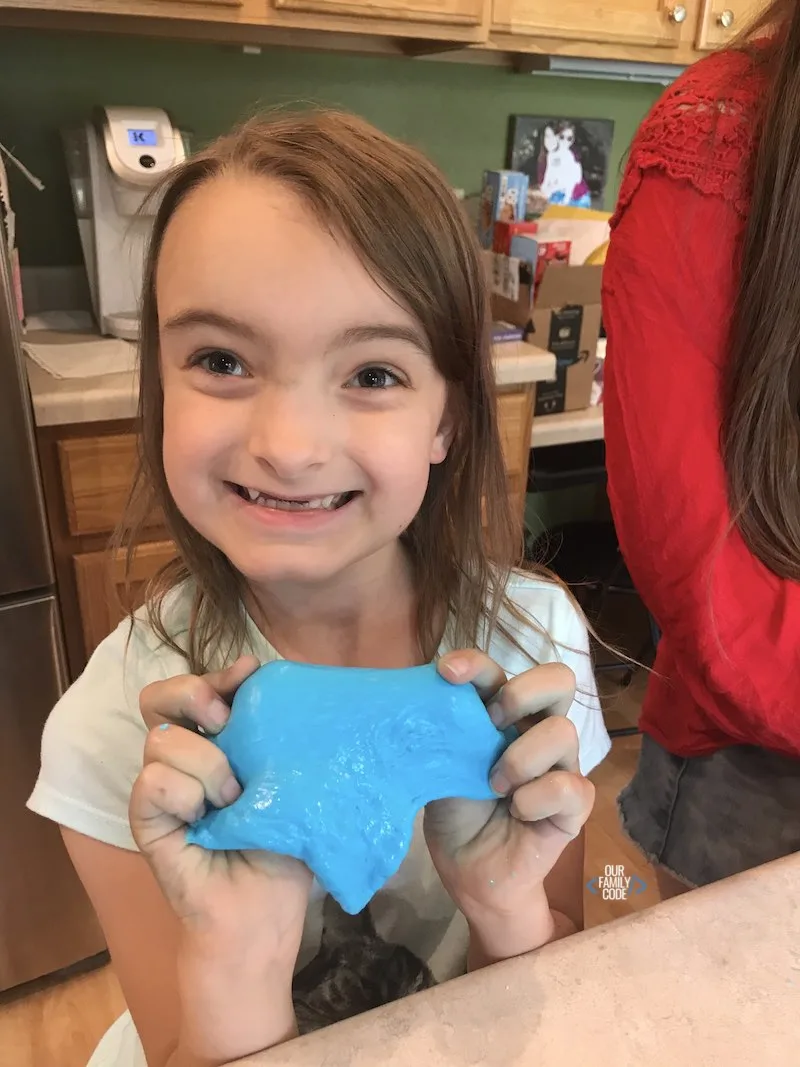 Building Toys
We like to pull out our magnetic tiles at least once a day. Other engineering toy favorites include bristle blocks, wooden blocks, and brain flakes!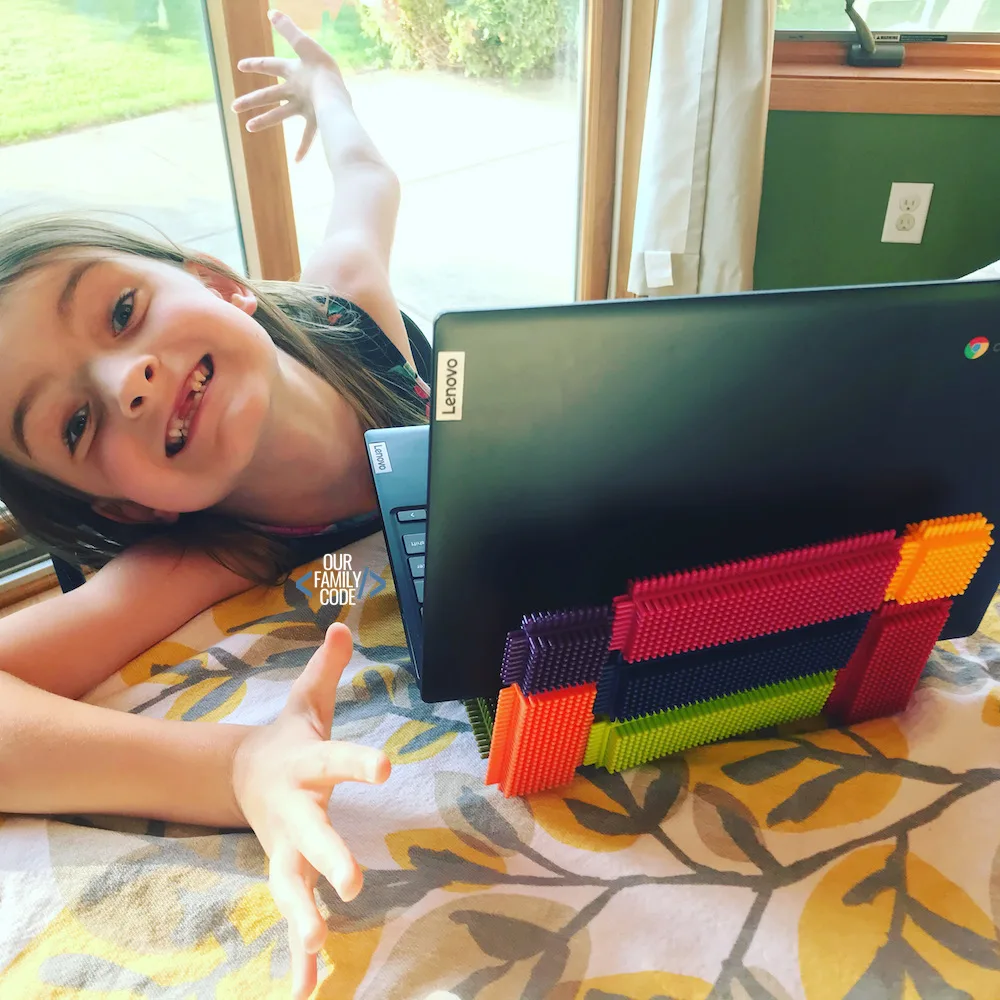 Free Physical Brain Break Idea Cards
Print out these free brain break cards, laminate them (if you want!), cut them out, and have them on hand for brain breaks! Flip a card and do some of the activities during your break!
You can also print out a free fitness coding game that uses some of the same movement activities to teach basic coding skills to kids!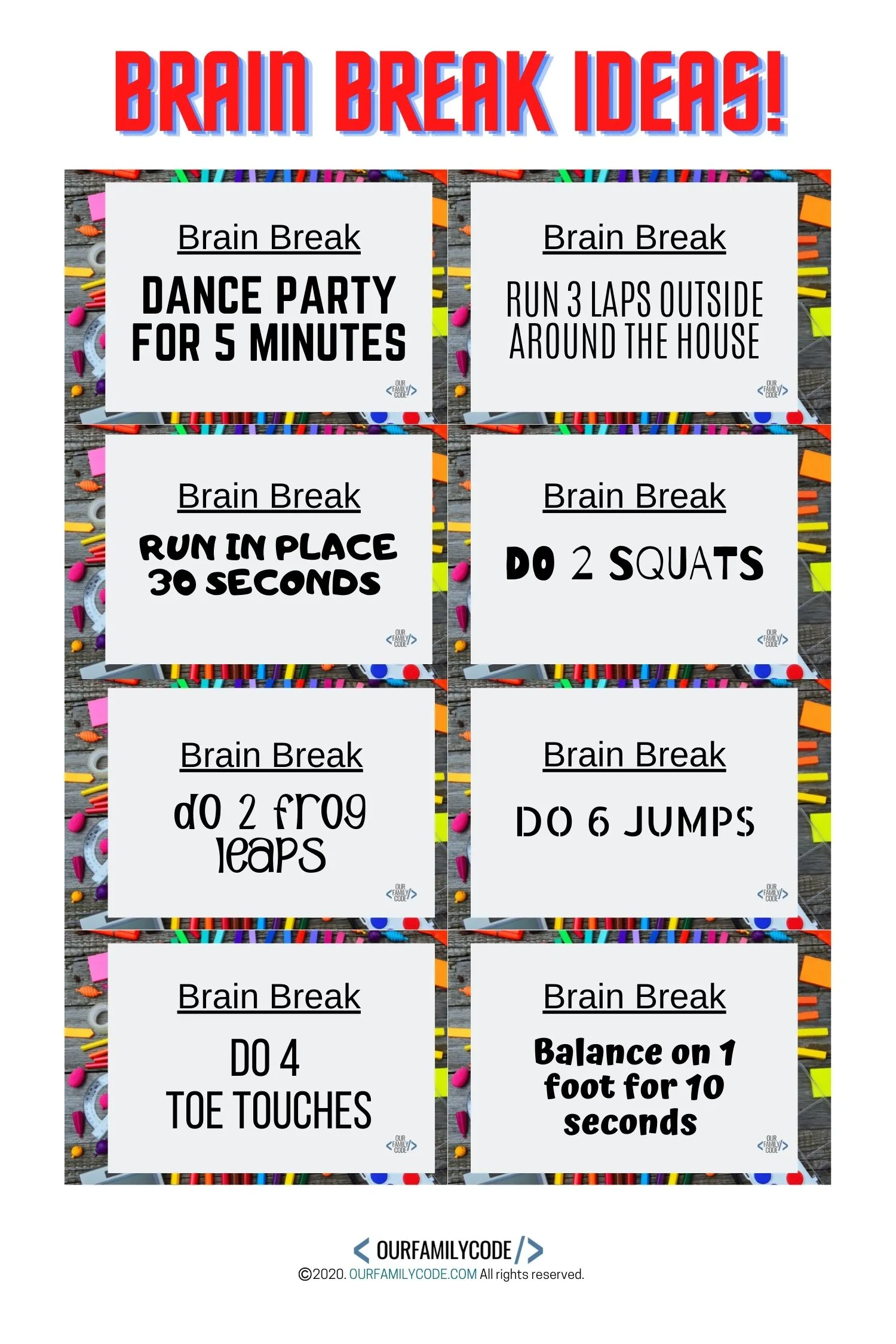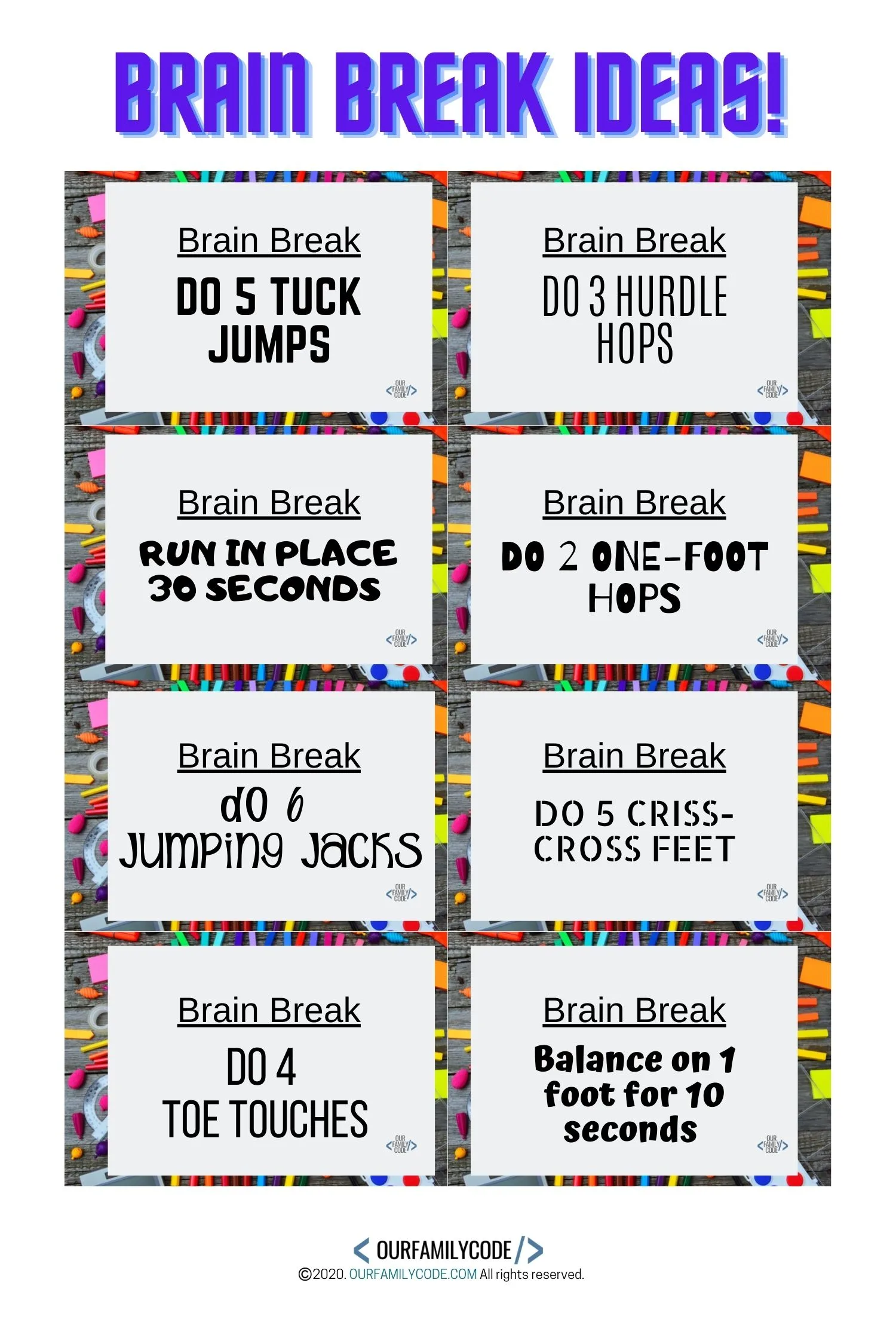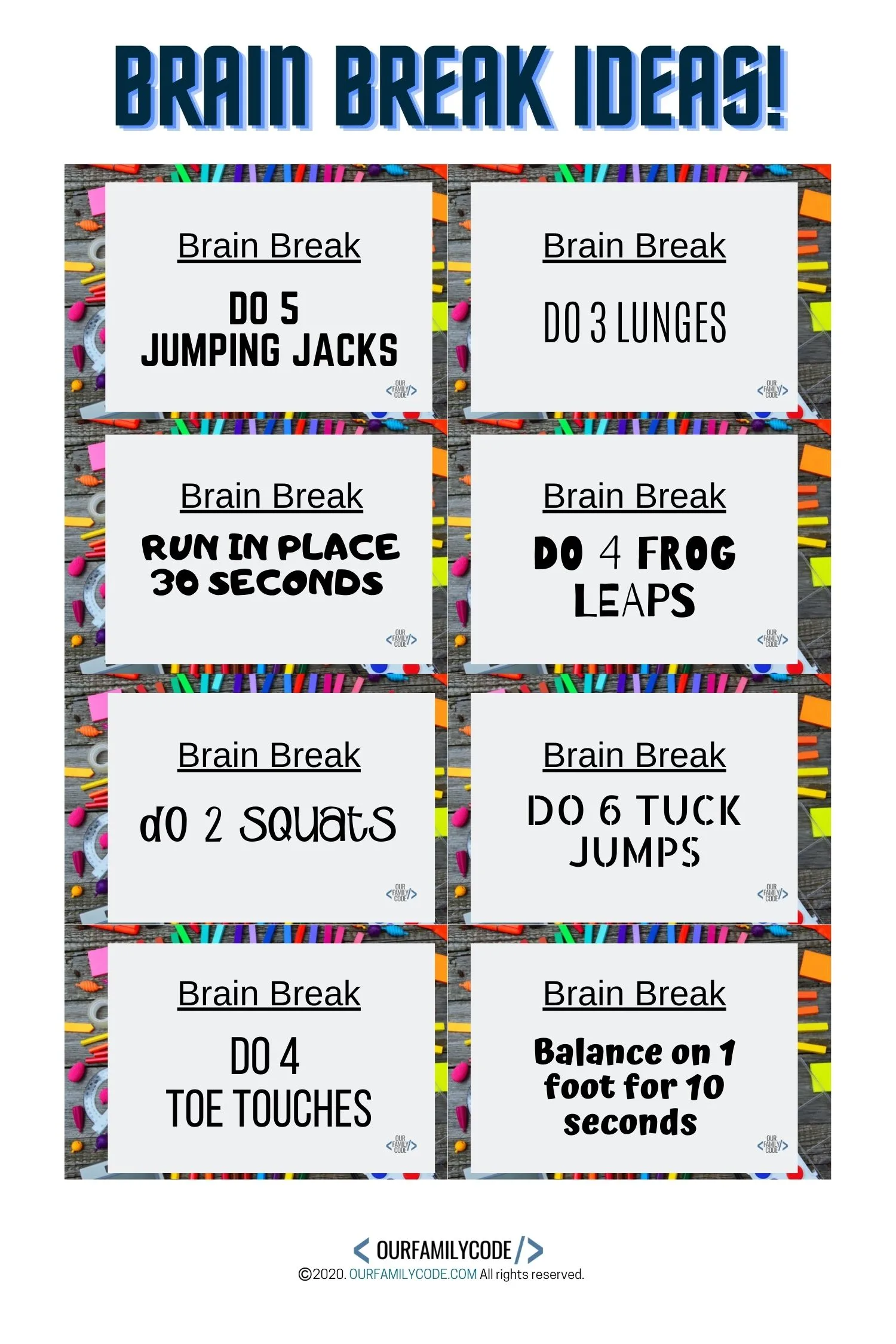 <<CLICK HERE TO DOWNLOAD PHYSICAL BRAIN BREAK CARDS>>
Homeschool Resources
Find more resources for virtual learning, remote learning, and homeschool!
SHARE THESE BRAIN BREAK IDEAS!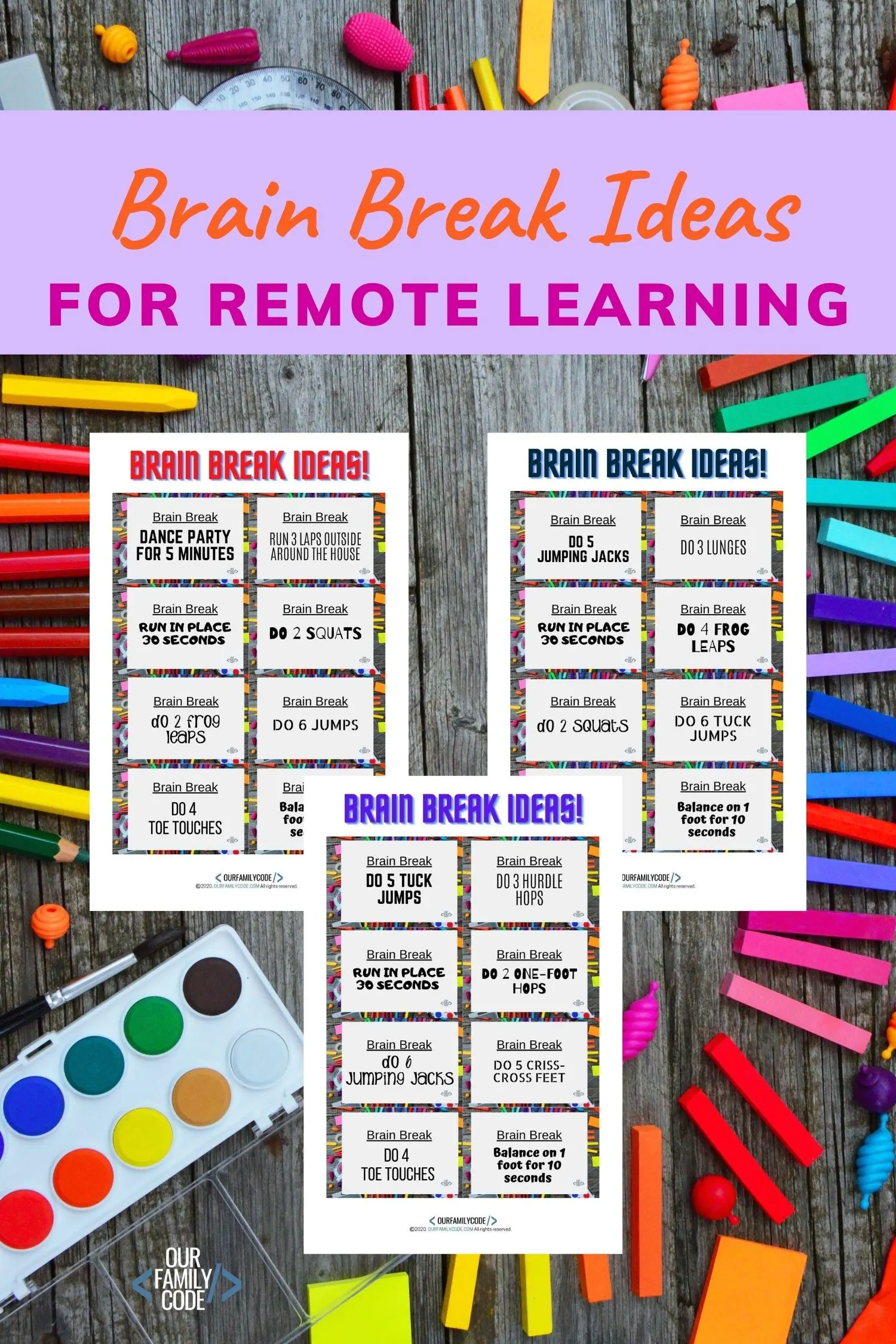 Meet Toni, the Maker Mom behind Our Family Code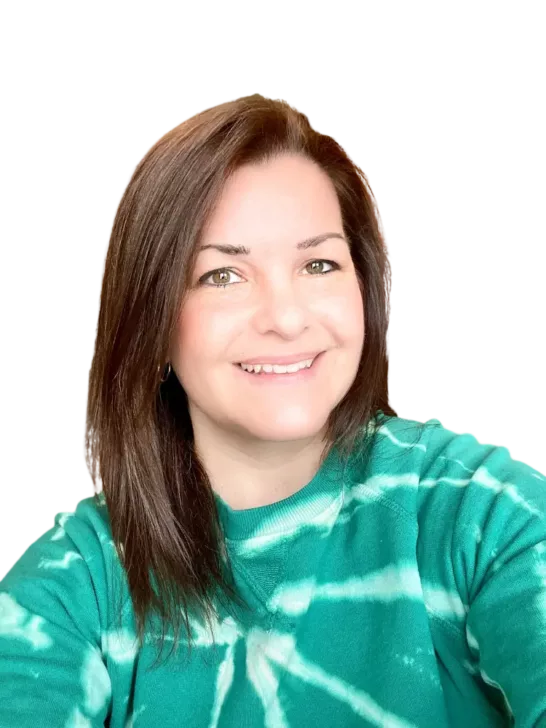 Hey there, I'm Toni! I'm a software engineer and Maker Mom that finds my joy in unleashing my children's curiosity by exploring STEAM concepts with my fantastic five!
When I'm not chasing toddlers or raising tweens, you can find me tearing things up and putting them back together over here at Our Family Code.
I am the owner and content creator of multiple educational websites designed to increase access to STEAM & STEM education with a focus on teaching computer science and coding to kids of all ages!
You can also find out more about me by visiting ToniGardner.com!