Make math fun by pairing it with other STEAM disciplines! This round-up of activities includes a ton of math + art activities, math + tech, and math + science for a whole summer of fun!
On Mondays this summer, we are going to explore math with a huge list of fantastic math activities for kids!
These 50 math activities are paired with other STEAM disciplines for some great hands-on learning opportunities!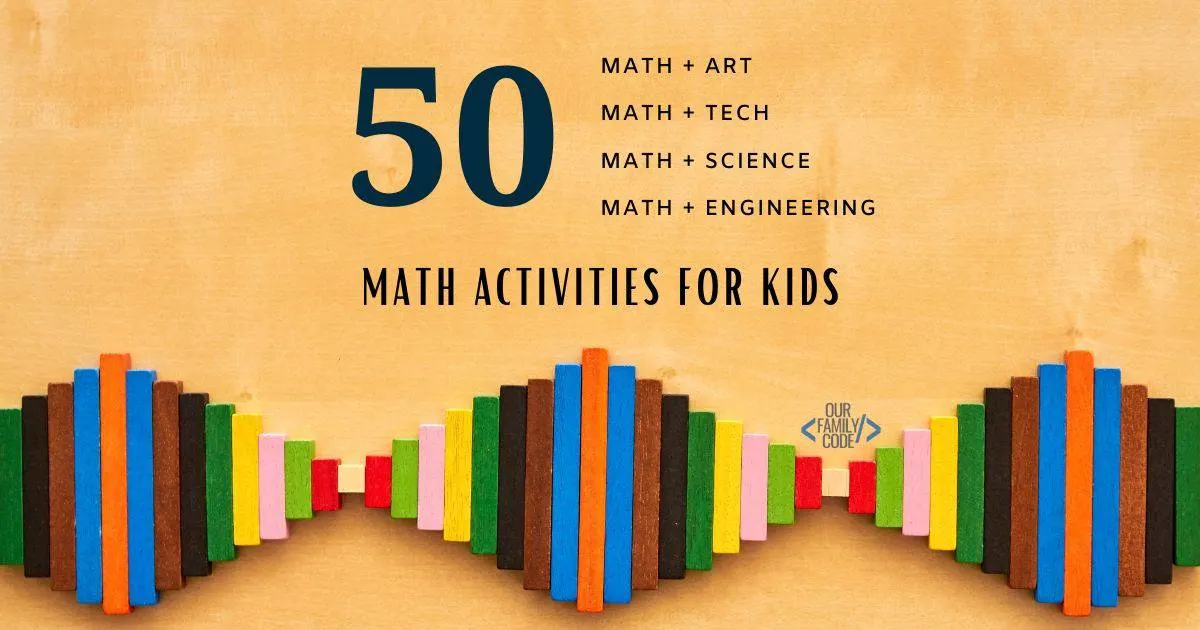 This post contains affiliate links. As an Amazon Associate, Our Family Code earns from qualifying purchases. Please see our Disclosure Policy for more details.
Supplies for Math Activities
Simple math tools such as a ruler, paper, and pencils, are needed for these 50 math activities for kids. There are quite a few unique activities in the bunch, so there are some additional supplies needed.
You'll find a list of these unique supplies below!
Some supplies you'll need for our favorite math activities include (you can also grab them from Amazon by clicking through the link):
Summer of STEAM
Math Mondays are part of our Summer of STEAM Series. I love activities that are super low-prep! That makes it even easier to get things set up quickly!
We are big on routines at our house, so we've sorted our activities into different "themed" days to keep the learning going all summer long!
Check out our Summer of STEAM activities for kids filled with Math Mondays, Tinker Tuesdays, Wonder Wednesdays, Techie Thursdays, and Foodie Fridays!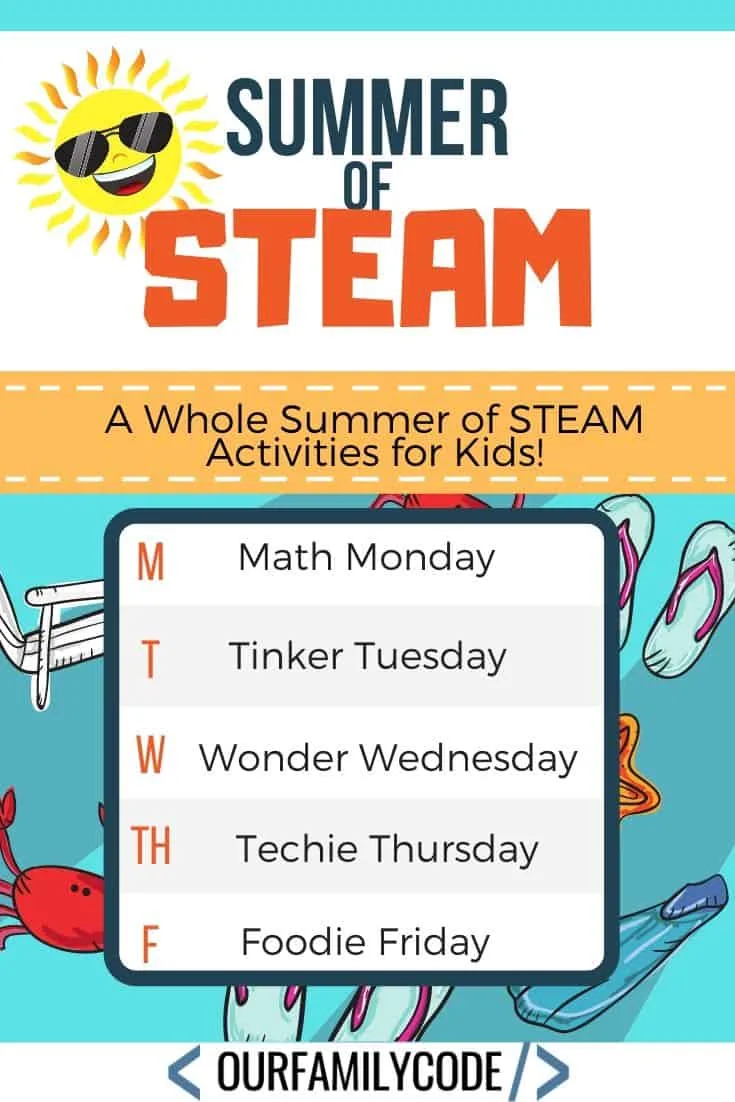 STEAM is the abbreviation for Science, Technology, Engineering, Art, and Math. Like STEM, STEAM is an integrated approach to learning that encourages learners to make connections between the concepts they are learning and how they apply them to real-world problems.
STEAM helps students ask questions, problem solve, think creatively, and produce innovative solutions.

K-8 Math Activities for Kids
The math activities below are designed for kids ages 6 and up. Keep scrolling to find Preschool and Early Learning math activities for kids in the following section!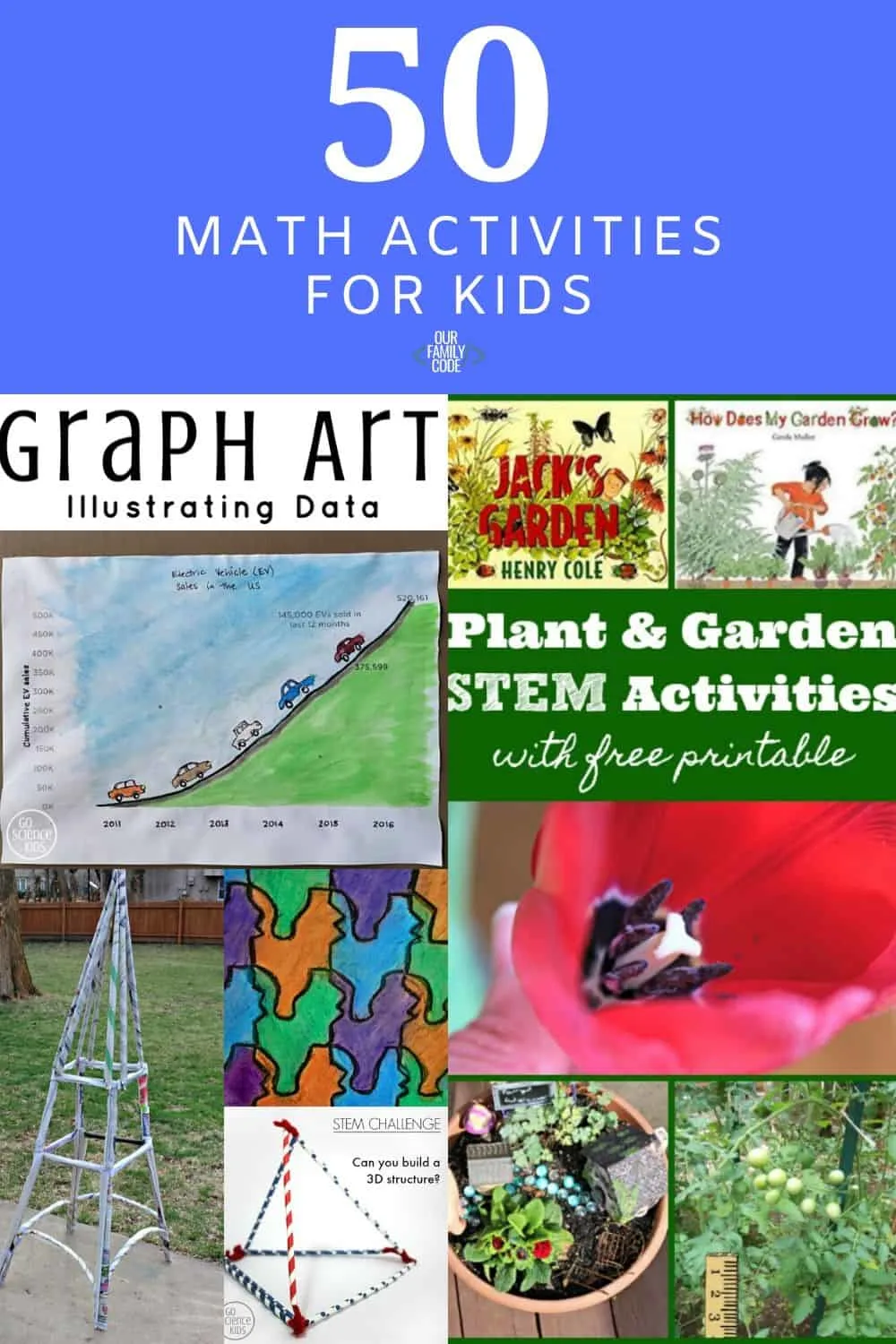 This graph art activity is a great way to pair math + tech + art to illustrate data from Go Science Kids.
Explore some science and math in the garden with these plant STEM activities for kids from KC Edventures.
This oil resist tessellation art is a great way to combine science, art, and math into one masterful activity for kids from Our Family Code!
Can you build 30 structures with this build a 3D structure math + engineering challenge from Go Science Kids?
J'adore this Eiffel Tower engineering project from KC EDventures that pairs math + engineering!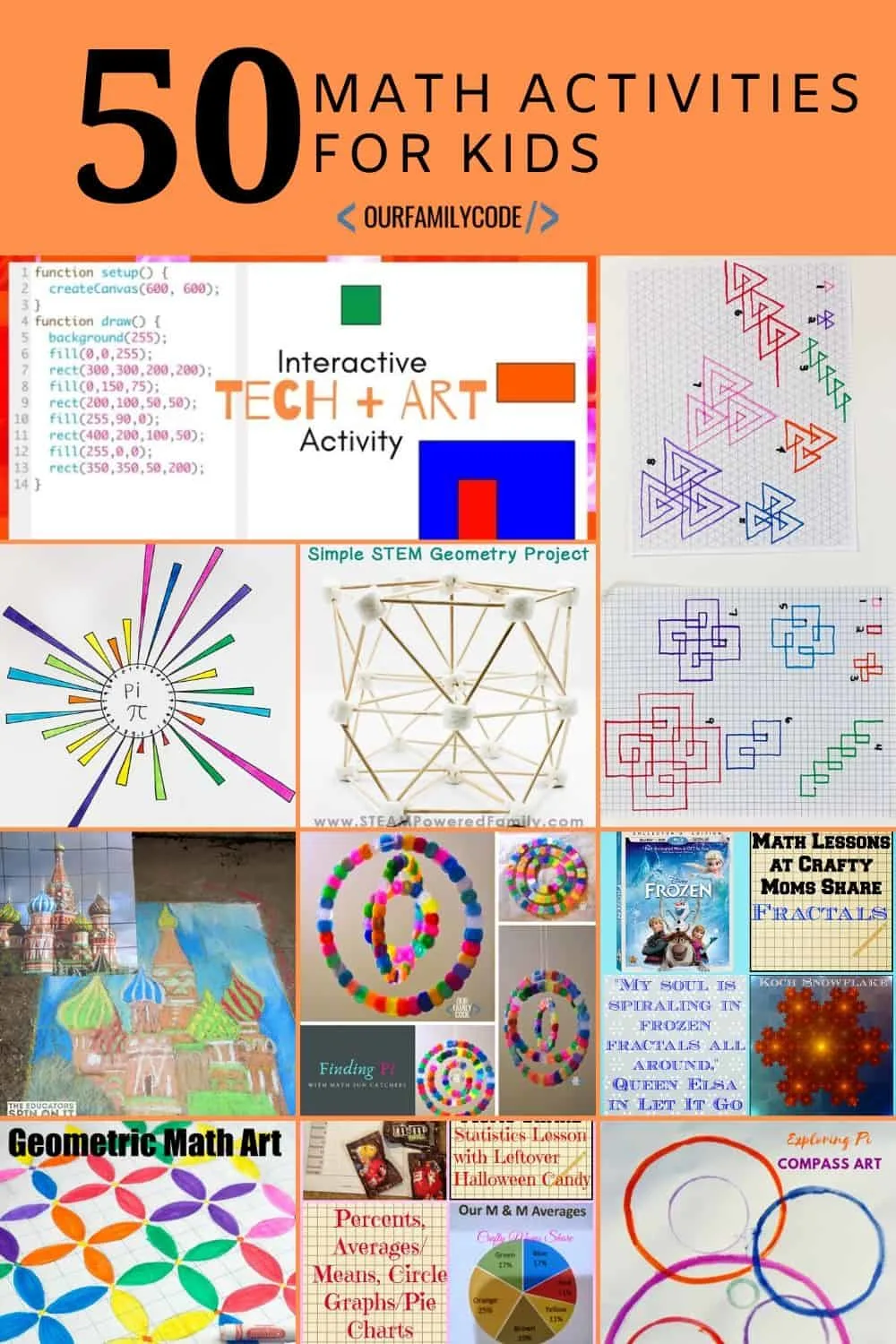 Ready for a fun STEM challenge that uses stuff you already have in your house, that also teaches engineering and math skills? Check out this Marshmallow STEM Building Challenge from STEAM Powered Family
This Pi Day activity combines math and art into a beautiful design from Teach Beside Me.
This math + art + technology activity is designed to show how JavaScript programs can be used to make drawings and introduce kids to the coordinate system used. Learn how to code a rectangle with JavaScript and ProcessingJS, and then try it yourself in the editor boxes from Our Family Code.
This math + art lesson on fractals pairs some favorite Frozen characters with math and we couldn't be more excited! Learn how to create fractals and what iterating is from Crafty Moms Share.
If you are looking for a fun way to integrate math and art, try drawing some spirolaterals with this math + art activity from Teach Beside Me.
Explore the number Pi and prove that it is a mathematical constant by making math sun catchers out of perler beads for a fun math + art STEAM activity from Our Family Code!
Learn about the buildings of Russia with this math + art activity from The Educators' Spin on It.
Make flowers using math with this geometric math art activity from Teach Beside Me.
Learn about percentages, averages, and pie charts with this M&M math activity from Crafty Moms Share.
This watercolor compass art + math activity is perfect for a wide range of ages and learning levels from Our Family Code.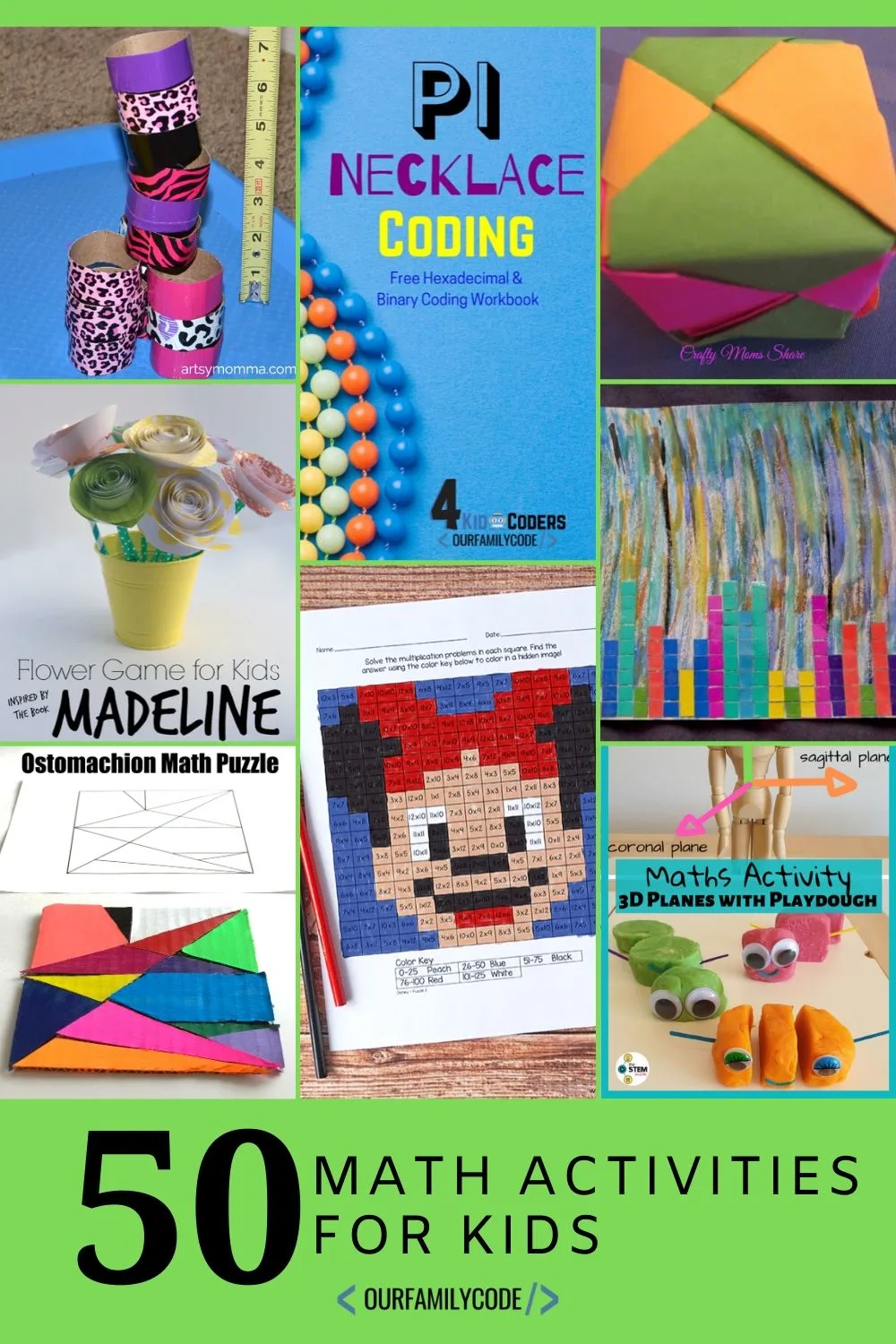 Turn paper towel tubes into two different DIY math games that pair math + engineering from Artsy Momma.
Create a beautiful paper flower arrangement to share with someone special with this spiral paper flower math + art activity inspired by the book Madeline from The Educators' Spin On It.
This Ostomachion Math Puzzle is very similar to tangrams, which most people have heard of. It is a fun STEAM project for teaching math with art from Teach Beside Me.
Using origami in a geometry class can help to make a lesson fun and also can force the students to think outside the box. This math + art geometric origami activity explores math concepts such as quadrilateral properties, symmetry, area, triangles, and more from Crafty Moms Share.
Turn a pi skyline activity into a color coding mosaic pi cityscape activity that works on basic programming skills while introducing Pi in this tech + art + math activity from Our Family Code.
Learn the concept of the coordinate system with this hands-on math + art activity with play dough and explore STEM ideas of spatial representation, object formation, and geometry and math coordinates from The Stem Mum.
This Pi Necklace math + coding activity is the perfect combination of math, binary, and hexadecimal coding for upper elementary and middle school students from Our Family Code.
Write poems using geometry vocabulary with this creative math + art activity from Crafty Moms Share.
Your kids are going to love these math + art Disney mystery multiplication worksheets from Artsy Fartsy Mama.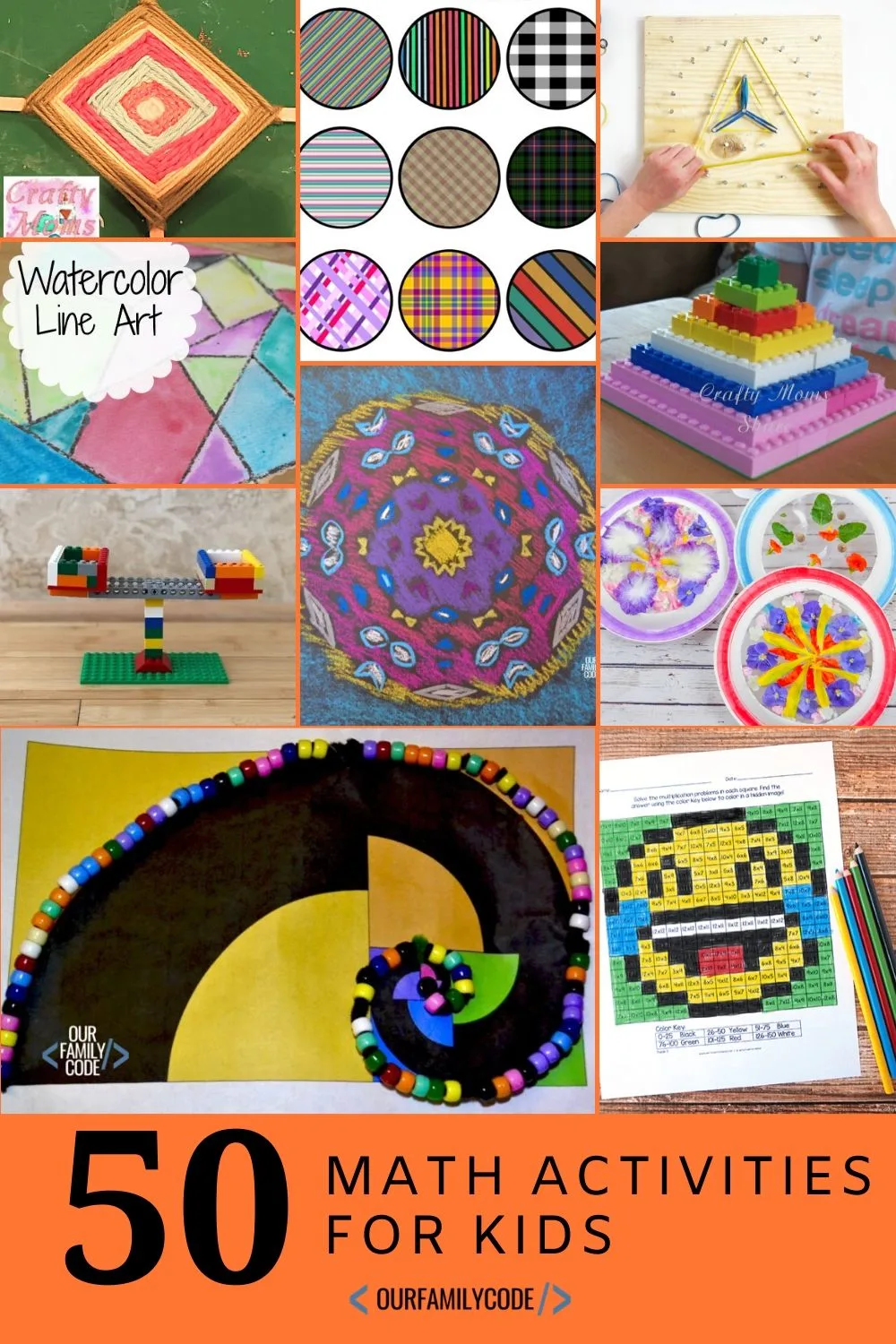 Learn about parallel lines, diagonal lines, vertical lines, horizontal lines, perpendicular lines, etc with this math + art types of lines activity from School Time Snippets.
Build a LEGO balance scale to compare the mass of different objects with this math + engineering activity from Mombrite.
Make a circle geoboard with nails and a square of wood with this math + art activity from Teach Beside Me.
Pair coding concepts with math in this Circle Algorithm Art Unplugged Coding Activity from Our Family Code
Find cute and easy origami builds for kids and work on some math skills like symmetry, angles, halves, and thirds from Red Ted Art.
Learn about the history of Pi, Leonardo Fibonacci, or Leonard Euler with these informative math articles from Crafty Moms Share.
Your kids are going to love these math + art free printable Emoji mystery multiplication worksheets from Artsy Fartsy Mama.
Craft and explore nature, count, and decorate symmetrical circles with this sun catcher mandala nature craft from A Little Pinch of Perfect.
This Frozen Snowflake Symmetry Resist Art art activity pairs math + art from Our Family Code.
Introduce the pyramid geometric shape with this Egyptian pyramid math activity from Crafty Moms Share.
This Fibonacci math and art activity presents this would-be complex mathematical concept in an easy to understand, tangible way with Fibonacci art and is ideal for elementary-age kids through tweens from Our Family Code!
Explore several discovery math activities from Crafty Moms Share.
Make a God's Eye craft with this math + art woven craft from Crafty Moms Share.
Preschool Math Activities
These preschool math activities are a great way to learn fundamental math concepts like shapes, measuring, weighing mass, and counting.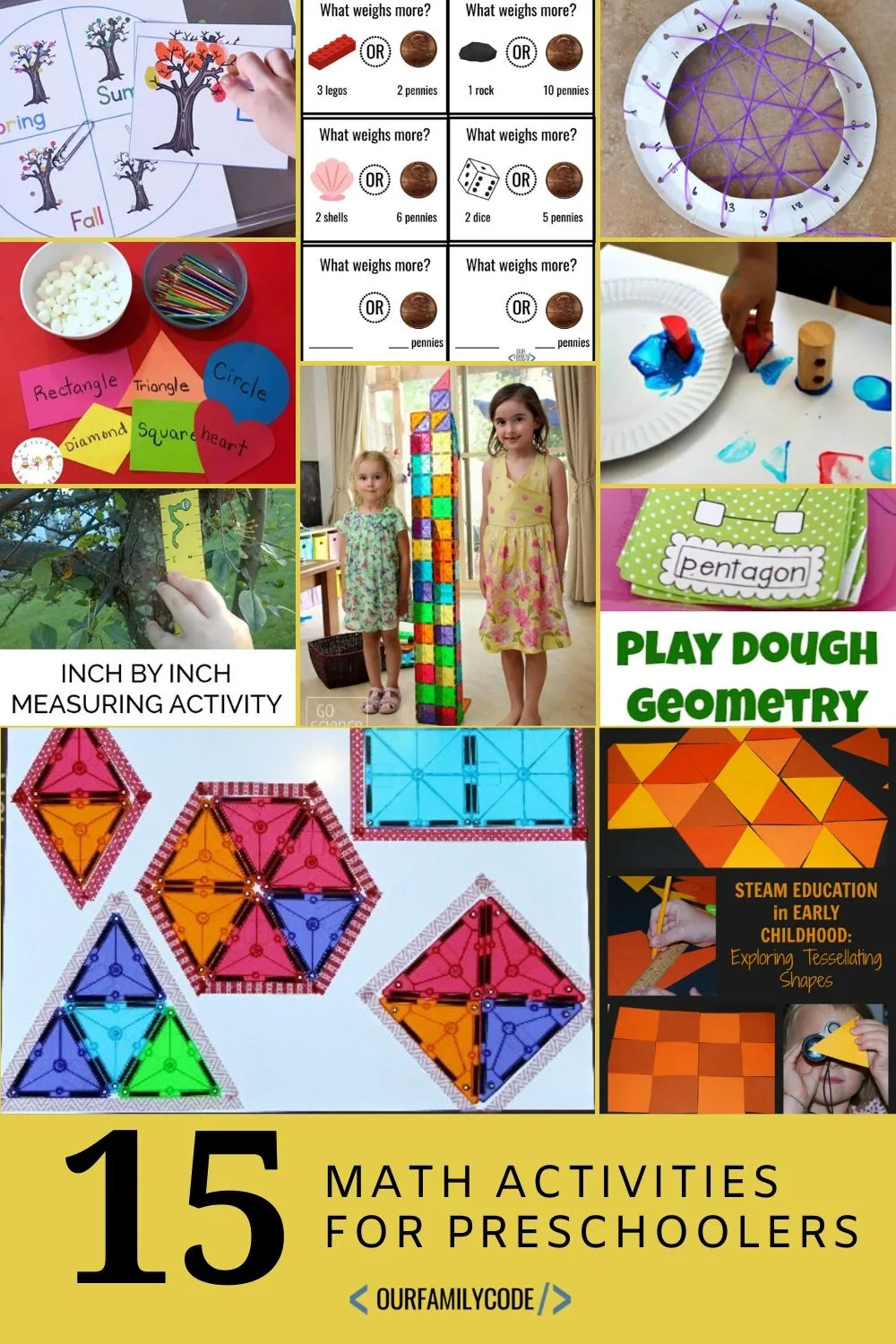 Make geometry art with this 2D shape painting activity using 3D blocks from Nurture Store.
Learn About Mass With This Preschool Balance Scale STEAM Activity with free measuring worksheet from Our Family Code
Grab these free Leo Lionni Inch by Inch printable activities and get outside and learn how to measure objects with this great activity from Rainy Day Mum.
This simple activity on the light table that explores basic math concepts for Preschoolers from Happily Ever Mom.
Explore 2D and 3D shapes with this hands-on activity using play dough from School Time Snippets.
You can explore the seasons with this fingerprint leaves counting game from Fun Handprint Art.
Explore tessellating shapes from The Preschool Toolbox
Build shapes with marshmallows by practicing your engineering skills from Homeschool Preschool
Measure height with magna-tiles with this math activity from Go Science Kids
This spider web number lacing paper plate activity makes a fun preschool math activity since it works on number recognition and counting. Lacing the spider web is great for working those fine motor skills!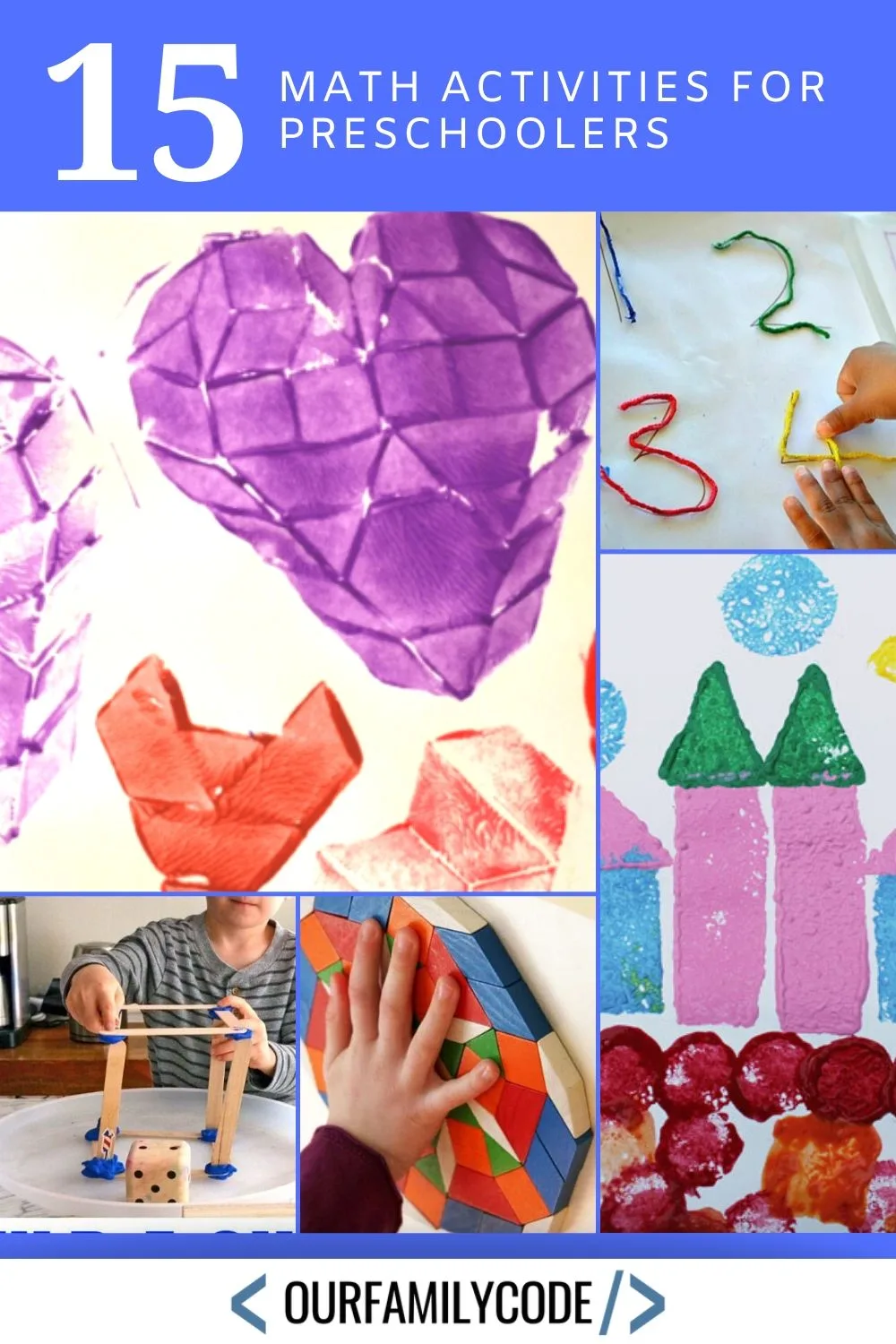 This geometric shape stamp activity is an invitation to create with shapes cut out of kitchen sponges, dipped in colored paint from The Craft Train.
Looking for a no-mess sensory play activity for children that doubles as a fantastic opportunity to learn math through art? Create sensory wall mosaic art with kids from Mama Smiles.
Work on number recognition and fine motor skills with this sticky yarn learning activity from Fun Littles.
This Kindergarten shape build is a great activity to explore shapes and have some fun from Days with Grey.
Turn tangrams into stamps to create tangram process art! This activity uses a little bit of creativity while learning about shapes to make fun process art from Our Family Code.
PIN THIS IMAGE TO SAVE THESE MATH ACTIVITIES FOR KIDS!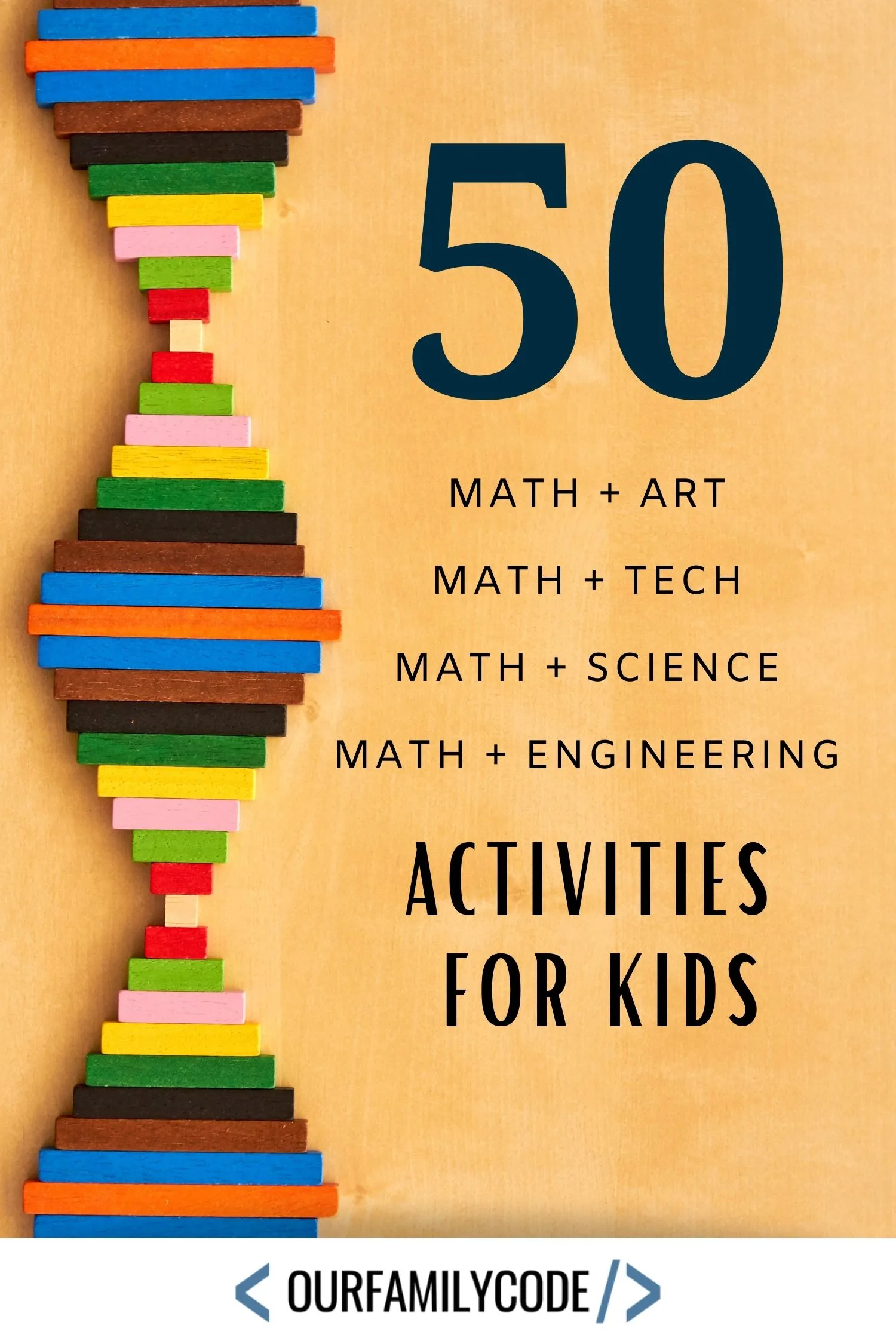 Math + Art Activities
Math + Art activities are our jam! Find more Math + Art + Tech activities!
Meet Toni, the Maker Mom behind Our Family Code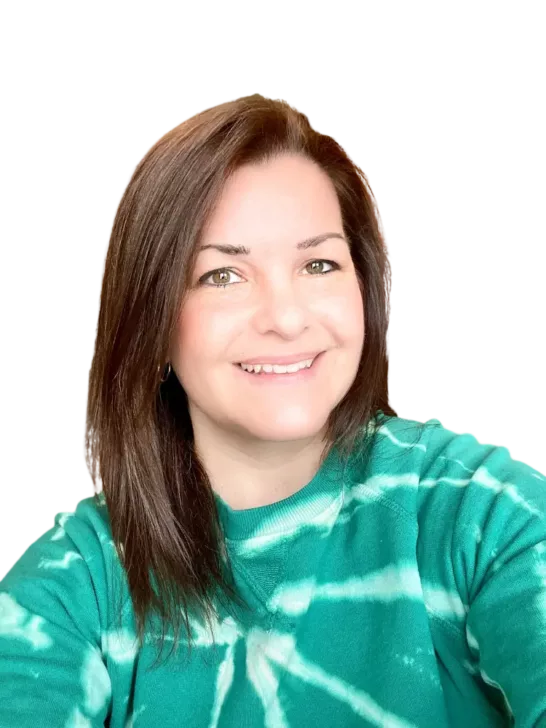 Hey there, I'm Toni! I'm a software engineer and Maker Mom that finds my joy in unleashing my children's curiosity by exploring STEAM concepts with my fantastic five!
When I'm not chasing toddlers or raising tweens, you can find me tearing things up and putting them back together over here at Our Family Code.
I am the owner and content creator of multiple educational websites designed to increase access to STEAM & STEM education with a focus on teaching computer science and coding to kids of all ages!
You can also find out more about me by visiting ToniGardner.com!