Learn how to draw 3D images and make anaglyph artwork and grab some free 3D art worksheets to learn how to draw red and blue 3D!
This 3D art activity is so much fun! I love when art meets technology and this activity includes the best of both worlds.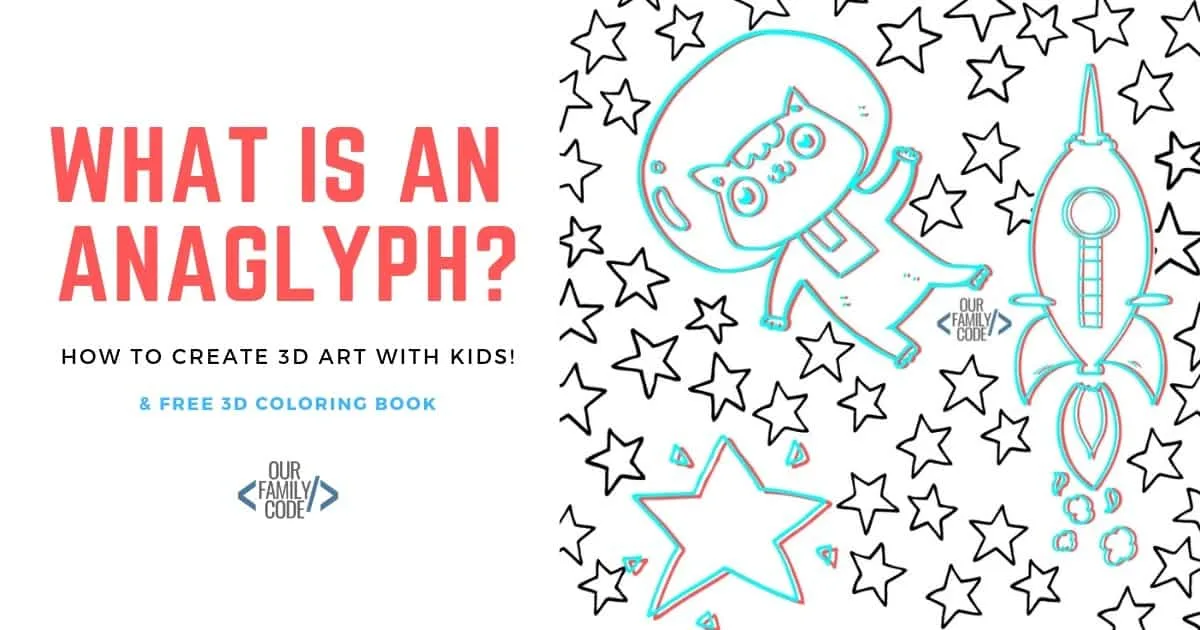 I'm a huge fan of perception activities. I even won 3rd place in the city science fair when I was in high school for my perception experiment where I gathered oodles of data to find correlations between social circles, education, and upbringing with how we perceive external stimuli like images!
3D illusion drawing is really easy to make and super fun to see the final results.
I had to kick Charlotte off her coloring just to get her to go to bed tonight because she was having too much fun! I like to think that alone is a job well done since she is my hardest kiddo to engage for projects like these.
The full 3D art activity includes using computer photography programs, which might be better suited for kids in late elementary and middle school. Don't stress though!
I turned my 5th grader into a K-3, 3D art coloring book maker while we waited at dance class this afternoon! You can snag the full coloring book at the end of the post and everyone can join in on the technology side of this 3D art STEAM activity!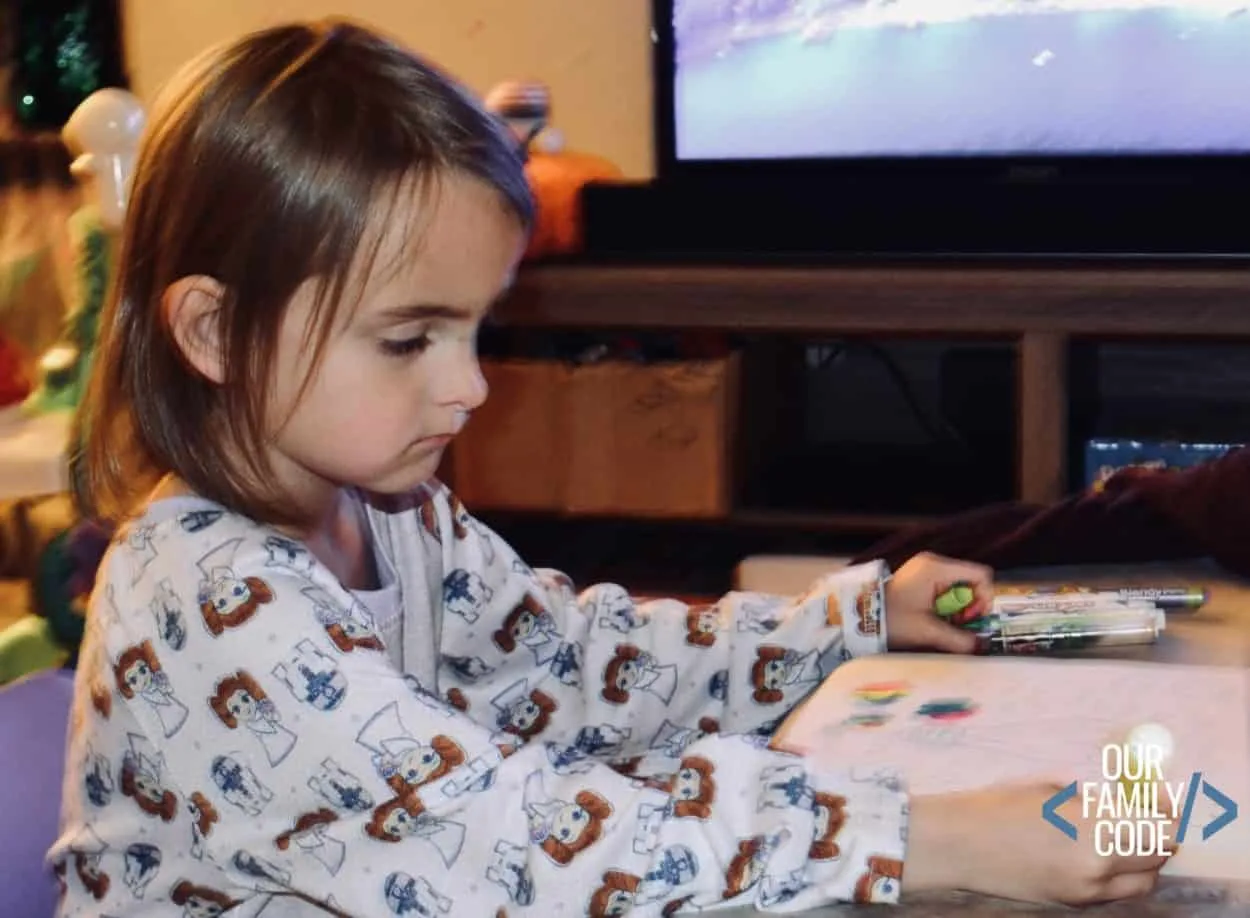 This post contains affiliate links. As an Amazon Associate, Our Family Code earns from qualifying purchases. Please see our Disclosure Policy for more details.
Why STEAM Activities?
STEAM is the abbreviation for Science, Technology, Engineering, Art, and Math.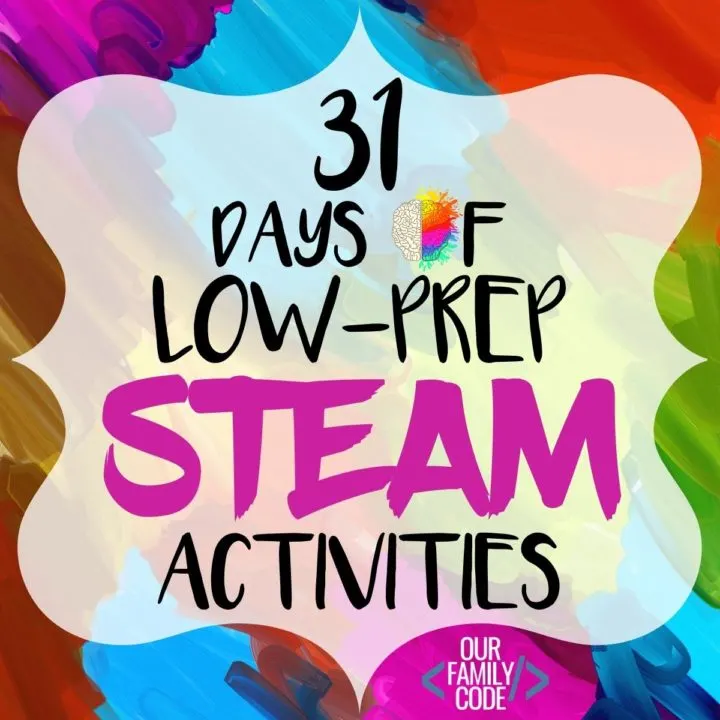 STEAM, like STEM, is an integrated approach to learning that encourages learners to make connections between the concepts they are learning and how they apply them to real-world problems.
STEAM helps students ask questions, problem solve, think creatively, and produce innovative solutions. Many schools have adopted STEAM learning activities into their curriculum, but it's never too early to start building critical thinking skills.
We love to learn through play at our house and have a blast doing activities for toddlers all the way to tweens!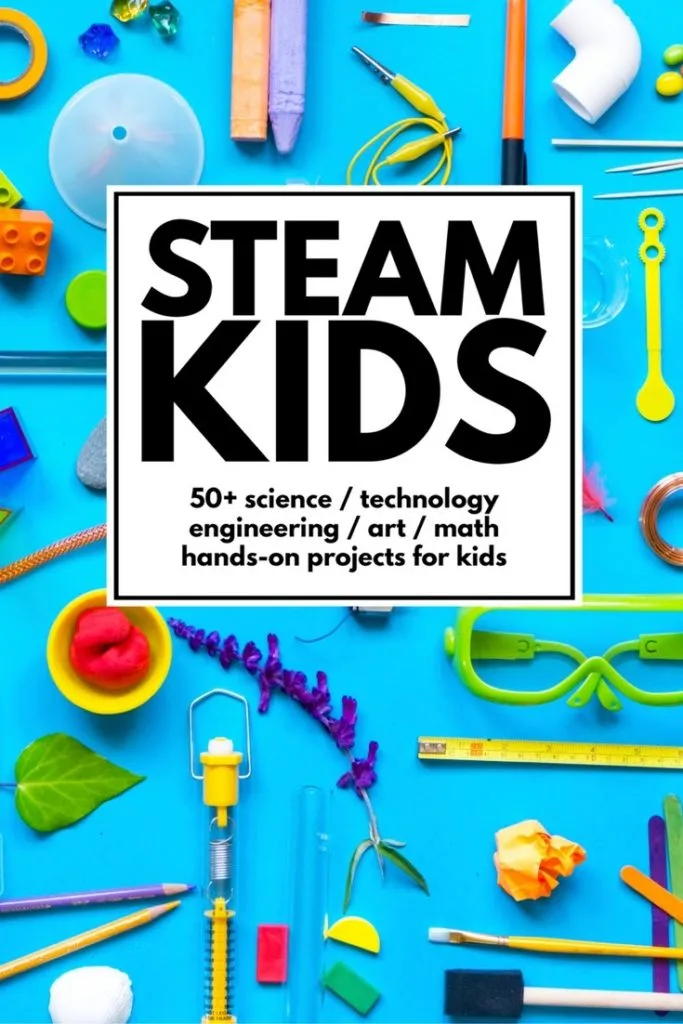 Key 3D Activity Terms
Stereoscopic vision – a single perception of a slightly different image from each eye that aids in depth perception
Anaglyph – the name given to the stereoscopic 3D effect achieved by using different filters to reveal two slightly different images for each eye.
3D Drawings & Anaglyphs for Kids Materials
How to Create 3D Drawings & Anaglyphs for Kids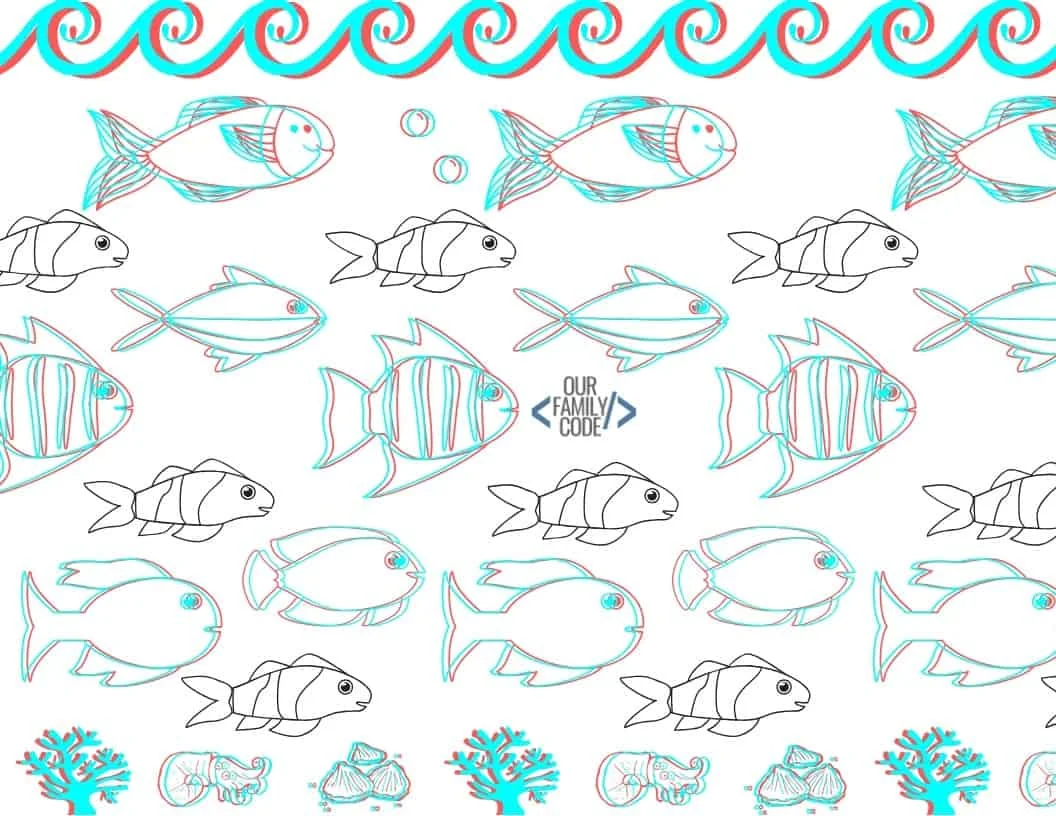 Use Red Pencil to Trace Your Drawing
Use scratch paper to make small lines with your red colored pencils, markers, and crayons. The red must completely disappear when you hold up your red lens to your lines and it must turn dark when you hold the blue lens to the red lines.
Use Blue Pencil to Trace Your Drawing
Repeat the process for your blue colored pencils, markers, and crayons. The blue must disappear when you hold up your blue lens to your lines and it must turn dark when you hold the red lens to the blue lines.
Use only the colors that work. Your 3D image will not work if your colors aren't right.
The blue that worked for us is a cyan and a red. We tested colored pencils, crayons, and markers and found that the colored pencils generated the best results for us.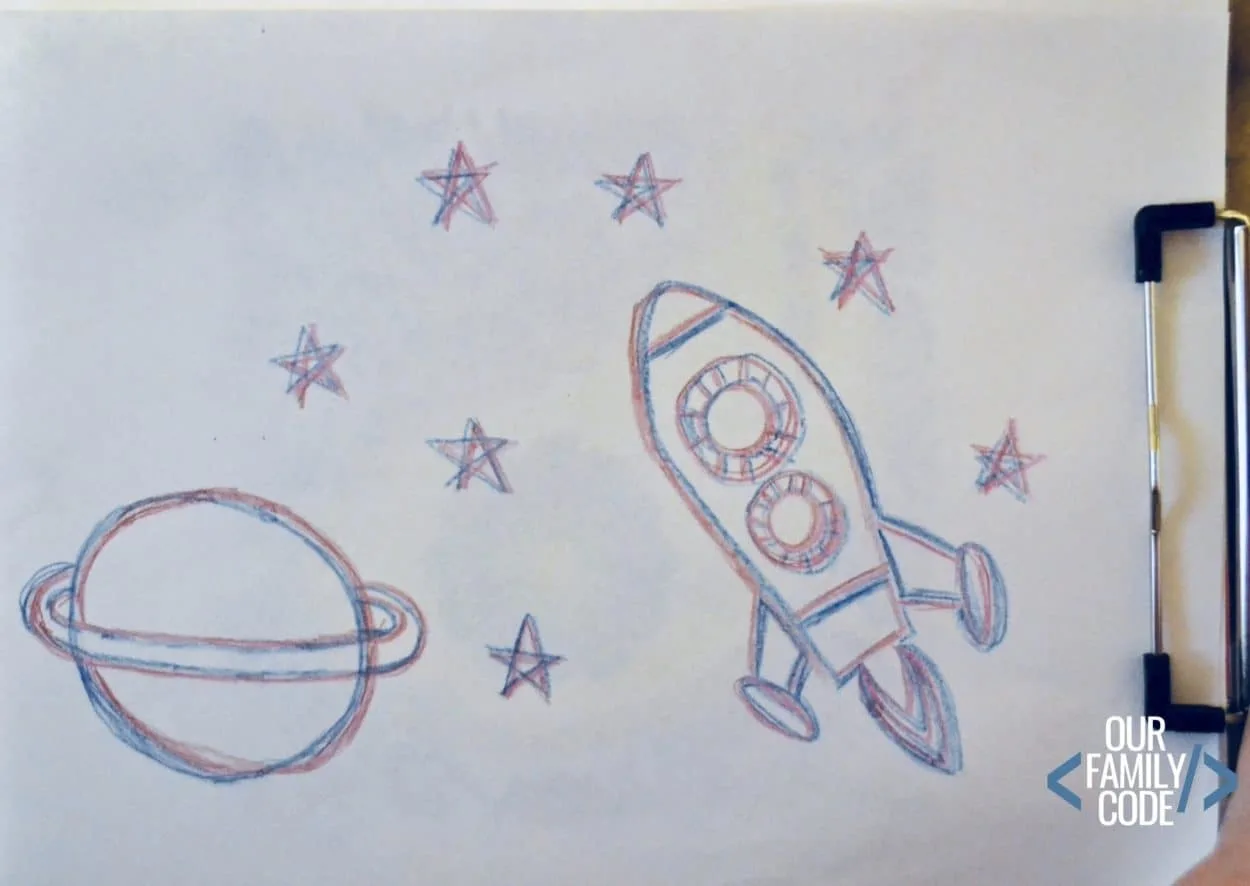 3D Image Exploration
Draw an image in pencil or marker on your paper. We printed an image and then used a light board to trace our image onto a piece of paper with our red colored pencil.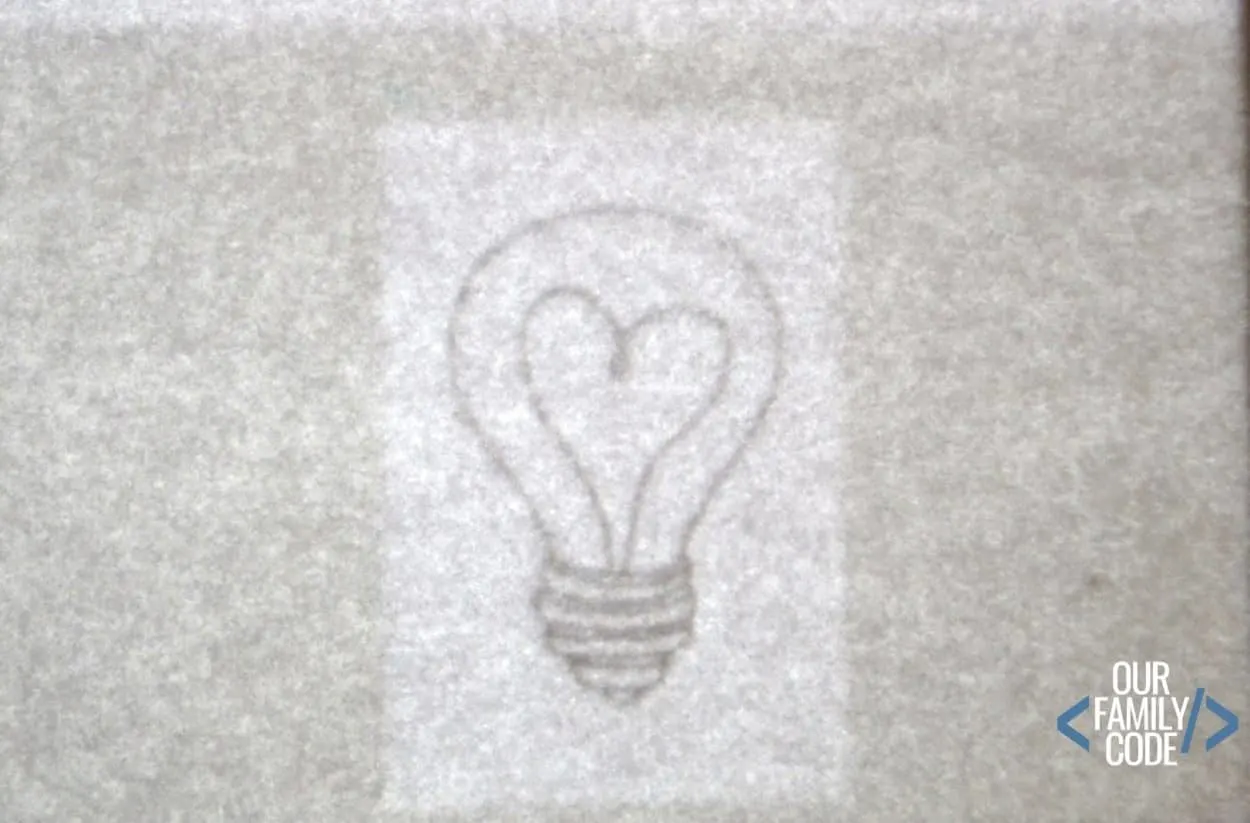 If you are drawing an image on a piece of paper, make sure to trace it with a black marker. Place a blank sheet of paper over your image and trace it with a red colored pencil/crayon/marker.
Understanding the Picture Plane
Shift your paper over to the left or right based on whether you want that image to appear on the front of your picture plane or the back of your picture plane.
The further you shift horizontally, the more that image will appear in front or behind the plane. Be sure not to shift it too far otherwise it will not work.
We decided to keep our lines close as we practiced in order to get really defined 3D images.
Then, use a clipboard to hold our images in place while we traced with our blue colored pencil. The trick is to make sure to be as close to the original as possible for the best 3D image.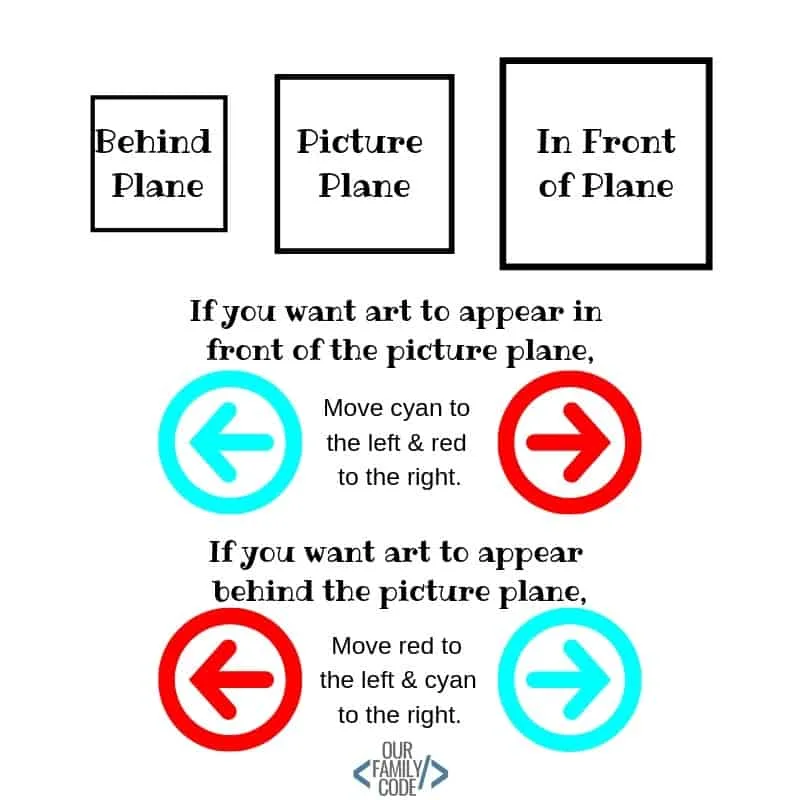 Project Tip: Your red and blue trace marks must be as close to identical as possible to make the best 3D art! Use a clipboard to hold your paper in place and a ruler to shift your art more precisely.
Use your 3D glasses to check out your 3D art! If you are having trouble seeing it, try taking a step back until you can see the image more clearly.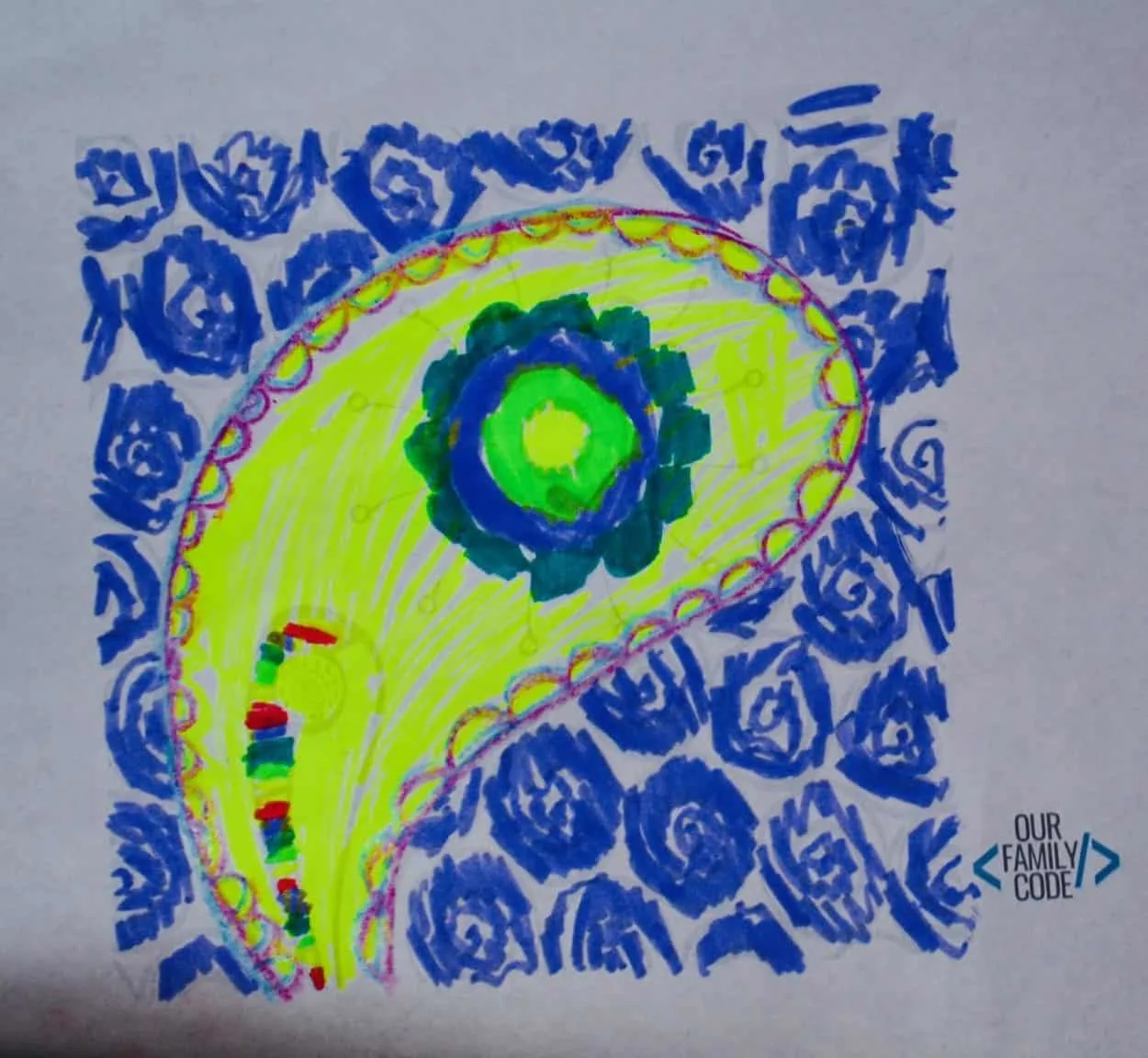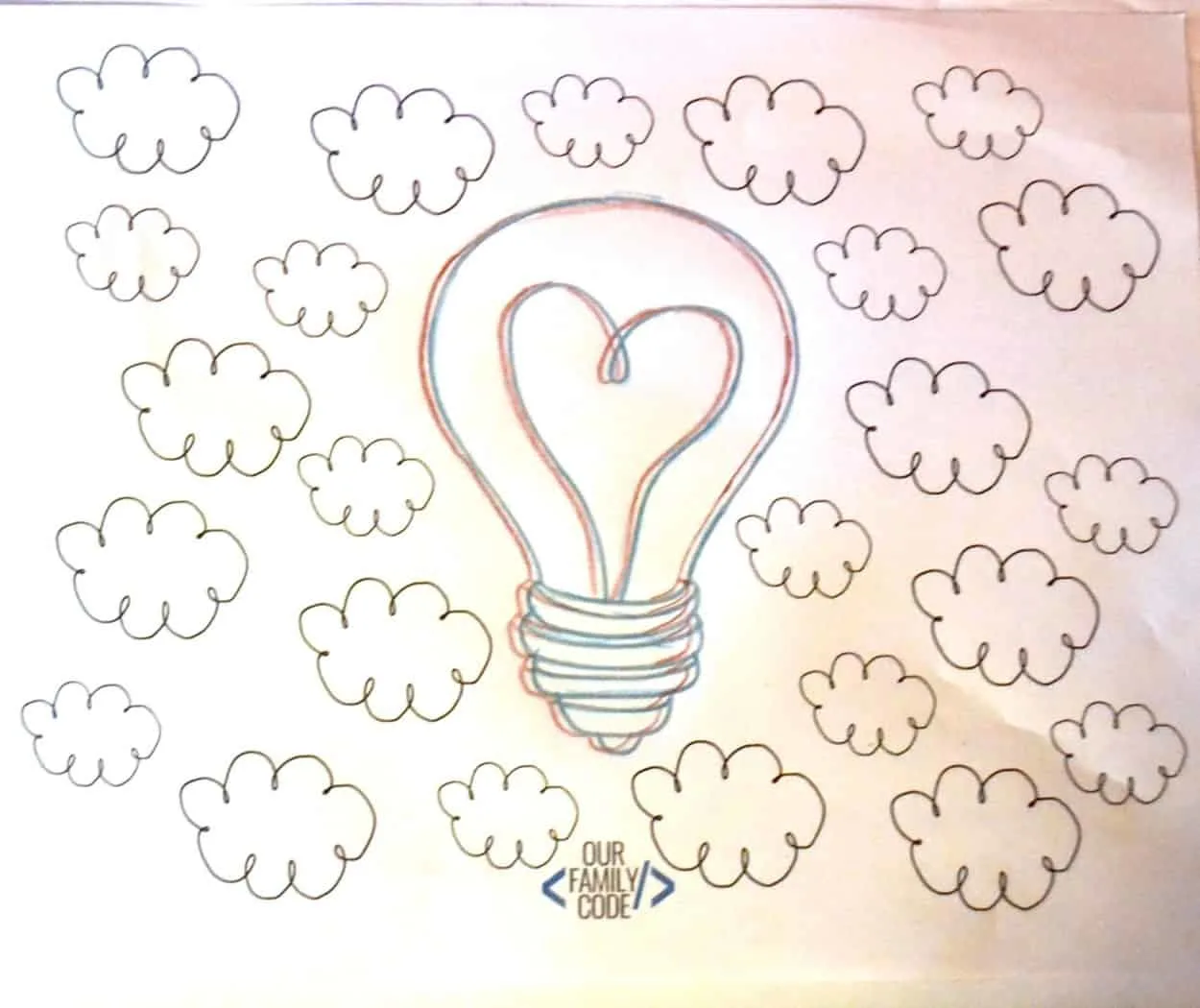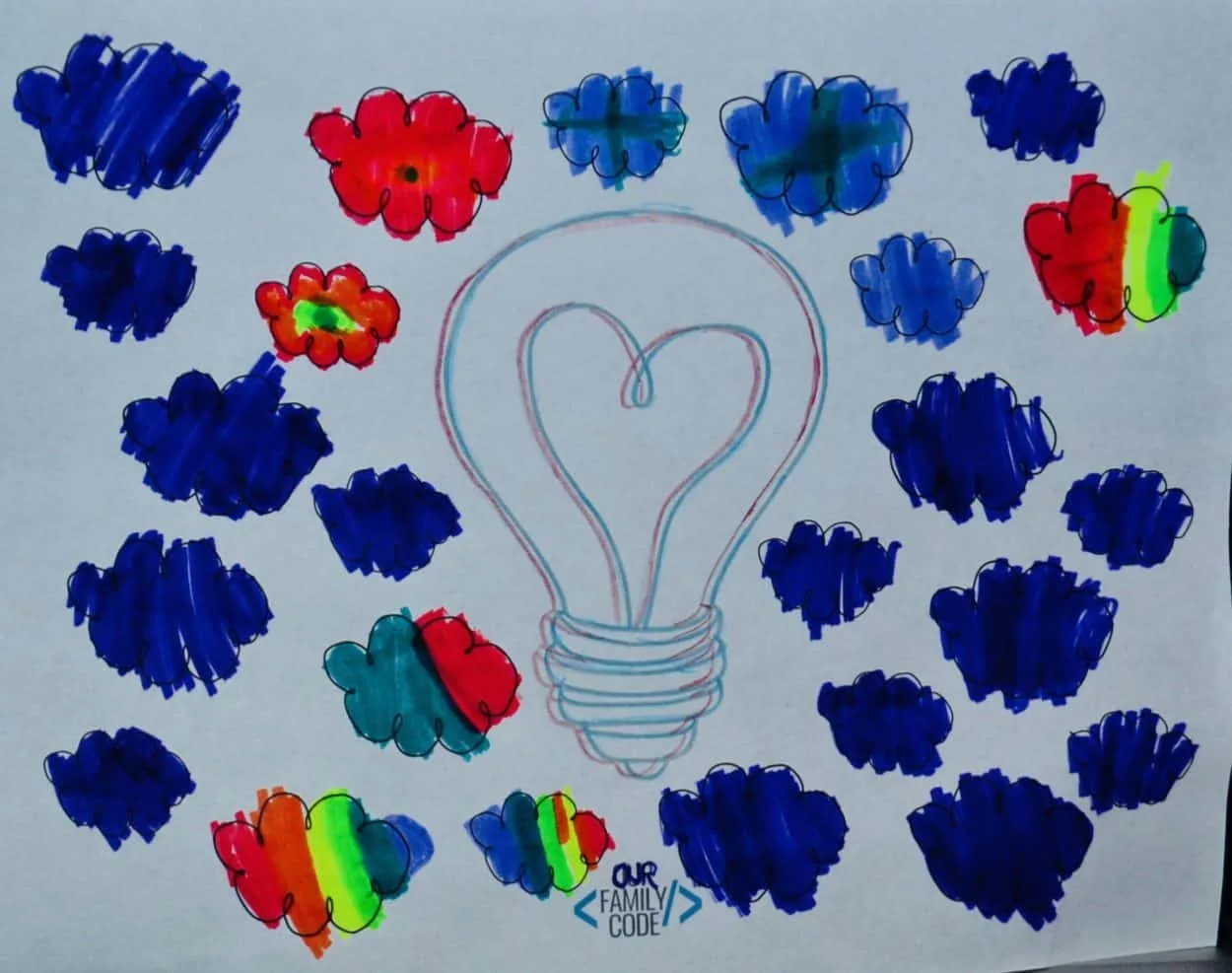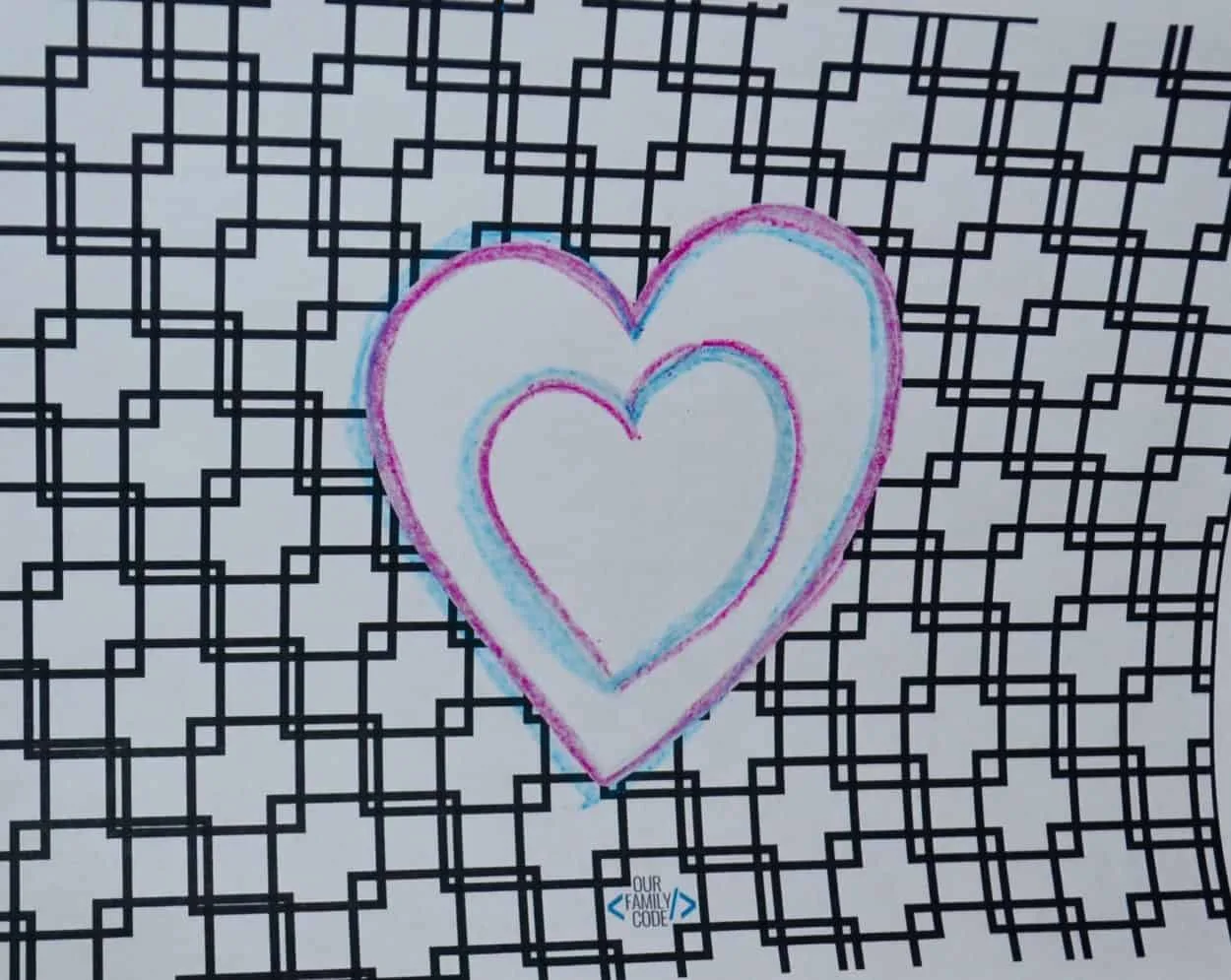 Adding Technology to Make Digital 3D Art
We decided to mix things up a bit and moved to technology to make some 3D art. Peyton, my 5th grader, grabbed some doodles and gave them a try.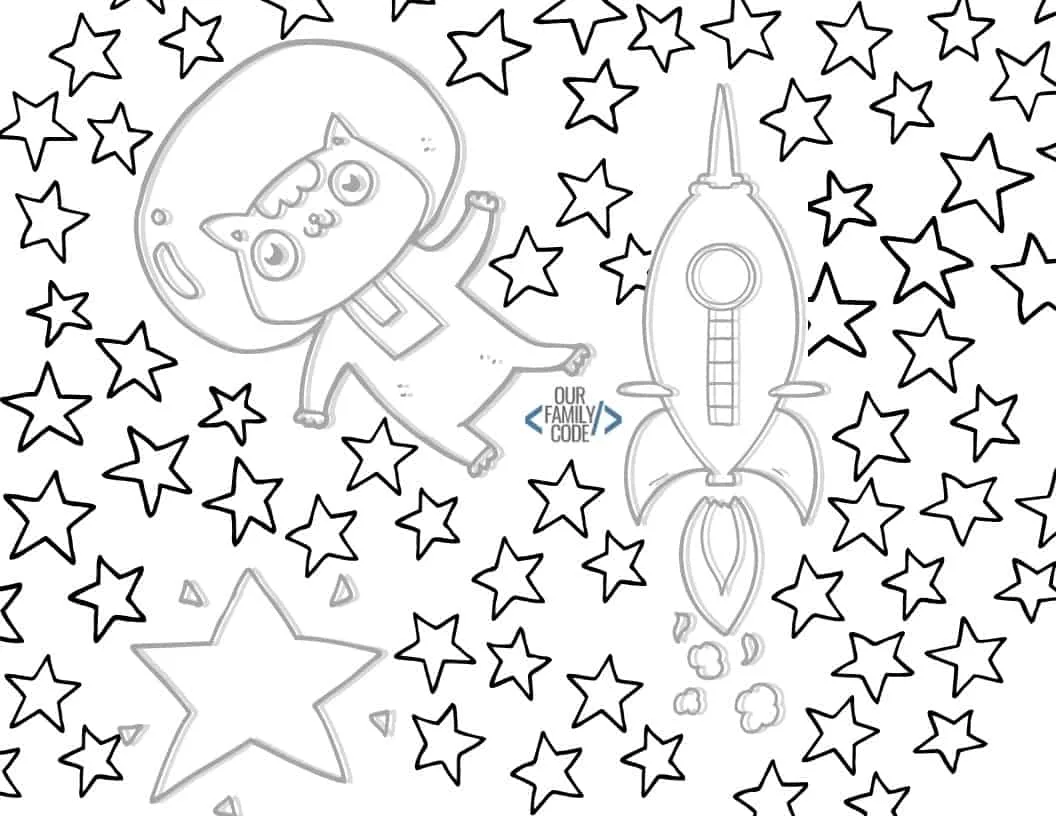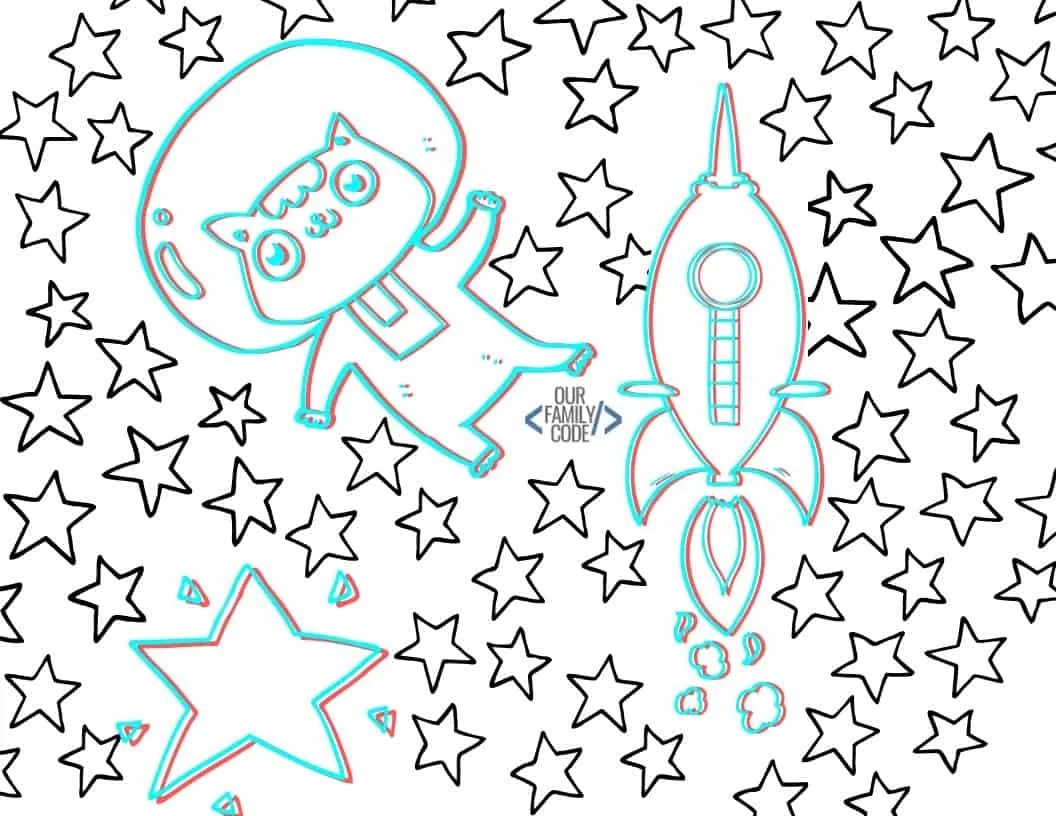 We used cyan (#0000ff) and red (#ff0000) for our two colors. We had to use stock images because this site is a commercial site, but you can grab tons of doodles and transparent background (PNG) images from Google that you can use for personal use purposes.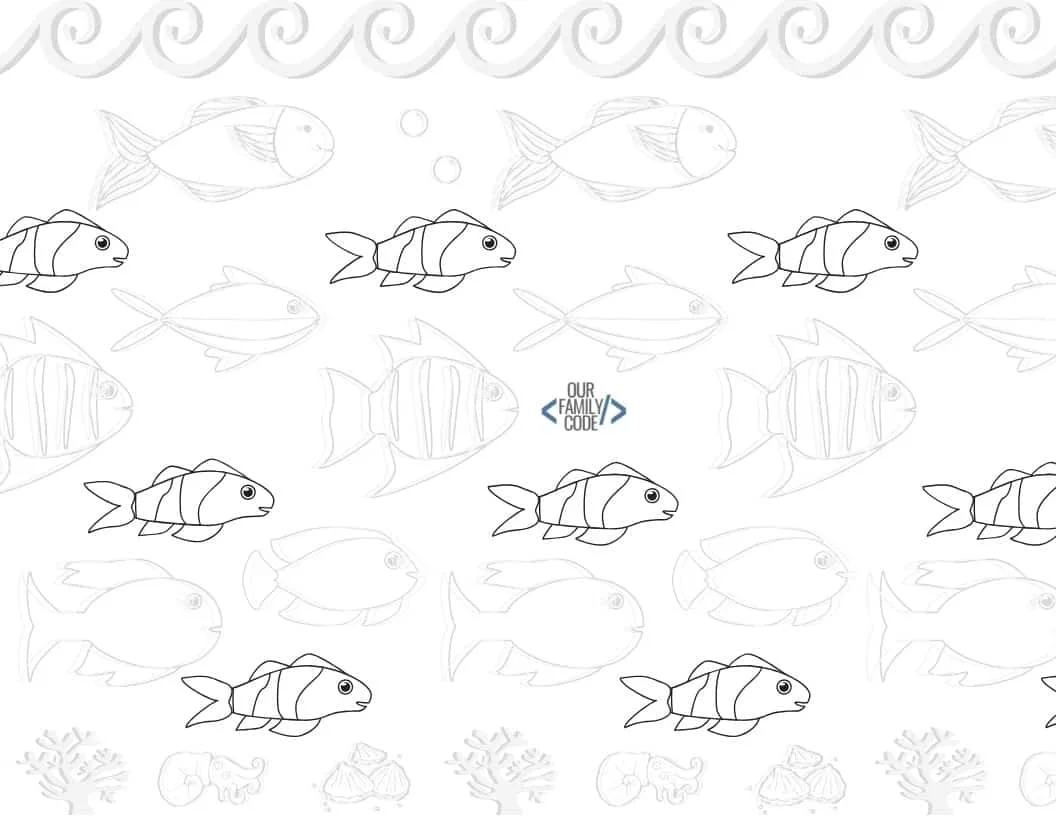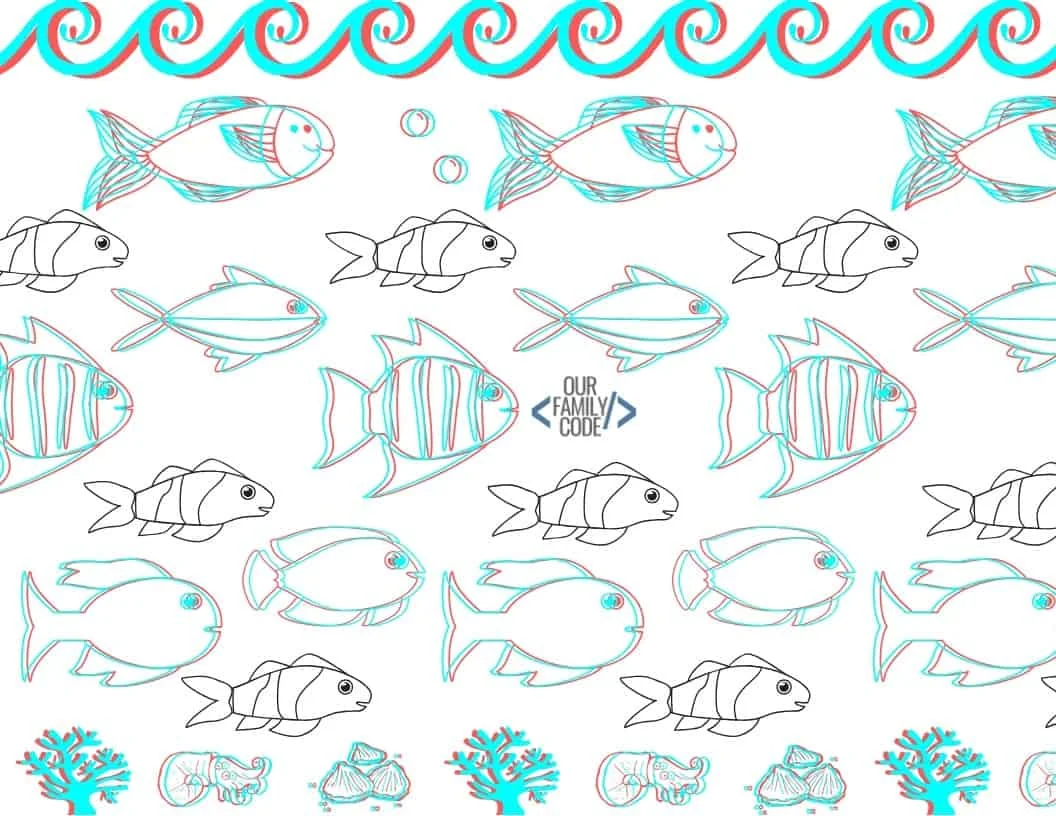 Peyton and I decided to make a 3D coloring book that Charlotte could do since she was still a little too young to understand the technology aspect of this activity.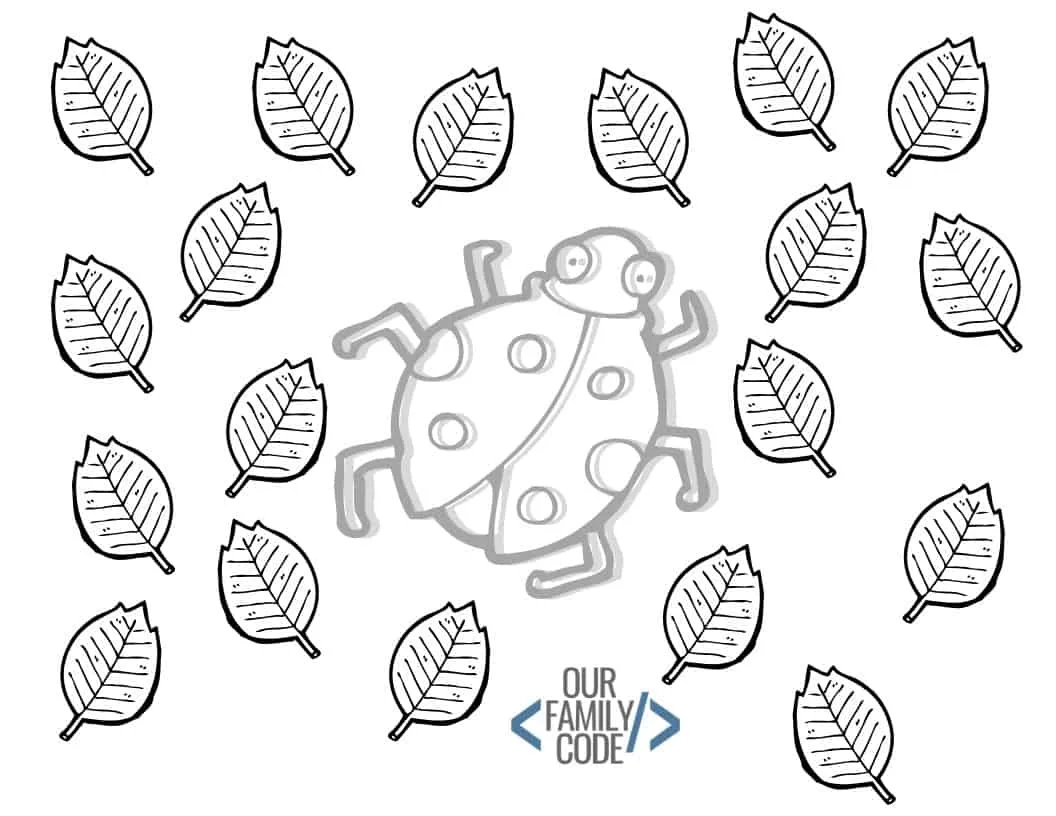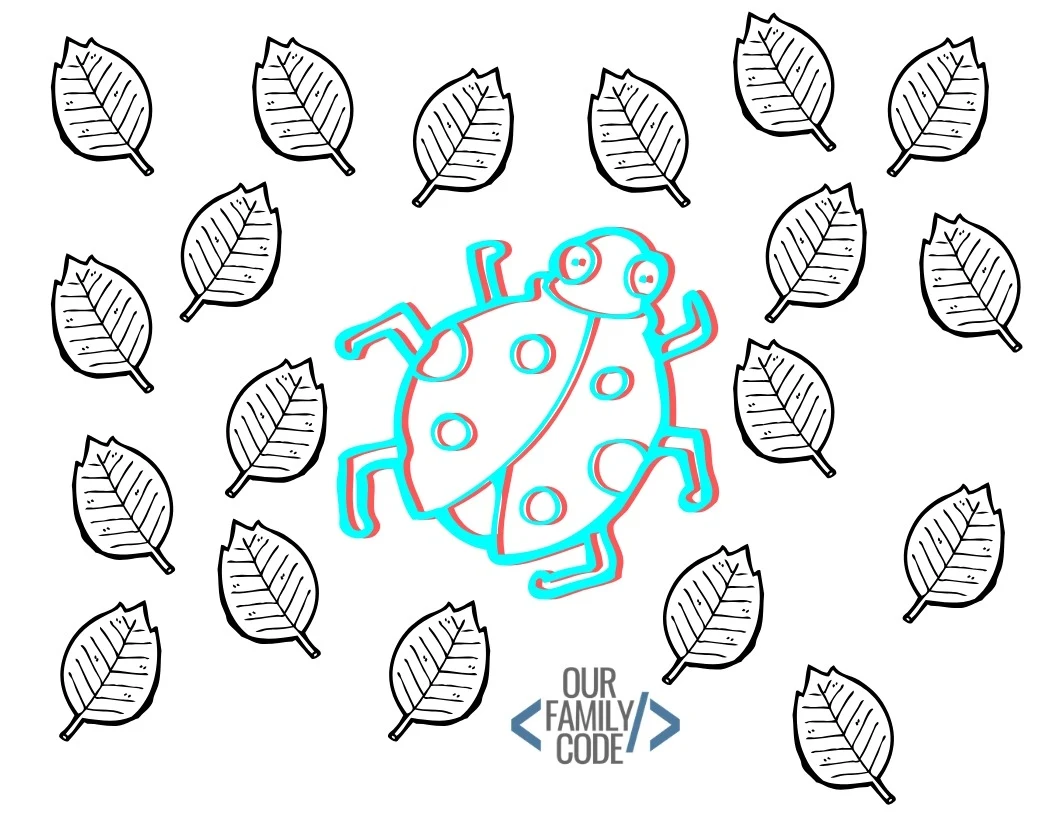 The Science Behind 3D Art
The red and blue lenses of your 3D glasses mimic stereoscopic vision. The red lens of your 3D glasses hides the red lines and the blue lens hides the blue lines of your 3D art.
The human brain sees these images and perceives the 3D structure due to the differences between them. How cool is that!?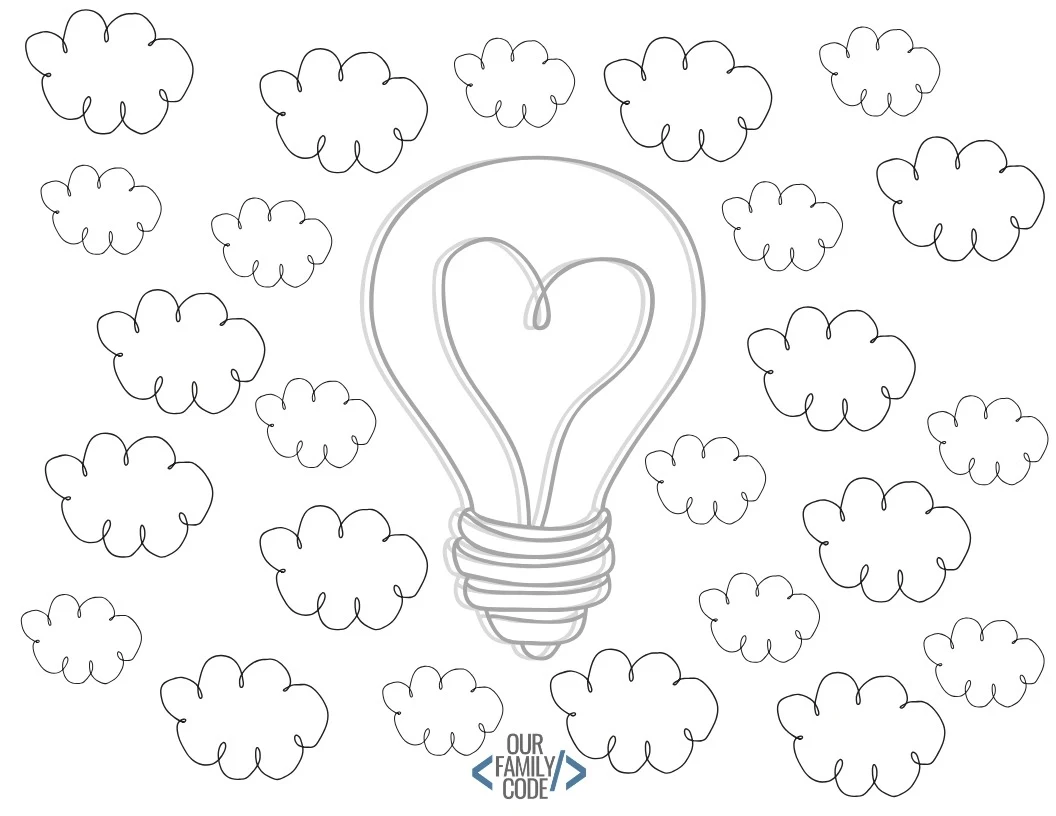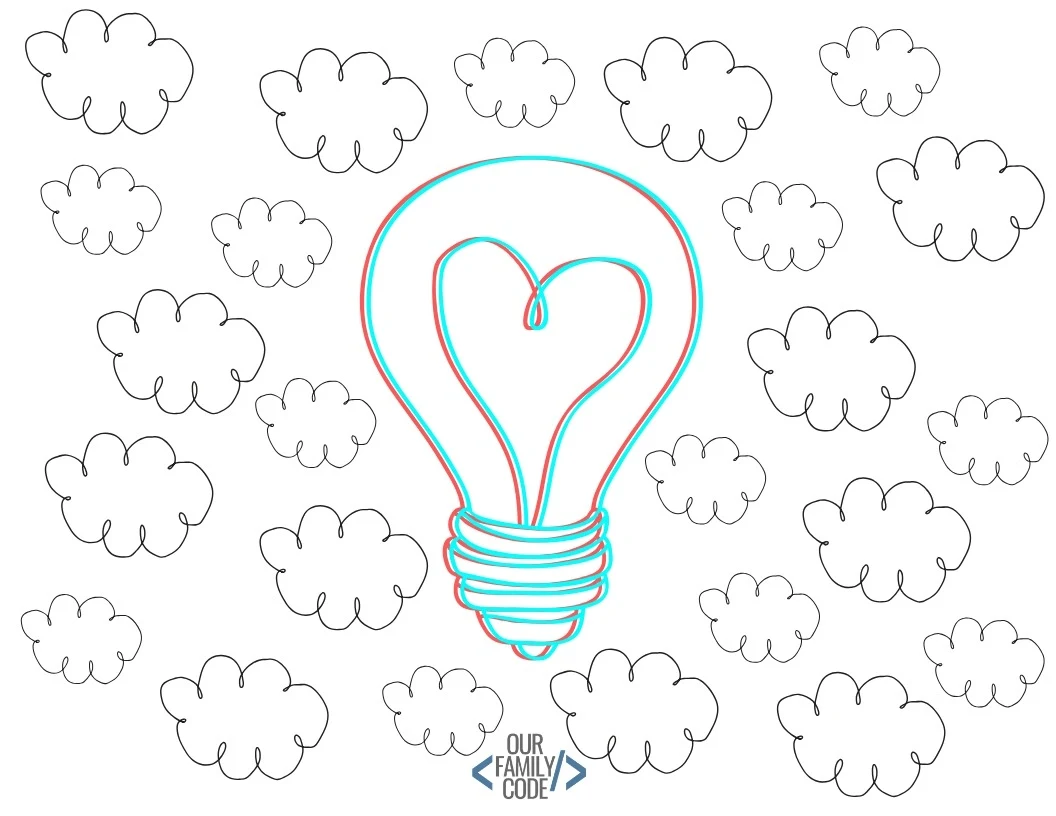 Download Your Free 3D Coloring Book
This 3D art coloring book is a great way to learn about anaglyph 3D art. The book contains pictures that are slightly offset from one another that can be traced with red and cyan in order to create anaglyphs that can be viewed with red blue 3D glasses.
The directions for the coloring book are pretty simple:
The darker gray color is for red.
The lighter gray color is for blue.
Trace the red over the darker gray color first and then trace blue.
Blue can overlap red, but it cannot overlap blue.
The last two pages are for fun. See if you can trace the main gray line with red and then shift slightly for your blue line.
Take a peek at the 3D images below to preview our free 3D Art coloring book!
<<<CLICK HERE TO Download your free 3D Art Coloring Book>>>
Rock the STEAM Community Initiative
This activity was used as part of our Rock the STEAM community initiative. The Rock the STEAM Team is dedicated to providing free monthly STEAM activities to families in local towns. We decided to kick off our STEAM dream in our own town of Stoughton, Wisconsin.
We challenge our readers and schools that visit our site to reach out to the community and use our free activities to spread STEAM learning opportunities to kids that might not have access to these materials or lessons. To make it easy, you can print lessons from our website that we've used for our Rock the STEAM initiative.
You can also print this activity for your own use as well!
We do not give permission for this activity to be sold or used for commercial purposes.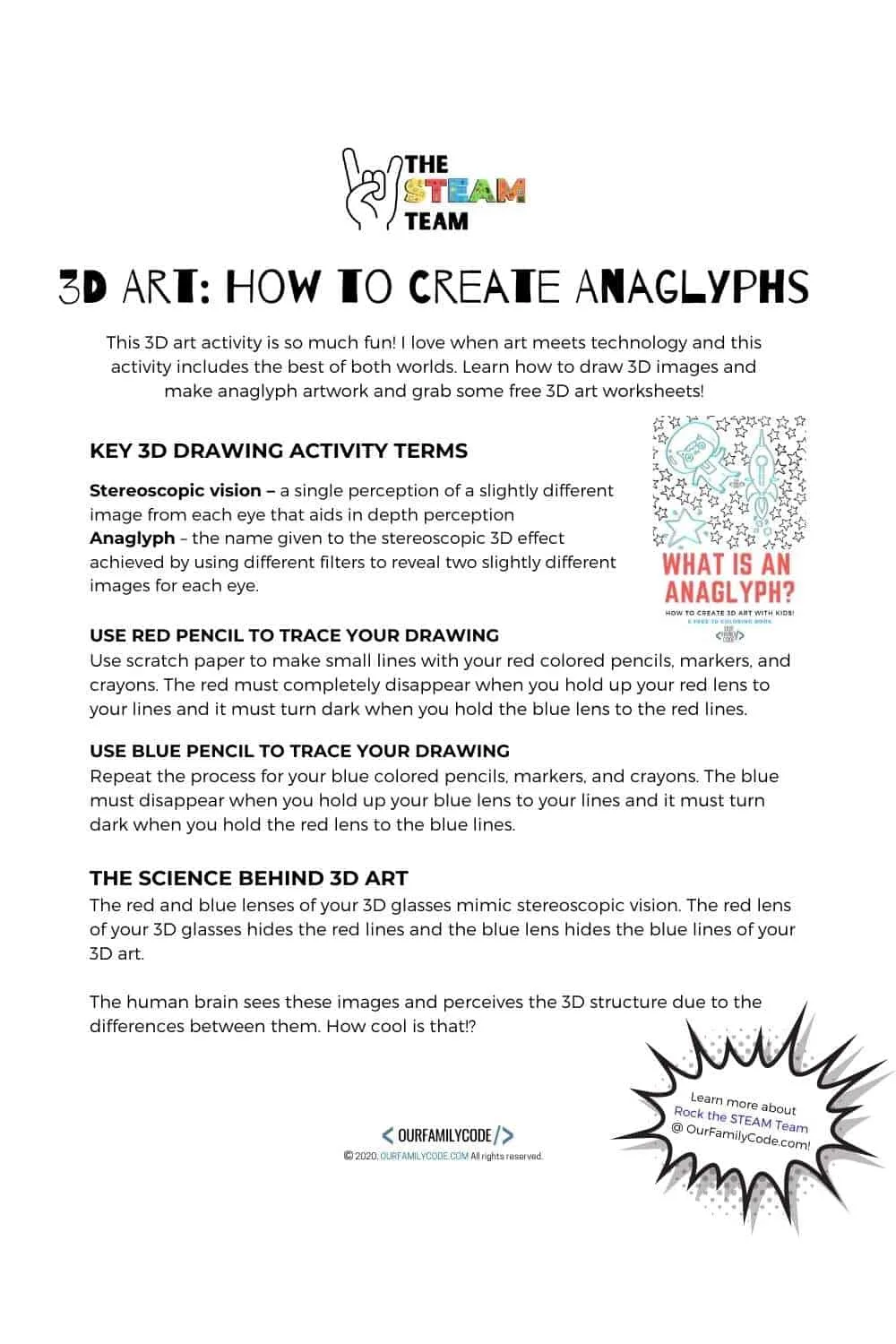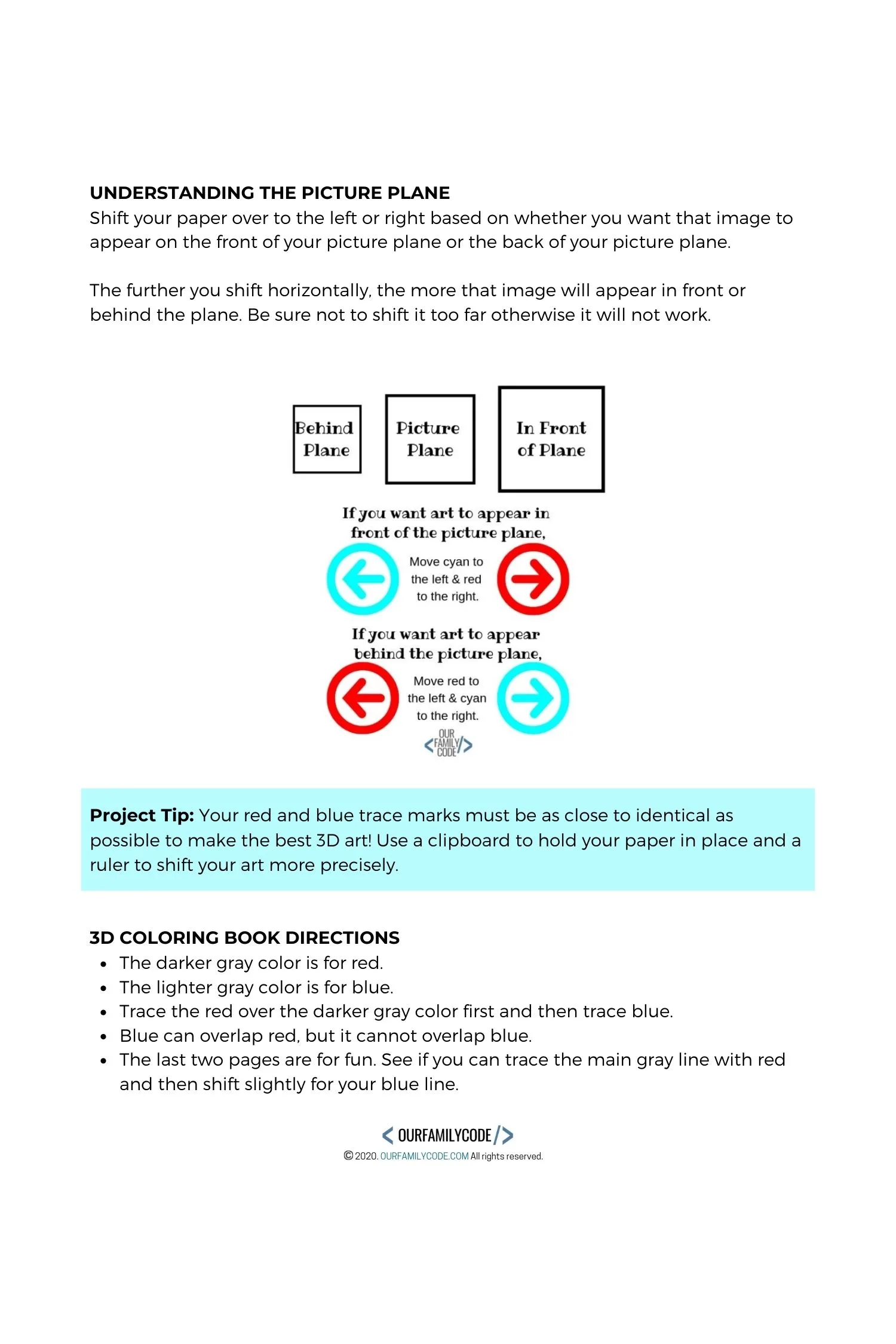 This 3D art activity already includes Science, Technology, and Art! Check out how to include other STEAM buckets!
Engineering – Make your own 3D glasses! You can absolutely make your own 3D glasses using a clear plastic (like an old CD case) and some dry erase markers.
Math – Use a ruler to measure the distance between your red and blue lines or use a ruler to determine how far you are shifting your paper to mark your blue lines. What distance produces the best results on your picture plane? Discuss the differences.
Some Books to Read with Your Activity
We love incorporating books into our activities. Here are some great books about art to read with your 3D art activity!
Frequently Asked Questions about Anaglyph Art
What is an anaglyph?
An anaglyph is a still picture that is made with two slightly offset identical drawing in contrasting colors (usually red and cyan) to create a stereoscopic 3D effect when viewed through two correspondingly colored filters (like red blue 3D glasses)
What is Stereoscopic vision?
Stereoscopic vision is a single perception of a slightly different image from each eye that aids in depth perception.
How to Red Blue 3D glasses work?
The red and blue lenses of your 3D glasses mimic stereoscopic vision. The red lens of your 3D glasses hides the red lines and the blue lens hides the blue lines of your 3D art.

31 Days of Low-Prep STEAM Activities for Kids
This activity is part of our 31 Days of Low-Prep STEAM Activities for Kids. Every activity focuses on each of the buckets of STEAM (Science, Technology, Engineering, Art, & Math) although these integrated projects fit in more than one bucket.
You and your kiddos are going to love all of the activities that we have in store! Visit the 31 Days of Low-Prep STEAM Activity hub and pin it, so you can come back and visit it daily!
PIN THIS IMAGE TO SHARE THIS LOW-PREP STEAM ACTIVITY!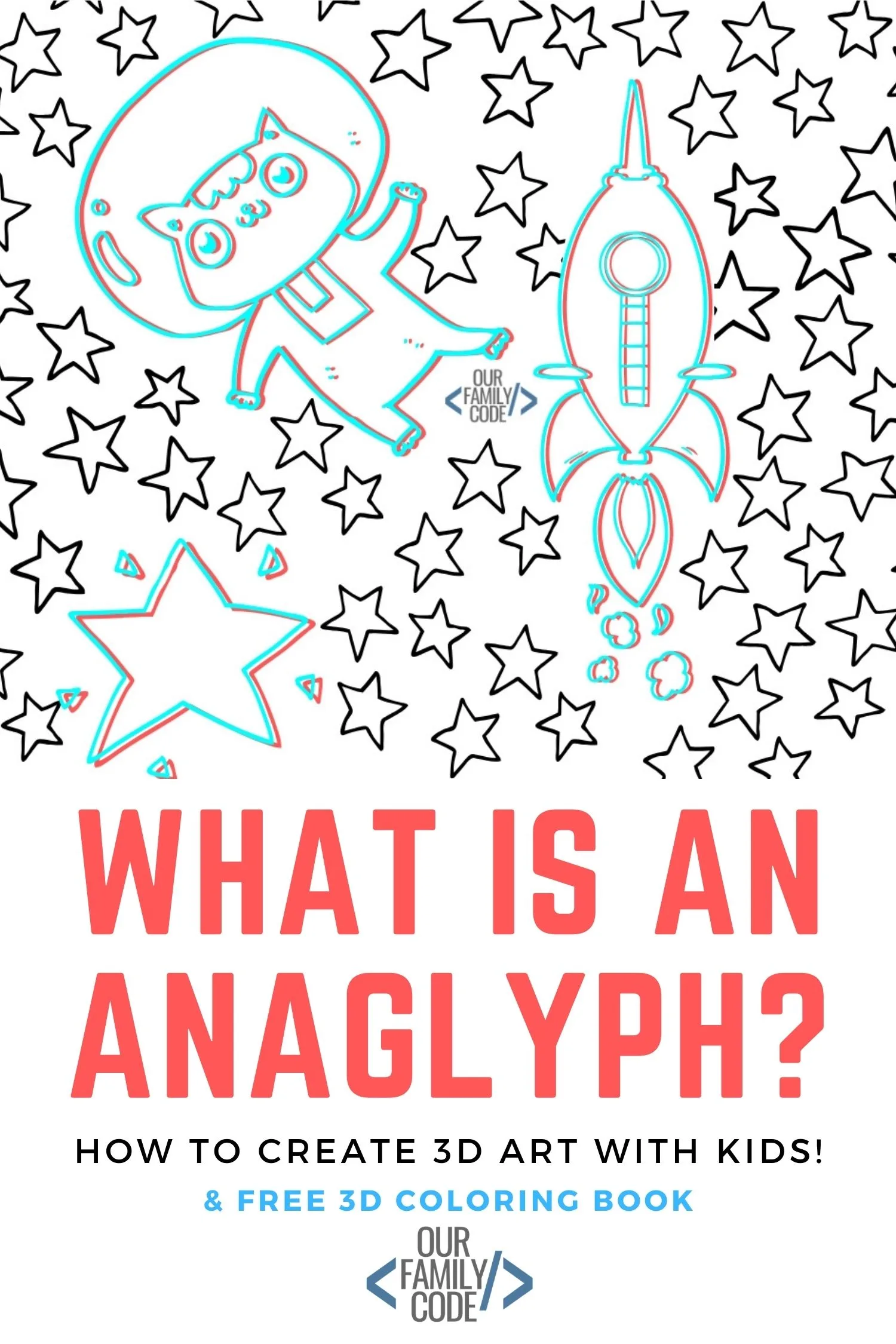 Science Art Activities
Find more awesome activities that pair science with art!
Meet Toni, the Maker Mom behind Our Family Code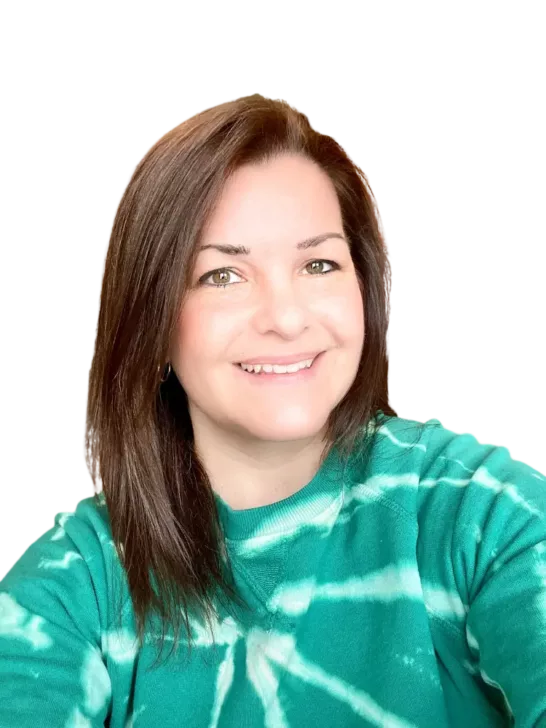 Hey there, I'm Toni! I'm a software engineer and Maker Mom that finds my joy in unleashing my children's curiosity by exploring STEAM concepts with my fantastic five!
When I'm not chasing toddlers or raising tweens, you can find me tearing things up and putting them back together over here at Our Family Code.
I am the owner and content creator of multiple educational websites designed to increase access to STEAM & STEM education with a focus on teaching computer science and coding to kids of all ages!
You can also find out more about me by visiting ToniGardner.com!